In search of the real Elvis on a road trip around the Deep South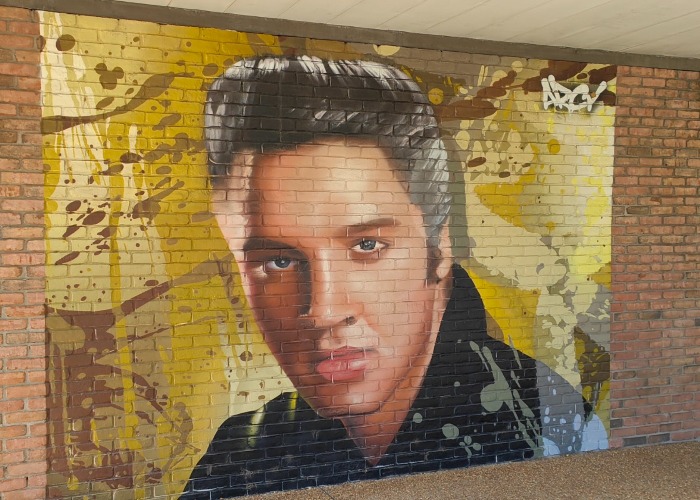 As Baz Luhrmann's musical biopic Elvis hits the silver screen, James Draven takes an epic rock 'n' roll road trip around the Deep South to find a treasure trove of real-life spots that touched the life of The King
"Elvis lives!" a man bellows from his recumbent position on a low wall at the top of Beale Street in Memphis. He seems to be addressing a small group of nearby tourists who are taking photographs of a Presley statue. It's hard to tell if he's being serious, catching only a snatch of the exchange from my car window, but he's right. Some people don't die.
Today, you can still see an ersatz Elvis at any stage of his musical career: sometimes impersonators preserve him in his vital, snake-hipped '50s phase, occasionally in his '68 comeback leathers, and – most commonly – in his sequinned white jumpsuits, sunglasses and sideburns of the '70s. You can be married by Elvis and you can book him to play your birthday party. Elvis Aaron Presley, the undisputed King of Rock and Roll, passed away at the age of 42 on 16 August 1977, yet he remains with us.
"You remember those Chilean guys who got stuck down that mine back in 2010? I had one of those guys in the back of this car," says American Dream Safari tour company owner, Tad Pierson, jerking a thumb over the back of the bench seat on which we sit. "He's this massive Elvis fan and he kept all his buddies entertained down in that mine for two months by singing Elvis songs, so when he gets out he's invited to Graceland and I'm hired to drive him around Memphis. The guy's only in his 30s, he doesn't speak a word of English, but he opens his mouth and this miner sings just like Elvis."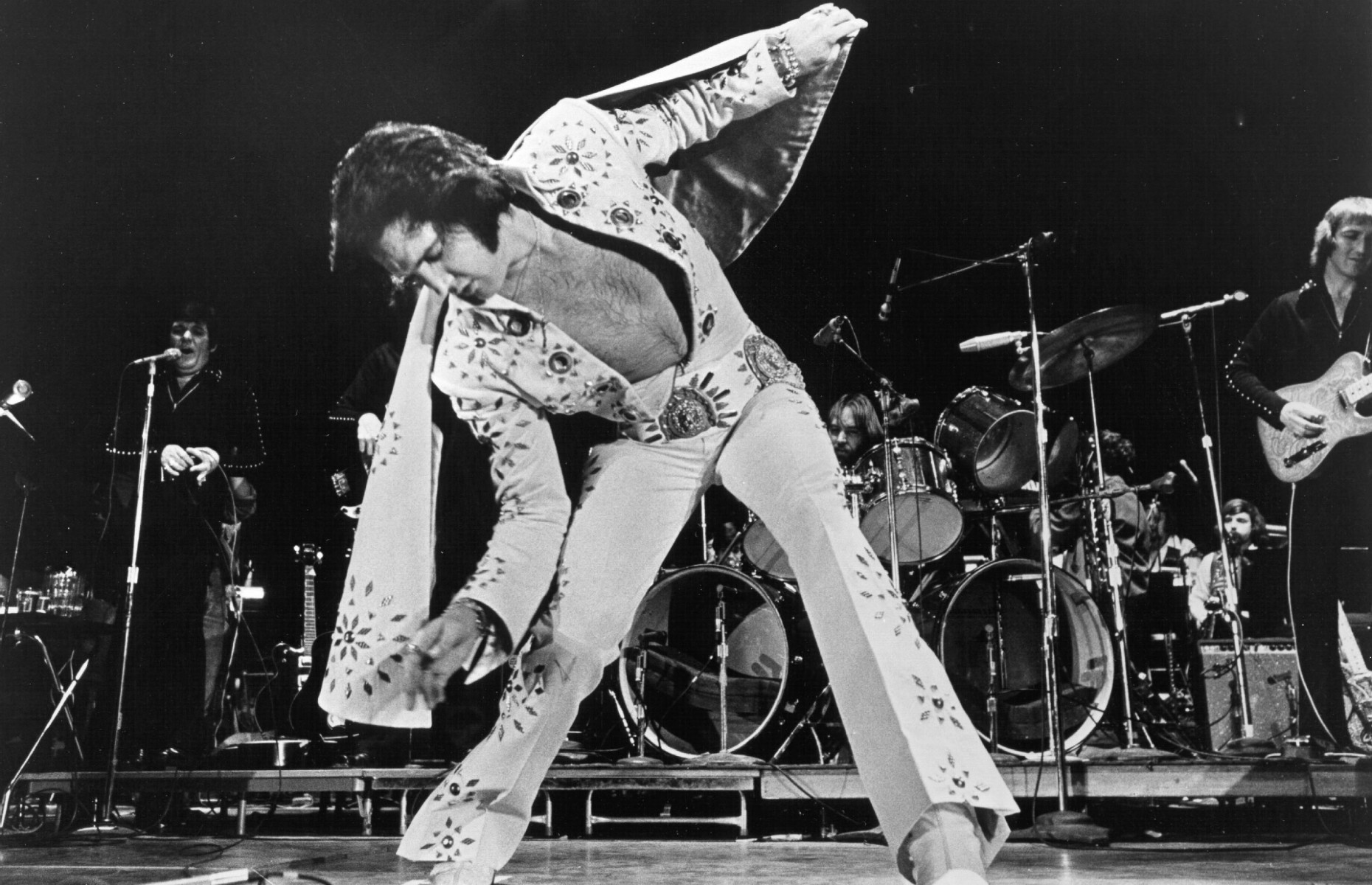 Michael Ochs Archives/Getty Images
Worldwide appeal
Elvis Presley never toured outside of the United States, but his global impact has nevertheless been immense. Tad has seen scores of Elvis impersonators from around the globe on their pilgrimages to Graceland, Elvis's iconic mansion just seven miles from downtown Memphis.
Elvis died before I was born but I knew him by sight when I was little older than a toddler, every bit as real and immaterial as Santa Claus or the Tooth Fairy. Although I know he once walked among us, I can't fix him in my mind as a mortal man. Elvis is a legend, a character, a caricature.
As acclaimed director Baz Luhrmann paints the latest portrait of Presley – shot not in Elvis's native Mississippi and Tennessee but on studio backlots in Australia, a country Elvis never visited – we learn a lot more about the life of the man without ever tearing down the mass-produced prints that make him a pop-art icon.
The largest portion of the Elvis's 160-minute runtime is concerned with that latter Elvis – the cartoonish figure playing a Vegas residency onstage at the International Hotel. Long before all of that though, Elvis Presley was a young, hip-swinging upstart who defied convention and racist segregation, and danced to the beat of his own heart. It's with this in mind that I've come to the USA's Deep South in search of the real Elvis.
James Draven, shot on Oppo Find X5 Pro
Digging up buried treasures
"That X marks the spot," says George H. Booth III, owner of the Tupelo Hardware Co, a cavernous hardware shop on the corner of Main Street and Front Street in downtown Tupelo, Mississippi.
"This store has been owned by the same family for four generations. They built this building in 1941 and everything is original."
I'm surrounded by spades, shovels, drill bits, plungers and a couple of .22 rifles. It's on account of those rifles, and this hardware shop's rather unusual extended stock, that rock 'n' roll history was made.
"January 5th 1946, right before his eleventh birthday, Elvis and his mom came through that door wanting to buy something for his birthday. They came in and stood right here," says George.
I follow Booth's pointed finger down to the ground and, between my feet, an X is marked on the floorboards in black gaffer tape.
"Now we don't just throw crosses on the floor for people to step on: we have everything documented and verified from the man who served him that day, Forrest Bobo."
James Draven, shot on Oppo Find X5 Pro
READ MORE: The most adorable small town in every US state:
Elvis stood on this very spot that day while Mr Bobo and his mother persuaded him to buy a guitar rather than the .22 calibre rifle that Elvis had his eye on. Elvis's money didn't stretch as far as the $7.75 plus 2% sales tax that the guitar cost, so – afraid her son might hurt himself – Gladys Presley said she would pay the difference for him if he chose the guitar over the rifle.
Amid shelves of screws and nails and gaffer tape, Tupelo Hardware still sells guitars and rifles. However, today it also sells Elvis T-shirts and keyrings, while the shopfronts, cafés, walls and alleys all up and down Main Street are alive with posters and murals of the King of Rock and Roll.
A king is born
Just a little way up the road, at 306 Elvis Presley Drive, sits the shotgun shack in which Elvis Presley was born and spent the first three years of his life. With Elvis's birth coming as a surprise – shortly after his stillborn twin brother, Jesse Garon – Gladys Presley's second son was all the more precious.
Built by Elvis's grandfather and his dad, Vernon, the wooden house is small: "You could fire a shotgun through the front door and out the back door without hitting anything in between," explains Roy Turner, notable Elvis historian and executive director of Tupelo's Elvis Birthplace museum. Today the site is a tourist attraction, treated by its curators and visitors with the kind of reverence one might reserve for a stable in Bethlehem.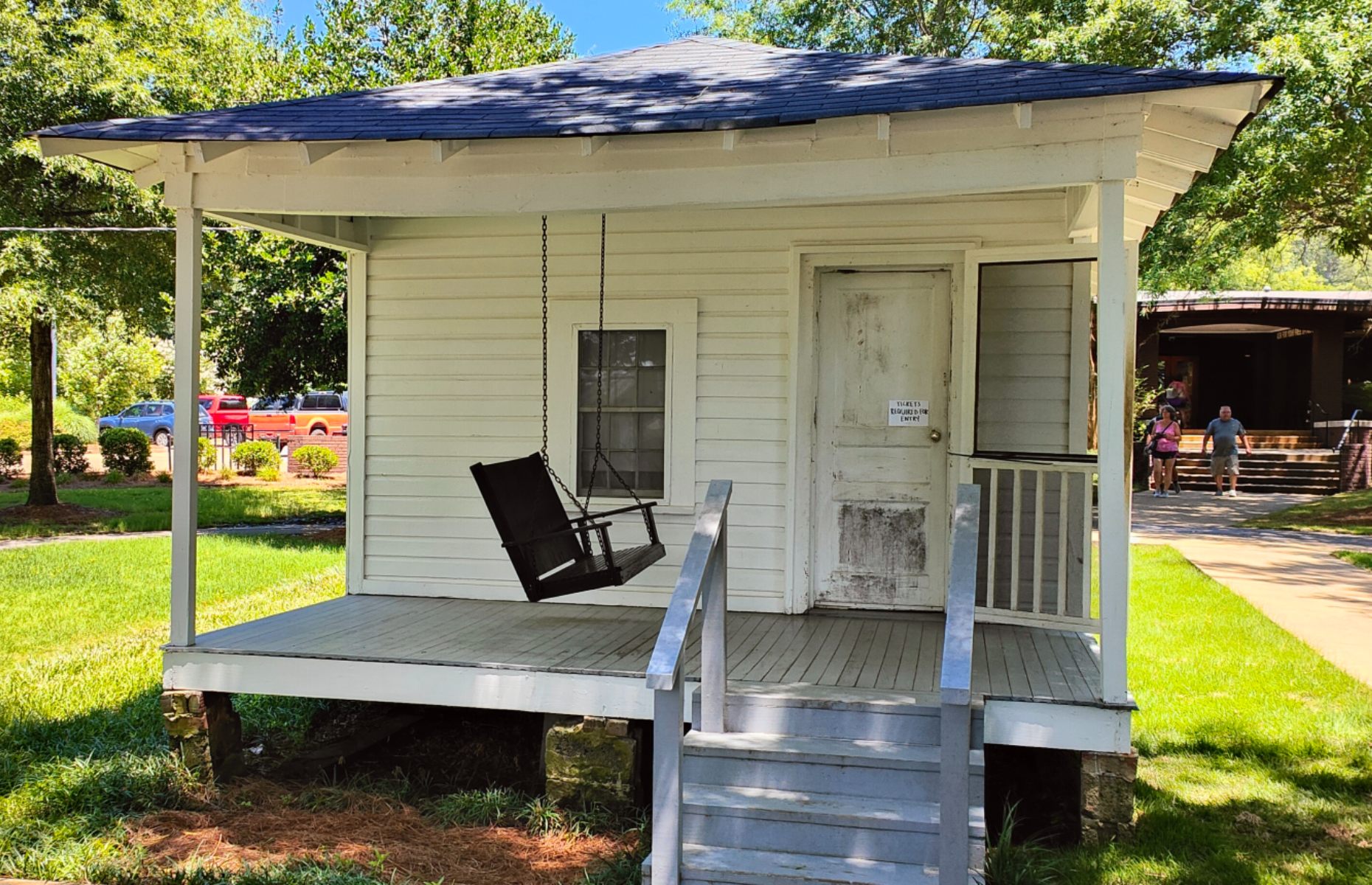 ​​​​James Draven, shot on Oppo Find X5 Pro
While the house remains in its original position, Elvis's local church from his childhood has been moved onto the museum grounds and meticulously restored – with the notable addition of projector screens that simulate church services with Elvis in attendance. It's difficult to distinguish which king of kings is being worshipped.
Also on the site, a former youth centre – paid for by Presley himself – has since been converted into a museum and expansive gift shop, filled with Elvis iconography from hip-swinging pendulum clocks to Christmas-tree decorations.
Heading out of town, I make a quick stop at Fairpark – once the site of Tupelo's fairgrounds – where there is a life-sized statue of Elvis, depicting the day he came to play his homecoming concert.
The Courage to Travel/Shutterstock
XXXs mark the spot
A pivotal moment in the life of Elvis Presley was when he and his family moved in to 328 Lauderdale Courts in Memphis, Tennessee. Depicted in Luhrmann's Elvis, this mid-century red-brick apartment complex represents one of the USA's first public housing projects, and also one of the first periods of stability for a young Elvis.
Elvis's two-bedroom apartment at Lauderdale Courts is the only place where you can sleep under the same roof as The King. Often missed on Elvis itineraries, even by hardcore fans (because it does not offer day tours and overnight bookings must be made directly by phone with the building's management company) the whole complex was narrowly saved from dereliction and destruction.
​​​​James Draven, shot on Oppo Find X5 Pro
READ MORE: American music landmarks you should visit
Today, it makes a charming holiday bolthole, and Elvis's apartment has been renovated and refurbished to how it might have looked when he lived there. Its owners have decorated the space with an acoustic guitar, Elvis's high school yearbook and Presley family photographs. Guests have since decorated the walls of Elvis's bedroom with scores of lipstick kisses.
From serendipity to stardom
Sun Studio was founded by local pop DJ Sam Phillips who had been running a radio station out of the Peabody Hotel. Situated just a block away from Beale Street, Sam soon discovered Blues music and – while he was blown away by the live performances he saw, from artists such as BB King and Ike Turner – he was shocked to learn that nobody was recording a lick of it. Sam set out to change that, saving up enough money to convert a garage into a recording studio in 1950. Then called the Memphis Recording Service, Sam created a place where anyone was welcome to come in and pay $4 to cut two songs on a one-track tape machine.
​​​​James Draven, shot on Oppo Find X5 Pro
It took Elvis three months, with his parents' help, to save up the $4 needed to come and record with Sam, and then – after waiting a whole summer – Elvis showed up on the same day that Sam had left on a six-week business trip. This was a moment of serendipity though because Elvis was met by Sun Studio office manager Marion Keisker. She asked the young Elvis, "Who do you sound like?" Elvis replied, "I don't sound like nobody.
He wasn't wrong. Elvis was a sponge, absorbing disparate influences, from the rhythms and syncopations of African American Blues to country twangs and gospel influences. Marion set up a microphone and, in July 1953, became the first person to ever record Elvis.
In 1959 Sam Phillips built a new recording studio, The Sam Phillips Recording Service, just a block-and-a-half away. The original Sun Studio was closed for the following 28 years, the property becoming a barbers, a laundromat, and even a scuba and surf shop, despite the only body of water in Memphis being the Mississippi River.
However, in all those intervening years, none of the owners or shopkeepers changed the floor or removed the soundproof tiles from the walls and ceiling, and the lights and doors and knobs remained original. So when Sun Studio reopened again in 1987, with National Historic Landmark status, they were easily able to restore the building to its former glory. Tacked on to the original studio, the restaurant next door has been bought and converted into the mandatory gift shop via which all tours exit.
Once the studio was up and running once more, U2 quickly visited to record their Rattle and Hum album and drummer Larry Mullen donated his drum kit to the studio. It kicked off a trend, and today you can see Jerry Lee Lewis's piano, a gold-top Gibson Les Paul donated by Elvis's guitarist Scotty Moore, and Sam Phillips' microphone, which since then, countless legends have sung into, including Howlin' Wolf, BB King, Johnny Cash and Elvis himself. Rather than being kept behind glass, visitors are encouraged to hold and pose with that historic Shure 55 mic, standing – of course – on the white cross that marks the spot where Elvis used to sing.
There's so much rock 'n' roll memorabilia littered around Memphis that it's difficult not to become numb to it. Lansky Bros, now located in the lobby of the Peabody Hotel – the grand dame of downtown Memphis – was Elvis's favourite clothing store in the '50s, back when it was on Beale Street. The original store is now a Hard Rock Café but the business is still family run and operated by Hal Lansky.
Sean Davis/CC BY-NC 2.0/Flickr
Lansky Bros, having added the tagline 'Clothier to the King,' to its name, produces premium price-tag reproductions of some of Elvis's iconic outfits for fans who want to look the part. In store, between pictures of Elvis wearing their clothes – which are usually placed above racks of the same garment for sale – the walls are decked with a dazzling array of celebrity-signed guitars that put Hard Rock's paltry displays to shame.
Among guitars signed by artists as diverse as Johnny Cash, the Foo Fighters and Meat Loaf, Elvis's personal garments take pride of place on the walls, along with Henry 'The Fonz' Winkler's leather jacket.
In fact, they have so many incredible pieces that BB King's signed 'Lucille' Gibson guitar, among others, is entirely obscured by a framed Lansky's advertising poster.
Eggs mark the spot
It's my final morning in Memphis and I'm eating my breakfast omelette in the Arcade Restaurant, downtown. I'm sitting in the very spot where Elvis would regularly dine when he dropped by for a cola and a hamburger.
"This is exactly what it used to look like when Elvis ate here," says co-owner Kelcie Zepatos, who represents the fourth generation of the same family running this distinctly American diner. You can practically hear the hum of neon just by looking at a postcard of the place.
Opened in 1919, the Arcade Restaurant is the oldest continually running restaurant in Memphis. All along the lunch counter, either side of each swivelling stool, thousands of elbows have burnished the formica down to the wood, and the classic '50s boomerang design table-tops have been worn white by sliding hot-plates.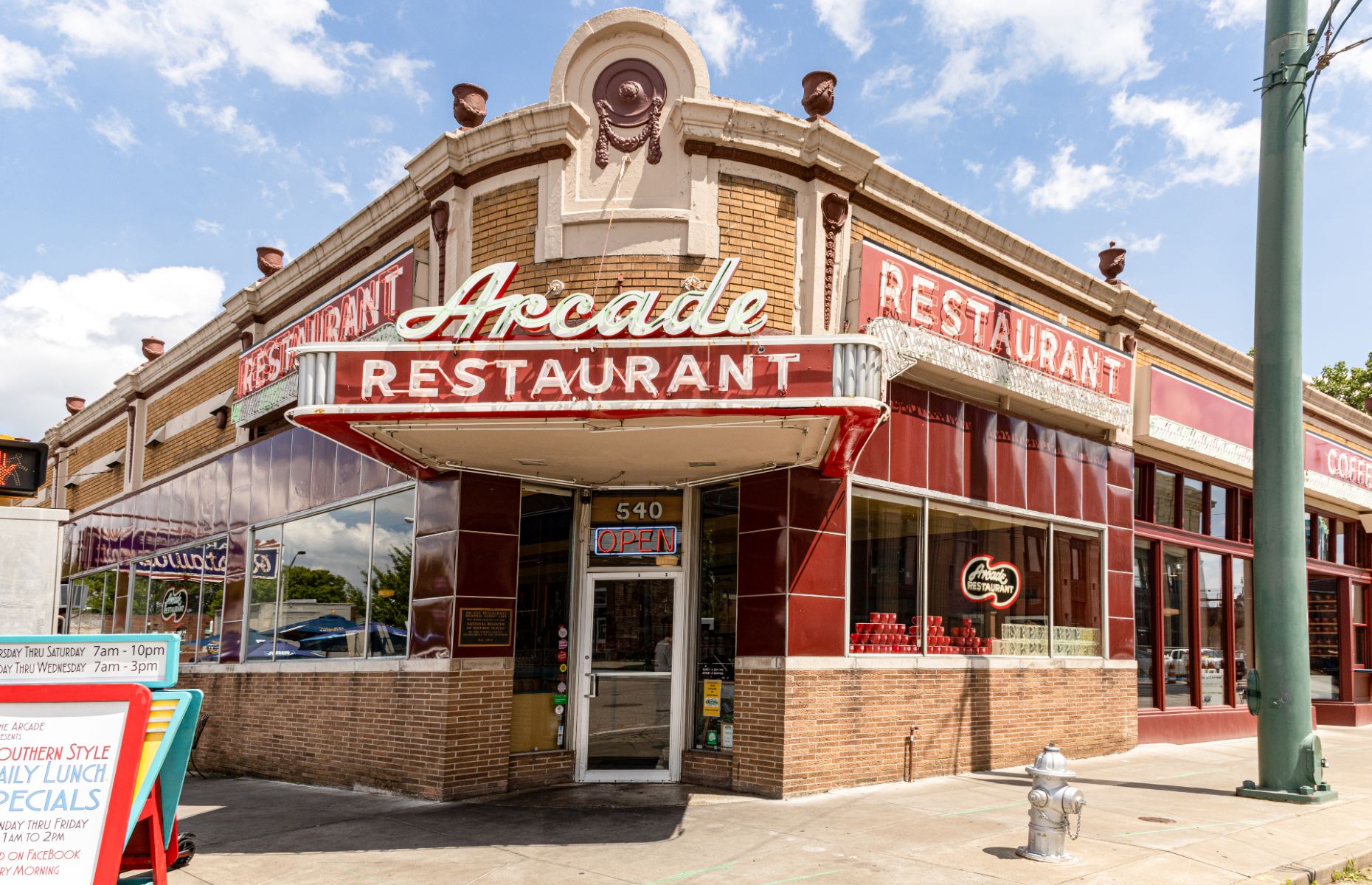 jdpphoto/Shutterstock
READ MORE: America's most beautiful streets
"We've not changed the place at all since 1954," says Kelcie, "So this is the very same table that Elvis always sat at; the exact same setting."
At first glance, when entering the diner, you'd be hard pushed to tell which was Elvis's table, although die-hard fans already know what they're looking for. Marked by a picture of Elvis beneath his signature on the wall beside it, a tacit queuing system sees diners up-forks and slide into the special booth just as soon as its former inhabitants have vacated the hallowed spot.
"He liked being here by the back door because, if there were crazy girls at the front door trying to come talk to him, he could quickly just slip out," explains Kelsey.
'Amazing Grace'
When I told Kelcie at the Arcade diner that I was spending the afternoon at Graceland she replied, "Oh, yes. That's like Disneyland for Elvis fans."
She was being more literal than I expected. The Graceland complex is redolent of a theme park with its plaza surrounding the ticket office full of exhibits, shops, restaurants and snack bars, such as Gladys' Diner, Vernon's Smokehouse, and Lisa Marie's Haberdashery. Shops seem to be styled after Gap with the retail district including Elvis Home, Elvis Threads, and Elvis Kids.
The plaza also features a large, indoor collection of Elvis's many automobiles, his two planes, a cavernous exhibition space dedicated to Elvis's time in the army, plus a huge miscellany including a bullet-hole punctured TV set shot out by Elvis. There's also whole hanger full of interactive quizzes, experiences and gimmicks allowing visitors to digitally insert themselves into Elvis's jumpsuits and onto his LP covers and film posters.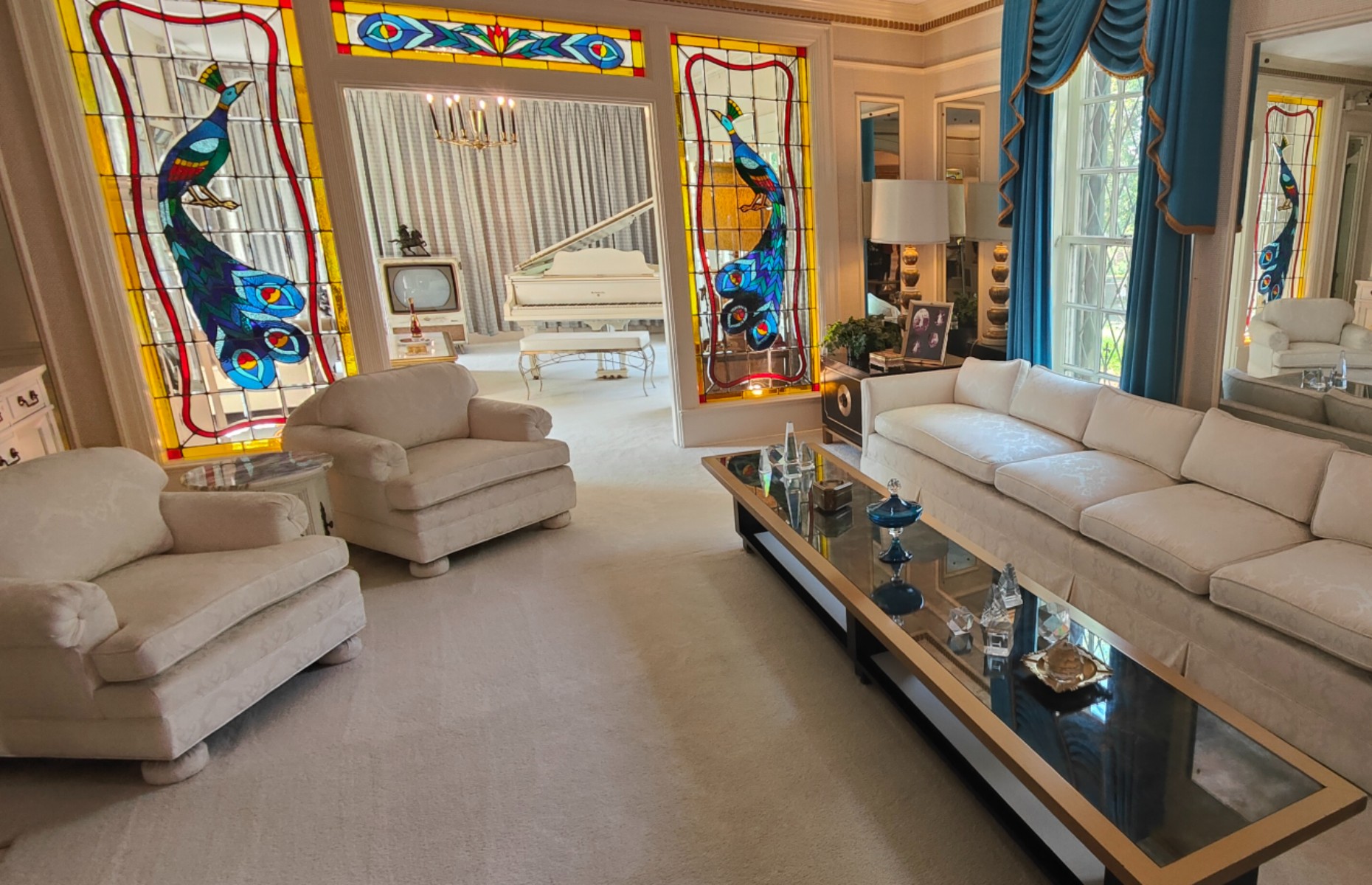 ​​​​James Draven, shot on Oppo Find X5 Pro
The best of these is an exhaustive display of Elvis's original stage outfits and jewellery, including his trademark '70s sunglasses and his diamond encrusted 'Taking Care of Business (TCB) lightning-flash ring.
A shuttle bus takes visitors across the street and through the gates of Graceland proper to enjoy an audio tour of the Presley property. The place is full of the all the excess you'd expect, from 15-foot (5m) couches to angelic Presley portraits, his private racquetball court and his basement snug, in which Elvis would watch three TVs at once. The legendary Jungle Room is decorated in a manner that instantly dates it to the 1970s, with the floors and even the ceiling carpeted with a super-deep, forest-green shag pile.
READ MORE: Beautiful historic homes in America you can actually visit
The final stop on the tour is the one with the longest queue. Outside, in the Graceland Memorial Garden, guests wait patiently to pay their respects, leave tributes – and snap selfies – at the gravesides of Gladys, Vernon, grandma Minnie Mae, and Elvis himself.
Gotta get back to Nashville
It's a fairly long drive from Memphis to Nashville, but the three-and-a-half hour journey allows plenty of time to listen to Elvis on the car stereo and look back on my trip while Tennessee's lush foliage flits by outside my window.
Nashville is to country music as Memphis is to the Blues, but while Memphis offers gritty thrills in historic surroundings, Nashville – having seen a recent surge in development – is a city glittering with glassy skyscrapers.
Among its historic buildings, the Ryman Auditorium celebrates its 130th anniversary this year, and it's on this stage that Elvis made his one and only appearance on The Grand Ole Opry.
It's also the 65th anniversary of the Historic RCA Studio B – where more than 1,000 top-ten hits were recorded – and the Country Music Hall of Fame and Museum's 55th anniversary.
The museum is an essential stop even if you're not a fan of country music, crammed as it full of memorabilia from music stars of the Deep South. Most notable among their collection is Elvis's gold Cadillac. More ostentatious than any of the automobiles on display at Graceland, this car – a Series 75 limousine modified to Elvis's specifications – features a gold-plated TV, refrigerator and record player. The car is fitted with white mouton fur carpeting throughout and Elvis had the bodywork refinished in 40 coats of 'diamond dust pearl,' paint made with crushed diamonds and fish scales.
After Elvis left Sun Records to sign with RCA, he would record well over 200 songs at Studio B. Today you can have your picture taken sitting at Elvis's favourite piano, or stand on the studio's famous 'sweet spot' for recording vocals, which is – of course – marked on the linoleum with a blue cross made out of electrical tape.
James Draven
Over the course of my road trip on my search for the genuine Elvis, it seems that I've always had to dig a little deeper to get past the surface layer of deifying murals, pop-art prints and tacky iconography that lays heavy atop the man beneath.
The treasures I've found along the way always seem to be marked with an X, from the place he stood when buying his first guitar to the cross upon his grave at Graceland. These intersecting lines – whether they be made of tape, paint, or bronze – reveal the extraordinary life of a real person, from his cradle to the grave.
However, just across Elvis Presley Boulevard from Graceland, around 700,000 tourists line up to buy tickets and trinkets each year, and it's estimated that – since the release of Baz Luhrmann's movie – the licensing rights to Elvis Presley could be worth up to one billion dollars.
Yes, the King is dead, but just as the iconic lightning-bolt TCB logo on his tomb proclaims, Elvis is still taking care of business.
For more information, visit: www.deep-south.usa.com
To take a tour with Tad, contact American Dreams Safari: (+1 901 527 8870 / www.facebook.com/AmericanDreamSafari)
To spend the night in Elvis's apartment at 328 Lauderdale Courts, call the leasing office on: +1 901-523-8662
Lead image: James Draven, shot on Oppo Find X5 Pro
Be the first to comment
Do you want to comment on this article? You need to be signed in for this feature