Unclaimed Baggage: a store selling lost luggage in Scottsboro, Alabama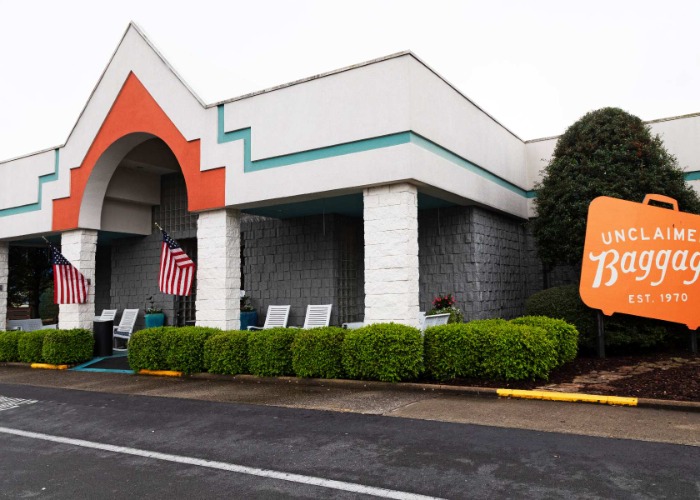 After flying across the Atlantic but finding that his suitcase didn't, Stuart Forster heads to Unclaimed Baggage – a weird and wonderful store selling items from luggage that can't be reunited with its owner – in the city of Scottsboro, Alabama.
The pandemic's enduring impact on the airline industry has been covered extensively in the news, with staffing issues being blamed for travellers facing waits to get through security, delayed and cancelled flights – and delays in delivering baggage.
In frustrated agitation, I spend much of my tight connection in Paris shuffling towards security in a snaking queue, barely making my transatlantic flight to Atlanta. At Hartfield-Jackson Atlanta International Airport, I wait with ebbing hope for my suitcase to appear on the conveyor belt while watching fellow passengers pick up bags and continue on their way.
Reporting a lost bag
As soon as the conveyor belt stops turning, I head to the Baggage Service Office to report the non-arrival of my hold baggage. I regret not snapping a photo of my suitcase before departure to document the brand and colour of the bag.
Within minutes, a Property Irregularity Report (PIR) is registered and I'm issued a five-letter, five-digit reference code. Scrawled on a flyer, the code should enable me to track my suitcase. Just in case, the folded sheet provides details of how to contact the airline.
All being well, my suitcase should be delivered in the next day or so to my hotel in Birmingham, Alabama.
Scottsboro sights
Scottsboro Boys Museum (Image: Stuart Forster)
I'm in the US to explore part of the United States Civil Rights Trail, and the itinerary includes a day trip to Scottsboro, home to the Scottsboro Boys Museum, which tells of the appalling injustice suffered by nine African Americans, then aged between 13 and 21, who in 1931 were falsely accused of raping two white women on a freight train.
The injustice sparked national debate and international outrage about the racism blighting America's legal system, while the trials and Supreme Court judgements that followed are now regarded as pivotal early moments in America's civil rights movement.
Upon leaving the museum, I spot a giant orange suitcase across the road. The sign welcomes people into the car park of a store named Unclaimed Baggage. In light of my predicament – sans socks, sans shirts, sans everything – I feel compelled to visit and find out more.
A decorative truck at Unclaimed Baggage (Image: Alabama Tourism)
"We are the nation's only retailer of lost luggage, one of the top tourist destinations in the state of Alabama and welcome over a million guests a year from all over the world," Unclaimed Baggage's Sonni Hood tells me.
Doyle Owens founded the business in 1970, driving to Washington DC in a borrowed pick-up truck to buy the first load of unclaimed bags. Their sale proved a success, and today the store has contracts with major airlines. After exhausting efforts to reunite bags with their owners in the first 90 days after they are reported lost, airlines can sell them to companies such as Unclaimed Baggage. Luggage is loaded up at warehouses and driven to Scottsboro.
Inevitably, I wonder whether my suitcase might have followed me here...
READ MORE: Our definitive guide to Washington DC
Unpacking lost luggage
Sonni Hood at Unclaimed Baggage (Image: Stuart Forster)
Sonni assures me that there's always a thorough search to find the owners of lost luggage. I learn that more than 99.5% of bags reported missing are eventually reunited with their owners. Yet the sheer volume of global flights means a significant haul of hold luggage remains forever lost.
A team in Scottsboro opens newly arrived bags and assesses whether their contents can be sold, donated to charitable causes or recycled. Underwear falls into the latter category.
My mind boggles at the array of dubious, dirty and downright dodgy items that the processing team must find. At the other end of the scale, there are barely worn designer clothing and handbags.
Clothes are sent to Alabama's biggest dry cleaner before appearing on hangers in the shop. Electronic goods, such as phones and laptops, are wiped of all personal information. 
"Our goal is to keep these items out of landfills and to try to give new life and repurpose them," says Sonni.
Bargain buys
The jewellery counter at Unclaimed Baggage (Image: Alabama Tourism)
I learn that Unclaimed Baggage's 40,000 square feet (3,716sqm) of retail space is stocked with upwards of 7,000 'new' items every day.
Over in the men's store, across the parking lot, I browse rails holding jeans, suits and other clothing. It seems a surprising number of Stetsons get lost on flights – none of which fit me.
Back in the main building, jewellery, footwear and books count among items priced at approximately 20-80% of their original retail value. Anything that isn't snapped up eventually finds its way towards a clearance area, where goods are offered at marked down 'last-chance' prices.
Weird and wonderful finds
In the store's Cups Café, Sonni opens up about some of the more unusual items luggage that have been unpacked.
"Over the 52 years, we had found some weird and wonderful things, including full suits of armour and real shrunken heads. One time we found a live rattlesnake and vacuum-packed frogs. The most expensive thing we've ever sold was a men's platinum Presidential Rolex – a watch that retailed for $64,000 (£55,340) and we sold it for $32,000 (£27,670) to a watch collector back in 2014," she says.
On my way out, I spot Hoggle, a blue-eyed puppet from fantasy film Labyrinth, which starred David Bowie. After his Hollywood moment, Hoggle seems to have lost his way.
I leave the store hoping it isn't sheer fantasy to hope my suitcase will be waiting for me when I get back to Birmingham, Alabama....
Main image: Stuart Forster
Be the first to comment
Do you want to comment on this article? You need to be signed in for this feature