A Morocco expert offers her tips for visitors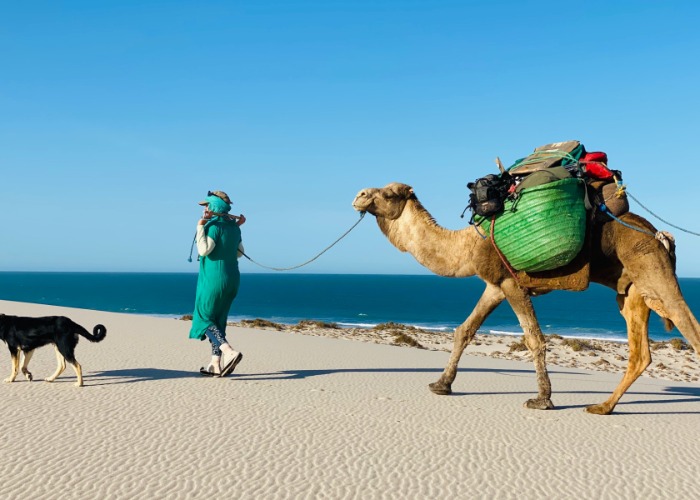 From seemingly endless deserts to dramatic mountains and enigmatic cities, Morocco has so much to offer visitors. And while the colourful city of Marrakech is a great place to start, there are many hidden treasures to be discovered further afield, as longtime Morocco resident and author Alice Morrison reveals.
Eight years ago, Alice Morrison moved to Morocco to train for, and compete in, the Marathon des Sables, a gruelling event which involves running six marathons in six days across the Sahara Desert.
But after completing the challenge, Alice realised she didn't want to leave Morocco, a country that had a seemingly magnetic pull on her. "People were so welcoming and friendly – I immediately felt comfortable here," she says.
Image courtesy Alice Morrison)
So she moved to the tiny Amazigh (Berber) village of Imlil, in the High Atlas Mountains. As well as providing the perfect backdrop for her numerous adventures, it was here she fell in love with Moroccan hospitality and the gentler pace of life.
In 2016 she began filming a documentary for the BBC, From Morocco to Timbuktu: An Arabian Adventure, which involved crossing the Atlas Mountains, travelling along ancient salt roads and across lonely expanses of the Sahara Desert in a quest to reveal what makes the country so magical.
She's also the first woman to cross the legendary Draa River, which she did as part of an epic 932-mile (1,500km) trek with two Amazigh guides.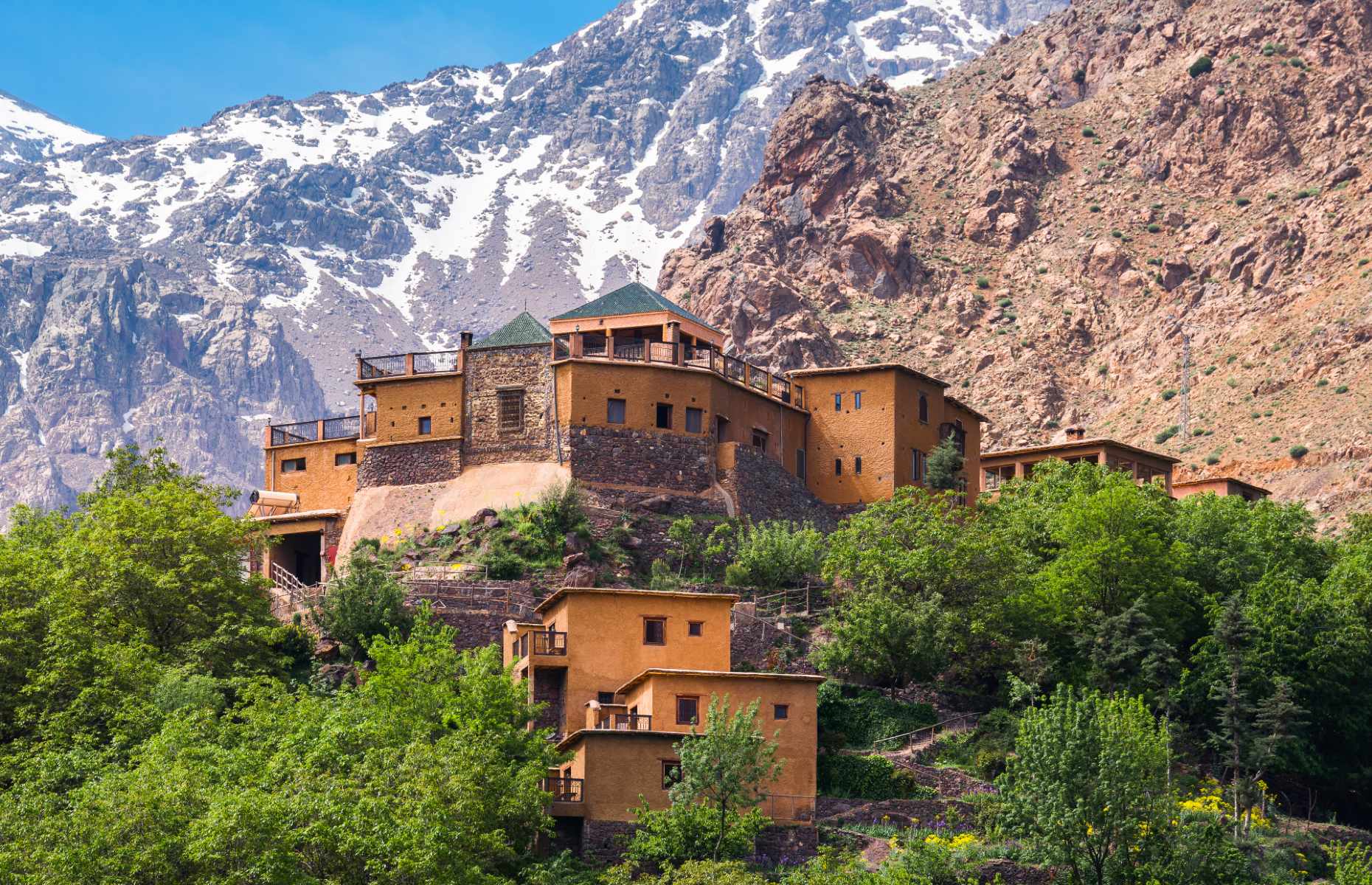 The village of Imlil, Morocco, which Alice calls home (Image: Alberto Loyo/Shutterstock)
We spoke to Alice about what makes Morocco so unique, the under-the-radar spots many tourists avoid, plus her expert advice on how to make the most of your trip.
Alice's top tips
1. Pick one or two cities to visit
Morocco is home to four imperial cities: Rabat, Meknes, Fes and Marrakech. The latter is usually the first port of call for tourists and for good reason: it's a captivating mixture of lively medinas, elaborate Moorish architecture, incredible food and fascinating cultural attractions.
If you have two weeks to spare in Morocco, Alice advises choosing one or two cities to visit before heading to the desert and the mountains.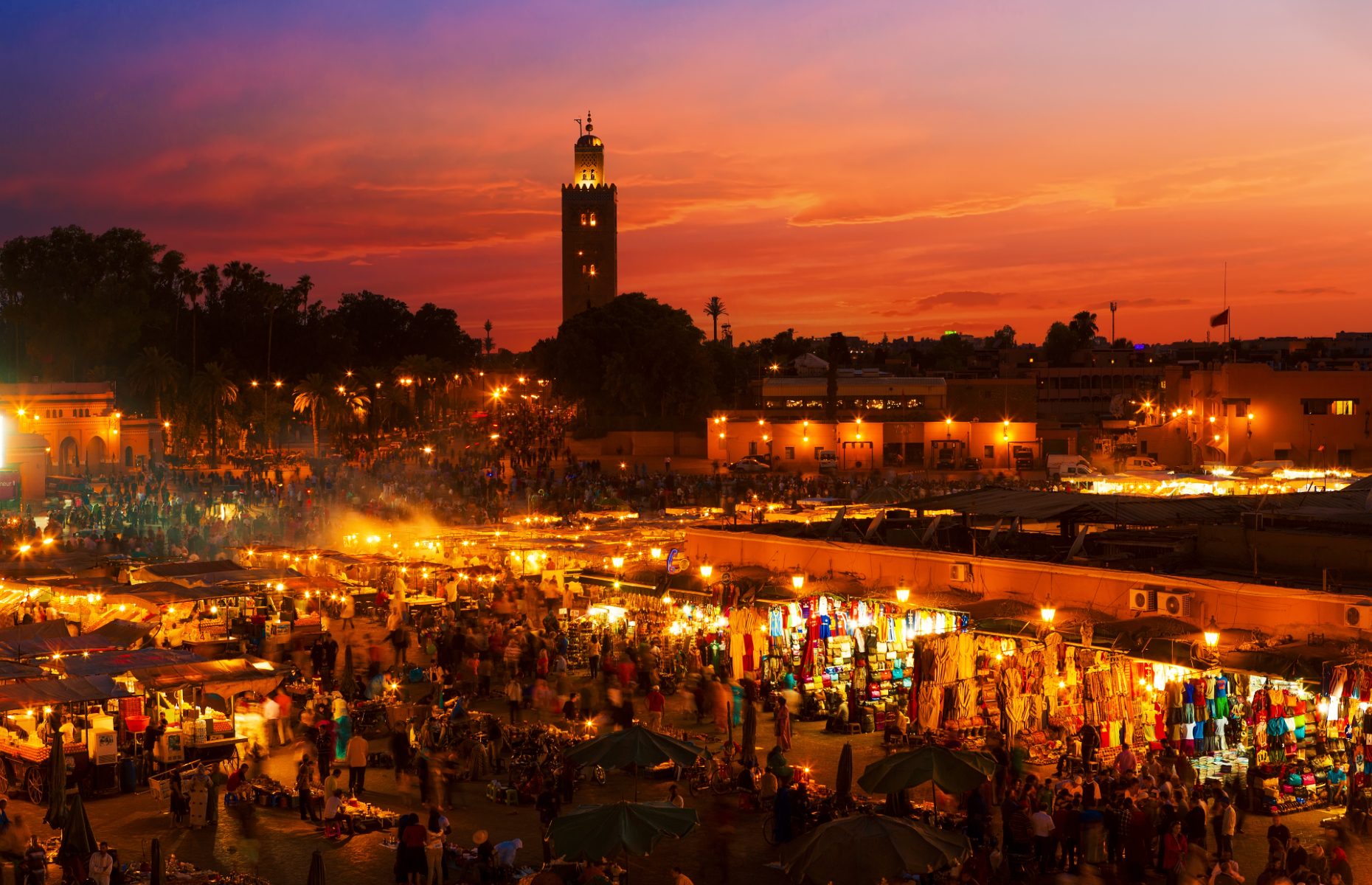 The vibrant city of Marrakech at night (Image: Marrakech posztos/Shutterstock)
2. Don't miss the Atlas Mountains...
The Atlas Mountains, which extend across some 1,200 miles (2,000km) of Morocco, Algeria and Tunisia, are high on the list of places Alice recommends visiting.
Providing world-renowned hiking, climbing and mountain biking opportunities, these storied peaks are an adventure-lover's playground. But in many of the tiny villages clinging to the mountaintops, "you'll also see a very different way of life – the Amazigh way of life."
3. ...or the Sahara Desert
Meanwhile, the Sahara Desert, which lies south of the Atlas Mountains and stretches across an awe-inspiring 3.3 million square miles (8.9m sq km) of North Africa, is another must-visit.
Image courtesy Alice Morrison
While Alice recognises venturing into the desert might not be for everyone, she believes there's a "spectacular emptiness" to be found there. "When you walk through it, your soul or your spirit becomes cleansed by this incredible landscape – and it reminds you how small you are, as a human. It makes you feel alive."
4. Consider doing some trekking
"I love walking, so I would recommend that if you have two weeks you should do a five-day hike within that," says Alice.
Trekking with a local guide is also a great way to immerse yourself: "the guides I've worked with are so knowledgeable, they'll tell you everything there is to know about their country."
For women travellers who want to tread in Alice's footsteps, Intrepid Travel is currently offering a one-off Morocco Expedition, which takes place on 15-20 October this year and is led by Alice.
Beginning in Marrakech, the six-day trip will take visitors into the heart of the Atlas Mountains, where they'll get to meet Amazigh women, hike through the mountains and stay with local families.
READ MORE: Cave diver John Volanthen on his incredible role in the Thai cave rescue mission
5. Get stuck into street food
Thanks to its unique cultural history, Moroccan cuisine is a fusion of influences, including Berber, Arabic, Jewish and Spanish. Tagine – a dish of chicken cooked with spices, olives, lemons and other aromatics, cooked in a traditional clay pot – is a classic for a reason.
"Go and have a tagine in a small place on the street," Alice advises, where it'll be "much tastier and cheaper" than many of the versions you'll find in restaurants. If you're concerned about eating street food, "stick to stalls where there are lots of people crowded around."
Traditional Moroccan tagine served in a market (Image: Curioso.Photography/Shutterstock)
Feeling adventurous? Camel milk is a must-try: "it's absolutely delicious!" Other unexpected staples include chicken and chips – "you'll find it at little stalls all over the country, it's the best in the world" – as well as briouats (pastries with almonds and honey) and amlou (sweet almond butter with argan oil and honey).
6. Dress the part
When visiting Morocco, it's generally advised that visitors, in particular women, dress conservatively, ensuring shoulders and knees are covered.
But it's not just about making sure you feel comfortable. "If you wear western clothes, you'll have a western experience. If you wear slightly more modest clothes, you'll be able to approach people more easily – particularly women," says Alice.
7. Learn some Arabic
Picking up a few phrases in Arabic before you go will make a huge difference when it comes to engaging with local people.
'As-Salaam-Alaikum' is a common greeting, meaning 'peace be upon you'. To respond, you should say 'Wa-Alaikum-Salaam' (peace be also with you).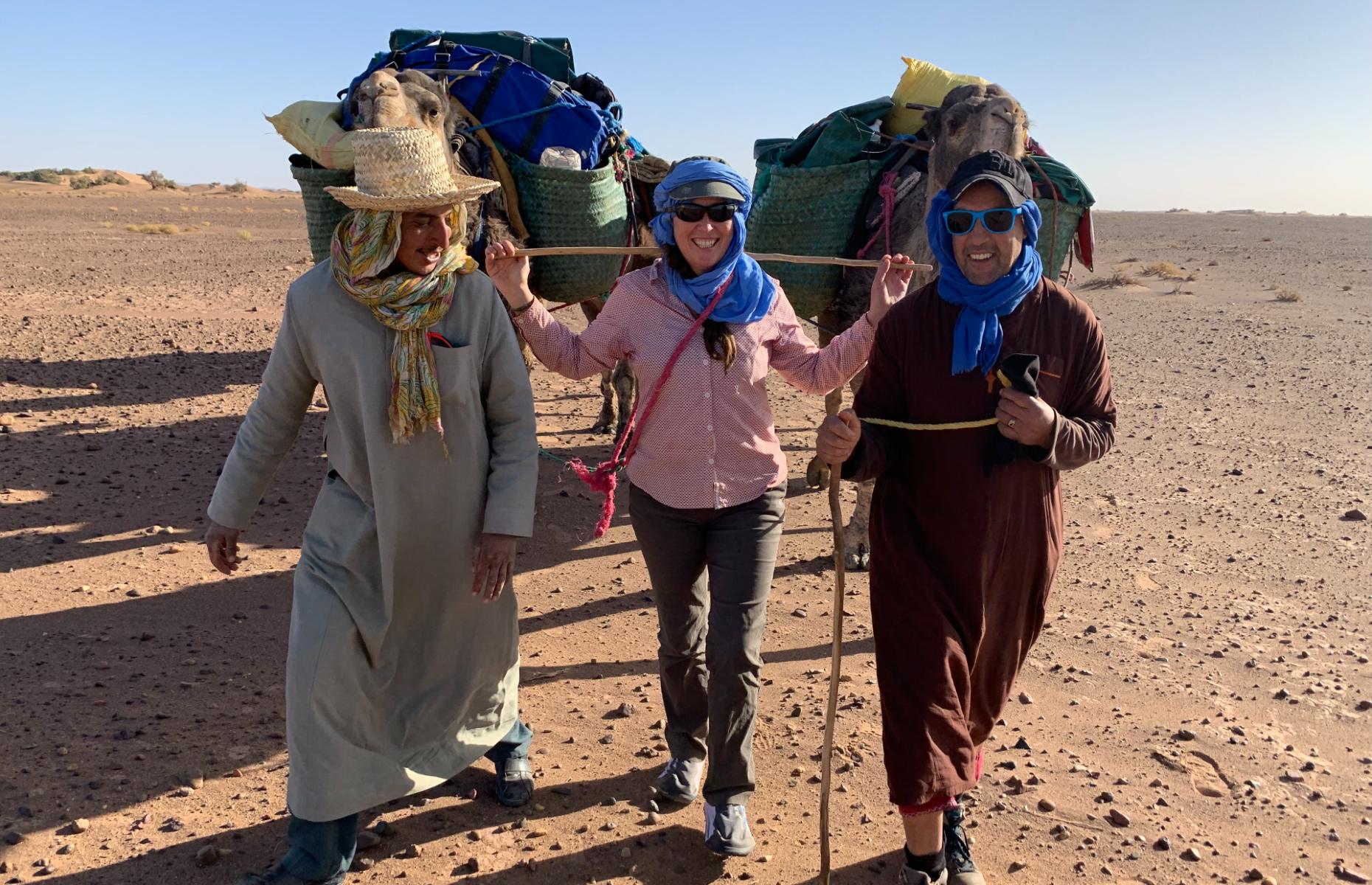 Alice on a trek with two Moroccan guides (Image courtesy Alice Morrison)
'Shukran' means thank you, while 'zwin' means good, beautiful or delicious.
"There's a saying in Morocco, 'Duyuf Allah', which means visitors are from God," says Alice – which she believes is a good summary of the incredible hospitality many tourists receive.
8. Trust your intuition
As a longtime solo traveller, Alice is adamant that "the biggest misconception about women travelling is that it's dangerous". And while there are certainly risks to be aware of, Alice believes that taking a few simple precautions will go a long way in making you feel safer.
Image courtesy Intrepid Travel
"Make sure that you feel comfortable in the hotel, riad or guesthouse you're staying in – that you feel at ease around the owners, that the doors are lockable."
She also advises letting someone know before you head out alone, as well as exchanging contact details so you can get in touch to let them know when you'll be back.
Lastly, "if there's a worry in your mind that something is not right, just listen to it. Your intuition is usually right."
9. Take your time
Morocco isn't a country to be rushed through, tourist checklist in hand. Rather, it's a place to sink into a gentler pace of life. "Take the time to speak to people and if someone invites you to tea, accept the invitation!"
"If you come with an open mind and open heart, you're going to have an amazing time," Alice says.
READ MORE: Top tips for solo travellers
Alice Morrison is currently offering a one-off women's expedition in Morocco in partnership with Intrepid Travel, which is taking place on 15-20 October 2022. To find out more about the trip and book your place, click here. Alice has published four books, the latest of which, Walking With Nomads, was published in March 2022 and is available on Amazon. Find out more about Alice by checking out her website or following her on Instagram.
Lead image: Courtesy of Alice Morrison
Be the first to comment
Do you want to comment on this article? You need to be signed in for this feature