6 ways to get off the beaten path in Santorini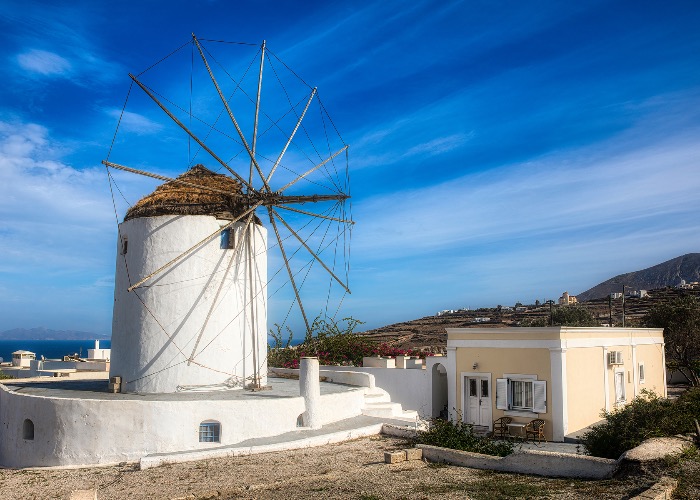 Escape the crowds on this Cycladic island and discover secret eats, deserted hiking trails and under-the-radar hotels.
Santorini's celebrated caldera is a magnet for tourists. They come to luxuriate in stunning cliff-edge hotels, enjoy sunsets over the water from Oia's high-flung castle or swim in hot springs at the crater's edge. But there's much more to explore on this volcanic Greek isle.
From cobbled hiking paths to secret swimming coves and tavernas loved by locals, here's how to uncover another side of Greece's most popular island.
READ MORE: Lesser-known Greek islands to visit before the crowds catch on
1. Seek out the secret food spots
With its fertile volcanic soil where tender white aubergines flourish and its famously sweet cherry tomatoes (used to make the island's signature tomato fritters), Santorini is heaven for foodies. But the best local treats are often served in out-of-the-way mezedopoleios (simple Greek restaurants) and traditional kafeneions (café/bars), where the food is generally much cheaper and you'll probably be serenaded by a radio blaring out the local nisiotika (island) music.
Far from Oia's madding crowds, Kali Kardia (Good Heart) – reached via a bumpy potholed road leading to the wild and lonely Akrotiri lighthouse – is one of the best places on the island for hearty portions of kouneli kokkinisto (rabbit in tomato sauce) and creamy fava made from Santorini's famous yellow split peas.
For luscious seaside treats make a beeline for To Psaraki, a no-frills fish taverna in the remote seaside resort of Vlychada, where chef Thanasis Sfougaris' serves brine-fresh dishes including feather-tender fish carpaccio and garlicky mussels plucked from the surrounding seas and steamed with lashings of local wine.
Prefer turf to surf? Head for Meze Meze, a cosy, family-owned mezedopoleio housed in a renovated 19th-century mansion along a cobbled street in the hamlet of Finikia, which serves the Greek version of tapas: grilled loukanika sausage; eggplant rolls stuffed with local chloro cheese; fried cheese dish saganaki drizzled with thyme honey and other local treats.
2. Set your sights on some lesser-known attractions
If you want to see a different side to this glitzy island, head for the Tomato Museum in the remote seaside resort of Vlychada.
Until tourism came to Santorini in the 1950s, the island's main source of income was tomato paste, which was produced in nine factories dotted along the coast. Housed in the Nomikos family's factory, which was the last to close in 1981, the quirky Tomato Museum is packed with archive photos and videos telling the story of Santorini's lucrative tomato trade. When you've had enough of love apple pulp, there's also a cool courtyard café serving local snacks and a hip gallery showcasing the work of Greek artists.
To soak up more of that local flare, drive fennel-lined roads to hip hamlet Exo Gonia and dive into the labyrinth of streets leading to The Art Space, where the work of Greek and foreign artists are showcased in a subterranean wine cellar dating back to 1861.
Alternatively, turn your back on Oia's sunset views and chic shop-lined pedestrian streets and seek out the quirky little Naval Maritime Museum. Housed in a stunning wood-panelled 19th-century captain's house along one of Oia's peaceful cobbled side streets, this little-known museum bursts at the seams with antique models, ancient maps and other fascinating artefacts dating back to the 1800s, when sailboats travelled as far as the Black Sea and Egypt carrying Santorini's syrupy Vinsanto wine.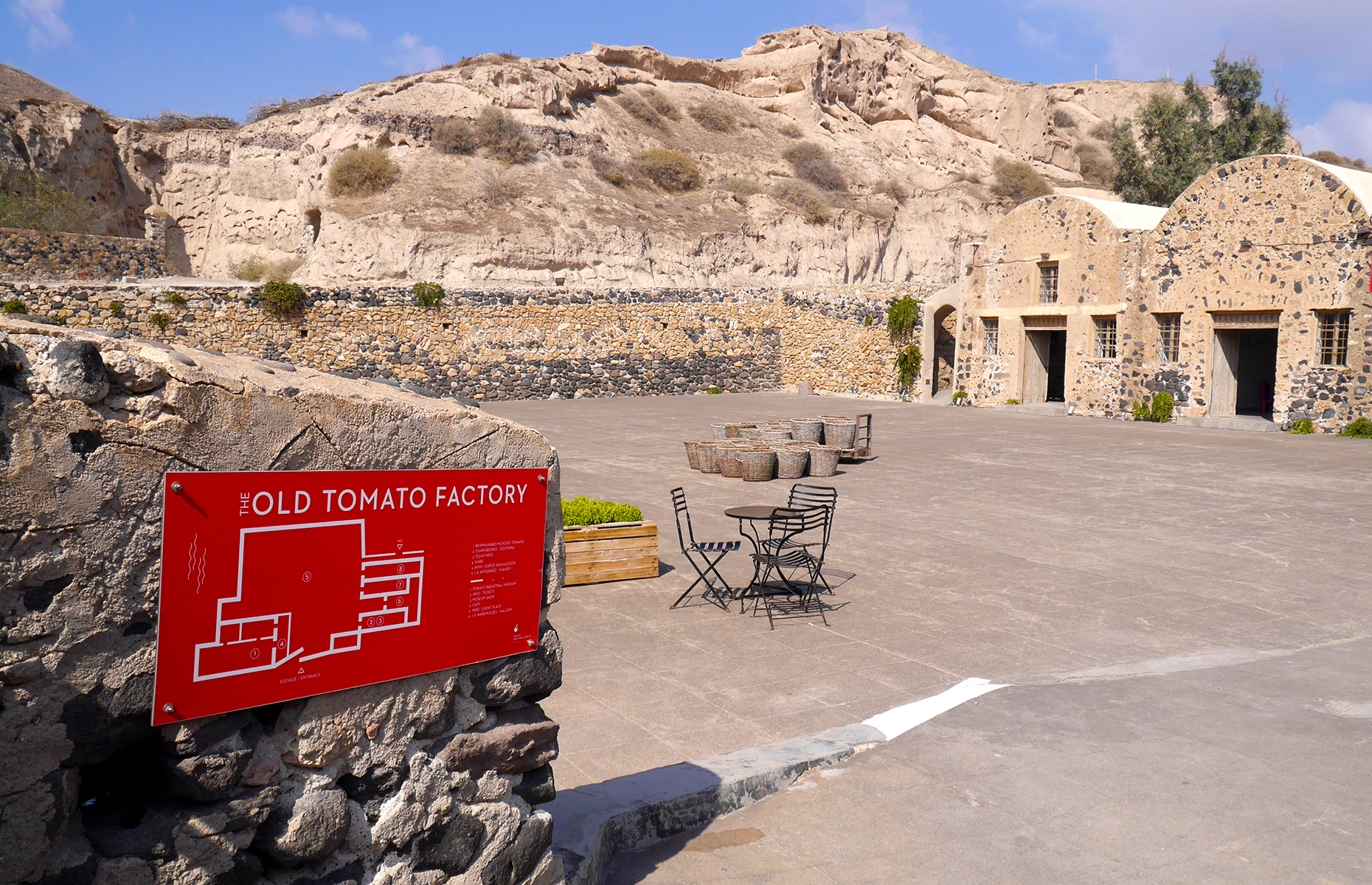 Lil_Schwarmer/Shutterstock
3. Sip and sup along the wine trail
With its sizzling climate and fertile volcanic soil, bite-sized Santorini is famed for its wines – it's made from vines that are grown in circles like giant birds' nests to protect them from the wind.
There are dozens of wineries on Santorini. For a great way to get off the beaten track and take a deep-dive into local culture, make a beeline for the smaller artisan properties producing single-variety, single-vineyard, single-region wines, such as Karamolegos Winery, in the hamlet of Exo Gonia. Here you can soak up some of the family's rich and flinty assyrtiko whites and dense chocolaty mavrotragano reds with a succulent platter of meze snacks, ranging from smoked white aubergine mousse to slow-cooked pork and feta dish kavourmas.
READ MORE: The ancient myths behind these Greek islands
Tumbling down a gorge further inland, the tranquil village of Vothonas, with its cave houses dug out of the steep surrounding hillsides, is home to the Koutsoyannopoulos Wine Museum. This little-known cultural venue housed in a cool wine cellar is packed with archive photos and videos exploring the history of local wine and the often arduous life and times of Santorini's vine-growers.
4. Set out on a hiking trip
Follow Santorini Walking Tours guide Nikos Boutsinis along ancient mule trails lined with the spiked paws of prickly pear, to discover the island's peaceful interiors.
Far from Santorini's madding caldera-edge crowds, you'll discover a string of near-abandoned churches, lost-in-the-past hamlets and overgrown caves where you can explore without another soul in sight.
Alternatively, make the 10-minute ferry ride to Santorini's sister island Thirasia (pictured) and set out on a hiking tour with Explore Thirasia
From abandoned cave villages to laidback tavernas serving local specialties and clifftop churches with spectacular caldera views, this tiny under-the-radar island is like a living snapshot of Santorini as it was 50 years ago.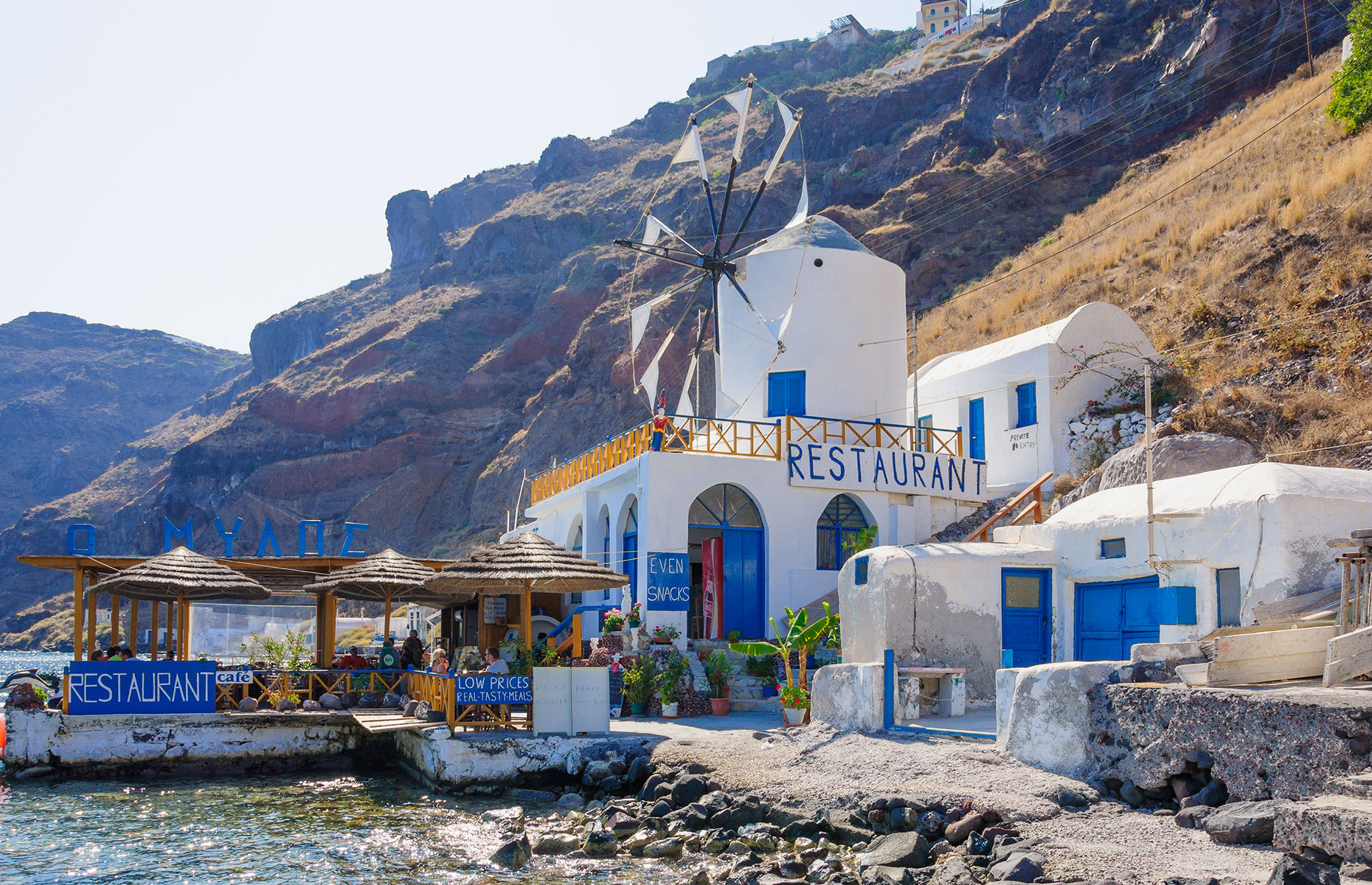 RnDmS/Shutterstock
5. Overnight away from the crowds
Santorini is justly renowned for its spectacular cave hotels perched on the caldera's lofty rim. But if you're seeking an authentic taste of island life, check out these lesser-known – but equally luxurious – boltholes.
For a big dose of romance you can't beat Opera Mansion, a unique villa suite along a cobbled caldera path near Fira town, which was crafted from the ruins of the island's 19th-century opera house. As well as an indoor heated pool and a vast hammam steam room, this dramatically opulent property has a private wine cellar – complete with vintage wine barrels – and a top chef on tap to prepare those romantic dinners.
READ MORE: Explore Limassol – the top things to do, where to stay and what to eat
Further inland set your sights on adult-only boutique retreat Carpe Diem in the historic hilltop village of Pyrgos. Apart from panoramic views over vineyards to the distant sea, you can expect spacious cave-style suites, a glittering infinity pool and a restaurant serving succulent local titbits, including chicken slow-cooked in the local Vinsanto wine.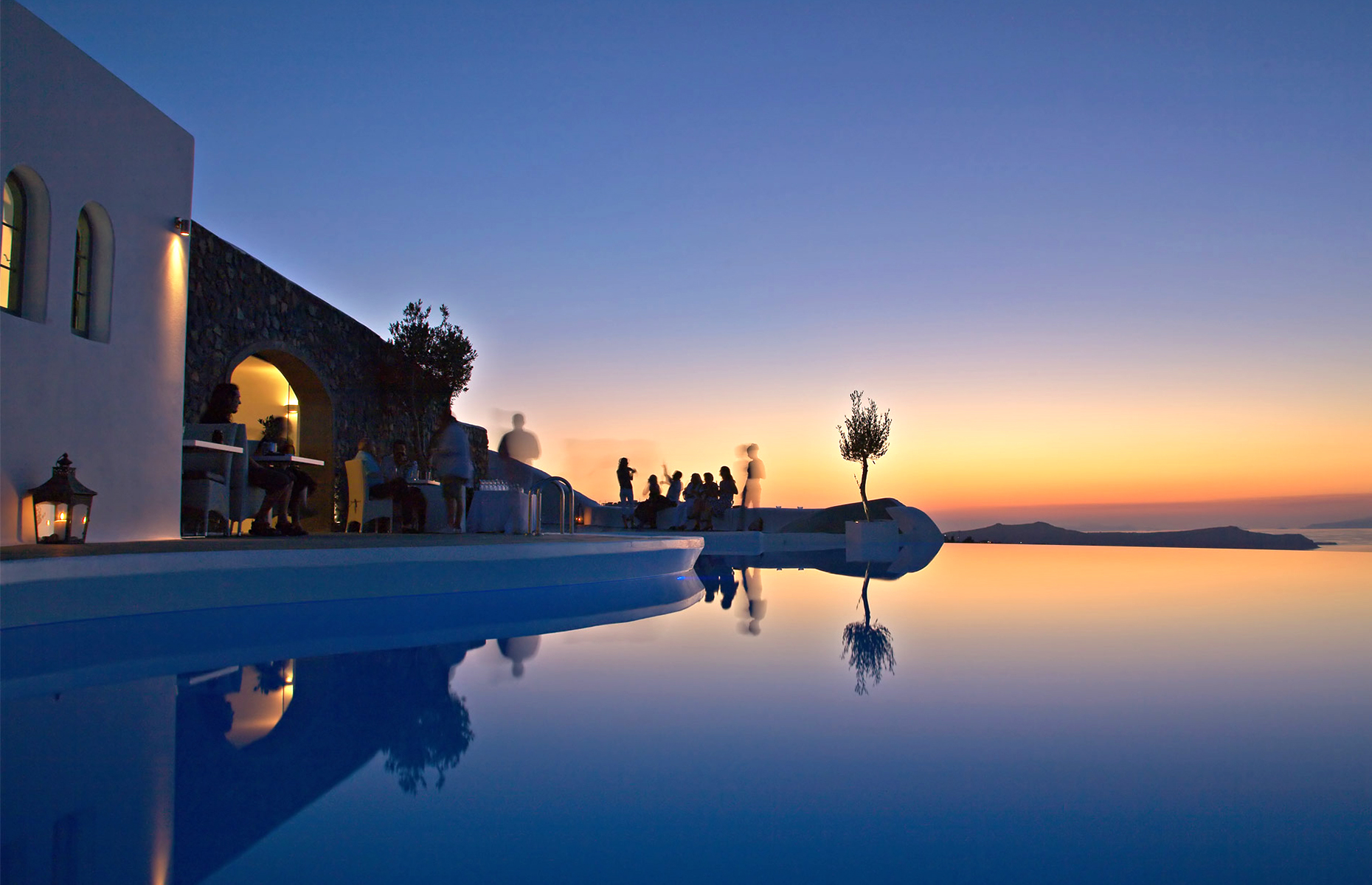 Carpe Diem Santorini/Facebook
6. See your very own Santorini sunset
Santorini's sultry sunsets are a major draw, but you'll have a far more romantic experience if you eschew the crowds flocking to Oia's ancient castle at sundown and take the looping, bumpy road to Akrotiri lighthouse on the island's southwestern tip. You can't climb this isolated watchtower built in 1892, but the caldera views from this far-flung spot are spectacular, and you'll probably have them all to yourself.
If you don't fancy driving, why not hop on a boat with one of the local fishermen? Before the advent of tourism, fishing was a way of life for many locals and it's fascinating to head out with them at sunset in one of their colourful kaiki fishing boats. Afterwards you can sit back and relax in style as they cook up their catch for you to enjoy with a glass of local wine on the way back to port.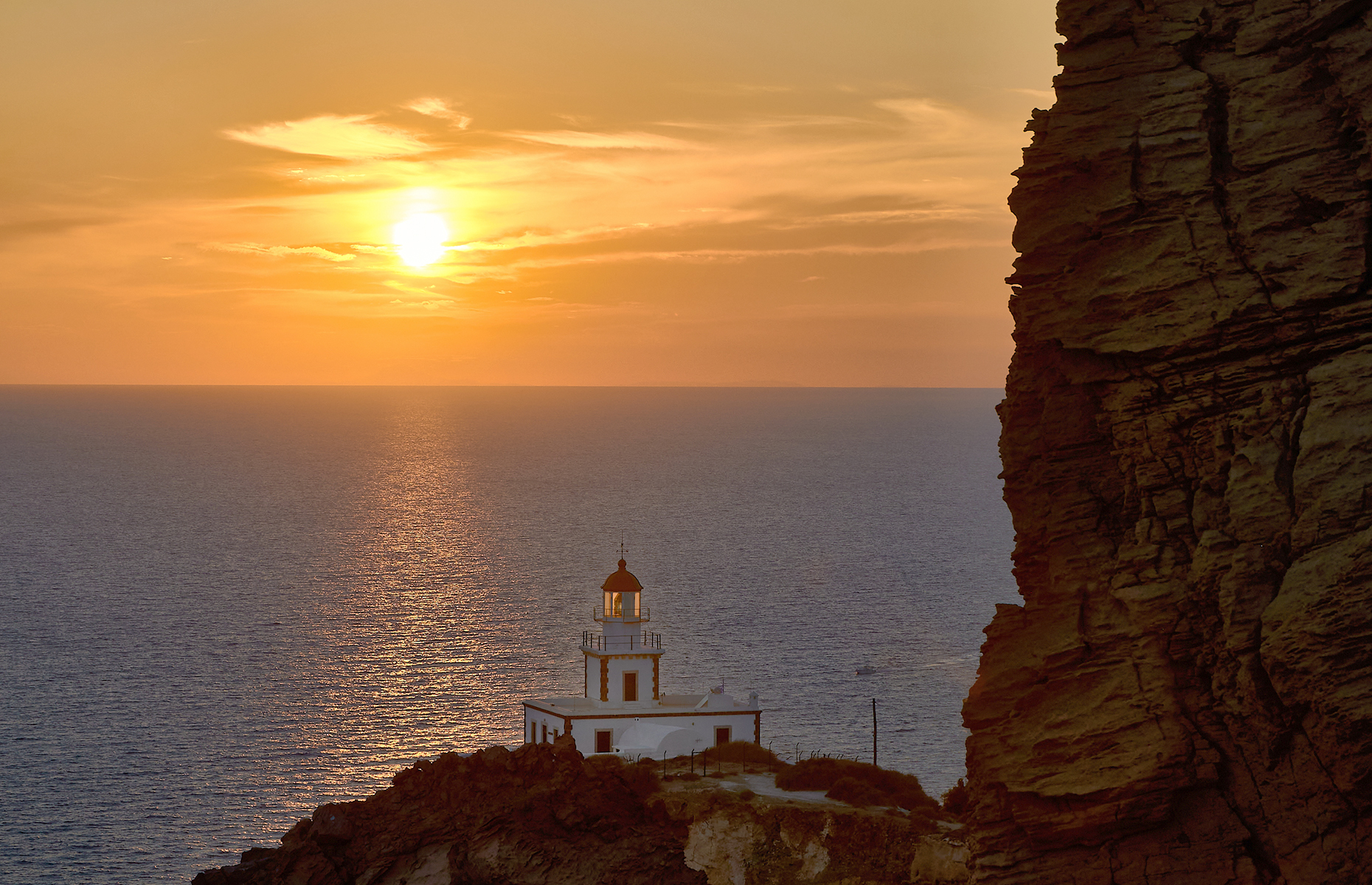 Jdiezfoto - Juan DYB/Shutterstock
READ MORE: 12 Mediterranean islands where you can escape the crowds
Lead image: Rolf E. Staerk/Shutterstock
Be the first to comment
Do you want to comment on this article? You need to be signed in for this feature