Exploring the delights of the Danish Riviera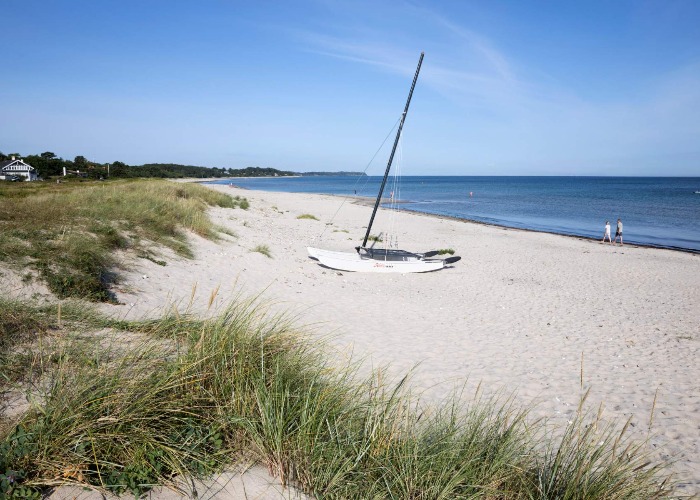 Denmark's island of Zealand is probably best known among tourists as the home of Copenhagen – but make like the locals and head north to the upscale, chilled-out Danish Riviera to discover many more glistening jewels in Denmark's crown.
While you'd be forgiven for spending your entire holiday in Denmark exploring cool, photogenic Copenhagen, that would be a shame when you can hop on a train and soak up more of the joys of Danish culture in North Zealand – home to UNESCO-listed castles, superb art galleries and museums, and tranquil beach resorts complete with cute cottages, unique hotels and flour-soft sand.
Here are some of North Zealand's must-visit spots along the Danish Riviera.
Humlebaek
The star attraction of this quaint harbour town is the world-renowned Louisiana Museum of Modern Art – an institution that seems to celebrate life and nature as much as it does art. Its location is captivating, with a beautiful sculpture garden that looks out peacefully across the Sound strait.
The museum's architecture is equally striking, with a 19th-century house standing metres from a modernist marvel constructed from dark woods and white concrete, with vast floor-to-ceiling windows that showcase the nature surrounding the museum, giving this gallery a welcoming, non-stuffy feeling despite the highbrow art collection within. Expect to see masterpieces by Warhol, Picasso, Francis Bacon and Danish artist Troels Wörsel.
The café is also a standout. Here, a delicious lunch or dinner can be savoured while appreciating the pleasing sculpture garden (whether you sit outdoors or indoors, thanks to the vast windows). Currently, American artist Alex Da Corte's work, As Long as the Sun Lasts, takes centre stage in the garden, featuring Sesame Street's Big (blue) Bird swinging on a geometric wonder from Alexander Calder. It seems to perfectly capture the playful, joyful atmosphere this museum so exceptionally creates.
The walk to the museum from Humlebaek station is a pretty one, passing small smart homes with manicured gardens, many of which are surrounded by forest. Other sights to see include Humlebaek church – it's a stone's throw away from the Louisiana and has a churchyard which weaves its way towards the town's harbour.
Elsinore
In the far north of the Danish Riviera lies the harbour city of Elsinore, famed for its UNESCO-listed Renaissance castle, the setting of Shakespeare's Hamlet. Devotees of the play will love the immersive guided tours offered at Kronborg Castle (named Elsinore Castle in Hamlet).
Our guide, 'Horatio', dressed in full regalia, tells the gripping tragedy from his character's perspective while walking us around key parts of the castle, from the damp and spooky casements – underground passages where soldiers hid in times of war – to the echoing, tapestry-lined banquet hall, where our guide cleverly ends his retelling.
While we can't be sure that Shakespeare ever visited Kronborg Castle himself, we do know that some of his actor friends came here to perform plays, and our guide suggests Shakespeare could indeed have visited alongside them, possibly in disguise. Rumours aside, the castle is well worth a visit and in summer, you can even catch renditions of Shakespeare's plays within the handsome imposing walls.
Thomas Hoyrup Christensen
READ MORE: The most beautiful European castles
There's plenty more to see in Elsinore over the course of a day or two. Head to the city's former shipping area and explore the Culture Yard, a large glass building overlooking the strait between Denmark and Sweden. It runs various cultural activities throughout the year, as well as exhibitions, theatre shows and gigs, while its café offers brilliant views of Kronborg Castle. A short walk from Kronborg lies the Maritime Museum of Denmark, an underground trove which tells the country's seafaring history through a series of dynamic multimedia exhibitions.
Daniel Rasmussen
READ MORE: Fascinating museums to visit around the world
Make sure you also spend some time wandering this city's cobbled streets, which are dotted with arts, crafts and design stores. For a sumptuous dinner, book Restaurant MOS, a passion project for chef Anders Dolleris and his partner Maria Glerup, who is front of house.
Expect a Michelin-star-worthy meal here in unpretentious surroundings, served by smiling staff who will proudly talk you through the 12-course tasting menu, paired excellently with matching wines. The emphasis here is on locally sourced, fresh produce and the flavours are inventive, delicate and downright delightful. The menu changes frequently but highlights from my visit include a Nordic-style ramen with plump, salty mussels from Jutland; and a white asparagus poached in brown butter and decorated with cabbage and elderflowers and roast onion dust, served with a yuzu and sea porcupine hollandaise sauce.
The 12-course tasting menu surprise is priced at £85.50pp, with wine pairing an additional £57 for five wines.
Elsonire's beachfront hotels have drawn in well-heeled Danish crowds seeking a restorative escape for hundreds of years. For a relaxed but refined stay, check into the grand Marienlyst Strandhotel, which dates back to 1861 and sits right on the Sound with direct access to a private beach. Its rooms are bright and airy; some have large balconies where you can relax while enjoying views of the water and Kronborg Castle, whose green copper spires take on a gorgeous glow at sunset.
The hotel also has an excellent indoor-outdoor spa; two restaurants, including Nordic-French fine dining in 1861; and a brasserie/wine bar. The breakfast choice is particularly impressive, with everything from hams and cheeses to pastries, porridge, fruit and warm dishes on offer in the large, sun-lit Restaurant Marienlyst.
A double room including breakfast starts from £223 per night. Guests wishing to book the spa can purchase a spa stay.
Hornbaek
With its gorgeous stretch of soft-sand beach sheltered by green-tufted dunes and lapped by cornflower-blue water, it's no surprise that Hornbaek is much-loved by Danes as a summer break choice.
While Hornbaek beach is the most visited in North Zealand it's also the largest, so it never feels overcrowded. It's a family-friendly spot too, with a café and a boardwalk that makes it accessible for both pushchairs and wheelchairs. The beach, which is lifeguarded in summer, also has a beach wheelchair that can be taken into the sea.
Malthe Zimakoff
As well as the café, minutes away from the beach is Det Fedtede Hjørne, an open-air street food venue with a relaxed, friendly atmosphere that's open for lunch and dinner and serves a rotating array of cuisine, from Caribbean jerk chicken to Nepalese curries, as well as ice-chilled beers from the bar.
Or book dinner at the impeccably stylish Hotel Hornbækhus, which welcomes both guests and non-guests each evening to dine at its long wooden tables.
In keeping with the hotel's homely feel, the meals are wholesome and home-cooked, with big plates of food shared out among diners. As a tourist, booking in for dinner is a great way to meet locals, learn more about Danish culture and share a convivial atmosphere together.
The hotel is of course also a wonderful place to stay. While the wooden building dates back to 1904, all the interiors, including the 36 bedrooms, were revamped by Danish design studio EEN in 2018. Each room is different and offers heaps of Scandi-chic personality: think beautiful floral wallpaper, Midcentury furniture, walls of old paintings, ceramic-dotted window sills, sumptuous Moroccan-style rugs and velvet sofas scattered with bright cushions. Welcome to hygge heaven.
Hornbaekhus and its nearby beachside sister property, Villa Strand, also run regular group activities, from exercise classes to knitting and creative workshops. Or just grab a chair and relax in the hotel's peaceful gardens. (A double room at Hornbaekhus including breakfast starts from £138.)
READ MORE: Europe's most affordable and stylish hotels
Once you've lazed on the beach all morning and gone for a cooling dip – or a surf, if the conditions are right – grab a bike (Hotel Hornbækhus offers free bike hire to guests) for a postcard-pretty ride along the coast path.
The North Coast Bicycle Route 47 stretches from Elsinore to Hundested and is joined easily from Hornbaek. It's a great way to take in the Danish Riviera's impressive upscale holiday homes, flower-filled pathways and coastline.
robertharding/Alamy Stock Photo
Stop at the Rudolph Tegner Museum & Statue Park, near the beach resort of Dronningmølle, for a dose of culture. Danish sculptor and artist Tegner (1873-1950) somewhat egotistically built this high-ceilinged small museum/mausoleum (he and his wife are buried here) to house his work and it feels almost like a church with its octagonal roof and echoing interior.
The 250-or-so white plaster and marble works within are vast (hence the 11-metre ceiling) and are mostly imposing, impressive and somewhat intimidating portrayals of men and women – some of the pieces sparked resistance from Denmark's cultural circle at the time for their perceived violence, leading to connotations with fascist art. Climb the moveable wooden staircase to see the huge, macho works from above.
Simeon Baker
Less intense is a wander around the museum's outdoor sculpture park, where 14 more of Tegner's works, this time in bronze, loom over the heathery hills. The setting is serene and bucolic and you'll share the paths with grazing or dozing sheep in summer. Visit later in the day to see the statues glinting during golden hour.
Henrik Sylvest
Getting there
Trains depart regularly from Copenhagen Central Station to Humlebæk Station on the scenic Øresund (Sound) route. The journey takes around 35 minutes. From the station it's a 10-minute walk to the Louisiana Museum of Modern Art.
Trains from Humlebæk Station to Elsinore take around 15 minutes, or it's a 45-minute journey from Copenhagen Central Station to Elsinore via the Øresund route. Trains from Elsinore to Hornbaek take around 30 mins, or it's around one-and-half hours by train from Copenhagen Central Station.
By purchasing a Copenhagen Card (€102 or £87 for 72 hours), you can travel for free in the Capital Region of Denmark (which includes the Danish Riviera towns and cities of North Zealand). Entry to attractions including the Louisiana Museum of Modern Art and the Rudolph Tegner Museum & Statue Park are also free with the pass.
For more information, see visitdenmark.com and visitcopenhagen.com
Main image: robertharding/Alamy Stock Photo
READ MORE: How to spend a budget-friendly weekend in Copenhagen
Be the first to comment
Do you want to comment on this article? You need to be signed in for this feature