What's new in Orlando's theme parks?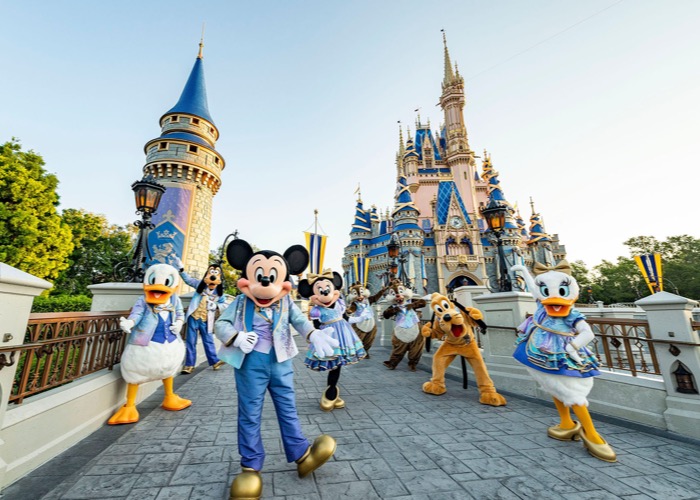 Known as the theme park capital of the world, Orlando in Florida has a Hulk-sized bundle of new rides and attractions to enjoy. Hold on tight for our rollercoaster ride around the best.
After the restrictions of the past few years, travellers are chomping at the bit to tick off those bucket-list experiences and make some magical new memories with family and friends. If there's any destination designed to help you leave your worries at the doorstep, it's Orlando. The city is home to some of the world's best theme parks, incredible hotels and pretty much year-round blue skies (Florida is America's Sunshine State, after all).
Nearby, Kissimmee has more than 50,000 holiday homes, many with private pools, perfect for multigenerational stays – it's the official Vacation Home Capital of the World, don't ya know? And with a huge construction project underway at Orlando International Airport – the building of a new South Terminal – there should soon be no end of flights to get you there, should your magic carpet, broomstick or dragon be out of action.
Universal Orlando Resort
What's new? Walt Disney World
With new attractions and events to mark its 50th anniversary year, running until March 2023, there's plenty of time to join in the festivities at Walt Disney World during The World's Most Magical Celebration. One of Florida's most spectacular nighttime firework extravaganzas, Disney Enchantment, lights up the iconic Cinderella Castle in the Magic Kingdom, with fireworks and projections also extending along Main Street for the first time in the park's history. Iconic landmarks, including EPCOT's Spaceship Earth are illuminated as Beacons of Magic, while 50 golden sculptures of favourite Disney characters, old and new, can be spotted around the parks.
Amazing EPCOT
Remember EPCOT – the educational park that never seemed quite as exciting as the rest as a kid, but was cool because its 11 World Showcase pavilions meant you could walk (and eat) your way around the globe in an afternoon? This year EPCOT has become THE Disney park to visit, thanks to the opening of Walt Disney World's most thrilling theme park ride since the spectacularly spooky freefall-fest The Twilight Zone Tower of Terror or exhilarating Rock 'n' Roller Coaster Starring Aerosmith.
The World Discovery zone's Guardians of the Galaxy: Cosmic Rewind is one of the world's largest enclosed coasters, blasting off with Disney's first-ever reverse-launch, which shoots riders into a star-studded spin through the Marvel Universe on a mission to save the Galaxy. Racing through the Milky Way and around the Moon to the sound of one of six high-energy pop anthems – nu-wave anthem I Ran (So Far Away) by A Flock of Seagulls is my personal fave, but I'm an unashamedly 1980s chick – the 360-degree spinning cars soar at high-speed so smoothly around the track that other big-hitting coasters are instantly relegated to bone-rattlers.
READ MORE: Walt Disney World at 50 – amazing pictures through the decades
Kent Phillips/Walt Disney World Resort
Meanwhile around the lagoon, EPCOT's Remy's Ratatouille Adventure offers family fun as visitors are shrunk to Remy-the-rat size and whirled around Gusteau's Parisian restaurant in a 4D part-film, part-ride experience. And after dark, a new nighttime spectacular, Harmonious, lights up the sky with pyrotechnics, lasers, choreographed fountains and giant screens to a backing track of Disney classics from Aladdin to Moana, Coco and more.
A galaxy far, far away
Unless you've been living on Tatooine, you'll know that the Disney empire now includes the Star Wars franchise, since Disney acquired Lucasfilm in 2012. And as The Force grows stronger across the world's Disney parks, Orlando is leading the way with the first ever fully immersive Star Wars resort experience, Star Wars: Galactic Starcruiser, which opened in March 2022.
David Roark/Walt Disney World Resort
This two-night adventure offers fans the chance to be the hero in their own Jedi story from the moment they board the Halcyon star cruiser. Iconic characters from the Star Wars world appear throughout the stay, which includes excursions into Star Wars: Galaxy's Edge, the themed world within Disney's Hollywood Studios. Here, Starcruiser and park guests can make like Han Solo and Chewie on the Millennium Falcon: Smugglers Run ride or battle the First Order and Kylo Ren in the mind-blowingly brilliant Star Wars: Rise of the Resistance, which has multiple ride systems, iconic life-sized All Terrain Armoured Transport (AT-AT) walkers and more stormtroopers than you can buzz your lightsaber at. Epic.
What's new? Universal Orlando Resort
Jurrasic thrills
A hot contender for the coveted 'Best Theme Park Ride in Orlando' gong, the new Jurassic World VelociCoaster at Universal's Islands of Adventure propels ride design to a whole new level of insane intensity. Billed as the 'Apex Predator of Roller Coasters', this turbo-charged toothy treat aims to recreate the thrill of a hunt. It thrusts riders from zero to 55 miles per hour (89km/h) in just a few seconds, whipping them through four inversions, including a zero-gravity weightless stall, as they twist and turn amidst the caverns and ferns of Jurassic Park's velociraptor paddock, within inches of the ravenous reptiles.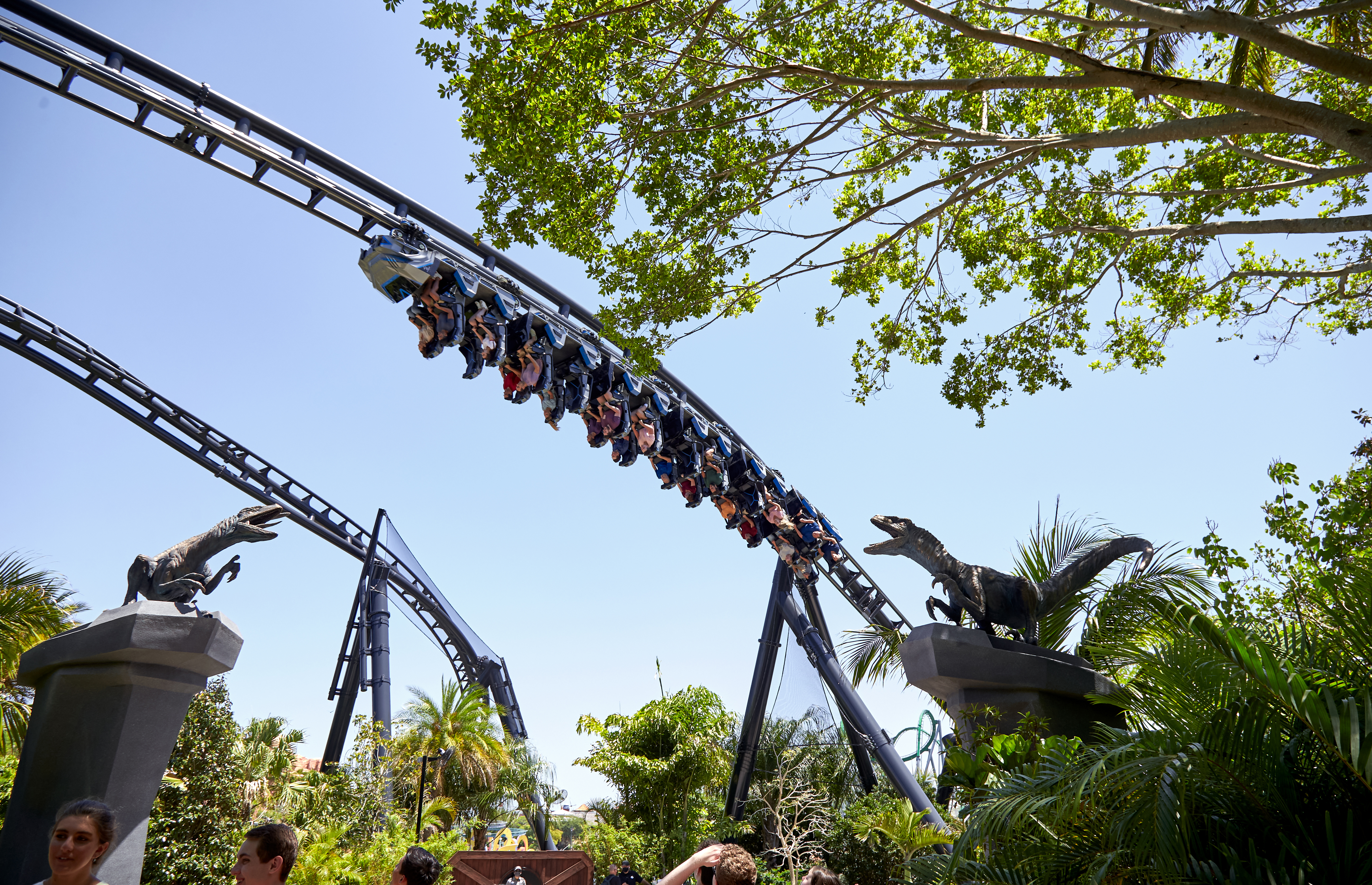 Universal Orlando Resort
A second launch kicks the speed up to 70 miles per hour (113km/h), thrusting riders up to a dizzying 155 feet (47m) arch or 'top hat', before plunging 140 feet (43m), and entering a surprise 360-degree barrel roll within splashing distance of the water in the lagoon as a grand finale. Florida's fastest launch-coaster has plenty of immersive dino action to keep you entertained while you're in the queue too, and you can take prehistoric pics right up until you ride, with lockers before you board to stash and collect your phone when you're back on terra firma.
Wizarding adventures
The other big draw at Universal's Islands of Adventure is the thrilling Hagrid's Magical Creatures Motorbike Adventure in The Wizarding World of Harry Potter – Hogsmeade section of the park. It opened in June 2019 and the travel-light Covid years have left Hagrid's rip-roaring ride feeling brand new – so, as with the VelociCoaster and Disney's Guardians of the Galaxy: Cosmic Rewind, you'll need to be tactical if you want to ensure you get on (you can buy a range of Express passes). Still, standing in the queue will give you plenty of time to decide who gets to ride the motorbike and who's in the sidecar (both are great, but driving is better), before you set off on a high-speed chase along almost a mile (1.6km) of track, making it Florida's longest roller coaster ride.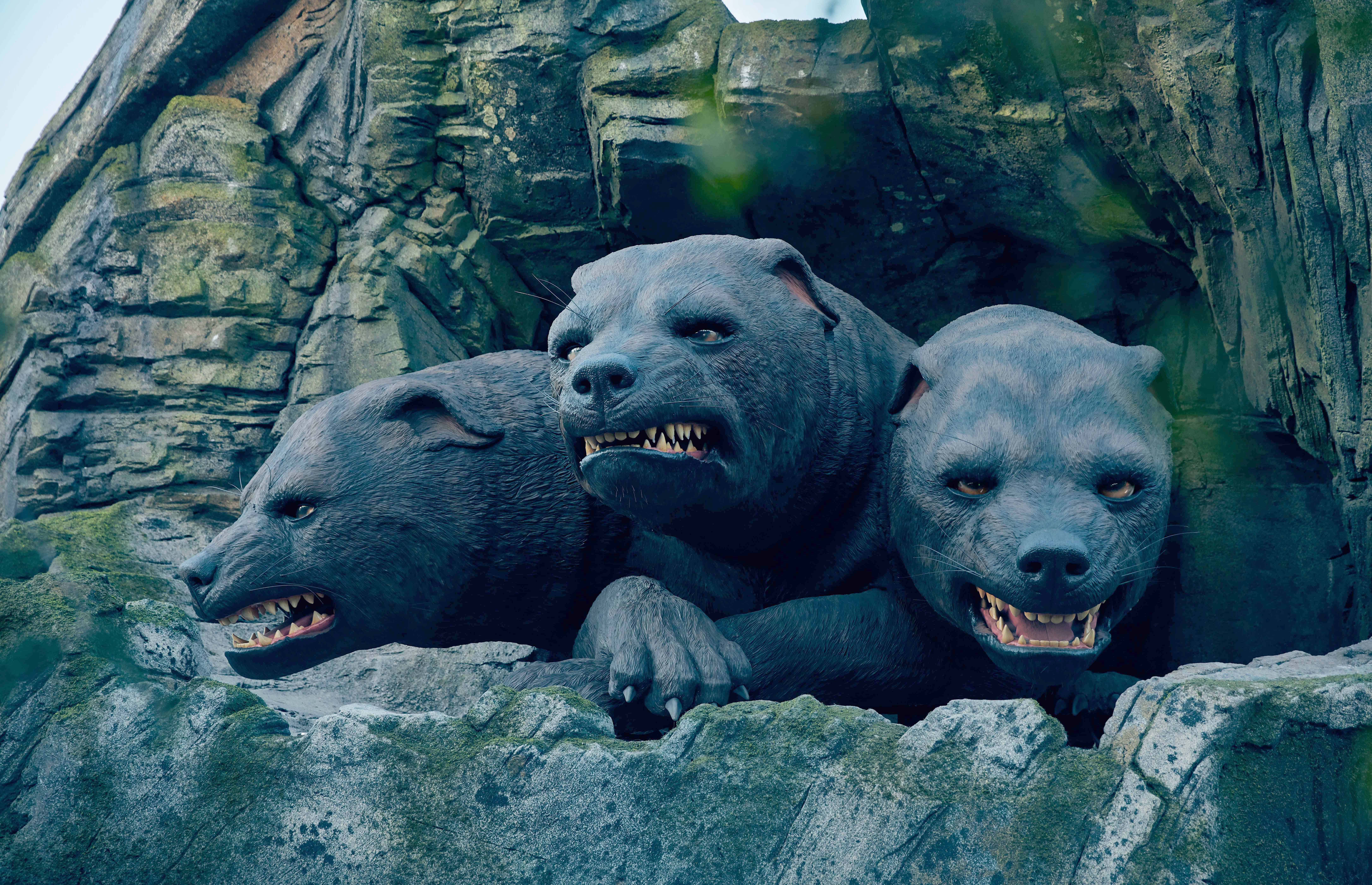 Universal Orlando Resort
Sumptuously themed, like all of Universal's Harry Potter rides and attractions, the coaster travels through the Forbidden Forest and around a ruined castle – roamed by magical beasts including the three-headed dog, Fluffy – and riders will even meet the great man himself, who provides commentary throughout the trip. A world-record-breaking seven launches cleverly replicate gear changes on the bike and crank the pace up to an adrenaline-pumping 50 miles per hour (80km/h), and (spoiler alert!) there's a rare vertical freefall drop and a brilliant 65-feet-high (20m) spike that leads to nowhere, apart from a surprise backward plunge too. Magic.
READ MORE: 5 reasons to stay in a private cottage in Orlando
A ride away on the Hogwarts Express from King's Cross Station (only the Florida sun betrays the fact you're not really in London), The Wizarding World of Harry Potter – Diagon Alley at Universal Studios Florida is home to a fire-breathing dragon, the Harry Potter and the Escape from Gringotts 4D thrill ride, plus themed shops, restaurants and attractions that Harry fans will go potty for.
Universal Orlando Resort
Escape rooms and spooktacular events
In true pioneering style, Universal Orlando Resort opens its first unique escape room experiences this autumn at Universal CityWalk, with adventures inspired by Back To The Future and Jurassic World, while the Resort's spooky season starts on 2 September with 10 terrifying haunted house experiences, five scare zones and two live shows. Halloween Horror Nights draws on classic scenes from the Halloween franchise featuring ultimate slasher villain, Michael Myers; Universal Monsters: Legends Collide see Universal Pictures' icons Dracula, The Mummy and Wolfman unite for the first time; and The Horrors of Blumhouse bring Blumhouse's horror-comedy Freaky and upcoming supernatural thriller, The Black Phone, to life. Be very afraid.
What's new? LEGOLAND Florida resort
If you're travelling with younger children – or you just happen to be a Peppa Pig mega-fan yourself (no judgement here, my friend) – then add LEGOLAND Florida Resort to your US itinerary. Located in Winter Haven, around 45 minutes from Orlando Airport, it's a little further away than some of the other parks. That means it's often less busy, while still providing all the shiny good times you need for a family-friendly day out.
Standing on the site of the old Cypress Gardens (Florida's first theme park, which opened in 1936), LEGOLAND is unexpectedly lush and shady for a park built in honour of plastic bricks, which is a blessing on a hot and sunny Florida day: the old Botanical Gardens are still here and well worth a wander. A large awning over MINILAND USA, erected in time for the park's 10th birthday in October 2021, makes viewing the American cities which have been skilfully recreated in LEGO infinitely more sun-safe too.
And if you're staying at the park's themed Pirate Island Hotel or LEGOLAND Hotel, they're just a skip from the theme park's entrance, ideal for tired little ones at the end of an action-packed day (a third hotel, Beach Retreat, is just half a mile away, with bungalows set around a lake).
LEGOLAND Resort
The world of Peppa Pig
With over 50 rides, shows and attractions, including kid-friendly coasters The Dragon, The Great LEGO Race, Coastersaurus and Flying School, there's plenty to keep you busy in LEGOLAND, but since February 2022, there's also been the added bonus of having the world's first stand-alone Peppa Pig Theme Park next door. Squeal.
Perfect for pre-schoolers who love the TV series, Peppa's new domain includes a Daddy Pig's Roller Coaster for your own brave little piggies, the swash-bucklin' Grandad Dog's Pirate Boat Ride and Grampy Rabbit's Dinosaur Adventure. The park looks amazing – sunflower yellow and bubblegum pink popping against Florida's cobalt-blue skies, and a rainbow of colour everywhere. Fun and safety are joint priorities, with height requirements to ride in place where necessary, plenty of hand-washing stations and cashless payment throughout the park.
With plenty of interactive and immersive shows and experiences, like Peppa Pig's Treasure Hunt Adventure and Peppa Pig Comes To Play, there's no chance of your brood getting bored, but there's a Cinema if they need some down time to chill out of the heat, with beanbags and episodes of Peppa Pig shown on the big screen, plus the excellent Muddy Puddles Splash Pad for some cooling, splashy fun. The whole park is also a Certified Autism Center, so staff have been trained to enhance the visit of adults or children with autism, while Peppa Pig's Balloon Ride is wheelchair-friendly and the grounds have been designed with accessibility in mind.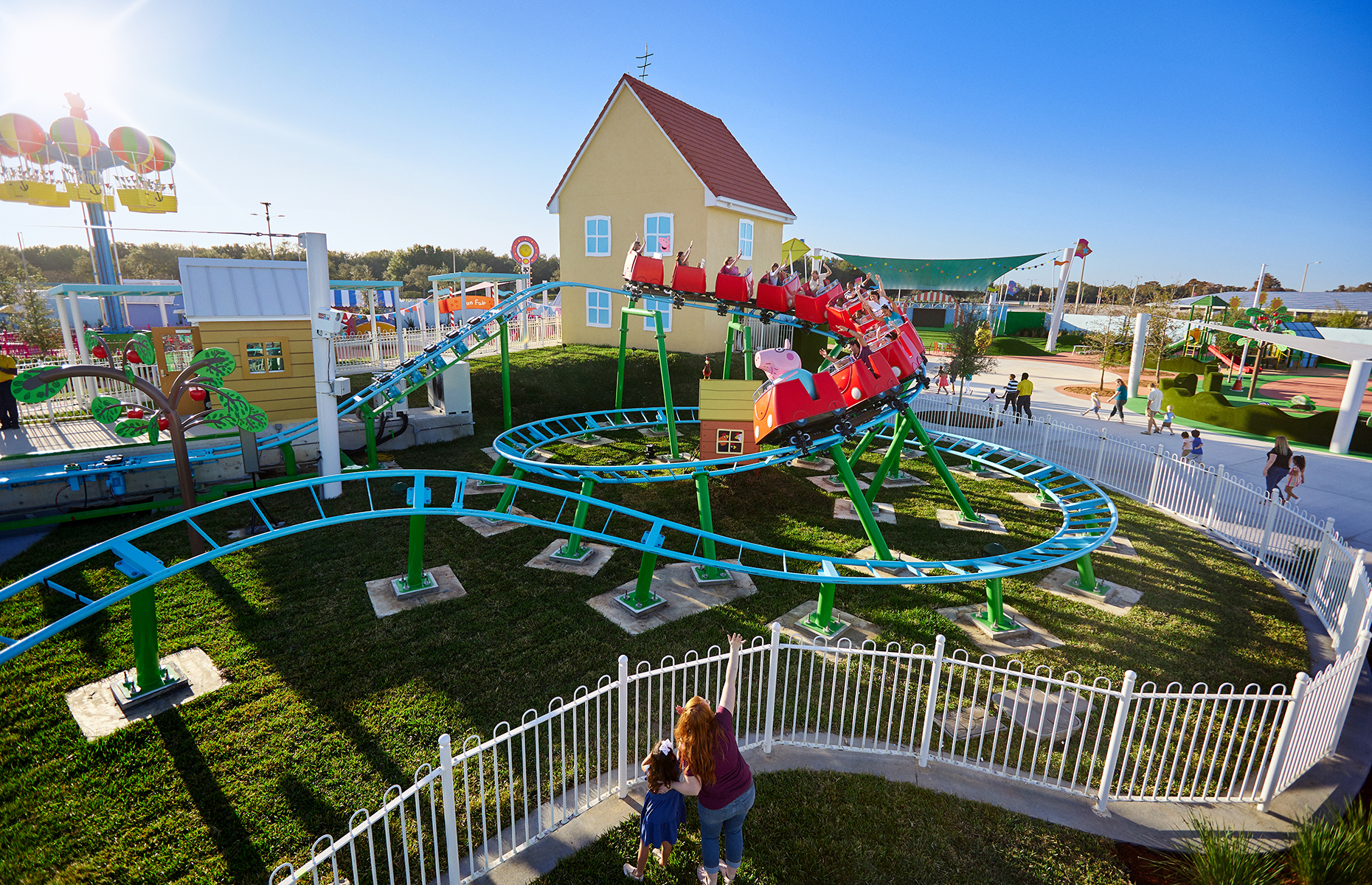 Peppa Pig Theme Park
Back for Halloween, LEGOLAND's Brick-or-Treat will have a spooktacular all-new show lineup including an interactive V.I.M. Dance Party Hosted by Lord Vampyre, plus a Monster Party on select autumn weekends, a new 4D movie, The Great Monster Chase, and some completely new and exclusive LEGO characters. The Dragon ride will also be transformed to a Disco Party Coaster playing a monster Halloween-themed soundtrack, so get ready to screeeeaaaammm.
READ MORE: More than Mickey – Orlando beyond the theme parks
Getting there
America As You Like It offers a 14-night family holiday to Kissimmee and Orlando from £11,655 for two adults and two children (2-9yrs), including return flights from London Gatwick to Orlando on British Airways, 14 days' fully inclusive car hire and seven nights' self-catering in a three-bedroom villa at Magic Village Yards, seven nights' room-only in a family room at Universal's Endless Summer Resort – Surfside Inn and Suites, a Disney 7-Day Magic Digital Ticket with Memory Maker, a Universal Orlando 3 Park Explorer Ticket and a one-day LEGOLAND ticket each.
For more ideas on what to do in Florida, go to VisitFlorida.com, and discover more to do in Orlando and Kissimmee at VisitOrlando.com and ExperienceKissimmee.com
Lead image: Courtesy of Walt Disney World Resort
Be the first to comment
Do you want to comment on this article? You need to be signed in for this feature