How to spend 48 hours in Trondheim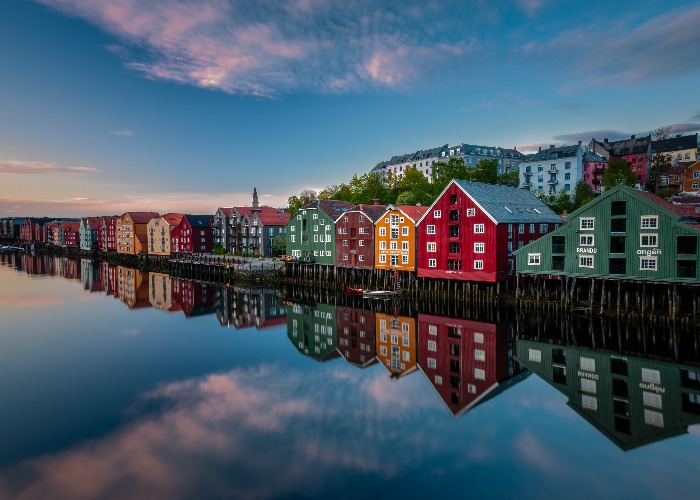 With its colourful waterfront houses, great food and drink and beautiful Gothic cathedral, Trondheim has plenty to charm you with on a weekend stay.
Trondheim, with its fjordside location and colourful wooden rowhouses, calls to travellers looking for a taste of Nordic life off the well beaten track. It's often overlooked on tours of Scandinavia for Norway's bigger metropolises such as Oslo or Bergen. But this former capital rivals its southern Nordic sister cities when it comes to views, food and local charm.
The city is perfectly poised for a quick city break, with breathtaking views of Norway's famous deep blue fjords and lush green hills. It's the third-largest city in Norway and yet, with a population of only about 200,000, it's small enough to wander around.
Trondheim and its surrounding area, Trondelag, was named a European region of gastronomy for 2022 – putting it in the league of other foodie destinations such as Catalonia and the Greek Cyclades. So expect to eat well, with menus offering farm fresh cheeses and seafood fished from the fjords.
For winter weekends, visitors can hope for a Northern Lights sighting – although the locals would say you must venture slightly out of the city for a proper chance to see the natural wonder without as much light pollution. And visitors during the summer can expect long days with sunlight stretching until after 11pm. Sure, it's not quite the Arctic midnight sun but it does give the same feeling of never-ending daylight (and you'll still need your hotel's blackout curtains to catch some sleep).
Sun or clouds, here's what to do on a perfect weekend trip to Trondheim.
Friday
Check into: Norway's only five-star hotel is the Britannia Hotel, a palatial building right in the centre of town. Originally opened in 1870 to host British tourists visiting to fish salmon, in 2019, the hotel went through a renovation to reinvigorate its historic grandeur. Now, its 224 rooms are the luxury accommodation option of Trondheim (about £240 per night), positioning you at the heart of the city. More budget-friendly options include Thon Hotel Trondheim (about $110 a night), with an extensive buffet breakfast to fuel your city wanders.
Dreyer and Hensley
Start exploring: Head straight to the riverside neighbourhood of Baklandet to ensure your welcome to the northern city is via its most picturesque streets. Cross over the Nidelva River via Gamle Bybro, the city's historic wooden bridge, for the best views of the iconic colourful waterfront warehouses. Once used for shipping goods from the fjord, now the houses on the eastern side of the river are residential homes, quirky cafés and boutiques.
Have dinner at: Nestled between a rainbow of buildings painted in the traditional Nordic colour palette, you'll find Baklandet Skydsstation. This locally-loved café serves traditional Norwegian cuisine, including salt cod, reindeer stew and herring. We'd especially recommend the delicious, rustic fish soup – filled to the brim with local seafood and overflowing with flavour. And you can't go wrong with one of the homemade cakes to finish your meal.
Enjoy a nightcap at: Continuing down the quaint streets of Baklandet, you'll find Den Gode Nabo, a pub with an enviable floating patio on the river perfect for the long Trondheim summer nights. When the weather turns chilly, look for a seat at nearby Antikvariatet. Its outdoor tables are stocked with woolly blankets and inside you'll often find games nights, pub quizzes or live music.
READ MORE: How to spend a budget-friendly weekend in Copenhagen
Saturday
Have breakfast at: Trondheim's city centre is teeming with little bakeries and cafés, nearly one on every corner. Looking for something more ornate? The Britannia's Palmehaven breakfast buffet has seemingly endless stations of local cheeses, meats, freshly prepared omelettes and pastries.
Take a walking tour: There's plenty to see right in the city centre of Trondheim. First stop, Nidaros Cathedral. The spectacular church – and pilgrimage site dedicated to King Olav II, patron saint of Norway – has seen several new leases on life, after fires raged through the original structure in the 1300s, 1500s and 1700s. But some original carvings remain intact, along with new Gothic additions from the 19th century.
Tomasz Majewski
Continue along to the statue of Olav in the town square, where you'll find a plethora of cafés where, if weather permits, you can sit outdoors and watch the city. Nearby, Stiftsgården wooden palace is the largest of its kind in Scandinavia and is the current royal family's place of residence when they visit Trondheim for coronations, royal weddings or other state affairs.
Take to the water: Trondheim is a city built around the river and the fjord, and so to truly take in the sights, you have to leave land. Book a boat ride along the Nidelva river and into the Trondheim Fjord but make sure to dress for the elements – the weather in Norway can switch from a mild summer breeze to winds bringing Arctic chill within seconds.
Try a tasting menu: To really sample the region's wealth of excellent ingredients, the city's fine dining chefs offer indulgent tasting menus. Michelin-starred Speilsalen at the Britannia hotel serves seafood and Champagne, you can opt for seven courses at To Rom og Kjøkken, focusing on regional ingredients from larger Trondelag, or try all ten plates on Bula Bistro's tasting menu, served in the restaurant's hipster chic dining room.
Sunday
Have brunch at: Trondheim quietens down significantly on Sundays. Make your way through the sleepy streets to Kafe Soil for a light breakfast or a late brunch.
Enjoy one last spectacular view: Brace yourself for the steep path up to Kristiansten Fortress – now often used for picnics overlooking the charming city centre. If you would rather travel by bicycle, try out the city's unique bicycle elevator – a tricky piece of equipment used to tow cyclists up the steep hill. Tourists might opt for the slower 'beginner mode', as the tram operates by balancing one foot on the towpath while sitting on your bike.
Flar Foster
If you have a bit more time, ake the tram to the Lian hiking area to immerse yourself in some Nordic nature and fresh air. Once your feet are thoroughly worn out, return to The Britannia for a soak in the spa's hot tub, with the Northern Lights projected above the pool.
If you have longer than a weekend, extend your trip to see the rest of Trondelag – to enjoy sweeping fjordland views, lush farmland and the bounty of cuisine it offers.
READ MORE: The best Tenerife hiking trails
Getting there
Norwegian Airlines offers daily flights from Gatwick to Trondheim starting at £58 one way, while three flights depart each week from Manchester to Trondheim for around £60 one way.
Be the first to comment
Do you want to comment on this article? You need to be signed in for this feature