How to spend 48 hours in Grenoble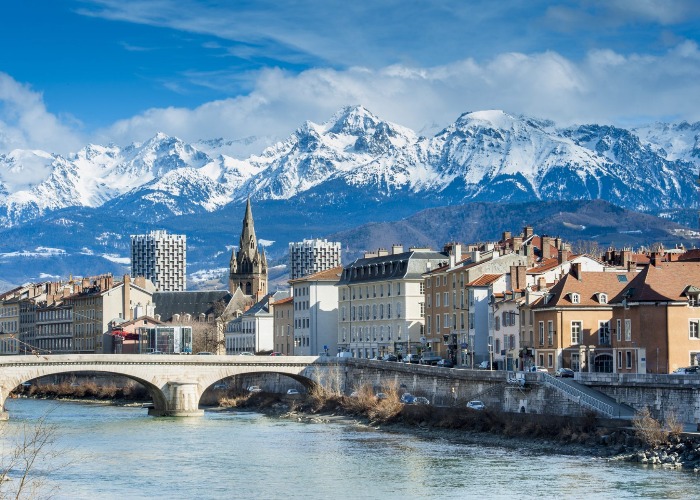 The French alpine city of Grenoble is as culture-rich as it is picturesque, with museums, cafes and nature trails right on its doorstep – plus an emphasis on green travel that has seen it named the European Green Capital of 2022. Here's how to spend the perfect weekend getaway here.
Sitting at the foot of the French Alps in the heart of the Isère department, Grenoble is a vibrant, culturally rich city – well worthy of a weekend visit in itself and perfectly positioned as a gateway to the surrounding mountains, including the stunning Massif du Vercors.
Grenoble was awarded the title of European Green Capital in 2022 – its cycle network is outstanding, its parks and open spaces are maintained without the use of pesticides, the food served in its schools is sourced from local and organic farms, its metropolitan heat network runs on 80% renewable energy and it was the first city in France to adopt a local climate plan.
There's a good choice of restaurants, from chic brasseries to Michelin-starred fine dining. Don't leave without trying ravioles – yes that's ravioli, but not as you know it. Think delicious, extra-thin pasta dough parcels filled with local cheeses and herbs, served with browned butter or a whole slew of other sauces. And of course, you can't leave without trying some Chartreuse, the delicious but stupendously potent local liqueur, made my monks in the nearby Chartreuse mountains since the 1700s. Here's how to spend a perfect 48 hours here.
Friday
Check-in at: Maison Barbillon. This cosy three-star has a handy location just around the corner from the railway station, and a décor that manages to be stylish and homely at the same time. If Maison Barbillon is full, try Hotel OKKO, located about 15 minutes on foot from the railway station on Rue Hoche.
Take the cable car up to Fort de la Bastille: Taking the Téléphérique from beside the River Isère up to Fort de la Bastille is one of the highlights of any visit to Grenoble. The fort was built in the 19th century, though the hill had been fortified since the 1590s. The views from the fort are superb, with the city laid out at your feet below a long succession of defensive walls and bastions, which leap down the crags (and were built to defend the city from the mountains, not the valley). The Massif du Vercors stretches in a line on the far side of the city, its wall of cliffs a living geology exhibit – display boards explain their formation over the past 125 million years or so. If you have time, instead of taking the cable car back, you can walk back down through the fortifications and gardens, following the signs towards Pont de France. There's a good, clear path, with several flights of steps – it's mostly paved, but fairly steep in places. Allow at least 35 minutes for the walk down.
Relief Drone/Shutterstock
READ MORE: Our definitive guide to Nantes, France
Dinner at: Le Rousseau is an excellent, Michelin-listed restaurant with a young chef championing fresh, local market cuisine. A three-course menu comes in at €35 (or only €26 if you come at lunchtime on a weekday), with wine pairings (three glasses) priced at €26, or there's a five-course Menu Confiance for €52.
Drinks at: Le Zinc. Just around the corner from Le Rousseau, Le Zinc is an excellent little wine bar with more than 1,000 wines, as well as (in case you're still feeling peckish) cheese and charcuterie platters.
Saturday
Explore the city by bike: Hire bikes for the day at Mvélo+, which has an office right outside the railway station. Grenoble is a perfect city to explore by bike – flat, relatively compact, with plenty of cycle lanes. There's no shortage of bike stands around the city, so you can easily lock your bike while you go into a café or shop, or visit a museum. Pick up a free bike map before you head off. A good route would include cycling over to the River Isère, crossing to the north bank at Pont de France (where there's a great view of the Téléphérique), heading back over the river to Parc Paul Mistral, and through the old town. At some point in the afternoon, pick up the ingredients for your picnic tomorrow – for delicious local cheeses try Fromagerie Les Alpages.
Pierre Jean Durieu/Shutterstock
Visit the Musée Dauphinois: Founded as a women's convent in the 17th century by the Order of the Visitation of Holy Mary, the Musée Dauphinois has been home to several women's orders over the years, as well as doing a spell as an army barracks and then housing for Italian workers. It was converted into a museum in 1968. Along with the beautiful cloister and astonishingly decorated chapel, there are several temporary exhibitions each year, including in 2022 an excellent exhibition on the city's former gloving industry, which thrived in the 18th century.
katatonia82/Shutterstock
Lunch at: Le Petit Idée. This is a good little place for lunch or dinner, with two- and three-course menus starting at €20/€25 respectively, or choose à la carte for local specialties like whole trout in sauce à la Grenobloise (browned butter, capers, parsley and lemon).
Visit the Musée de Grenoble: The Musée de Grenoble is home to a superb art collection, spanning the 13th to the 20th centuries and including works by the likes of Canaletto, Chagall, Giacometti, Matisse, Picasso and Veronese.
EBASCOL/Shutterstock
Coffee at: Coffee and Go is a nice little coffee shop near the Cathedral, which also has smoothies, cakes and muffins.
READ MORE: France's most beautiful villages
See some of Grenoble's street art: Grenoble has some amazing, large-scale street art, thanks to the launch of its annual Street Art Festival in 2015.
EQRoy/Shutterstock
Dinner at: Le Fantin Latour. Michelin-starred chef Stéphane Froidevaux and team concoct fabulous dishes inspired by the flavours of the surrounding mountains. Degustation menus are priced at €90 (they also have a €30 brasserie menu at lunchtimes), and there's a beautiful garden. If you've already returned your bike by this point, you can get back to the railway station by taking tram A or B.
Drinks at: La Quintessence is a stylish wine bar, just across the other side of Jardin de Verdun from Le Fantin Latour.
Sunday
Go for a hike in the Vercors: Grenoble is surrounded by mountains, including Les Écrins, the Chartreuse, the Belledonne – and the wonderful Massif du Vercors. Ringed by cliffs, the Vercors includes a vast plateau in the south, and is the largest terrestrial nature reserve in France (Parc naturel régional du Vercors). The north of the range in particular is very easily accessible from Grenoble, even as a day trip. Take bus T64 from Grenoble to the village of Villard-de-Lans (55 minutes away), from where there are plenty of well-marked hiking trails to choose from. One of the best starts from a parking area southeast of the village and goes to the 1,766m Col Vert, which commands stupendous views over Grenoble and the snow-topped mountains beyond. Allow at least five hours return.
OUESTUSA/Shutterstock
Late lunch or dinner at: Jeanette. Another Michelin Guide listing, Jeanette is run by two young chefs (both named Jeanette) and places an emphasis on local, organic and seasonal ingredients.
Alternatively, if you need somewhere closer to the railway station, try Le Gratin Dauphinois where you can round off your weekend in Grenoble with a gratin de ravioles, or choose among several salads.
Getting there
Grenoble is just three hours by TGV from Paris Gare de Lyon, meaning that with an early start from London Kings Cross St Pancras on the Eurostar you can easily be in Grenoble by mid-afternoon. Alternatively, you can fly to Lyon (easyJet has direct flights from the UK) and take a train from there to Grenoble (taking one hour). Grenoble is easy to get around on foot, or by bike and there's a good tram network – lines A and B are the most useful for getting between the old town and the train station. For further information visit grenoble-tourisme.com.
READ MORE: Take two: where to go in Europe for a double city break
Lead image: colores/Shutterstock
Be the first to comment
Do you want to comment on this article? You need to be signed in for this feature