How to spend 48 hours in Christchurch, Dorset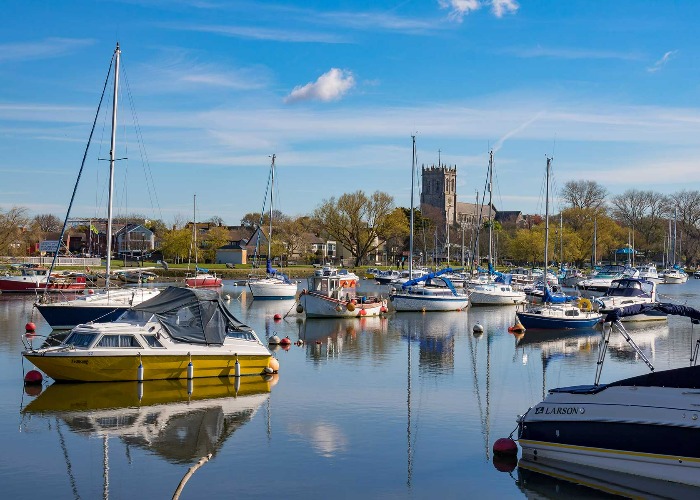 Christchurch's compact size effortlessly combines old-world charm with sleek restaurants and even snazzier hotels. Here's why you should add this Dorset town to your travel plans this summer.
Sit by the sea and under the sun in Christchurch, Dorset. Wedged between Bournemouth and the New Forest, here you'll find dim sum bars in centuries-old buildings and waterfront hotels overlooking moored sailing and fishing boats. This ancient town is also home to the annual Christchurch Food Festival, which some 60,000 foodies flock to, and there's plenty of fun-in-the-sun activities for all the family to enjoy.
Christchurch is bursting with blue plaques, historic buildings – such as Christchurch Priory – and museums, while a crop of independent establishments proves there's more here than history. The town is also served by the efficient Yellow Buses so there's no hanging around with the company's handy app, which provides live departure times and bus passes.
Ready to start exploring? We've got the lowdown on how to spend an ideal weekend in Christchurch.
Friday
Check into: The Captain's Club Hotel & Spa. This dog-friendly hotel has a swish nautical theme throughout with a bar, restaurant and outdoor seating. Floor-to-ceiling windows are prevalent in all rooms, but if you really want to upgrade your stay opt for a luxury suite – one even has its own cinema room. With two or three bedrooms and bathrooms, a fully-equipped kitchen and a spacious lounge area, you'll feel pampered even if you don't make use of the hotel's on-site spa. Sip a Nespresso coffee, take a luxurious soak in the bath or head to the bustling bar for an aperitif before your evening meal.
Courtesy of Captain's Club Hotel and Spa
Dine at: The Boathouse. A short five-minute walk from the hotel lies this lively restaurant-bar which often has live music, making it an ideal place to spend an evening. Starters include gambas pil pil (tiger prawns and chorizo) and a Thai sharing platter (satay skewers, sticky ribs, spring rolls); mains include parma ham-wrapped monkfish and Moroccan lamb as well as burgers and pizza; while desserts include chocolate brownie and ice cream. Wash it down with wine, a mocktail or beer and settle into the night ahead or take the short stroll back to your room for a night of sumptuous relaxation.
The Boathouse Christchurch/Facebook
READ MORE: The best beaches to visit in Dorset
Saturday
Get up and at 'em: with breakfast at the hotel. Either sit indoors or outside by the riverside and help yourself to a selection of fruit, cereal and pastries. You can also order hot breakfast; selections include grilled minute steak and eggs, poached haddock with spinach or avocado on toast, all of which are guaranteed to set you up for a day of sightseeing. Feeling lazy? Make use of that hotel phone and order up for room service.
Head out for the day: Following the same route as last night, cut through the small park and past The Boathouse to reach Christchurch Priory. This Norman-built church features Early English, Gothic and Tudor Renaissance styles and is Grade I-listed; it's also the longest parish church in England and is packed with architectural and social history details. The surrounding priory ruins make for a quiet walk towards the quayside and are an ideal picnic spot. If history's your bag it's well worth following this self-guided history walk which takes in Christchurch's historic quarter.
Adrian Baker/Shutterstock
Discover Christchurch's history: at the Red House Museum. The former Georgian workhouse is now a museum and art gallery where you can learn all about Christchurch's ancient past – from the Ice Age through to the 19th century – through displays, artefacts and photographs. There's also a Victorian dress-up section for kids and a small art gallery showcasing works by local artists. Once you've finished up inside (helped along with a slice of cake from the café), head outside to wander through the wraparound herb garden looking towards Christchurch Priory.
Explore the high street: Stroll along the high street's local shops and pubs, most of which are set in centuries-old buildings and adorned with blue plaques. But it's not just about all things old – stop for lunch at The Tea House Dim Sum & Cocktail Bar, indulge in local art at Hatch Gallery or check out the contemporary restaurants, bars and shops.
Pause for a sweet treat: at The Ducking Stool. Just off the high street, this secret spot is a local favourite for incredible milkshakes. Sip through KitKat, Freddo and Lotus Biscoff creations while you decide whether to continue sightseeing – the remains of a Norman house sit atop a high mound just off the high street – or try out an activity like paddleboarding or a riverboat tour.
The Ducking Stool/Facebook
Head back to the hotel: for a spot of indulgence. Yet another of Captain's Club accolades is its spa. You'll need to book in advance for massage treatments but otherwise simply saunter down in your hotel-provided robe and slippers and chill out for the rest of the afternoon. Kick back on a sunlounger, take a dip in the hydrotherapy pool or simmer away in the Jacuzzi and sauna. There's also a private sun terrace, where you can sit back with a cup of herbal tea and simply listen to the sea breeze rustle through the bamboo leaves.
Get suited and booted: and take the five-minute stroll up to Bodega. This rustic-themed bar selects wine from independent growers and with friendly staff on hand to provide recommendations, you'll walk out feeling like a connoisseur. Their changing wine menu may include local selections like Black Chalk sparkling wine or organic choices like Spanish Abismo with peach and apricot notes. Cornish Yarg, local Blyton and powerful Picos Blue cheeses are served on boards along with cured meats, chutney and crackers, and you can add on extra nibbles (like huge nocellara olives) to complete your order.
READ MORE: England's most beautiful places, ranked
Sunday
Check out: After your final breakfast at Captain's Club, it's time to check out (sob!) – but the trip doesn't end here. Hop on the 1a bus or make the ten-minute drive to Highcliffe Castle.
Admire the views: both inside and out at Highcliffe Castle. This lavish mansion was used as a country home during the 19th and early 20th centuries and saw multiple owners; Henry Gordon Selfridge (of London's Selfridges fame) lived here during the First World War. The Romantic and Picturesque architecture adds to its splendour while inside there are restored rooms and original furniture and textiles on display. Out front, green lawns overlook the sea and towards The Needles on the Isle of Wight. You might need a map to navigate your way through the likes of the Upper Kitchen, Octagon Room, Library and Drawing Room – you've been warned!
Loretta Damska/Shutterstock
Round it off with lunch: at The Lord Bute, a short walk down the road. It might be set in a historic building (it's named after the 19th-century English Prime Minister who lived here) but the restaurant is brought up to date with a purple and grey decor throughout and a pianist complementing your experience. Menus include local Jurassic Coast beef and veggie tortellini while on Sundays there's a set five-course menu of tartlets, creamy soup, a roast and desserts – so make sure you arrive hungry. If you've time, sit out in the garden section before wrapping up the weekend and heading home. Can't bear to leave? They also offer rooms and suites.
Getting there
By train, Christchurch is well-connected with London Waterloo (journey time is roughly 1hr 50 min) and the station is a five-minute bus ride or 10-minute walk from the high street. Alternatively make the picturesque drive through the New Forest (which takes roughly 2.5 hrs from central London).
READ MORE: Explore Bristol: the top things to do, where to stay and what to eat
Be the first to comment
Do you want to comment on this article? You need to be signed in for this feature