A wild and windswept break in the Åland Islands, Finland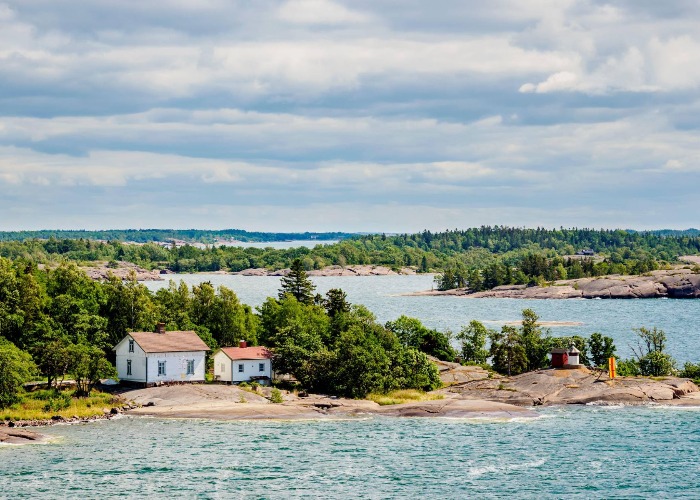 Made up of some 6,700 individual islands, Finland's Åland archipelago has been shaped by glaciers, wind and sea over thousands of years. And there's nowhere better to experience the sheer power of Mother Nature.
If you're looking for a place to truly feel the wind in your hair, this is it. I'm on a tiny motorboat headed towards Kobba Klintar, a former pilot island in the Åland archipelago, and every inch of my body is being thrashed by a ruthless stream of air as we bump along the waves.
The journey is far from serene – but this is not a serene place, its hulking pink granite boulders hewn out by millennia of harsh wind, waves and glaciers. It's a place that has been shaped by the brute force of nature, and as we clip along the ocean, gently splashed by the waves, I can feel myself succumbing to it too.
Built in 1862, the pilot station on the islet of Kobba Klintar was created to help guide ships into the nearby port of Mariehamn. It was a necessary addition: at least 500 vessels are known to have sunk in the waters around this archipelago, due to the difficulty of navigating its shallow reefs, skerries and islands.
parkerphotography/Alamy Stock Photo
Thankfully, we're in safe hands. Our skipper, Bo-Erik Westberg, has spent most of his life boating and fishing in these waters, and currently leads daily trips to Kobba Klintar in his trusty boat, Fiskelyckan. At one point, he beckons us towards his SONAR device: we're nearing a shipwreck, and as we pass, you can clearly see the boat's shape on the screen. The thought of the many bodies submerged in these depths sends shivers down my spine.
But it's time to turn my eyes back to what's going on above the water, as we've reached our destination. The rocks here are chameleon-like, reflecting whatever's going around them: today, it's all dark, brooding clouds, which only seem to enhance their rugged beauty. But on sunny days they're striking in an entirely different way, sparkling rosy-pink and gold as they catch the light.
Janus Orlov/Alamy Stock Photo
On the island, we peek inside two former shipping stations – a larger wooden structure dating to the 1950s, plus a replica of the original 19th-century pyramid. I'm amazed by the traces of life on this far-flung patch of land, which feels like it's at the edge of the world.
READ MORE: Eerie images of the world's most famous shipwrecks
Jewels of the Baltics
Kobba Klintar is just one of the 6,700 islands that make up the Åland archipelago, stretching like scattered jewels across the Baltic Sea between Sweden and Finland. They range from tiny rocky outcrops to the largest, Fasta Åland ('Main Island'), where the majority of its 30,000-strong population live. This is also the location of Mariehamn, the islands' capital and our base for the trip.
The archipelago may be part of Finland, but the official language here is Swedish and it has its own government and flag. In short, the region has its own distinct identity, which is neither Finnish or Swedish but something else entirely – as we quickly discover while navigating the islands.
Courtesy Visit Åland
You might expect residents of such a tiny community to have a small-town outlook, but many of the business owners I speak to have ventured far and wide, only to discover a deep-rooted yearning for Åland life.
Johanna Delfs, who runs Carlsro Badhotell, is one such islander. Having grown up on the Åland islands, she travelled throughout Europe in her twenties, settling in Copenhagen with her husband, Ebbe. But a couple of years ago, she decided to leave the busy city and return to these tranquil islands.
Part of their appeal, she says, is the strong sense of community. "As an islander, you're forced to create your own jobs – and your own fun – which means you're more invested in the community," she tells me. "The smaller scale of everything makes it feel very safe and familiar."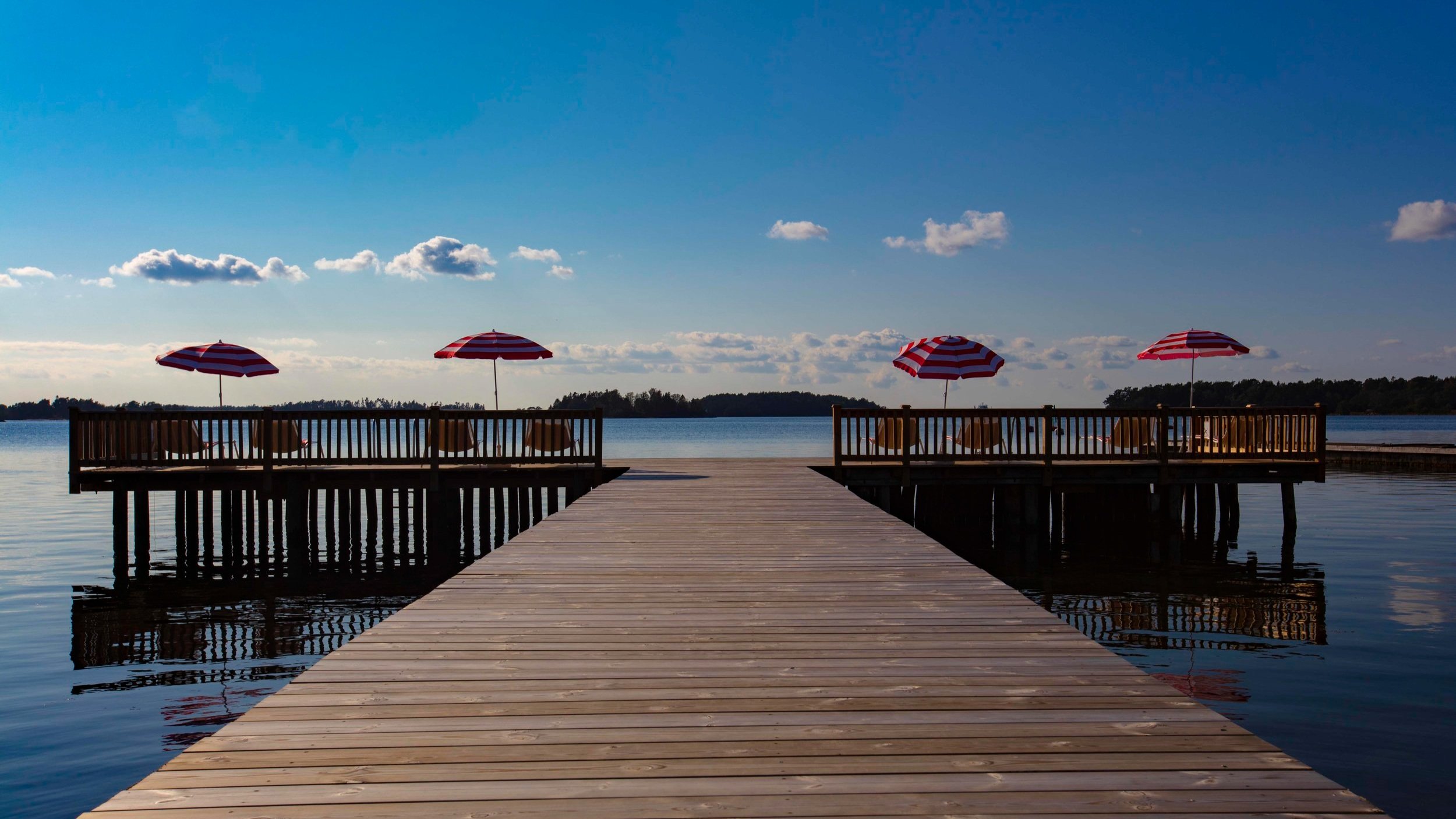 Courtesy Carlsro Badhotell/Facebook
Meanwhile, for Jenny Björklund, co-owner of Smakbyn, it's the combination of stunning scenery and unique culture that makes the Åland islands special. "It's a beautiful place, a clean environment, and we are a proud people with a strong sense of identity."
READ MORE: Culture, coast and countryside in northern France
An adventure-lover's playground
The Åland Islands don't have the dramatic peaks or steep fjords of their Nordic neighbours. Here you'll find a more subtle kind of beauty: tiny hidden beaches, pockets of colourful wildflowers, soft-focus cliffs that look like they've been sketched out with pastels.
And that's what makes them so special. The Åland Islands don't hit you over the head with their good looks – they reel you in slowly, until you've been taken in hook, line and sinker.
The best way to discover this hidden magic? Make like the locals and embrace the great outdoors. After our windswept excursion to Kobba Klintar, we hire bikes from City Sport & Cykel and head out along the cycle path hugging the south coast near Mariehamn.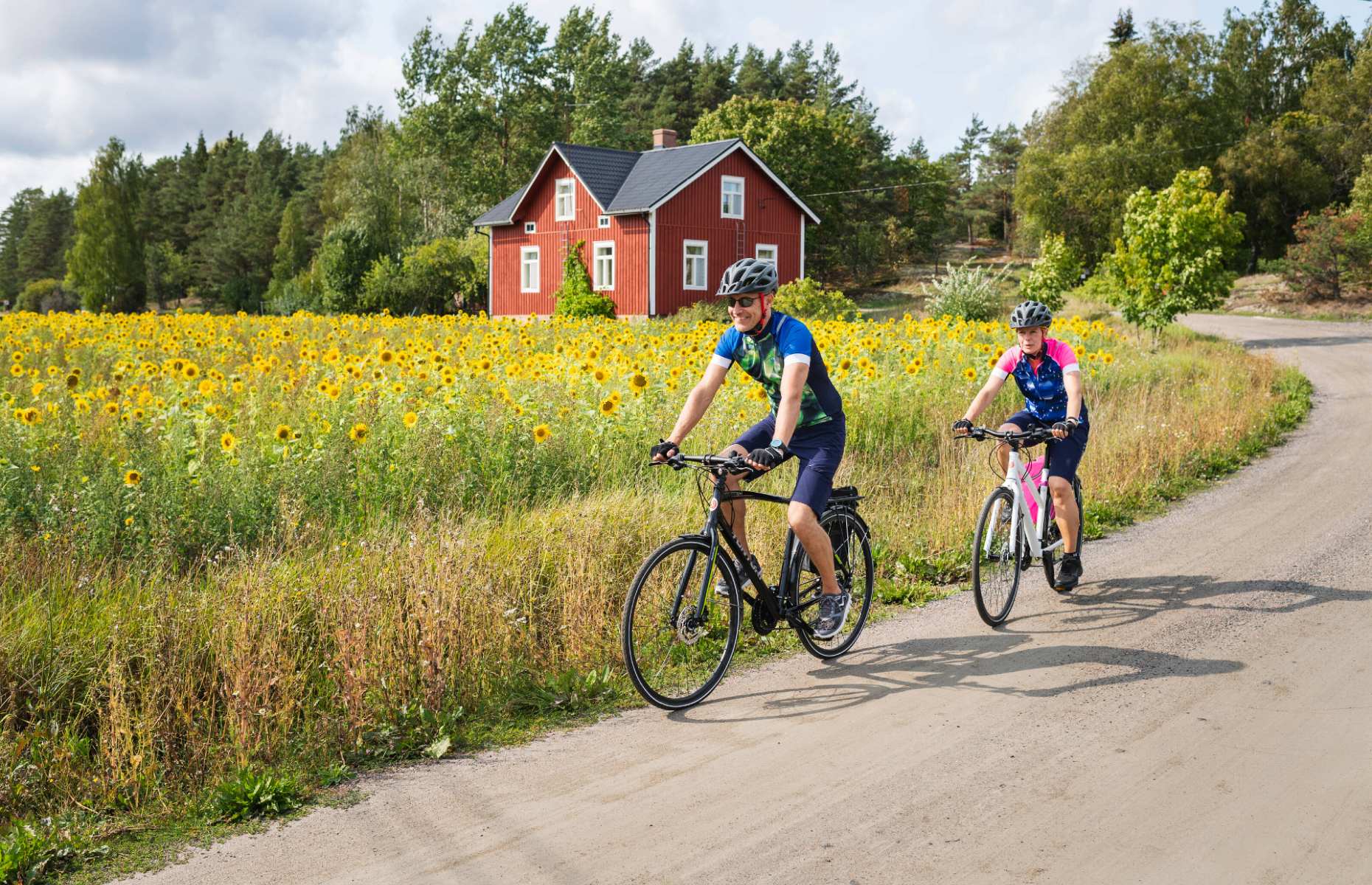 Courtesy Visit Finland
During the five-mile (8km) ride we stop far more than necessary, dazzled by secluded coves and pint-sized islands, some of which are topped with tiny wooden houses or even saunas (Finnish sauna culture is a very welcome import from the mainland here). You could easily navigate most of Åland on two wheels, with a great network of bike paths and regular ferries connecting the main islands.
On the sunniest day of our trip, when the islands reach an unseasonably warm 19°C (66°F), we lace up our walking boots to hike around Bomarsund Hiking Path on the eastern side of Fasta Åland. It packs in plenty of scenery in a short 3.4-mile (5.5km) trail, but the star of the show is Bomarsund Fortress, a ruined 19th-century defensive structure built to protect the islands during the Crimean War.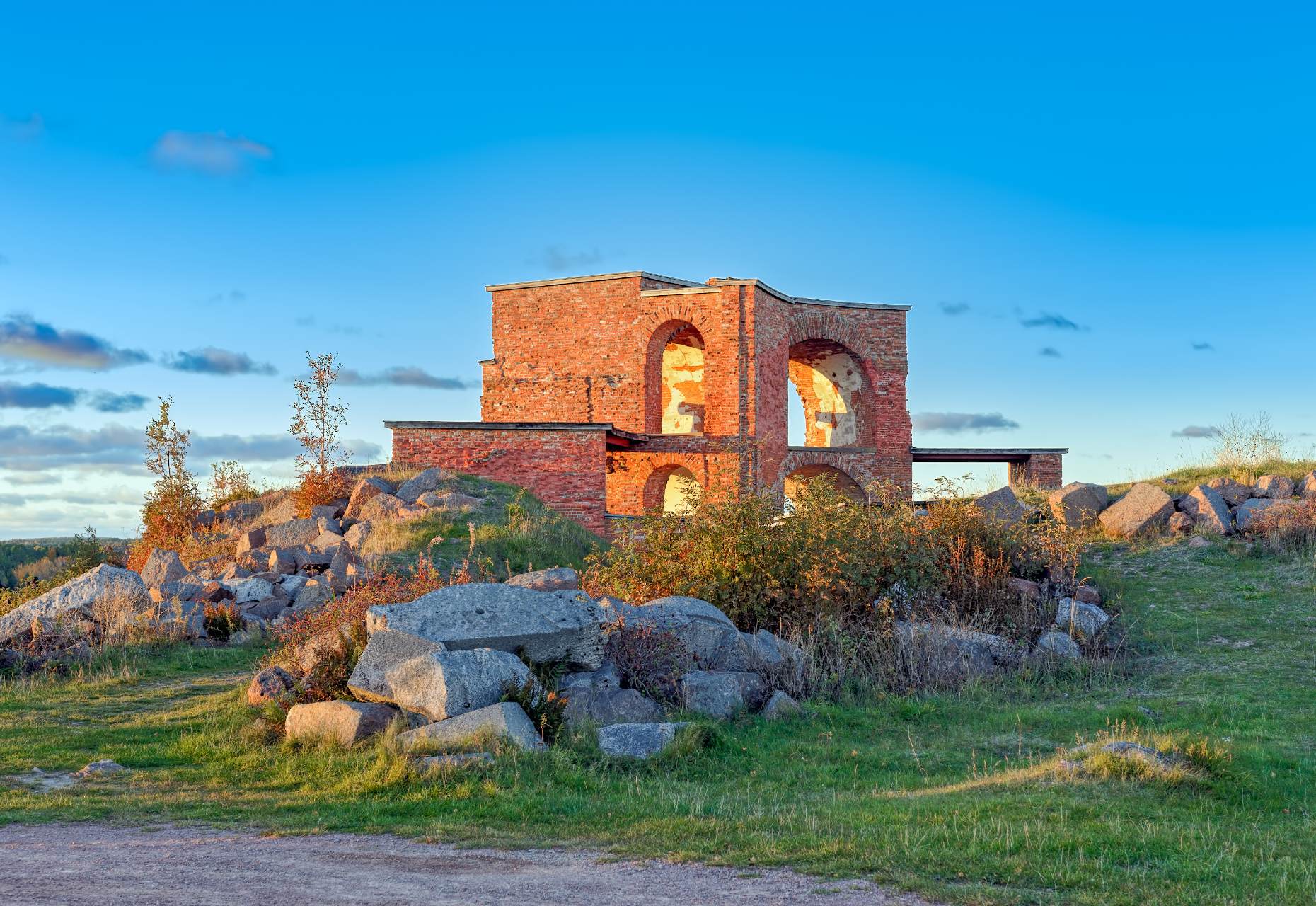 Bomarsund Fortress (Igor Grochev/Shutterstock)
Åland hospitality
Later that evening, we make the most of the sunny weather and hop on a ferry to Föglö, a cluster of islands in the south which are home to just 550 people. With so few residents, businesses here have had to be extremely resourceful.
Enter Carslro Badhotell (whose name means 'spa hotel' in Swedish). Opened by Danish-Alandic couple Johanna and Ebbe in summer 2020, this hotel, restaurant, shop and spa is determined to put Föglö on the map.
It was something of a passion project for the couple, who left Copenhagen to pursue their dream of opening a guesthouse here. To uphold the heritage of the building, which dates to 1912, they've painstakingly renovated it with antique furniture, vintage wallpaper and even kept many of the original fittings.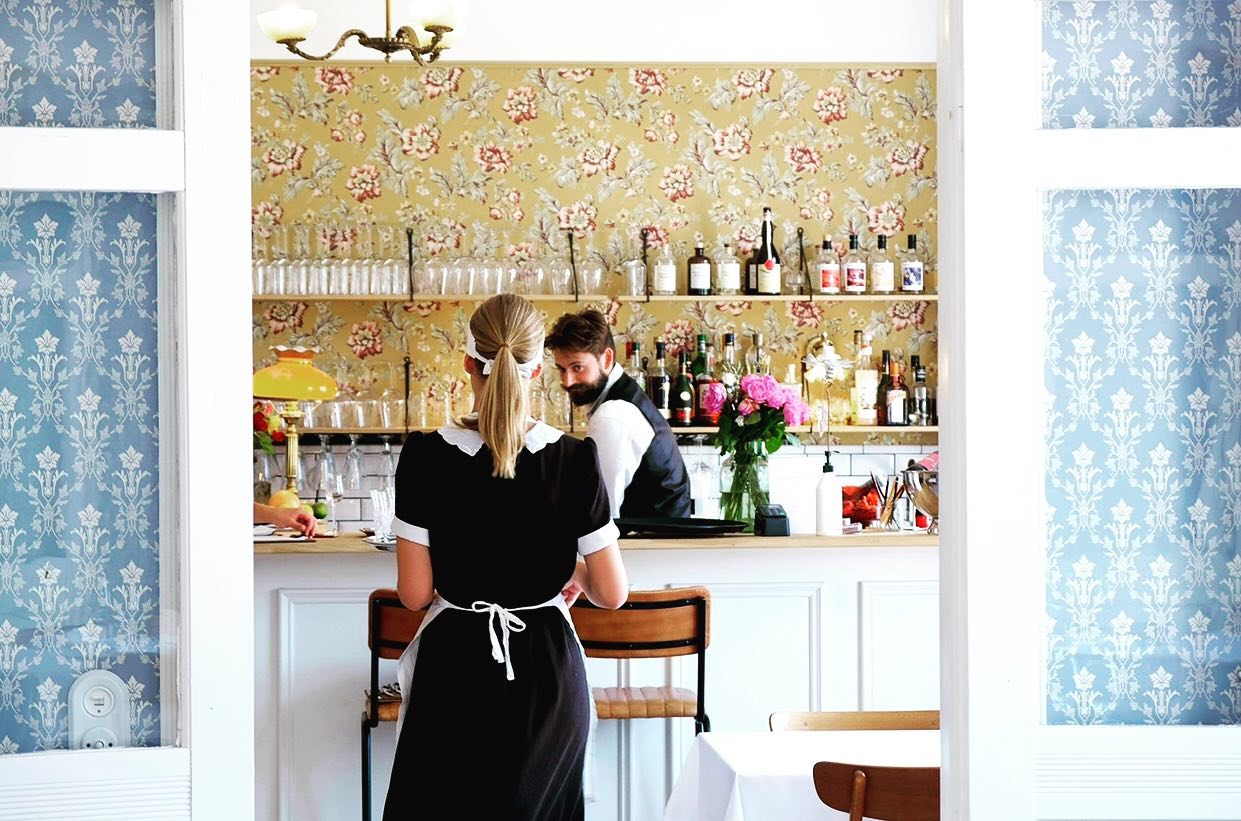 Courtesy Carlsro Badhotell/Facebook
It feels like stepping into a life-sized dolls house, in the most joyous way imaginable. To add to the frozen-in-time illusion, Johanna, Ebbe and other staff members don vintage outfits every day.
And it's not just a hotel – this enterprising young couple are set on turning Carlsro into a destination in its own right. With that in mind, they've built a gorgeous ocean-facing sauna, hot tub and jetty here.
All that might sound very grown-up. But for our group (of which I'm the youngest by a significant margin, at 25) the serenity of the sauna doesn't last long. Once we're sufficiently warmed through, we make a mad dash down the jetty and jump into the gasp-inducing Baltic Sea, egging each other on like school children.
READ MORE: An island-by-island guide to Scotland's Outer Hebrides
A homegrown foodie scene
Mariehamn is the archipelago's culinary hub, and while there aren't loads of restaurants to choose from, those that we do visit are high-calibre. The unfortunately-named (but brilliantly located) Åss Paviljongen is the best place to while away a long, lazy evening, with its gorgeous harbourside setting and menu showcasing fresh, local produce.
On the other side of the city (which isn't far), Brasserie Ångbåtsbryggan is a locals' favourite, thanks to its airy, conservatory setting and the seemingly endless stream of seafood platters emerging from the kitchen. Meanwhile you'll find Spanish-inspired tapas at Boquerian and a quaint coffee-and-cake spot at Cafe Viktor.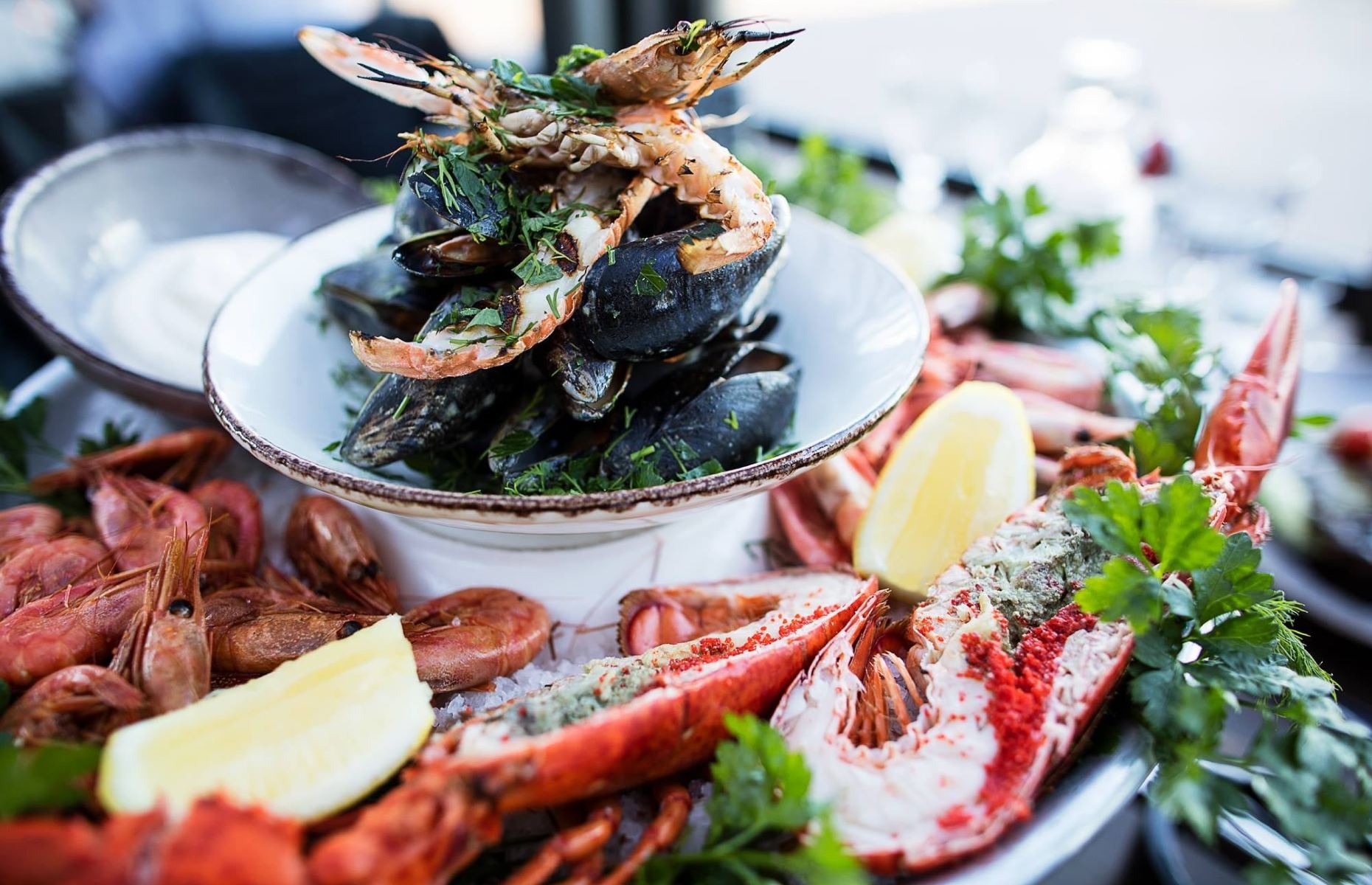 Courtesy Brasserie Angbatsbryggan/Facebook
We're lucky enough to stop at Stallhagen Brewery during our trip, a microbrewery which produces the islands' most popular beers. After a quick tour, we make the most of the brewery's suntrap of a garden, enjoying a tasting flight of four beers: a light honey lager, an apricot-tinged golden ale, a malty dark ale and their popular Baltic Brew.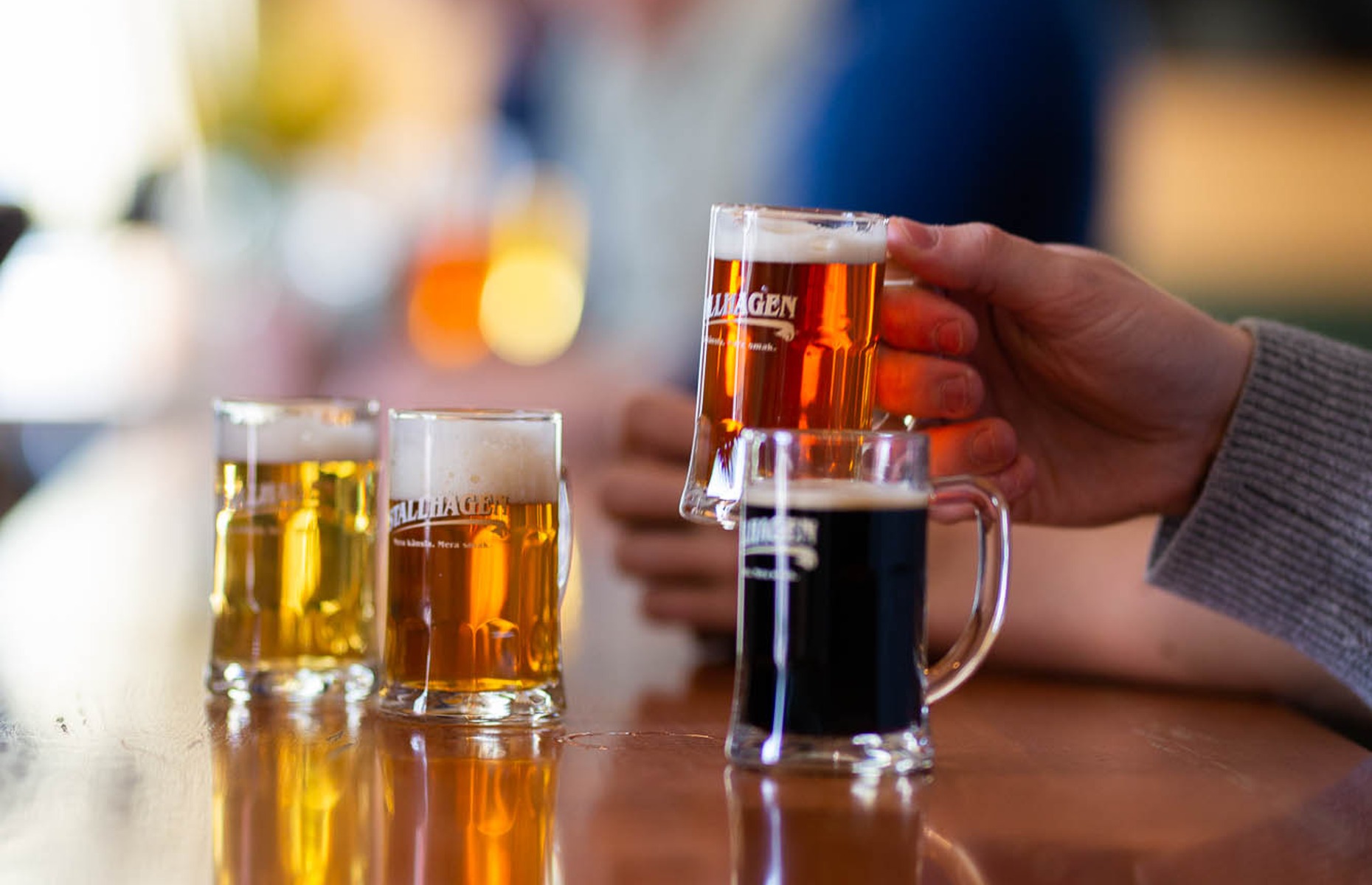 Courtesy Stallhagen Brewery/Facebook
If beer's not your tipple of choice, head to Åland Distillery. This small-batch producer, located on the picturesque northern side of Fasta Åland, has jumped on the gin bandwagon and is putting its own spin on the spirit by infusing it with spices from the archipelago. Meanwhile nearby Smakbyn restaurant, run by the same owners (husband-and-wife team Jenny and Michael Björklund), is perfect for a light lunch.
READ MORE: Top things to do in Finland's foodie capital
Well-deserved rest
Our island-hopping itinerary of boating, cycling, swimming and hiking (plus plenty of eating and drinking) is pretty tiring, so we're grateful to have a base at the centrally-located Park Alandia Hotel in Mariehamn. Ideal for couples, families and anyone on a budget (rooms start from around £90 ($109) per night), this friendly neighbourhood hotel also holds a Green Key sustainability certification.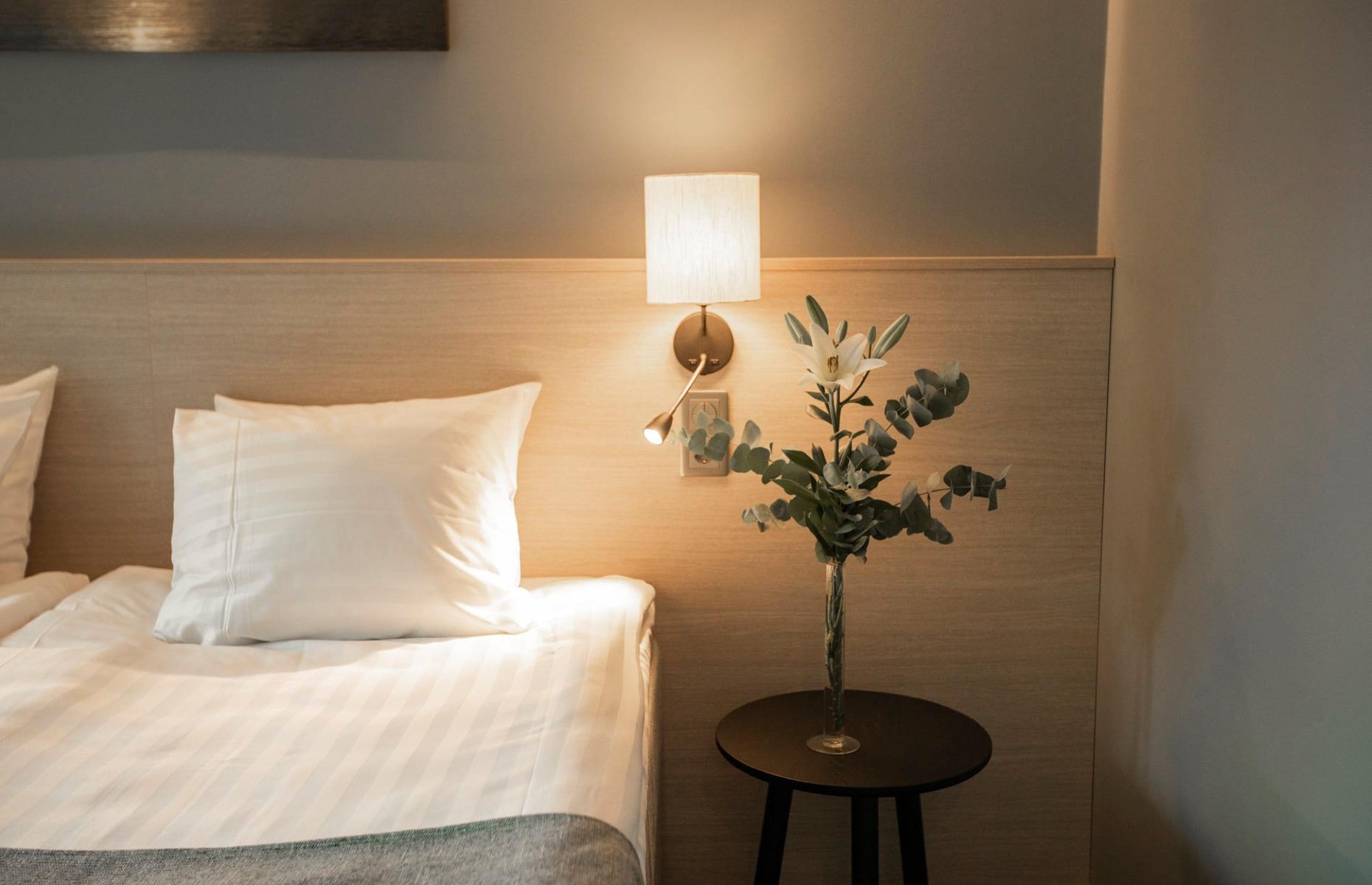 Courtesy Park Alandia Hotel/Facebook
It's amazing what a busy few days outdoors can do. On the final night, despite my best intentions to catch up on some emails when I get back to my hotel room, my body has other ideas.
The Åland Island have me well and truly under their spell – within moments of hitting the pillow, I sink into the deepest, longest sleep I've had in a while.
And although I can't entirely remember what I dreamt about that night, I'm fairly sure at one point I was clipping along the ocean in a tiny boat, feeling the sea-spray on my face and the swell of waves beneath.
Fran was a guest of Visit Finland and Visit Åland. (For more information please head to visitfinland.com / visitaland.com) Fly with Finnair, with return flights London – Helsinki from £155 per person (Finnair.com).
Be the first to comment
Do you want to comment on this article? You need to be signed in for this feature