A magical history of Disneyland Paris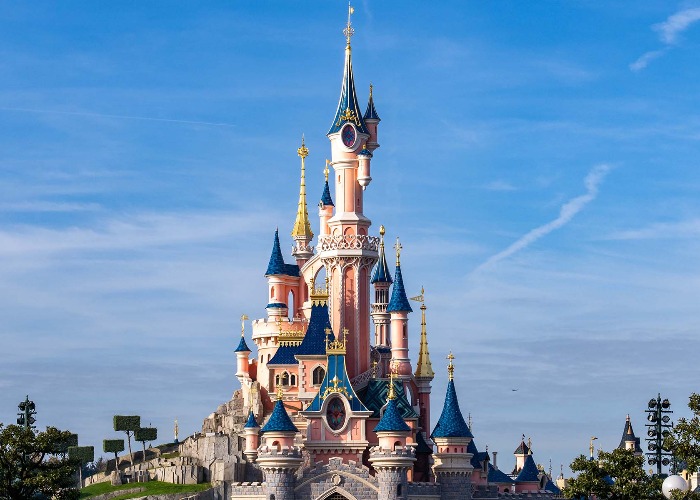 This year marks the 30th anniversary of Disneyland Paris. One of the theme park's original Opening Crew looks back at the evolution of Europe's number one tourist attraction.
"The dream becomes reality," said the headline in an advert I stumbled across while flicking through a copy of my parents' newspaper in January 1992, no doubt searching for the latest essential update on Take That. Having left university the year before and with an A-level in French under my belt, the call-out for Cast Members to work at the soon-to-open Euro Disney, just outside of Paris, was the perfect opportunity to delay getting a proper job and escape reality for at least a few more months. What could be better than working in one of the most magical places on earth, with unlimited access to its attractions and the world's most romantic city on the doorstep?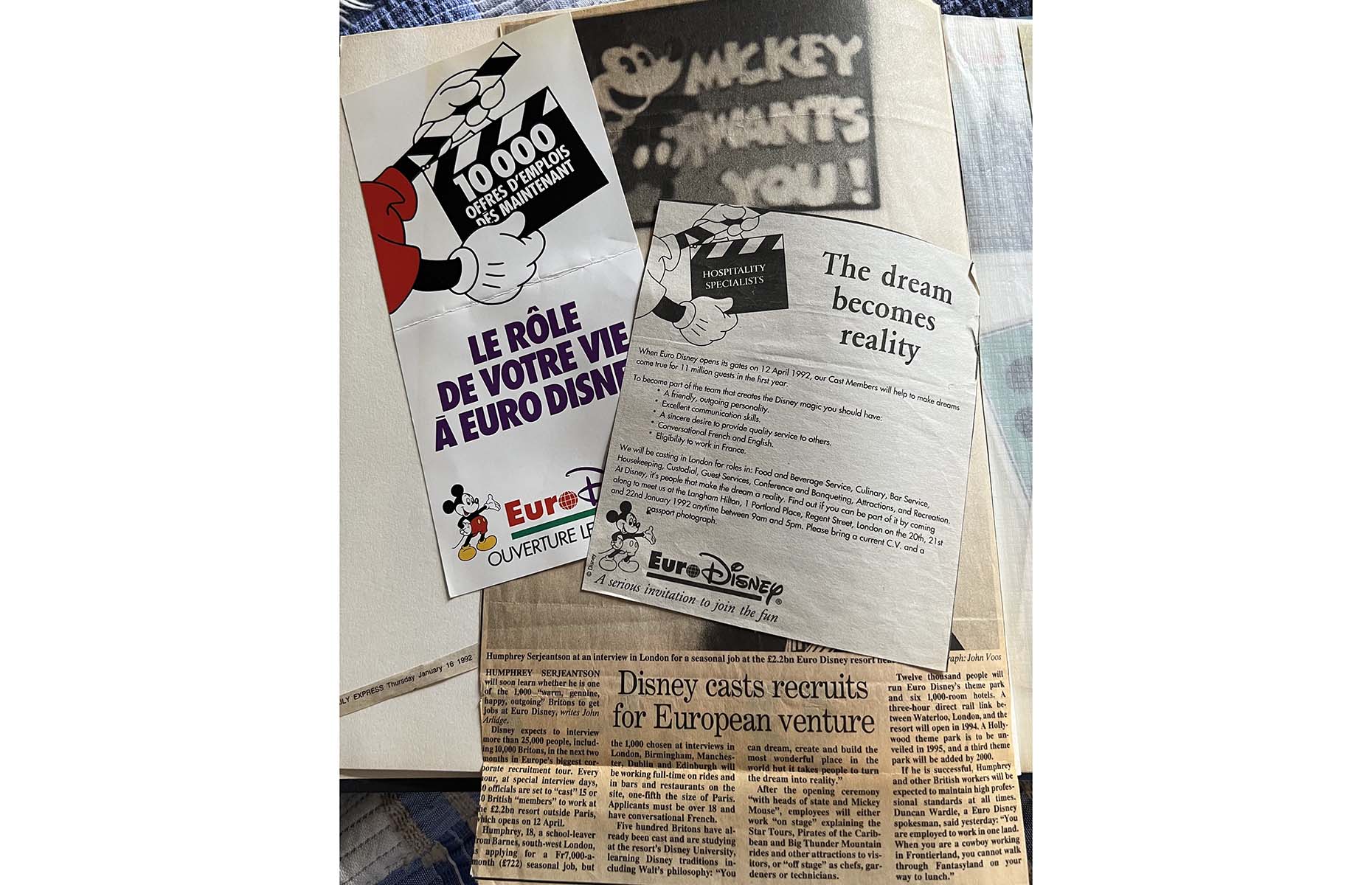 Courtesy of Lauren Jarvis
A Whole New World
Over 25,000 hopefuls were interviewed in London, Birmingham, Manchester, Edinburgh, Dublin, Paris, Amsterdam and Frankfurt in what was Europe's biggest-ever recruitment tour: all hoping to be one of 12,000 Opening Crew chosen to work at Disney's second theme park outside of the USA (Tokyo Disney Resort was the first, opening in 1983).
Footloose, I headed to one of the three open casting days held in London's The Langham hotel, Minnie Mouse ears completing my interview outfit, hoping to tick the 'Friendly, outgoing personality' box.
A couple of months later and voilà: I was on a ferry with a friend crossing the Channel to France and after two days of orientation at the Disney University, I started my first day at Plaza Gardens Restaurant on Main Street USA.
Working minutes from the iconic Sleeping Beauty Castle (which has just had a 12-month renovation in time for its 30th birthday), I was at the heart of the action, and while my pre-opening training revealed I was a pretty hapless waitress, I also discovered I was excellent at riding rollercoasters on repeat, eating ice cream and posing for photographs in my très-chic Victorian costume with my new pal, Mickey.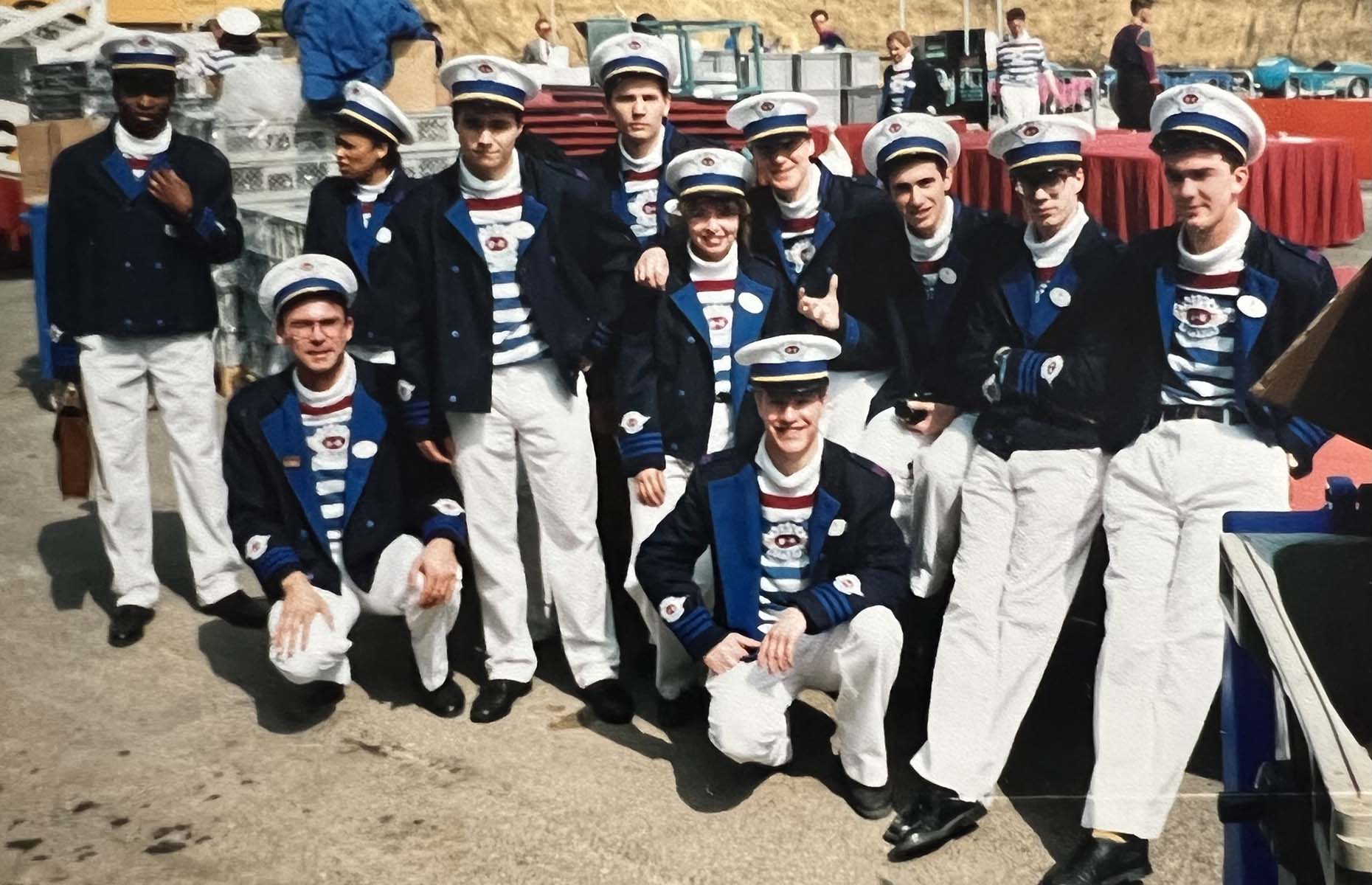 Courtesy of Lauren Jarvis
Be Our Guest
Euro Disney welcomed its first guests on 12 April 1992, marking the event with a four-day extravaganza, which included the dedication of the park and hotels, a celebrity parade of Hollywood stars, including Eddie Murphy, Michael J. Fox and Bob Hoskins on Main Street; a glittering gala featuring performances from entertainers including Cher, Tina Turner and Gloria Estefan and ribbon cutting by Walt's nephew Roy Disney and the then-Disney-CEO, Michael Eisner.
The show was televised to a worldwide audience, hosted by actors Don Johnson and Melanie Griffiths for the USA and presenters Pat Sharpe and Matthew Kelly for the UK, and featured the Fantasia fireworks spectacular above the castle. Cast Members diligently served canapés and drinks to the VIP guests (while some of us sneaked off for a backstage hunt of Cher and Tina) before an eye-popping firework finale. Now, 30 years later, and renamed as Disneyland Paris, the resort has had more than 375 million visits, making it Europe's number one tourism destination.
Courtesy of Lauren Jarvis
READ MORE: Planning a trip to Paris? Here are some tips and inspirations
It's A Small World
Construction of Euro Disney began in Marne-la-Vallée in 1988. Based on Disneyland Resort in California and Magic Kingdom at Walt Disney World Resort in Florida, the park opened in 1992 with five themed lands – Discoveryland, Frontierland, Adventureland, Fantasyland and Main Street USA. Trialling the park's rides was part of our job (whoop!) and we relished regular spins on Big Thunder Mountain and It's A Small World.
A year later, Indiana Jones and the Temple of Peril brought a looping coaster to the park, with the legendary Jules Verne-inspired Space Mountain: From the Earth to the Moon launching in 1995: the largest Space Mountain ride in any of the Disney parks. Now reimagined as Star Wars: Hyperspace Mountain, the coaster joins Star Tours: The Adventure Continues in offering visitors the chance to unleash their inner Jedi.

Courtesy of Disneyland Paris
Let It Go
For its 10th birthday in 2002, Disneyland Park acquired a sibling in the shape of Walt Disney Studios Park: a celebration of film, with attractions from Disney and Pixar. Zones including the Production Courtyard, Front Lot, Toon Studio and Worlds of Pixar buzz with rides inspired by Ratatouille, Finding Nemo, Cars, Toy Story and more, plus dazzling shows like Frozen: A Musical Invitation.
The Studios is also home to the best ride ever, which landed in 2007. The Twilight Zone Tower of Terror is a masterpiece of Walt Disney Imagineering, set in the dilapidated Hollywood Tower Hotel and shooting riders 13 storeys up in a service elevator, before plummeting them back down to earth, leaving stomachs virtually suspended during the freefall. Watch out for the new Avengers Campus too, opening in summer 2022.

Courtesy of Disneyland Paris
READ MORE: Find out which new Disney attractions will open in 2022
Hakuna Matata
Throughout its history, the theme park's spectacular shows have brought some of Disney's best-loved movies and characters to life, from Beauty & The Beast to the current Lion King: Rhythm of the Pride Lands, which packs songs from the film and West End theatre show into 30 exciting minutes.
The 30th anniversary sees daily Dream...and Shine Brighter! shows with Disney stars performing favourite hits in Central Plaza, plus the Disney Stars on Parade procession through the park. Nighttime brings on the Disney Illuminations, a gasp-inducing sound and light show beamed onto the castle, and Disney D-Light: the first Disney spectacular to use drones, which create a sparkling '30' in the sky.

Courtesy of Disneyland Paris
Bella Notte
Festival Disney was always the place to go for fun after dark, with Cast Members, guests and locals heading to Hurricane's or Billy Bob's Country Western Saloon to dance the night away. Many of us lived out our cowboy dreams at Buffalo Bill's Wild West Show, which saw some of the park's most talented Cast Members performing death-defying feats on horseback while the rest of us chowed down on chilli.
Now reborn as Disney Village, this entertainment and dining district is home to restaurants including the Rainforest Cafe, Five Guys and Planet Hollywood, along with the original Sports Bar, always a Cast Member favourite. Hurricane's and Buffalo Bill's may have sadly ridden off into the sunset, but Billy Bob's and the iconic Annette's Diner remains, where waiting staff serve American classics and to-die-for Oreo milkshakes on roller-skates, and burst sporadically into song: get practicing your Greased Lightning dance routine.

Courtesy of Disneyland Paris
READ MORE: You have to see these fascinating vintage Disney park photos
Sleeping Beauty
As Cast Members, we had the opportunity to stay at Euro Disney's hotels, giving staff a chance to hone their hospitality skills before hosting paying guests after the opening, and we couldn't have been happier guinea pigs. Imaginative theming in the park continued within the seven hotels, which included some of the world's largest at the time, collectively housing 5,800 rooms.
Overlooking a lake and a lighthouse, Disney's Newport Bay Club was the biggest in Western Europe, and this bright and airy New England-inspired resort remains one of my favourites for a summertime stay. The cosy Disney's Sequoia Lodge is perfect for a winter escape in among the pines, while Disney's Davy Crockett Ranch offers self-catering cabins in the woods, and the slick, recently revamped Disney's Hotel New York is now a magnet for movie fans with its inspired new Art of Marvel theme.
Disney's Newport Bay Club®/booking.com
The Disneyland Hotel, which spans the park's entrance and is currently closed for renovation, remains its most luxe: a perfect pink palace to make all your princess dreams come true, and for an environmentally conscious stay, Les Villages Nature Paris is a good choice.
More recently, partner hotels have sprung up to suit various budgets, with many of them serviced by designated Disney shuttles, while the towns and villages around the park have a selection of apartments, apart-hotels and Airbnb options, easily reached by local bus.
READ MORE: You should know these Disney hacks
You've Got A Friend In Me
Living and working in our Euro Disney bubble, amazing friendships were made and Opening Crew and Cast Members still convene every five years to celebrate our Disney anniversary and remember what we always knew would be a unique and unforgettable time in our lives. Walking through the entrance gates immediately sparks a familiar exciting tingle and watching the closing fireworks with those same friends 30 years later, time melts away. Everyone becomes a kid at Disneyland Paris, but perhaps Mickey adds an extra sprinkle of magic for the Opening Crew, who once upon a time called this special park home.
Book with Walt Disney Travel Company International and enjoy a two-night stay at Disneyland Paris from £441 per person, including accommodation in a Cars Standard Room at Disney's Hotel Santa Fe with access to the Disney Parks for three days, and return Eurostar travel from London St Pancras to Disneyland Paris (Marne-la-Vallée). Price is based on two adults sharing, and a departure date of 5th October 2022. For more information visit DisneyHolidays.co.uk or call 0800 169 0737.
Lead image: sduraku/Shutterstock
Be the first to comment
Do you want to comment on this article? You need to be signed in for this feature