All aboard Tennessee's ship-shaped Titanic museum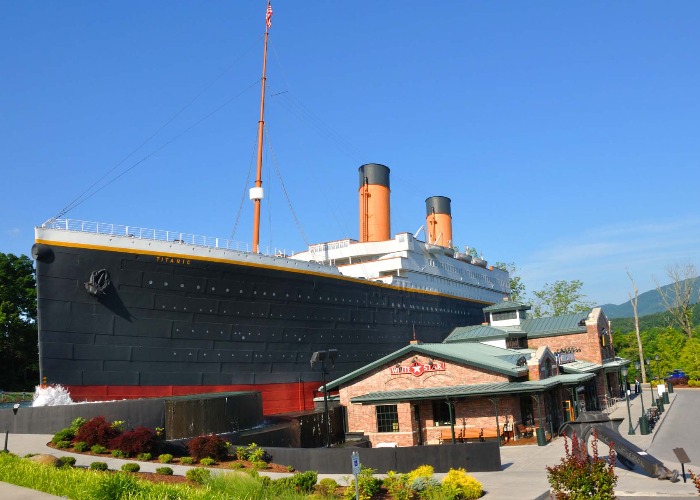 Twenty-five years after Titanic hit the big screen, becoming the highest-grossing movie of its time, Zoey Goto pays a visit to Tennessee's quirky Titanic-shaped museum and discovers that some of the ship's most intriguing tales still remain submerged.
In most towns, a gigantic replica of the Titanic ship towering above the roadside would be pretty easy to spot. But Pigeon Forge, in the foothills of East Tennessee's Great Smoky Mountains, isn't most towns.
Driving up to the Titanic Museum, the highway soon dissolves into a neon-lit carousel of jaw-dropping attractions, just crying out for your attention. There's the upside-down Wonderworks Museum, perhaps thrown by nearby King Kong, who's waving from a replica Empire State Building outside the Hollywood Wax Museum. Next up is a kitschy hotel that celebrates Christmas every single day of the year, followed by arcades shaped as regal castles and a replica of Alcatraz prison. Pigeon Forge is a town that does left field by the shipload.
Dee Browning/Shutterstock
Despite the jostling competition from its neighbours, when I finally locate Pigeon Forge's Titanic Museum, which opened in 2010 at a cost of $25 million (£18.4m), it still packs a punch. At half the size of the original doomed ocean liner, the boat-shaped attraction sits in a reflective pool of water, complete with a 30-foot (9m) tall imitation iceberg; which, bizarrely enough, collapsed in 2021 causing minor injuries to a few unfortunate visitors and further adding to the mythology of the cursed vessel.
READ MORE: Unlock the Titanic's secrets at these amazing museums
It's been almost 110 years since the tragic night when RMS Titanic hit an iceberg with 2,208 passengers on board, 1,496 of which sadly perished, and 25 years since Leonardo DiCaprio drew Kate Winslet like one of his French girls in the Oscar-winning Titanic film. But the ship continues to hold a distinctive place in our collective imagination.
Mr Privacy/Shutterstock
There are now a handful of permanent and temporary Titanic exhibitions scattered across the globe, including Pigeon Forge's sister museum in Branson, Missouri, and each attraction offers its own take on the harrowing tale.
At Tennessee's Titanic, the museum workers are dressed in period costume and their enthusiasm for their characters is palpable. "We just really enjoy telling the stories," says George at the museum's entrance, as she grants me permission to board, dressed as a maid with a starched white apron and bonnet.
Courtesy of Zoey Goto
On an average day she welcomes over 2,000 visitors through these doors, who come to see the 400 Titanic-related artefacts on display, "many of which we buy directly from the families, so we know the personal stories behind each item, which I think adds to the appeal". George hands me a boarding pass with the details of an actual passenger from 1912 – Emma Schabert, a 35-year-old New Yorker – whose fate I'll learn later.
Venturing inside, my audio tour offers a deep dive into this treasure-trove collection, valued at over $4 million (£2.9m). Displays include passenger Selena Cook's lucky tooth in a box (it worked, she survived!) and a section dedicated to the dogs on board, three of which made it safely to shore, miraculously.
Courtesy of Zoey Goto
There's an entire room filled with beautiful, sepia-toned photos by Father Francis Browne, who boarded in Southampton, England and disembarked in Queenstown, Ireland, along with his camera brimming with rare images of the "unsinkable" ship and its patrons. The 30,000 square foot (2,787sq m) museum also includes a replica of a third-class stairwell flooding with water, which claustrophobics should probably swerve.
READ MORE: Secrets of the Titanic – life onboard the world's most famous ship
On a lighter note, there are plenty of interactive exhibits for kids, including shovelling coal into the engine's fire pit and plunging fingers into the icy cold waters below. During the pandemic, virtual school tours of the museum accelerated its educational program and there's since been an uptick in younger visitors.
Courtesy of Zoey Goto
The jewel in the museum's crown is the elegant Grand Staircase, a meticulous copy of the first-class sweeping oak staircase with its linoleum flooring – "it was the height of luxury at the time" a nearby captain reassures me – framed under the twinkling glow of an elaborate dome ceiling.
Gliding up the staircase, I wander through handsome first-class staterooms filled with sumptuous four-poster beds and finely carved panelled walls, following the faint sound of ragtime music, only to discover Bill, or Captain Bill Young as he prefers, tinkling the keys of his baby grand piano in a room dedicated to the eight members of the Titanic's orchestra.
Courtesy of Zoey Goto
Captain Bill Young is a daily fixture at the museum, performing "the sounds that were around at the time, so it's a mixture of classical, folk and Irish songs. Plus occasionally the Beatles or Elton John, just to keep things interesting!" He laughs as he picks up the fiddle and races through a jig at lightning speed. "You know, those musicians showed such bravery, they kept on playing even as the ship went down," he adds quietly.
Striking a balance between respecting the human tragedy at the heart of the Titanic story and creating an engaging tourist attraction, was always going to be a tough gig. But Tennessee's Titanic Museum does an admirable job of treading this wafer-thin line, give or take the odd 'tea-tanic' tea infuser selling for $9.99 in the gift shop.
So what became of Emma Schabert, whose boarding pass I carried in my hand? In the ultimate room, I'm relieved to discover that she was mercifully spared a watery grave by escaping in lifeboat 11. She went on to marry a baron and live a colourful life in Italy, before finally dying of natural causes at the ripe old age of 84. It's an unknown tale fit for a Hollywood blockbuster.
READ MORE: Robert Ballard on finding the most famous shipwreck in history
Lead image: BirchTree/Alamy Stock Photo
Be the first to comment
Do you want to comment on this article? You need to be signed in for this feature