A sassy voyage to remember aboard Scarlet Lady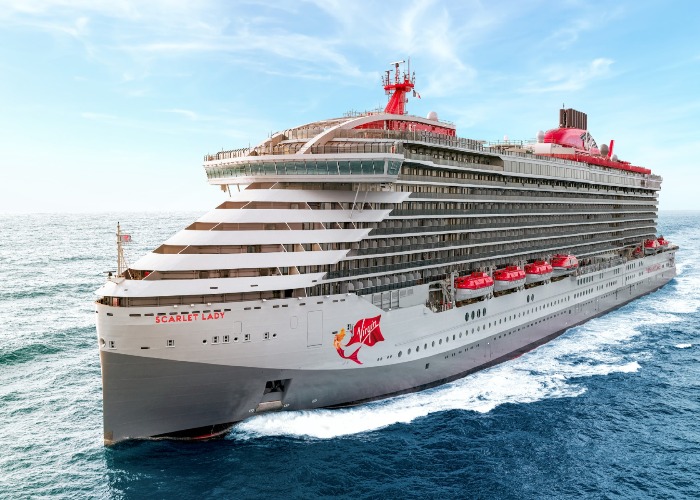 Convinced a cruise isn't the right escape for you? Virgin Voyages' sassy Scarlet Lady could be the ship that tempts you to the seas.
"You. Up here. Now!" A riding crop snaps in my direction, and while I consider sliding under my table to swerve the humiliation that is surely coming my way, the imposing woman on stage – dressed in a slinky black pencil skirt, blazer, sunglasses and stilettos – doesn't look like a gal who ever takes 'no' for an answer. Leaving the relative safety of my seat, I step obediently into the spotlight.
When I signed up for one of Virgin Voyages Summer Soirées on the cruise line's brand-new ship, Scarlet Lady, I didn't anticipate being added to the adults-only entertainment bill. Yet by night two, I'm about to display my dating skills to a shipful of strangers in the Never Sleep Alone (NSA) show, hosted by whip-smart New York sexologist, Dr Alex Schiller, in the ship's two-storey nightclub, The Manor.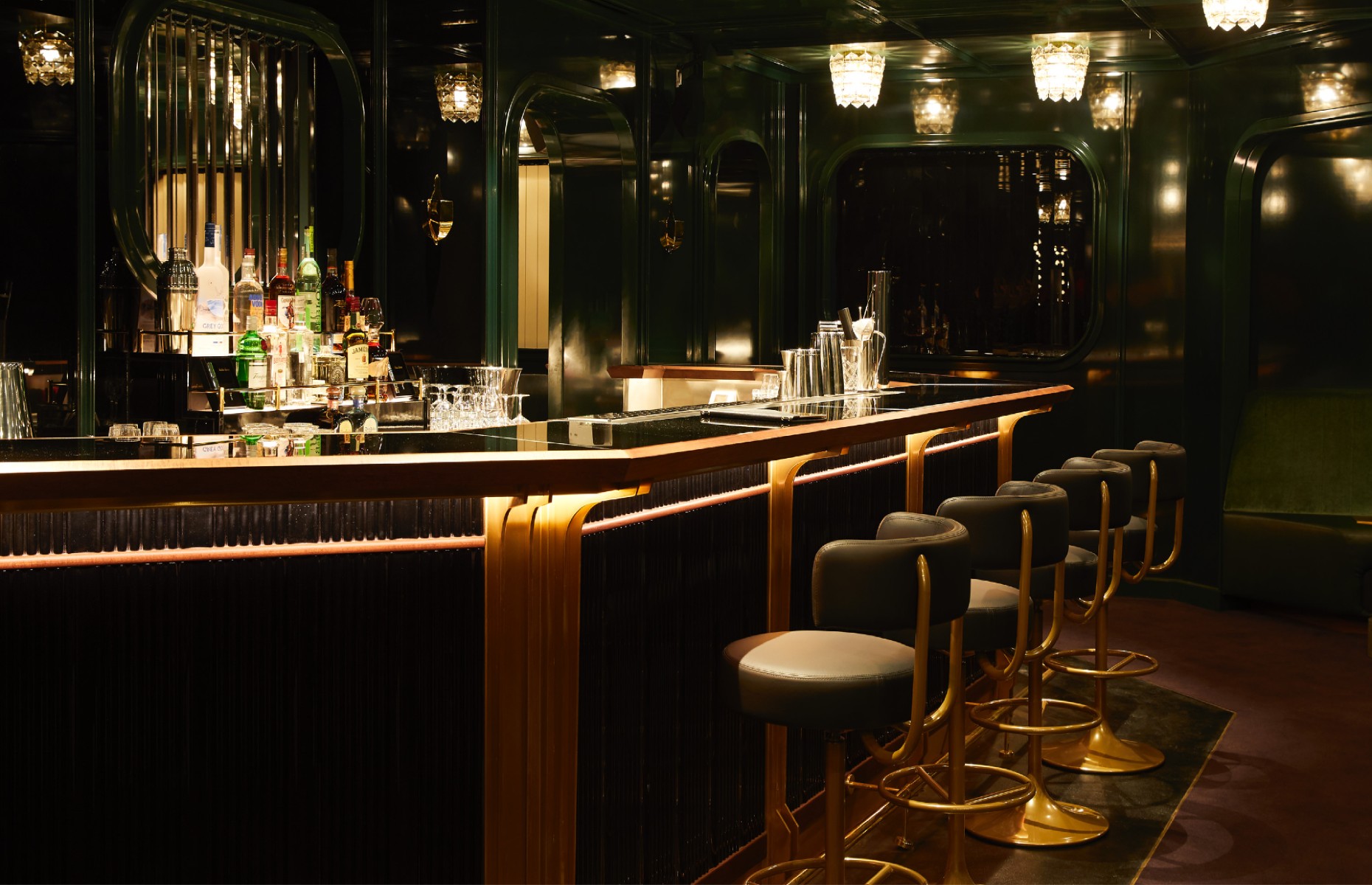 Virgin Voyages
The reward for participation? A copy of Dr A's NSA bible and a golden condom: my entry ticket to her after-show party at Scarlet's sultry Champagne bar, Sip. I glance back at my friends cackling with delight in the shadows as an equally red-faced man is ordered from his seat to join me and I pray for a premature end to the torture: it's not easy to 'throw off your shackles and declare yourself the mistress of your sexual destiny' when your 70-something-year-old mother is in the audience – even if her expression is currently obscured behind a party mask from the 50 Shades dressing-up box.
While Never Sleep Alone is the raunchiest of Scarlet Lady's entertainment offerings by far, Dr A's show embodies much of the spirit of the Virgin Voyages brand, which aims to both challenge travellers' preconceptions of what a cruise is, and encourage them to step safely out of their comfort zone and experience what a voyage of discovery at sea could be (riding crops optional).
A new audience
Notoriously fun-loving and boundary-pushing Captain Richard Branson is clearly at the helm, and in true Virgin style, Voyages' three new vessels – Scarlet Lady will soon be joined by Valiant Lady and Resilient Lady – aim to shake up standard cruise offerings, rattle the cage of competitor cruise lines and roll out a new vision for an industry that's seen by some as stifling and staid.
Voyages may be angling to make out with the millennial market, but while the unconventional entertainment, Insta-perfect interiors, strategically placed neon and eco-conscious ethos will appeal to a younger crowd, it's the young at heart – whatever their passport age – who will truly embrace the best of what a Virgin Voyage has to offer.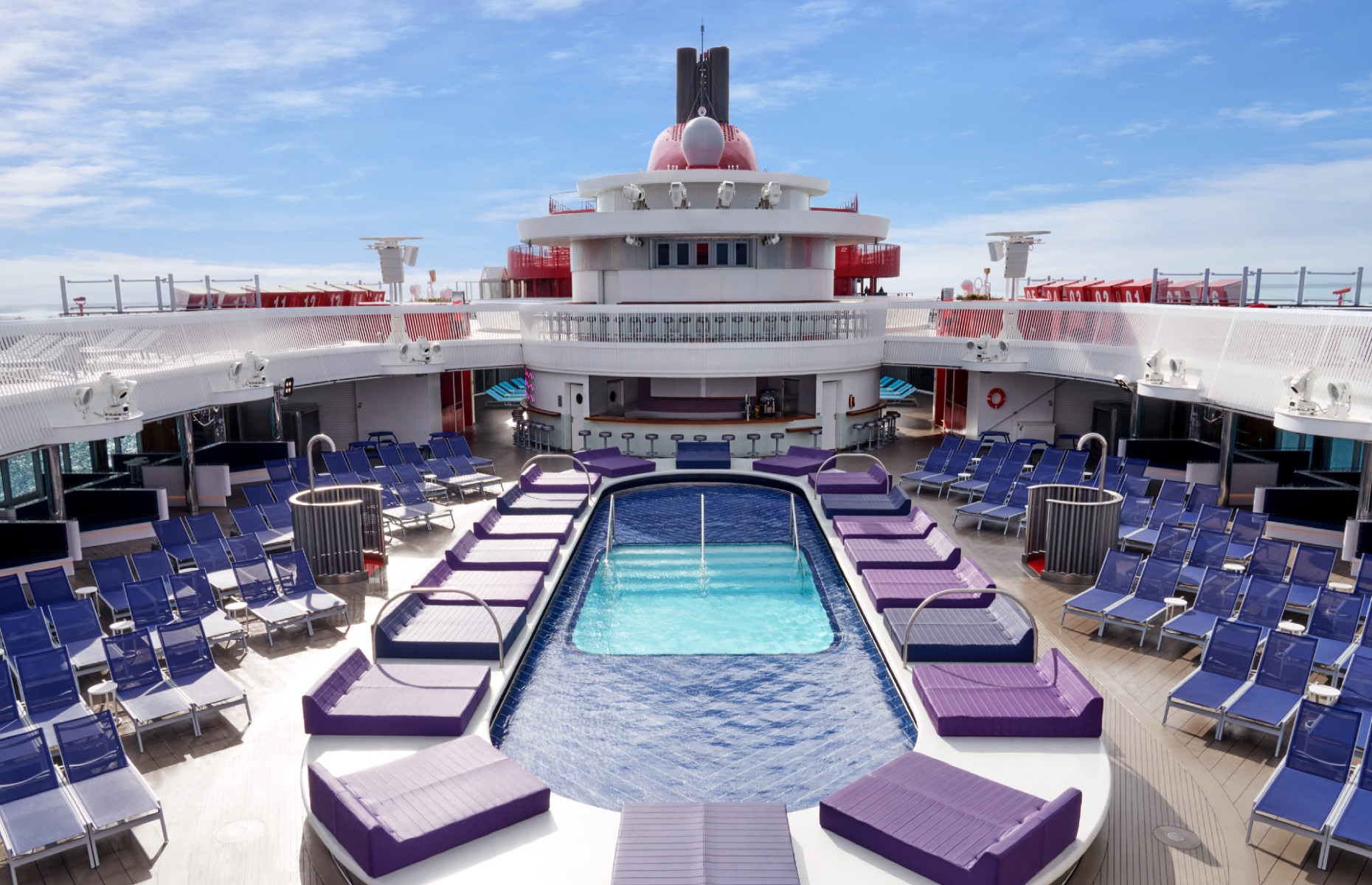 Virgin Voyages
In full flow, the 17-deck Scarlet Lady will host 2,770 sailors and 1,160 crew, but my Summer Soirée is limited to just 65% capacity, with all passengers fully vaccinated and COVID tested (for free) before boarding. We're a diverse bunch – LGBTQ and straight couples; groups of girlfriends; pairs of young male mates; mobility-impaired sailors; solo voyagers; daughter- and son-parent combos – with just one demographic missing: kids. For now, Virgin Voyages offer an adults-only experience, but that doesn't mean there's a shortage of play areas on board.
Land ahoy
On my four-night foray from Portsmouth International, cruising the English Channel, Scarlet Lady offers plenty of activities to distract from the brooding skies. When she reaches her longer-term port of Miami for sailings around the infinitely sunnier Caribbean (including stops at Virgin Voyages' private Beach Club in the beautiful Bahamian island chain of Bimini), the ship's small pool, expansive sundecks, cabanas and deluxe daybeds will be buzzing.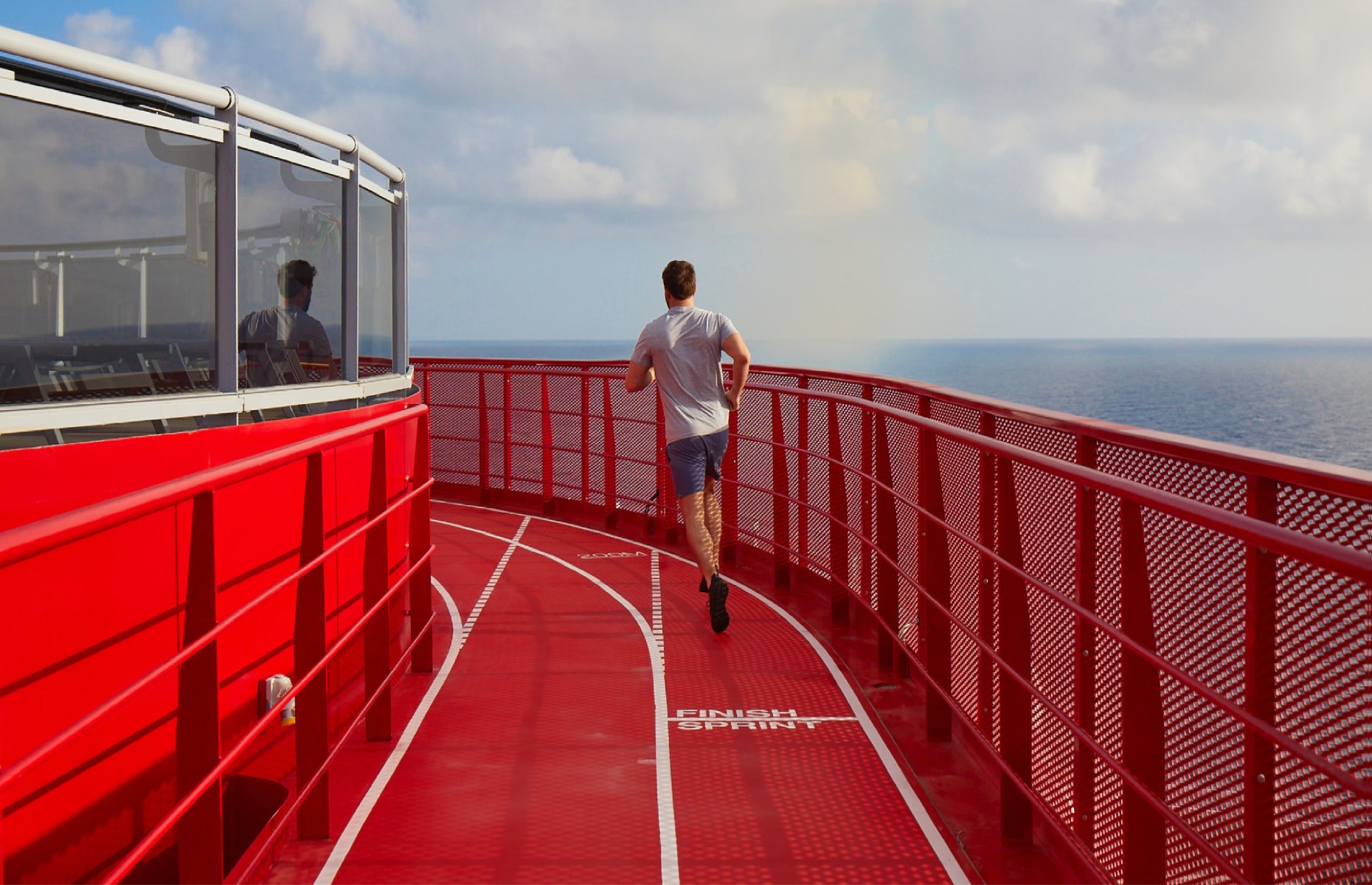 Virgin Voyages
But even an overcast British summer sees sailors slipping into the ship's hot tubs to sip cocktails, racing around the elevated Runway track, sparring in the outdoor Athletic Club's boxing ring, shooting hoops on the basketball court and lounging on the swings or the dizzyingly high boom net, suspended on deck 16.
READ MORE: Brilliant British islands that aren't in Britain
Onboard attractions
Inside, there's an equally dizzying array of activities to try. Fancy a tattoo? Head to hipster hangout Squid Ink, the first ever tattoo studio on a cruise ship, to indulge in some painful pleasure. How about a flutter? Blackjack, roulette or a poker game at The Casino could make you a million, while the High Street and its boutiques selling Virgin-branded gifts and designer gear will help you spend it in a flash.
Gym bunnies can Build & Balance, Bike & Burn or work up a sweat at the Training Camp, before winding down with yoga or meditation. And the Redemption Spa will soothe away any sins from the night before, or help you to get mucky all over again in the mudroom.
READ MORE: 29 things only cruise ship captains know
It's showtime!
Scarlet Lady's uniquely off-beat shows are a departure from the full-blown Broadway extravaganzas offered on some cruise lines, leaning more towards an arty fringe vibe with pop-up theatrical 'Happenings', immersive comedy sketch shows like Mr. Thing, intimate sets from the house Scarlet Band, and cabaret performances from voluptuous, vocal powerhouse Abi the Hostess, supported by sassy singers Brandi Michelle Russell and Michie Mandarina.
But spectacular, jaw-dropping moments abound in the ship's Duel Reality show, featuring the superhuman acrobatics of contemporary circus company, The 7 Fingers. Staged in The Red Room – the first transformational, multi-form theatre space at sea – three of my group insist on seeing it twice (which they assure me has nothing at all to do with super-fit performer Nicolas Jelmoni (Romeo) swinging topless on a trapeze, while dreamily strumming the ukulele to his equally aesthetically gifted partner, Charlotte O'Sullivan (Juliet).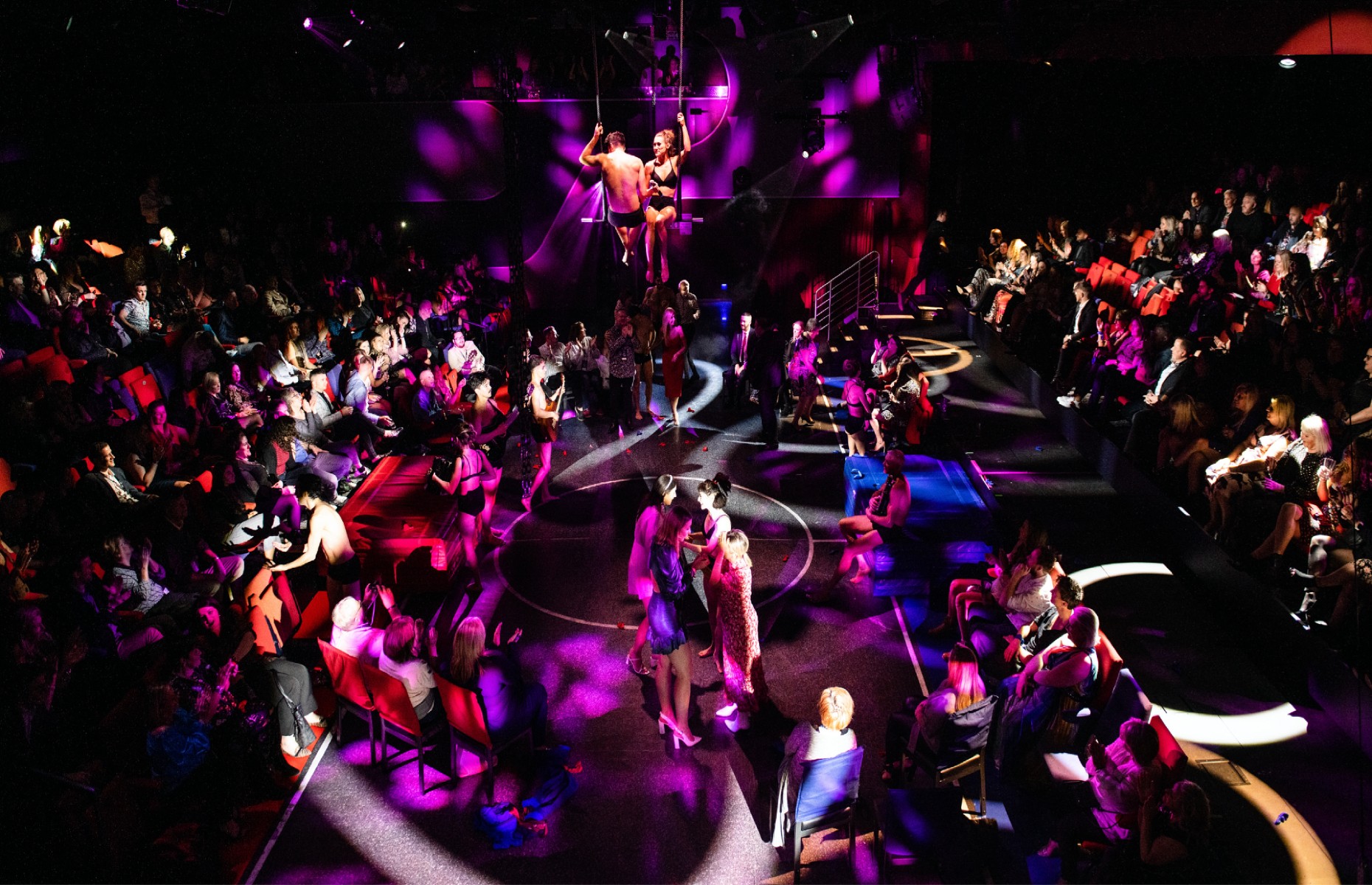 Virgin Voyages
There's plenty for lovers of all things camp, kitsch and retro too, with on-board bingo, Salty Trivia, DJ sets at the Voyage Vinyl record shop, impromptu pyjama parties, an old-school arcade and board-game café, Japanese-style karaoke rooms at The Groupie, and the belly-achingly brilliant group workout class, VHS.
With three cheeky, innuendo-pumped instructors and a high-energy 1980s soundtrack, the hour-long class is definitely the (second) funnest way to get physical. And with leg warmers and headbands to mop up any remaining trace of pretension or self-conscious cool, there's no option but to leave your inhibitions firmly stowed in your cabin, sailors. Scarlet, quite frankly, doesn't give a damn – and as you're on holiday, neither should you.
And so to bed
With calm, quiet space to restore your post-VHS dignity, the Lady's cabins for one to four sailors come with some clever technical twists. A smart wristband made from recycled ocean plastic opens the door to my Sea Terrace room, doubles as a charge card and, dangerously, can be used to 'Shake for Champagne' (who knows how many bottles I ordered during that workout?).
On entry, the lights power up and curtains open, revealing a balcony with a table, two chairs and an inspired red hammock for swinging the sea days away. Blinds, mood lighting, room service, the HDTV and entertainment (movies for now, music to follow) are controlled by a tablet, while the couch shape-shifts easily into super-comfy singles or a double bed, depending on how you and your roomie are getting along (top tip: the adult Time To Play kit in the minibar might help).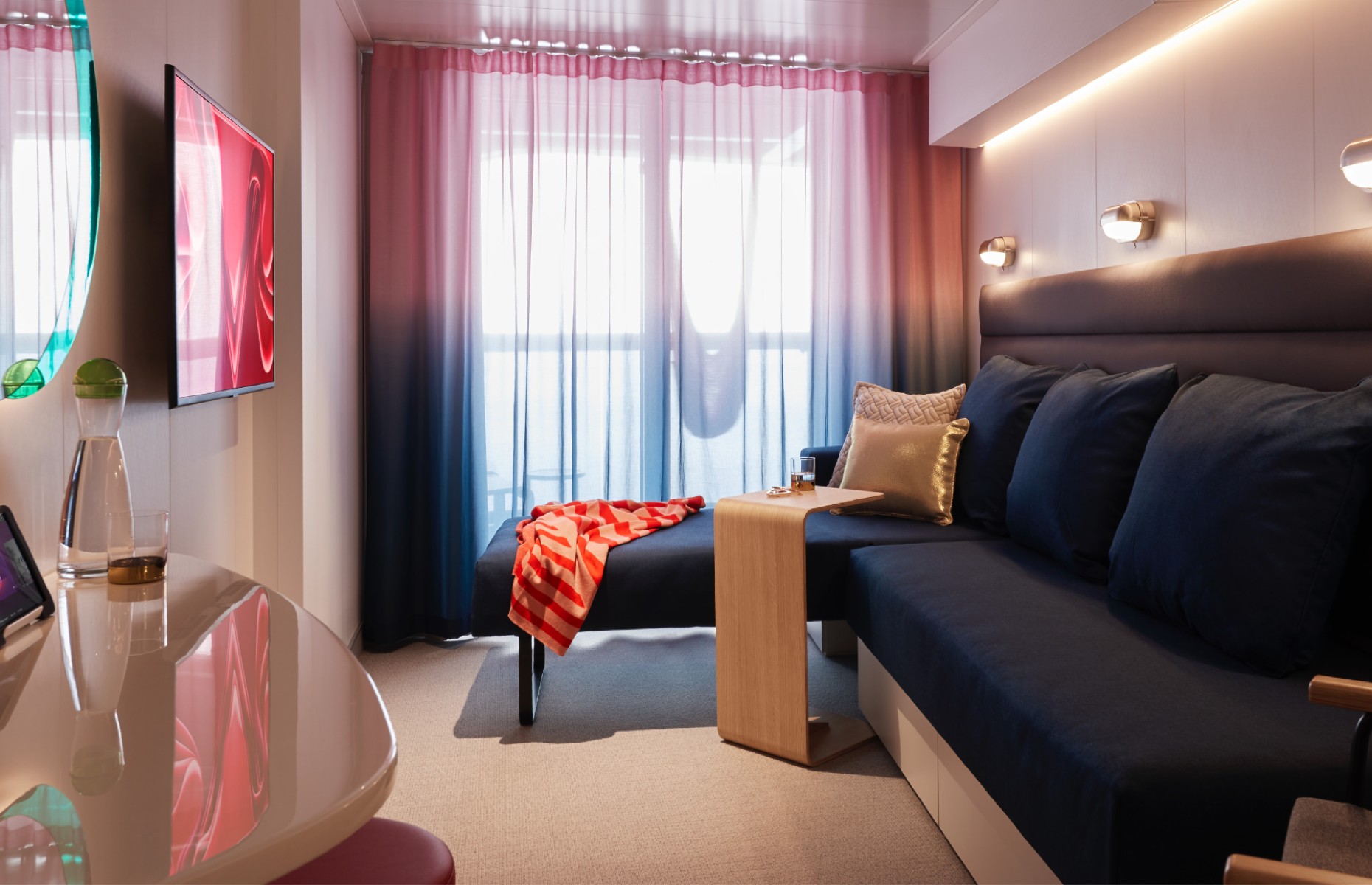 Virgin Voyages
In keeping with the cheeky theme, Virgin's cabins aren't wearing any drawers, but there's hanging space and shelves, and bathrooms which are small but perfectly formed, with powerful rain showers to keep you shipshape.
Cabins are available for travellers with special needs or reduced mobility, and for sailors with cash to splash, there are 78 larger RockStar or Mega RockStar Quarters: 'Rebellious Luxe' suites designed by Tom Dixon, with marble bathrooms, stargazing terraces, an 'agent' or concierge to meet your diva demands, and access to Scarlet Lady's exclusive VIP deck, Richard's Rooftop.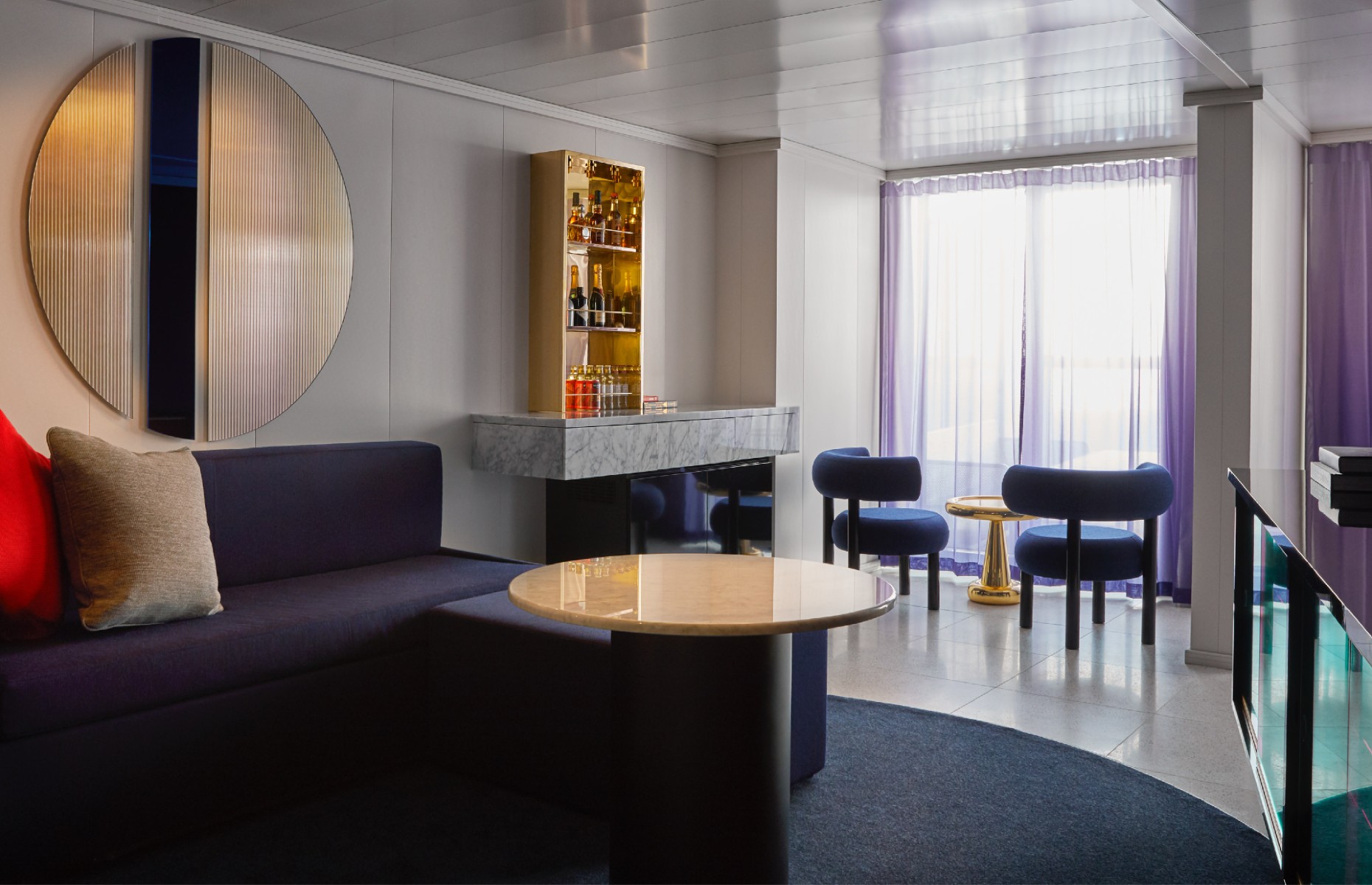 Virgin Voyages
Dine in style
Have you enjoyed your Virgin Voyage so far? Are you prepared for the climax? OK, let's talk about eating out. Oh. My. Word. With over 20 eateries, including six signature restaurants, Virgin has banished the bland cruise buffet to the scrapyard in the sky and rocketed on-ship dining into the stratosphere (we are cruising chez Branson, after all).
On our four-night voyage, we sample all six, booking them in advance with the Virgin Voyages app, which guests can download before setting sail. WiFi is free throughout the ship, so it's easy to check out menus, update bookings and keep track of your spending.
Everything – the menus designed by Michelin-starred chefs, the super-friendly attentive service, the unique design details – blows our minds and our expectations. And as groups go, we're a tough (dining) room: a vegetarian, a minimal meat-eater, a 'nothing remotely spicy' diner, one prone to 'hangry' outbursts of Hulk-like proportions if her portions don't cut the mustard, and mercifully for the waiters, two easy 'eat-anythings'.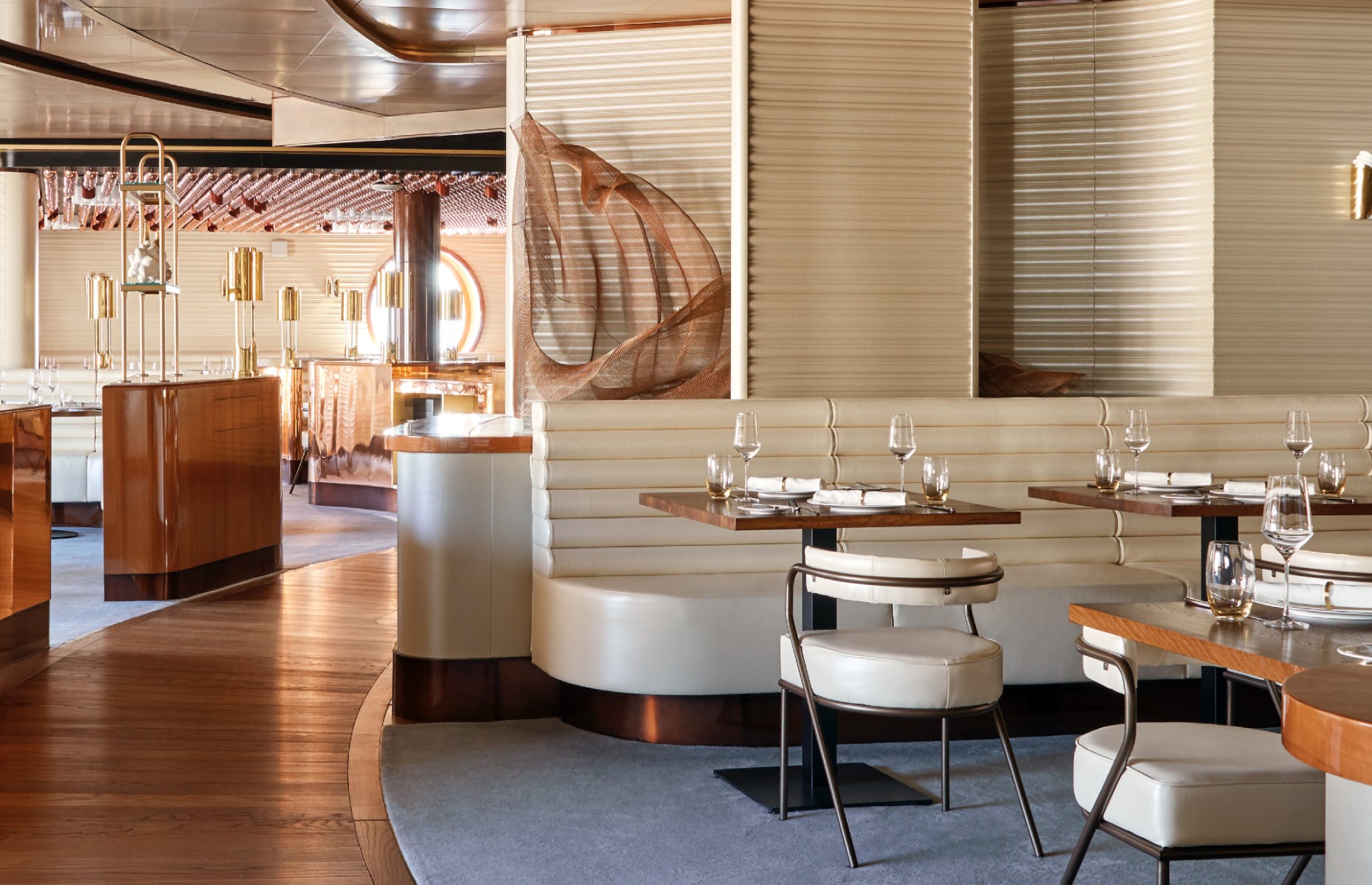 Virgin Voyages
The Wake is an art deco-inspired gem, entered via a glamorous staircase, with a belt-busting Benedict and brunch menu, and an evening grill serving surf, turf and vegetarian mains, plus decadent side dishes I'm still dreaming about.
Gunbae is a stylish and social Korean BBQ, where an assigned chef cooks up a sizzling feast of veggies, fish and meat dishes at your table.
Intimate Pink Agave ditches the Tex-Mex classics and delves into authentic Mexican street-food, with plates perfect for sharing and killer Mezcal to keep to yourself.
Veggie-friendly Razzle Dazzle does what it says on the tin, with eye-popping interiors that still don't deter us from sinking three-course, hangover-busting breakfasts.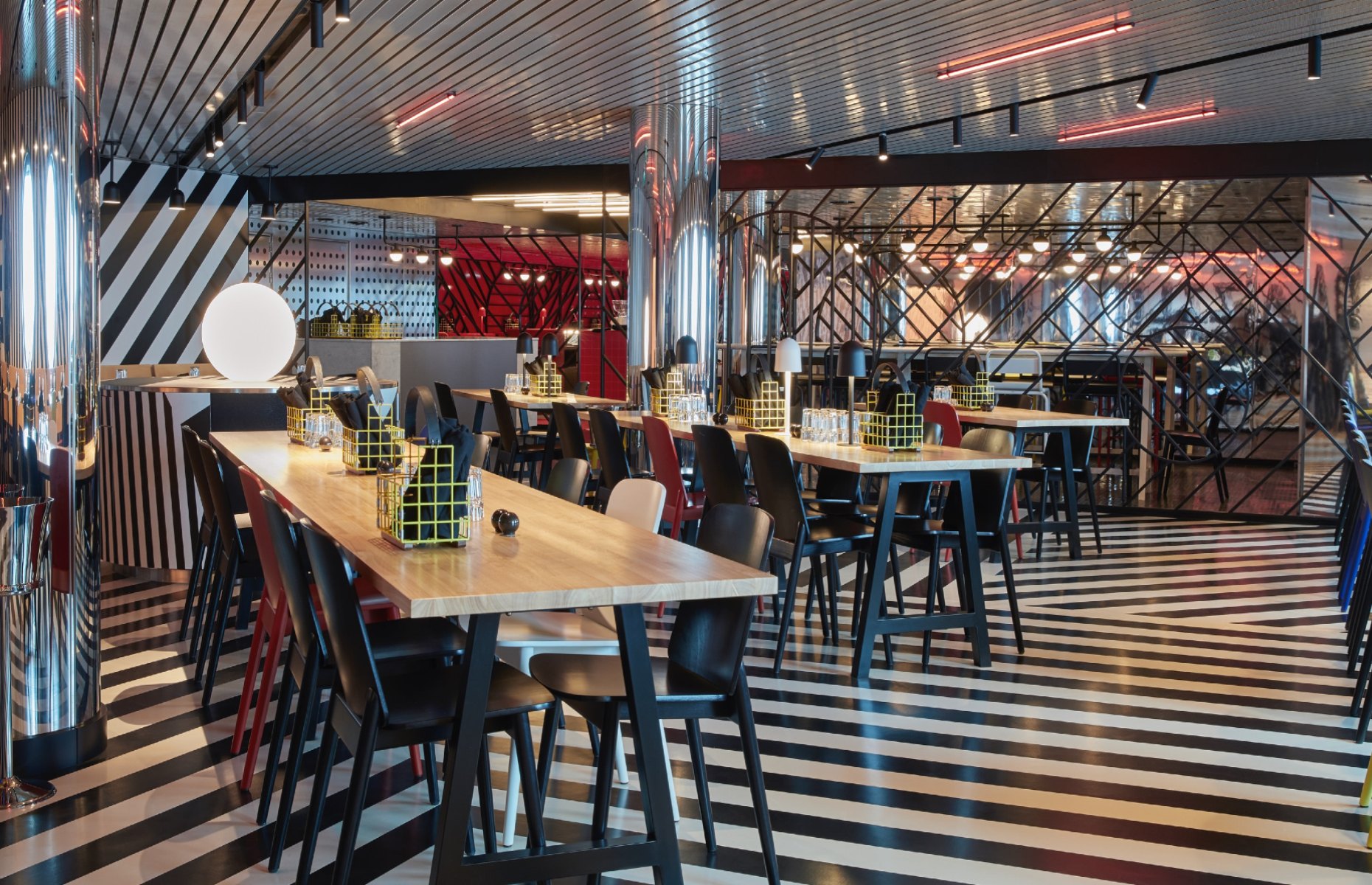 Virgin Voyages
We squeeze in some pre-dinner Italian aperitivos at Extra Virgin, feasting on exuberant boards of charcuterie and cheese, and gaze wide-eyed as each mystery dish is revealed at the innovative culinary laboratory, The Test Kitchen, with perfectly paired wines to match.
In between (lest we wither away) there's everything from bento boxes to burgers, tacos to sweet treats and a 24-hour diner in The Galley, light bites at laid-back beach club, The Dock, and endless saucy soft scoops at Lick Me Till… Ice Cream (or burst).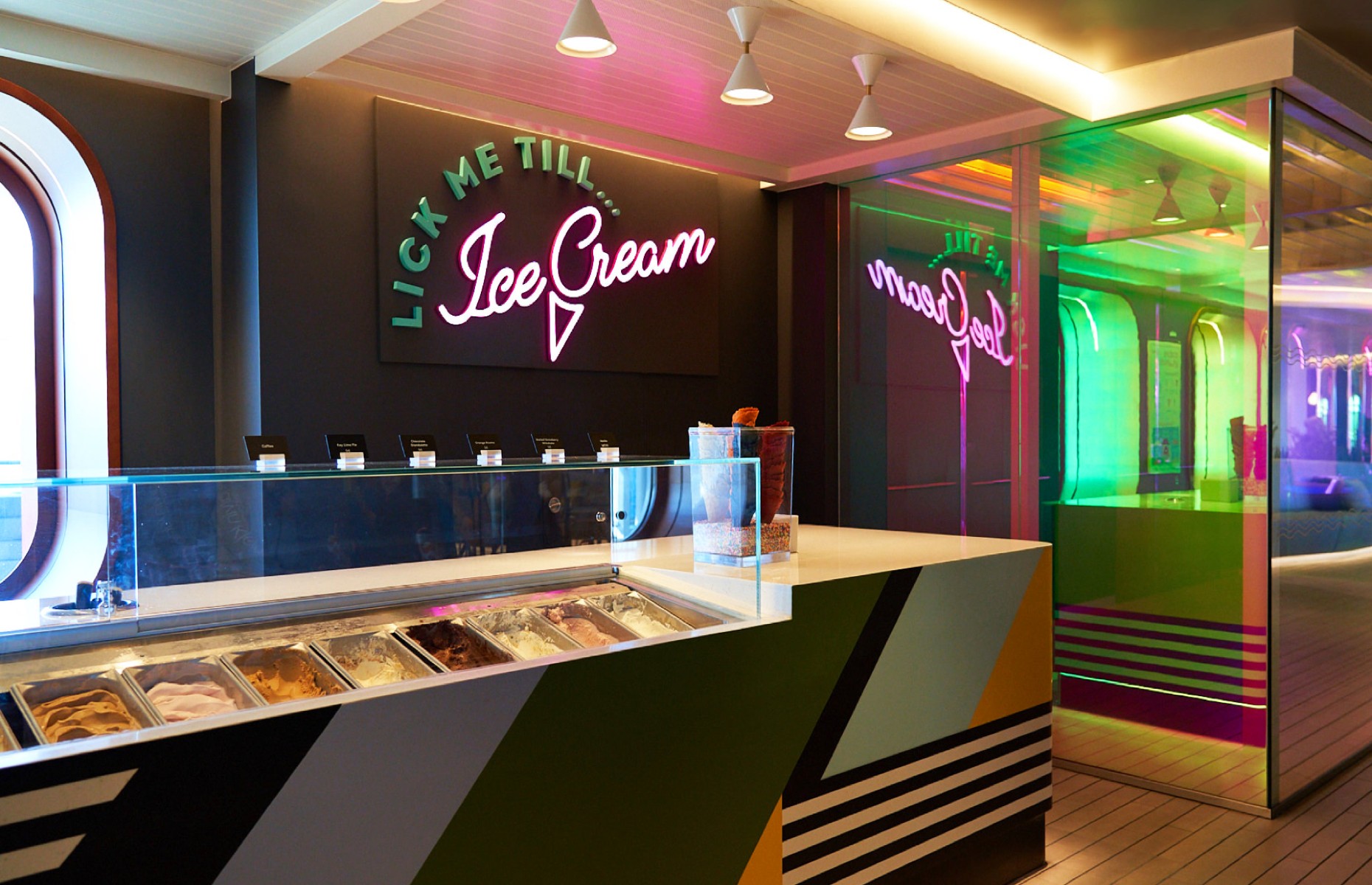 Virgin Voyages
No hidden costs
Unlike many cruise lines which charge extra to visit 'speciality' restaurants, all of Scarlet Lady's food is included in the voyage cost, with premiums for just a small selection of luxury items. Not only does binning the buffet save tonnes of food going to waste, it ensures meals are cooked to order and almost exclusively delivered to your table, an added bonus in post-COVID times.
Virgin Voyages has vetoed single-use plastic, using biodegradable and reusable takeaway containers instead (it's also the first cruise company to achieve carbon neutrality from launch, and is partnering with Climeon to convert engine heat into clean electricity). Tips and soft drinks are also included, while alcoholic tipples are reasonably priced, sailors can bring two bottles of wine per cabin on board, and there's an option to set up a non-refundable $300 Bar Tab (with $50 thrown in by Virgin for free).
Now usually, mine would be a margarita, but thanks to my winning repertoire of chat-up lines in the NSA show (mum was so proud), me and my crew are invited for Champagne, courtesy of generous Dr A. Following the doctor's orders again, I'm told to sit and wait, before the ship's resident magician, The Charmer, kneels down and looks deep into my eyes.
I anticipate a card stunt, or perhaps a casino chip drawn flirtily from behind my ear. Instead, with a flourish and a cheeky grin, he produces a bottle of bubbly from beneath Dr A's dress: a handy trick to have up your skirt when you're painting the town red.
On Scarlet Lady, you never know just what might happen: but you can bet it will always be magic.
READ MORE: The best cruises in the world to book now
More information
Virgin Voyages is now offering Caribbean cruises on Scarlet Lady, while Valiant Lady will launch in spring 2022 with a range of UK and European sailings. Discover more at Virginvoyages.com
Lead image: Virgin Voyages
Be the first to comment
Do you want to comment on this article? You need to be signed in for this feature