What to see and do in Exmoor National Park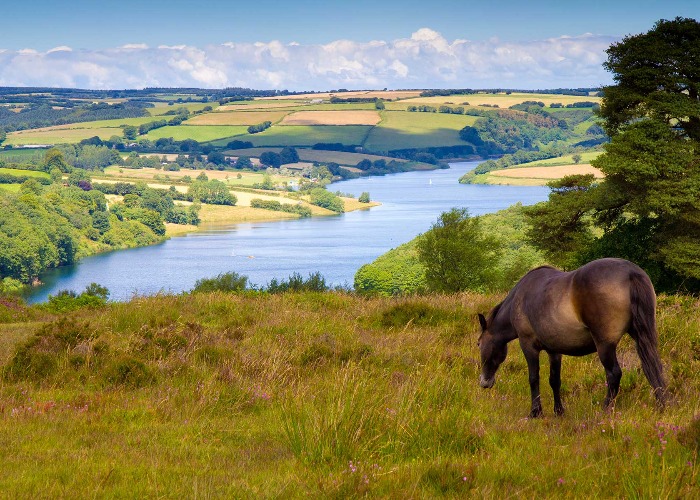 It might be one of the UK's smaller national parks but Exmoor's combination of countryside and coastline make the area a picture-book getaway the whole family will love.
Exmoor National Park, a protected area in Somerset and North Devon, is a living landscape of farmland, ancient woodland, moorland and villages with a long stretch of coastline.
Whether you're after a quiet cream tea by the sea or a more active break hiking up Dunkery Beacon – the park's highest point – there are plenty of fantastic year-round activities. Here are our top things to do in Exmoor.
bbofdon/Shutterstock
1. A day out in Dunster
Dunster is the perfect starting point for your Exmoor visit. Not only is it home to a National Park Centre where you can pick up a wealth of information about your stay, it's also a well-preserved medieval town.
The central Yarn Market, a 400-year old octagonal timber structure, was a prosperous 17th-century trading point for wool and cloth.
An uphill stroll from there will take you to the impressive Dunster Castle. Once the site of a timber Norman castle and then a medieval fortress, it later became a family home. From the terraced gardens there are spectacular views across the Bristol Channel towards Wales. Follow the wooded paths along the stream to a natural play area and beyond to the working watermill, which still grinds flour for the estate today.
Andrew Duke/Alamy Stock Photo
A short walk outside the castle grounds is the impressive Gallox Bridge, a medieval stone river crossing used by traders on their way to market. The town's high street is lined with independent shops and boutiques, perfect for finding local produce and unique clothes and gifts.
READ MORE: The UK's most stunning national parks
2. Stargazing on Exmoor
Exmoor's exceptionally dark night skies earned it the honour of being Europe's first designated Dark Sky Reserve.
Arthur Cauty/Shutterstock
This means it fits all the criteria for a dazzling display of the Milky Way and beyond. Pick up a handy flyer from a tourist office or download the free Astronomer's Guide showing the key stargazing spots, or just find a dark spot and wing it yourself.
Exmoor Dark Skies Festival runs 22 October to 7 November 2021 with events including guided star-gazing sessions, space-themed arts and crafts (perfect for kids on half-term) and various nighttime walks through this stunning landscape.
3. Wildlife watching
About 20 herds of the iconic red-brown Exmoor ponies roam freely on the open moorland. These incredibly self-sufficient creatures spend most of the year grazing on the moor, only being driven back to farms for annual health inspections each autumn. An estimated 3,000 red deer, the largest land mammal in the UK, also call the area home.
Angela Lock/Shutterstock
No wildlife sighting is guaranteed, but there are good chances of spotting feral goats on the cliff tops of Valley of the Rocks. Beware that the grazing animals often come right to the road's edge. As you drive the winding roads take it easy on the bends and adhere to all warning signs. Don't be surprised to receive a curious stare from cows and sheep who wait patiently in the road while you maneuver around them.
Along the coastline, you might be lucky enough to see harbour porpoise, grey seals, and even dolphins, as well as seabirds such as gannets.
Kestrels and other birds of prey might be spotted over the moors; for guaranteed hawk sightings visit Exmoor Hawk and Wildlife Sanctuary near Bossington.
4. Pony treks through the countryside
If you're keen to get close to Exmoor ponies in a responsible way, visit Exmoor Pony Centre near Dulverton, which promotes and protects this rare breed, and offers visitors a chance to meet foals and book riding sessions.
The stables at Burrowhayes Farm campsite, between Porlock and Dunster, offers experienced riders treks up onto the hills of Selworthy and Dunkery. If you're with young children or newbie riders, opt for the 30-minute riding experience. The most mellow ponies are led on country lanes and along nearby woodland bridle paths giving the perfect first trek experience through the countryside.
5. Admire Victorian engineering in Lynton and Lynmouth
The quaint twin towns of Lynton and Lynmouth are absolute Exmoor must-visits. Lynton, at the top of the cliff, is connected with harbourside Lynmouth via a genius piece of Victorian engineering, a water-powered funicular cliff railway.
travellight/Shutterstock
The ride heading back up from Lynmouth towards Lynton saves walking the steep winding cliff path, so, rather predictably, the queue at the bottom station can take a little longer. Both towns are charming with plenty of independent shops and places to eat.
A short journey out of town to the west takes you to Valley of the Rocks, a dramatic stretch of coastal cliffs that form part of the South West Coast Path.
READ MORE: Discover the UK's Areas of Outstanding Natural Beauty
6. Watersports and adventure activities
With 37 miles (59.5km) of coastline and the huge Wimbleball Lake and Wistlandpound Reservoir, there are plenty of spots to hit the water.
The pretty harbour village of Porlock Weir is home to Exmoor Adventures that offers various activities from a gentle stand-up paddleboard (SUP) on a calm sea to white water kayaking for more advanced adventurers.
Ian Woolcock/Shutterstock
Combe Martin is a popular spot for kayak hire, allowing paddlers to explore the North Devon shores. Find hidden coves and caves on a paddle round to Broad Sands Beach, which given its flight of 200 steps, is probably best reached by sea anyway. Beware, though, that the paddle back against the tide can be a challenge.
Ilfracombe Safaris, setting sail from Ilfracombe Harbour, offers RIB tours and wildlife-watching expeditions along this beautiful coastline.
Main image: Charlesy/Shutterstock
Be the first to comment
Do you want to comment on this article? You need to be signed in for this feature