Shepherd's delight: a creative weekend away in Kent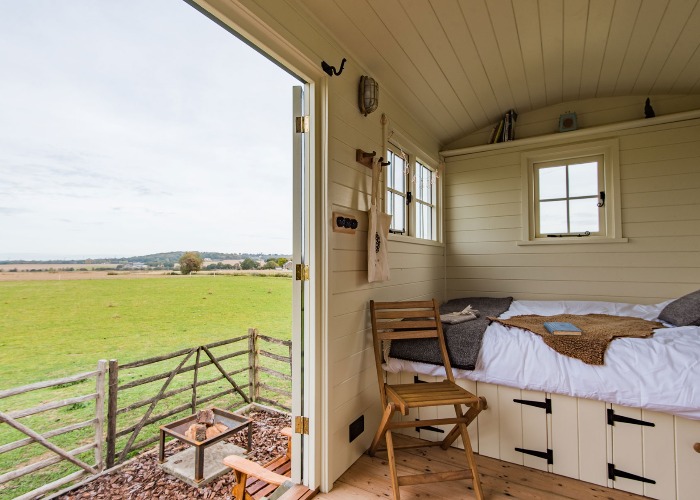 As the world picks up pace again, Jacqui Agate escapes to Kent to discover the art of slow living in a traditional shepherd's hut.
There's a special way of telling the time at Romney Marsh Shepherds Huts. It's not a chiming city clock, nor the peal of church bells. No. It's a stampede of Romney ewes hungry for supper.
At 7pm sharp, one sheep rears its head, alert, listening. Then another. Then, when grains hit the trough, the whole flock surges forward, bleating a chorus and beating their hooves into the grass. The Kentish answer to the Great Migration.
Matilda Delves Photography
We're on the Romney Marsh, a patchwork of pastures, wetlands and coastlines in the county's south. So open and otherworldly are the landscapes here, they're nicknamed the Fifth Continent. We're driving in from Sussex and when rippling hills peter out into flatness, we know we've arrived.
Matilda Delves Photography
READ MORE: Check out our full guide to Kent
Farm life
Here to greet us is Kristina Boulden, whose family has farmed Romney Marsh's pancake-flat plains for more than a century. She and her husband Paul founded Romney Marsh Wools in 2008, using fleece from their own ewes to fangle everything from cushions to flat caps. And, since 2018, they've invited travellers to stay in a pair of 1900s-style shepherd huts right in the middle of their sheep field.
Matilda Delves Photography
"Over the years I've exhibited at hundreds of events and was always asked by customers if they could come and stay on our farm," Kristina tells me. "We met our Shepherds Hut maker back in 2016...which got us thinking how lovely it would be to be able to place traditional huts back on our field."
And lovely it is. The pair of duck-egg blue huts – named 'Lookerer' and 'Rumwold' – seem perfectly placed on this pocket of the marsh. They were built by Elham Valley Shepherds Huts, local craftsmen who stumbled across a derelict shepherd hut while out hiking once and have been restoring them ever since.
A room with a view
These two are kitted out with plenty of creature comforts. In each hut, there's a double bed plush beneath a Romney Marsh Wools throw, a dinky kitchen with a two-burner hob, and a toilet and shower.
Yet it's the little touches that really make it: fairy lights strung above the window, breakfast in the fridge, binoculars on hand for watching our woolly neighbours. There's a wood burner for chillier nights, and I imagine snuggling up beside it with a Kentish red wouldn't be half bad.
But we're here in early summer, and mid-June is drip-feeding us sunshine, so we throw open the doors and drink in the view with a bottle of Biddenden Ortega white wine, produced 18 miles (29km) away.
Jacqui Agate
Out front, there's a teensy fenced-in garden with Adirondack chairs, and beyond that a picnic bench and a firepit. And beyond that, endless green dotted with sheep, noses to the ground. The horizon is a neat line, punctured by the odd farmhouse puffing smoke.
Through the evening we watch the ewes as we'd usually watch Netflix. We give them names, accents, agendas. Occasionally a mother bleats into the abyss and a suckling lamb comes running, the natural order of things restored.
READ MORE: The UK's most unusual places to stay
A bite of Kent
Dinner is a gloriously slow affair too. It's delivered by Sinead Bailey of Kentish Home Feasts, an offshoot of events caterer The Flavour Kitchen that was set up during the pandemic. Three courses showcase a bounty of Kentish produce and arrive part-cooked and boxed up, ready to be seared, sauteed or simmered and served.
Jacqui Agate
A sprouting broccoli soup stirred through with blue-cheese sauce and paired with light-as-a-feather beignets kicks things off. For the main, it's ricotta gnocchi tossed in pesto, served with Parmesan green beans and deliciously sweet tomatoes.
A gooey brownie, drenched in hot-fudge sauce and finished with cream and berries, follows for dessert. It's all washed down with a glass or two of Simpsons Chardonnay. We eat at the picnic table in the sheep field, our fellow diners chomping on clover-rich grass as we graze on Kentish delights. When our fire burns out, we hit the hay.
Exploring the Marsh
It's a tidy task to tear ourselves away in the morning, but we manage it. This slice of the Marsh is well placed, after all. It sits with artsy Folkestone to the east and stark Dungeness to the south, and Canterbury a 30-minute jaunt north.
Walking trails wiggle all around, too. We opt for one that hugs the Royal Military Canal and spits us right out in West Hythe, home to uber-trendy microbrewery Unit 1. There's time for a pint of Romney Session IPA before we head back to our sheep.
Veronique Stone/Shutterstock
We spend the rest of the afternoon with Rachel Murrell, a Kent-based artisan here to teach us all about needle felting. Owner of Ophelia Dolls, Rachel has been making dolls for more than a decade and she uses Romney Marsh Wools wool for her projects. Felting is essentially jabbing carded wool with a special notched needle over and over again until it binds together, so you can fashion all sorts of weird and wonderful creatures and curios. Today, the Romney ewes are our subject, and a few hours of work produces some lovable (if a little lumpy) lambs.
Jacqui Agate
Rachel showers praise on our creations then, suddenly, brings her fingers to her lips, eyes wide.
Behind our picnic-table workstation, a molehill is trembling, a little creature nosing its way to the surface. "It's amazing what you notice when you slow down," she says.
And that's the point. Staying here is about taking things slow and taking things in. A quaking molehill, a sky stitched with stars and a sunrise hung with mist, a soap opera starring thirty-odd sheep: it's all here if you make the time to look.
READ MORE: The best places to visit on the Kent coast
How to book
loveEXPLORING was a guest of Romney Marsh Shepherds Huts, based near Aldington on the Romney Marsh in Kent.
A two-night stay for two adults sharing the Lookerer Hut is priced from £270 (£135pp), based on low season travel in November 2021. There is a minimum two-night stay per booking. Local produce breakfast boxes are available from £15 extra per booking.
A range of optional add-ons with local activity providers and artisans are available to book. These include needle-felting classes with local textile artist and designer Rachel Murrell, from £60 per person (new for 2021). A three-course gourmet dinner, prepared and delivered to your hut by Kentish Home Feasts, is also bookable from £30 per person.
To book visit Bloom Stays or call 01227 903 404.
Main image: Matilda Delves Photography
Be the first to comment
Do you want to comment on this article? You need to be signed in for this feature