6 reasons to visit wonderful Whitby
The jewel in Yorkshire's coastal crown offers so much more than sandy beaches and fish and chips. Here's why you shouldn't miss a weekend in Whitby…
Adored by black-clad Goths as much as grannies and toddlers, Whitby is arguably Britain's most unique coastal town. A heady mix of historic sights, maritime culture, independent shops and beautiful beaches, it was the country's top staycation spot in 2019.
Built around the River Esk estuary, it has two contrasting but equally compelling halves linked by an iron swing bridge – the cobbled Old Town on the East Side and the bustling West Side with attractions galore. Here are six reasons to visit…
1. For streets steeped in history
The train first brought tourists to Whitby in Georgian times but its story began centuries prior. Go back to the start by climbing the 199 Steps to Whitby Abbey, a site of religious significance since Anglo-Saxon times, on East Cliff's headland. Legend has it the steep ascent was created a test of Christian commitment, while the wooden benches lining the route were originally installed for pallbearers to rest coffins destined for the graveyard of St Mary's Church at the summit.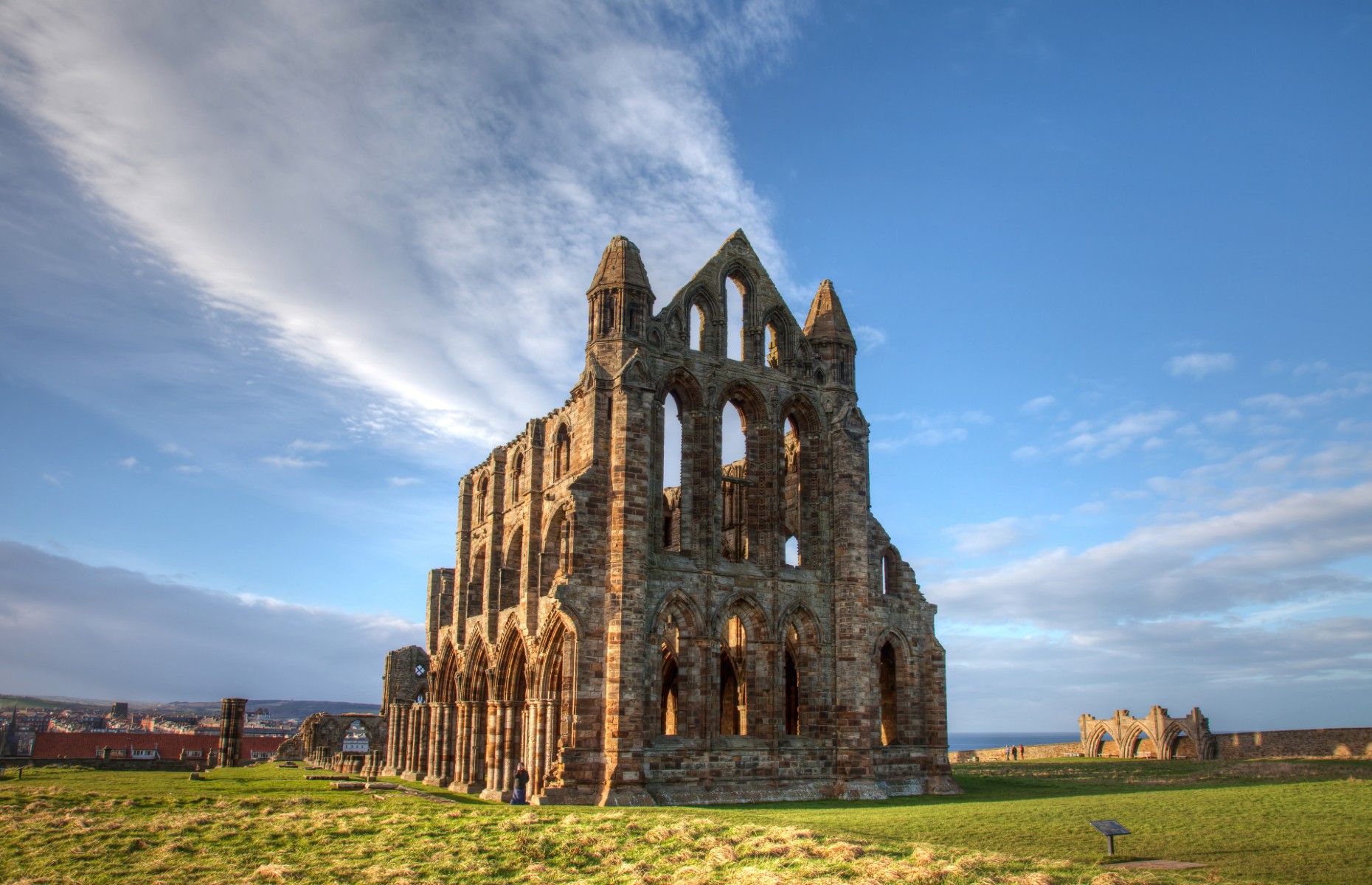 Gail Johnson/Shutterstock
Whitby Museum in the middle of Pannett Park is a treasure trove of artefacts that shaped this eclectic town, from Jurassic fossils and whaling tools to minerals and maps. Its most famous exhibits are the Hand of Glory, a mummified severed hand found in a cottage wall, and museum mascot Clarence the Crocodile, a taxidermy reptile with a penchant for dressing up.
Whitby Town Walking Tours offers four guided strolls on different themes if you have a particular interest or take a self-guided tour along the new Whitby Walking With Heritage Trail, which features nine life-sized sculptures by artist Emma Stothard. Wander up to West Cliff to see Bombardment Remembrance Garden, a moving recreation of a house destroyed during shelling by German battle cruisers in December 1914.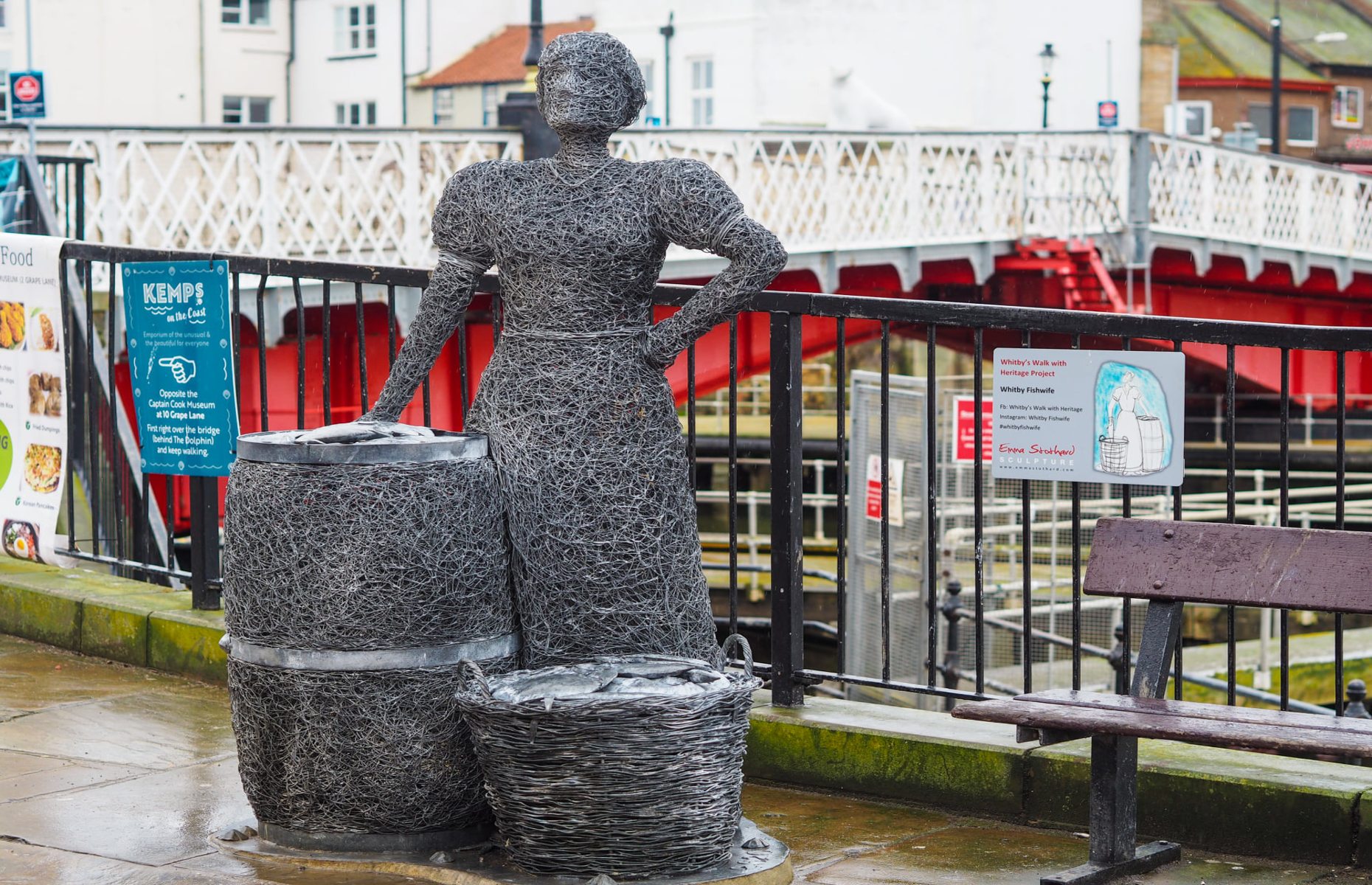 Discover Yorkshire Coast/Facebook
READ MORE: Britain's most historic towns and cities
2. For maritime culture
The sea made Whitby's fortune and remains the town's beating heart, even if the vessels leaving the harbour carry more tourists than fishermen. You'll find a seafaring trip to suit on the West Side promenade, whether that's a 20-minute pleasure cruise or dolphin watching expedition.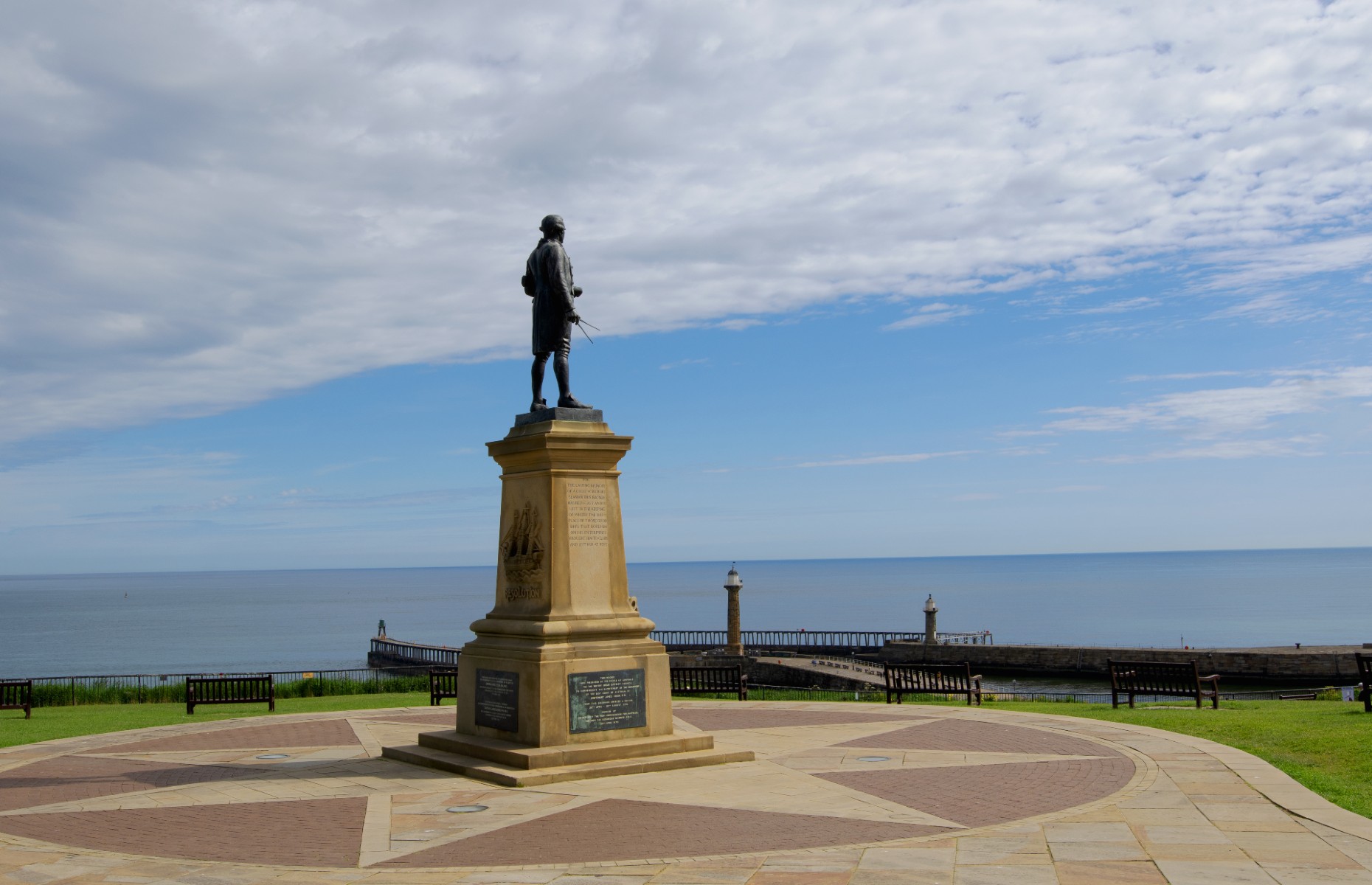 Peter is Shaw 1991/Shutterstock
Yorkshire-born explorer Captain James Cook set sail from Whitby and his statute overlooks the North Sea at West Cliff, close to the Whale Bone Arch, a replica of an original whale jaw that stood here. Learn more about his legendary voyages to the Pacific and Antarctic at Captain Cook Memorial Museum, which is inside the 17th century harbourside house where he served his seaman's apprenticeship, before boarding a full-sized replica of his ship at The Endeavour Experience.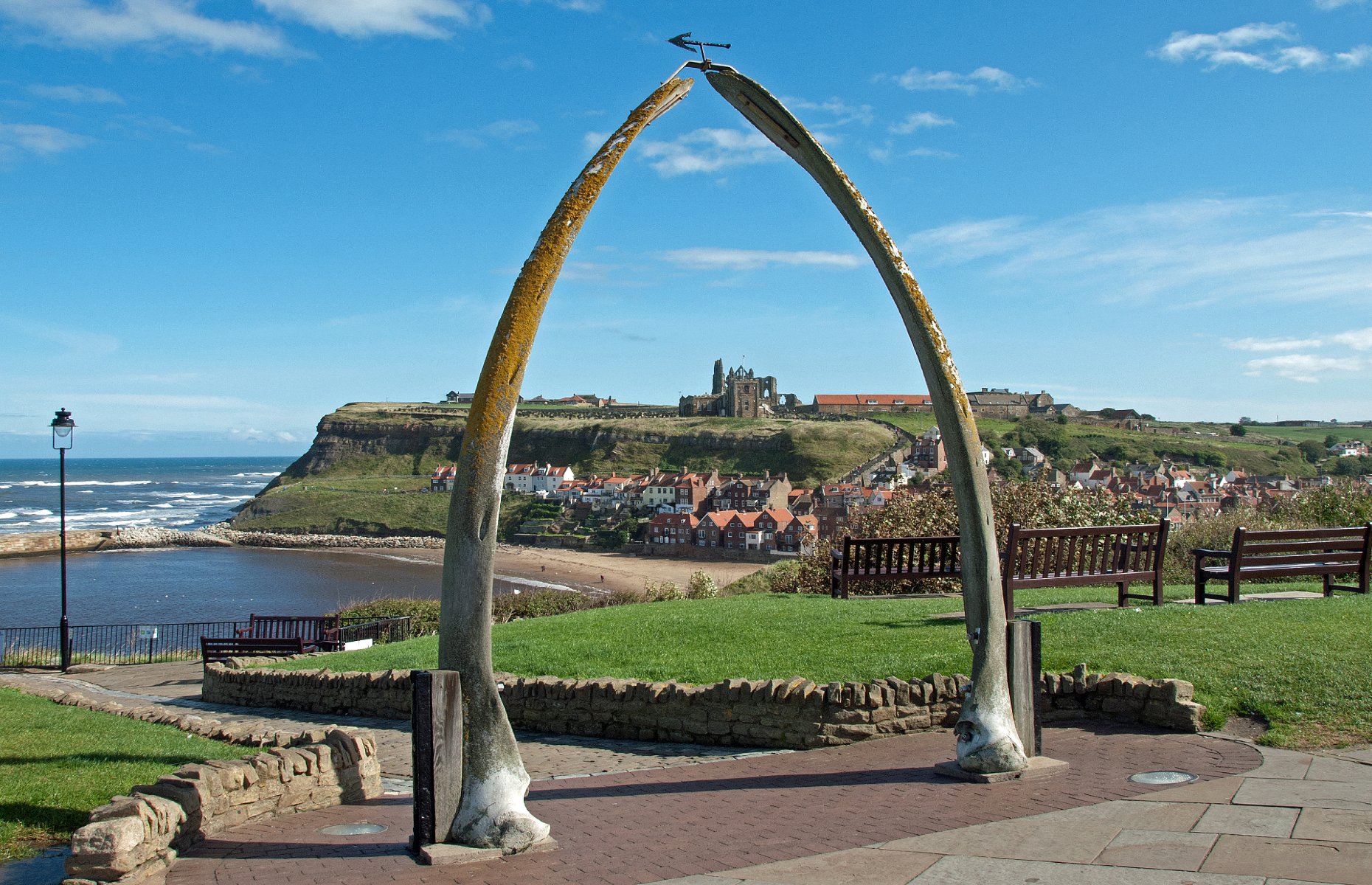 Peter Wooton/Shutterstock
Later, watch the waves from one of the town's two piers – stone jetties with wooden structures that project out from either side of the harbour mouth, each housing a 19th century lighthouse.
READ MORE: The best places to visit on the Yorkshire coast
3. For traditional seaside delights
Good old-fashioned fun is in plentiful supply on West Side, home to fairground rides, penny arcades and shops selling rock. The best crabbing spot is Kiddies Corner next to Whitby Bridge, where you can try to lure harbour crabs with bacon rinds and fish heads.
The town has three sandy beaches and the largest is Whitby Sands, in the shadow of West Cliff. It's lined with beach huts and has seasonal lifeguards, donkey rides and deckchair hire, plus a cliff lift dating from 1931. Walking here is said to have inspired regular visitor Lewis Carroll to write his poem The Walrus and The Carpenter.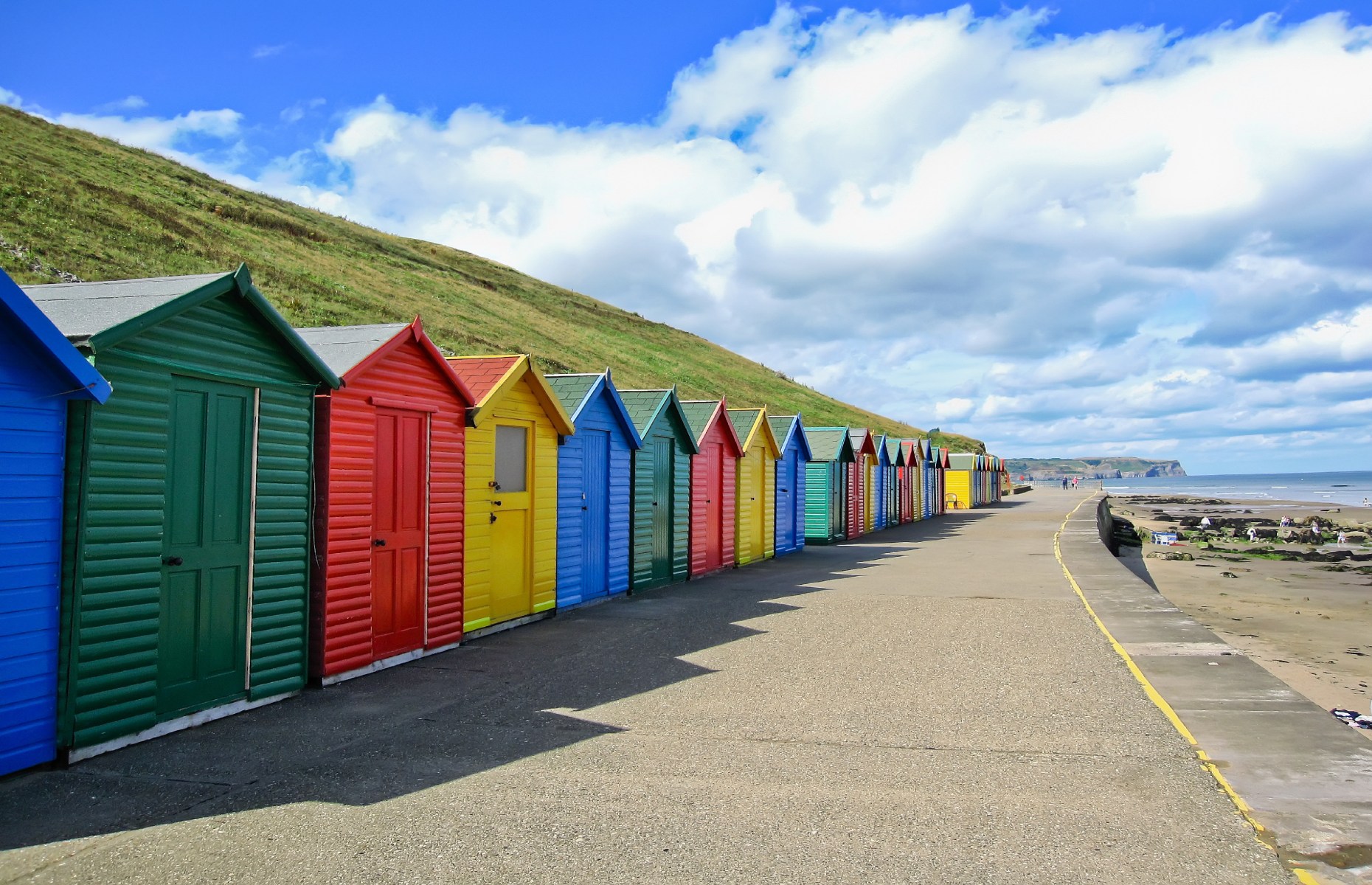 Javen/Shutterstock
Upgang Beach to the north of the town is a quieter option popular with surfers and fishing enthusiasts, accessed by steps next to Whitby Golf Club. Sheltered Whitby Tate Beach sits within town on the east side of the estuary and is a dog-friendly spot for skimming stones.
READ MORE: The UK's most beautiful beaches from above
4. For fine food
You'll be spoilt for seafood in Whitby. The Magpie Café is its most famous fish and chip haunt, dating back to 1937 and frequently voted best in Britain, but its reputation means long queues.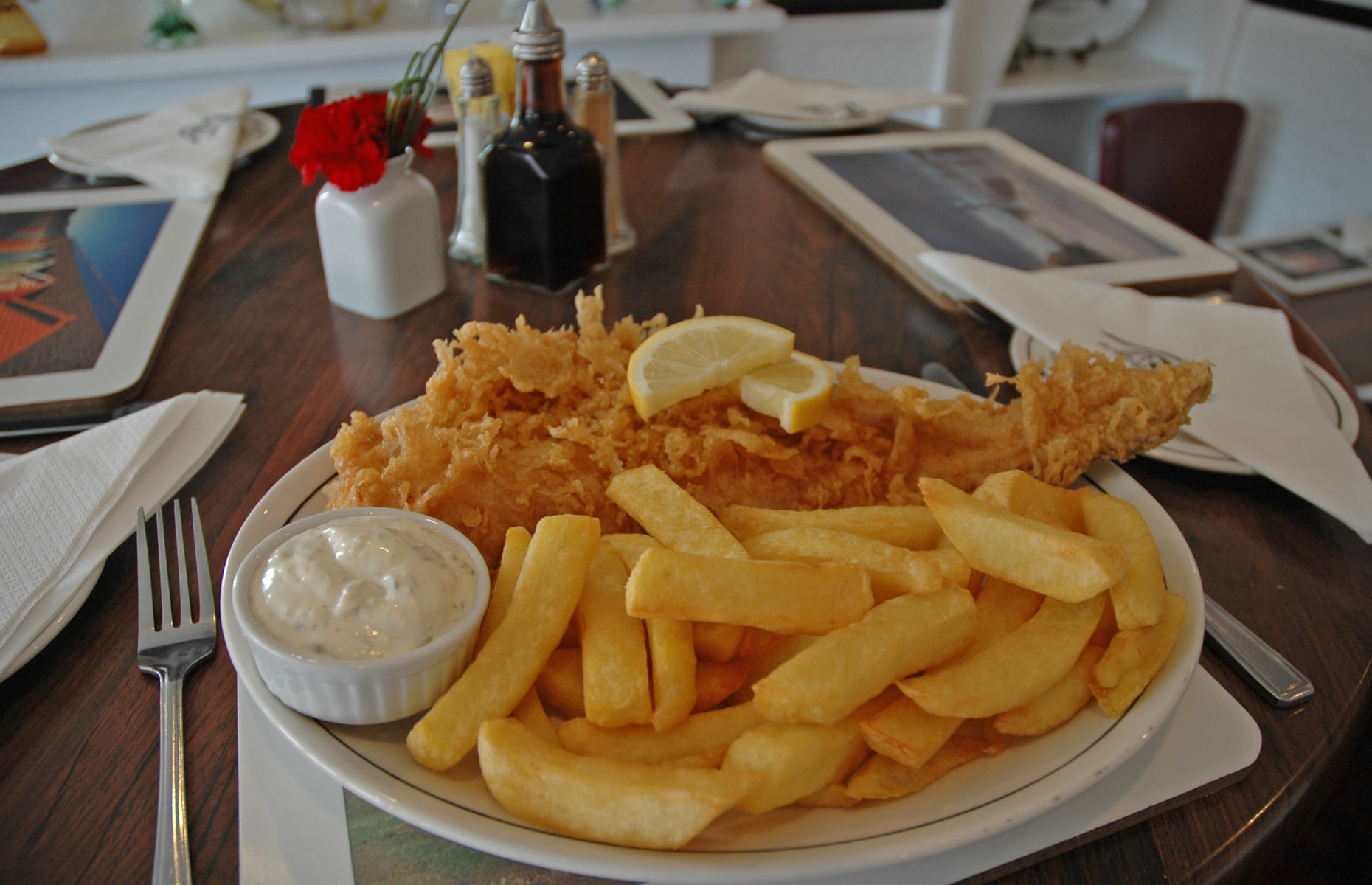 The Magpie Cafe/Facebook
Mister Chips and Quayside are worthy alternatives, with the latter boasting spectacular views of the abbey from its first floor.
If you are self-catering, follow your nose to through the winding streets to Fortune's Smokehouse Kippers, a family business selling smoke cured herring (aka kippers) from the same wooden shed for five generations.
Quirky Rusty Shears serves up some of the town's best cakes and bakes, with a Victoriana setting, sheltered courtyard and extensive gin menu, while The Blitz is a 1940s-themed tearoom by day, tapas bar by night. For a hearty Sunday roast and proper pint, head to White Horse & Griffin, a narrow pub as old as Captain Cook. It also has cottages and hotel rooms to hire.
If you have room left, Trillo's of Whitby by the bandstand is an ice cream institution that licks the competition with signature flavours like cinder toffee, rhubarb crumble and 'Whitby Gothic', a surprisingly delicious combination of blackcurrant and liquorice.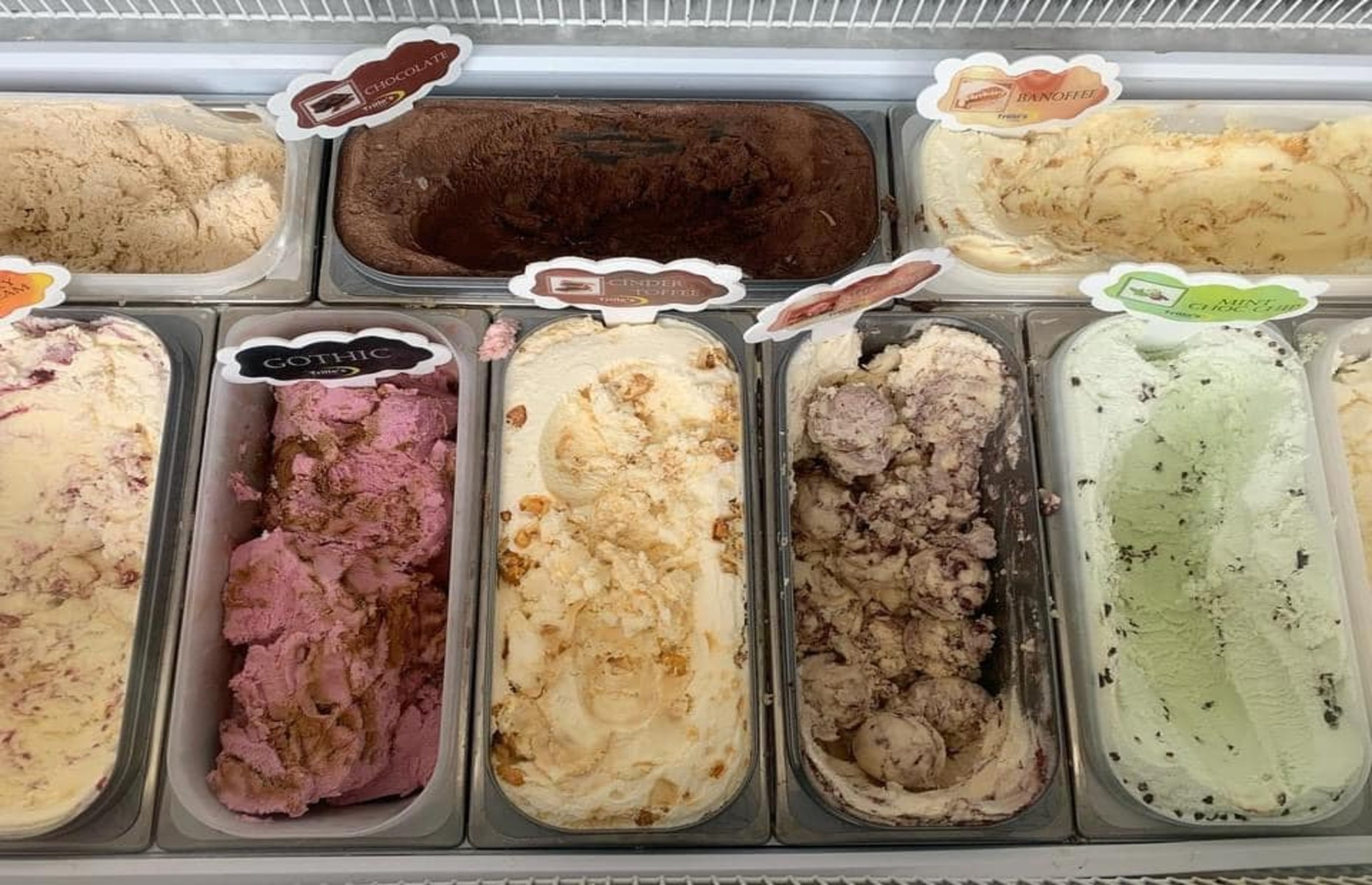 Trillo's of Whitby Ice Cream/Facebook
5. For its dark Gothic heart
There's an eerie edge to Whitby's salty sea air – and when author Bram Stoker visited for a holiday in 1890, it inspired his most famous character, Dracula. The atmospheric abbey ruins and windswept headland provided the ideal backdrop for a Gothic horror, with Stoker also adapting the true tale of a Russian shipwreck on Tate Beach into his book.
The association with this bestseller means Whitby is a mecca for the Goth community, with two Whitby Goth Weekend festivals at Whitby Pavilion each year, one around Halloween, naturally. The Dracula Experience is an interactive attraction that uses animation, special effects and live actors to guide you through Stoker's story, while Dr Crank of Whitby Walks leads both Dracula and ghost walks.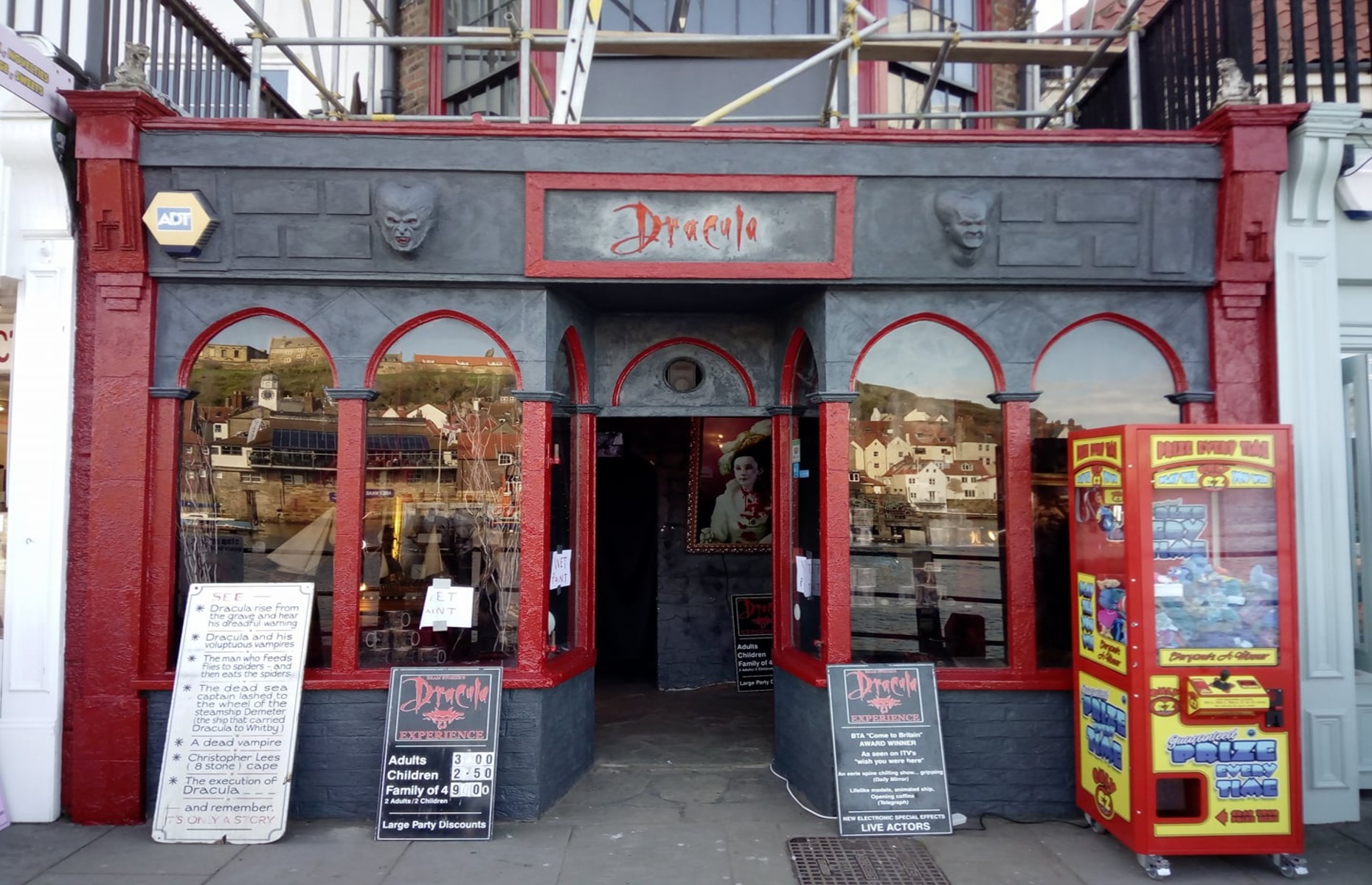 The Dracula Experience/Facebook
Don't go home without buying your own piece of Whitby's treasured gem, jet. The black stone has been mined in the town for centuries and the East Side streets are packed with jewellers and antiques dealers trading it. The Museum of Whitby Jet in the former Wesley Hall is free to visit and has a collection of rare antique pieces, as well as information about the stone's geology.
6. For exploring coast and country
Whitby is well placed to enjoy what Yorkshire has to offer, with an eclectic choice of beaches and seaside spots within a short drive – or a more ambitious hike along the Cinder Track, a 21-mile (34km) route along the decommissioned train line to Scarborough.
Staithes is a must-visit for Captain Cooke fans while Saltburn oozes Victorian charm and is a surfing hot spot. Head in-land to take in the rugged beauty of North York Moor National Park, which has acres of ancient woodland and moorland teaming with wildlife, as well as being designated as an International Dark Sky Reserve in December 2020.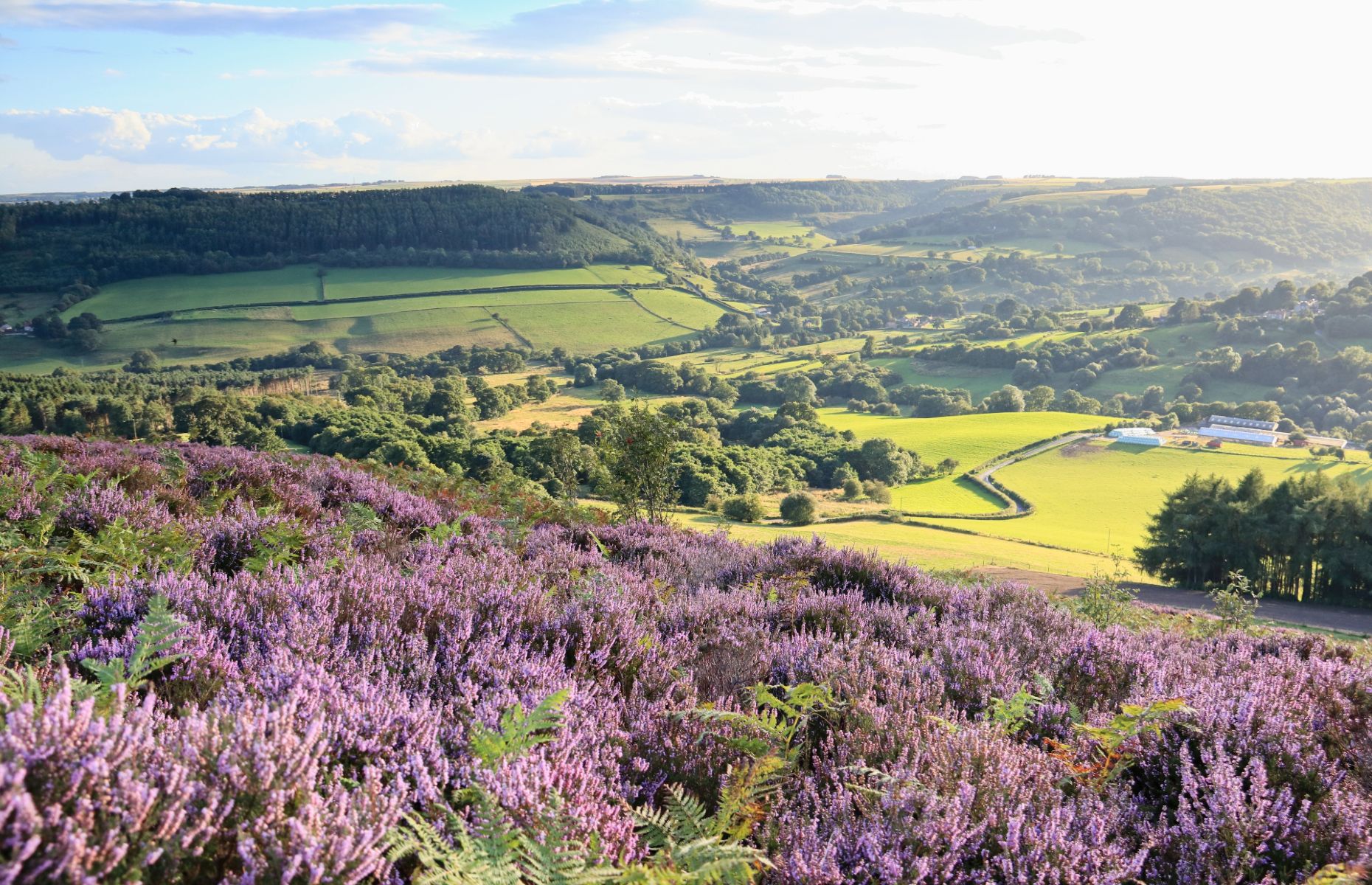 Bewickswan/Shutterstock
Dalby Forest is a favourite with mountain bikers but also has family-friendly trails, while the market towns of Helmsley, Pickering and Malton are charming for an afternoon of pottering around cafés and independent shops. Take the North Yorkshire Moors Railway steam train from Whitby to Goathland, a chocolate box village that you'll recognise from both 1990s TV show Heartbeat and the Harry Potter films.
READ MORE: What to see, where to stay and what to do in North York Moors
Lead image: Helen Hotson/Shutterstock
Be the first to comment
Do you want to comment on this article? You need to be signed in for this feature