6 essential experiences in Pollença, Mallorca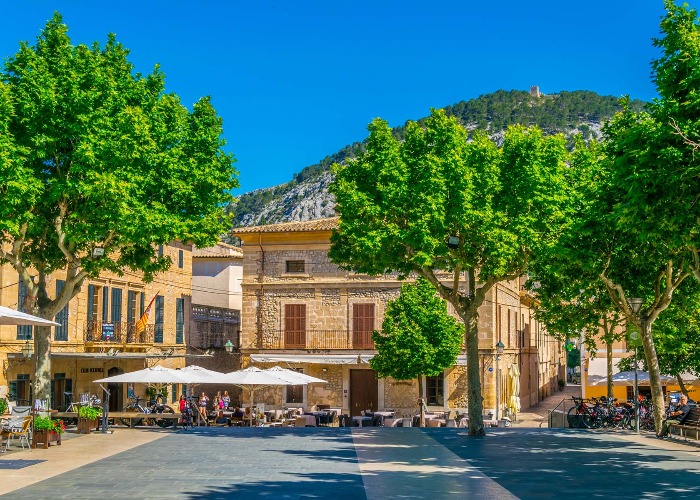 All sun-warmed stone, cobbled streets and mountain vistas, Pollença is the dreamiest of Mediterranean destinations. From ascending the famous Calvari Steps and browsing the Sunday market to feasting on regional specialities and tasting local wines, here's our pick of the best things to do in this beguiling town on the Spanish island of Mallorca.
It says a lot about Pollença's charms that the beach is one of its least remarkable features. Popular resort town Port de Pollença, a gorgeous stretch of sandy coves backed by a promenade with bars and restaurants, is just a short distance away. But it's the old town that makes this such a special place.
First settled by Romans in around 100 BC, Pollença was founded in the late 12th century by the Arabs and was later gifted to the Knights Templar after King Jaume I conquered Mallorca. This history, including the legacy of the famous order, is preserved in many surviving buildings and is visible in the soft honey stone of chapels and townhouses, in the cobbles and flagstones of Plaça Major (the main square) and in the medieval Calvari Steps.
vulcano/Shutterstock
Throw in those beaches and bays so close by and you've got pretty much the perfect Mediterranean experience. Here's our pick of some of the best things to do in Pollença.
READ MORE: What to see and do in Palma de Mallorca
1. Ascend the Calvari Steps
There's no need to leave town for a challenging hike. One of the most popular climbs is right in the centre. Ascending the Calvari Steps – a flight of 365 steps, one for each day of the year – is a challenge but a rewarding one. There are lovely details, like the cypress trees lining the route, to distract on the way up to the chapel of El Calvari, which gazes across the town's honey and rust-red rooftops.
Another beautiful hike beckons as you stroll around town with the views of the hilltop monastery of Santuari de la Mare de Déu framed between buildings. It looks distant but is actually just a little outside the old town, and the hike up is along a relatively easy series of switchbacks. Go early to avoid melting in the midday heat and be rewarded by sweeping views across the island, all framed by the buildings, archways and walls of the 14th-century sandstone monastery and chapel.
Balate Dorin/Shutterstock
2. Browse the Sunday market
The main square, Plaça Major, is the heart of the old town – and a convenient spot to regain your bearings if you happen to get lost among the maze of the steep, cobbled lanes. It's at its liveliest on Sundays when more than 300 traders set up here and on the surrounding streets.
The market opens early with stalls laden with fresh fruit and vegetables, bread, pastries, cheese and jamón (cured ham) brightening the scene from around 8am. Other tables are laid out with handcrafted leather handbags and wallets, jewellery, clothes and paintings.
vivoo/Shutterstock
They trade until just after lunchtime, so there's ample time to potter about, perhaps grabbing a coffee and a pastry between browsing. There are some lovely bricks-and-mortar shops, too, such as sol y tierra – a beautifully curated selection of island delicacies, including olive oil, wines and flavoured salts.
3. Taste wine surrounded by mountains
Explore Mallorca's rich winemaking heritage in the loveliest way possible: with a tasting surrounded by vines. There are several wineries close to Pollença, where the combination of mineral-rich soils, sunny days and cooling mists rolling in from the port creates ideal grape-growing conditions.
Can Vidalet, sheltered by the Serra de Tramuntana mountains, offers tastings on a terrace that juts out over the rows of vines, planted with a mix of French varieties and native grapes like Prensal, used in the bright, herbaceous Blanc de Blancs, and Callet, which adds a punch to a velvety red blend.
CAN AXARTELL/Facebook
Can Axartell, which offers tours and tastings by appointment, is worth a visit for the architecture alone. The organic winery is built into an old quarry so cleverly, you could almost imagine the towering glass façade and series of tunnels and caves have sprung naturally from the ground. A curvy white staircase gleams through the glass like a sculpture, and the wines – from mineral-rich whites to complex, delicate floral reds made with native grapes – are equally attention-grabbing. You can also try their wines at Numero Ocho Brasserie, whose tables spill out into Pollença's main square. The white, Bianco, goes beautifully with the restaurant's seafood dishes, while the rosé pairs particularly well with sunshine.
4. Join a SUP workout at the port
While the old town has plenty to keep visitors happy, it's worth spending a little time at Port de Pollença, necklaced by pine-fringed beaches and bayside restaurants linked by a broad promenade.
You can get a good sense of the surroundings with a waterside stroll, perhaps stopping for a drink with views of yachts and sailboats backed by the mountains. Or you could really earn that drink with a watery workout. Mallorca SUP Academy runs classes on stand-up paddle boards, beginning with a gentle glide out to a sheltered spot (with glorious mountain views) before a guided series of balance-challenging moves from push-ups to planks. You might tumble into the water, but it hardly matters – it's shallow and warm as a bath.
Rafael Martin-Gaitero/Shutterstock
5. Try the Mallorcan almond cake
Mallorcan food shares a lot in common with other parts of Spain. You'll find platters of cheese and jamón, wonderfully fresh seafood and tomatoes so ruby and ripe it's a wonder they don't burst. The latter are the star of the island's most famous dish, pa amb oli or bread with olive oil, usually rubbed with garlic before chopped tomatoes are spooned on top.
But Mallorca has many other culinary traditions, drawing from the abundance of lemon and olive trees and from salt harvested from the plains in the south. Almond trees also grow prolifically, providing the main ingredient for the ubiquitous gato d'ametlla. Made with local almonds and lemon peel, this cake is a soft, sweet, squidgy delight. Try a slice from one of the town's bakeries with a coffee in the main square or as a dessert in pretty much any restaurant.
6. Drive through the mountains
The Serra de Tramuntana mountain range soars and dips across northwest Mallorca like a dramatic grey-and-green spine, its tall craggy peaks studded with olive trees and grazed by hazelnut-hued wild goats. Route MA-10 wiggles between the mountains and sheer drops to the coastline.
Andrew Buckin/Shutterstock
There are several marked hiking routes along the way, though the drive itself is wonderfully – and vertiginously – wild. It's not for the faint-hearted, so take the turns slowly and make use of scenic overlooks. The road joins up charming villages, including Sóller, tucked away in a valley of orange and lemon groves. There, a vintage tram trundles from the grand main square, Plaça Constitució, down to the port and then on to Palma.
Make sure you leave plenty of time to explore Deià, a short distance from Sóller. Occupying a privileged perch above the Mediterranean Sea, it oozes a subtle, sophisticated style and nonchalance that's attracted artists, writers and celebrities for decades. Famous residents include British poet Robert Graves, buried here in 1985.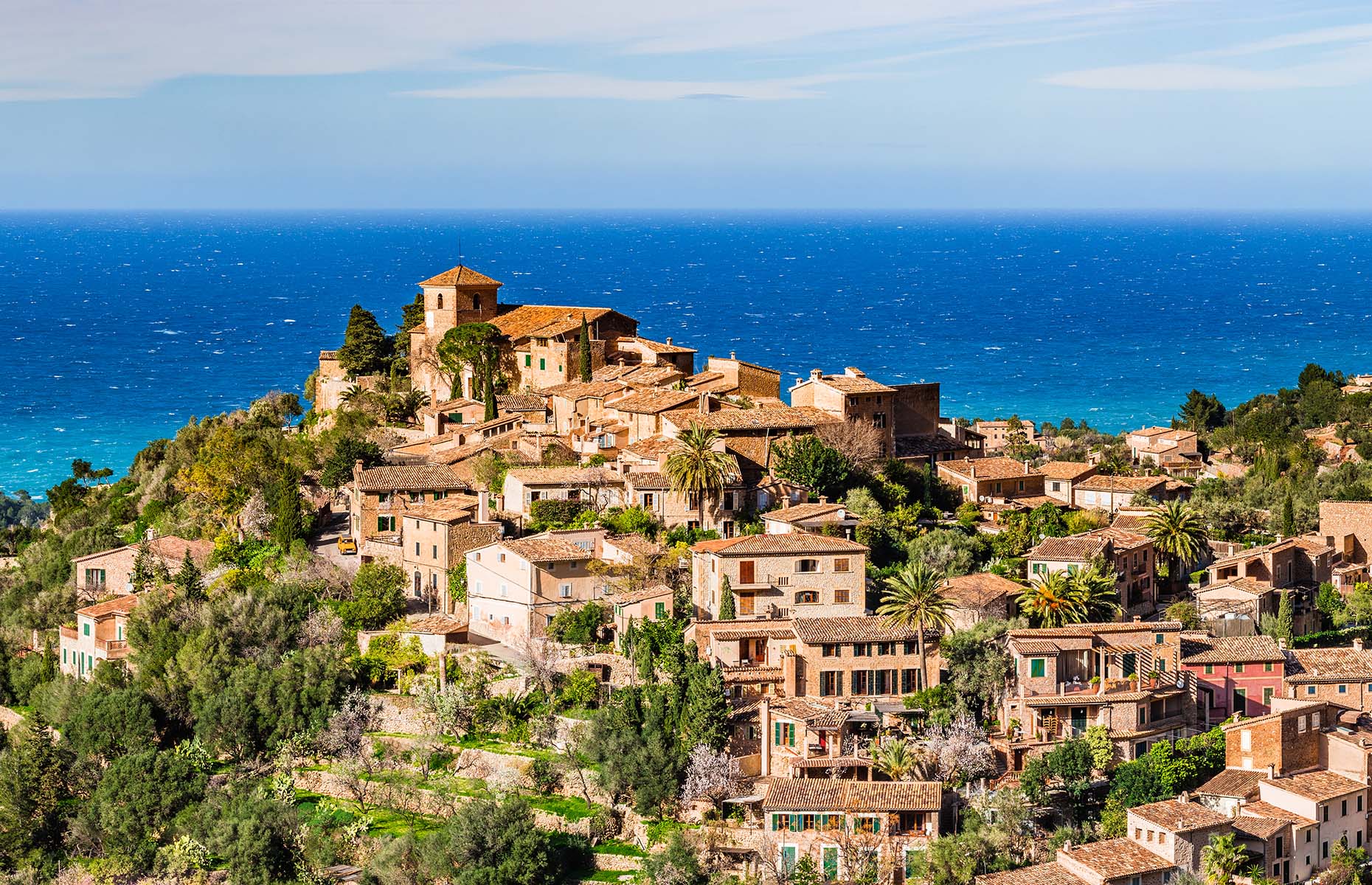 vulcano/Shutterstock
Stone houses cling to hillsides, their soft honey hues and pea-green shutters beautifully mirroring the natural surroundings. Stay for lunch at Ca's Patró March, reached via a steep, dusty path from the town to the beach, next to which the restaurant serves deliciously fresh seafood right over the water.
READ MORE: 7 of the best beaches on the Balearic Islands
Getting there
easyJet flies to Palma de Mallorca from various UK airports – Pollença is less than an hour's drive away. Can Aulí Luxury Retreat is the chicest place to stay. The adults-only hotel, right in the heart of town, occupies three 17th-century buildings that have been elegantly restored with spacious rooms, island artwork and soft décor in stone and honey hues that reflect the surroundings.
Cover image: trabantos/Shutterstock
Be the first to comment
Do you want to comment on this article? You need to be signed in for this feature