Searching for Sasquatch in the 'Bigfoot capital of the world'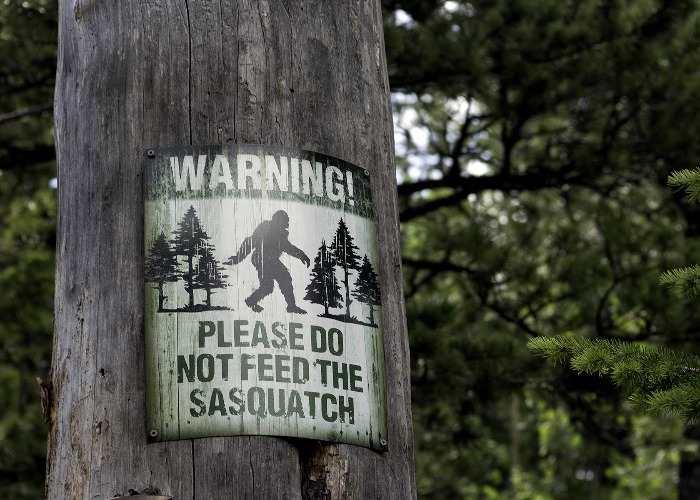 Harrison Hot Springs in Canada's British Columbia is known for its high number of Bigfoot sightings. Lizzie Pook heads into the woods with one of the town's most prolific experts.
"Ever heard the sound a mountain lion makes?" Thomas Steenburg fixes me dead in the eye, falling rain leaving spots on his deerstalker hat. "Doesn't sound like the old Disney films, let me tell ya. It's more of a high-pitched shriek. It'll make you jump out of your skin." He throws his head back and lets out a strangled sort of screech. The sound shoves me backwards and I stumble on the gnarled roots of a towering Douglas fir.
I'm deep in the heart of the forest with one of British Columbia's most prolific 'Sasquatch hunters'. This thick tangle of cedars and firs, bloated with damp tendrils of lichen, is filled with all sorts of creatures, including wolves, grizzly bears, mountain lions and – many people believe – Sasquatch, also known as Bigfoot. Thomas' voice carries far in the quiet forest. "I guarantee you, when you enter the woods, you are always being watched." He fingers the pipe at his breast pocket. "There are eyes here and they are on you."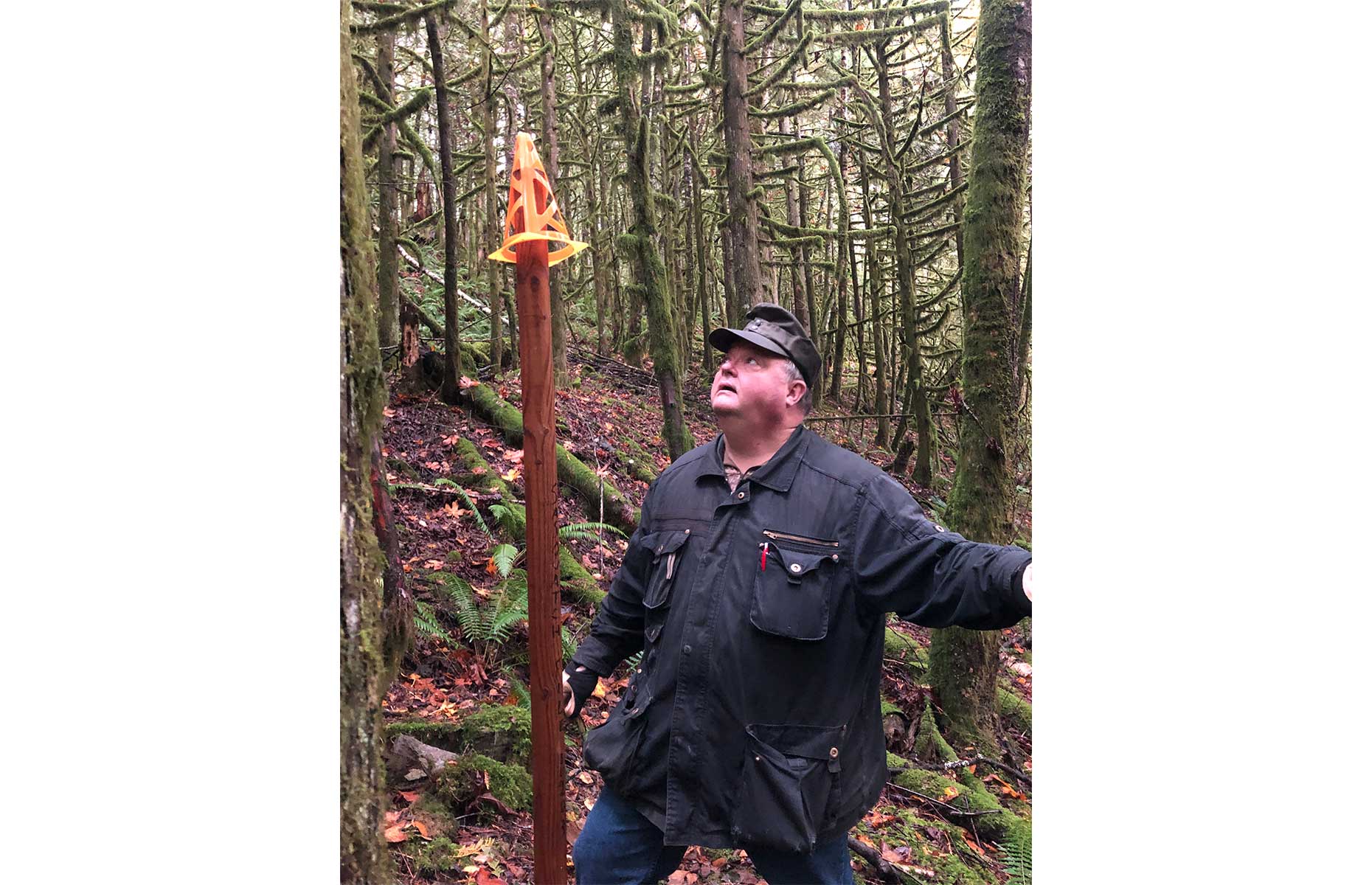 Photo by Lizzie Pook
The Sasquatch capital of the world
In Harrison Hot Springs, a small town just a couple of hours north of Vancouver, road signs are emblazoned with cartoon depictions of the furry creature. Inside Harrison's tourist information centre, you'll find a Sasquatch museum, where casts of huge footprints sit proudly in glass cabinets and grainy footage of 'Patty' – the first Sasquatch purportedly captured on camera – plays on a loop on a television in the corner. There's Sasquatch sweat soap in the gift shop. It's no wonder the town calls itself 'the Sasquatch capital of the world'.
READ MORE: Canada's most adorable small towns and villages
It might sound like a little pocket of quirkiness but according to recent polls, one in five Canadians believe Sasquatch is 'probably' or 'definitely' real. And Thomas is firmly in that camp, spending every moment of his spare time researching the controversial creature.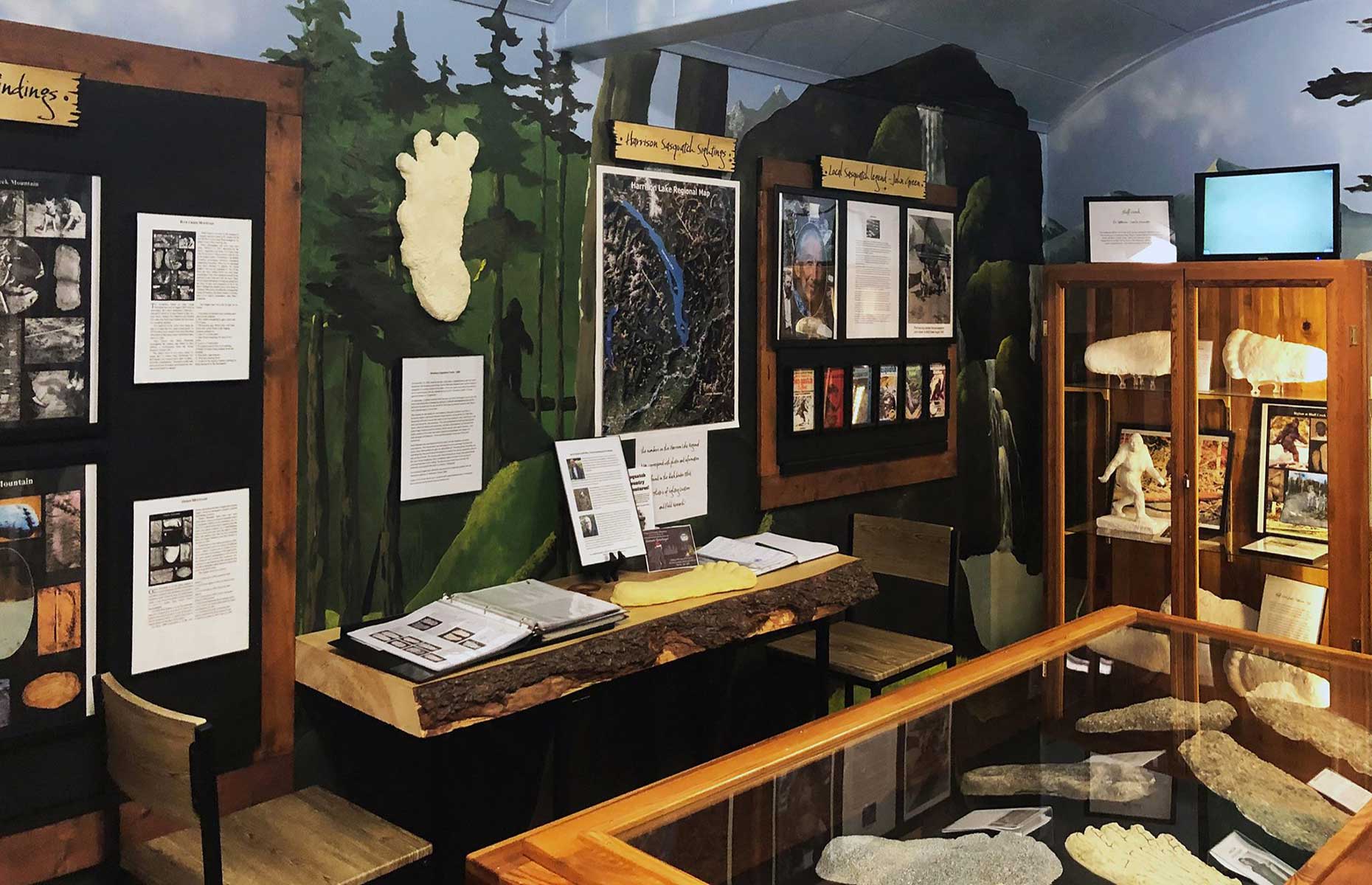 Tourism Harrison/Facebook
How to catch Bigfoot
With a camera attached to his dashboard (in case something crosses the road) and a rucksack packed with a measuring tape, water purification straw and a can of bear spray (he has been chased up a tree by a grizzly before), he drives the remote forestry service roads seeking out footprints in the mud or even a glimpse of a huge ape-like creature disappearing into the trees.
He also interviews hundreds of witnesses to get to the bottom of any reported sightings. "I just saw a guy who told me he had been camping," he tells me as the forest twitches around us. "He pulled in late to the campground and all of a sudden his truck started shaking and he could see fingers grasping at his window."
READ MORE: Ancient mysteries we don't know the answer to
"He held on tight and eventually it passed, then he looked in his rear window and saw this huge upright figure walking away from his truck." I widen my eyes but Thomas waves a hand dismissively. "That sort of thing happens all the time."
Edmund Lowe Photography/Shutterstock
We get into the car and drive deeper into the forest, checking out areas where people have supposedly encountered the creature – empty campgrounds, mist-cloaked rivers and winding forest trails. "I was a weird kid," Thomas says as he fiddles with the radio. "All my friends would go into town looking for girls and I would go into the bush looking for apes."
I notice a Bigfoot-shaped air freshener dangling from the rear mirror. "There's still a stigma attached to admitting you've seen a Sasquatch though. Most folks don't want to talk about it. How do you think people react to me? They think I'm nuts."
READ MORE: Stunning images of Canada's natural wonders
Even so, Thomas remains pragmatic about the creature's existence, calling himself the 'last of the old guard.' "You won't see my banging on trees or howling at the moon. Matter of fact, 98% of what you read about Sasquatch is total nonsense." He mimics a hillbilly accent and turns to me in his seat. "I saw Bigfoot, he hit me with his mind-reading rays. He was having a cup of coffee with Elvis."
A Sasquatch sighting
But has he ever actually seen the creature? He nods sagely and after a few minutes, pulls to the side of the road. "That's where I saw the eyes." He gestures to a ditch tangled with knots of grass. "August 21 2019. Three o'clock in the morning. I was driving and what do I see in my headlights? Two bright red eyes looking at me through the darkness."
"At first I thought they were reflectors on an old fence post but they turned away and disappeared to the trees. I still don't know what they were. But what got me were the bright. Red. Eyes." With every word he bangs his fist on the dashboard.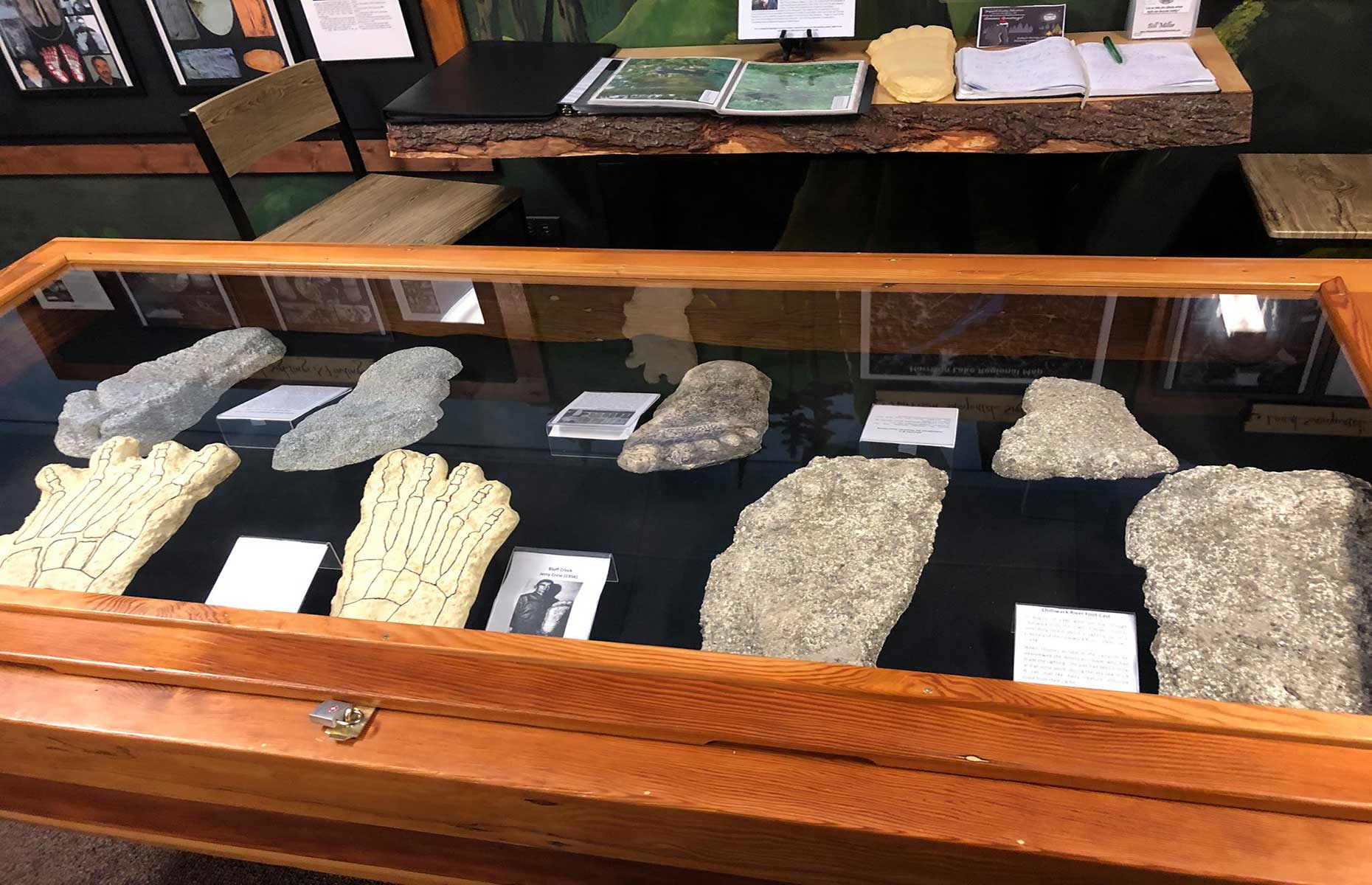 Tourism Harrison/Facebook
We park up at an empty campground and stroll through sparse forest towards a large, flinty lake. "If the Sasquatch exists it'll be the most important anthropological discovery of the 21st century," says Thomas as the ground squelches below us. "If it doesn't, then it's a great bit of Canadian-American folklore." He lights his pipe and smoke curls into the air. "To me, if it does exist it's a primate. Large ape. Flesh and blood. Rare."
READ MORE: The best road trips in Canada
We stop and look out at the mist hanging low over the lake. "My personal hypothesis is that the Sasquatch is a continuation of the Gigantopithecus blacki, a gigant that crossed the landmass between Alaska and Asia in the last Ice Age. That is just a hypothesis though. And we're still in the process of proving hypothesis one. That it even exists!"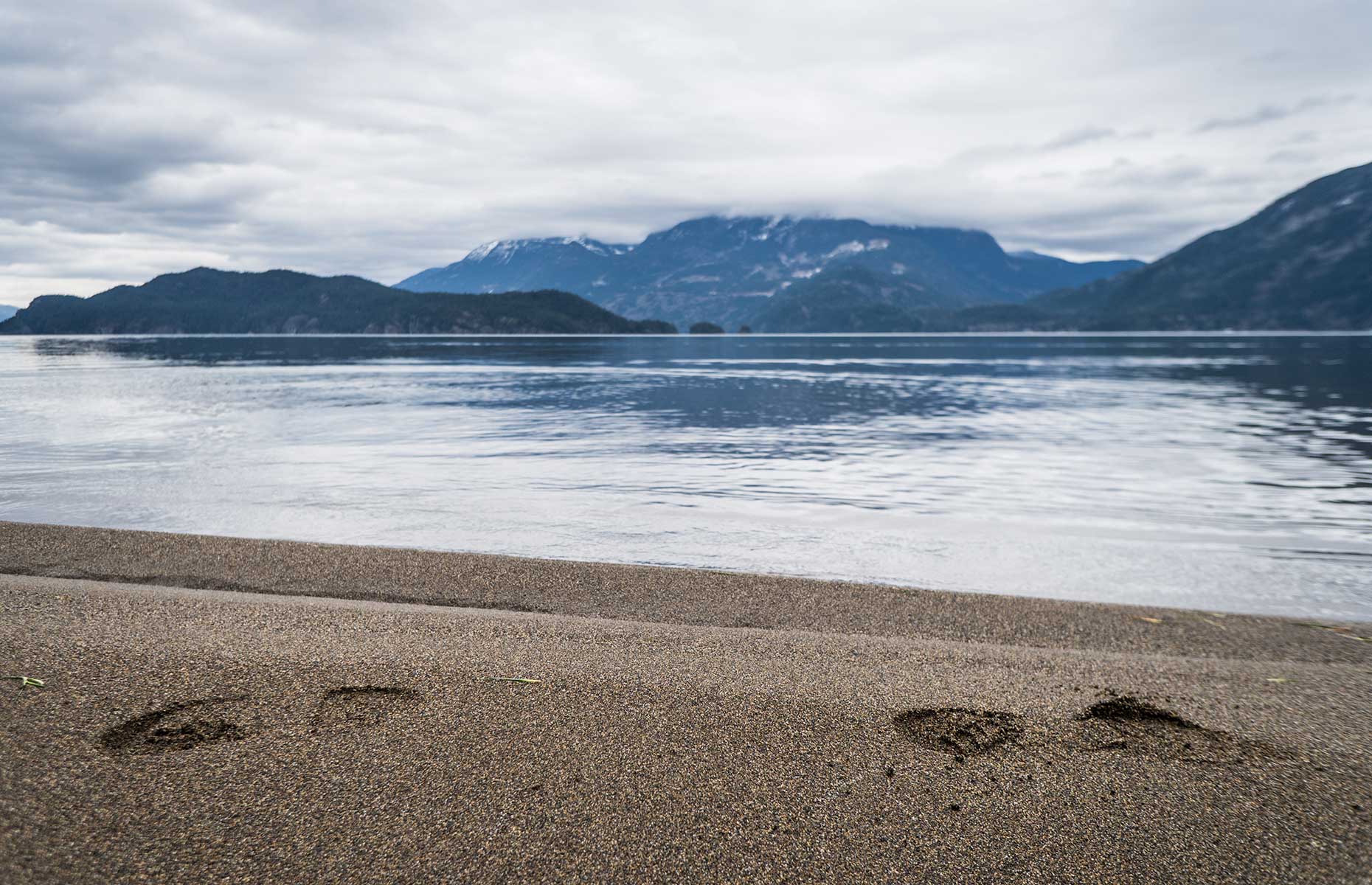 David Bukach/Shutterstock
Disappearing act
There have been no filed reports since the 1940s of Sasquatch having ever harmed a human being (when men in a small mining town in Alaska were found mutilated by a supposed 'bear-like creature'). "But saying that," says Thomas, "people disappear every year. I think if you did run into a hostile one of these things, you would likely disappear."
"In Mount Rainier there are 37 missing people as we speak. Who knows what happened to them. In 2007 my colleague Bill and I were in the forest and we found the spinal column and rib cage of a man who had been missing for four years. Up on a service road. Who knows what had happened to him…"

Tom Zahnas/Shutterstock
As we drive back into Harrison, whizzing past Sasquatch road signs and huge stuffed versions of the creature, Thomas becomes more impassioned. "I don't care if the world knows what the Sasquatch is. I just want to know. I want to know what I saw. There's got to be something to it."
READ MORE: Of bison and bears: why Yellowstone reminds us of our place on the planet
It dawns on me that I share his sentiment. While I'm certainly no staunch 'believer', I find myself open to the idea that there are some creatures that are so elusive we may never really know what they are.
We pull up outside the hotel and I jump out. Thomas rolls down the window and leans across the seat. "Some parting advice for you." I bend to meet him. "Never go anywhere without a camera handy in British Columbia. You never know what you might see at the side of the road."
Due to the ongoing COVID-19 pandemic, check country and province travel restrictions before booking or travelling. Air Canada flies from London to Vancouver from £416 return; explore-canada.co.uk. Stay at Rowena's Inn in Harrison Hot Springs from £99 per night (rowenasinnontheriver.com). Thomas isn't available for public tours but for a similar experience, book the Harrison Lake Sasquatch Tour through Harrison Lake Nature Adventures ($145 CAD/£83 for adults; $125CAD/£71 for children). For more information, see hellobc.co.uk and tourismharrison.com.
Lead image: Sharon Keating/Shutterstock
Be the first to comment
Do you want to comment on this article? You need to be signed in for this feature