Explore Kefalonia: the top things to do, where to stay & what to eat
Picture-perfect towns, breathtaking beaches and sparkling azure seas await on this charismatic Greek island.
Why go to Kefalonia?
Pinned to the map off the western cheek of the Greek mainland, Kefalonia is a world apart from its neighbours Corfu and Zante both geographically and spiritually. Pace is slow, its far-flung peninsulas are wild and lush and goats and gangly horned sheep outnumber island-hopping visitors. This is Greece as it once was – without the glammed-up crowds of Mykonos or dressed-down clubs of Crete – and today the Ionian island offers a pervading sense of romance and nostalgia that chimes with the story of Captain Corelli's Mandolin, Louis de Bernières' bestseller that was both set and later filmed on the island.
Best places to visit in Kefalonia
Argostoli
Nowhere else has shaped Kefalonia quite like the island's sun-splashed capital. A major port town with a fleet of boats and a downtown precinct showcasing best-in-Greece retail, it has plenty of Mediterranean flair, with a thronging fish market, delightful al fresco coffee scene and wine shops stocked with local vintages. Oddly, if undeniably welcome, Argostoli is also home to an unlikely population of giant loggerheads and green turtles. Over the decades, they've congregated in the harbour on the hunt for scraps as fishermen return every morning with their daily catch. Kefalonia? Caribbean more like.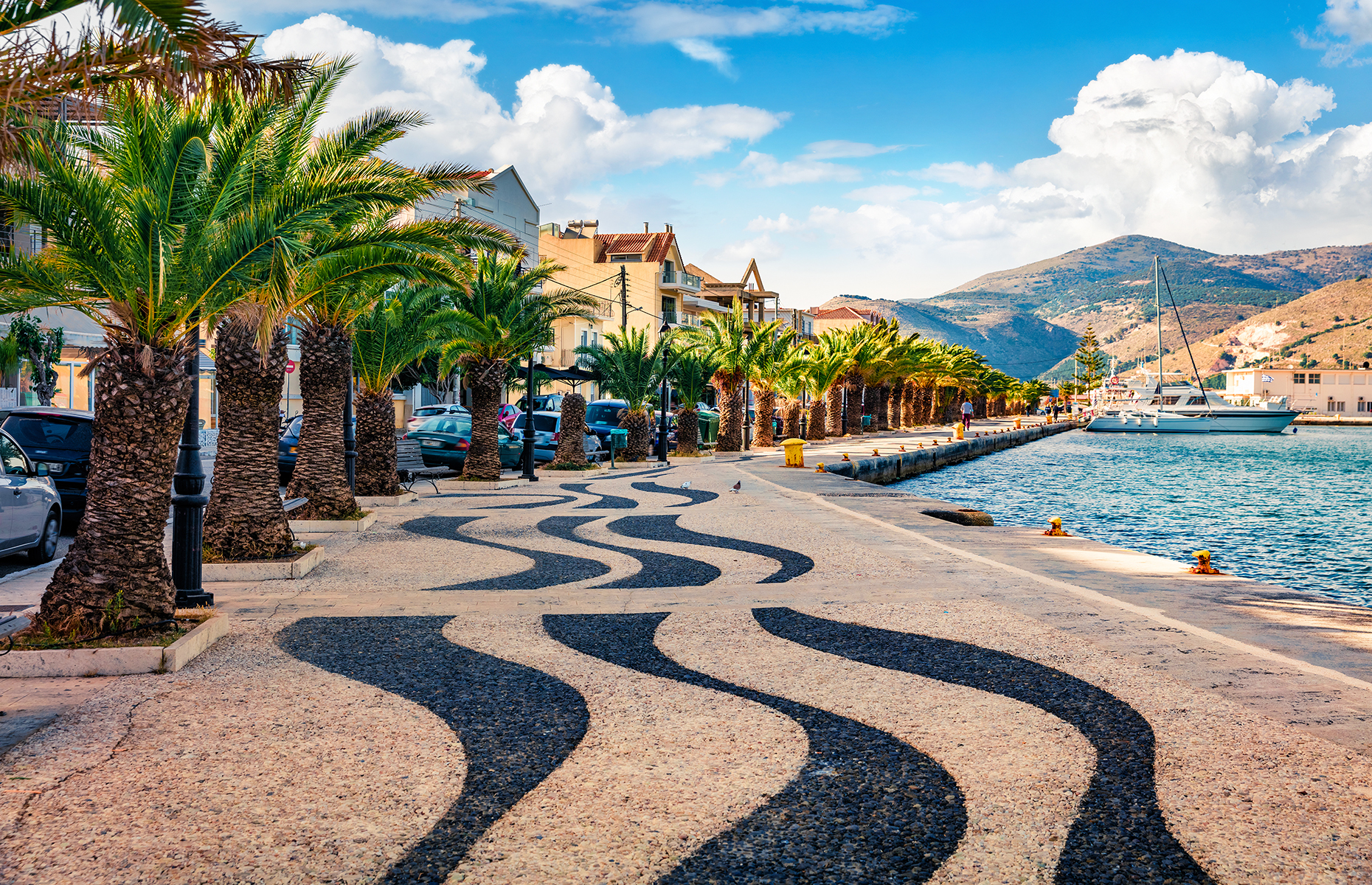 Andrew Mayovskyy/Shutterstock
Sami
Cut across the island's midriff to this charming port on the east coast and you won't be disappointed. It's a lovely place to wander, with coffee shops and delis and shopfronts that were reconstructed during the filming of Captain Corelli's Mandolin with Nicolas Cage and Penélope Cruz. There's plenty beyond town to see, too, and it's a jumping-off point for excursions to Drogarati Cave, a 60m-deep (176ft) bat cave armed to the teeth with stalactites and stalagmites. Elsewhere, consider a trip to Melissani Lake, a cenote-style pool tucked inside a geologically abstract limestone cave.
Fiskardo
As the farmlands and undulating forests of the interior give way to sparkling blue seas and shingly beaches, the road north motors to the fishing village of Fiskardo, an end-of-island outpost with memorable restaurants and boutiques. The star is the harbour front – all bobbing yachts and snoozing boat captains – where Venetian-era tavernas with shore-hugging terraces and ice cream stores line up as if posing for a portrait. There's a cracking bakery, too, in the form of century-old Tselenti's and a dozen or so bars for sundown drinks.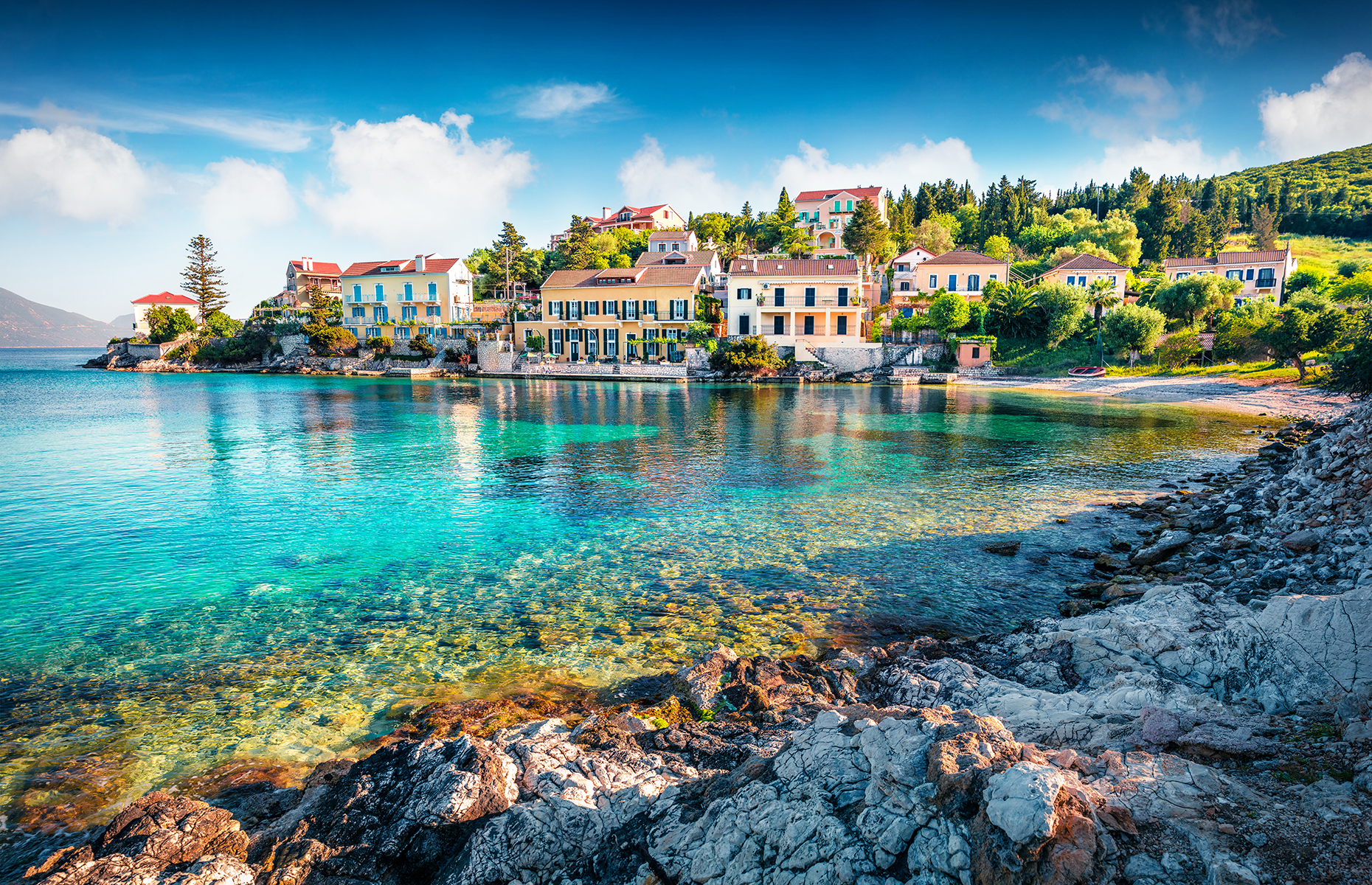 Andrew Mayovskyy/Shutterstock
The south coast
This bumper-to-bumper beach circuit starts north of the airport at Lassi and curves all the way round to Skala on the southeast coast. Each stop – from Ammes and Agios Thomas to Kaminia and Trapezaki – maxes out the wow factor and there are enough coves to get away from the crowds that linger at the more popular resorts Lassi and Skala. Even those, such as Makris Gialos, smack in the middle of the busy tourist road, help the imagination sizzle in early or late summer.
Myrtos Beach
Amid stiff competition, many call this mile-and-a-half long beach the most beautiful in Greece. Like a centrefold, it's appreciated for its overtly photogenic appeal and luscious curves – it plays a starring role on the island's ubiquitous postcards. It helps that Myrtos' bleached-white strip of pebbles is backed by muscular mountains, accessible only by a twisty-turny road that throws up white-knuckle thrills along the way. In fact, even if you're only driving past, you'll appreciate how stunning it is. Just don't expect it to be quiet.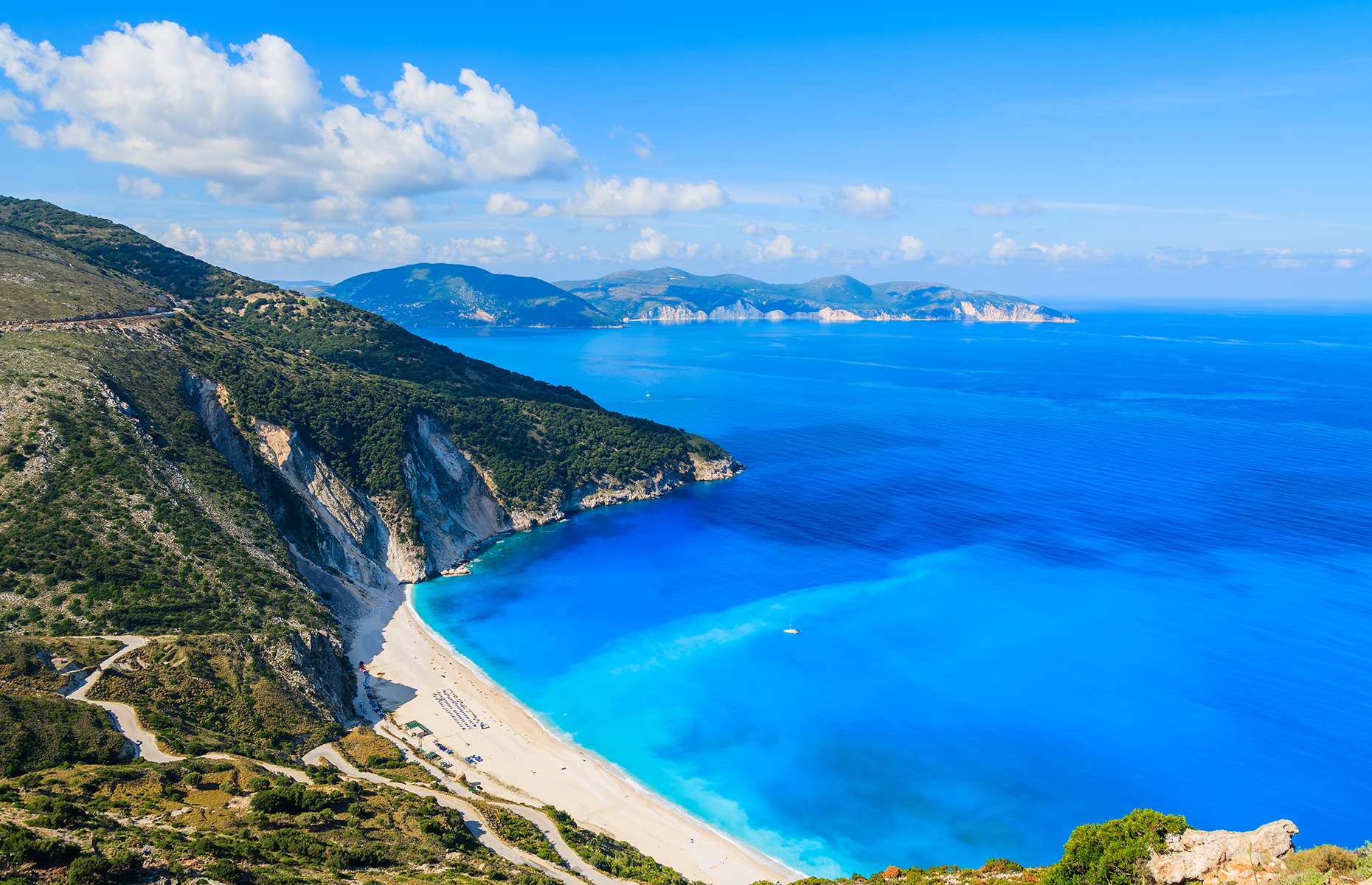 Pawel Kazmierczak/Shutterstock
Where to stay in Kefalonia
In northern Kefalonia, stay at To Petrino, a three-bed stone cast villa with private pool and expansive Ionian Sea views. It's run by the delightful Panagis Gagadis, a retired Cretan, who goes out of his way to show you first-class Greek hospitality. Better still, it's in easy reach of Fiskardo (8km/5 miles away) and many of Kefalonia's more memorable beaches.
Among the swankiest places, nearby Emelisse Nature Resort just north of Fiskardo is circled by cypress and in reach of topaz blue waters. It has three pools, a spa, private beach and a corker of a terrace restaurant. Farther south in Lassi, beachfront White Rocks is a sprawling luxury resort with LEGO-block bungalows and all the trimmings from a fresh-water pool and private beach to yoga and family suites.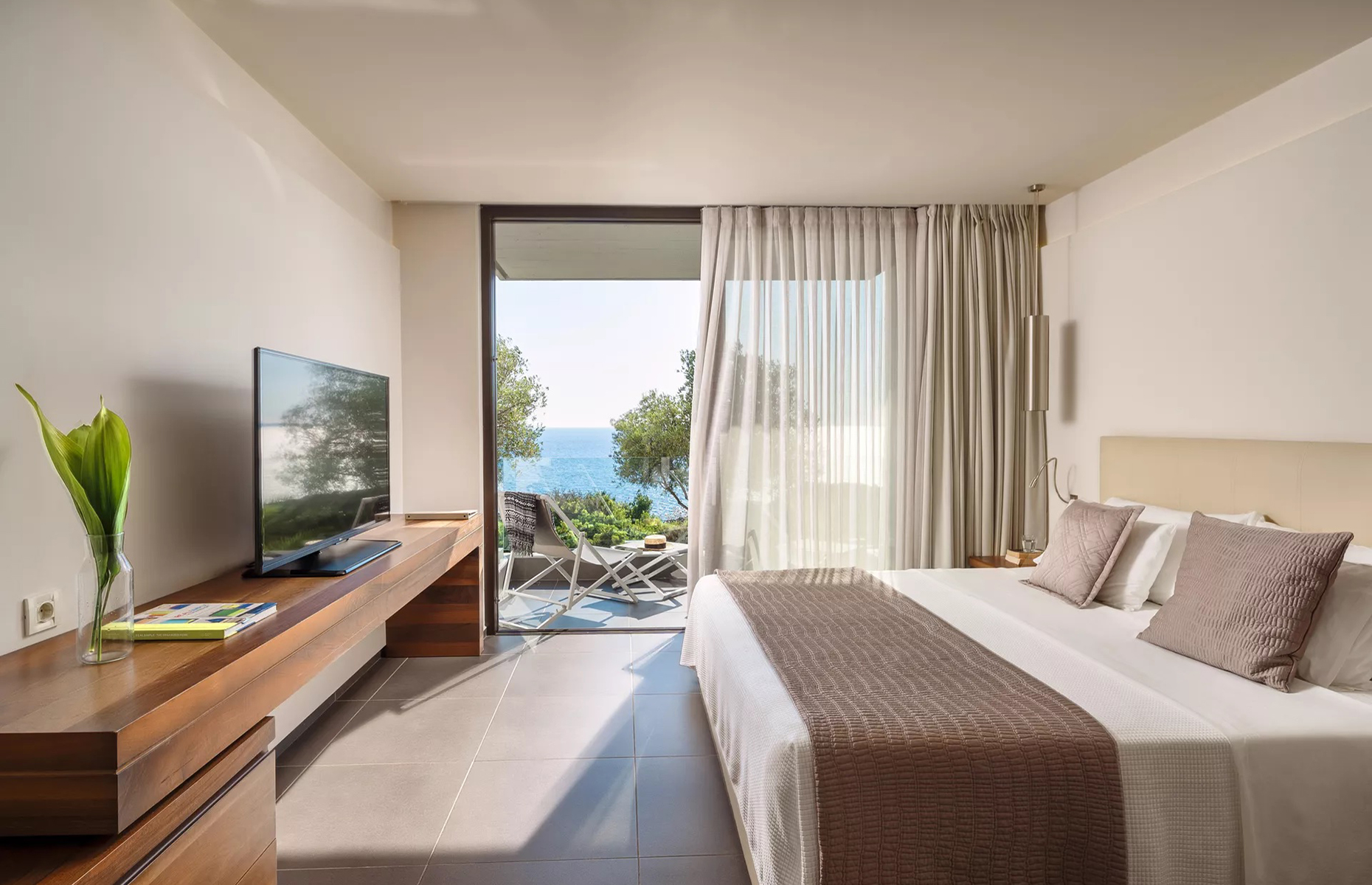 White Rocks Hotel Kefalonia/booking.com
The western coastal road continues south to the long sweep of umbrella-dotted Lourdas Beach where you'll find F Zeen, a boutique hotel-style resort complex with a cascade of villas, pools and strong back-to-nature vibe. Highlights include an outdoor gym, outdoor whirlpools and an outdoor cinema.
Natalie's Hotels and Apartments is a dependable option at the island's bottom tip in the popular resort of Skala. The owners insist it's named after American actress Natalie Wood, who, in turn, was named after the former owner's daughter. Believe that if you will.
READ MORE: How to plan a Greek island-hopping holiday
What to eat and drink in Kefalonia
Kefalonia was long the territory of Venetian merchants and traders, so expect as much Italian-influenced cuisine in the kitchen as you would traditional Greek. All the ambrosial favourites are here – from tzatziki and melitzanosalata (aubergine dip) to saganaki (pan-fried Greek cheese), moussaka, gyros, dolmades and as-you-like-it seafood – but there's just as much space given to across-the-water imports. Pastas and hearty Italian dishes such as sofrito, slow-cooked veal doused in wine, and pastitsada, a tomatoey meat stew, are as common at tavernas as a finger-licking kebab.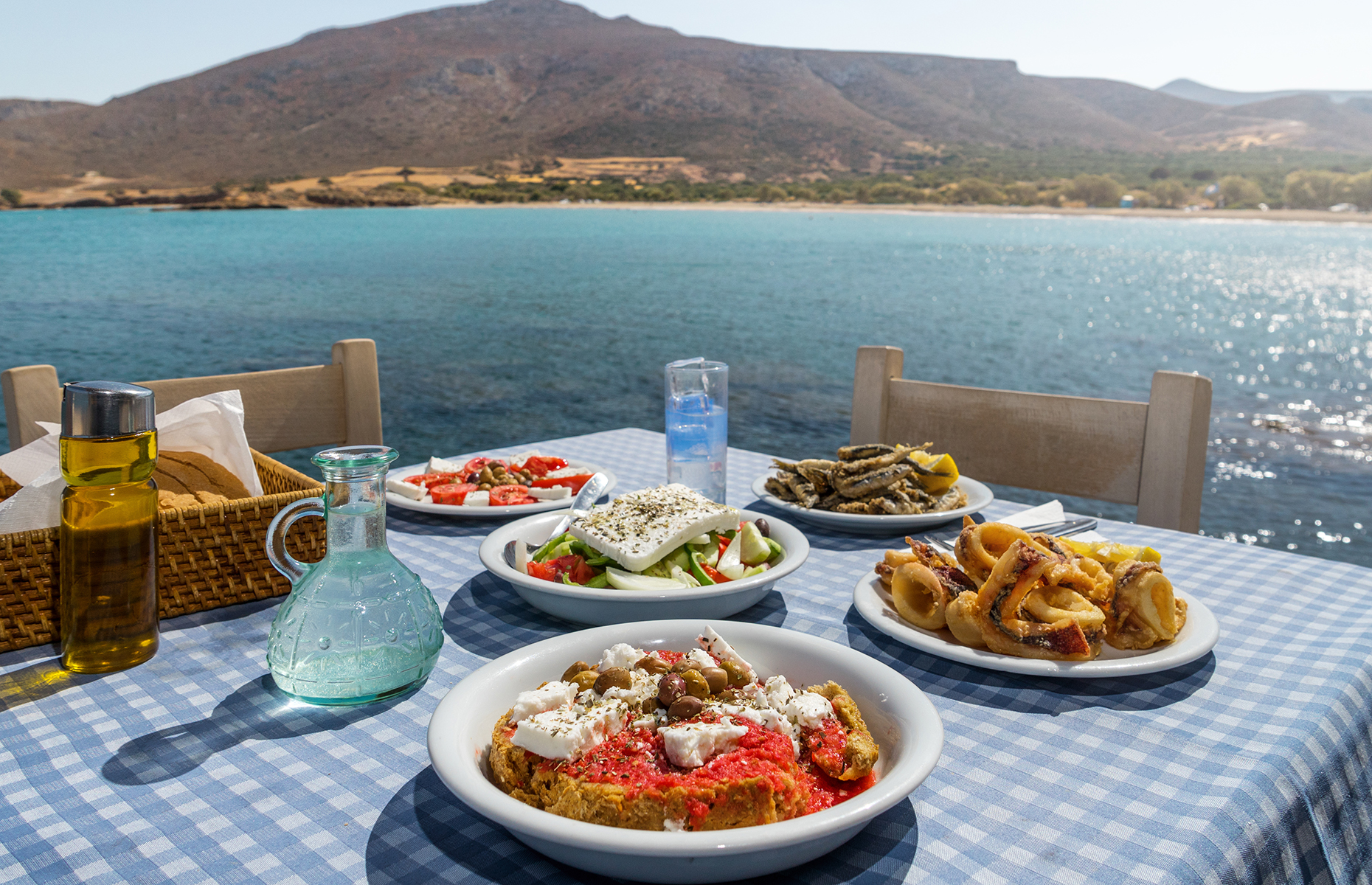 Veniamakis Stefanos/Shutterstock
To help set the scene, make an early morning call at Spathis Patisserie, a fabulous coffee shop, bakery and takeaway run by four brothers and located directly across from the Argostoli fruit and fish market. It has a number of outlets in the Ionians, but this is the original and, as befits its location, the emphasis is on passing trade and making the most of the capital's gorgeous waterfront promenade.
Lunch – no matter where you find yourself – should really be taken on a terrace with an Ionian view and something from the sea. Platanos, set on a tree-lined square in cutesy Asos, is one of the oldest on the island. Likewise, Tassia Restaurant in Fiskardo comes with similar pedigree, run by Tassia Dendrinou, a stalwart of the island scene for the best part of half a century.
Other places to add to your list include Acqua at Alaties Beach, which sees a market-fresh menu morph into something far more intimate after sunset drinks, and Lorraine's Magic Hill in Lourdas for a whole smorgasbord of Greek treats.
What's on the plate also needs an accompaniment: some of the most delicious wines in Greece are produced with indigenous Robola grapes (also introduced to the island by the Venetians). Orealios Gaea, formerly known as the Robola Cooperative of Kefalonia, is located in the northern foothills of Mount Ainos and is as good a place to start as any, and there are vineyard tours, too.
READ MORE: 7 Greek islands you've probably never heard of
The ultimate Kefalonia itinerary
Day 1
Check-in to: To Petrino. It's a laboured drive from the airport to kick-start your stay, but the rewards are instant. Dreamy beaches on your doorstep, eccentric tavernas and the island's most beautiful towns (that's Asos and Fiskardo) are yours for the taking.
Go for a dip at: Emblisi Beach. Just north of Fiskardo this stretch of shingle sand serves as an understated foil to the far more popular Myrtos Beach to the south. It's a stunning shift from the mega resorts around Lassi, too. If sun-soaking isn't your thing, hire a boat from Fiskardo Kayaks to play explorer popping in and out of coves along the coast.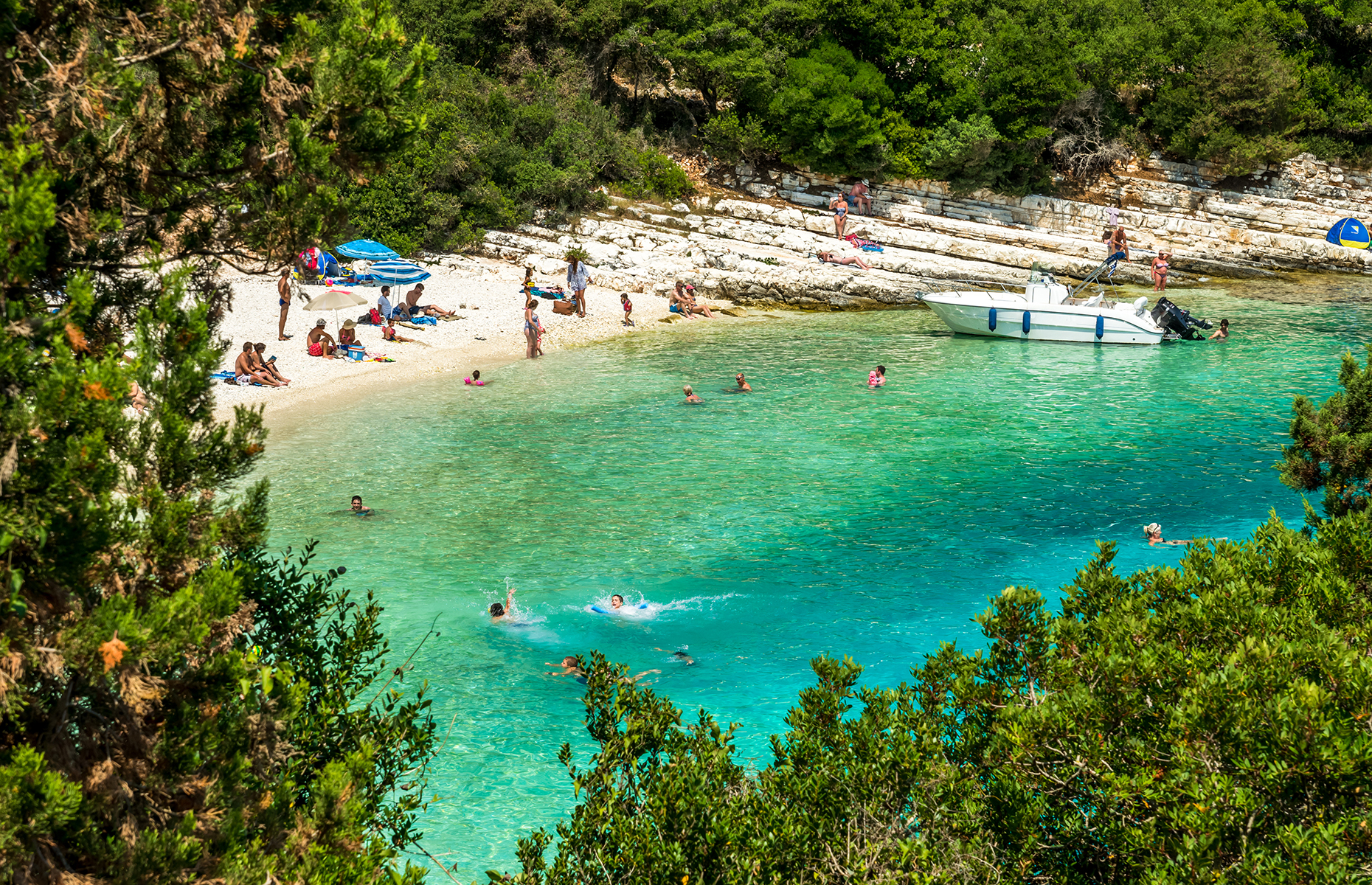 Lucian BOLCA/Shutterstock
Lunch with the locals: at Taverna Foki – overlooking Foki Beach – or park-up at Mirella's for eye-popping views of neighbouring Ithaca and across to the bones of the Greek mainland.
Go for a hike: Not a proper one, though. A short stroll through pine and cypress to either Kimilia or Dafnoudi Beaches, both of which can only be reached by short rambles through belts of beach-hugging forest.
Dine at: Acqua at Alaties Beach. Sunset, seafood, salads, sundowner drinks. Hardly a complicated proposition, but few places do it better.
Day 2
Take a drive: along the west coast, stopping off for a Greek-style frappucino in Picnic Cafe in Magganos before you head south. Two stops you mustn't miss before you finally reach Argostoli are Asos and Myrtos Beach.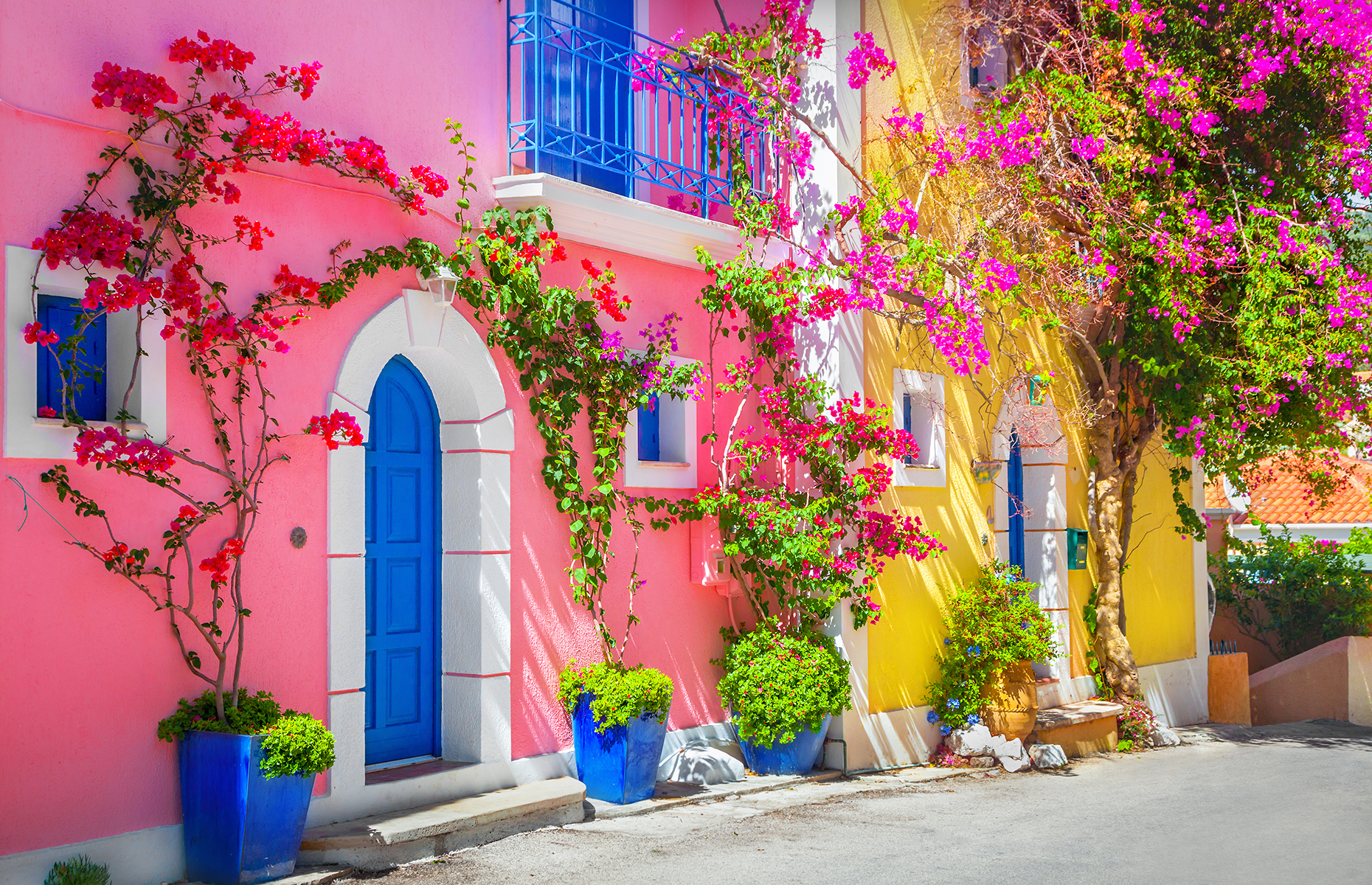 Adisa/Shutterstock
Meet the locals: The turtles in Argostoli harbour are as integral to island life as board shorts and bikinis these days. Come around 10.30am to see them swarm the fishing boats on the lookout for mid-morning elevenses next to the market. Afterwards, stroll the De Bosset Bridge. Built in 1813, it's the world's longest stone bridge over the sea.
Spend the afternoon: exploring Lixouri on the Paliki peninsula. It's a straightforward 30-min ferry crossing from Argostoli and as boats leave regularly you can stay until well after sunset. The town is also home to the island's water park.
Day 3
Take in: the wilds of Mount Ainos, the only national park on a Greek Island. There are dozens of trails to explore, or you could pack a knapsack for an all-dayer to the top of the 1,628m (5,341ft) summit. Semi-wild ponies live in the forests, so keep your eyes peeled.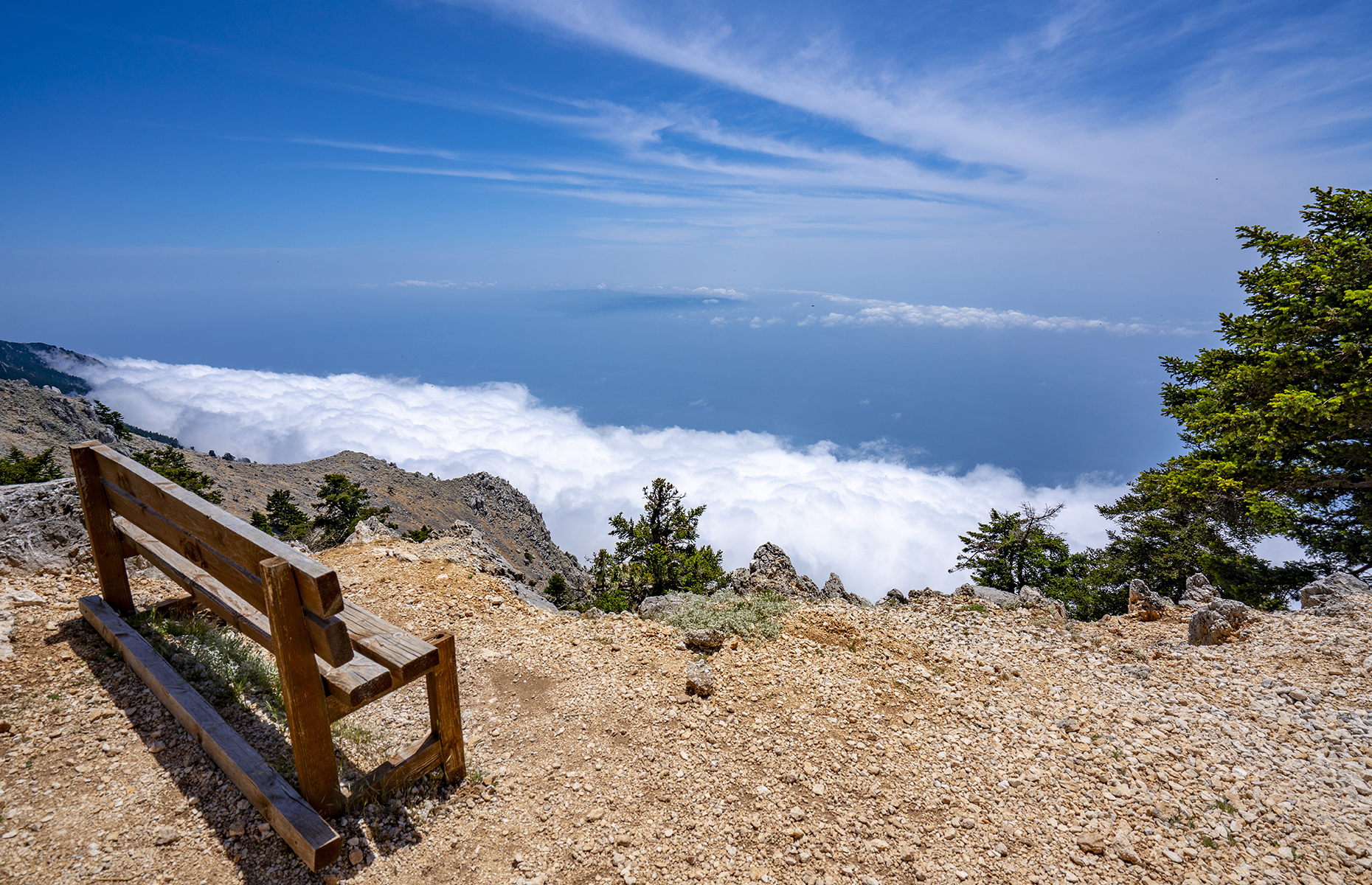 Peto Laszlo/Shutterstock
Explore: Kefalonia's numerous monasteries. There's a palpable sense the island is the cradle of Greek morality, with several structures and hilltop ruins waiting to be discovered. St. Gerasimos is Kefalonia's patron saint, giving special credence to Agios Gerasimos, the island's holiest site. Cliff-top Kipoureon, that curious Ionian mix of Venetian tiled roof on white brick walls, is also worth a detour on the Paliki peninsula.
Settle for a drink: at Costa Costa Beach Bar. The closest Kefalonia gets to swishy Mykonos-style beach club, this budget hangout has a restaurant and bar, plus hosts the odd party. See that stretch of beach? It's where you can savour one of Kefalonia's best sunsets.
Map of Kefalonia
Use this handy map to find all of our favourite Kefalonia places:
Be the first to comment
Do you want to comment on this article? You need to be signed in for this feature