Explore Cleveland: the top things to do, where to stay & what to eat
Cleveland is a city that Goldilocks would have liked: high-value but not pretentious, gritty but not grubby, sophisticated yet humble. Its resilient, friendly community are excited for its growing popularity and with good reason: once dubbed 'the mistake on the lake' following a massive industry decline in the 1960s, Cleveland has come a long way with plenty to shout about, from booming craft breweries and eastern European bistros to arts and cultural venues and a thriving rock music scene.
Key neighbourhoods in Cleveland
Downtown
Downtown Cleveland is in walking distance to the harbourfront, where the must-visit Rock & Roll Hall of Fame, the Great Lakes Science Centre and football stadium can be found. Further back are some of the city's signature landmark sights, such as the 52-storey Terminal Tower and the striking Soldiers' and Sailors' Monument.
Also in Downtown is East 4th Street; a narrow, brick-lined pedestrianised street that is home to a number of enviable restaurants and entertainment spots, such as barbecue bistro Mabel's and Hilarities Comedy Club.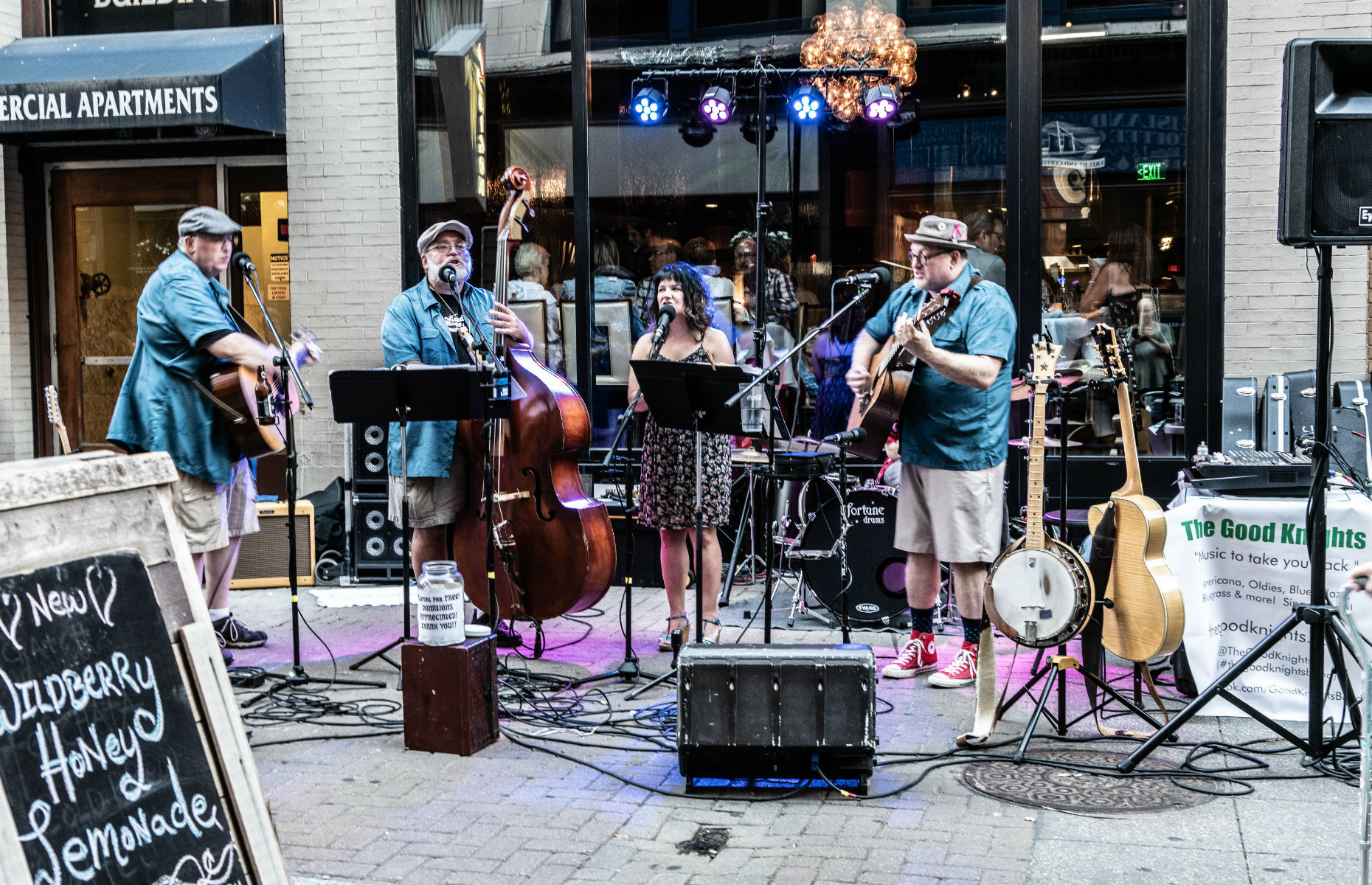 Jason Sponseller/Shutterstock
Ohio City
Ohio City is one of Cleveland's oldest neighbourhoods; this was where wealthy New Englanders first settled. It's home to West Side Market, Cleveland's oldest public market with over 100 vendors; the small contemporary art and photography gallery Transformer Station, housed in an old railroad substation; colourful Victorian-era houses that scream suburban America; and Hingetown (on the 'hinge' of Ohio City and Detroit Shoreway), with its abundance of street art created by a range of local and international artists.
Tremont
This quiet neighbourhood epitomises small-town charm, with its pleasant park, old cottages and stunning churches. Bringing it up to speed is hipster Loop Cafe, where you can sip a roasted coffee while flicking through stacks of vinyls; stylish Parallex, a sophisticated seafood and grill restaurant with moreish sushi and its delectable signature dish, chicken with pomme frites; and trendy The Spotted Owl, where you choose your own concoctions for talented bartenders to whip up personalised cocktails.
The real money shot is along University Road, where you can admire the picture-perfect view of the city skyline, with the winding Cuyahoga river below.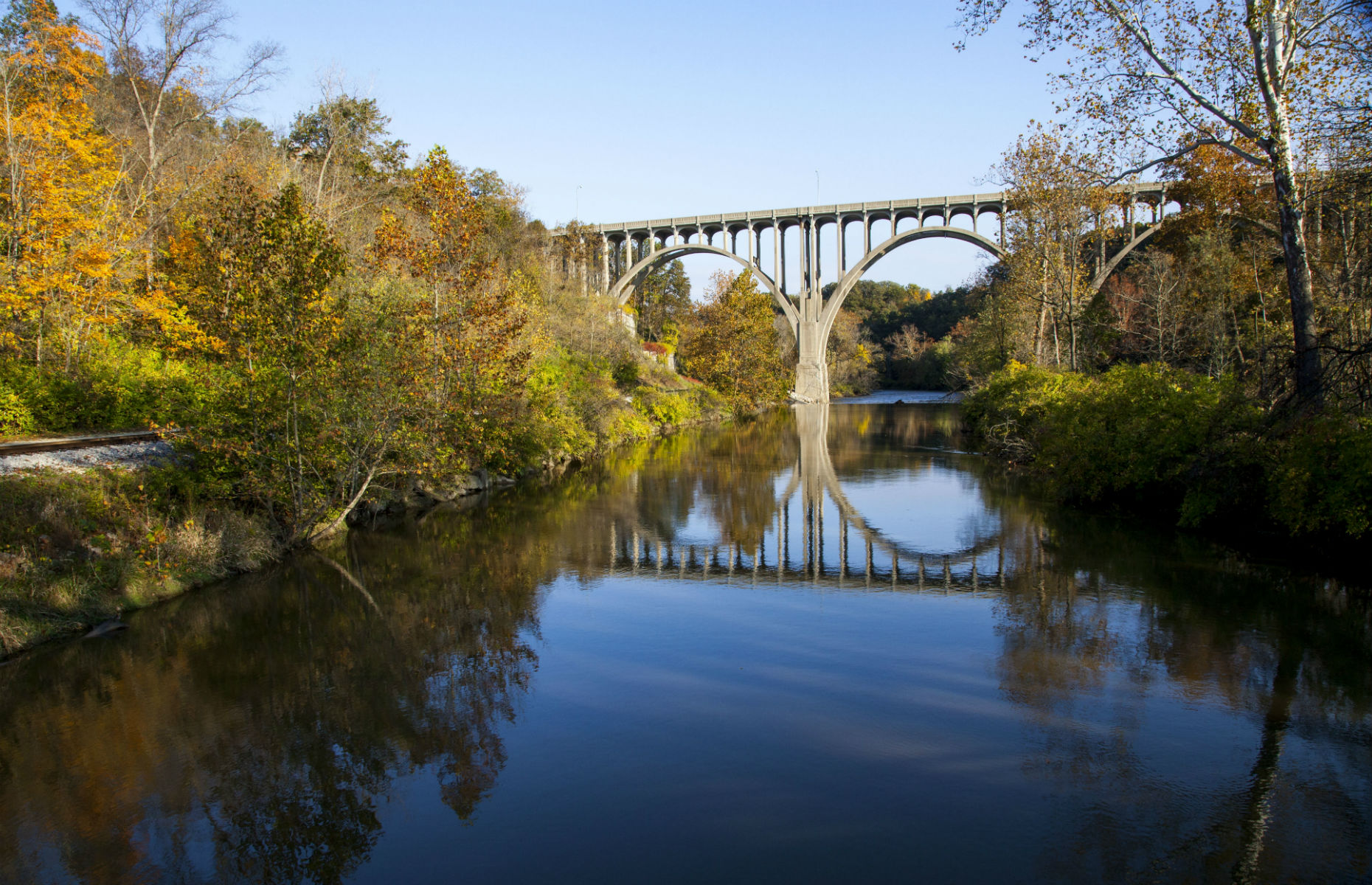 Wirestock Images/Shutterstock
University Circle
This neighbourhood is home to over 50 arts and cultural institutions as well as university campuses and residences. The Cleveland History Center details a fascinating curation of the city's history, from Native American gifts and changing exhibitions to helpful timelines and charts and an attached period house.
Also in this neighbourhood is the Museum of Art, home to over 45,000 arts and artefacts spanning two spacious floors; it is one of the few major museums in America that can be visited for free.
Cleveland Botanical Gardens is worth a visit if kids are in tow, with the Madagascar and Costa Rica glasshouses providing an informative visit, while walking through the leafy streets leads onto the edgy Museum of Contemporary Art (MOCA), a geometric-designed building that lends itself to diverse, innovative exhibitions in spacious rooms which change three times a year.
While there are other, smaller districts to explore, such as Little Italy, the Flats and Detroit Shoreway, they all make for great stops if you're keen to explore a diverse food scene, marvel at the city's history or mooch around museums and markets alike.
The best hotels in Cleveland
While you'll need transport to visit each neighbourhood, each area itself is walkable, so depending on what you have planned, you won't be far from the top things to see and places to eat, wherever you choose to stay.
The Drury Inn is Downtown Cleveland's newest opening, although the building itself dates back to 1931, when it was the Board of Education. Following a $52 million (£40m) renovation it now features 189 rooms that are spacious, while staff make you feel well looked after. The two-storey lobby features marble columns and fully restored art murals, and also onsite is a pantry, hot breakfasts (included in rates), snack area and evening bar.
If you're looking to stay in the University Circle area, Glidden House is in a great location for getting around. This 1910 mansion-turned-boutique hotel is slightly smaller than many of the other hotels, with 52 rooms and eight suites, but you can easily reach some of the city's cultural highlights in this impressive neighbourhood, and there's also a wine bar to enjoy yourself in.
Kimpton Schofield sits along Euclid Street in the historic Flats neighbourhood, with an onsite restaurant and bar, Parker's Downtown. It's also in walking distance to numerous entertainment spots such as East 4th Street, which is perfect for drinks, comedy or bowling, and Playhouse Square – keep an eye out for the world's largest permanent chandelier, near the Mimi Ohio Theatre.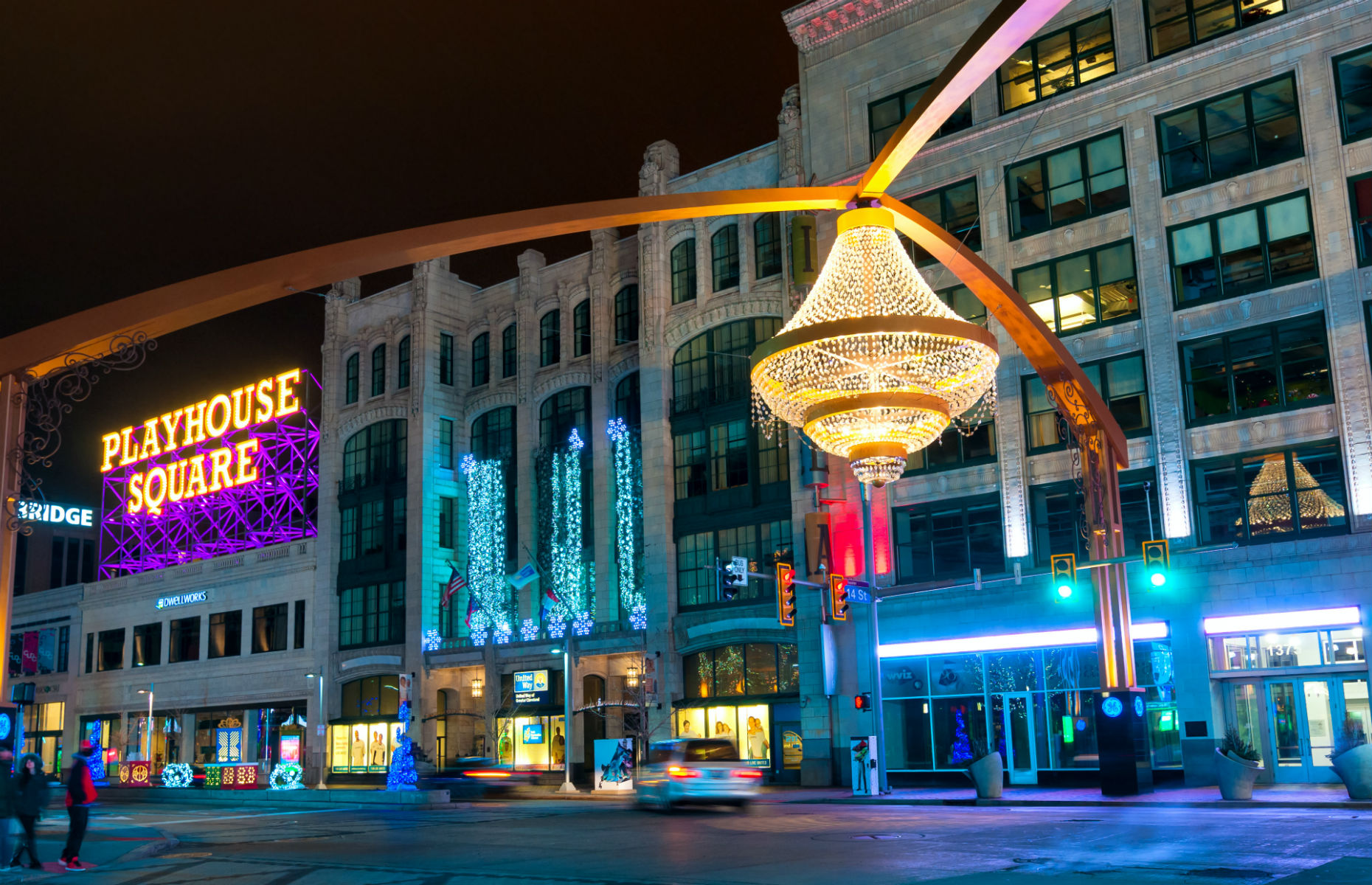 Kenneth Sponsler/Shutterstock
What to eat and drink in Cleveland
From craft beer to kielbasa (smoked sausage), Cleveland's food and drink scene is diverse yet underrated. The first port of call should be to West Side Market, built in 1912 as a place where immigrants (many Hungarian, German, Russian and Polish) could find their native foods and spices.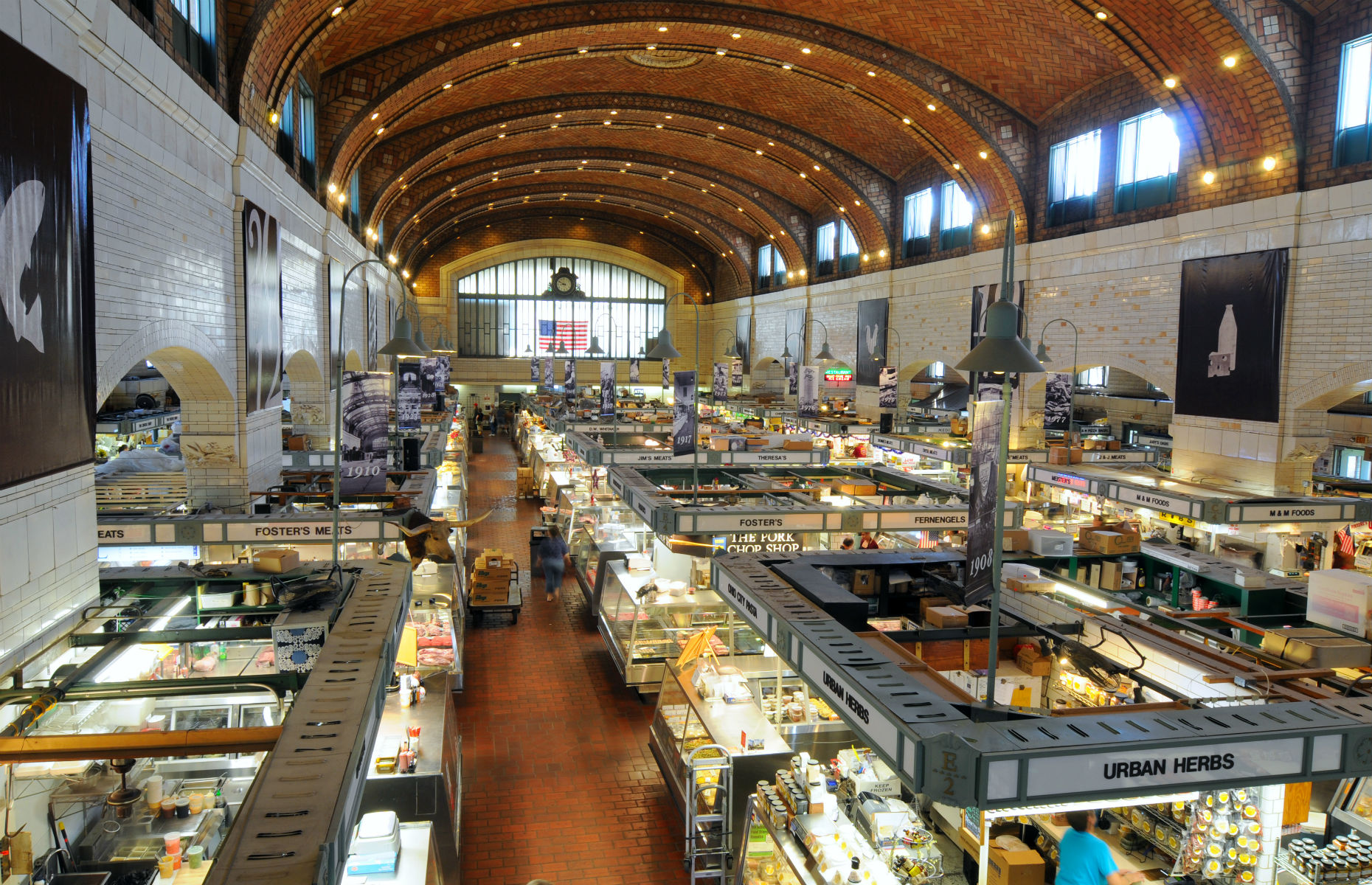 Kenneth Sponsler/Shutterstock
And it's just as popular today – named as one of America's Top 10 Markets – with locals and visitors alike haggling for French pastries, German bratwurst and Reuben sandwiches; there's also a covered fruit and vegetable market adjacent that is just as lively. It retains that classic Cleveland trait of thriving yet friendly; this is somewhere you could chat with a vendor about your trip while the stall next door catches up with a neighbour.
There are a couple of breweries in Cleveland that celebrate local-crafted beer, such as Collision Bend Brewery in the Flats, Noble Beast Brewing Company in Downtown and Great Lakes Brewing Company in Ohio City.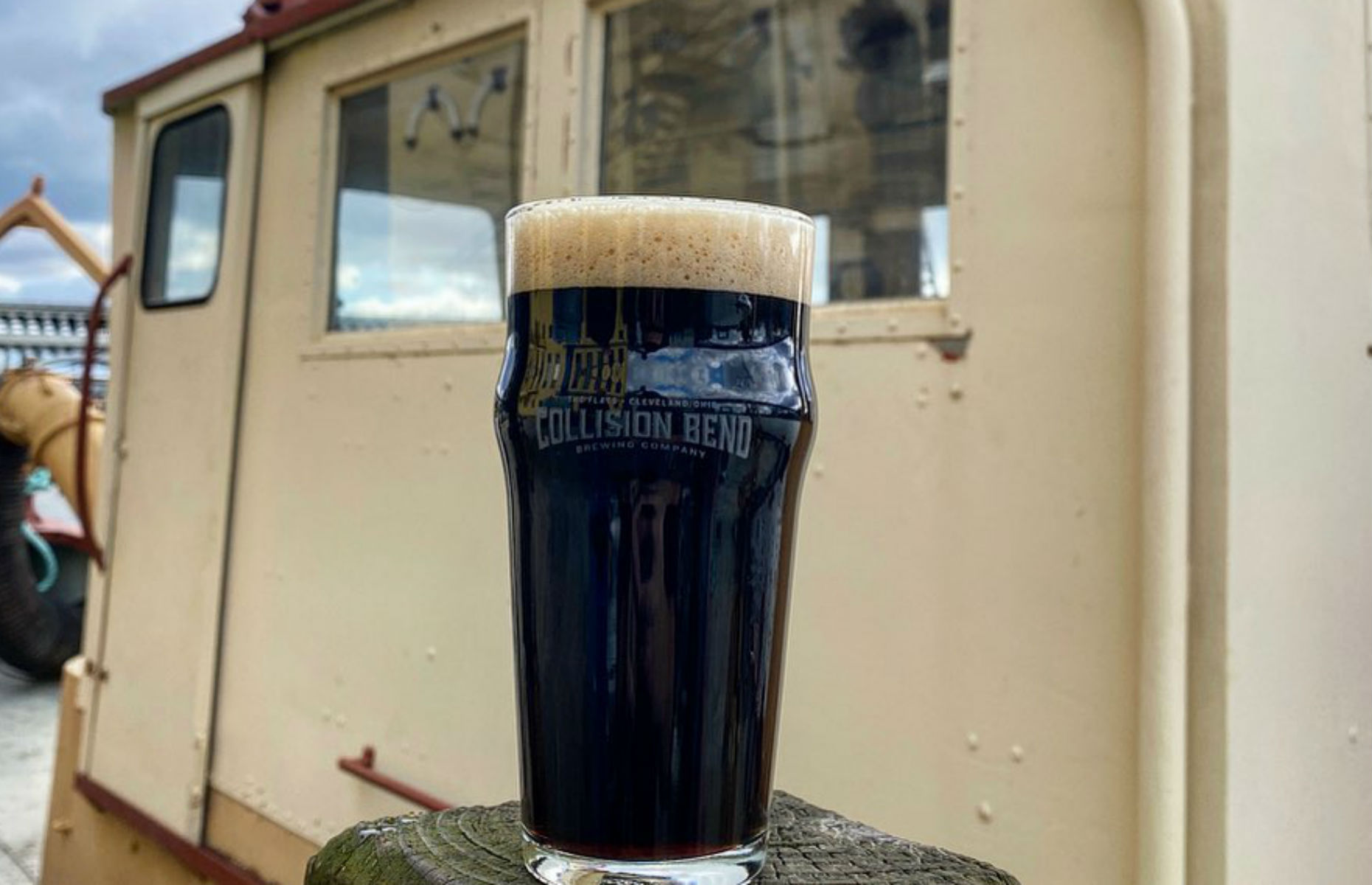 @collisionbrew/Facebook
Cleveland also boasts award-winning native chefs: Michael Symon's eateries include Lola and Mabel's BBQ while you can dine at Jonathan Sawyer's flagship restaurant, The Greenhouse Tavern, on East 4th Street. While Cleveland is capable of serving high-end food, it is still homely and humble, something that can't be better summed up than at Tremont's Sokolowski's University Inn, whose family-run, highly acclaimed joint has served Polish cuisine for three generations.
Top vinyl stores
Cleveland's main claim to fame is slightly controversial, particularly for anyone reading from Memphis, Tennessee – it claims to be the birthplace of rock and roll. After all, this was where radio DJ Alan Freed first coined and used the phrase 'rock and roll' in 1953, to describe the blues, country, rhythm and blues music he played on his radio show on WJW Cleveland.
Music, in particular the rock genre, has always been important to Cleveland, and of course the Hall of Fame staples this to the city, but there are plenty of other spaces to taste the very best of music here.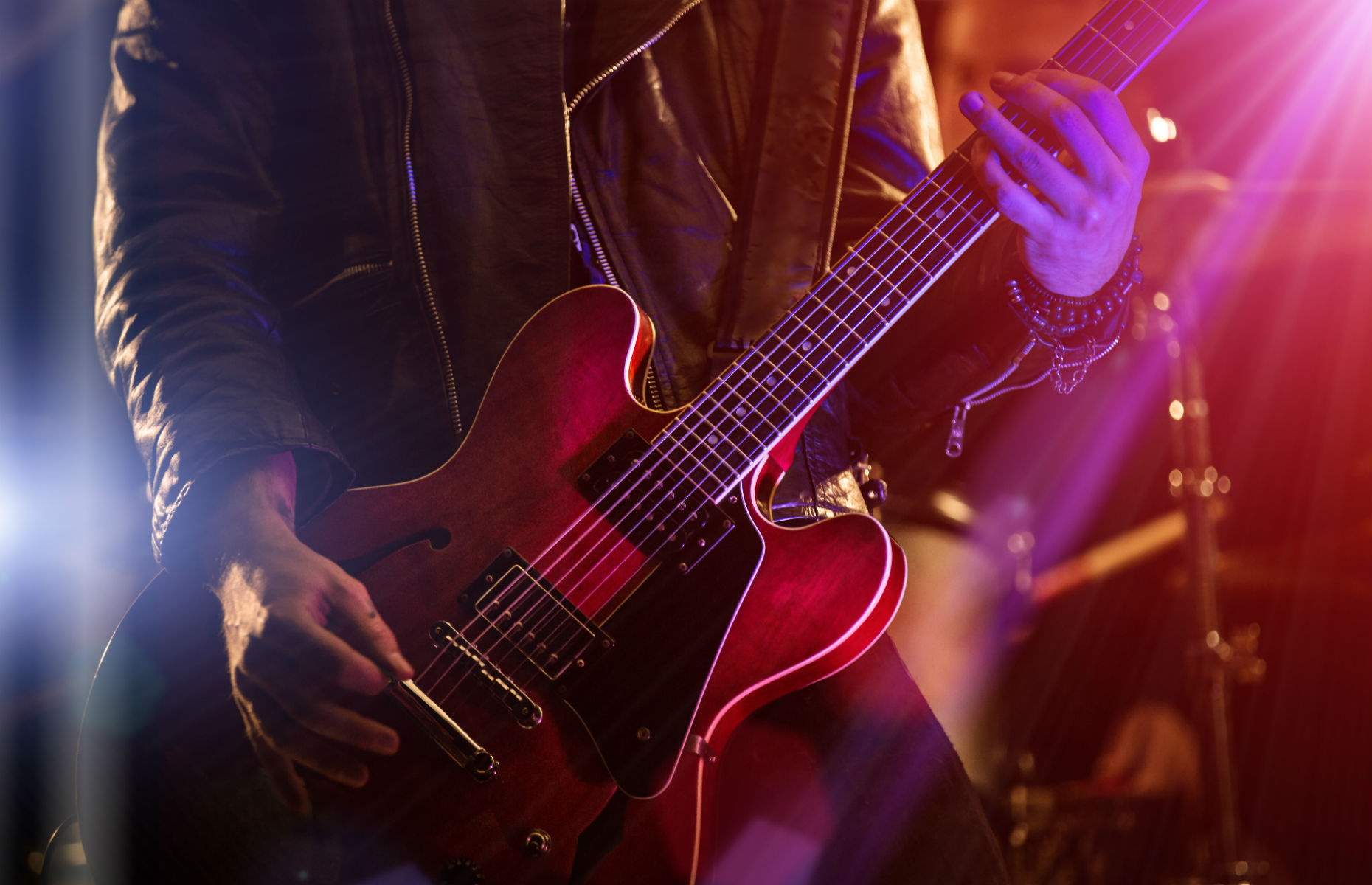 Lukas Gojda/Shutterstock
Record stores have remained popular throughout the years, so it's worth hitting up a few, if just to get a feel for its cultural context and impact. Hausfrau Record Shop strictly sells old and used vinyl and Bent Crayon stocks a smorgasbord of rock music (both in Detroit Shoreway), while Ohio City's A Separate Reality specialises in records between the 1960s and 1990s.
There is even the opportunity to visit vinyl factory Gotta Groove Records, hidden away in a forgetful block. Tours of the production facility are available on request and smaller groups are preferred (no more than eight at a time) – but after all, you are getting an authentic, on-the-ground insight into an exciting part of Cleveland's musical legacy.
The plant produces 10,000 to 15,000 vinyl records a week for a range of clients, and the tour covers all stages of production, from bags of material and clunky machinery to store rooms and shipping.
Top things to do in Cleveland
Whether Cleveland is your sole destination or part of a larger trip, the city has plenty of activities and sights to offer. The Rock & Roll Hall of Fame is perhaps Cleveland's most iconic sight and with good reason: spanning five levels, the museum is filled with various star's outfits and battered guitars, documentary footage and karaoke booths, and, to top it all off, a jamming room, where you can release your inner rockstar on the drums, guitar or bass.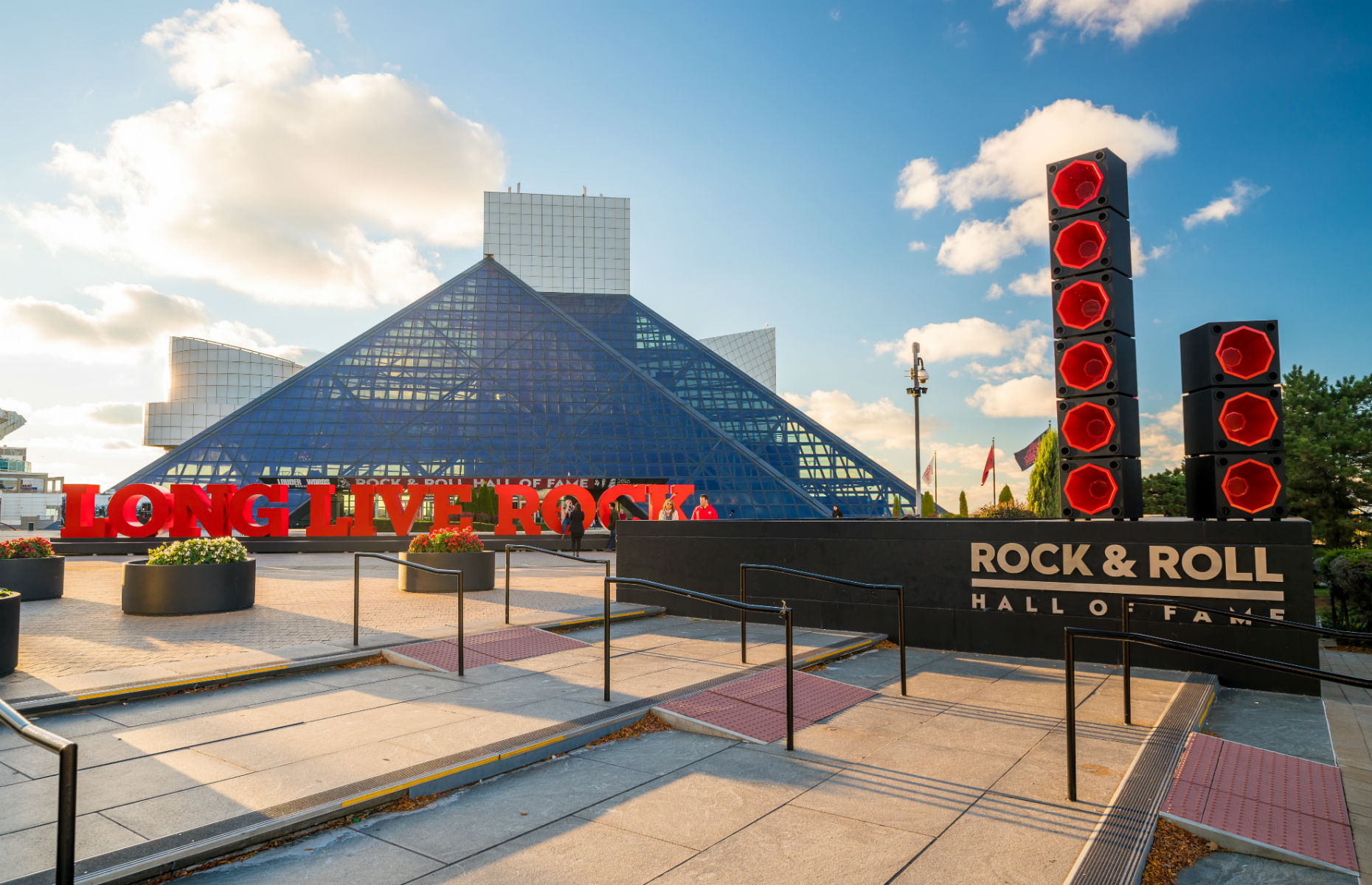 f11photo/Shutterstock
It's also a city of independent stores: try your hand at making your own glassware using recycled materials at the Glass Bubble Project in Ohio City, get your fix of freshly roasted coffee at the likes of Rising Star Coffee Roasters and listen to rock music with a sub sandwich at Cosmic Dave's Rock Club.
To cover as much of the city as possible, board the bright red Lolly the Trolley for a fun, informative sightseeing tour. The service covers the main neighbourhoods of the city over two and a half hours with the driver providing an entertaining guide to narrate the history of the city. It's a good way to scope out which spots to return to.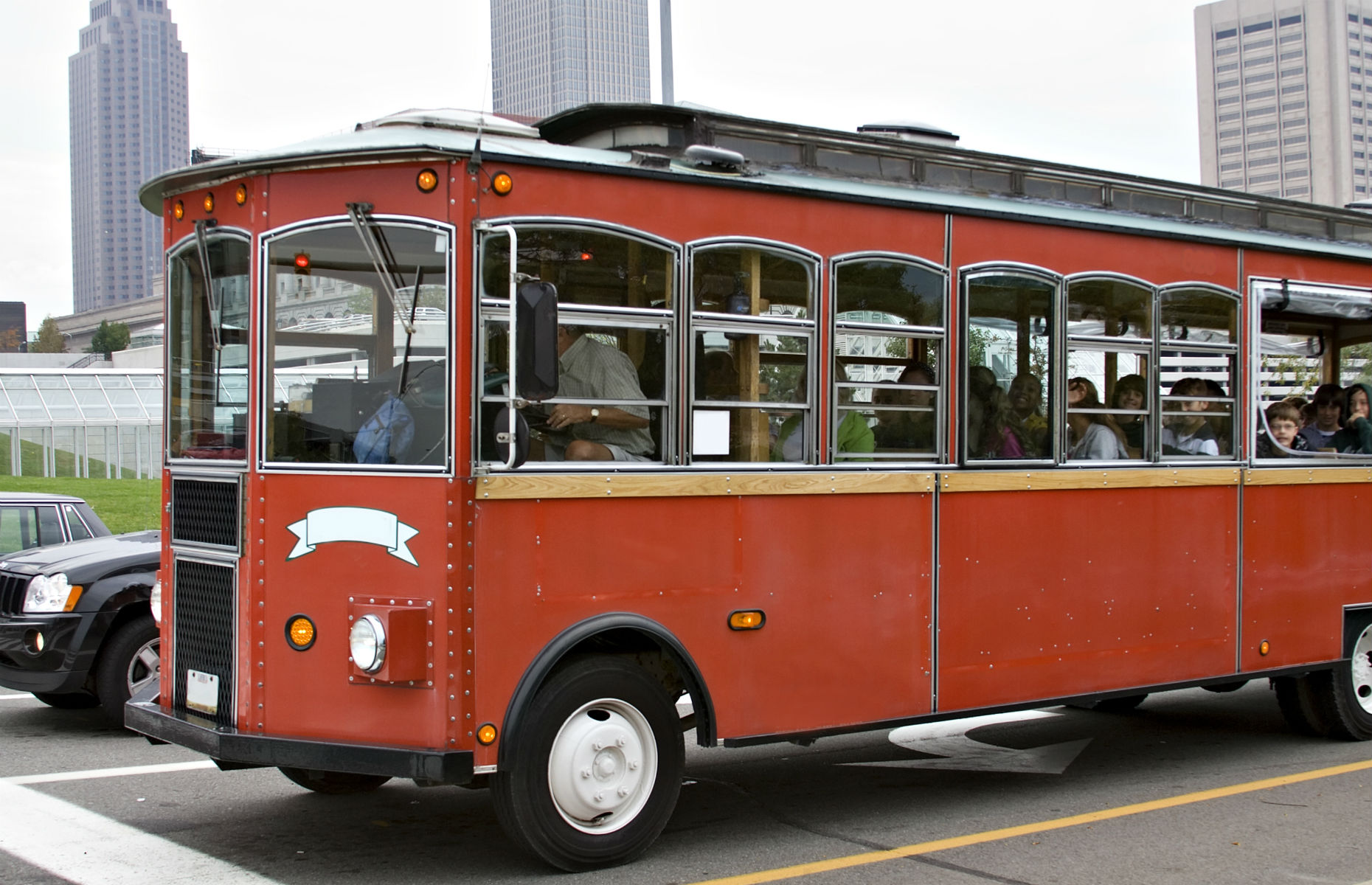 Denise Kappa/Shutterstock
Just 20 minutes by taxi from Downtown lies Garfield Park, part of the 'Emerald Necklace' which makes up one 'jewel' in the Metroparks System, an appealing collection of expansive parks that visitors can enjoy either at their own pace or with a guide on hand to explain the wildlife and nature you find yourself immersed in – keep an eye out for deer.
The ultimate Cleveland itinerary
Day 1
Check-in to: The Drury Inn. Slap-bang in the middle of Downtown and overlooking the Fountain Memorial Plaza, the high-ceilinged rooms make for a historic stay in a refreshingly contemporary style.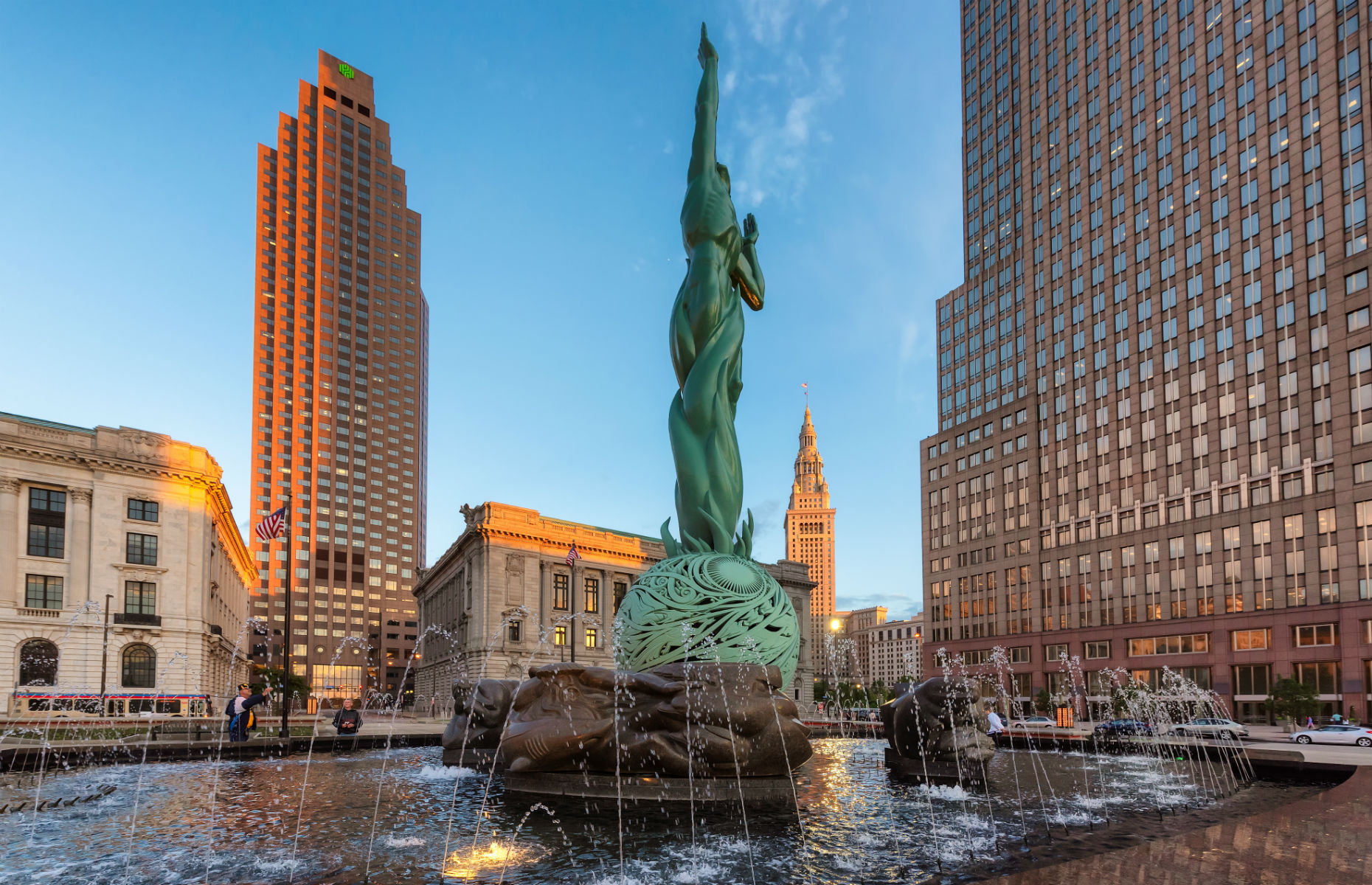 Lucky-photographer/Shutterstock
Learn to haggle: for fresh fish, Arabic spices and Italian pasta at West Side Market, while taking in the grandeur of this yellow-brick, high-curved building.
Pound the pavement: with a self-guided street art walk around Hingetown, keeping an eye out for flying tigers, giant pizza slices and the longest mural in Ohio.
Dine with a view: by taking a riverside table at Collision Bend Brewery while feasting on 'small formats' (sauerkraut balls, Moroccan lamb ribs, Brussels sprouts), 'large formats' (burgers, beer-battered fish, mac 'n' cheese) or pizza, then wash it all down with a flight of beer from their onsite brewery.
Sit back and relax: on the iconic Lolly the Trolley sightseeing tour, and find out more about the diversity and variety of the city.
Load it up: at Detroit Shoreway's Happy Dog. This ultra-retro, old-fashioned bar features regular live music slots and serves a huge range of beer. Choose between a burger ($9.50/£7.25) or hot dog ($8/£6), then choose as many toppings as you want at no extra cost – think nacho cheese, pickled red onions, Vegan mango chutney and even chunky peanut butter.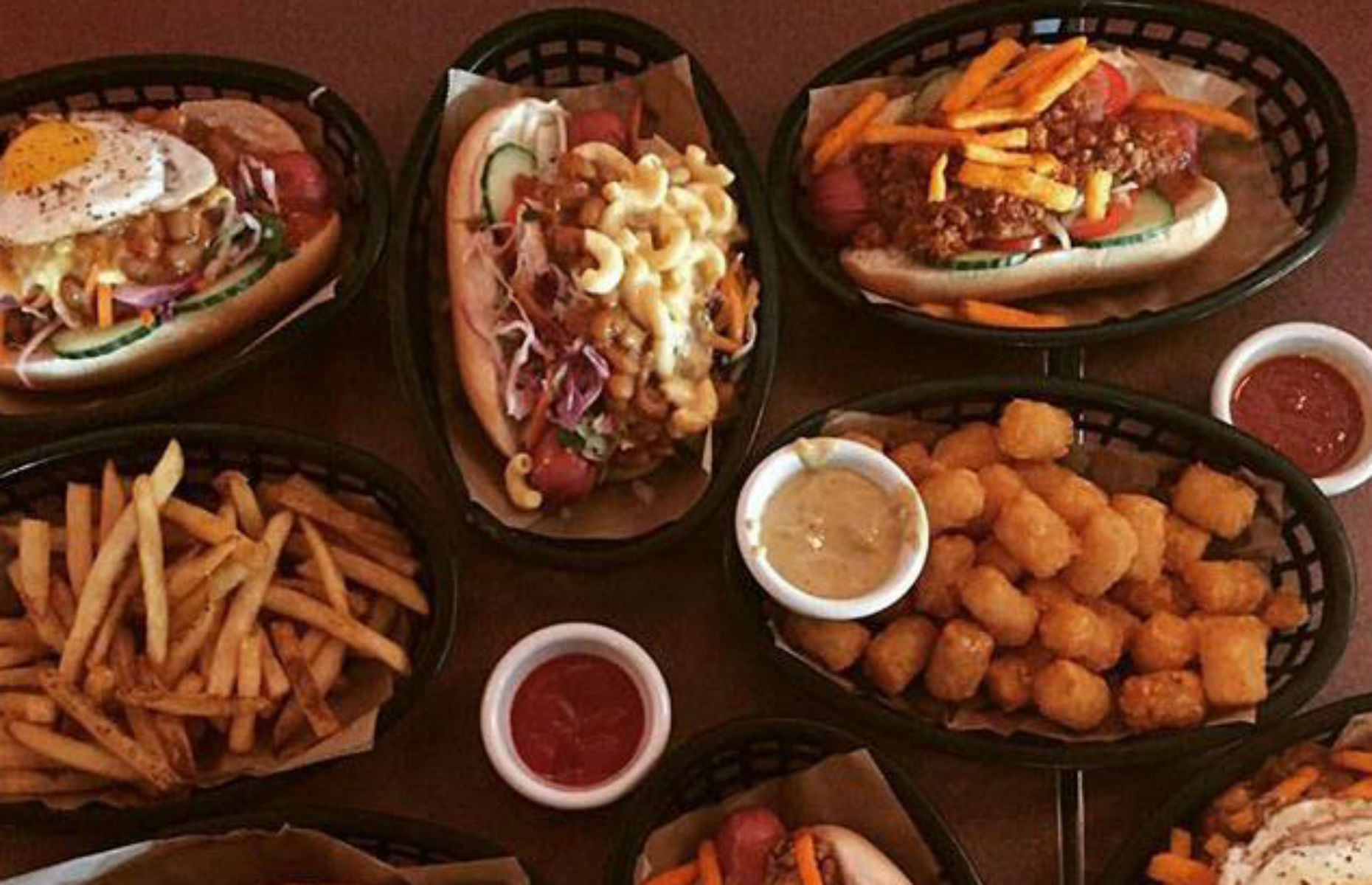 @TheHappyDog/Facebook
Become a pinball wizard: and flick your way through Superelectric Pinball, a dimly lit parlour with over 20 vintage pinball machines and games dating between the 1950s and 1990s.
Read more: The ultimate East Coast road trip
Day 2
Start the day: at Cleveland History Center for a family and community history of Northeast Ohio through vast and varied collections – even if cars aren't your thing, there's no missing the extensive Crawford Auto-Aviation Museum.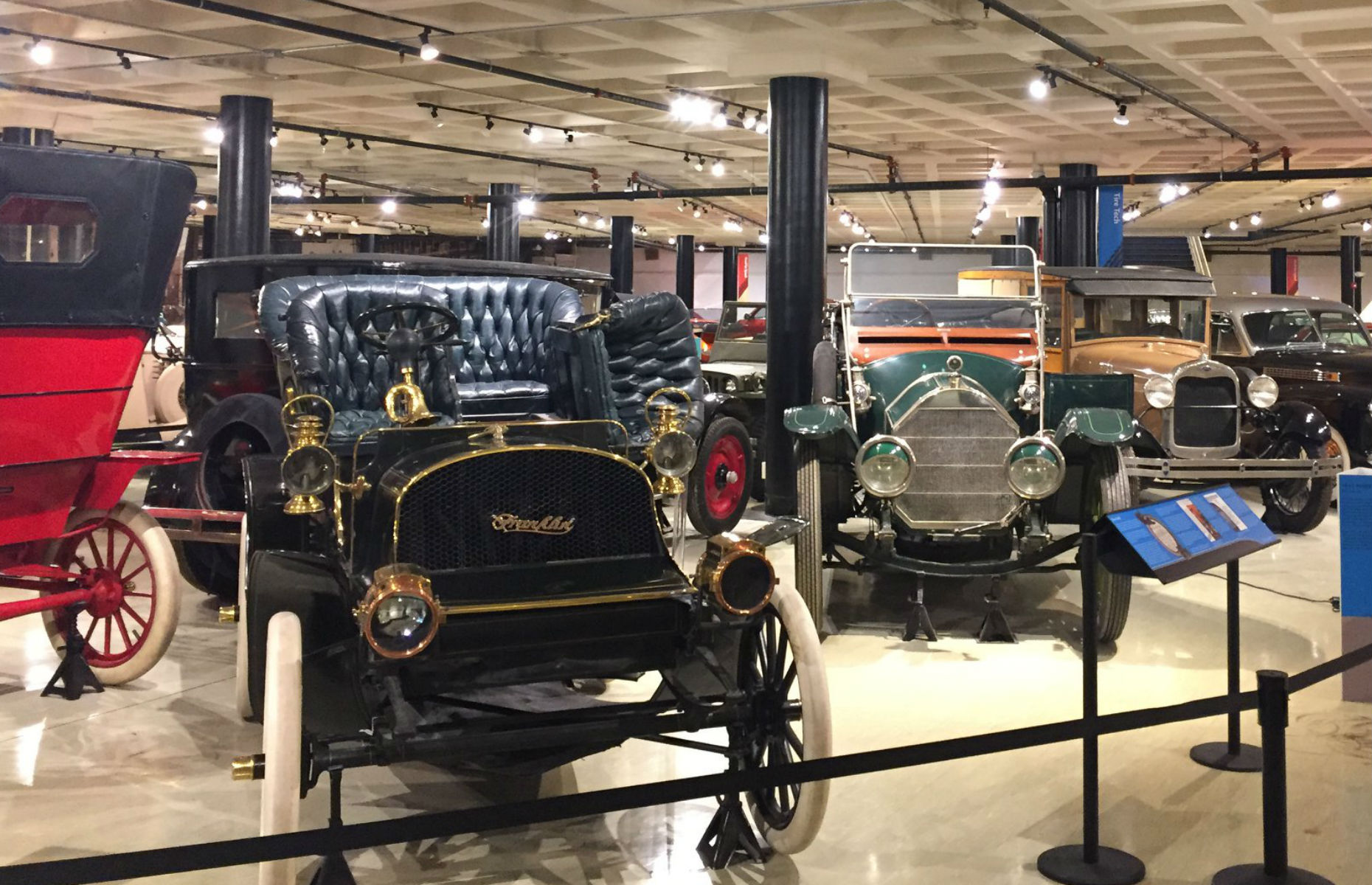 @CleStartsHere/Facebook
Take the leafy walk: around to the stunning Museum of Art, and take in ancient Islamic pottery and ancient Greek amphora on ground level before heading up to the first floor for contemporary pieces by the likes of Dali, Monet and Warhol.
Pause for lunch: at the museum's canteen-style Provenance Cafe, or upgrade to the swanky Provenance Restaurant next door.
Wander through: Cleveland Botanical Gardens. Indoor exhibits include a massive glasshouse with two exhibits, the Costa Rica Rainforest and Madagascar Spiny Desert, then reward yourself with fresh air with a stroll around the sprawling outdoor gardens.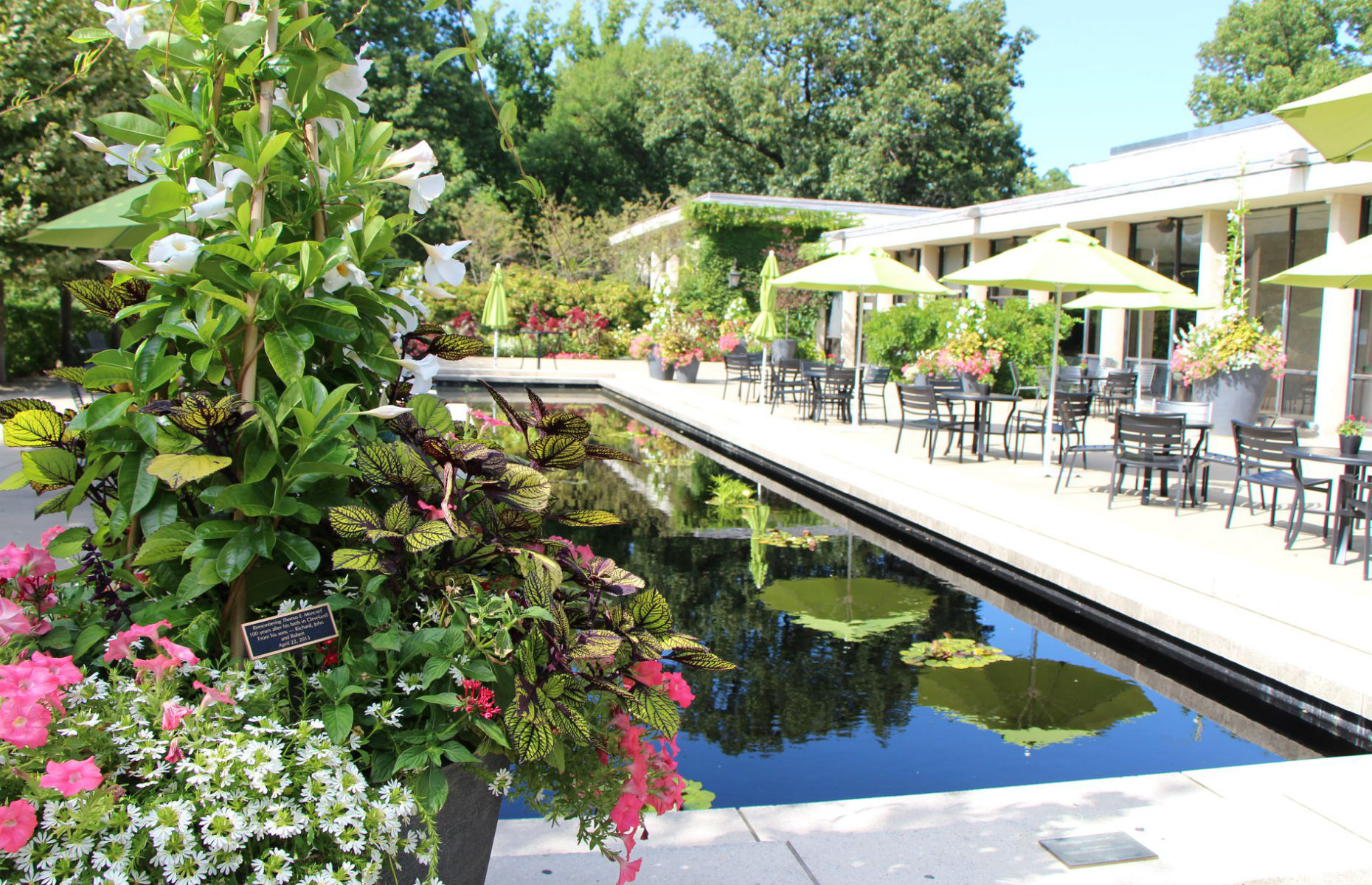 @cbgarden/Facebook
Don't miss: the Museum of Contemporary Art (MOCA), with its cutting-edge exterior and abstract exhibitions inspiring curiosity through ideas, stories, people and places.
Pause for coffee: at The Coffee House, a popular haunt for students – you may have to jostle for an indoors seat, but sitting out on the patio makes a more pleasant experience, anyway.
Go local: with dinner at chef Michael Symon's Mabel's BBQ on East 4th Street. Opt for a brisket burger with eastern European inspired sides, or kielbasa and Cleveland kraut and pickles. There's an extensive beer menu, so you can choose to sit at the bar and work your way through the list, instead.
Read more: Discover the most beautiful state park in every US state
Day 3
Rock out: at the Rock & Roll Hall of Fame. Celebrating its 25th anniversary in 2020, the Hall of Fame is more of an experience, not a destination. With artefacts, videos, memorabilia and more, it's easy to spend the entire morning here.
Eat tacos: at Nuevo Modern Mexican, down on North Coast Harbour, with views of the Hall of Fame, the harbourfront and Voinovich Bicentennial Park. There's also a tequila bar, although best to save that for the evening...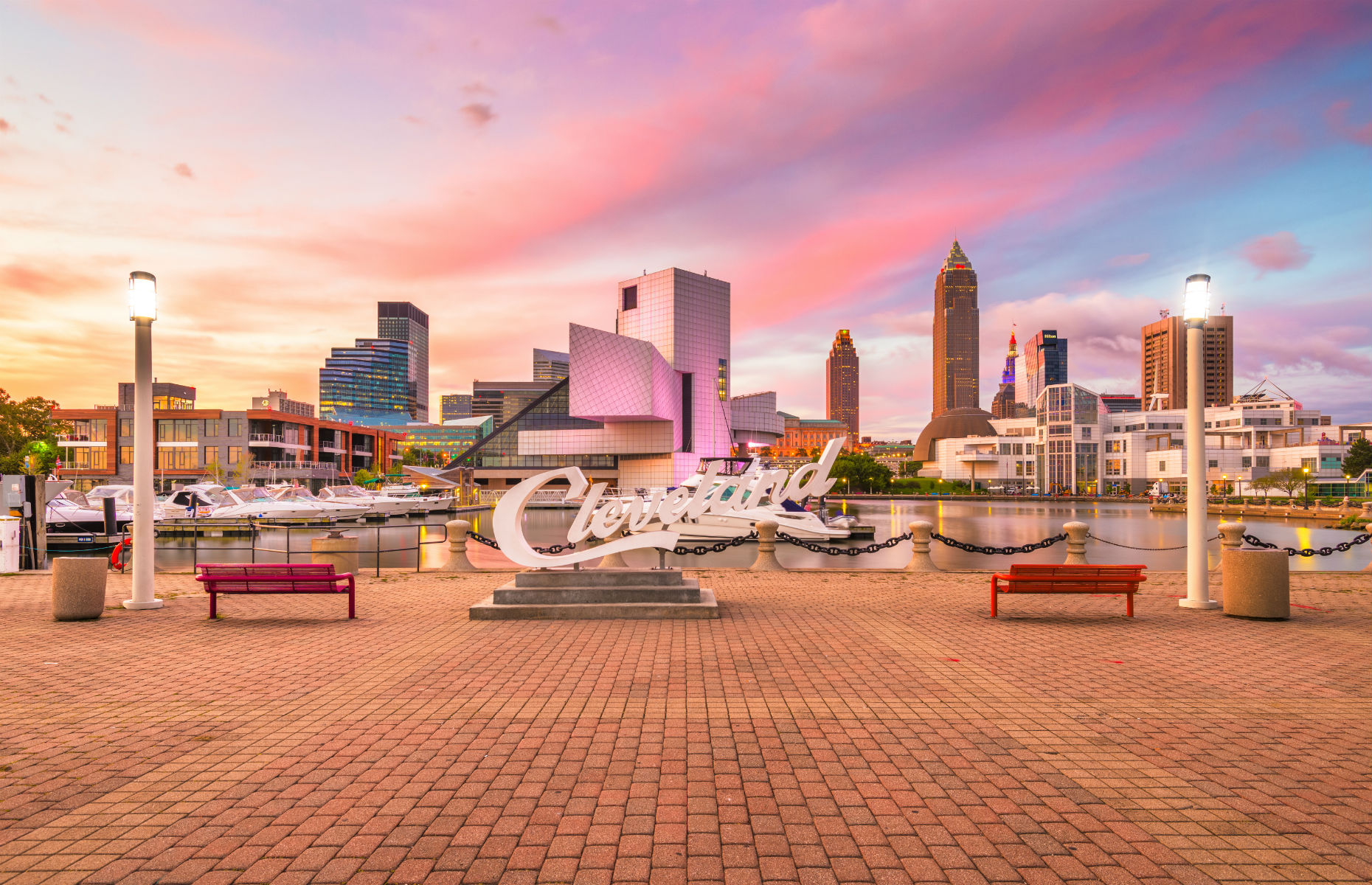 Sean Pavone/Shutterstock
Get out of the city: and into the wooded depths of Garfield Park, a 217-acre reservation of wetlands and dense woods. There's an abundance of wildlife and nature to take in, making for a gentle way to round off your trip.
If time permits: head into Tremont, perhaps Cleveland's quietest neighbourhood, to complete your day of escaping the hustle and bustle, or hire a bike to make the most of the outdoor scenery.
Lead image: Sean Pavone/Shutterstock
Read more: Explore Nashville: the top things to do, where to stay and what to eat
Map of Cleveland
Be the first to comment
Do you want to comment on this article? You need to be signed in for this feature