Explore Jamaica: where to stay and what to see in the Land of Wood and Water
Behind Jamaica's pretty beaches and resorts is a mountainous island abundant in food and history. Though you could go the entire holiday never leaving the hotel, we have some ideas for how you can break away and immerse yourself in culture while benefitting local communities.
Why go to Jamaica?
It's not the warm weather and powdery beaches built for lazing and drinking rum cocktails on that make Jamaica the hottest destination in the Caribbean right now. Nor is it the long stretches of calm, flat ocean for swimming, snorkelling and water sports, the stunning colonial (and modern) resorts and the even more breathtaking sunsets.
What makes the tropical island standout is its personality. The birthplace of reggae and Bob Marley, people in Jamaica live and breathe music. Your every move around the island is sound tracked, whether it's courtesy of your bus driver who wants to play some music he recorded himself, the local band busking for money or the sound system at the hotel beach bar.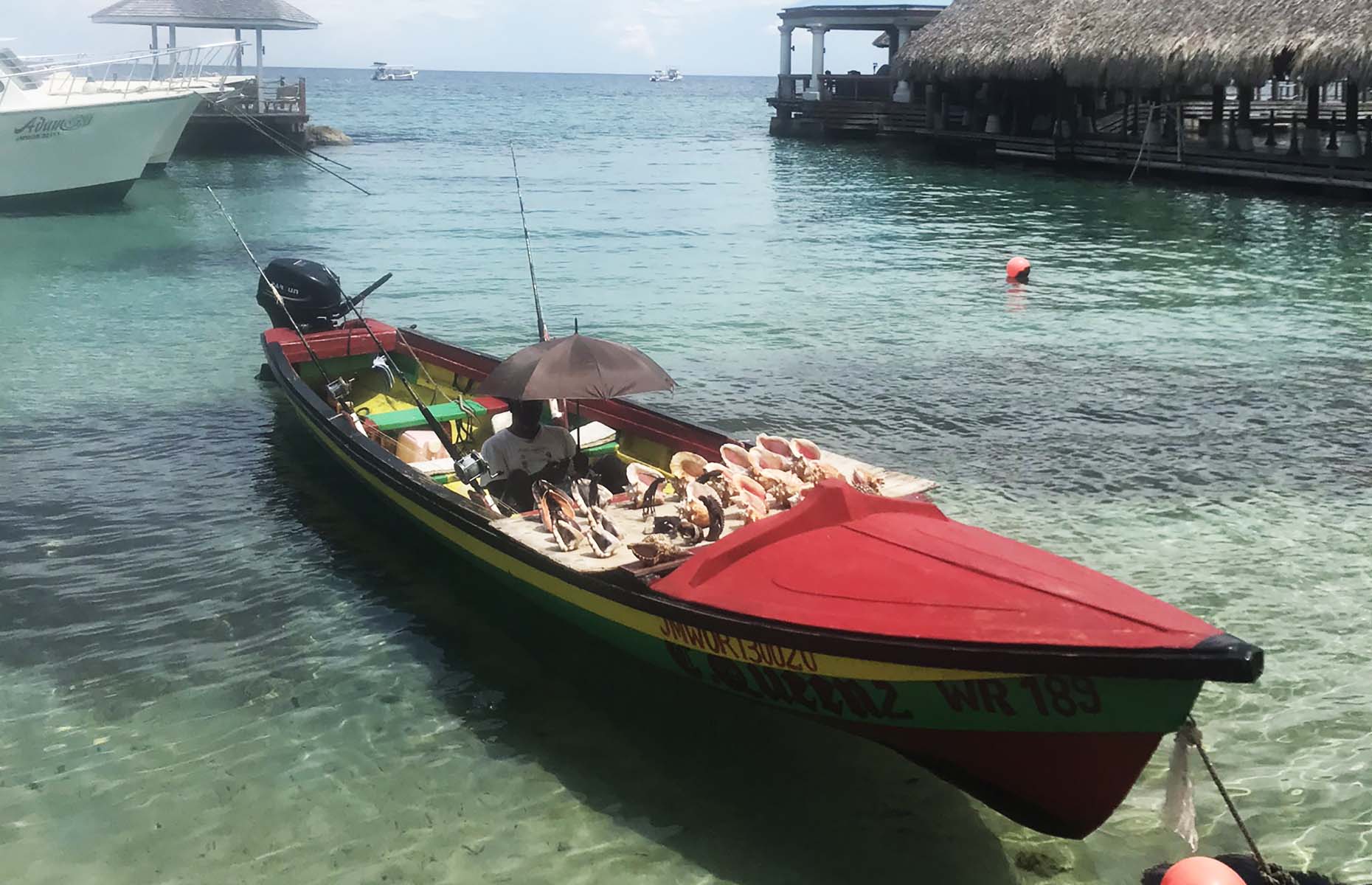 Image by Miriam Carey
Jerk cooking is another reason to visit, a style of barbecue that originated here. You'll find crispy, spicy chicken wherever you go – not to mention smell it first.
But look behind the laid-back attitudes and affirming "yah mans", and Jamaica has a turbulent history of invasions and suffering from Europeans. In the late 15th century the country was taken from the native Arawak people by Spanish colonists, who killed and enslaved them. In the mid-17th century the English invaded, importing enslaved people from West Africa to work on sugar plantations.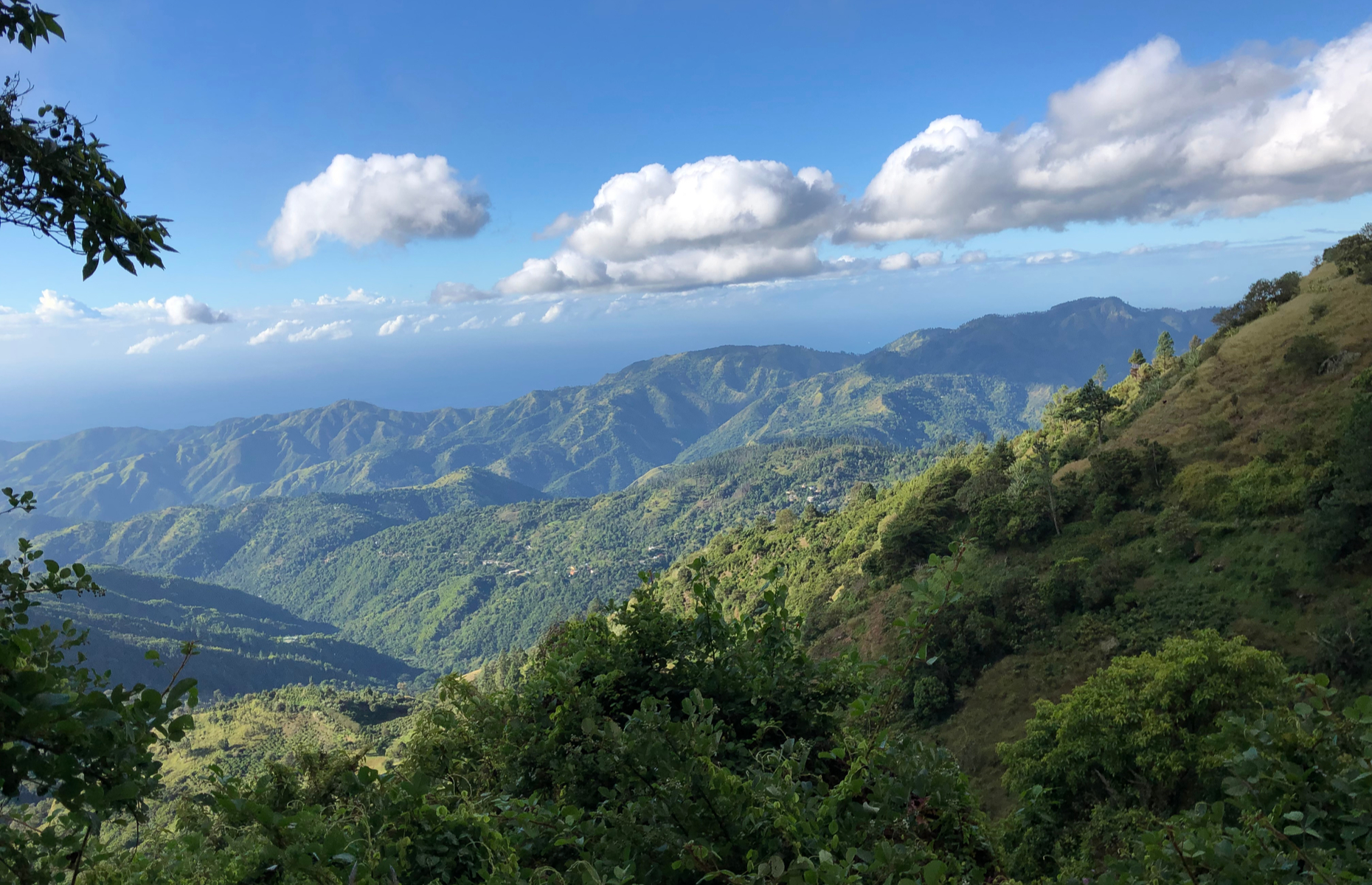 PJV/Shutterstock
Clues of its past are embedded in its traditions. For example, the name Land of Wood and Water comes from what its very first settlers, the Arawak Indians, called it in AD 700, Xaymaca. Jerk was conceived by escaped African and Arawak enslaved people who lived in communities together in the Blue Mountains. The national dish, ackee and saltfish, combines a fruit brought from West Africa and salted cod fish from Europe. Plus, the great colonial estates about the island were once plantation houses.
Though Jamaicans welcome tourists to enjoy their culture, you will notice a big divide between the 5-star resorts on the coast and some poorer communities inland. However, there are a few ways you can get involved while travelling, such as volunteering in local schools, donating supplies and helping conserve the environment.
Where to stay
Sandals Ochi
This spacious colonial-style resort is like navigating a giant palace with its tropical gardens, koi carp pond, breezy patio restaurants and mahogany interiors including four poster beds. Sandals Ochi has two halves, the rooms and villas closest to the ocean are the more modest-sized ones and have balconies and patios. Set back on the hill are the more expensive Butler rooms. Though they are further from the sea, they have individual pools and some even have a plunge pool too. A shuttle bus runs between the two sides.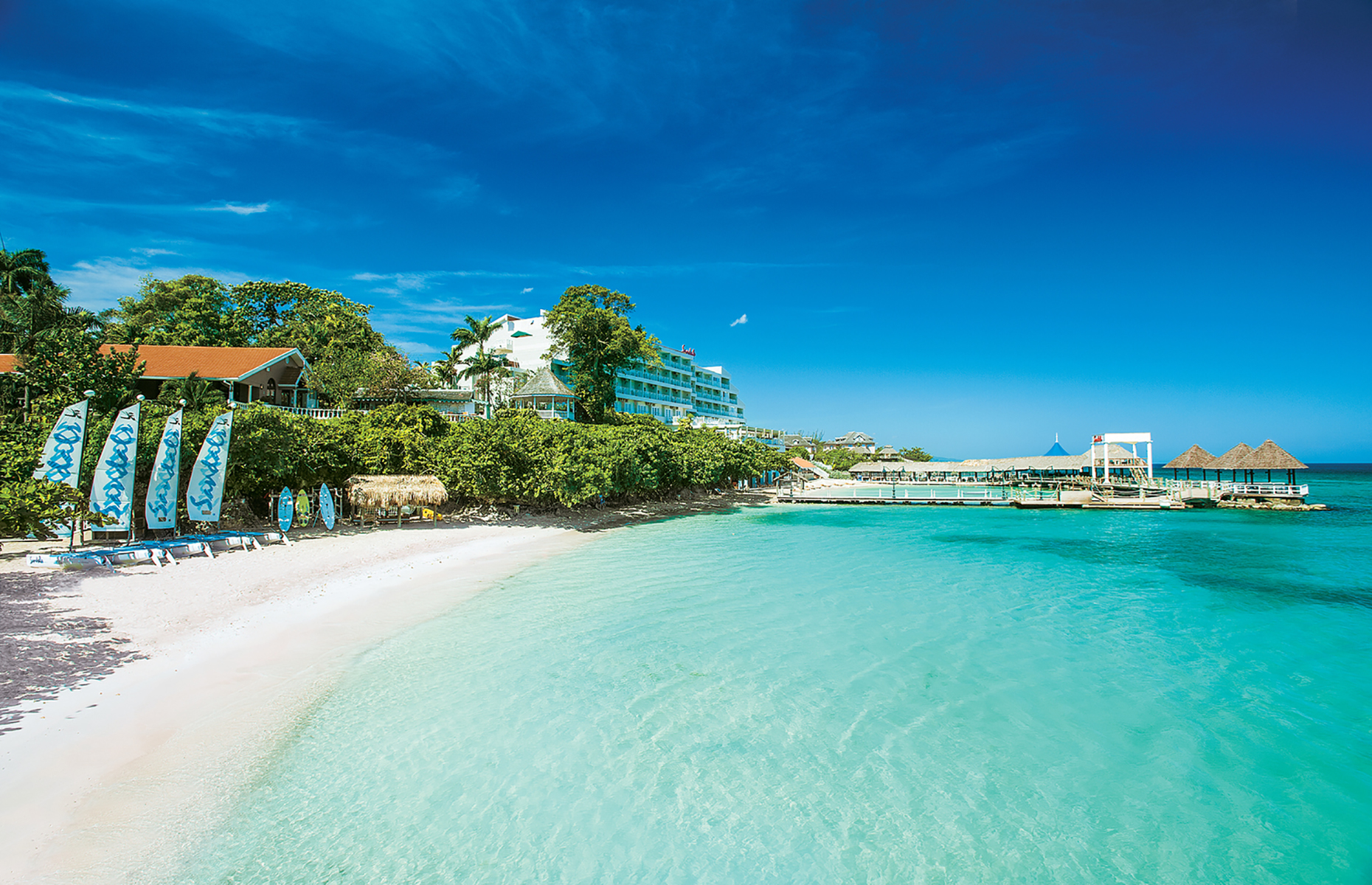 Image courtesy of Sandals Resorts
All the guests at the resort can use the beach and five main pool areas, fitness centre and golf course. There are 16 restaurants and 11 bars which are also all included in your stay, although some need to be pre-booked. The hottest spot by day is the swim-up bar, where you can keep cool in the sun with a Red Stripe or rum. At night it's in the secret speakeasy, The Rabbit Hole, where you can catch a cabaret show and enjoy old fashioned cocktails.
Sandals Montego Bay
If you want modern luxury and one whole mile of beach to stroll on, Sandals Montego Bay stretches along the waterfront and has been recently renovated making it a favourite for couples seeking the best of the best amenities. Its vast, chic lobby has spectacular ocean views. Built right on top of the water, it has a 360° bar called Latitudes, a wedding chapel with a glass floor and cabanas for lazy days spent sunbathing.
Rooms come in different price brackets – the most luxurious have bathtubs on the balcony, individual pools that swim up to a private patio, ocean views and a 24-hour butler to have a petal-filled bath, light snack and cocktail waiting for you when you arrive back to your room after a tiring day at the beach.
Open to the whole resort, there's a pool with a swim-up bar, whirlpools, a spa and a fitness centre. Restaurant-wise, there are 12 dining options on site including the swanky Butch's steak and seafood which serves filet mignon to rival any New York steakhouse. Meanwhile, at Soy you can gobble down California rolls and seared tuna tataki as fresh and flavourful as you'd find in Tokyo. Guests of Sandals Montego Bay can take a shuttle to the nearby Sandals Royal Caribbean to enjoy the restaurants and amenities there too.
The hotel is a three-minute drive from the airport and situated right behind the runway, which is great for tired travellers who can roll off an eight-hour flight and straight into bed (or a sunbed). You can hear and see airplanes taking off and landing throughout the day which you may think sounds annoying, but it doesn't bother anyone here.
Sandals Royal Caribbean
To stay in a highly-coveted overwater bungalow book a room at Sandals Royal Caribbean, the first resort in the Caribbean to have overwater suites. These luxury wooden huts in the ocean come with patios where you can lie out in the sun on a deck chair, outdoor bathtubs and showers with an ocean view. They also have a clear panel in the bedroom floor so you can look directly down at the fish swimming below. The most decadent of these rooms has an infinity pool.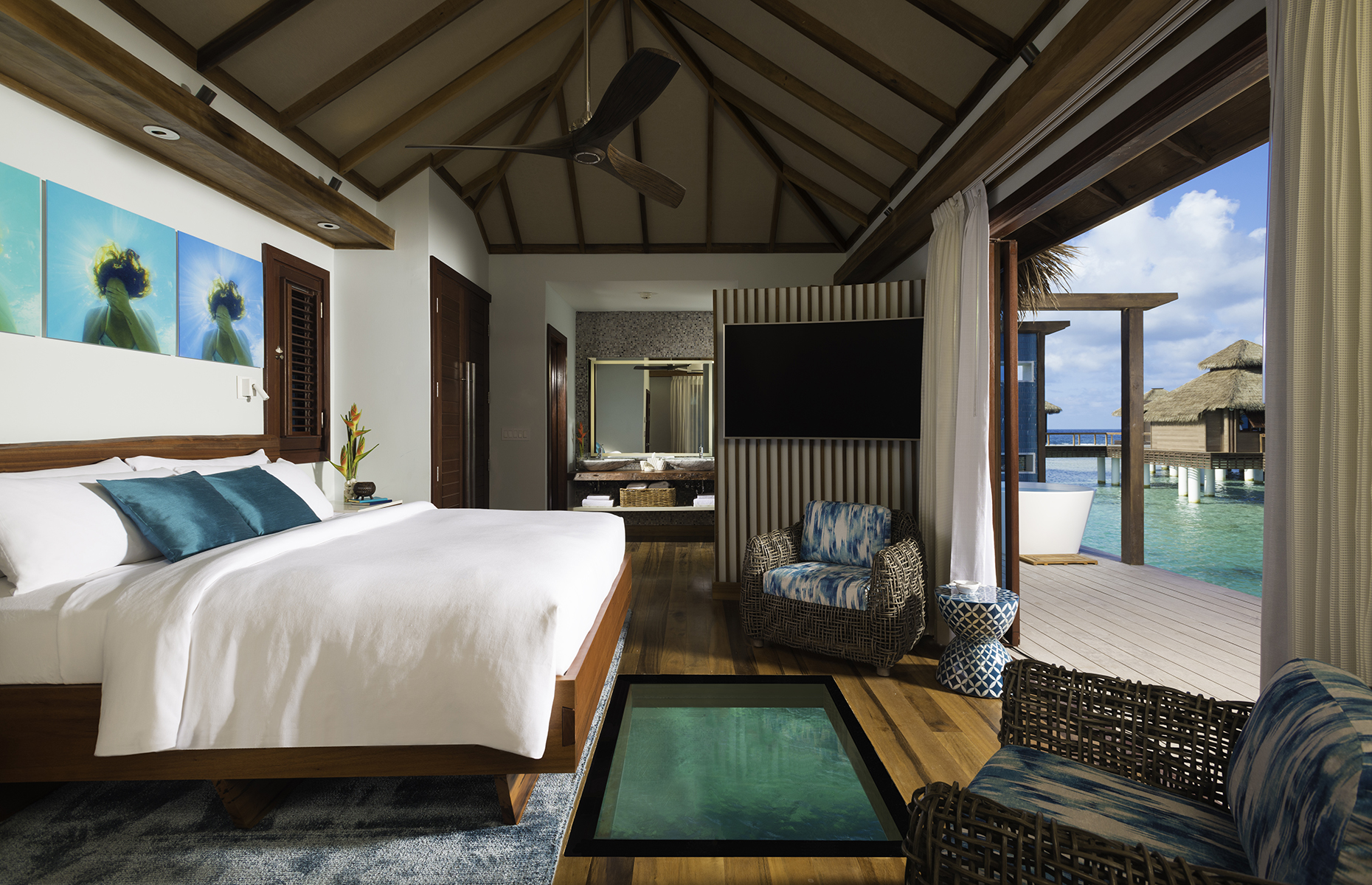 Image courtesy of Sandals Resorts
A boat takes guests from the main resort to the island where the bungalows are situated off. Also on the island is a restaurant called Royal Thai, which serves a mind-blowing beef massaman, and there's a beach too. At the main resort there are six restaurants and several smaller, intimate beaches.
5 things you must eat and drink in Jamaica
1. A Bob Marley
A frozen cocktail with red, yellow and green layers – the colours of the Rastafarian flag. Bob Marleys are sweet, refreshing and have just the right amount of alcohol to make sun bathers merry but not dehydrated.
The first red layer mixes strawberry daiquiri, rum and ice, the second yellow layer is a blend of mango, rum, orange curacao and sweet and sour mix, and the third adds a hint of blue curacao to the yellow to turn it green. It would be criminal to go to Jamaica and not have one.
2. Seafood
Being an island, seafood is a staple in Jamaica and the country's national dish is ackee and saltfish. Regularly eaten at breakfast, it combines a fruit, similar to lychee, which grows on trees in the area, with cured cod in a dish that's full of flavour. The ackee is prepared by boiling it but it looks like scrambled eggs and has a buttery flavour. To prepare the dried cod it's soaked to desalt and rehydrate it, then cooked and flavoured with spices.
You should also look out for lionfish on menus. The red and white fish with big poisonous spikes is an invasive species in the Caribbean, destroying native fish populations. As part of a campaign to get rid of it, it's prepared in dishes such as crispy fish cakes and served in restaurants.
3. Jerk
You can't go to Jamaica without trying jerk cooking. Juicy, smoky and charred, the traditional method is to rub meat with thyme, allspice and Scotch bonnet. It's covered with leaves to keep in the moisture and slow cooked on hot rocks and wood in a jerk drum.
At The Jerk Shack at Sandals Resorts take your pick between Jerk pork, chicken, sausage or fish. Or come back every meal until you've tried them all. It's served with a fried dumpling called festival, roast yam and a dipping sauce of your choice.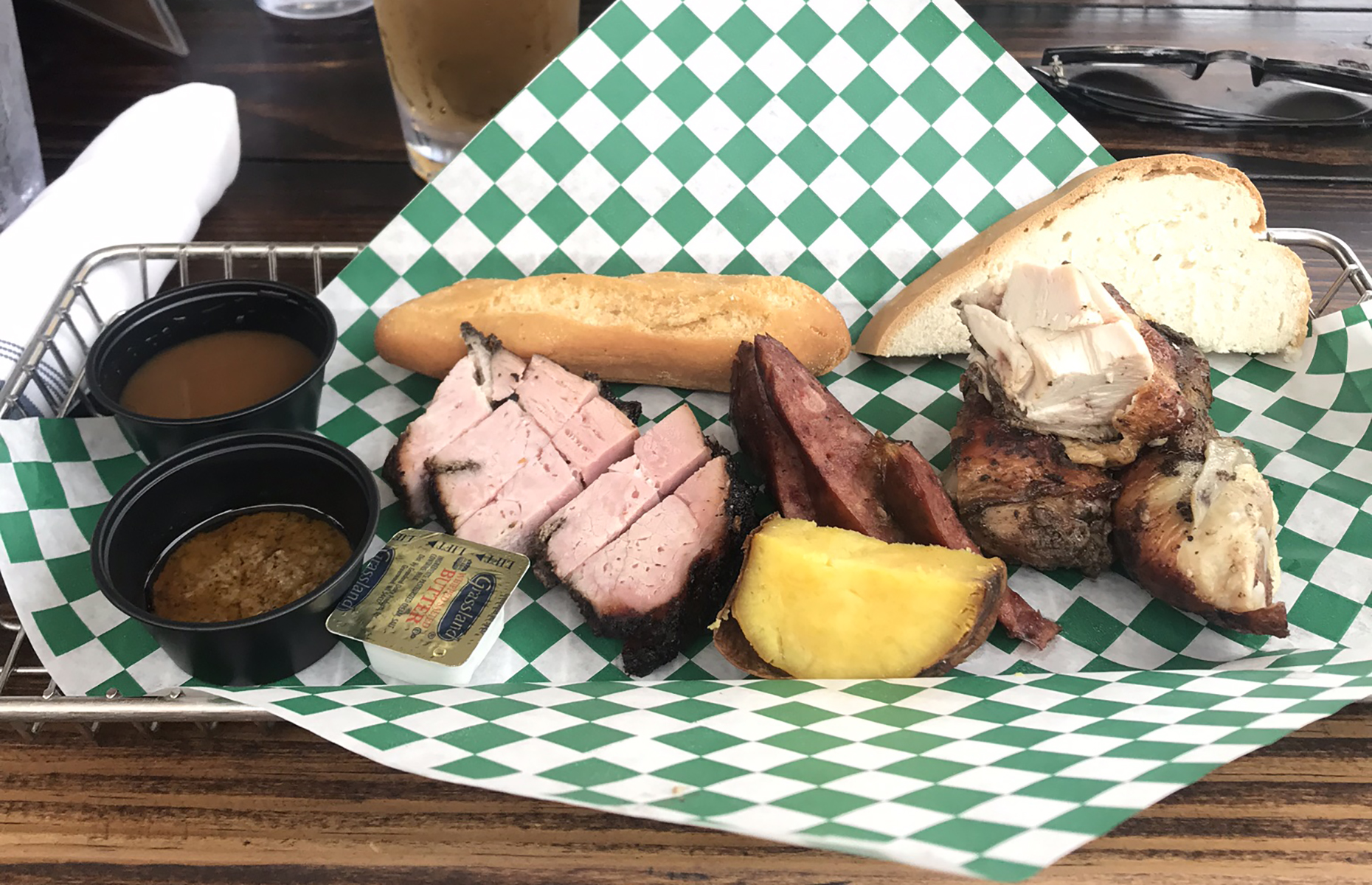 Image by Miriam Carey
4. Blue Mountain coffee
To the east of Jamaica sit the Blue Mountains, one of the highest mountain ranges in the Caribbean, where Blue Mountain Coffee is grown. It's one of the most expensive coffees in the world as the beans are hand-picked on the hillside. However, it's cheaper in Jamaica, so pick up a bag to take home or enjoy it free at the resort.
You can also book a day trip to the mountains which includes a tour of the coffee plantations.
5. Rum
If there's one thing Jamaica is known for – other than reggae – it's rum, and production here began in 1655, fuelled by the sugar industry. There are four distilleries still working on the island – Hampden Estate, Appleton Estate, Worthy Park Estate and National Rums of Jamaica. They all produce dark, full-bodied rum and Appleton is the oldest. It's possible to book a day trip to one of the estates to learn about their history and watch the rum being made.
Back at the resort, find the world-famous spirit free flowing at the bar. Enjoy it on the rocks or in one of your favourite cocktails such as a daiquiri, pina colada or dark and stormy.
Not-to-be-missed activities
Watch the sunset
A Jamaican sunset is something truly spectacular. There's something about the way the orange, blue and red in the sky are reflected on a completely flat, still ocean. Cocktail in hand is the best way to watch it. Head to a beach bar – Latitudes, the overwater bar at Sandals Montego Bay, is the perfect spot – on your very first night. It's the only way to feel as though you've arrived.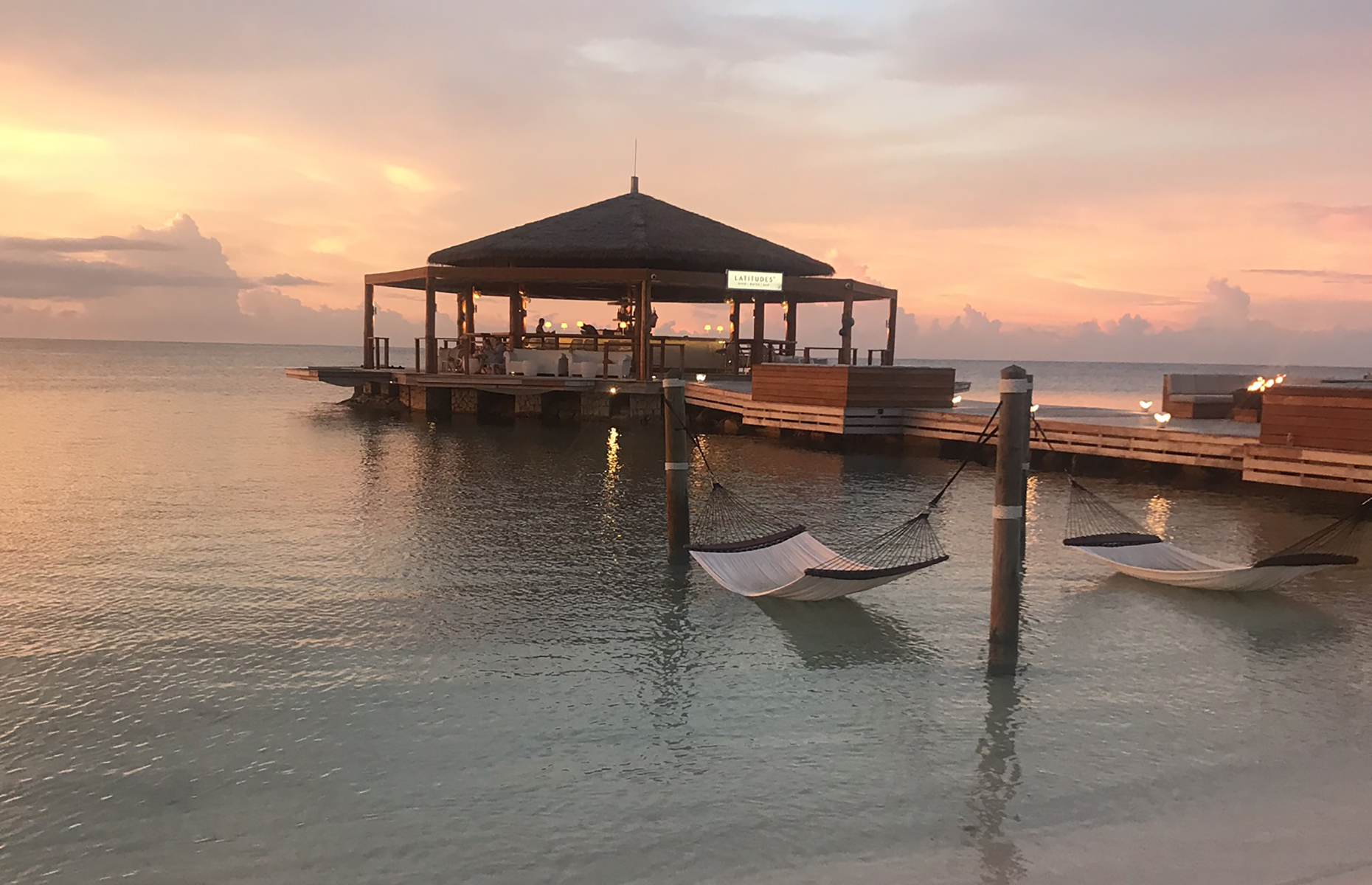 Image by Miriam Carey
Swim deep with Snuba
In the crystal-clear Caribbean waters swimmers come face-to-face with colourful fish, curious coral, cute sea cucumbers and regal rays. Snuba is a great way to explore the aquatic life as it's less commitment than scuba diving (you don't need any training) but you can swim deeper than you would if snorkelling.
You're given a face mask and mouthpiece which connects to an air supply above water via a tube, and you're taken out about 500m from shore by boat. After a short safety briefing by an instructor who stays with you the whole time, you can swim down to 10-feet deep and stay underwater for up to half an hour.
Save the turtles
There's nothing like watching turtle hatchlings take their first swim and it's even more rewarding knowing that if you weren't overseeing their safe journey, 30% less would make to it the ocean alive. Turtle watching tours run from Sandals Ochi and involve meeting conservationists from the Oracabessa Bay Turtle Project and learning how they work to protect Hawksbill and green turtles nesting on Jamaican beaches.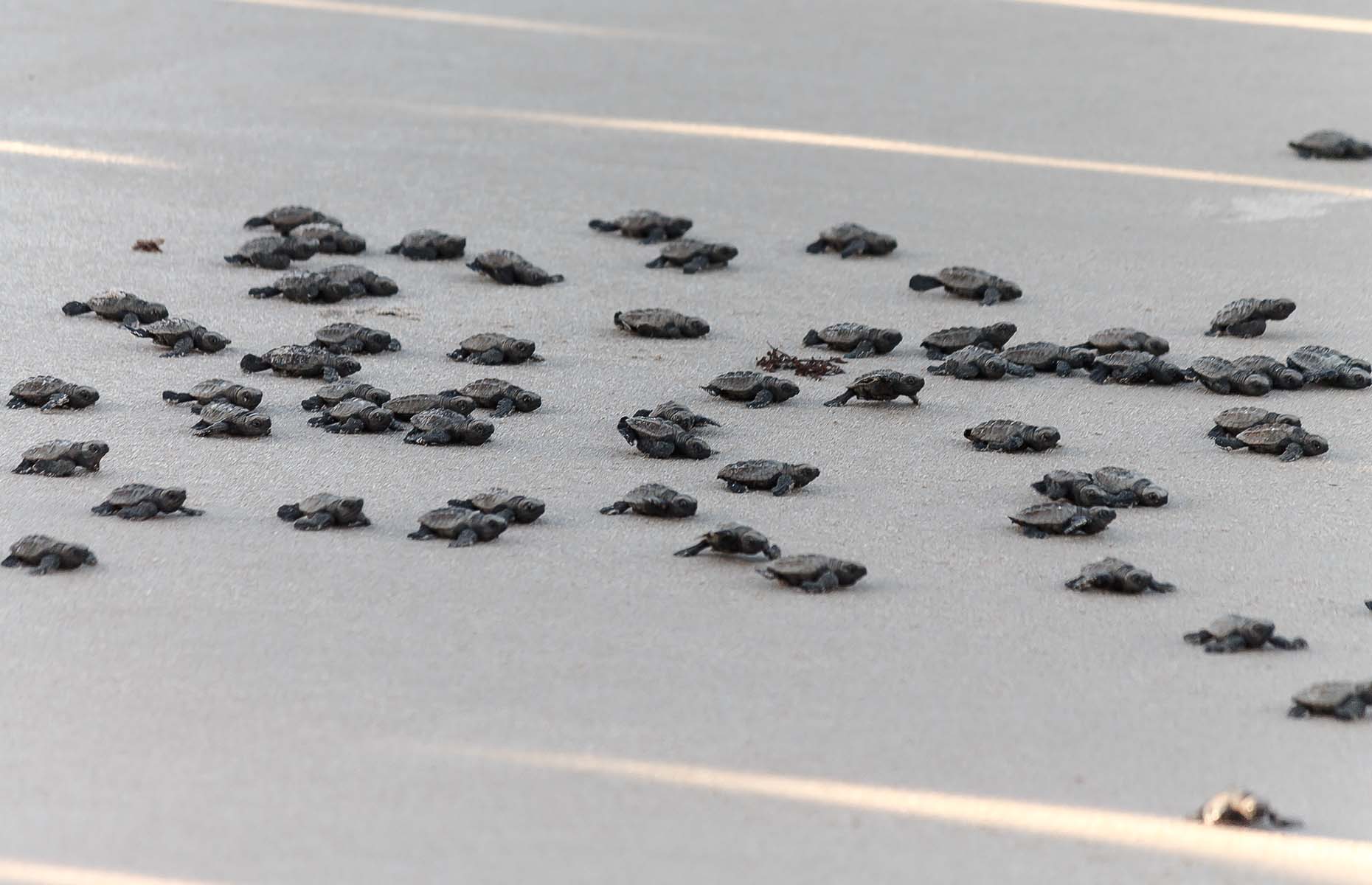 Kleber Cordeiro/Shutterstock
Go back to school
If you want to do something meaningful during your stay, volunteer one morning at a local school helping young children with reading, writing and comprehension. Sandals transports small groups of tourists on a Reading Road Trip where they're taken into classrooms and given a group of no more than four or five, five- to seven-year-olds to go through worksheets, colouring-in activities and read books with. This one-on-one time can be very valuable to learning as students often get left behind in big classes. You can also bring school supplies with you to donate.
Find out what volunteering in Jamaica is like from a first-person perspective
When to go
The weather is always warm and humid in Jamaica, but like the rest of the Caribbean it's affected by a rainy and hurricane season, which is important to note.
Rainy season: May to November it tends to be humid with short bursts of showers in the afternoon.
Hurricane season: June to November the weather is warmest with highs of 32°C (89.6°F). Hurricanes often pass straight by Jamaica leaving it unaffected and direct hits are accurately predicted by satellite warning. During hurricane season resorts are their most empty and cheapest.
Dry season: mid-December to mid-April temperatures still reach 30°C (86°F) and there's minimal rainfall. This is when resorts are at their busiest and most expensive.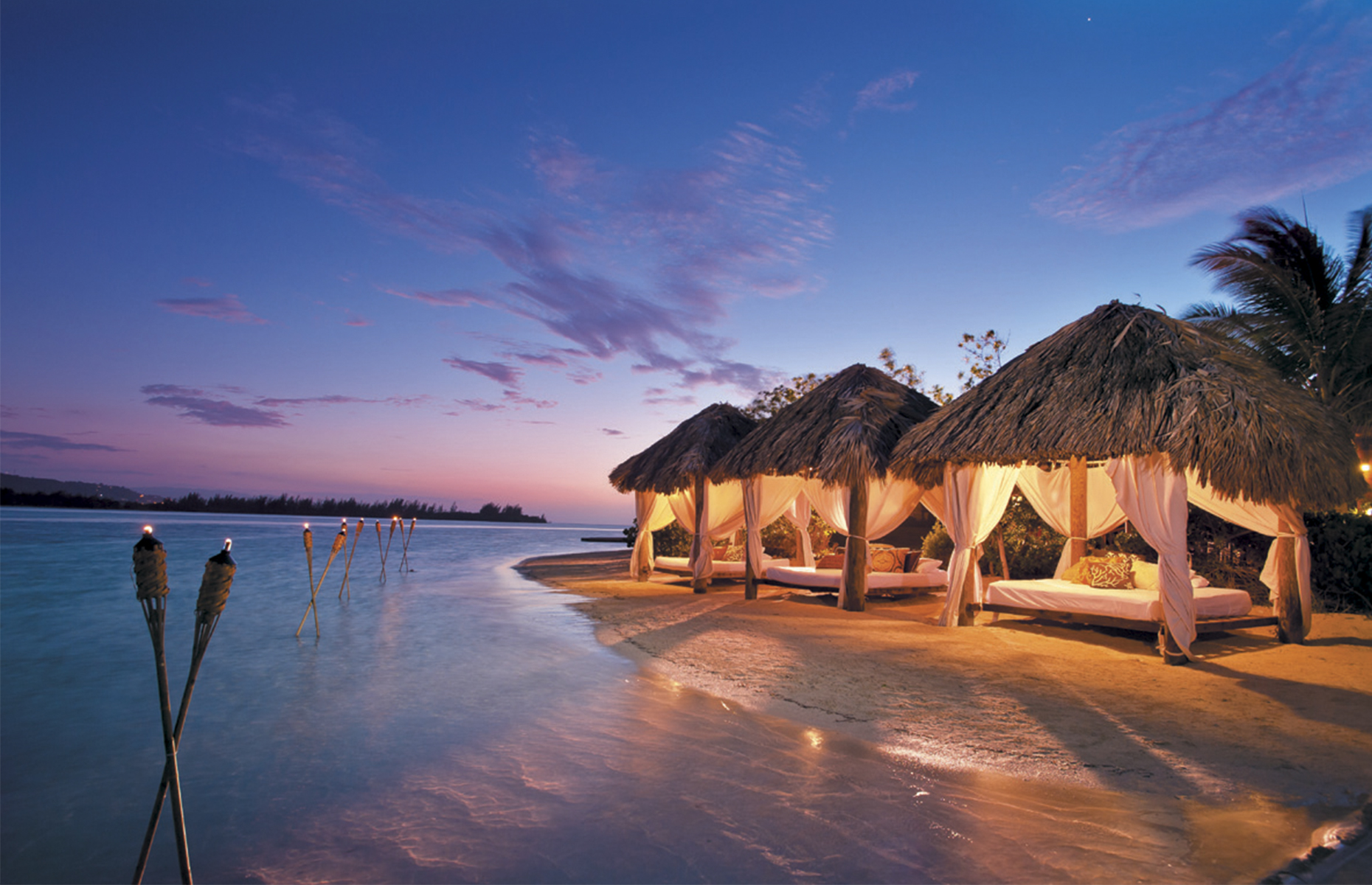 Image courtesy of Sandals Resorts
Getting there and around
Virgin Holidays offers packages including flights from London Gatwick to Sangster International Airport (Montego Bay), airport transfers and seven-nights all-inclusive accommodation.
Sandals Ochi Beach Resort starts from £1,729 per person based on two adults travelling together and sharing a Riviera Honeymoon Luxury Room. Sandals Montego Bay starts from £2,139 per person based on two adults travelling together and sharing a Caribbean Deluxe Room. Sandals Royal Caribbean Resort starts from £1,959 per person based on two adults travelling together and sharing a Caribbean Deluxe Room.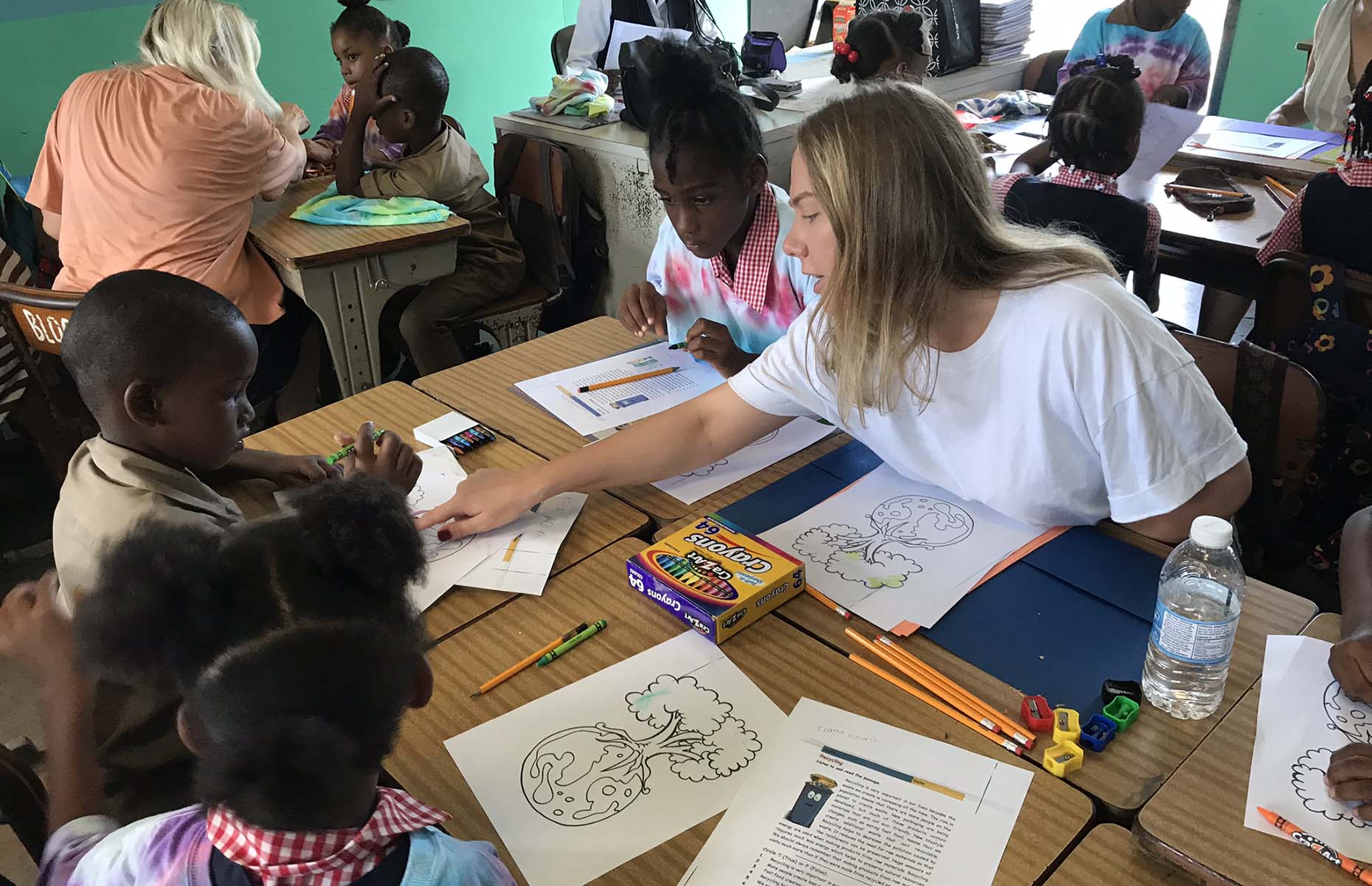 Image by Miriam Carey
What's included: at Sandals Resorts water sports such as Snuba, scuba diving, kayaking, windsurfing, sailing, snorkelling and paddle boarding are included with your stay. Tours and day trips cost extra and are organised through Sandals and taken by Island Routes tours. Due to high levels of crime in Jamaica it is not currently recommended you travel outside of the resort without a driver from Sandals Resorts or an official tour organisation.
Lead image: bungalows at Sandals Royal Caribbean courtesy of Sandals Resorts
Read more: what to see and where to stay in the Caribbean's unspoiled island Anguilla
Be the first to comment
Do you want to comment on this article? You need to be signed in for this feature