Explore Marrakech: places to visit, where to stay and what to do
Morocco's Red City is an enchanting explosion of colour and charm. Delve into a labyrinth of hustle and bustle, haggle for treasures and gaze upon starry mountains and uncover the delights tucked away in this North African destination.
Why go to Marrakech?
The mystical allure of Marrakech has been attracting visitors for centuries, and today its time-honoured attractions are complemented by designer boutiques, pampering spas and fusion restaurants, all at minimal expense to its characteristic charm.
READ MORE: 50 of the world's most beautiful cities
Once a dusty stop on the hippy trail and a bohemian hangout for artists and rock stars, today the Red City is a red-hot destination offering an enticing mix of North African culture and tradition with plenty of modern style and sophistication. Here's our guide to the best places to visit, things to do and where to eat and sleep for all budgets.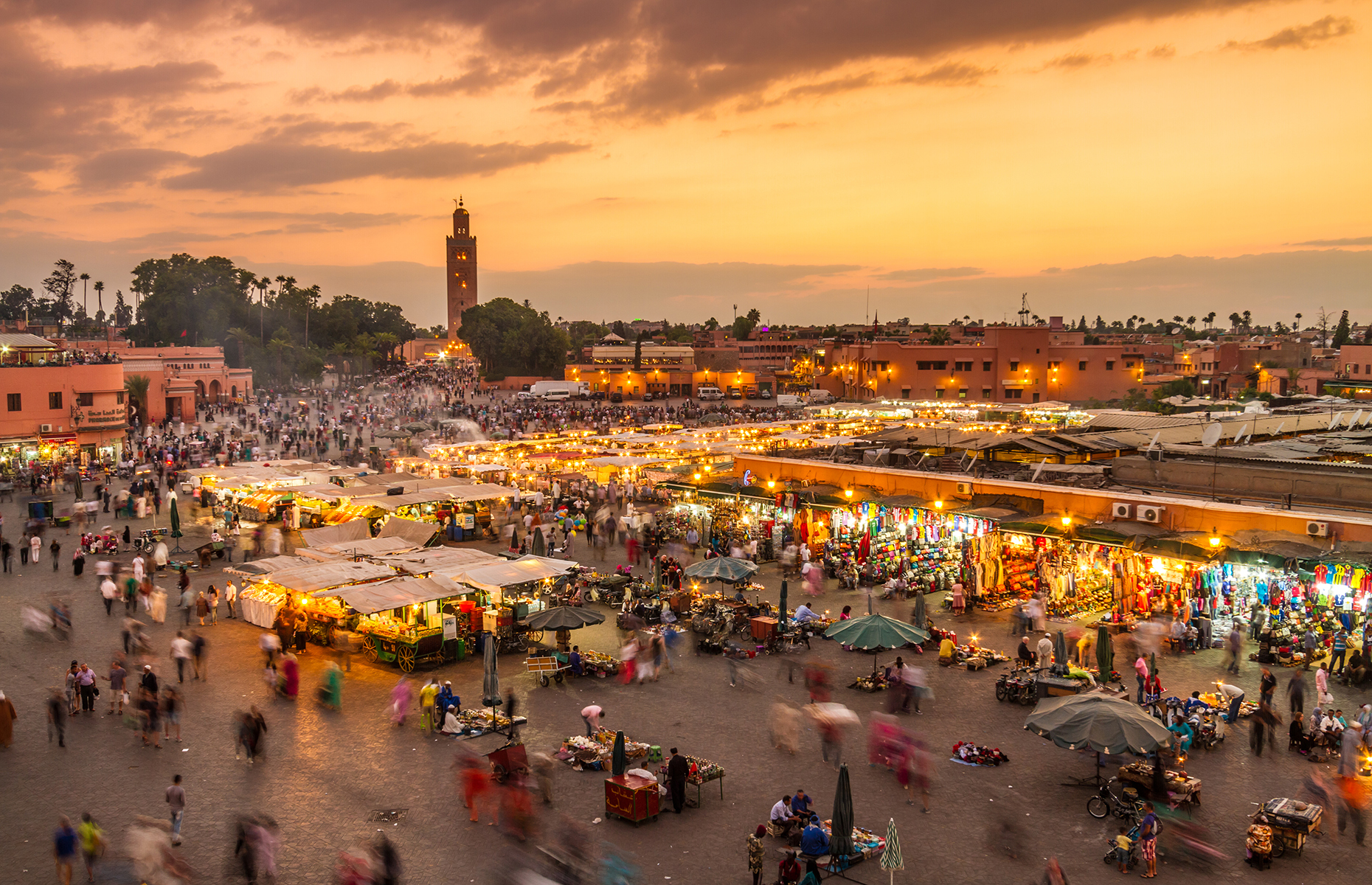 Matej Kastelic/Shutterstock
5 essential things to do in Marrakech
Every destination has its big-hitters and Marrakech definitely isn't short of fascinating attractions. Here are five things you shouldn't miss on your trip:
1. Lose yourself in the medina
A sensory overload of sights, sounds and smells, the medieval medina is a maze of narrow street where Africa's most famous square, the Jemaa el-Fna, holds a nightly circus of musicians, snake charmers and storytellers that never fails to entertain.
2. Seek treasures in the souks
The souks carve a labyrinth through the medina, with a wave of colour and sound washing through the narrow passageways. Bright, decadent and ornate wares hang in every crevice while artisans weave, hammer and carve their wares to try and entice you to buy. Fragrant spices, leather bags, handmade slippers and woven carpets are all on offer for the brave barterer.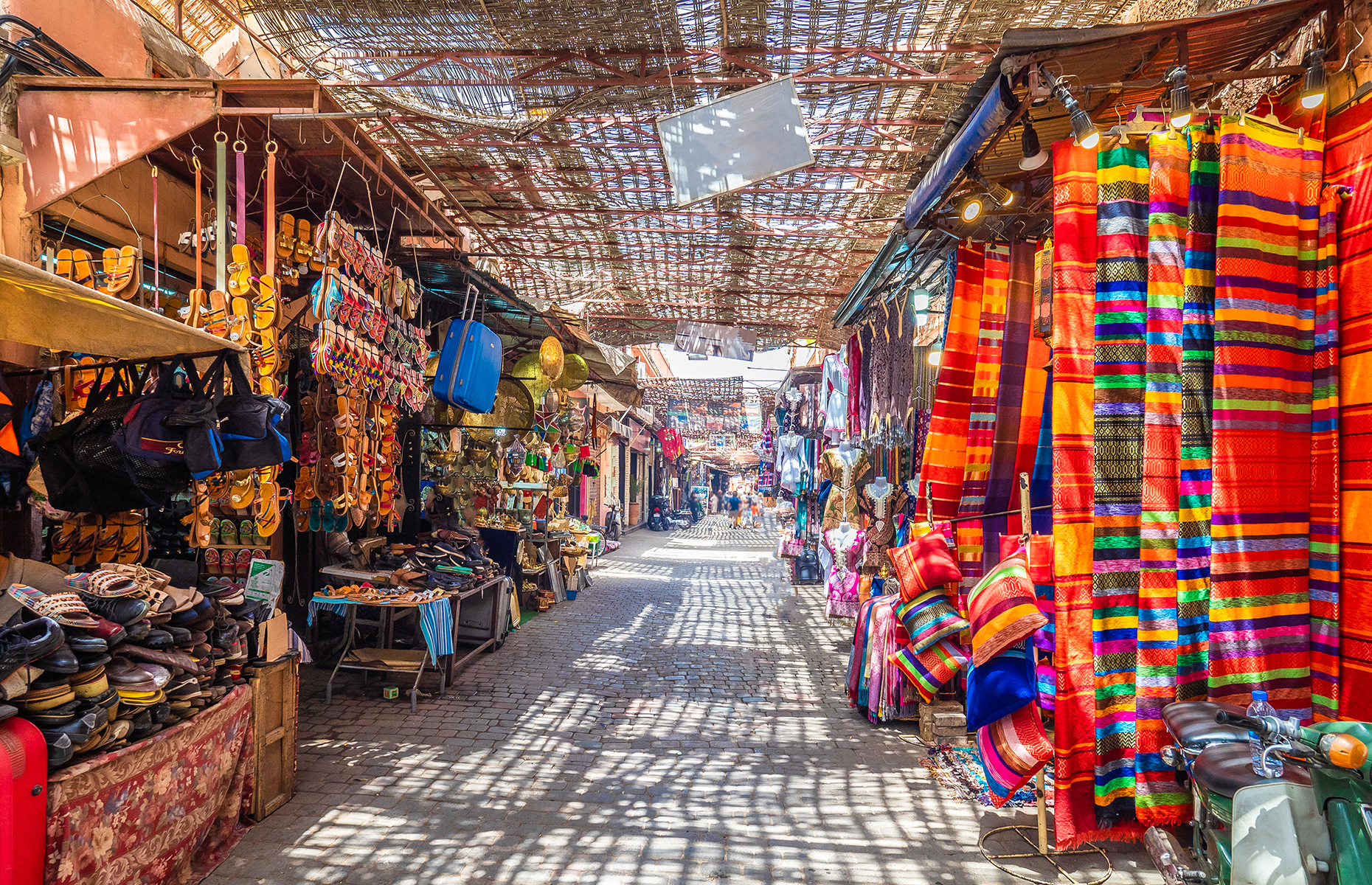 Balate Dorin/Shutterstock
3. Marvel at the Ben Youssef Medersa
Mosques may not be open to non-Muslims but one of the city's most historic religious sites is the Ben Youssef Medersa. The 14th-century centre of Islamic study is resplendent in ornate stucco and dazzling zellige tiles. Currently closed for renovation, it's expected to reopen in March 2020.
4. Take a break from the medina
Sheltered from the hubbub of the medina by the tall walls surrounding it, Le Jardin Secret is a true oasis. Dating back to the Saadian Dynasty more than four hundred years ago, this restored garden is an excellent example of Arab-Andalusian and Moroccan stately homes and their gardens as well as the Islamic art and architecture.
5. Stroll around the Jardin Majorelle
Created by French artist Jaques Majorelle in 1925, the garden and its cobalt-blue house were later bought by French fashion designer Yves Saint Laurent. Go early to enjoy the small Berber museum, exotic flora, lily ponds and shady pathways of this mini oasis.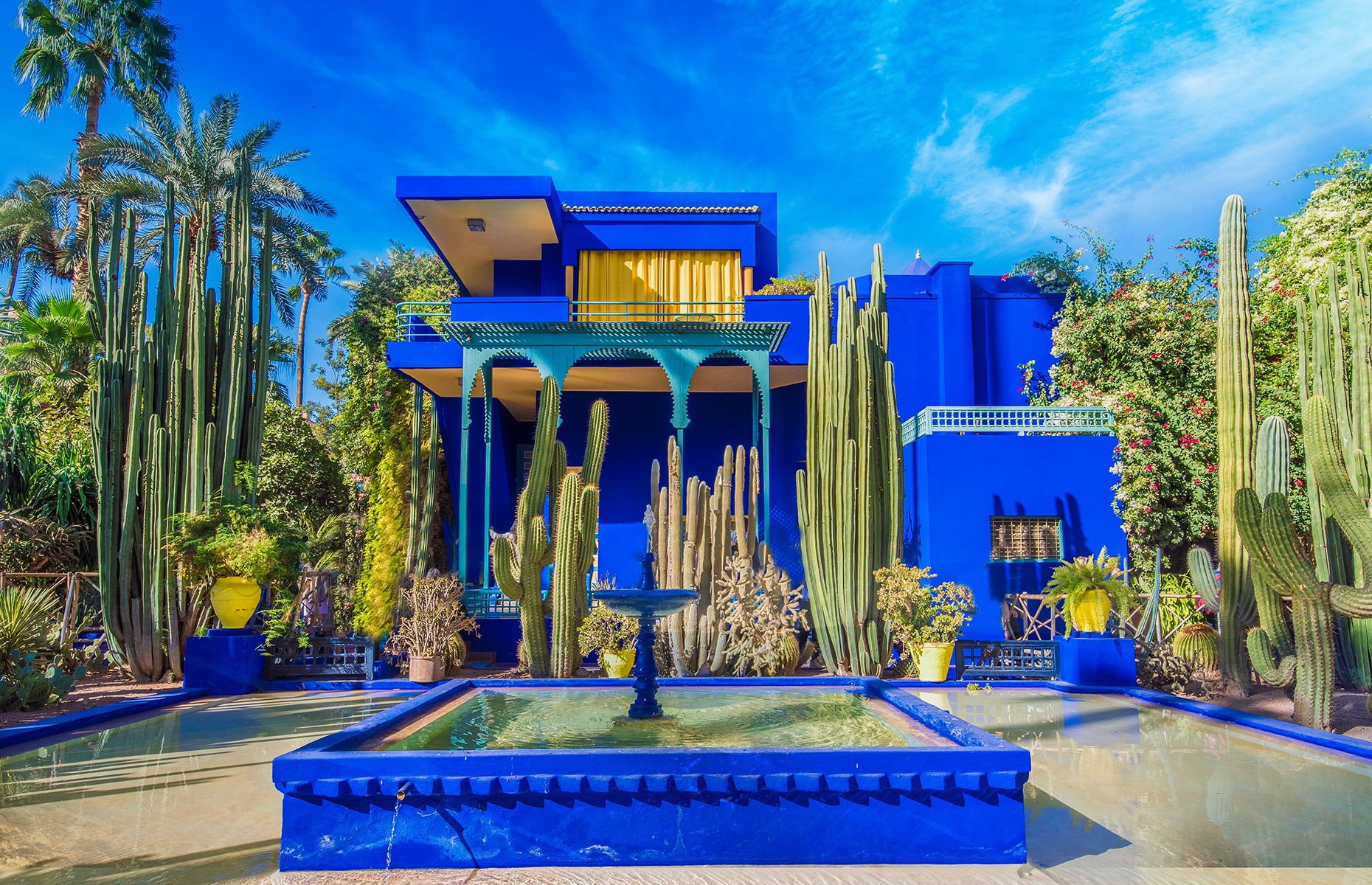 Balate Dorin/Shutterstock
5 alternative Marrakech highlights
1. Unwind at a hammam
Don't miss being steamed, soaped, scrubbed and massaged with rose, jasmine or orange blossom oils into a state of utter relaxation – there's everything from a traditional no-frills public hammam to a luxury spa experience.
2. Visit a palace
Recently reopened to visitors, the Dar El Bacha (also known as the Musée des Confluences) is simply jaw-dropping. Originally built for Pacha Thami El Glaoui, also known as the Lord of the Atlas, who ruled over Marrakesh from 1912 to 1956, it's now one of the medina's finest examples of riad architecture. Take a moment to properly drink in its inner courtyard and its zellige tiles, intricate plasterwork and heavy carved cedarwood doors.
3. Cook up a storm
Go shopping at the food market before learning how to rustle up traditional tagines and salads at a hands-on cooking class at Cafe Clock, housed in an old school in the heart of the Kasbah area.
4. Shop in Gueliz
A short taxi ride from the centre, the city's ville nouvelle (new town) is filled with boutiques and concept stores where you'll find designer clothes, accessories, homeware and more. It's easier to navigate than the medina and fixed prices mean there's no haggling involved.
5. Step back in time at the Maison de la Photographie
Head to this cool riad gallery displaying a fascinating collection of vintage Moroccan photography. Break for mint tea in the courtyard café and drink in the views over the medina.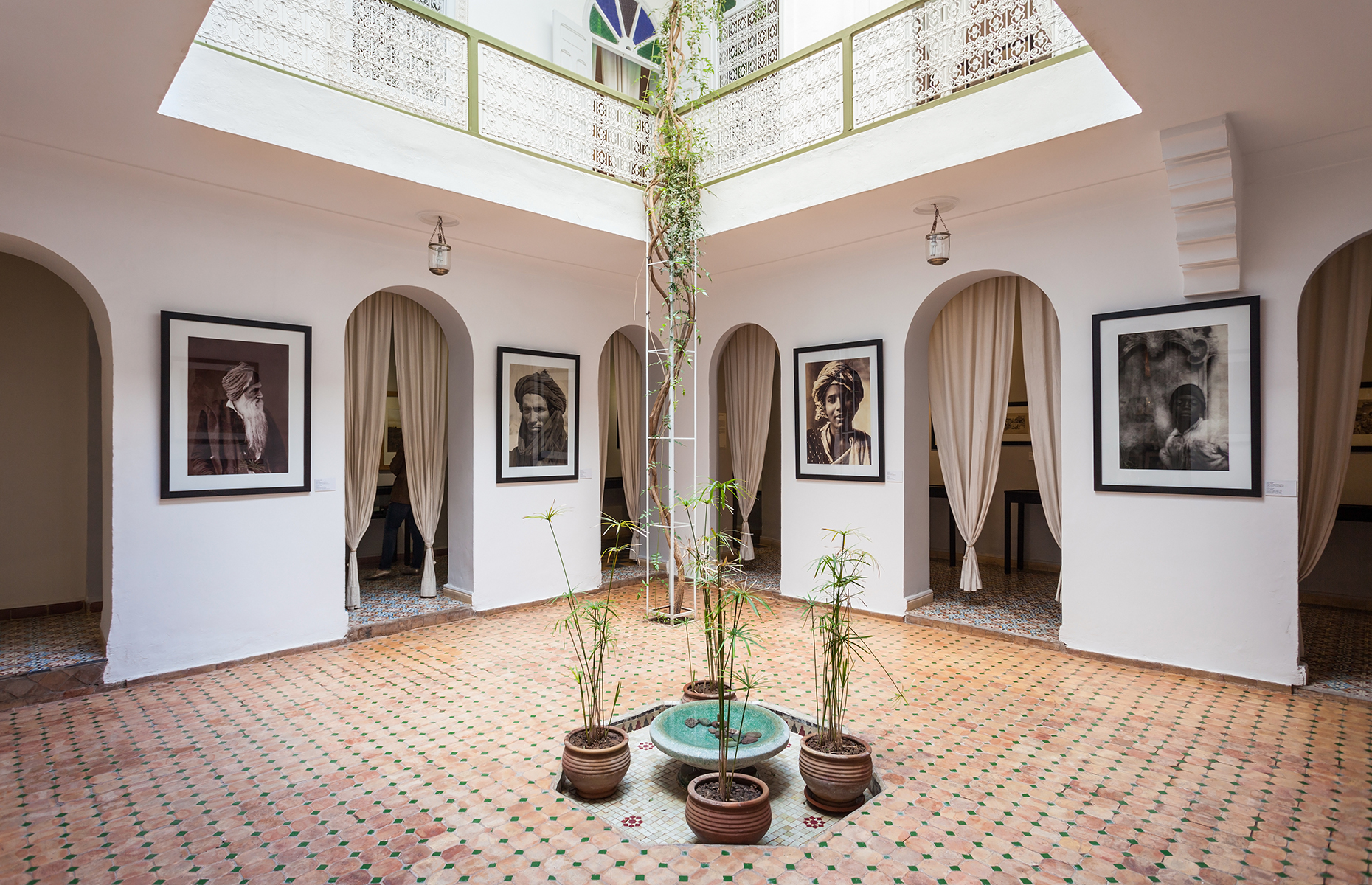 saiko3p/Shutterstock
Riads & hotels in Marrakech
Splash out:
For Moorish opulence: one of the city's most iconic hotels, La Mamounia is an Art Deco gem – and a favourite of Winston Churchill. Right on the medina's edge, the hotel is set among luxuriant gardens, with four restaurants, four bars, pools and a spa. Even if you're not staying here, it's worth stopping by for a relaxing afternoon drink.
For romance: La Sultana's five ancient riads have been exquisitely restored to showcase the work of Morocco's famed artisans. The 28 individually decorated, antique-filled rooms and suites evoke a romantic Arabian Nights-style fantasy.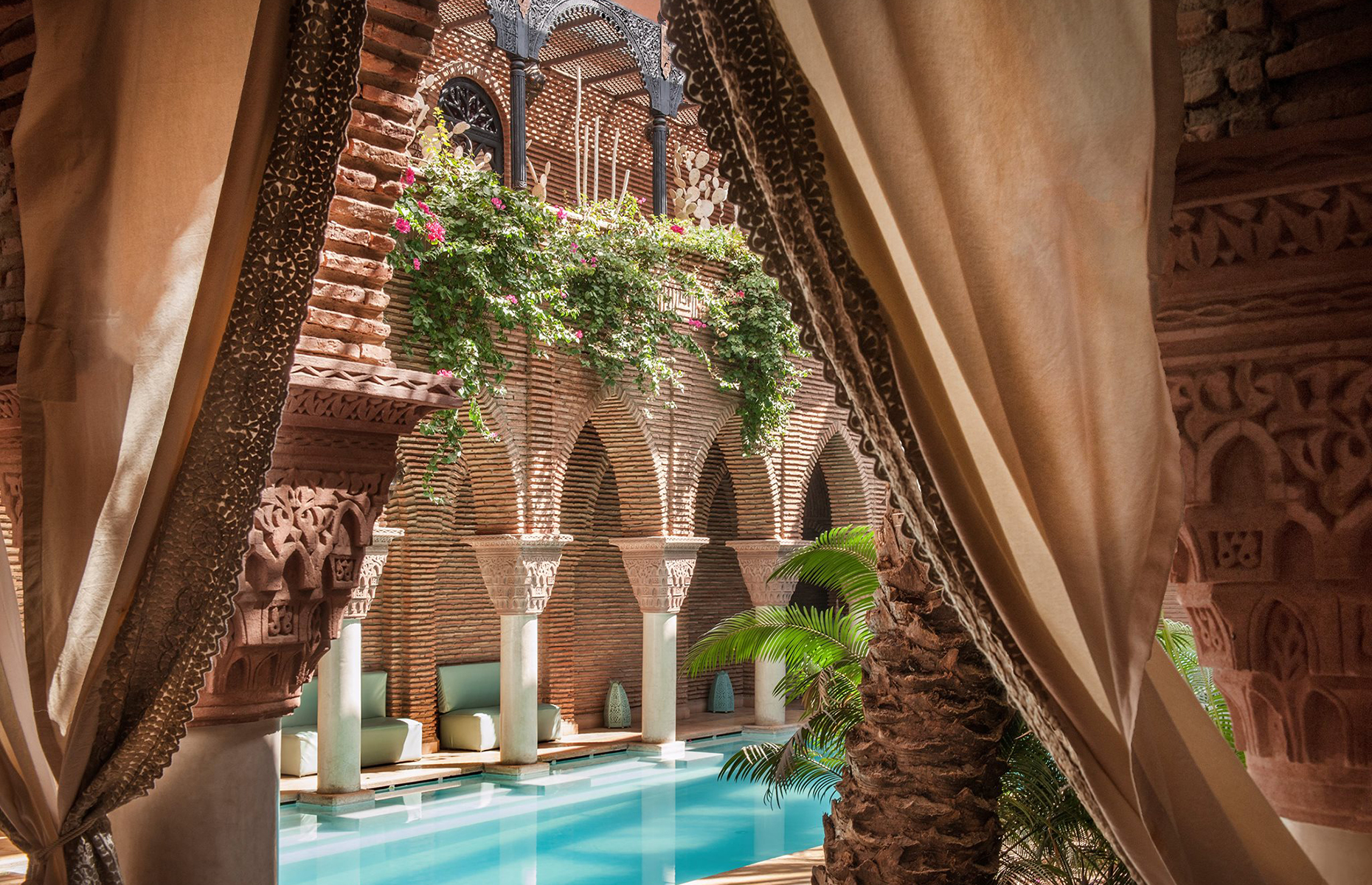 La Sultana Signature Hotels/Facebook
For a luxe hideaway: A 20-minute drive southeast of the city, the Mandarin Oriental offers 54 opulent villas, lake-like pools and a stunning spa in the middle of a beautiful garden, planted with over 100,000 roses and views over the Atlas Mountains.
On a budget:
For a top location: Riad Tizwa's six spacious rooms are set around a plant-filled courtyard and has a roof terrace for leisurely breakfasts, all just a short walk from the souks and the sights.
For serious character: This 16th-century Riad Matham has been turned into a pared down but stylish six-room bolthole, complete with roof terrace, plunge pool and a small hammam.
For oriental charm: The charming Riad Miski is set in a quiet area less than ten minutes' walk from the Jemaa el-Fna, with comfortable rooms beautifully decorated in oriental style.
READ MORE: 51 of the world's most unusual places to stay
Where to eat in Marrakech
1. For traditional dishes
Al Fassia's all-female team serves up delicious mezze, tagines and slow-roasted meats in an opulent, Moorish-hued dining room in Gueliz, while lunch at Amal Women's Training Centre and Moroccan Restaurant will give you a feel-good factor as your money will go to supporting numerous programmes for women in need.
READ MORE: The world's best cities for food in 2020
2. For modern Moroccan in the medina
Nomad serves up classic dishes with a contemporary twist. Sip creative cocktails on the roof terrace with views over the medina's jumble of tiled rooftops backing onto the Atlas Mountains. Alternatively, head to Le Jardin with its lush secret garden, international-meets-Moroccan menu and pop-up design store.
3. For vegetarians
The medina's Earth Café serves vegan and vegetarian dishes, with most of the ingredients grown on the owner's farm just outside the city. Opposite the Jardin Majorelle in Gueliz, Kaowa is a vegetarian-friendly café and store that serves healthy salads, wraps, smoothies and juices as well as tempting cakes and pastries.
Insider travel tips
1. Haggling can be fun
Remember to bargain hard, it's polite and even expected here, but only start haggling if you're serious about buying.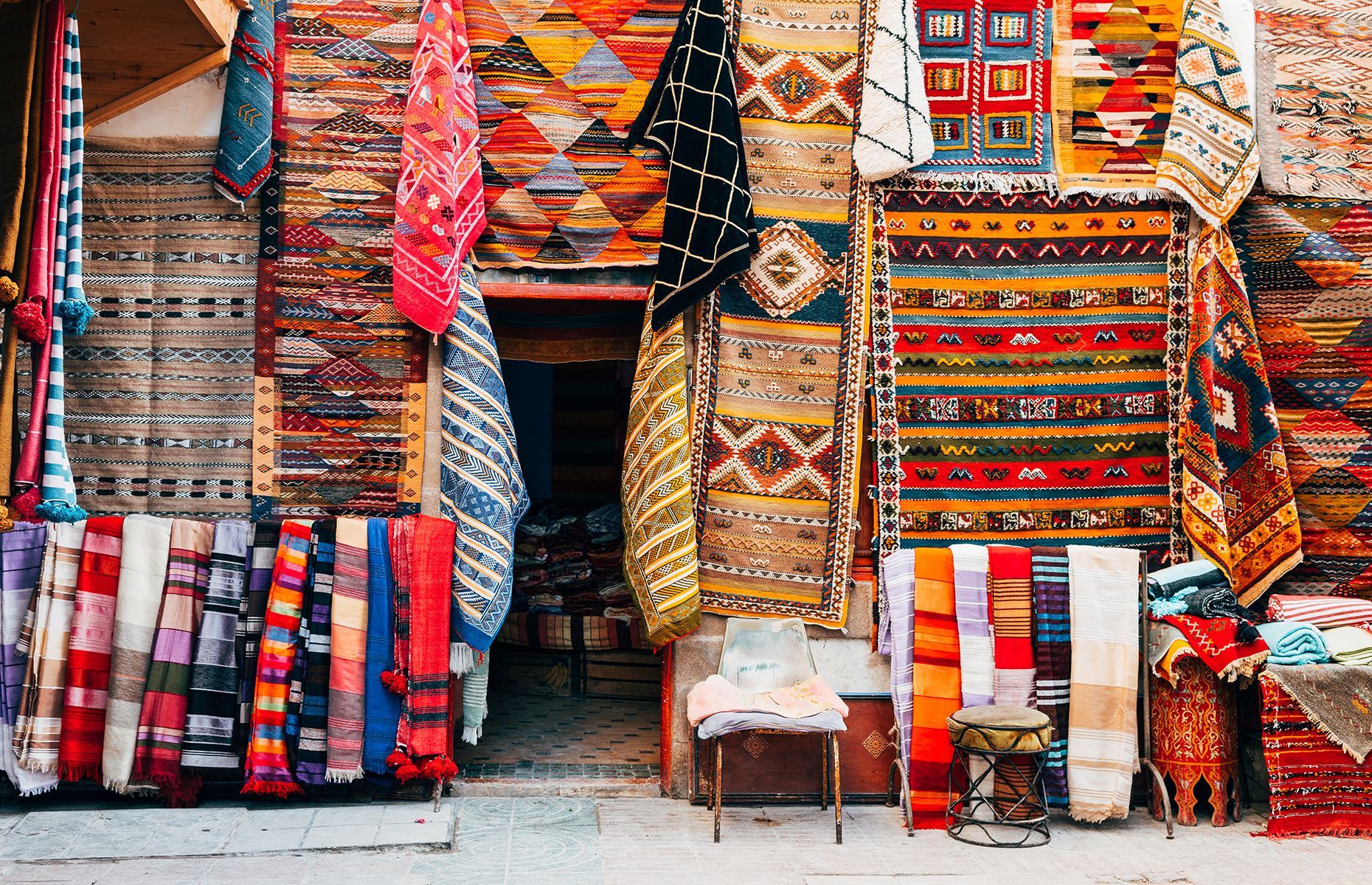 Jon Chica/Shutterstock
2. Get lost and it could cost
If you need directions, ask a shopkeeper or a policeman. If you let someone show you the way, especially kids, you may get sidetracked and there'll almost always be a small fee.
3. Dress appropriately
It's best to keep shoulders and knees covered to respect local custom and avoid any unwanted attention.
4. Book a tour with an expert
Our partners at Get Your Guide offer a range of tours with local experts. Here's our pick of the best:
Marrakech day trips
If you want to get out of the city and discover more of Morocco, try one of these great day trips from Marrakech:
1. The High Atlas
The village of Imlil sits in the foothills of the Atlas Mountains. Take lunch on the roof terrace of the Kasbah du Toubkal, before hiking through spectacular scenery in the shadow of Toubkal, North Africa's highest peak. You can also visit Berber villages, where the locals' way of life has remained much the same for centuries.
2. Ourika Valley
Just 30 miles (48km) south from the city the fertile Ourika Valley is ideal for some adrenaline-fuelled activity. You can dive right into white-water rafting, tubing and kayaking or head off to try canyoning and mountain biking. There are endless touts selling off Ourika Valley experiences in the medina so it's best to do your research and book before your holiday.
READ MORE: A weekend away in Córdoba
3. Desert safaris
If you're short on time, the Agafay Desert is the closest desert to Marrakech. In just an hour, you can swap the hustle and bustle of the medina for a barren landscape of sculpted sand dunes and explore by camel or quad bike. If you're really feeling adventurous, camp overnight Bedouin-style and sleep beneath a canopy of desert stars.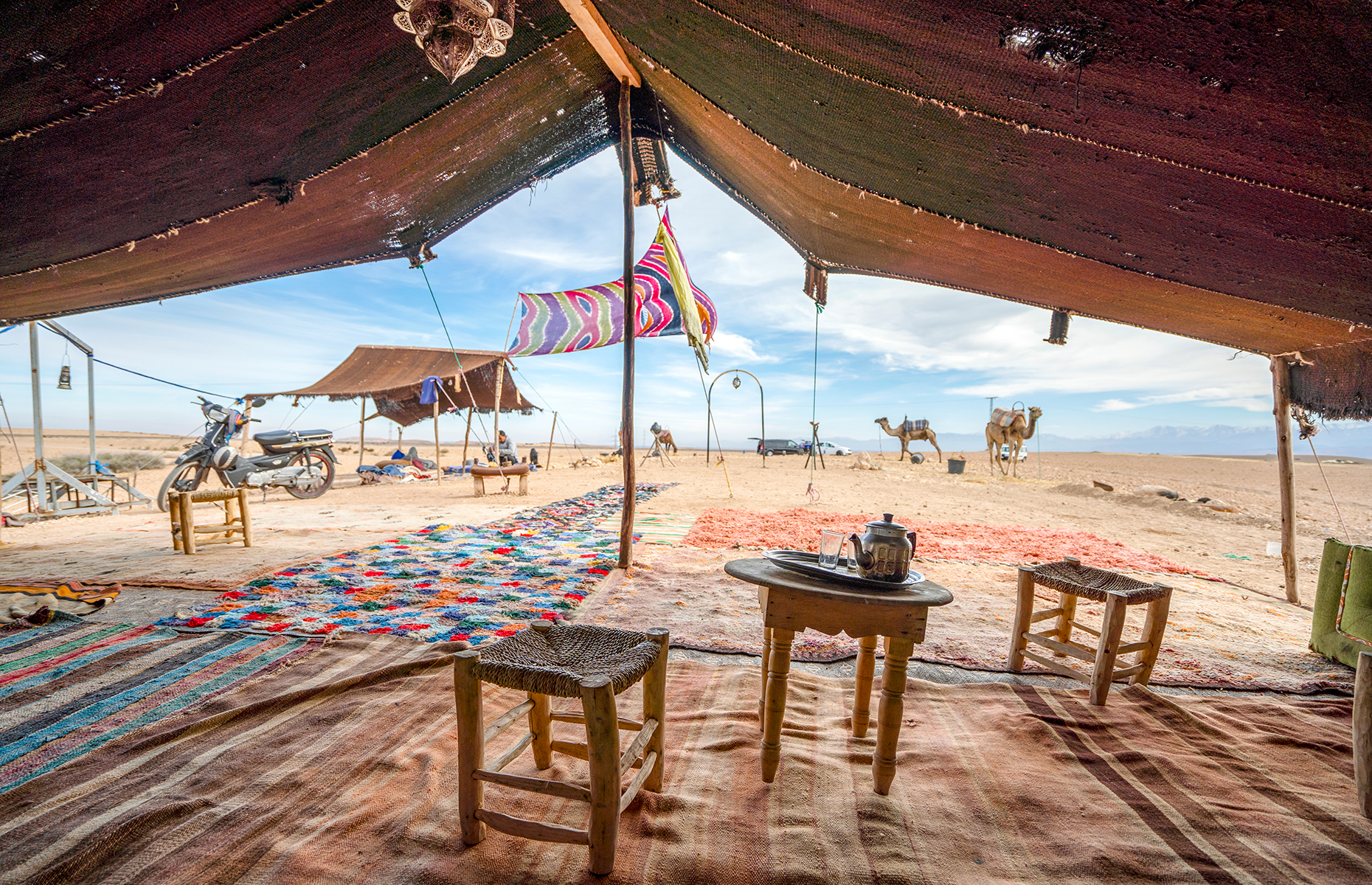 Sopotnicki/Shutterstock
When to go to Marrakech
The summer months in Marrakech, from around June to August, can be almost unbearably hot and temperatures often top 40°C. Instead, consider planning your trip for the spring or autumn time, when the climate is a little more comfortable to enjoy the city.
How to get there
Marrakech's Menara airport has numerous connections from major carriers around the world and is a 15-minute drive to the medina. British Airways, Ryanair and easyJet offer direct flights from London, Liverpool and Manchester. If you take a taxi, agree a price before you set off – Marrakech is a city of hagglers. In terms of public transport, the bus 19 runs every 30 minutes between the airport and the medina.
The ultimate Marrakech itinerary
Day 1
Check-in to: Riad Tizwa. Bed down in this traditional riad and you'll wake up just a short stroll from the beautiful Dar El Bacha palace to kickstart your sightseeing. It's easy to find among the medina's maze too.
Get your bearings: in the Jemaa el-Fna. The permanently chaotic La Place, as it's also known, is where the melodious call-to-prayer mingles with Arabic hip-hop and gnaoui bands pounding out hypnotic rhythms on drums and ouds. At dusk, gas-lit stalls peddle all manner of meat and fish brochettes (skewers) to eat at communal tables amid the smoke haze from the grills.
Eat at: Naranj. The best Lebanese in Marrakech, the North African influences can still be felt in most dishes. Highlights include the signature mezzes as well as the fatet batinjane – grilled aubergine covered in spicy mince, yogurt and fried pita chips. Most portions are large, so get a few plates and share.
Day 2
Spend the morning in: the souks. The oldest section of the souk is divided up by trade and along the knot of narrow lanes you'll still find artisans weaving on handlooms, banging out metal and chipping at wood, as well as an increasing number of boutiques where homegrown and international designers are breathing new life into age-old crafts.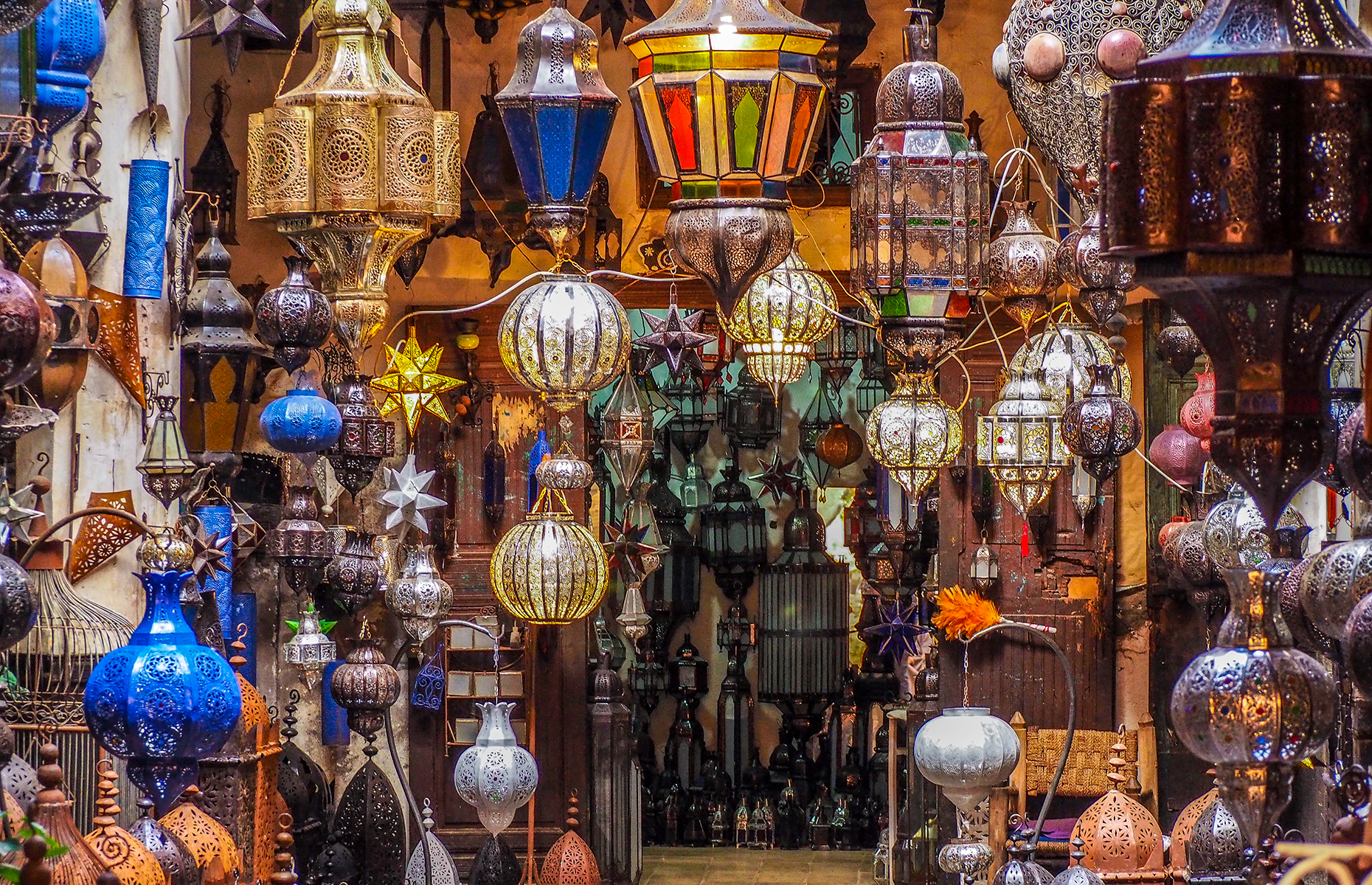 doleesi/Shutterstock
Lunch at: Terrasse des Épices. Set atop a winding staircase in the Souk Cherifa, tables and cabanas are spread across a roof terrace. The menu mixes up Moroccan and international favourites, including tanjia – the city's signature dish not to be confused with a tagine. Named after the urn-like clay pot its cooked in, the tanjia is a meat, usually lamb and chicken, stewed with an abundance of spices, a splash of olive oil, a drop of water and a dollop of smen (salty butter similar to ghee).
Take a history lesson: To the south are ancient monuments showcasing Morocco's finest decorative arts. The 16th-century Saadian Tombs are home to a sultan's dazzling mausoleum, the El Badi Palace is now an impressive ruin with stunning views over the city from its ramparts, while the vast Bahia Palace is ornately decorated.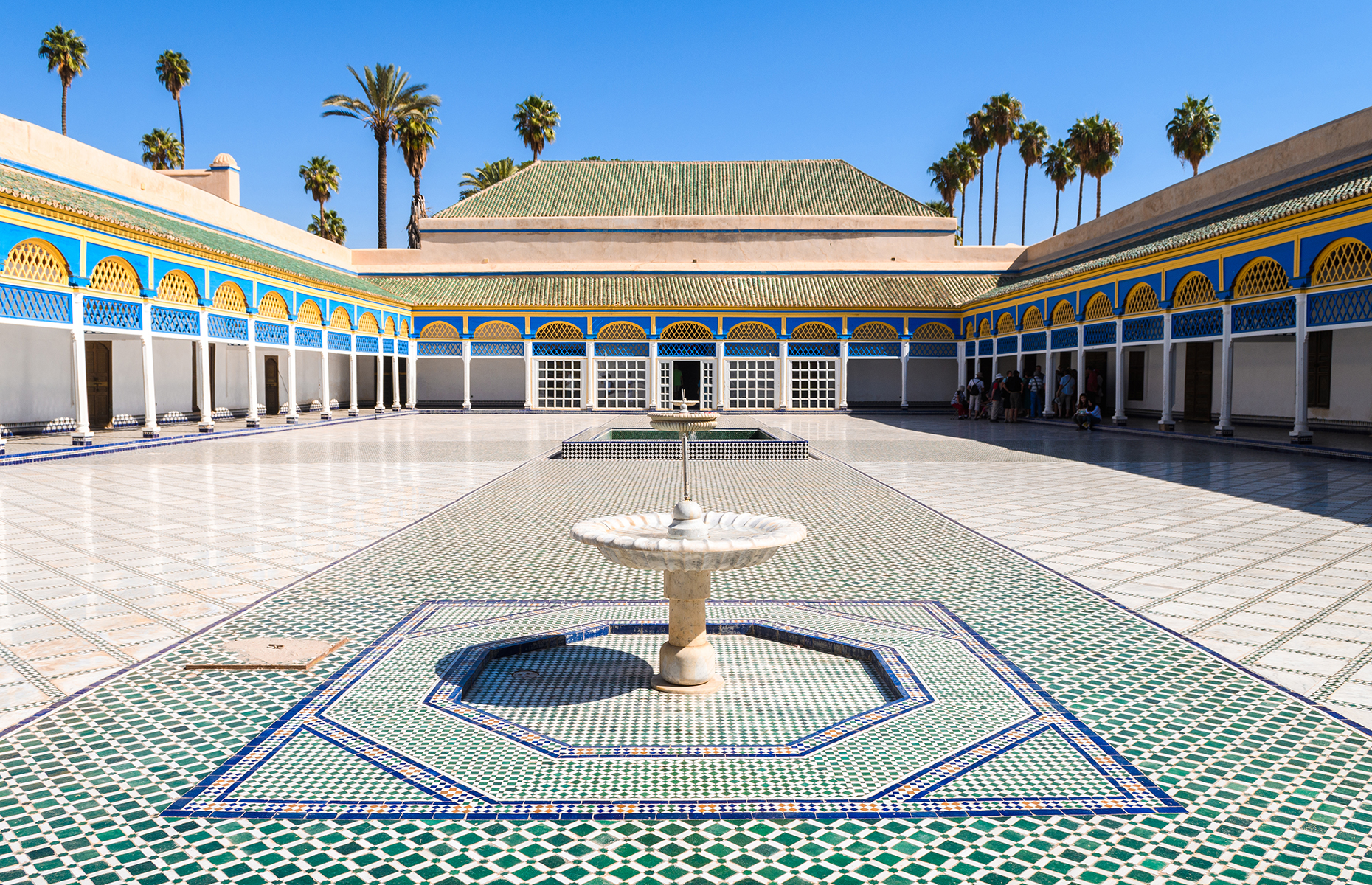 Jon Chica/Shutterstock
Have dinner at: La Table de La Sultana. Dine alfresco in the lovely, lantern-lit courtyard on classic French cuisine or Moroccan salads and tagines, all created with organic ingredients sourced from local producers.
Day 3
Have brunch at: +61. Head to Gueliz, where Australia meets Morocco at this contemporary café, with a changing menu focussed on local, seasonal produce and made-for-sharing dishes. There's great coffee and cakes too.
Visit: Musée Yves Saint Laurent Marrakech. The museum devoted to YSL showcases some of his most iconic designs, along with temporary exhibitions promoting Moroccan artists.
Musée Yves Saint Laurent Marrakech/Facebook
Stroll around: Le Jardin Majorelle. The neighbouring garden is filled with exotic cacti and towering palms, the designer's colourful prints are on display and there's a small but beautifully curated Berber Museum, complete with vintage textiles and jewellery.
Splash some cash in: 33 Rue Marjorelle. Across the road, the city's first concept store stocks the work more than 90 contemporary Moroccan designers, including colourful kaftans, butter-soft leather bags and eye-catching jewellery.
Marrakech map
Be the first to comment
Do you want to comment on this article? You need to be signed in for this feature