The airlines with the best free stopovers
There's a savvy way to get more from your holiday without shelling out. These airlines have the best free stopover options out there. Here's our guide to getting the most out of your stopover.
What are stopovers?
A layover is usually not something to get excited about: a few hours wandering around an airport, just long enough to get bored, but not enough time to head into the city. Or even worse, a mad dash from one flight to the next, hoping that both you and your luggage make it to the next plane intact. A stopover, by contrast, really is something to get excited about.
On a stopover, you have long enough to get out of the airport and explore a bit, whether for a few hours or a few days. Strangely enough, though, even airlines that openly advertise their stopovers can make it pretty hard to book them. Lucky for you, we've already done the legwork: here are some of the best airlines for stopovers so you can have two holidays for the price of one.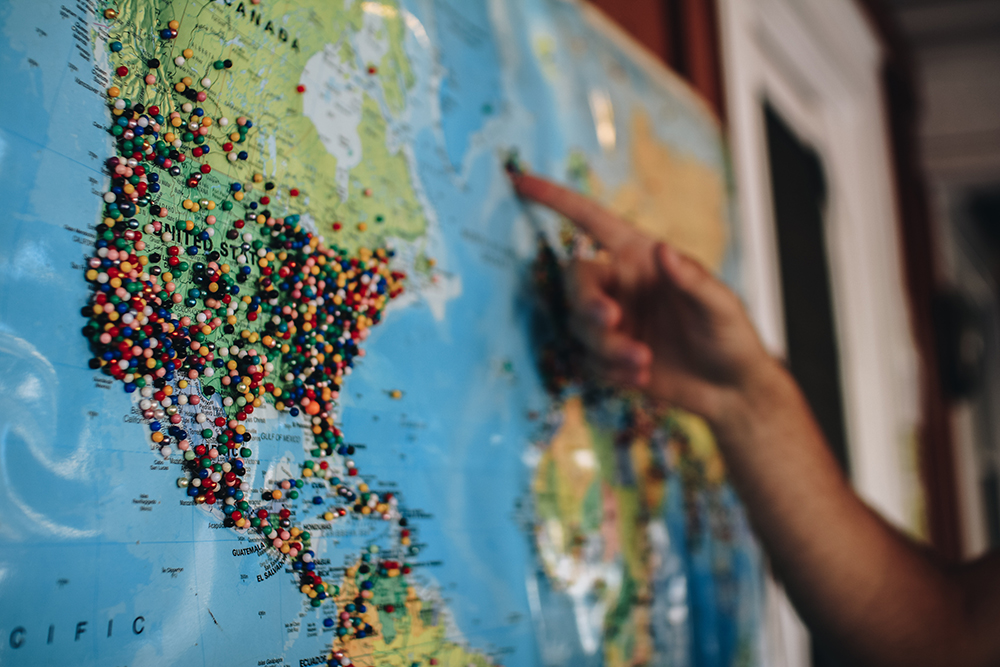 Kelsey Knight on Unsplash
Icelandair stopovers
Top of the list has to be Icelandair, which offers flights between Europe and North America via the hub city of Reykjavík. The stopovers are extremely generous – you can stay for up to seven nights in Iceland on each leg of your journey, meaning that if you're savvy you could wind up with two weeks each in San Francisco and Reykjavík for just £500.
It's easy to book your stopover with Icelandair: just head to the stopover section of their website and select the dates you want. The overall price should be about the same as a return, so you're not paying extra for the layover.
What to do in Reykjavík
If you're only staying for a night or two, it's best to stick near the capital. Visit Hallgrímskirkja, the brutal but elegant church towering over the low-rise city. Stop at Harpa, the harbourside venue whose modernist architecture was inspired by basalt columns, for a concert (or just one of their delicious hot chocolates). You can head out onto the water for a whale-watching tour and, come nighttime, stumble from sleek wine bar to scuzzy rock club along Laugavegur Street.
Read our full guide to Reykjavík here >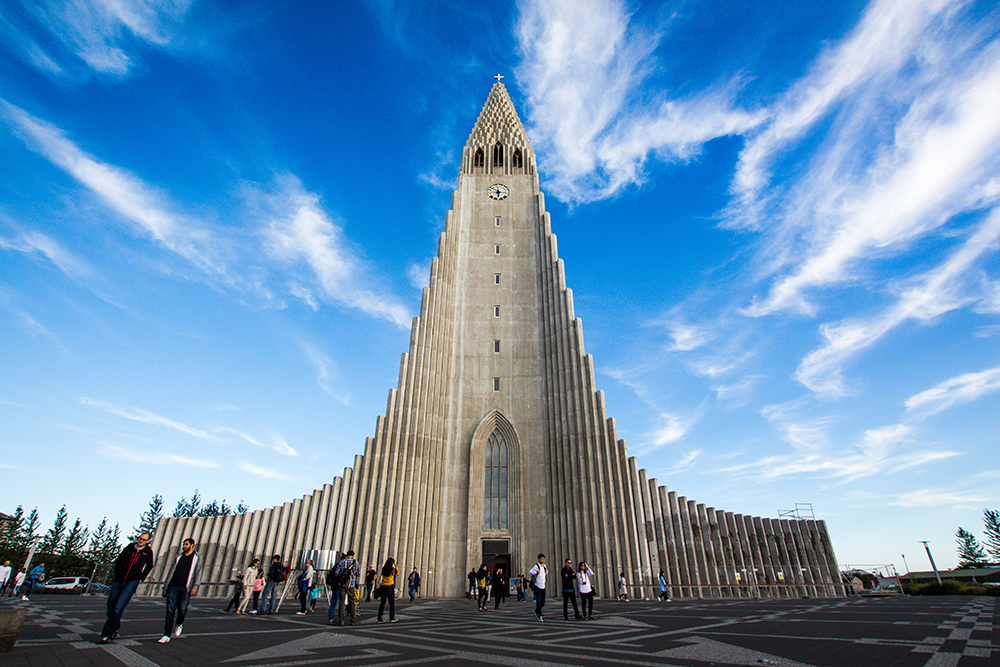 Ferdinand Stöhr on Unsplash
If you've got a little more time, head out of the city to experience the island's jaw-dropping natural sights. It's the only landmass in the world where two tectonic plates meet, so a trip to Thingvellir (also Þingvellir) to see where the earth splits is a highlight. If you're feeling more adventurous, try snorkelling or scuba diving at Silfra instead, to see the plates from underwater.
Another effect of Iceland's very active geology is its hot springs; whether you want to head to the famous Blue Lagoon or further afield to wild Landmannalaugar, a soak in Iceland's naturally heated, mineral-rich waters is a must.
Go beyond the Golden Circle in Iceland with these tips >
Where to stay in Reykjavík
Icelandair has two hotels in the city, of which the more inspiring is Icelandair Hotel Reykjavík Marina. It's centrally located, fairly priced and has panoramic views out across the grey sea. Fosshotel Baron is another good harbourside option, and though it can't boast the same views, it's more budget friendly.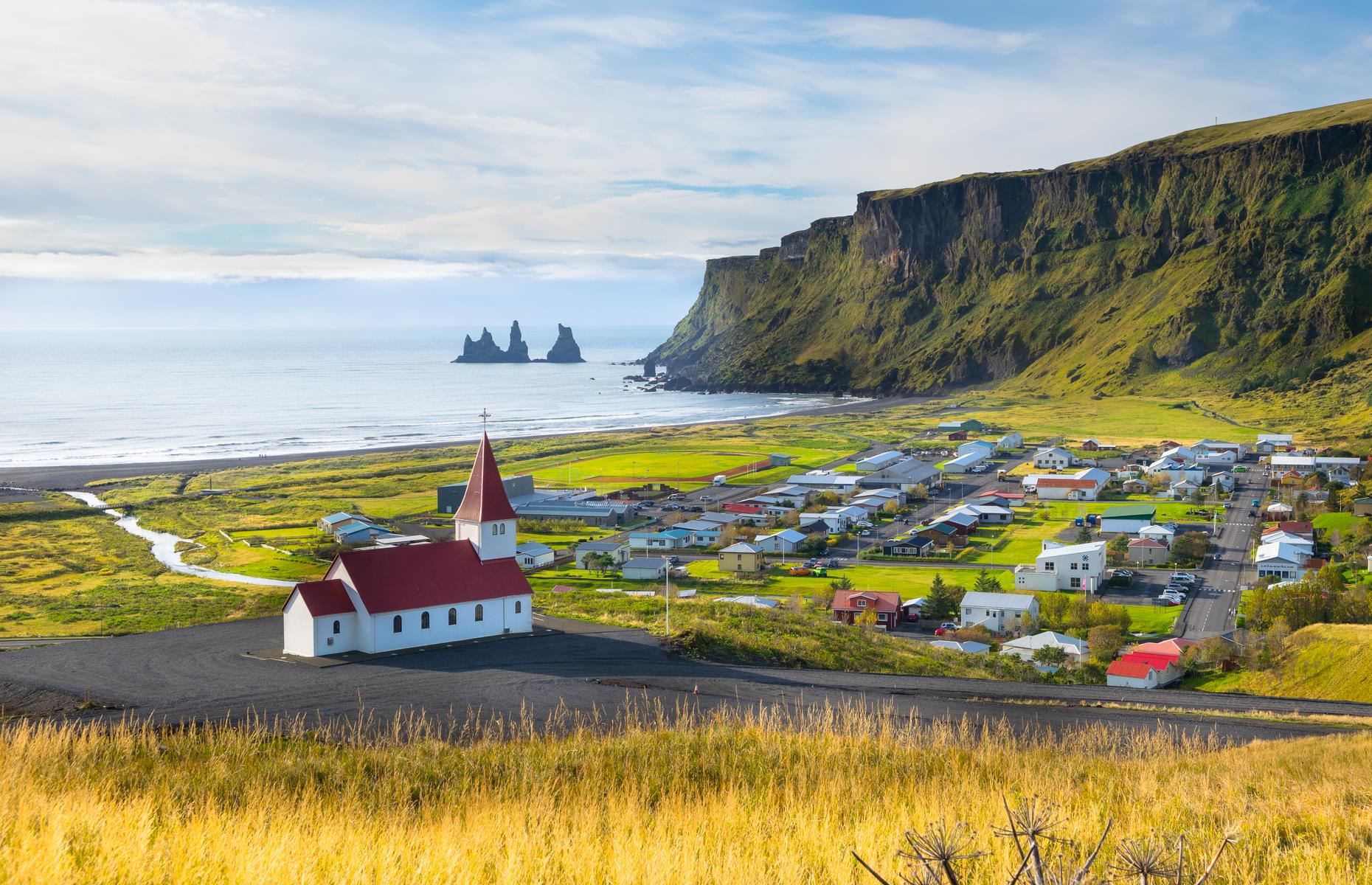 Stopovers with Finnair
Finnair flights go all over the world via Helsinki, a handy stopover between Europe and Asia. Travellers have the option of adding a stay of up to five nights in Helsinki, though only on one leg of the journey.
Adding a stopover on your Finnair flight may affect the ticket price, but it doesn't always – and it's still an excellent deal for a two-in-one holiday. You can book easily through the stopover section of the website.
What to do in Helsinki
With its fin-de-siècle architecture, Scandinavia-meets-Russia vibe and spectacular location spread across several islands, Helsinki is well worth a few days of your time. The city's well known for its religious buildings, and you can see four of the best on an hour-long stroll through the city.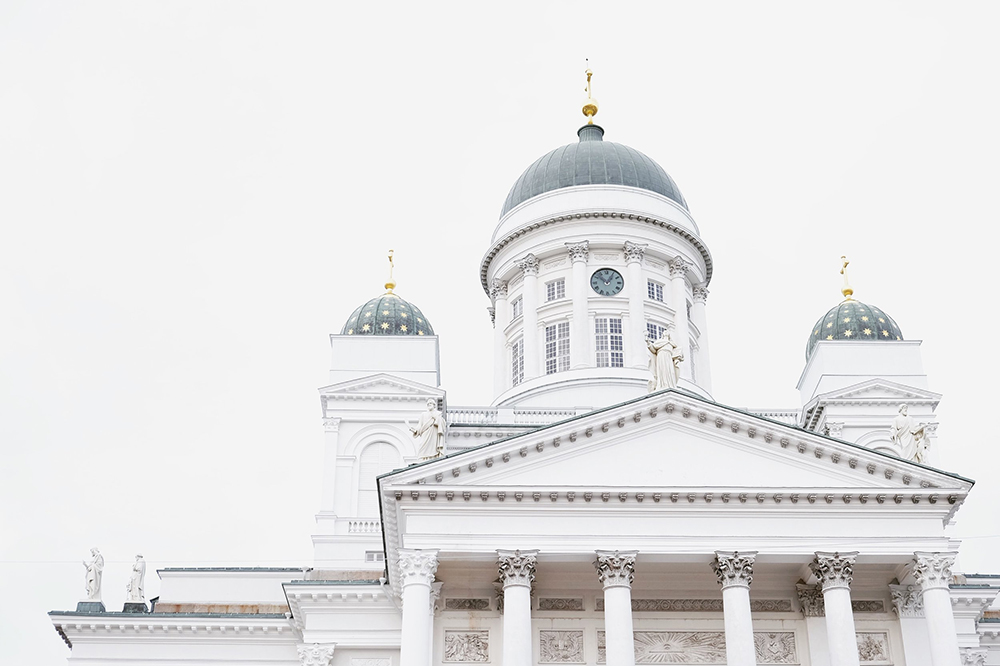 Rucksack Magazine on Unsplash
Start at the harbour and head towards the downtown area, passing the Russian-influenced Uspenki Cathedral, neoclassical Helsinki Cathedral and sinuous modernist Kamppi Chapel of Silence, ending up at the elemental Church in the Rock. There's no better introduction to Helsinki's cultural range and architectural virtuosity.
The city makes a perfect base for day-trips, too. You can easily reach both the idyllic old town of Porvoo and the charming old capital of Turku. In the latter, you can explore a castle, cathedral and – most importantly – Moomin World. Verdant Nuuksio National Park is also fairly close, an ideal place to experience the classic Finnish landscape. Here's a hint: over 65% of the country is forested, and it contains tens of thousands of lakes.
Of course, you should also get naked in a sauna – when in Finland, do as the Finns do. In the city, Kulttuurisauna is a good bet; the in-house sauna at Mannerheimintie Street's branch of Burger King is not, though it's certainly a singular experience. But really, you want a sauna out in nature, with birch branches and a shockingly cold lake nearby.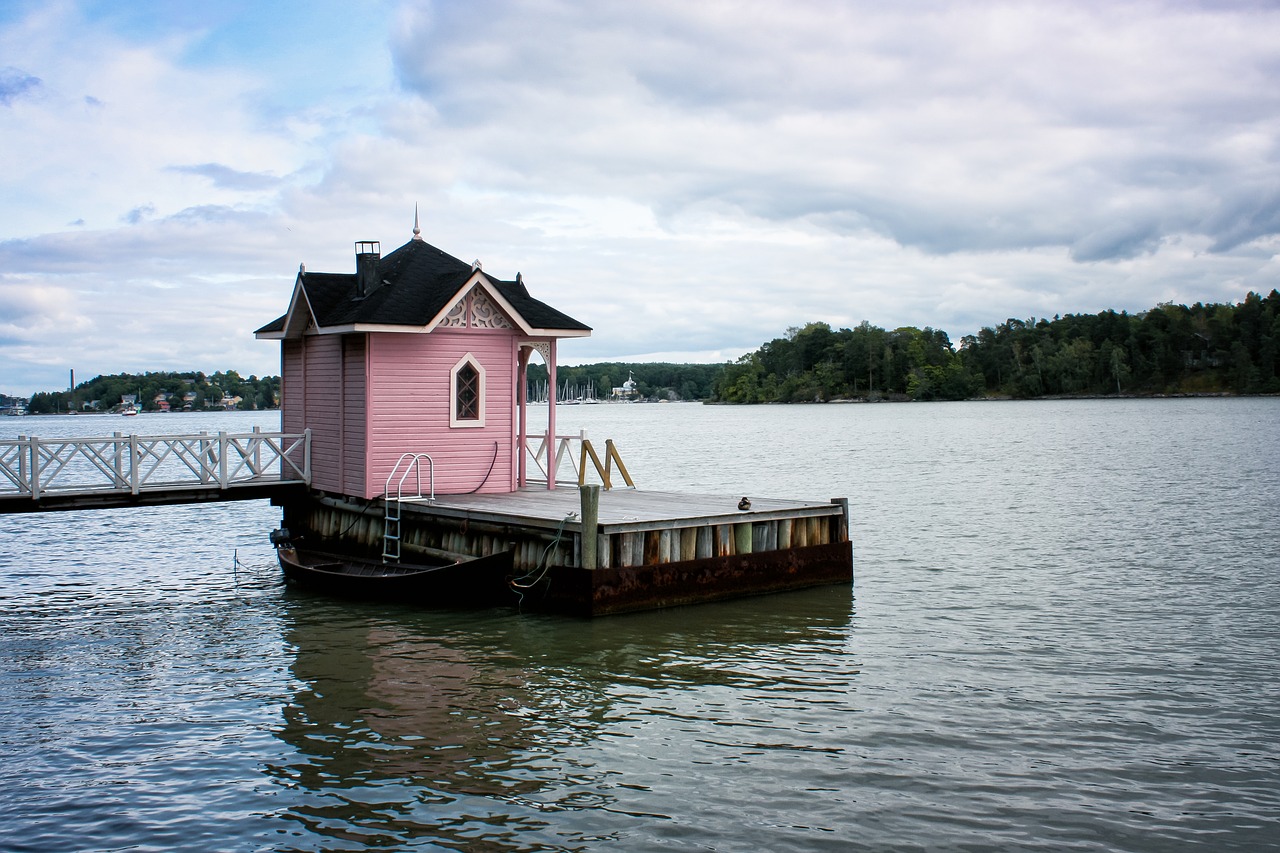 Pixabay/CC0
Where to stay in Helsinki
If you're prepared to splash out, Hotel F6 is a good option, the rooms balancing Nordic cool with some warming touches of texture. If you'd rather save some euros but still stay somewhere interesting, try Hostel Suomenlinna: a well-designed, no-frills place close to the UNESCO-recognised sea fortress of Suomenlinna (the world's largest) before the crowds arrive.
TAP Air Portugal stopovers
The national carrier of Portugal, TAP, offers stopovers in both Porto and Lisbon for up to five nights (one leg of the journey only). You can add a stopover to any long-haul flight – they have routes between America, Europe and Africa – or any flight to Madeira or the Azores.
There's a stopover section on the TAP website with most of the information you'll need, but though you can select whether you'd like your stopover to be in Porto or Lisbon, the site makes it strangely hard to find out which routes go via which airport.
What to do in Lisbon
Lisbon has a balmy climate, gorgeous architecture, fascinating history, and – vitally – cheap wine and beer. What's not to love? While you could happily lose days wandering the streets of the city's historic core, stopping for a bite of bacalhau here and a pastel de nata there, it's worth making time for the big sights, too.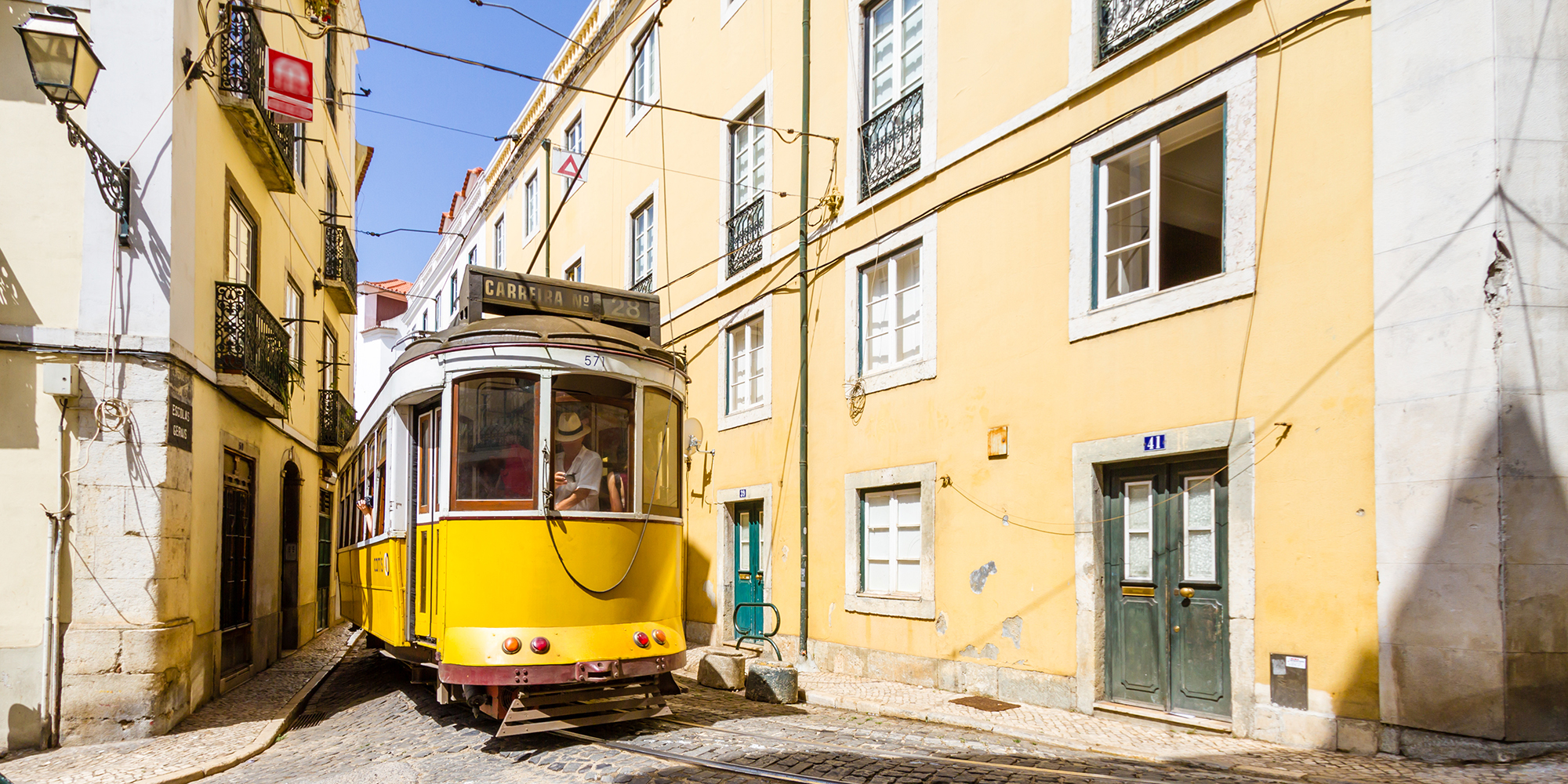 Paolo Querci/Shutterstock
The Museu Gulbenkian should top any art-lover's list, with its vast and varied collection housed in an open-plan, modernist building in the north of Lisbon. Nearer the centre is the Alfama district, home to many excellent museums plus the city cathedral, over which looms the omnipresent Castelo de São Jorge. This Moorish castle is well worth a visit, with stunning views, hidden gardens and archeological finds.
Read our full guide to Lisbon here >
Fancy Porto instead? Read our guide >
Sintra is the obvious day-trip destination, its romantic streets winding up steep slopes to culminate in the ostentatiously colourful Palácio da Pena, the literal highlight of a visit to this charming hill town. For a less taxing walk, head to the coast and make straight for the beach – you have plenty to pick from, but Estoril is the easiest to reach and Sesimbra a local favourite.
Where to stay in Lisbon
You're a bit spoiled for choice in Lisbon, with its profusion of hotels and guesthouses in restored historic buildings, dotted around intriguing neighbourhoods just begging to be explored. For a few restorative nights in Alfama, the cool, calm Memmo Alfama is the obvious choice. Or at the other end of the spectrum, The Independente is a (surprisingly swanky) hostel in the bustling Bairro Alto, ideal if you're keen to explore Lisbon's famous nightlife.
Japan Airlines stopovers
Like TAP, Japan Airlines offers you two stopover options: Tokyo and Osaka. What's more, there doesn't seem to be any explicit time limit on your stay (beyond your visa, of course). If your home airport routes flights through both cities, you could even visit one on each leg of your journey.
You can book fairly easily using the multi-city/stopover booking section of the site, but unfortunately the pricing remains completely opaque until you've selected each leg of the flight.
What to do in Tokyo
Unsurprisingly, a stopover isn't enough time to get to know the mega-city of Tokyo, but you can get a tantalising taste. The big sights do not disappoint: Tokyo Tower and the Skytree are iconic landmarks with glorious views; bustling Sensō-ji gives a glimpse of old-time Tokyo; the Imperial Palace is grand and austere, set in calm, formal gardens.
Read our full guide to Tokyo here >
You could miss every major sight, though, and spend a very happy few days exploring the neighbourhoods – Jiyūgaoka's European charm, Shimokitazawa's creative, cool crowd, or Daikanyama's laidback, cultural atmosphere – and eating as much as possible. You have to work hard to find a bad meal here.
If you need a break from the city, just hop on one of Japan's famous trains. Head to the nearby city of Kamakura for a temple crawl, or up into the mountains for a soak at the hot-spring resort of Hakone. If you visit in the summer, you could even climb Mount Fuji.
These are the best weekend trips in Tokyo >
Where to stay in Tokyo
Accommodation doesn't come cheap in Tokyo, so you may want to base yourself outside the most hotel-dense areas (like around Tokyo station) and the most expensive ones (such as Ginza). Shinagawa is a good base for getting into the city, out for a day trip and back to the airport – try the luxurious Strings by Intercontinental. Alternatively, stay in Asakusa at the charming Sukeroku-no-yado Sadachiyo, one of the city's few remaining traditional ryokan.
Stopovers with Qatar Airways
If flying via Qatar Airlines' hub city of Doha, you can stop for up to 4 days (very precisely – no more than 96 hours in total). On top of that, the airline will give you a free night of accommodation – and a second night for only US$100 – and help arrange a free visa if needed. All in all, not a bad deal.
You may need to play around a little to find the best dates, but it's simple enough to book with the multi-city option on Qatar Airways' website, where you can also check out all the free accommodation options.
What to do in Doha
Constantly growing and changing, with new buildings popping up seemingly every week, Doha is a dizzying introduction to the Gulf region. The stunning Museum of Islamic Art, set on its own island, is worth the visit alone. Its contents are overwhelming in both their beauty and their profusion – in fact, the museum houses the largest collection of Islamic art in the world.
The city isn't very pedestrian-friendly, which makes the waterfront walk along the Corniche especially appealing. Gaze up at skyscrapers on one side and out at graceful dhow boats on the other as you stroll along in the afternoon. Another essential (though less relaxing) wander is through the Souq Waqif; it's been a market for centuries, and though it's much swankier now, it's still got a real sense of life and community.
The best day-trip from Doha is to Khawr Al Udayd, a UNESCO-protected reserve where you can swim in a startlingly blue inland sea after battling your way over vast sand dunes and glittering salt flats.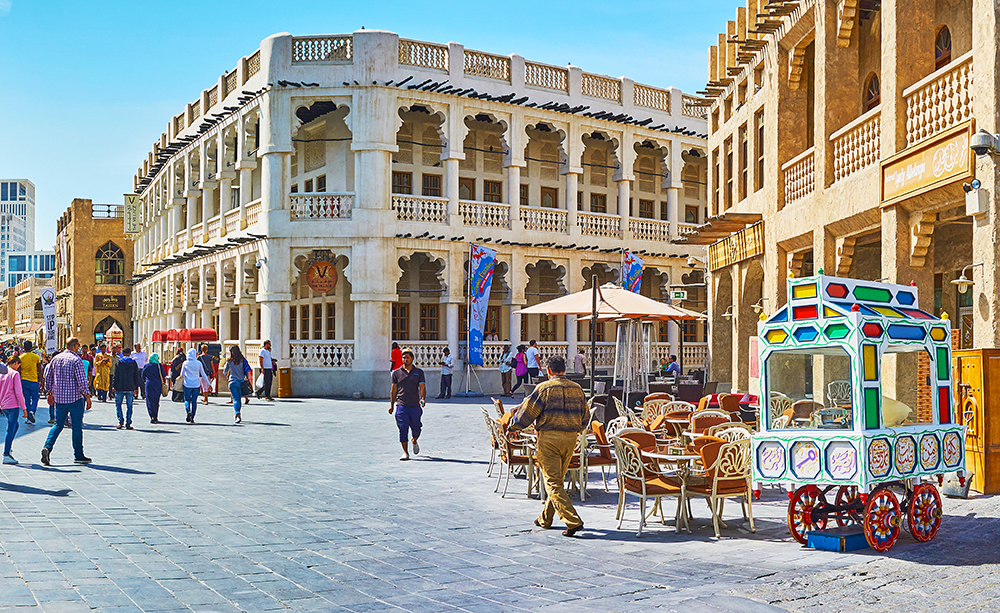 eFesenko/Shutterstock
Where to stay in Doha
Qatar Airways' stopover programme is partnered with about a dozen hotels, among them Souq Watif Boutique Hotel, which manages to be high-end but not generic, with plenty of thoughtful Qatari touches. If you want somewhere cheaper for your third night, Qatar Youth Hostel is a smart option – clean, comfortable and definitely not a party hostel.
Emirates' free stopovers
Emirates offers stopovers in Dubai, and you can add a stopover to each leg of your journey. Beyond visa considerations, there's no explicit time limit on your stopover, either. Emirates also has a good range of accommodation and sightseeing discounts available to anyone in Dubai for a stopover.
You can use the advanced search option on the Emirates website to book your flights, but will then need to call your local Emirates office to take advantage of the extra deals.
What to do in Dubai
The ultramodern is easy to find, and the big sights live up to their even bigger reputations – the Burj al Arab is sculptural and staggeringly luxurious, while the Burj Khalifa is quite literally breathtaking – the upper viewing deck is on the 148th floor.
Read our full guide to Dubai here >
Bur Dubai is the easiest place to see some of the old city, and is also home to the engaging Dubai Museum. Further south is the suburb of Jaddaf where, if you're lucky, you'll get a glimpse inside the city's last-remaining yard for the construction of dhows.
If you want a day away from the endless glassy streets of the city, head out to the archeological site at Mleiha (in the neighbouring Emirate of Sharjah), based around a Bronze Age tomb. Alternatively, visit Hatta to explore a heritage village, hit the mountain-biking trails and kayak by Hatta Dam.
Where to stay in Dubai
It'd be hard not to splurge on a good hotel in Dubai and, while the Burj al Arab isn't feasible for most people, standards are generally high here. Melia Dubai is a luxurious yet affordable option, while XVA Art Hotel – inside the historic district – provides slightly more creative, homely surroundings, a break from the city's polished opulence.
Be the first to comment
Do you want to comment on this article? You need to be signed in for this feature