Explore Corfu: the top things to do, where to stay & what to eat
With two million visitors a year, Corfu is one of the most popular Greek islands as well as one of the greenest and most fertile. Αlong with the rest of the Ionian islands, Corfu never experienced Ottoman rule, passing straight from Byzantium to Venice until the Serene Republic's dissolution by Napoleon. A short but influential French rule followed, until the British took over. As a result, the island has a cosmopolitan feel with an Italianate ambiance, flashes of French architecture and English cultural leftovers like a taste for ginger beer and cricket.
Key locations in Corfu
Corfu Town
Even when on a full-on hedonistic beach holiday, spare a few days for one of the most fascinating cities in Greece, with its UNESCO-listed Old Town, two huge citadels, open spaces and glut of churches and museums. As a bonus, the island's top sights, such as the Achilleion or Kanoni, are within a short walking or driving distance.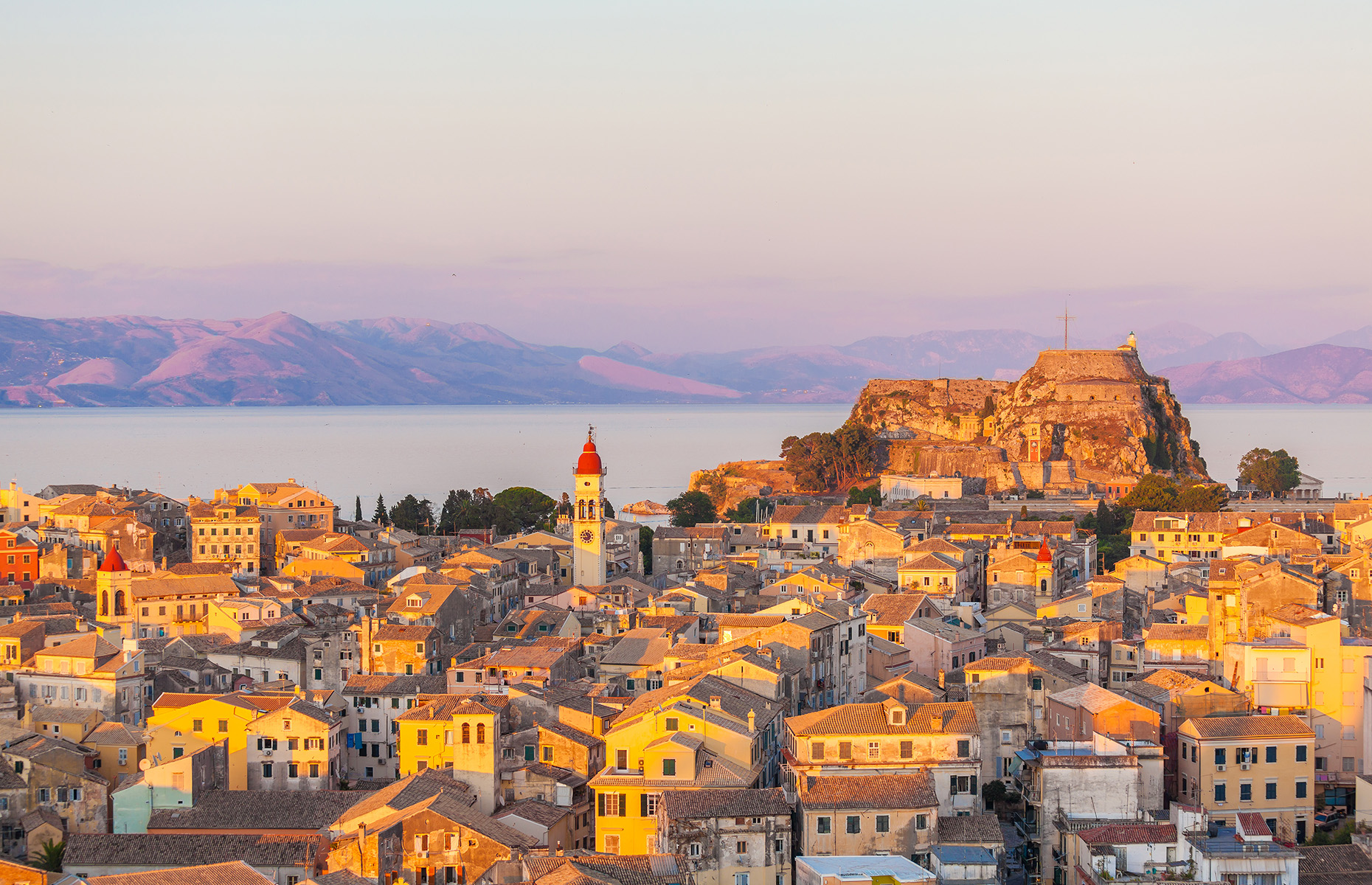 Rostislav Ageev/Shutterstock
The North
Northern Corfu is highland country and boasts some exceptional scenery with green slopes ramping down to delightful beaches such as Barbati. Pebbly nooks such as Agni and Yaliskari, fishing harbours like Kalami and, finally, the island's most magnificent resort at Paleokastritsa are all well worth exploring.
The South
Less mountainous yet no less imposing than the north, the long southern hook of sickle-shaped Corfu features some excellent beaches, such as Messonghi – a package-tour classic shoulders above the rest. There's also Agios Gordis (pictured), which is hot on watersports, Paramonas, which is great for sunsets, and lastly Halikounas and Issos, their amber-coloured sands sheltering the inland Korission Lagoon, a birdwatcher's heaven.
All-stock-photos/Shutterstock
Kavos
One should mention Kavos, Corfu's nightlife hotspot, if only to avoid it. Popular with youngsters from the UK and Northern Europe, it's where to go for a lads' or a girls' holiday. It inspired a 2013 Channel 4 TV series, What Happens in Kavos, documenting partygoers' excesses over two seasons.
READ MORE: 7 secret Greek islands you probably haven't heard of
The top things to do in Corfu
Corfu Old Town
A UNESCO World Heritage Site, it lies within fortifications that stem from Venetian engineering such as the Old Fortress (now housing the Byzantine Museum) while the New Fortress was rebuilt under the British. The town's focus is the Liston, an arcade built by the French to rival the Rue de Rivoli in Paris – it was built overlooking the green expanse of the Esplanade, the largest square in Greece complete with landscaped gardens, a bandstand and a cricket pitch. Walk around the Neapolitan-like narrow streets of the Campiello neighbourhood or around Kofineta square for a deep dive into the past.
Palace of St Michael and St George
This Neoclassical marvel, built by the British in the 1820s with Maltese sandstone, now houses Greece's Museum of Asian Art whose artefacts have been donated by Greek tycoons. Covering China, Korea, Thailand, Japan, Cambodia and Tibet, the collection is considered one of the most important in Europe.
Balate Dorin/Shutterstock
Mon Repos
Famous as the birthplace of the late Prince Philip, this mansion south of the centre of Corfu Town (reachable via bus #2) was built in 1828 and has a chequered history. It's served as the governor's summer residence, a school of Fine Arts, a Royal Palace, the Italian commander's seat during the Second World War and, finally, after a long, well-publicised confiscation battle with the Greek ex-Royal family, a museum.
Tip: The special ticket costing €15 (£13) is great value. Valid for three days, it includes the 15th-century church of the Holy Virgin of Antivouniotissa with a rich selection of old icons, Archaeological Museum of Corfu, Museum of Asian Art, Mon Repos and the Old Fortress.
Kanoni
South of Corfu Town is a platform where a large cannon was once mounted, delivering unparalleled views over the cypress-strewn island of Pontikonissi. Closer by, Vlacherna island looks like a mouse, with a 984-foot (300m) footbridge joining it to the mainland that sticks out like a tail. It also manages to fit in the 16th-century Vlacherna monastery, adorned with beautiful frescos.
LanKS/Shutterstock
Achilleion
Βuilt in Classical Roman style by Austrian Empress Elisabeth, or Sisi, as a mourning retreat after her son Rudolf killed his lover Maria Vetsera and committed suicide in 1889, Achilleion is one of the best-known palaces in Europe. Dedicated to Achilles and decorated with 19th-century frescos, it hovers above the picturesque village of Gastouri – worth visiting itself – and the vistas from its terraced gardens are legendary.
Mount Pantokrator
The highest mountain on the island with an altitude of 3,000 feet (914m) and crowned by a 14th-century monastery, this 'Gate to Heaven', as it is locally called, is a ravishing day hike. Take the bus from Corfu Town to Strinylas village and follow the well-signposted trail.
PawelKusek/Shutterstock
Kalami
The pretty fishing village of Kalami, 48 miles (30km) north of Corfu, is not only a popular resort, but also where the Durrells made their home. Three of Gerald Durrell's autobiographical books are based on their sojourn here, and they became the basis of the four-season ITV series The Durrells. Meanwhile, his brother Lawrence wrote Prospero's Cell in what became known as The White House, now a tribute museum to the family.
The best hotels in Corfu
If you want unbridled Asian-style luxury, then look no further than Angsana Corfu Resort and Spa, Banyan Tree's first flagship operation in Europe. Open all year at Benitses, seven miles (11km) south of Corfu Town, it boasts an infinity pool, a state-of-the-art spa and a kids' club, as well as no fewer than 11 restaurants and bars.
For a more affordable, yet still luxurious beach holiday, San Antonio Corfu Resort in Kalami is a place to seal new or rekindle old romances. For those who want a cultural break, book at boutique Arcadion Hotel in the heart of the town – most of the rooms offer unfettered views over the Old Town.
If you want to keep your distance from the tourist din, yet still enjoy an all-inclusive package, try Labranda Sandy Beach Resort in the southwest.
READ MORE: How to plan a Greek island-hopping holiday
What to eat and drink in Corfu
The Venetians brought much of their cuisine to Corfu and introduced foodstuffs like corn, beans, chocolate and hot peppers. Corfiot pastitsio (minced meat with bucatini pasta topped by a layer of bechamel sauce) is one of the most famous Greek staples. Other local specialities – with garlic the predominant flavouring of choice – are sofrito (sautéed veal in a white wine sauce); bianco (fish fillets in a lemon sauce with onions and garlic); and bordetto (red fish in a tomato, garlic and hot pepper sauce). Tsigarelli is its vegan version – a mixture of mountain greens fried in – what else – a spicy tomato and garlic sauce.
The two obligatory local drinks you should taste are tzitzibira (ginger beer), a hangover of the passing of the British, which is non-alcoholic despite its name, and kumquat liqueur. The oriental kumquat tree was successfully introduced to the island by Sidney Merlin, a scion of the British landowning Merlin family, along with a variety of navel oranges, still called 'Merlin' by the Greeks.
In Corfu Old Town try The Venetian Well, set in a 15th-century Venetian square that's straight out of a Canaletto painting. Run since 2014 by Yannis and Irene Vlachos, it's arguably the best restaurant on the island with food and wine to match the ambiance.
At the other end of the scale yet only a hop-skip away, To Alatopipero is a cheap and cheerful ouzeri, where ouzo and beer are served with a range of delicious meze. For insanely good seafood go to Kanoni's Flisvos (celebrating 40 years in 2022) where affordably priced lobsters await you, or to Toula's at Agni Bay, which offers its signature bourdeto, made with scorpion fish.
For sofrito, try the small, family-run taverna of Theritas at Acharavi on the north of the island, or Steki in the village of Doukades, in the northwestern interior, where you can also enjoy homemade pastitsada.
Map of Corfu
Discover our favourite places in Corfu with our handy map:
READ MORE: 12 Mediterranean islands to escape the crowds
Lead image: Balate Dorin/Shutterstock
Be the first to comment
Do you want to comment on this article? You need to be signed in for this feature