Explore Pittsburgh: top things to do, where to stay and what to eat
Sitting at the confluence of three rivers and boasting a jaw-dropping 446 bridges as a result, Pittsburgh's skyline is hard to beat. Couple that with a buzzing downtown, world-class sports and unmissable museums, and you've got yourself a city that is bound to charm you instantly.
Why go to Pittsburgh?
When you think of bucket list destinations, Pittsburgh probably doesn't spring to mind – though it should. America's Steel City has long struggled to shake off its rust belt reputation, even though the steel industry in the region declined decades ago. Pittsburgh today is a thriving hub for healthcare, education and tech, with leading companies like Apple, Google and Uber vying for office space in the bustling South Side.
With craft breweries, artisan shops and chic restaurants waiting to be discovered on every corner, this formerly blue-collar city has skilfully reinvented itself into a vibrant hipster oasis, complete with an atmospheric sports scene. Pittsburgh is proud to be the home of the legendary Steelers NFL team and the Pirates MLB team, making the city an unmissable – and affordable – destination for sports fans.
That's not to say the city has lost its rich history entirely. Remnants of the industrial era are reimagined as renowned museums, a sprawling cultural district teeming with public parks and world-class theatres breathe new life into once run-down areas, and perhaps most endearingly, the incline railways are still a striking sight.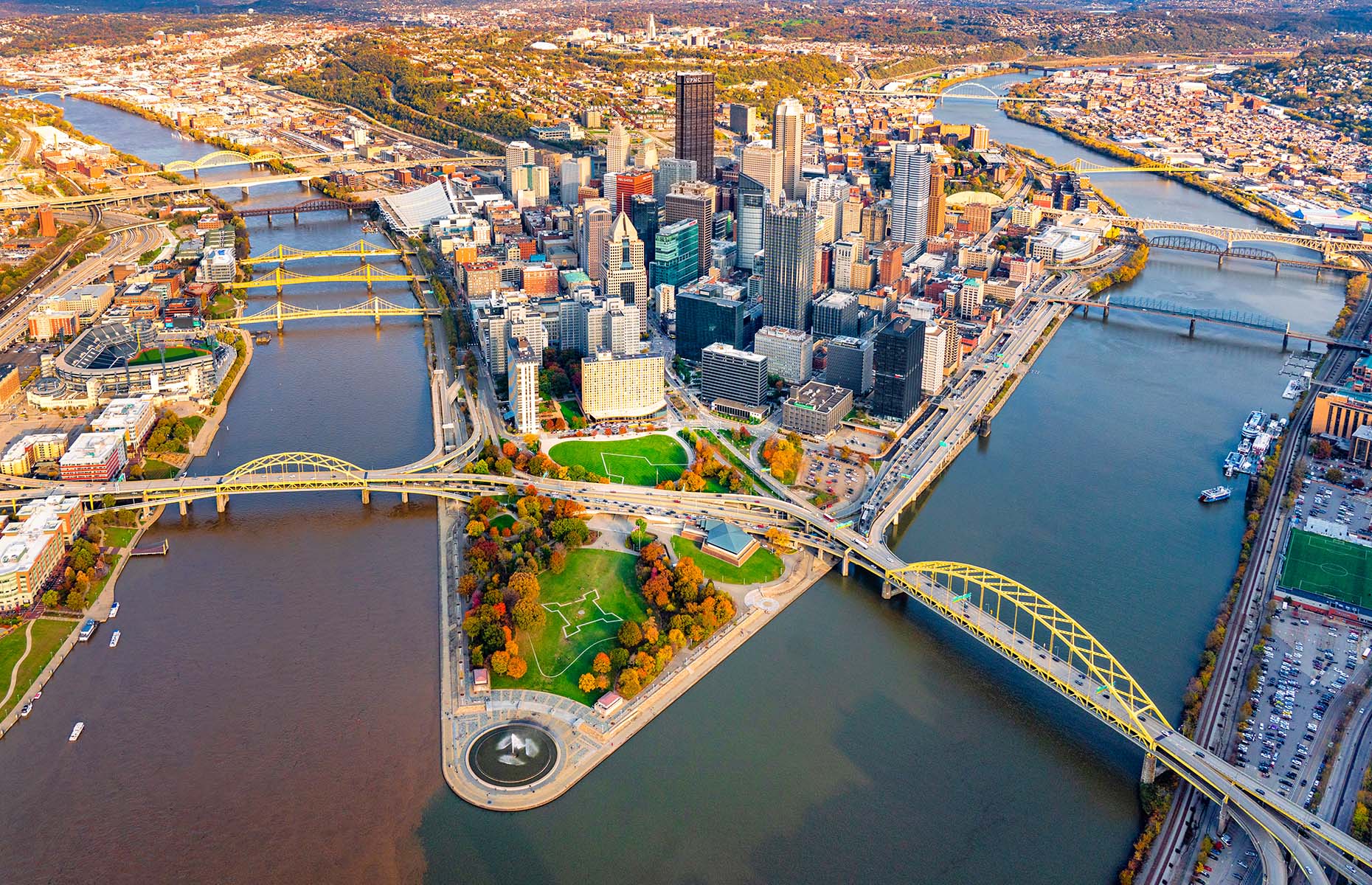 Dustin McGrew
READ MORE: How to save money on multi-destination visits to the USA
Top things to do in Pittsburgh
Tour world-class sports stadiums, or better yet, catch a game
Pittsburgh boasts two renowned sports stadiums. Heinz Field, now known as Acriscure Stadium, is home to NFL's Steelers, and if you're lucky enough to score tickets, catching the team in action on home ground is unmissable. While Heinz Field is the more impressive stadium in terms of sheer scale, it's the more intimate PNC Park – home to MLB's Pittsburgh Pirates – that you really want to tour.
Although PNC Park has a capacity for just 38,747 spectators, it's the stadium's stunning location on the banks of the Allegheny River with picture-perfect views of the city and riverfront that makes it a spectacle to behold. And there's no better way to soak up the atmosphere than catching a Pirates game with local beer and hot dog in hand, chanting "Let's Go Bucs!" along with the locals.
Joshua Peacock/Unsplash
READ MORE: These are America's best attractions for sports fans
Get involved in outdoor activities
Don't forget to pack your athletic gear, as Pittsburgh not only offers the opportunity to attend world-class sporting events, but also a chance to get involved in some yourself. Rent a kayak with Venture Outdoors and take in the city's most iconic sites from a whole new perspective. Currently, there are two launching spots along the Allegheny River to choose from – North Park and Sharpsburg – with a hotly anticipated new location scheduled to open in the heart of downtown next year.
If cycling is more your vibe, Bike Pittsburgh offers the best guided tours of the city. As you pedal over Pittsburgh's famous bridges, don't forget to stop and admire the city's hip street art. And when you're ready to take a break, park up at Point State Park, where the Allegheny, Monongahela and Ohio rivers meet. Cool down by the park's stunning fountain, which shoots water up to 150 feet (46m) in the air, while enjoying some of the greatest Heinz Field views the city has to offer.
Spend the day museum hopping
While Pittsburgh is evidently a must-visit destination for sports fans, the sprawling 14-block Cultural District, which is teeming with public parks, art galleries and world-class theatres, has something else entirely to offer. Additionally, the city is home to several renowned museums that are totally unique to the Burgh.
Carnegie Museums of Pittsburgh: Explore two world-class museums for the price of one, all under one roof. The famous Dippy the Dinosaur is undoubtedly the star of the show at the Natural History Museum. The almost complete diplodocus skeleton was discovered in Wyoming in 1899 by a team of bone hunters funded by the museum's founder, Scottish-American industrialist and philanthropist Andrew Carnegie. It took 130 crates to transport the gigantic bones to Pittsburgh, and the 85-foot-long (26m) Dippy has been the top attraction since his construction in 1907. Once you've got your fossil fix, gaze upon world-famous paintings by renowned artists like Andy Warhol, Vincent van Gogh and Claude Monet at the Carnegie Museum of Art.
The Andy Warhol Museum: Pittsburgh is the birthplace of legendary pop artist Andy Warhol, so it's only natural that the city is home to the biggest collection of Warhol art and archives in the world. In fact, the museum is the largest in North America devoted to a single artist. Explore the artist's early inspiration, some of the best works and his legacy.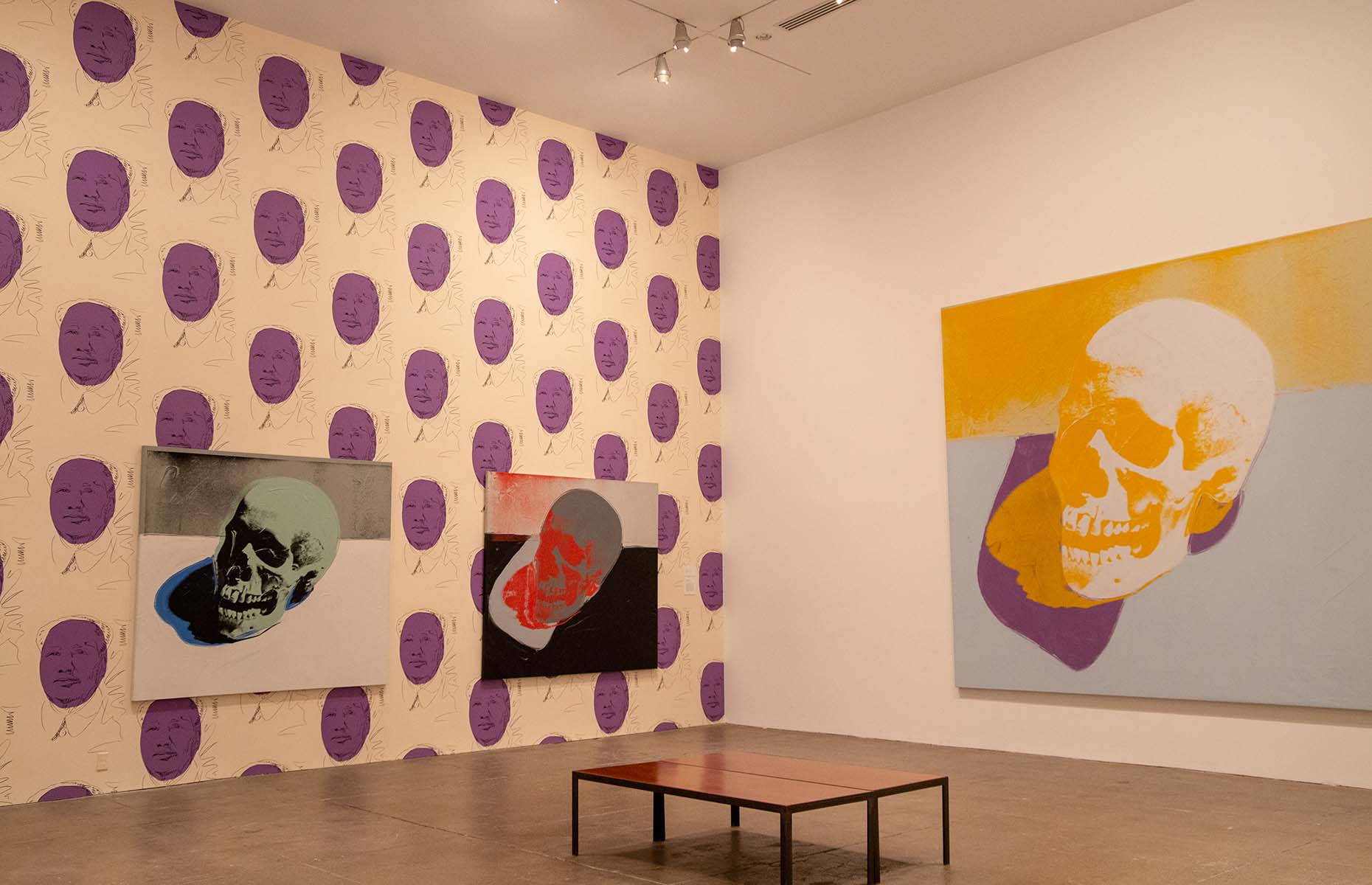 Jin Wu
The Clemente Museum: This one-of-a-kind museum houses the largest collection of baseball artefacts, works of art, literature and other memorabilia related to the late Roberto Clemente, the Puerto Rican-born baseball player and hero of the Pittsburgh Pirates, who was renowned for his philanthropy work. Discover Clemente's story and learn what made him such a legend.
The basement of the Clemente Museum is home to Engine House Twenty Five Wines, where you can indulge in a luxurious wine tasting experience before or after your tour. Each hand-crafted bottle of wine uses premium grapes sourced from Chile, California and South Africa. Famous faces who've visited the Clemente Museum include Steve Carell, Vanessa Hudgens and Pearl Jam, so keep your eyes peeled for signed merch scattered around the museum.
The Mattress Factory: Home to a whole host of quirky and interactive exhibits, this installation museum completely redefines your typical art gallery experience. The star attraction has got to be the trippy Infinity Dots Mirrored Room by Japanese contemporary artist Yayoi Kusama. Her world-renowned, immersive Infinity Mirror Rooms rarely go on tour and when they do, they sell out instantly. Yet another 'only in Pittsburgh' experience, The Mattress Factory is the permanent home to her 1996 exhibit, so offers museumgoers a rare opportunity to experience her art at a fraction of the typical price.
Jin Wu
Ride the Duquesne Incline
The most iconic remnant of Pittsburgh's industrial past is the distinctive red Duquesne Incline train, which was constructed in 1877 to carry people and cargo from Mount Washington to downtown Pittsburgh. Now a popular tourist attraction, you can ride the incline up to an observation deck 4,000 feet (1,219m) above sea level and enjoy stunning panoramic views of the city, with its bridges and rivers. Top tip: ride at night to experience unrivalled views of the sparkling Pittsburgh skyline.
Road trip to the Laurel Highlands
Escape the hustle and bustle of Pittsburgh for the day and venture to the Laurel Highlands, a rugged mountainous region. Less than a two-hour drive from the city, Ohiopyle State Park offers breathtaking natural beauty, hiking trails, wildlife and pulse-racing outdoor activities like skiing and river rafting, depending on the season.
The Laurel Highlands' stunning scenery served as a source of inspiration for America's most renowned architect, Frank Lloyd Wright, and four of his jaw-dropping creations can be found in the area, which are open for tours. The jewel in Wright's crown is Fallingwater, a holiday home he crafted for the affluent Kaufmann family of Pittsburgh in 1937. His masterpiece blends in effortlessly with the surrounding scenery and waterfall, embodying Wright's idea of organic architecture.
Where to stay in Pittsburgh
Make the most of Pittsburgh's downtown by staying at The EVEN Hotel. Within walking distance of star attractions like Heinz Field and PNC Park sports stadiums, Point State Park and the Duquesne Incline, it's also just a stone's throw away from the bars, restaurants and breweries by Market Square. This contemporary hotel has a focus on fitness and wellbeing and offers guests a state-of-the-art gym as well as in-room fitness equipment. The on-site Cork and Kale bar serves up some of the best healthy food Pittsburgh has to offer, and dishes can be paired with a smoothie or organic cocktail from the bar.
Where to eat and drink in Pittsburgh
By day
Pamela's Diner, located in the Strip District, claims to serve the best breakfast in Pittsburgh since it opened in 1980, a statement that Barack Obama agrees with. The former president visited the traditional American diner during his 2008 presidential campaign and personally endorsed the pancakes. In fact, Obama loved the food so much that he invited Pamela's owners Gail Klingensmith and Pam Cohen to the White House for a Memorial Day breakfast. The praise just doesn't get any higher than that.
Jin Wu
Another delicious breakfast spot is Waffles, INCaffeinated in the heart of downtown, which serves up your choice of sweet or savoury waffles paired with all the refillable coffee you can drink. For lunch, head to Walter's Southern Kitchen in Lawrenceville and tuck into classic American comfort foods like chicken and waffles or biscuits and gravy. Don't forget to swing by Primanti Bros, who have been serving up their "almost famous" sandwiches in the Strip District since 1933. These monster sandwiches are stacked with grilled meat, melted cheese, coleslaw, tomato and French fries, served between two thick slices of Italian bread. Seriously, the city is worth visiting just for a bite for these epic sarnies.
By night
Did you know that American rye whiskey originated in Pittsburgh? The Wigle Whiskey Distillery is named in honour of Phillip Wigle, a pioneering Pennsylvanian distiller who helped spark the Whiskey Rebellion in the 1700s and 1800s. At Wigle, the storytelling is just as good as the whiskey. As you tour the distillery, sip on a traditional whiskey-based cocktail, like an old fashioned, and learn all about the fascinating whiskey uprising that pitted Western Pennsylvania distillers against George Washington's army.
For dinner with unrivalled views, head to Mount Washington's Monterey Bay Fish Grotto, where you can enjoy sustainably sourced seafood paired with fine wines and house-made cocktails while taking in the glittering Pittsburgh skyline in all its night-time glory. If you're looking to splurge, treat yourself to seasonal-ingredient-driven fine dining restaurant Spork on the hip Penn Avenue. Executive chef Christian Frangiadis was nominated for a James Beard Foundation Award in 2020.
How to spend a weekend in Pittsburgh
Day 1
Check-in to: The EVEN Hotel. Located in the heart of downtown, this contemporary hotel is just a stone's throw away from all of Pittsburgh's best attractions.
Get to know the city with: Bike Pittsburgh. Cover more ground and learn your way around the city with a guided bike tour. Prices start at $35 (£30) per person.
Day 2
Start the day with breakfast at: Pamela's Diner. The strawberry hotcakes are endorsed by Barack Obama. Need we say more?
Explore the Allegheny River with: Venture Outdoors. Marvel at Pittsburgh's famous bridges from an entirely new point of view as you kayak down the Allegheny River.
Visit Pittsburgh
Tour a world-class sports stadium at: PNC Park. Experience even more jaw-dropping views of America's Steel City and discover first-hand why the Pirates' ballpark is rated as one of the best in the country.
Stop for lunch at: Primanti Bros. Fuel yourself for the day ahead with one of the city's 'almost famous' sandwiches paired with a locally brewed beer on tap.
Wander through: The Andy Warhol Museum. Learn the legacy of Pittsburgh's most famous son, Andy Warhol, as you stroll through seven floors of iconic artwork by the renowned pop artist. Don't forget to check out the gift shop, which is the ultimate souvenir stop.
Marvel at spectacular views with: Duquesne Incline. Ride this almost 150-year-old incline train to the Mount Washington viewpoint and admire one of the best views in America. Return trips are just $5 (£4).
Visit Pittsburgh
Experience the glittering skyline at night at: Monterey Bay Fish Grotto. Indulge in a classic shrimp cocktail followed by the signature crab cakes. The view is just as incredible as the food, so be prepared to be blown away by the sparkling Pittsburgh skyline in all its night-time splendour thanks to the location's panoramic floor-to-ceiling windows.
Grab a late-night drink at: Wigle Whiskey. Sip on a seasonal craft cocktail and tuck into some late-night bar bites like street corn hush puppies and grilled shrimp tacos.
Day 3
See world famous paintings at: Carnegie Museums of Pittsburgh. Block off an entire afternoon to explore these sprawling museums, where you can experience dinosaur bones, ancient historical artefacts, precious gemstones and priceless works of art all under the same roof.
Splurge on a fine dining experience at: Spork. Kick things off with seared scallops and black truffle ricotta-stuffed tortellini. Then it's onto Wagyu eye steak with black shallot mashed potatoes. Classic cocktails, such as Manhattans, are served table side.
READ MORE: Discover America's coolest neighbourhoods
Map of Pittsburgh
Discover our favourite places in Pittsburgh with this handy map:
For more information about Pittsburgh head to Visit Pittsburgh.
Lead image: Dave DiCello
Be the first to comment
Do you want to comment on this article? You need to be signed in for this feature