Can a family canal holiday really be stress-free?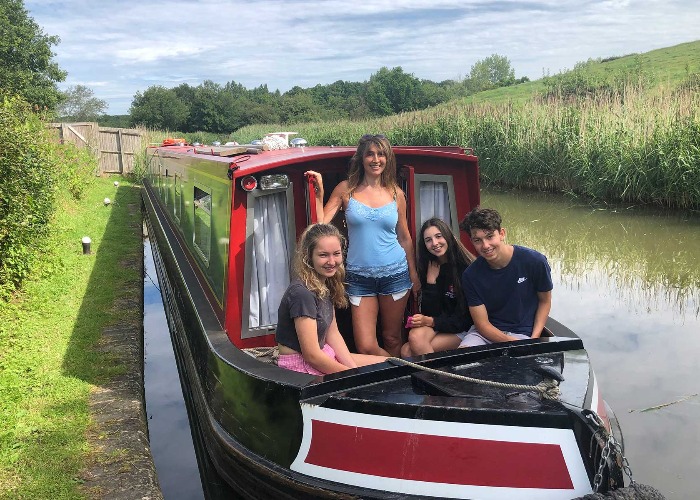 Gently chugging along the water, impromptu pub lunches and quiet villages – messing about on the canal sounds like the perfect getaway for 2020 and beyond. But does it work with teenagers? And how easy is navigating the waters? Writer Jo Kessel, and her family, discover how to go with the flow…
It was my husband who thought of a canal boat holiday during the COVID-19 lockdown: "It's the perfect self-isolation staycation," he said. And our three teens agreed, so we booked a four-day itinerary along the 'Droitwich mini-ring' – a 16-hour roundtrip from Worcester (pictured below) on the UK's only short-break loop.
Harry_W/Shutterstock
The anti-clockwise loop includes two different canals as well as a river. Plus is a treat for fans of BBC Radio 4's 'The Archers' because it passes near Hanbury, said to be the real-life counterpart of Ambridge in the long-running drama. We packed light (or at least tried to) and off we set.
READ MORE: Our favourite UK break ideas
What's the appeal?
2020 is unlikely to go down as most people's best year and I wanted to give my kids a new, memorable (for all the right reasons) experience.
A holiday on a narrowboat ticks so many boxes: it's different, it's active, it's adventurous and it's more about the journey than the destination. And if you don't like one stopover you can cruise onto the next. Talking of which, we're big fans of cruises and with those being currently on hold, this seemed a great, alternative way of holidaying on water.
Better still, we'd be in charge. Like a proper liner, we'd have a captain and crew, with all hands on deck when needed. And instead of sticking to an organised schedule, we could make up our own.
Plus my husband still has his childhood fishing rod and this was the perfect opportunity to dust it off...
What's on board?
By its very definition a narrowboat is narrow – ours was only 6-foot 10 inches (2m) wide.
So the fact it managed to squeeze in three bedrooms, two bathrooms and a fully-equipped galley kitchen and diner was down to its whopping, 69-foot (21m) length.
While officially it sleeps six to eight people (dining seats can convert into two extra beds) it's more comfortable with fewer people.
Most of the time found us outside, however, on benches at the boat's front and back. But if you're nimble like my kids, you can hoist yourself onto the roof, lay a towel and lie flat.
There were some mod-cons (hairdryer, TVs, Wi-Fi and the like) but there wasn't a dishwasher which made a convenient excuse to refuse to cook.
I was happy to prepare breakfasts and lunch (we'd bought provisions with) but anything more complex would have felt stressful. So I sought dinner recommendations. Night one saw takeaway fish and chips delivered to our barge; night two we ate at a waterside pub (more of which later). Night three we bought supermarket sushi.
Navigating the waters
Steering an 18-tonne narrowboat was never going to be easy, especially considering sections of the canal are as curly as a ringlet and barely wider than the barge. Our handover ran through the essentials – how to operate the boat (you drive on the right by the way) and open/close the 33 locks we'd be passing through – but our first couple of hours on water were still a baptism of fire. Thankfully fellow boaters and towpath users were happy to help and pretty soon we had it mastered.
Courtesy of Jo Kessel
While the boat's captain has to stay put, the crews' jobs are unexpectedly physical. We winded paddles on lock gates back and forth; we hammered pegs into the ground; we pulled and tethered ropes; we pushed away swing bridges. And in between we walked the towpath, foraging for fruit. Blackberries, raspberries and greengages were ripe for the picking.
Eventually I plucked up the courage to take the helm. I'd like to say my stint as captain passed without hitch, but in truth it took all of ten minutes before I thudded us into the bank. Top tip: there's a marked delay between turning the tiller and the manoeuvre actually happening.
What really helped was the £6.50 map (bought from the boat hire company before we left) which had bridges and locks marked on it.
READ MORE: Unusual places to stay in the UK
Our top stops
Barge holidays are about doing it your way, by either going with the flow or planning. We did a bit of both and these were our most memorable stops.
1. Hanbury
We moored overnight at Hanbury Junction in order to visit National Trust property Hanbury Hall the next day, pre-booking currently required. That part was planned; our £13pp mid-week carvery dinner at The Eagle and Sun pub was not. We piled plates with roasts and sides so mouth-watering (potatoes dauphinoise, parsnips, red cabbage; Yorkshire puddings etc.) that we barely had space for seconds. We burned it off the following morning on a 45-minute trek (use GPS, signposts are patchy) through fields of cows, horses and barley to Hanbury Hall. The orchards, parterre garden and dahlias in the grounds of this 18th-century stately home are glorious.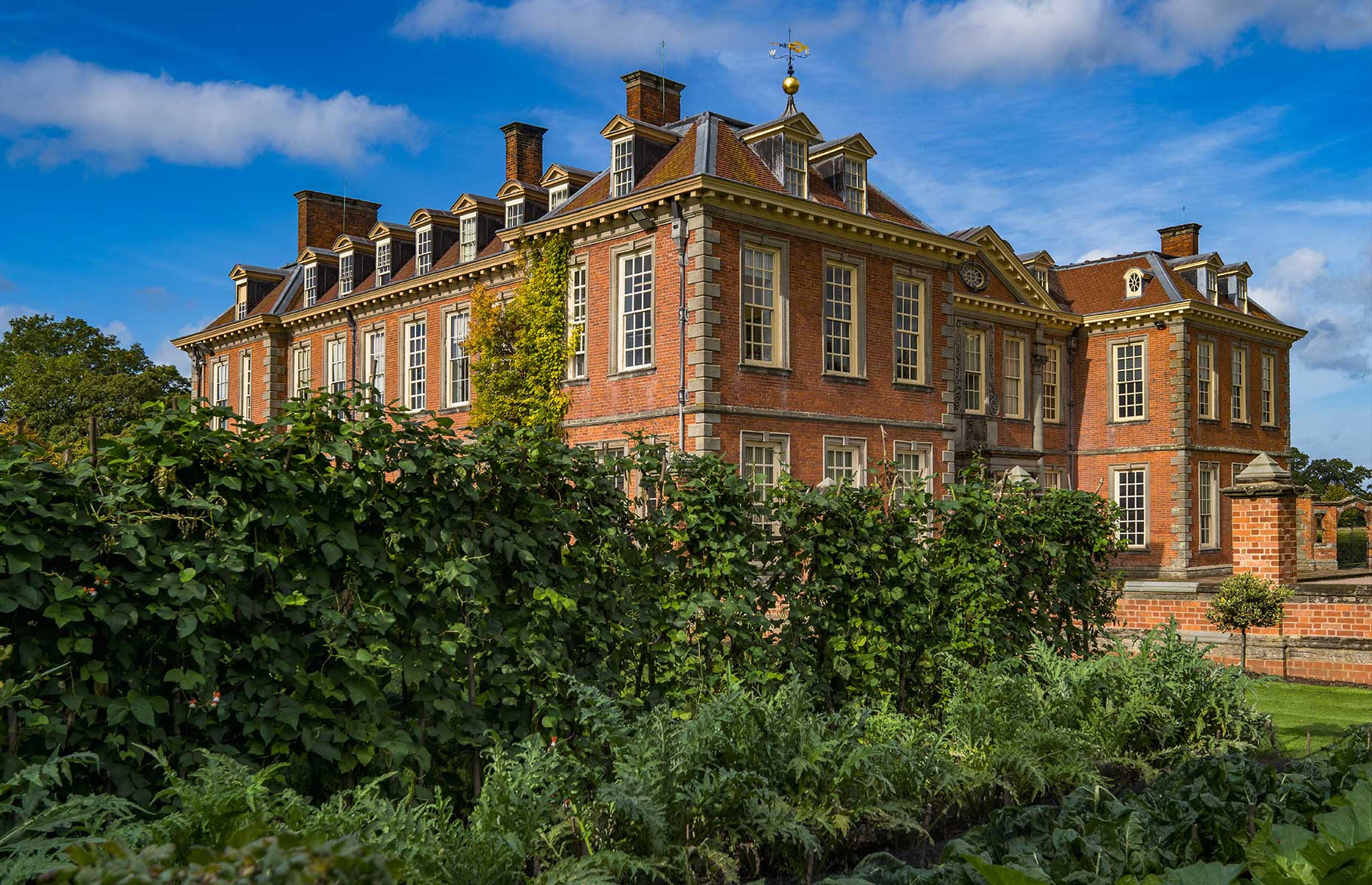 David Hughes/Shutterstock
2. Tibberton
This pint-sized village has a couple of pubs, houses and fields where we played Frisbee. It's on a scenic stretch of canal and had a store we'll never forget – a front garden stall selling home-grown produce. We bought eggs, cherries and plums and left money in the honesty box.
3. Salwarpe
We'd planned to overnight in Droitwich, but it was too urban for our liking so we bought sushi from a supermarket and sailed on towards the hillside settlement Salwarpe. We had to moor beyond it in slightly scary nothingness – just us, our boat and the canal. A sunset walk through the village graveyard did little to quell nerves and suffice to say we buttoned down the hatches!
What did we love the most?
It's not every day you wake up to swans, cygnets and ducks outside your window and this is the beauty of a canal holiday. Most time was spent gliding through a bucolic panorama with tall, rustling reeds flanking our boat and, even though we were busy navigating locks, we slipped into a new rhythm which we dubbed the slow life. It was the perfect blend of physical activity and relaxation and I loved watching my daughters singing with a guitar at the front of the boat and my son chilling on the roof with a book.
Fishermen claimed there were perch and bream galore. Did my boys catch anything? No. But they enjoyed trying.
Courtesy of Jo Kessel
The final few miles were particularly memorable as we sailed from the canal onto the River Severn – the UK's longest river - and approached Worcester. The sky was blue; the sun strong and as we passed under the city's 10th-century bridge and caught our first glimpse of its magnificent cathedral, the sight was picture-postcard perfect. It was a wonderful way to end an exciting and remarkably stress-free first barge holiday. I've a funny feeling we'll back for more and next time we'll be sure to pack lighter. There really isn't much space on a narrowboat.
Book it
Drifters Waterway Holidays (0344 984 0322) offers 550 canal boats for hire from 45 bases across England, Scotland and Wales.
Jo's four-night break on an Aquatic Warbler narrowboat (0330 333 0590) costs from £959 and sleeps six to eight people.
For more information visit the Canal & River Trust.
Main image: Courtesy of Jo Kessel
Be the first to comment
Do you want to comment on this article? You need to be signed in for this feature