7 reasons to love Virginia Beach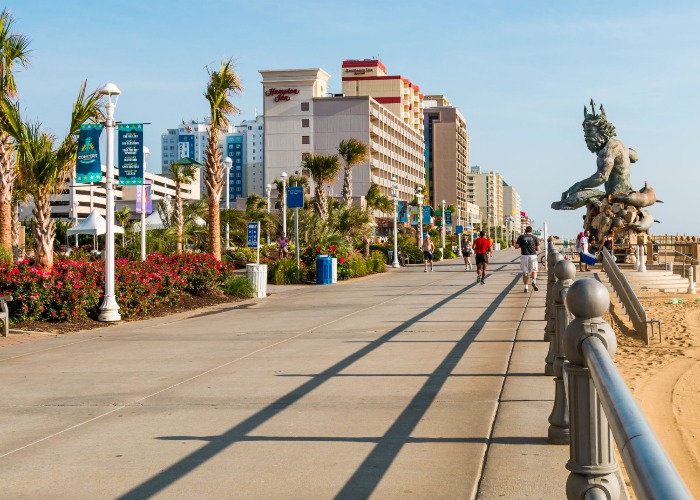 If you're after an American beach break, here are a few reasons you should consider visiting Virginia Beach over the rest.
When you think of American East Coast beaches, your mind probably turns to Florida's gleaming sands. The boardwalk in Miami, the swaying palms, the azure waters of the Keys. But cast your finger on the map, move it from Florida to the middle of the US coastline and you'll land on Virginia Beach – a lively seaside resort with natural wonders and fascinating military history to boot. With its high-rise beachfront hotels and some spectacular natural wonders, this city is an ideal weekend escape if you're visiting Washington DC. Here's why...
1. The beach, obviously
The clue is in the name here – the main highlight is indeed the beach. A huge sandy expanse, the golden stretch at Virginia Beach is backed by a brilliant three-mile boardwalk. All the way from 2nd to 40th Street, the promenade has a cycle and jogging lane – perfect for early morning exercise – and restaurants and beach bars aplenty. Don't miss the giant statue of Neptune just north of 30th, and be sure to stop in at the Surf & Rescue Museum for a little ocean history.
Get up early at least once on your trip – the sunrises over the ocean are mesmeric, and watch it for long enough and you might spot passing dolphins.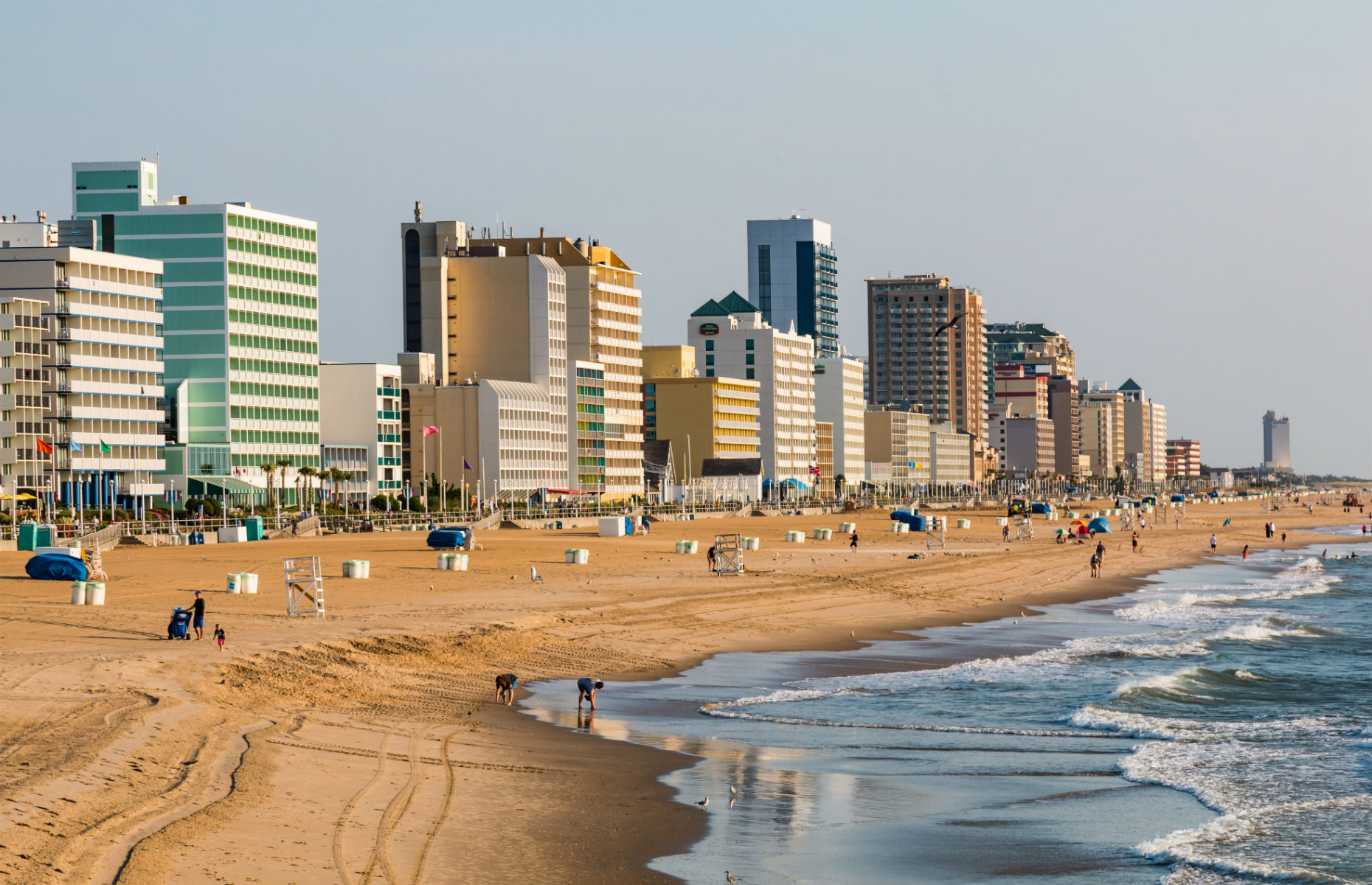 Sherry V Smith/Shutterstock
2. You can kayak with dolphins and turtles
Throughout summer and for much of fall, the Atlantic Ocean that laps the shores here is warm enough for a swim. But for a truly special experience, head out on kayaks with Chesapean Outdoors to seek out playful pods of dolphins. Their success rate is around 90%, so you're unlikely to be disappointed, and sharing the waters with these animals is a truly magical experience.
Alongside dolphins you might spot turtles – they have various species, from leatherbacks to loggerheads – and there'll be plenty of seabirds. Get ready to duck (and close your mouth!) as pelicans fly overhead, and watch hungry cormorants diving from the skies for fish.
3. There's an historic lighthouse to climb
While much of Virginia Beach's seafront is all concrete, high-rise hotels, there is still a little history to be found on one of its military bases. At Fort Story, take your ID and proof of vehicle registration or rental and you'll be able to visit the 18th-century lighthouse that helped guide ships through the bay. The old brick tower now has an observation deck for visitors with excellent views all around.
Don't miss snapping a photo of the newer black-and-white lighthouse next door – in service today, helping passing ships navigate across the waters, it's particularly striking when set against a bright blue sky.
Read more: America's most charming seaside towns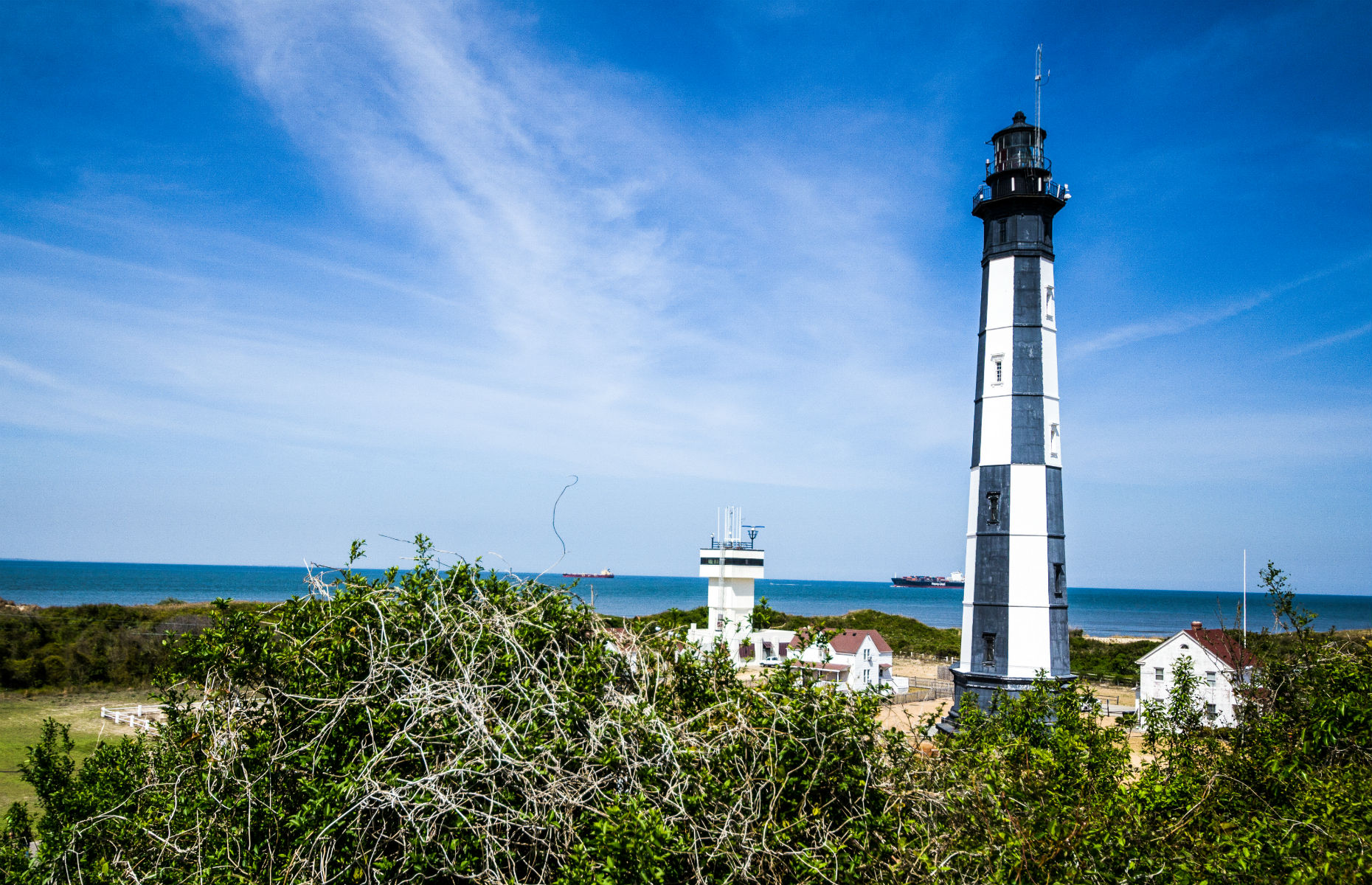 melissamn/Shutterstock
4. There are succulent oysters and cracking crabs
Virginia Beach has some of the finest oysters in the Atlantic – large, perfectly salty and deliciously fatty, they are a staple on any restaurant menu in the city. But don't just eat them – if you want to go one step further, you can try wading and dining tours with Pleasure House Oysters to get hands-on and learn about oyster farming.
Another staple here is crab. From May through September, soft-shell blue crabs – whose hard shell has molted away – are found in abundance in the Chesapeake Bay. Locals will have them any which way, from deep-fried to steamed with poached eggs and hollandaise on top. Some restaurants even serve them on top of beef burgers as the ultimate surf-and-turf snack. Two seafood stalwarts are Margie & Ray's, south of the main stretch of beach, and Bubba's to the north.
For those without a taste for ocean fodder, try Beach Bully BBQ Restaurant in the ViBe district – Virginia Beach's small creative neighbourhood – or Chix on the Beach, which has a varied menu to suit all. Beach Bully sells out quickly and closes early (around 8pm), so get in line fast.
5. There's always a party going on somewhere
A seaside city with a penchant for parties, Virginia Beach has all manner of events and celebrations throughout the year. In fact, you'd be hard pressed to arrive in town and find nothing going on at all. Come in April and you'll find there's (literally) Something in the Water, a music festival created by VB's own Pharrell Williams.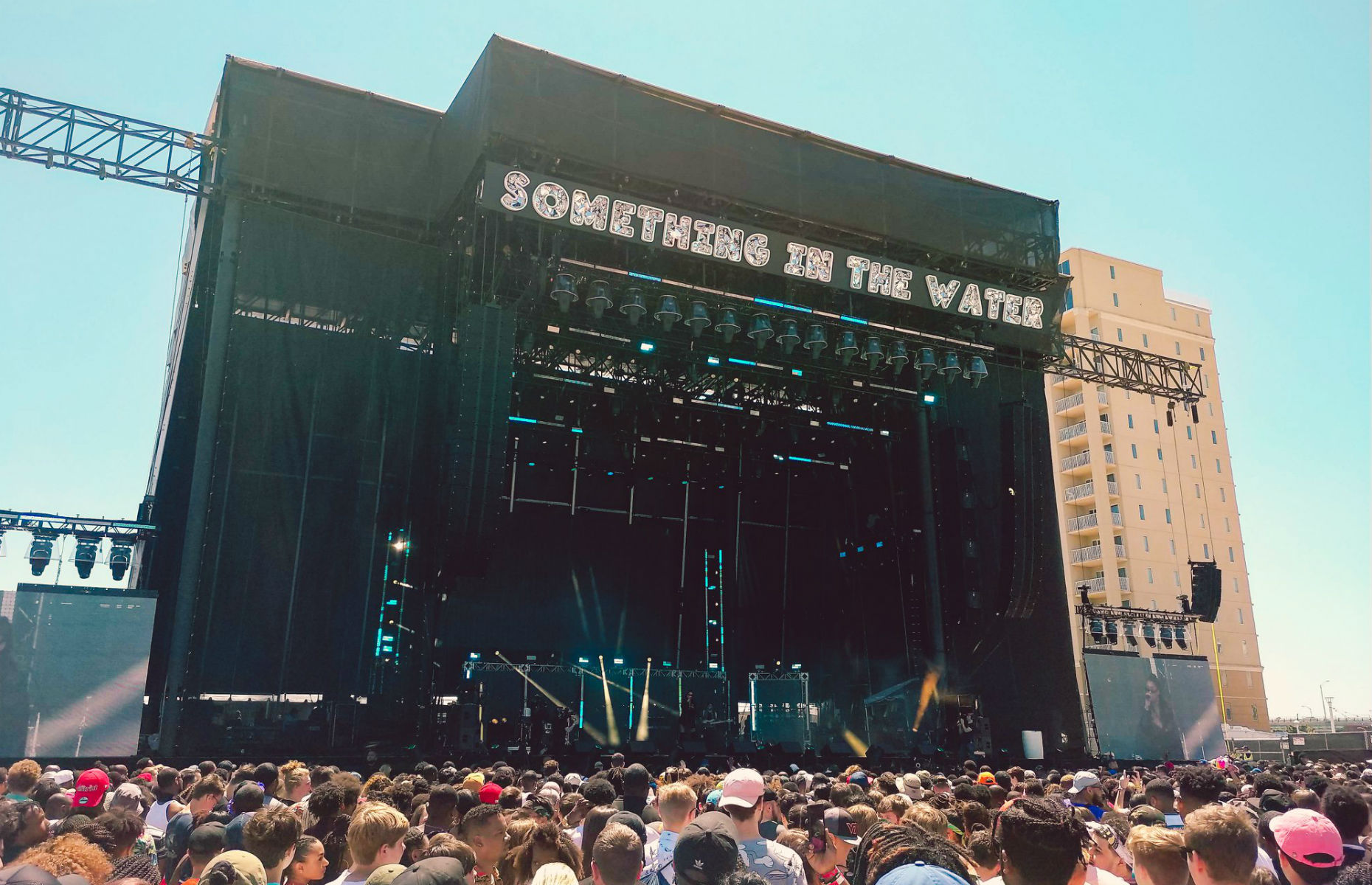 @somethinginthewater/Facebook
Throughout summer the Live on Atlantic programme sees music on stages set up along the boardwalk and Atlantic Avenue, and in September there's the Neptune Festival, with sand-sculpting contests, running events, parades and regattas. See a full list of events and festivals here.
6. It has an enormous state park to explore
More than 2,800 acres of beach, dunes, forest and swampland make up First Landing State Park, so-called because it marks the place where colonists landed before they settled in Jamestown. Free to enter and roam, there are campgrounds for communing with nature (there are pitches and cabins for rent), excellent hiking trails through shaded forest and plenty of picnic areas.
Read more: The ultimate USA travel guide for 2020
Realest Nature/Shutterstock
The Cape Henry Trail has replicas of Native American homes, and the Chesapeake Bay Center has a small exhibit on the people who lived here well before the Europeans arrived.
7. Getting there is half the fun
If you're coming from the Washington DC or further north, forget the huge highways and instead drive down the Delmarva Peninsula where you'll find Virginia's Eastern Shore. A slightly more scenic drive than the mainland route, it leads you right onto the Chesapeake Bay Bridge Tunnel. An engineering marvel, this bridge is 20 miles long in total, but is split by two one-mile tunnels to allow ships and boats to nip in and out of the bay.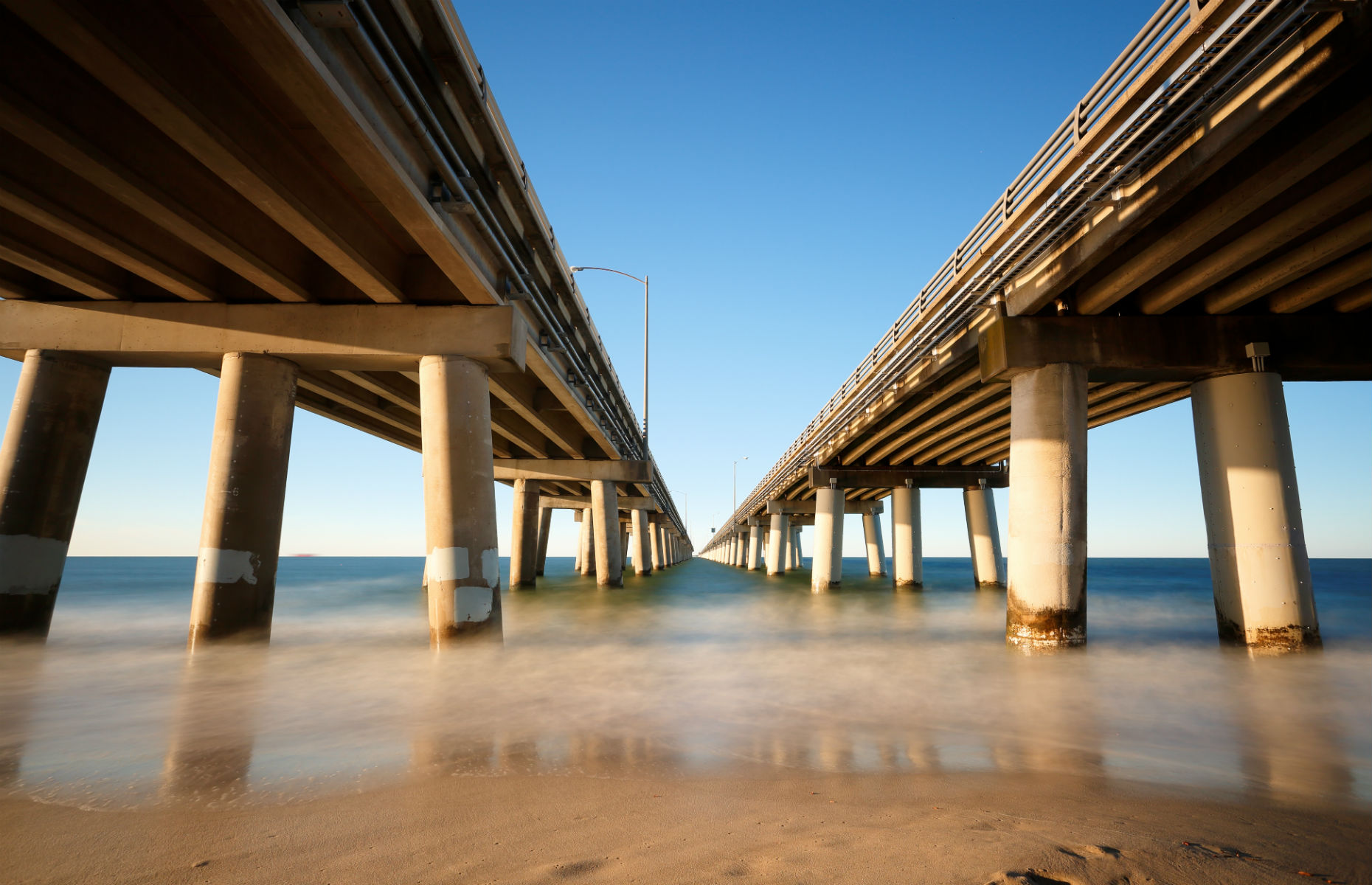 Jay Yuan/Shutterstock
It's a thrill to drive across, with spectacular views of seemingly endless deep blue ocean on either side. A bonus stop along this route is at Exmore Diner, on the peninsula before you reach the bay. Genuinely retro from the outside and seriously kitsch inside, it's all your American diner dreams come true.
Main image: Sherry V Smith/Shutterstock
Read more: Hit the road in the Capital Region: what to see, do and eat on a road trip around Washington DC and beyond
Be the first to comment
Do you want to comment on this article? You need to be signed in for this feature