Family fun in Florida: 6 reasons you should stay in Kissimmee
From easy access to Disney's parks to adventures on the water there's a lot to love about staying in Kissimmee on a family holiday in Florida. Here's why we think this is the ultimate base for any trip to the Sunshine State.
If you're planning a trip to Florida's theme parks, or you want to explore some of the state's finest scenery, Kissimmee is the place to stay. South of Orlando and not far from the Interstate 4 highway, it's well placed to connect you to Florida's best attractions. Here are just a few reasons we think you should visit Kissimmee.
1. It's easier to get to the theme parks
If you're aiming to make the most of Florida's theme parks, avoid the rush-hour traffic of Orlando and base yourself in Kissimmee.
Magic Kingdoms: Historic pictures of Disney's parks
The parks within Walt Disney World and Universal Studios (pictured) are all within a 15-minute drive of the city and are well signposted along the highways. This is even better news if you're keen to get there early for the welcome show at the Magic Kingdom.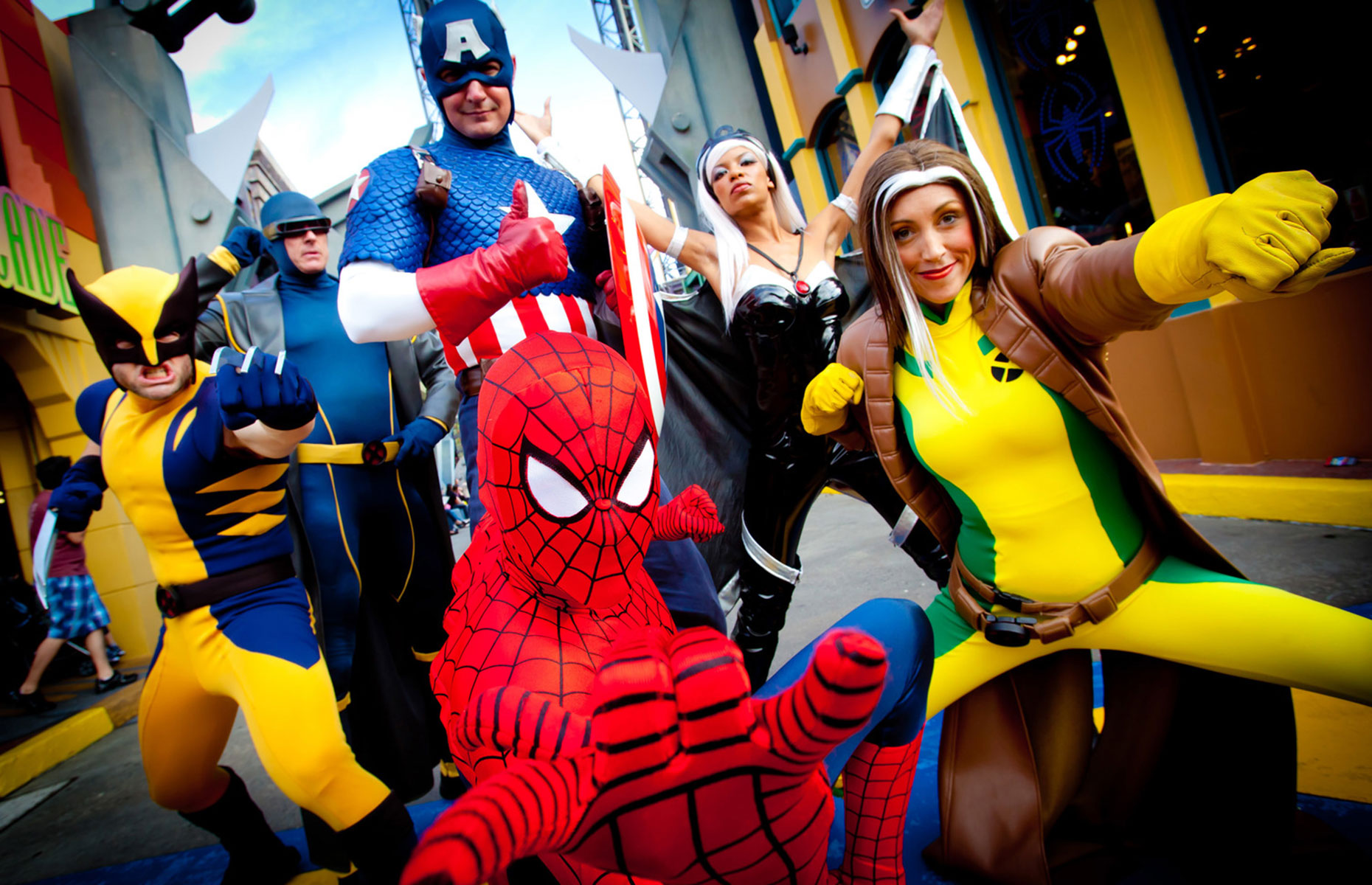 Universal Studios/Visit Kissimmee
2. You can get to the beach in just over an hour
Americans are far more used to long-distance driving than us Brits, so when the coast is just an hour-long road trip away, it's essentially around the corner by US standards.
From Kissimmee it's just a 70-minute drive to Cocoa Beach on the east coast, so there's no excuse for missing out on a day of seaside fun. With its soft sand, a cooling ocean and near-60-year-old pier, there's lots to love about this area of the Space Coast.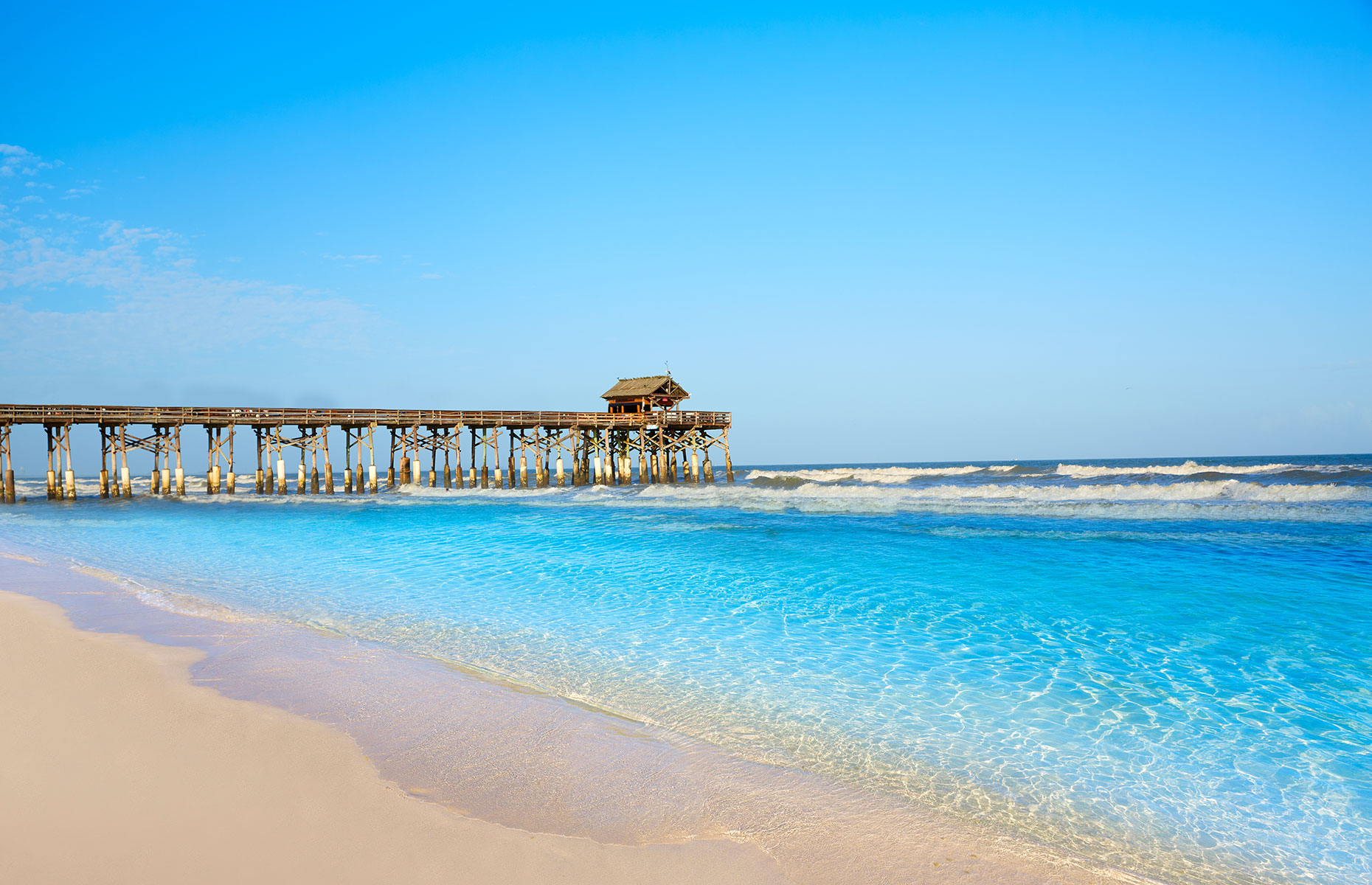 lunamarina/Shutterstock
Head westward from Kissimmee, though, and in just two hours you can be on America's best beach: Clearwater. This enormous stretch of glorious white sand was voted the best in the USA last year by Tripadvisor users, so if you're seaside obsessed, this is the place to go.
READ MORE: 50 things not to miss in Florida
3. It's a more affordable Florida family holiday
The cost of a family holiday in Florida can be eye-watering – especially if you're taking in all the theme parks. Staying in Orlando means booking a hotel, as holiday rental homes aren't allowed within the city limits, and this will only add to your daily expenses as you'll likely have to dine out for every meal.
But opt to stay in Kissimmee and you'll have a variety of options available to you. There are hotels, of course, but the best option is a rental home.
Jeeves Rentals has a huge portfolio of homes across the city to suit every budget – and imagination. Some of their properties have themed bedrooms perfect for the kids, and most have a swimming pool for cooling off on those scorching Florida days.
You can enjoy the freedom of cooking for yourselves, plus you'll save a fair bit of cash when compared to a hotel stay so can splash out on those Minnie Mouse ears at Disney World.
4. You can discover a side to Disney most don't know about
Beyond the theme parks, Walt Disney bought huge swathes of land in Florida and, in some cases, you'd have no idea he was behind what lies there now. This is particularly true in Celebration. What looks like a typical American suburban town is, in fact, a completely manicured set-up.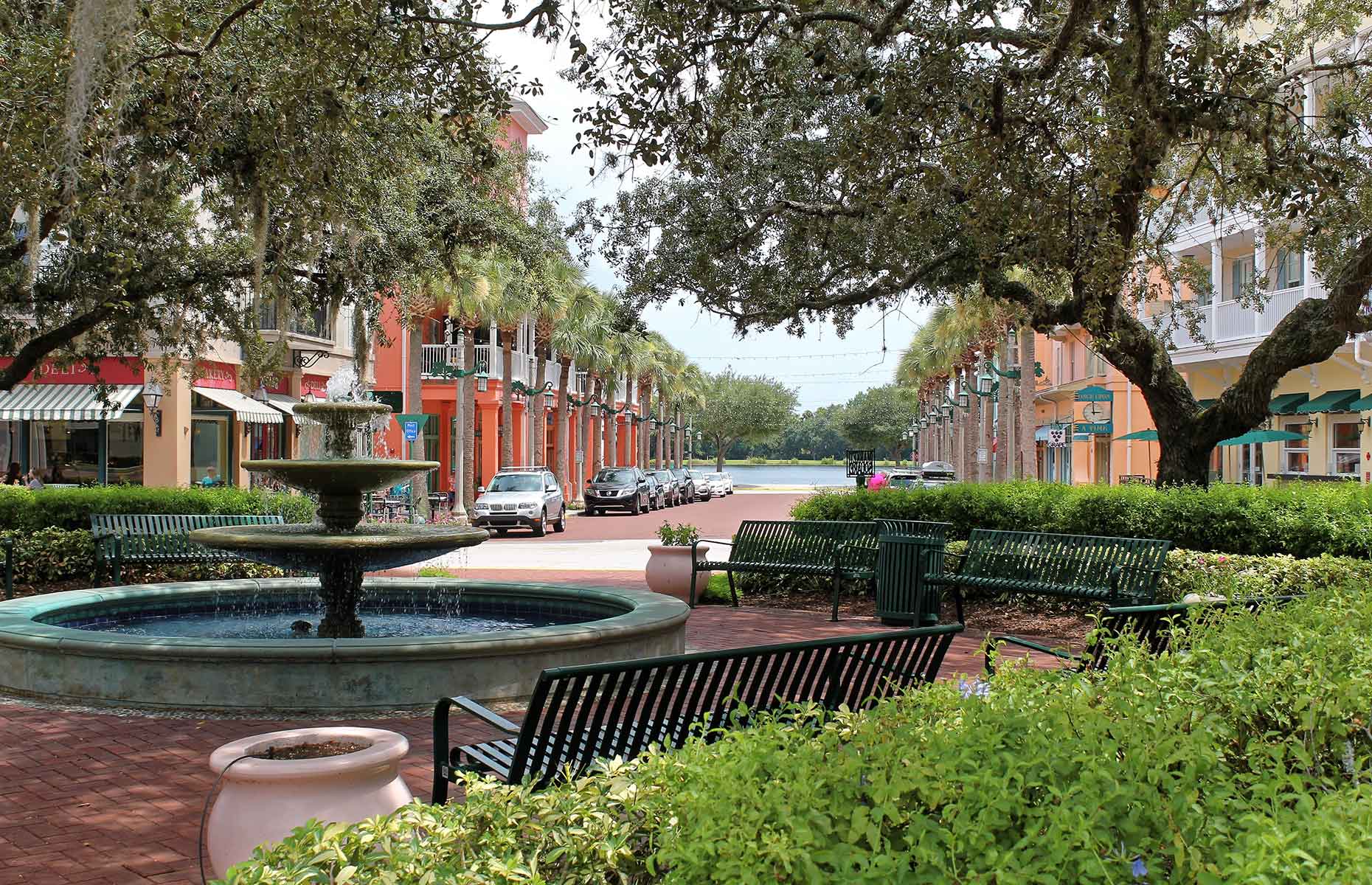 Jerome LABOUYRIE/Shutterstock
The land where Celebration sits today was purchased for Disney's dream project – he wanted to create a utopian town where everything was just perfect. It was to be a city of the future, with new innovative technologies and clever landscaping. He would call it Epcot.
Sadly, Walt Disney died before he could even see the project start, and so years later in 1994 the Disney company's CEO, Michael Eisner, set about realising part of that dream and Epcot is now the name of Disney's futuristic theme park instead.
Today, Celebration isn't the modern utopia that Disney had envisioned, but it is a curious little residential area where there's a story behind each street. There's Lake Evalyn Drive, for example, where each picturesque little home must have a white picket fence – but it can't match the picket fence of their neighbours either side. Or there's the road perpendicular to it, Wisteria Lane, which is rumoured to have inspired the Desperate Housewives TV series.
Take a cycle tour of Celebration to hear the peculiar tales behind each home and ride along the town's many raised boardwalks. If you're lucky, you'll spot ospreys in the skies and alligators and turtles in the lakes.
5. It's not far from some of Florida's finest scenery
You don't have to travel far from the highway to visit some of Florida's best wilderness. In fact, turn right off Irlo Bronson Memorial Highway and within a matter of feet you'll find yourself at Shingle Creek.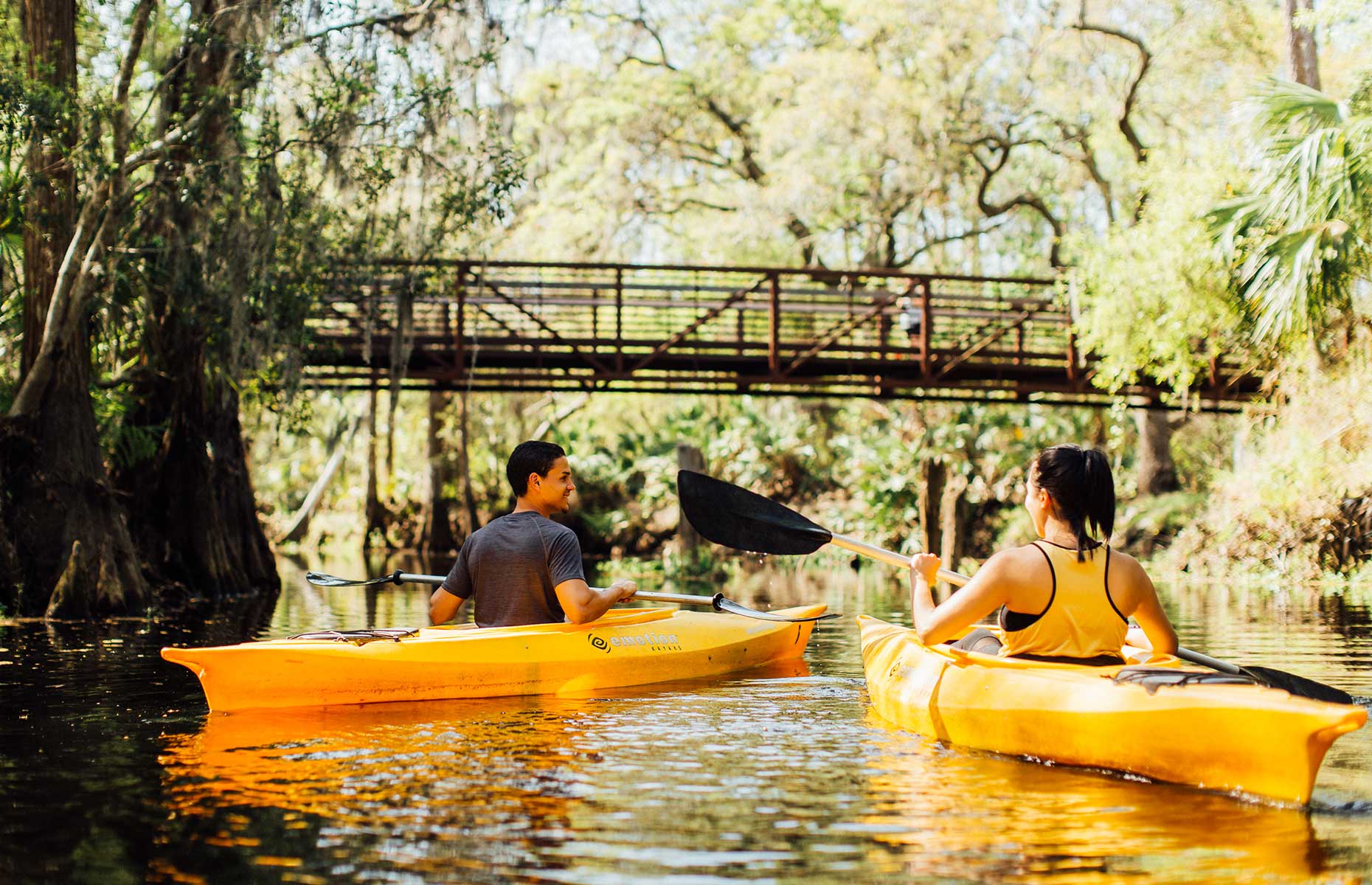 Visit Kissimmee
Hop in a kayak (you can go it alone or take a guided tour) and you'll spot brown snakes, tiny frogs and soaring birds of prey, as well as the ubiquitous alligator.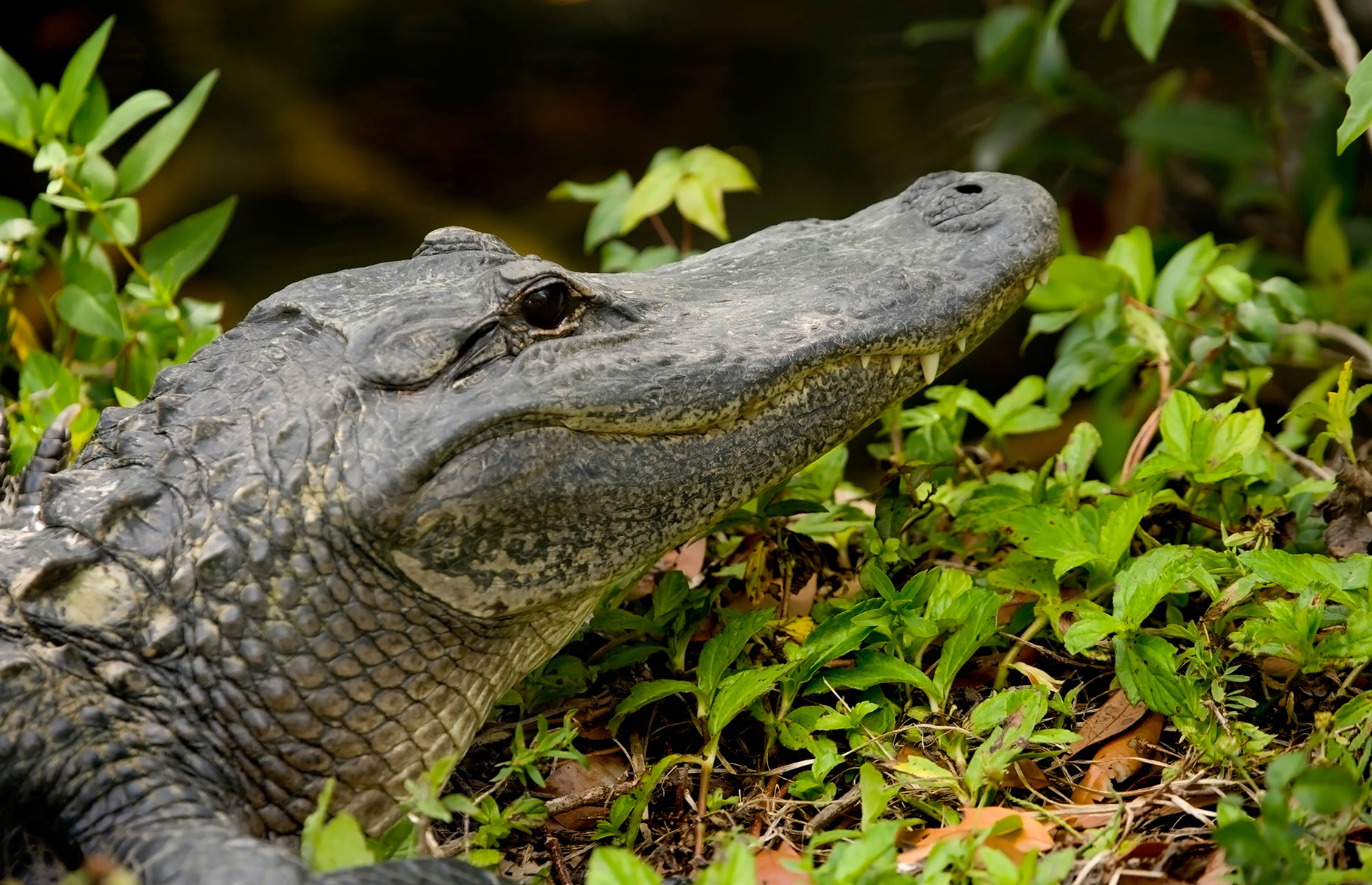 Thomas Levine/Shutterstock
6. You can get nerdy with nearby astronauts
One of the highlights for any family holiday in Florida is the Kennedy Space Center. You might be hard pushed to get the kids excited about it with Disney on the agenda too – but once you're there they'll forget they ever complained.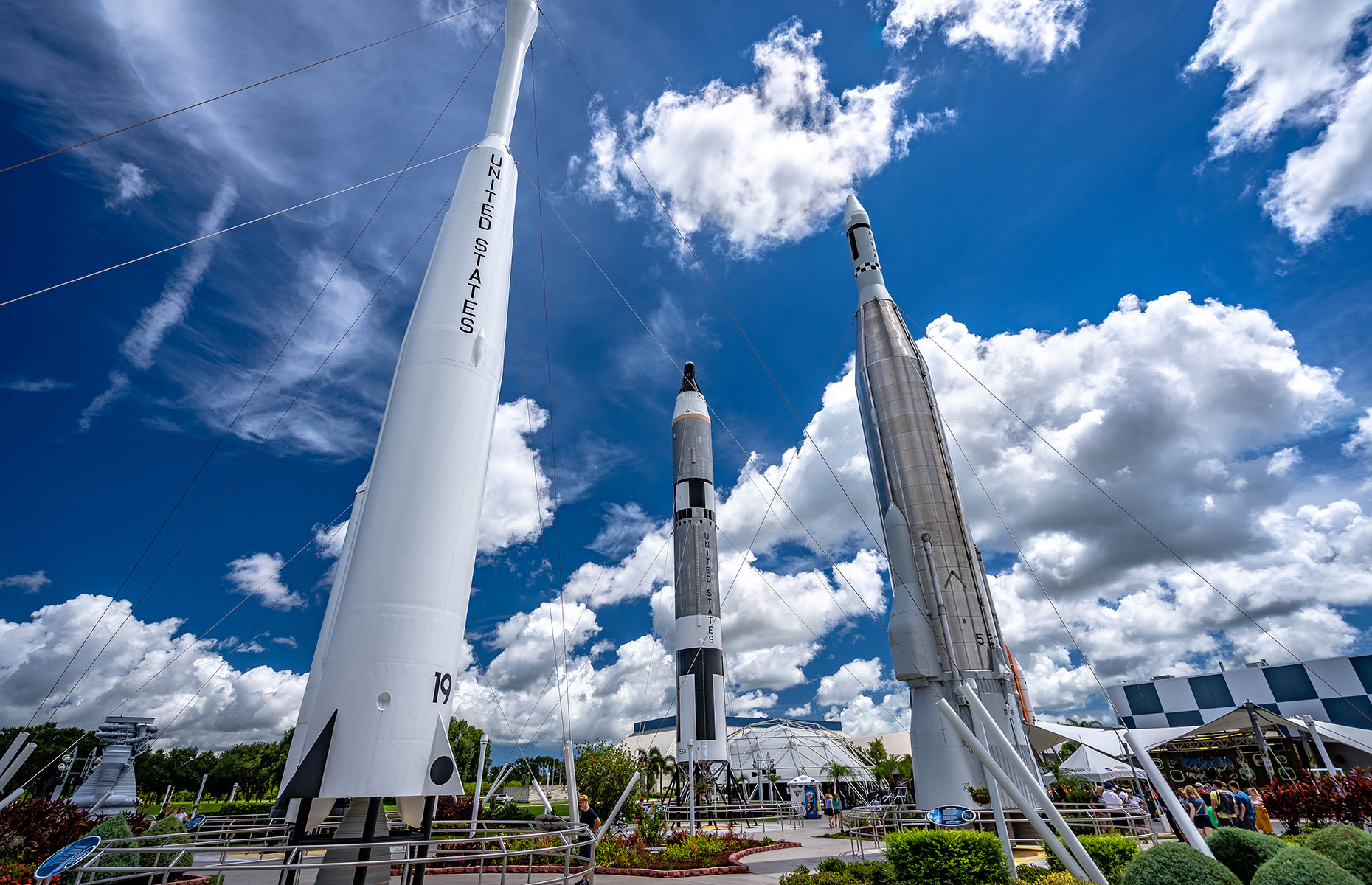 Alex Cimbal/Shutterstock
The Visitor Complex has a vast array of attractions, exhibits and – of course – rockets. Most awe-inspiring is the Rocket Garden, where a collection of real rockets that never managed to get beyond the launchpad offer an excellent reason to crane your neck. And in the Space Shuttle Atlantis exhibition you can learn all about the program that sent more than 100 people to space.
There's the Shuttle Launch Experience simulator, which real-life astronauts swear is the closest you can come to experiencing a genuine launch, and the opportunity to have lunch with an astronaut and get your picture taken too.
Bus tours leave the Visitor Complex to take you to the various launchpads – including where SpaceX is currently launching their rockets – the Vehicle Assembly Building and the Apollo/Saturn V Center, where you can stand in the shadow of the enormous Saturn V rocket. Space nerd or not, you'll be absolutely enthralled by the end of a day out here.
Getting there & map
For more information visit Experience Kissimmee
Norwegian flies from London Gatwick to Orlando from £114.90 one way.
Car hire is available from Hertz at Orlando International Airport
Be the first to comment
Do you want to comment on this article? You need to be signed in for this feature