A weekend in Hamburg: Germany's quirky port city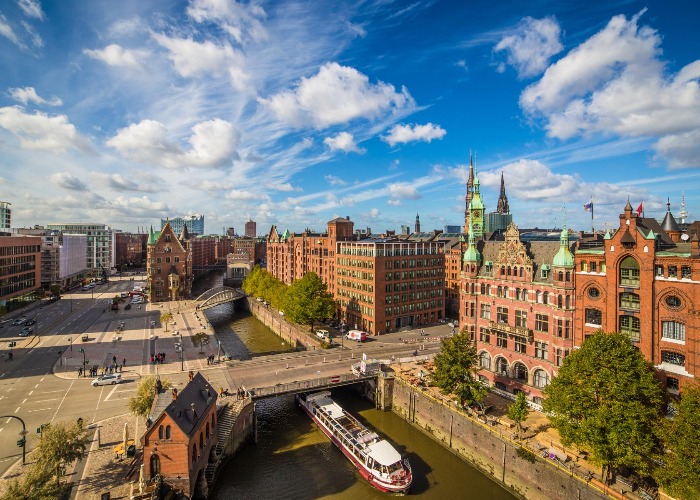 Cool and laid-back, this industrial city is sometimes called the "Gateway to the World". And it's the perfect place for a weekend getaway.
Ever since the long-awaited opening of the Elbphilharmonie, Hamburg's shining new concert hall, in 2017, the city has cemented its place as a cultural hub for artists, music-lovers and foodies. Yet the port city – located on the estuary of the River Elbe, roughly 160 miles (257km) north-west of Berlin – manages to strike a balance between respecting its heritage and embracing the new.
Hamburg offers an eclectic mix: think converted red-brick warehouses, bustling indoor markets and kitsch museums – not forgetting at least one artisan coffee shop on every corner. Its future looks bright, too, with Europe's largest inner-city development project currently underway on its waterfront, that will see the port area transformed into a new urban centre.
If you're after a city break with a chilled-out vibe, look no further. Hamburg's cobbled streets and canals feel like they were made for leisurely strolling, delving into side streets for coffee-and-cake breaks or a craft-beer pit stop. Sound good? Here's our guide to spending 48 hours in Hamburg.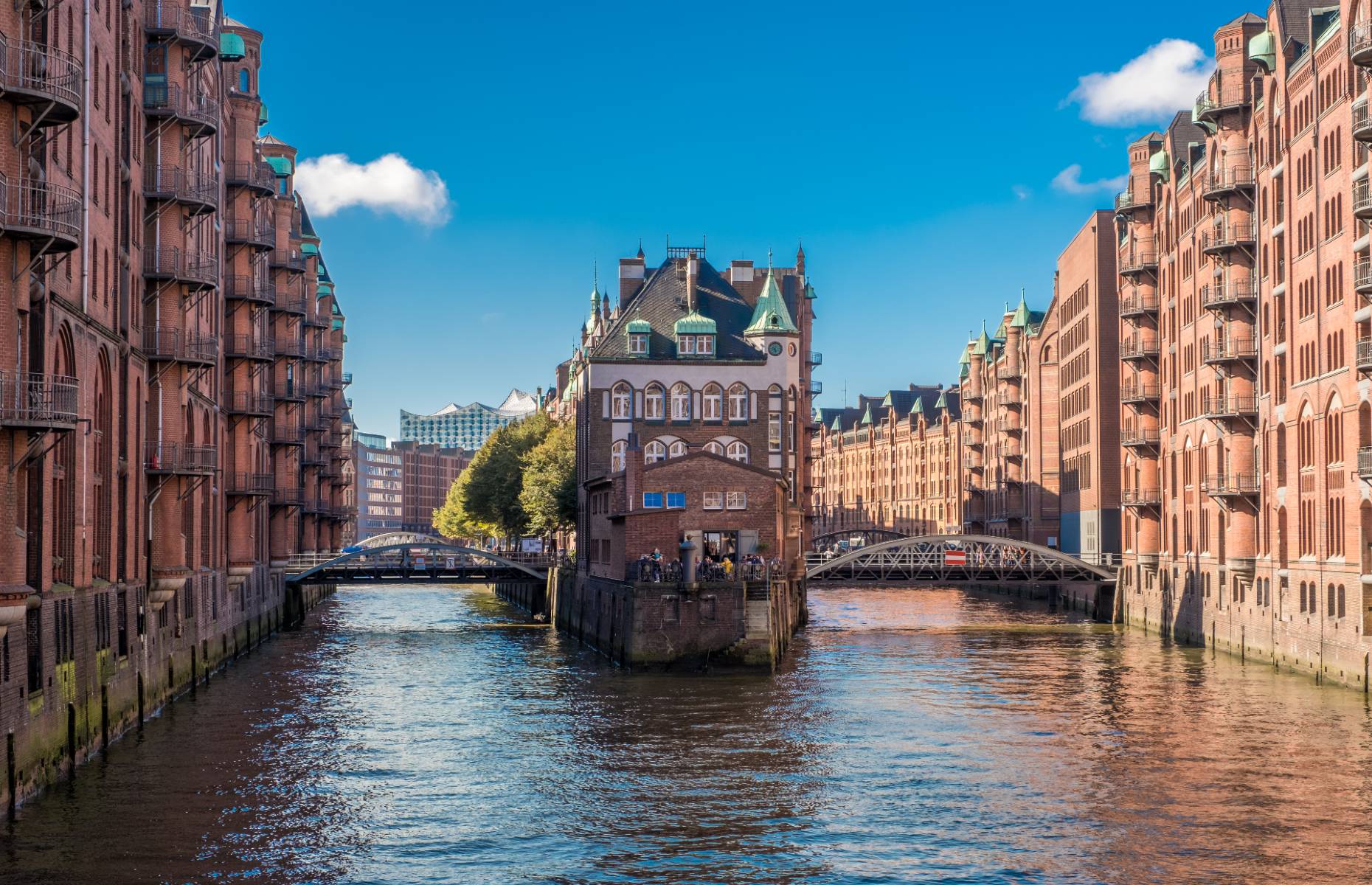 JohanMorin/Shutterstock
Friday
Check in to: GINN Hotel Hamburg Elbspeicher. This relatively new addition to Hamburg's hotel scene offers simple, modern rooms with views of the River Elbe. It's conveniently located near the city's Fischmarkt region with good transport links to the centre. The lively St Pauli and Reeperbahn areas are on the doorstep too.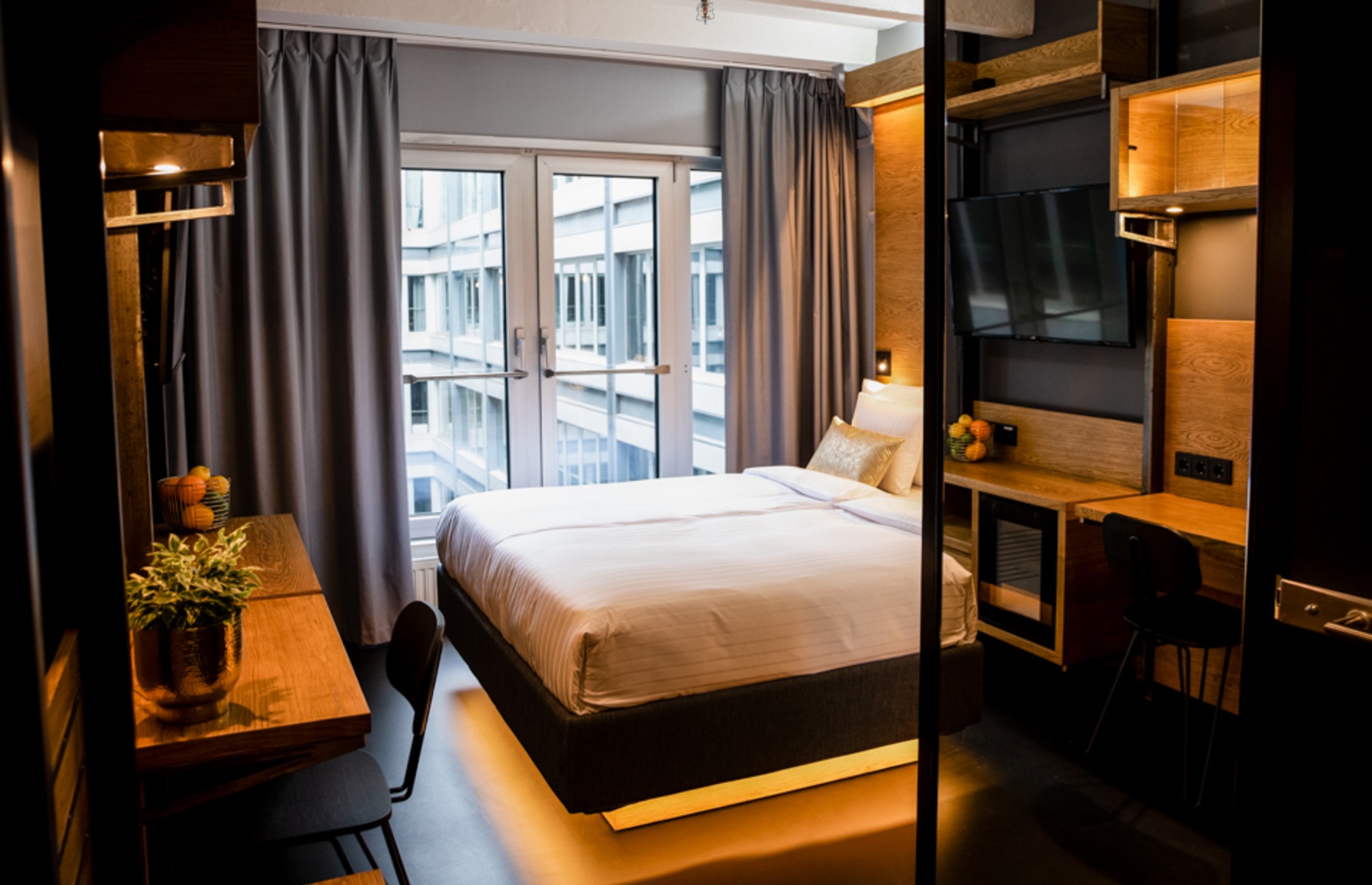 Courtesy GINN Hotel Hamburg
Go for an aperitif at: Standard. Just off the Reeperbahn – Hamburg's former red-light district and now a lively area for bars and restaurants – this elegant café-bar is trying to bring aperitivo culture into the city. There's not a food menu in sight here. Instead, pick a cocktail and you'll find it accompanied by stuzzichini: small, Italian-inspired appetizers made with seasonal ingredients.
You could stop after one and head elsewhere, but the best way to experience it is to keep the drinks flowing and spend an evening feasting on whatever creations emerge from the kitchen.
Saturday
Take a walk around: Sternschanze. Located about a mile (1.6km) north of St. Pauli, the former meatpacking district has recently transformed into an upbeat neighbourhood, bustling with vintage clothing, book and record stores.
In 2009, TV chef Tim Mälzer drew attention to the foodie scene here when he opened Bullerei, a rustic-style restaurant and deli inside a former cattle hall. Since then, a host of coffee roasteries, breweries, restaurants and boutiques have opened up in the area.
Sip coffee at: Elbgold. Here, you can see the coffee roasting process in action and soak up the ambience in a light-filled, open-plan converted cattle hall. The roastery serves single-origin coffees from all four corners of the world. Although if you're dazzled by the choice, the house 'Mischgold' blend is also extremely good.
See something unexpected at: Flora-Park. The small park – one of the city's many green spaces – is home to the 'Kilimanschanzo', a Second World War bunker that has been transformed into an art installation and public climbing wall. In case you were wondering, the name's a pun on Mount Kilimanjaro crossed with the name of the neighbourhood, Schanzenviertel. Active types can even give it a try – Kilimanschanzo offers free, open climbing sessions every Sunday from April until October. (Please note, the climbing wall is currently closed for construction – check the website for further details.)
Head around the corner and you'll find another impressive piece of street art: 'Fischernetz'. Meant to depict the ever-present fusion between old and new in the city, it was created by Berlin-based street-art group Innerfields.
Gorge on currywurst at: Schmitt Foxy Food. Because did you really go to Hamburg if you didn't try currywurst? You'll get a good introduction to the dish at Schmitt Foxy Food, located in the Schanzenviertel, where you can choose from several different types of organic, Hamburg-made sausages and curry sauce. It's also one of the city's first fast food joints to offer a vegan version of the classic fare.
After a few more veggie-friendly options? Satisfy your fast food cravings at HappenPappen, a couple of minutes'-walk from the Rindermarkthalle. This vegan café serves up hefty burgers, nourishing salad bowls, quiches, curries and all-day breakfast in a Scandi-inspired setting.
Explore: Rindermarkthalle. Another of the city's former cattle halls – that was largely destroyed in the Second World War but rebuilt in the 1950s – reopened four years ago as a multi-use market and community space. Not only will you find myriad food and drink stalls here, there's also a zero-waste store, a branch of Hamburg's centenarian sweet shop Confiserie Paulsen, and a market kitchen which hosts cooking demos by popular chefs. You can easily spend a couple of hours wandering through the market, guided by wafting street food smells and stopping for tasters at stalls.
Dine at: Krameramtsstuben. Open since 1718, Krameramtsstuben, which literally means 'Grandma's house' is one of the city's oldest restaurants and a Hamburg institution. If you want to get a flavour for traditional German cuisine, this is the place to go. Expect big portions of traditional food like lobscouse (potato with ground beef, onion and beetroot), pannfish (roasted cod in mustard sauce) and vegetable strudel, served in a setting that's every bit as quaint and comforting as the name suggests.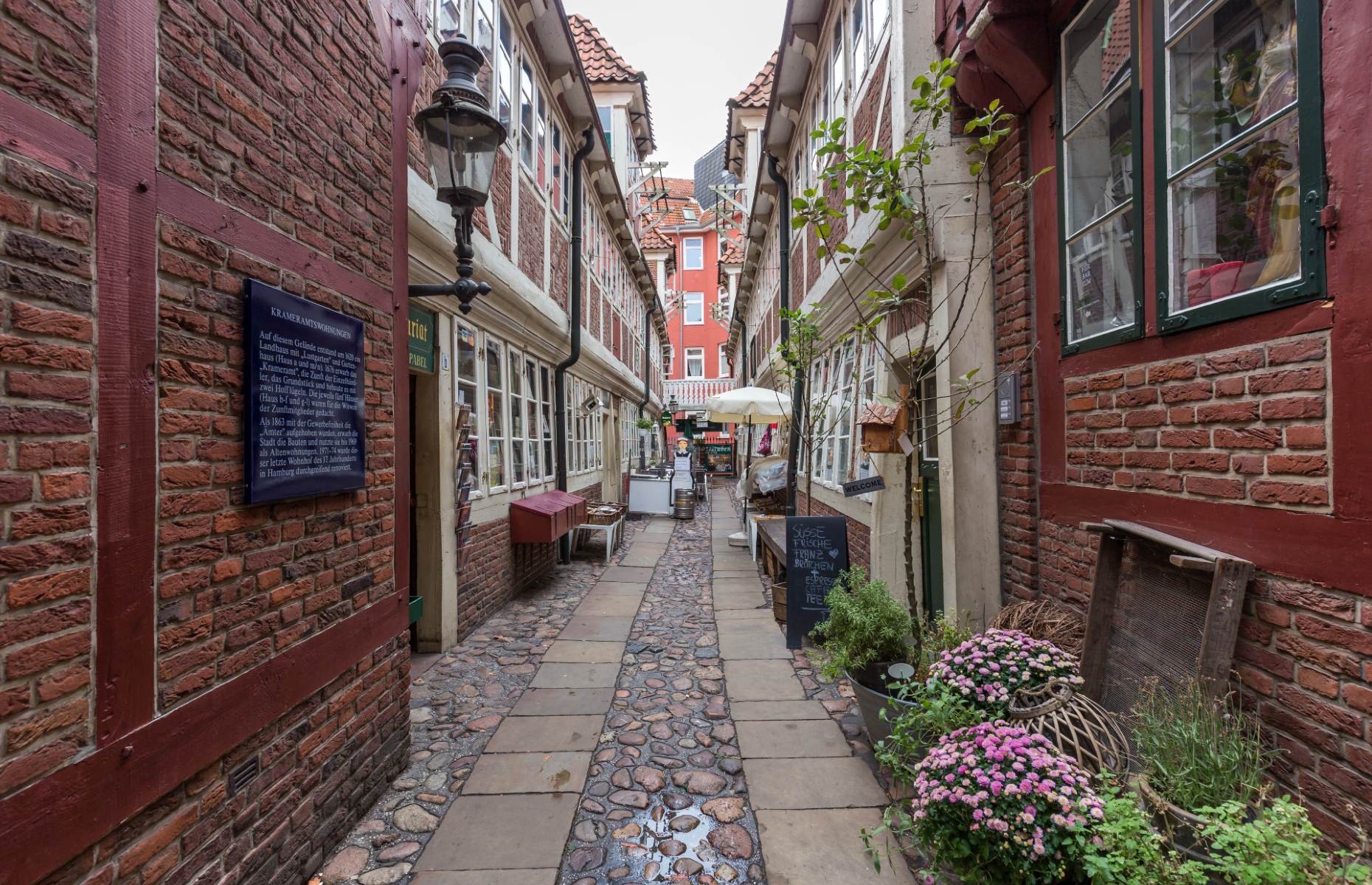 LI SEN/Shutterstock
Take in the city lights from: St. Michaelis Church. Hamburg's church spires are one of the skyline's defining features, and St. Michaelis' is the tallest of them all. Of course, you could enjoy the views by day, but after dark there's something rather magical about standing some 350 feet (106m) above ground in its tall tower – avoiding the tourist rush is a big plus. Wander up here to admire the neon blur of the Hamburger DOM fairground, the vibrant Reeperbahn, and the bright blue lights of the harbour.
foto-select/Shutterstock
Sunday
Explore: Elbphilharmonie. Admired by architecture fans and music lovers alike, this long-awaited concert hall was completed in January 2017 and now hosts a number of musicals and concerts, although you can go inside and explore for €2 ($2.20/£1.70) per person. Like Hamburg itself, the building is a fusion of old and new: its lower half is a former red-brick warehouse from the 1960s, while the upper half is a fluid glass structure meant to represent a wave, designed by architects Pierre de Meuron, Jacques Herzog and Ascan Mergenthaler. Wander around the building's perimeter for panoramic city views, and don't miss the atmospheric concert hall.
Bjoern Wylezich/Shutterstock
Wander through: Speicherstadt and HafenCity, two waterfront regions which make for an intriguing insight into Hamburg's past and present. The Speicherstadt area became a UNESCO World Heritage site in 2015 and features historic red brick warehouses perched between canals, topped with Neo-Gothic turrets and intertwined with cast-iron bridges. Head south towards the newer HafenCity, an ambitious new development project, where you'll find luxury apartments and slick start-ups' offices mixed with boutiques, parks and promenades.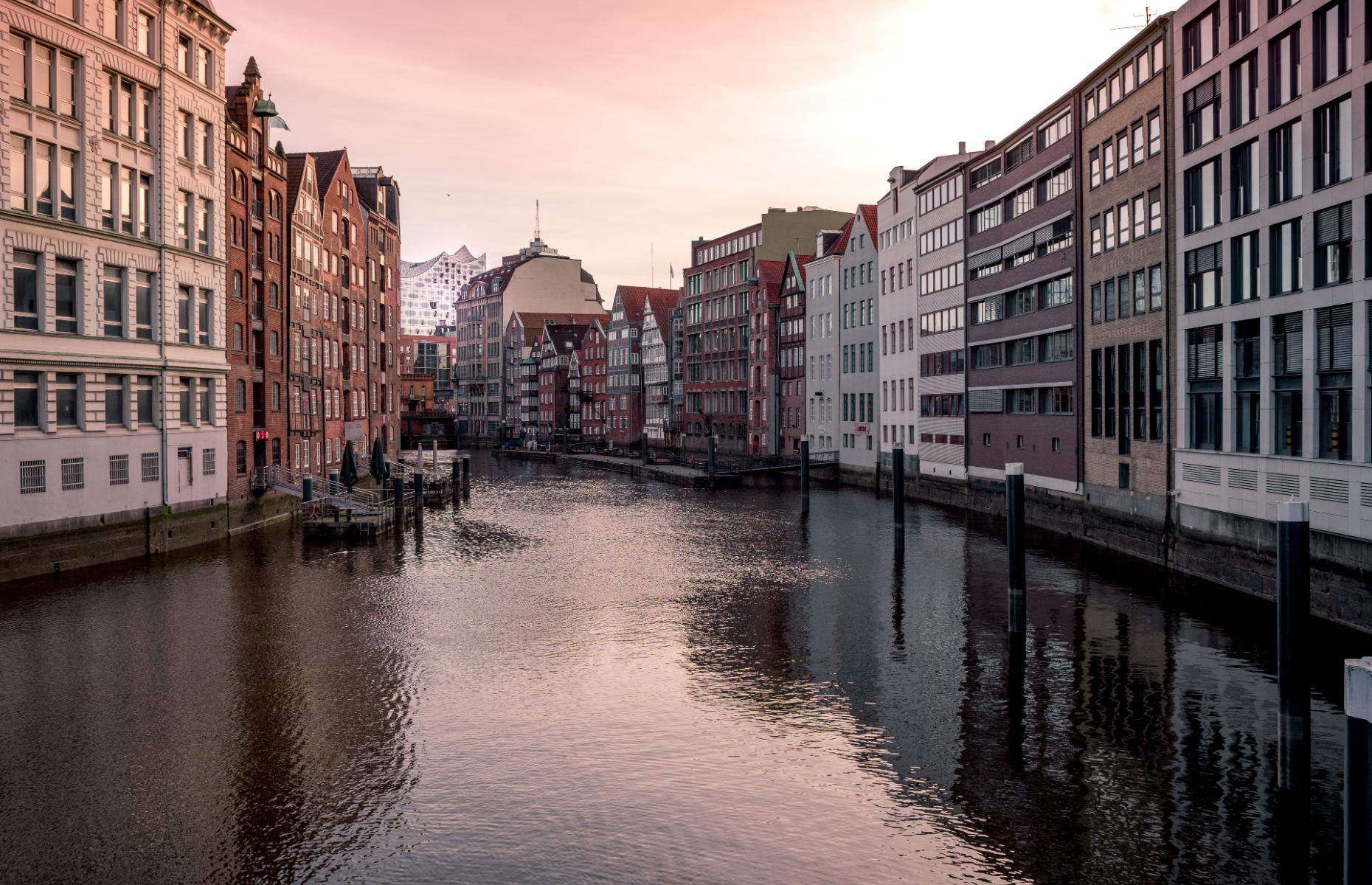 Adrian Degner/Unsplash
Sip coffee at: Kaffeemuseum Burg. In need of a break? Fear not – in Hamburg you're never far from a coffee roastery. Kaffeemuseum Burg, located on the St. Annenufer inside a former warehouse building, is one of the best. Choose between myriad types of single-origin coffee (grown in one area) and single-estate coffee (grown in one plantation), before cosying up in the inviting wooden-clad café. For coffee aficionados, the shop runs group tours and tastings for €12.50 a head, where you'll get to try several different coffee varieties, learn about the roasting process and take home a few samples.
Jorge Franganillo/CC BY 2.0/Flickr
Go for lunch at: Hobenköök. A standout restaurant on Hamburg's foodie scene since 2017, this market/café/deli sells an abundance of local produce – 80% of the items sold here come from within 125 miles (200km) of the region. At the market hall kitchen, you'll find a selection of freshly prepared specials which change daily, organic salads, freshly baked breads and more.
Indulge your inner child at: Minatur Wunderland. Once you've explored Hamburg's sights in real life, experience them in miniature at this charming and quirky museum. Voted Germany's most popular attraction, Minatur Wunderland features 50,524 feet (15,400m) of railway and 260,000 model figures across nine different miniature 'worlds', which include Central Germany, Austria, the USA, Venice and (of course!) Hamburg. Particularly mesmerising is the gradual shift from day to night, when you'll get to see cities' tiny lights come on. Book in advance to avoid the queues.
Courtesy Minatur Wunderland
…before indulging your grown-up tastes with: Tins & Tales. This cocktail-savvy bartending duo know a thing or two about gin, and if you're interested in learning more about the much-loved spirit, book in for a tasting with them. For €59 ($65/£50) per person, you'll get to try five different gins with distinctive flavour profiles, learn how to balance them with the right tonic, and flex your cocktail-shaking skills to create a gin cocktail. Tins & Tales' masterclasses last roughly two and take place at Broken Paradise bar in St. Pauli.
Dine at: Goldene Gans. Serving traditional dishes with a twist, this restaurant in the Altona district is the perfect place to get a taste for Hamburg's fine dining scene. Order the four-course set menu for the best in seasonal, innovative dishes.
Getting there
For further travel information visit Hamburg Travel
Use the Hamburg CARD for unlimited travel by public transport and further discounts. Find out more by clicking here
EasyJet typically fly from London Gatwick, Manchester and Edinburgh to Hamburg five times a week. Fares are around £38.99 per person each way.
Be the first to comment
Do you want to comment on this article? You need to be signed in for this feature