6 bucket-list adventures not to miss in Alaska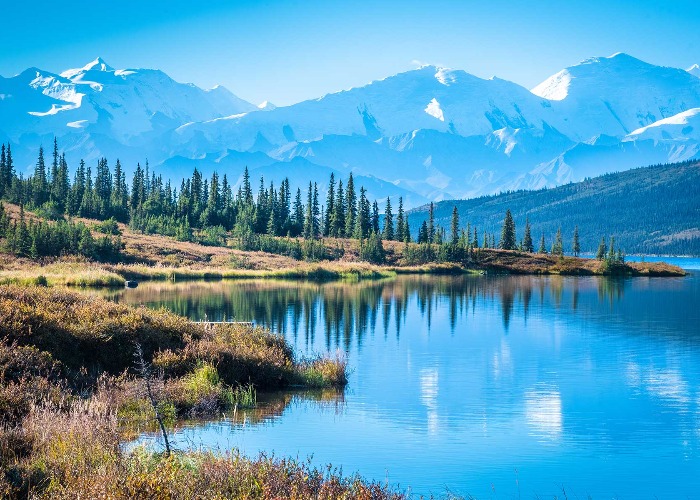 Alaska does boots-on, bold-as-brass adventures better than anywhere else in North America. It's crammed with mountains, glaciers, fjords, forests and sacred landscapes and best experienced when immersed in the great outdoors. Here are six life-affirming adventures to try.
There are plenty of adventures to unpack in Alaska. To the north, there's Denali National Park, home to the highest mountain in North America and a wild expanse dripping with opportunities for backcountry camping, hiking and wildlife-watching. To the south is a trilogy of soul-stirring national parks – Katmai, Kenai Fjords, Glacier Bay – that probe their way into the Gulf of Alaska.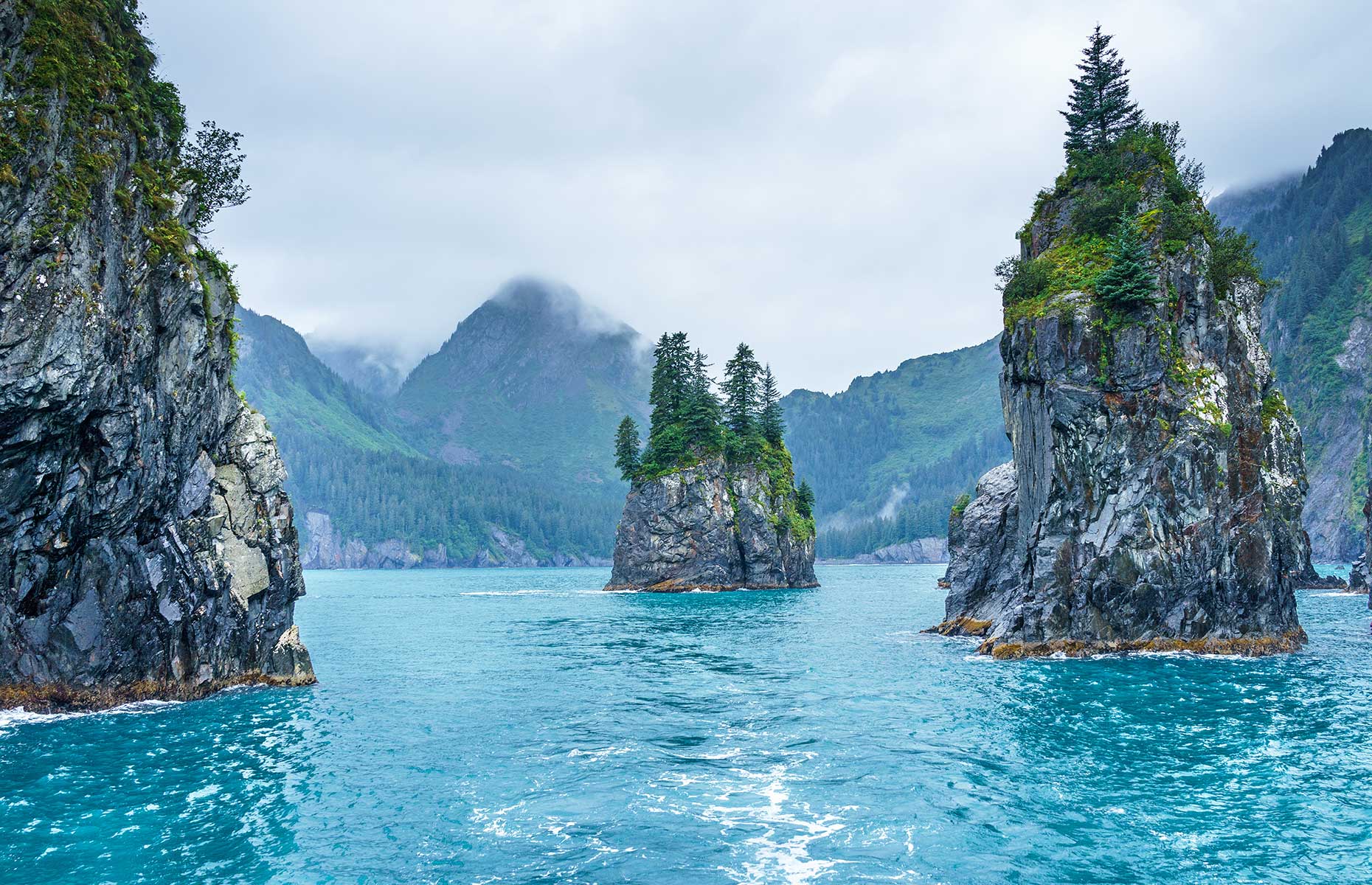 Sekar B/Shutterstock
All receive a steady beat of bears, orcas and barnacled humpbacks. Beyond that, stretched from Skagway to Ketchikan in southeast Alaska, is the Tongass National Forest, an expanse of rainforest only second in size to the Amazon. With this tailor-made setting, it's understandable that pinch-yourself adventures are omnipresent.
READ MORE: 60 places you won't believe are in the USA
1. Track brown bears in the ABC Islands
In high summer, the salmon run lulls Alaska's brown bears into a feeding frenzy that brings them to the shoreline of the vast Tongass National Forest in a stampede. In particular, Admiralty, Baranof, and Chichagof islands in the northern part of the Alexander Archipelago are home to the densest concentration of coastal brown bears on Earth. To see these solitary creatures feeding in packs on a fly-in safari is to witness Alaska at its most visceral.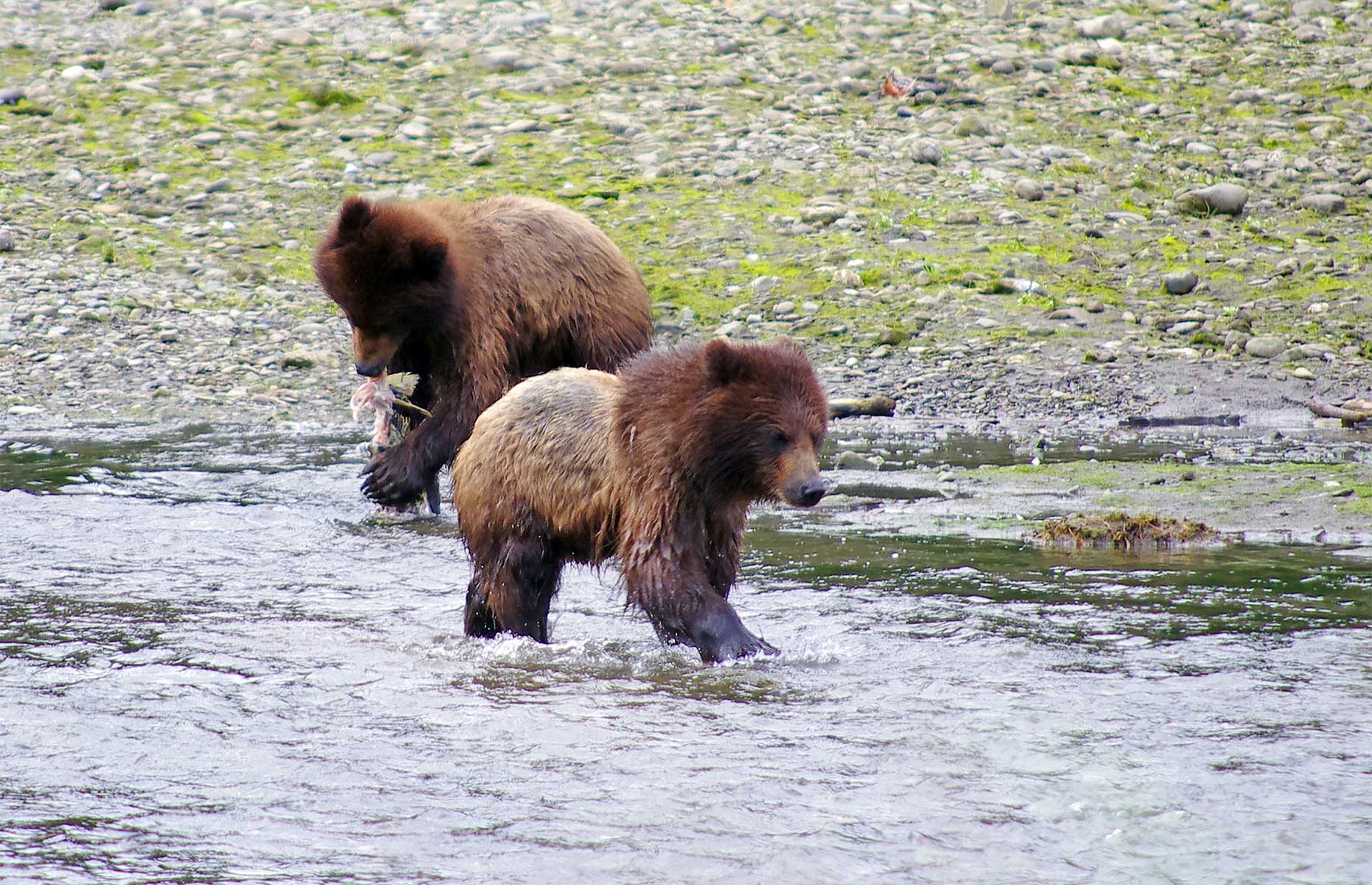 State of Alaska/Reinhard Pantke
These nearly-uninhabited islands are not for the faint of heart – access is by floatplane from Alaskan state capital Juneau – and once there you are off-grid, with no phone reception, facilities or services. What this equates to is a spiritual journey into a world apart and a deeper understanding of why southeast Alaska is so precious. Bear Creek Outfitters operates from Juneau's floatplane terminal, offering a number of backcountry adventures from mid-May to mid-September when the bears are at their most active.
2. Sea kayak to a tidewater glacier
You'll never get used to being dwarfed by a 600-foot (182m) tall ice wall from the vantage point of a sea kayak. So close the air frosts to your face, and near enough to see huge, calving chunks fall as if in slow motion, you'll learn two things. Firstly, don't get too close; secondly, stay clear of the ocean debris – often the size of a double-decker bus, the ice blocks are capable of sinking you in an instant by unexpectedly listing.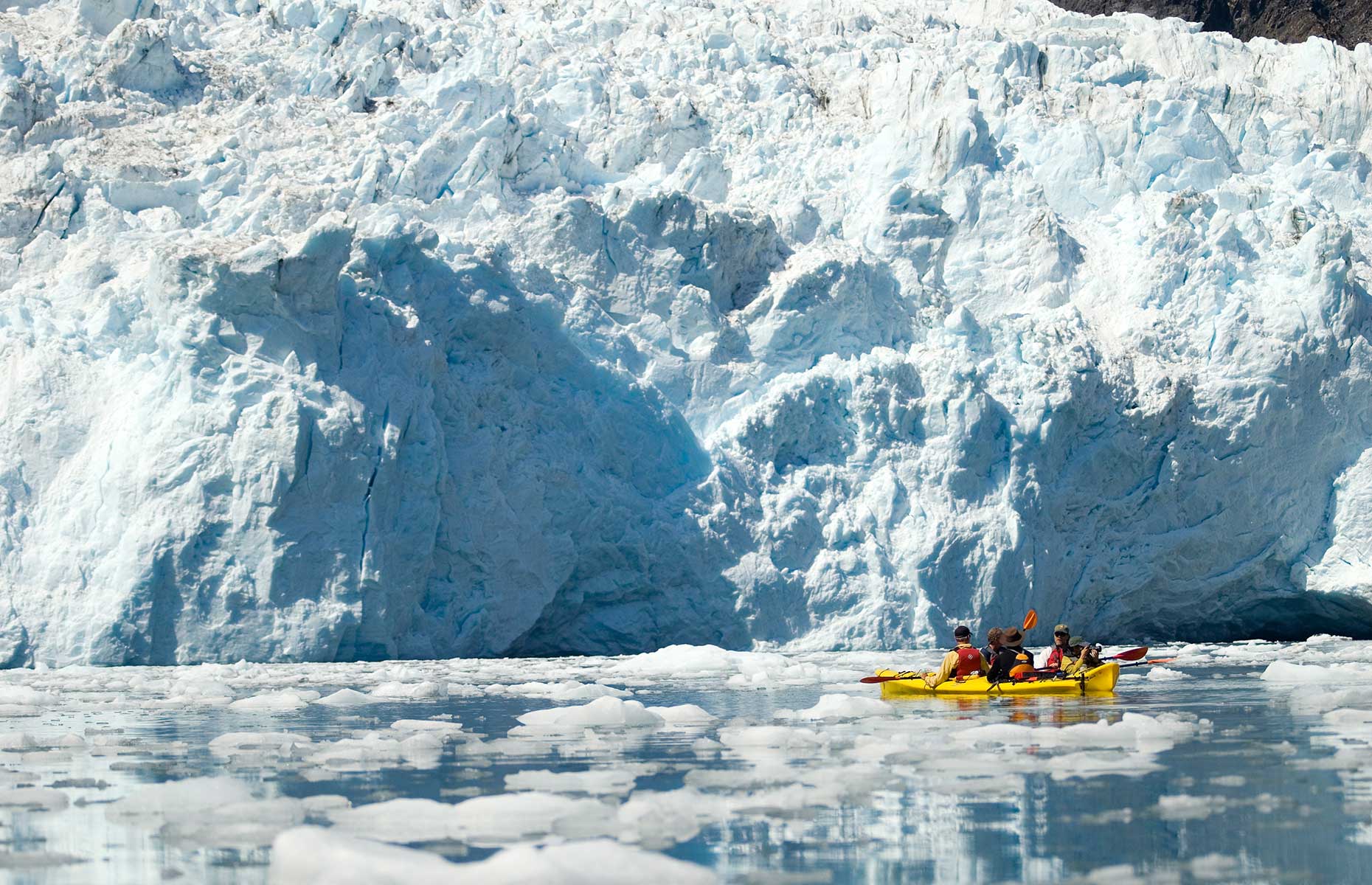 State of Alaska/Brian Adam
These are the golden rules when kayaking in Kenai Fjords National Park, 12.5 miles (20km) from the city of Seward on the Kenai Peninsula south of Anchorage. Apart from the 1,000-year-old glaciers, there are other potential considerations: sea otters crowd the shores, harbour seals pose for portraits, and orcas and humpbacks breach farther from shore. Wilderness on this scale certainly puts you in your place. To see it all from the water, book a trip with Sunny Cove Kayaking, which has a variety of one- and two-day trips including kayak rental.
3. Wild camp beneath North America's highest mountain
With its head in the clouds — they say Denali only makes an appearance once every three days – and feet entrenched amid low-elevation taiga forest and six million-plus acres of backcountry, this colossal national park is the one everyone wants an adventure in. The trick is access. The park is bisected by just the one road, a 92-mile (148km) strip given over to narrated tour coaches and transit buses operated by the National Park Service (mid-May to mid-September only).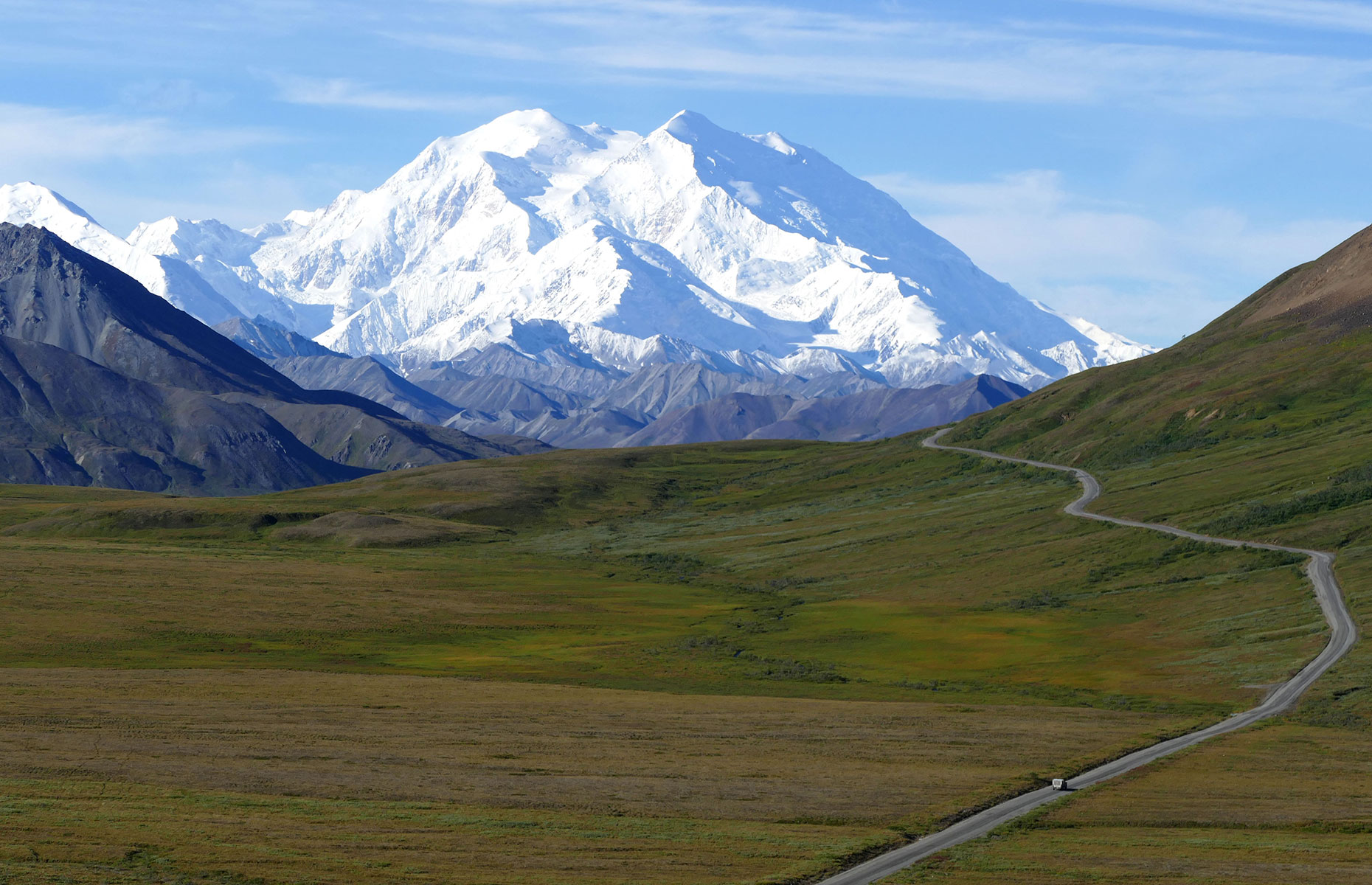 Joris Beugels/Unsplash
This means overnight adventurers need to be entirely self-sufficient, carrying everything with them, and the park operates a strict leave-no-trace policy. There are a handful of privately-owned lodges in the park, of course, but these offer pricey, multi-night packages, including accommodation, meals and excursions. To climb Denali itself, a multi-week expedition to the 20,310 feet (6,190m) summit, it's highly recommended to use an authorised guiding service.
4. Whale and orca watch on a Glacier Bay cruise
With its horizon brimming with incisor-shaped peaks, calving tidewater glacier tongues and deep-sheltered fjords, Glacier Bay National Park possesses a mystique all its own. It's southeast Alaska at its rawest and home to a succession of lung-fillingly beautiful inlets, lagoons and islands that shape the northern edge of the labyrinthine Inside Passage.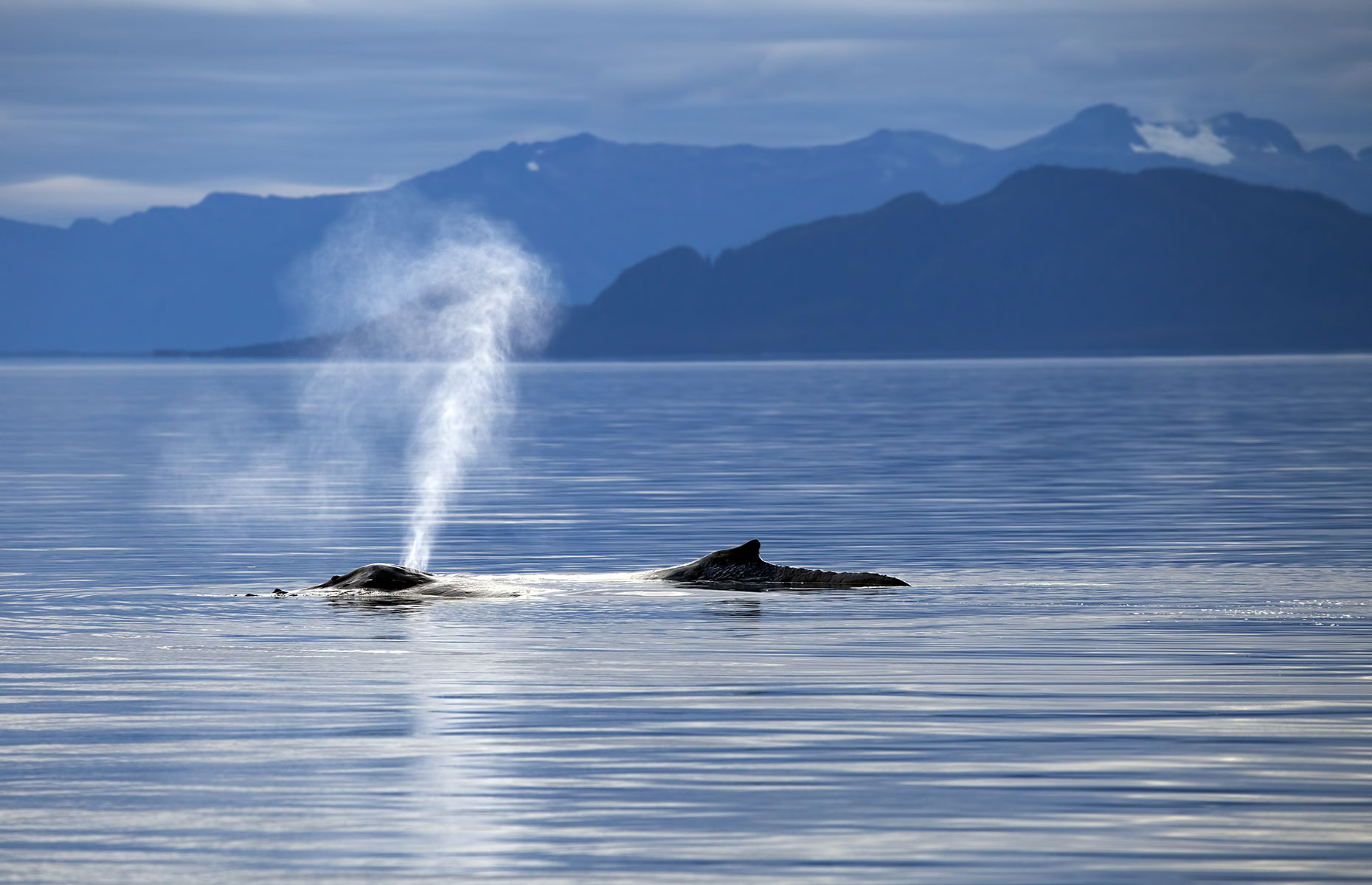 M. Cornelius/Shutterstock
At times, a boat journey here – by cruise ship, tour vessel or private charter – feels the closest most of us will ever come to the dewy-eyed journeys of polar explorers like Shackleton and Amundsen. While cruising, take a moment amid the mountains to look for cannonballing orcas and breaching humpbacks. They patrol the crystal-blue waters and are so playful you could end up watching the water for days.
5. Ride a gold rush-era train to the Yukon
While the majority of visitors to Skagway content themselves with its dusty boardwalk vibe, trapped-in-time saloons and Klondike-era brothels-turned-museums, those with an eye on adventure board the White Pass & Yukon Route Railroad to rattle full-throttle on a round-trip into Canada.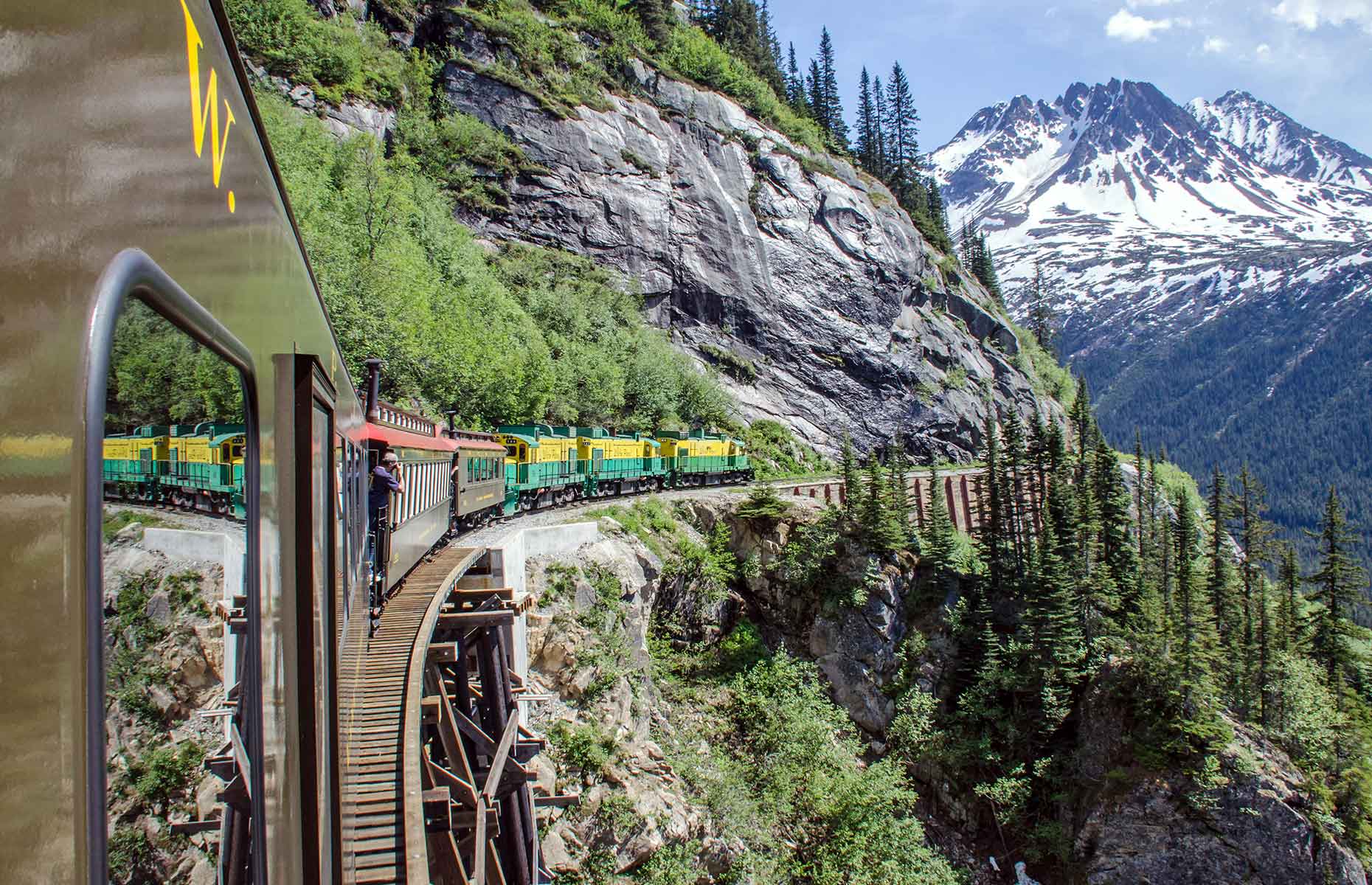 Rocky Grimes/Shutterstock
The narrow-gauge railroad, built in 1898 to link Skagway to Whitehorse in the Yukon during the height of gold rush mania, click-clacks over spectacular wooden bridges and mountain passes with waterfall-lined chasms flooding the carriage windows. The train operates a number of excursions, but it's the scenic run to gold rush ghost town Bennett that's the time-travelling adventure you've been looking for.
READ MORE: Canada's eeriest ghost towns
6. Spot salmon-guzzling brown bears at Brooks Falls
The flight to Brooks Falls in Katmai National Park introduces an immeasurable concoction of tundra, forests, lake and mountain landscapes. But the real adventure is on foot beyond the floatplane dock, because here a healthy salmon population brings in thousands of brown bears outside denning season. In peak season – from mid-May to mid-September – it crawls with more than 2,200 of them.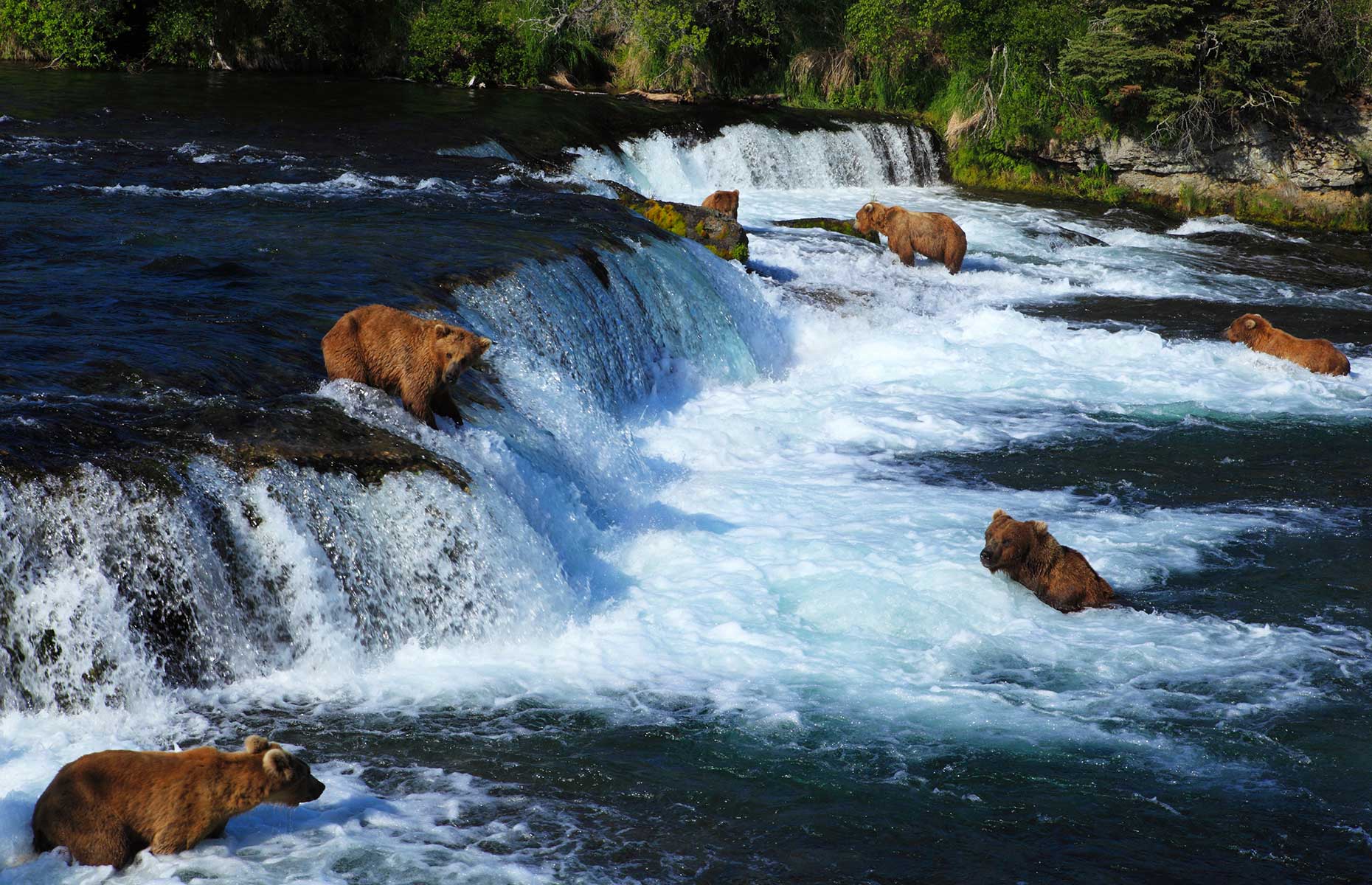 Manamana/Shutterstock
The easiest way to get to the park is by seaplane from Anchorage, 80 miles (128km) to the northeast, before spending the day in the company of a National Park Service ranger. Get lucky and you'll see bears frolicking with cubs, brooding males catching airborne salmon, or families clamming for shells — all from the safety of a viewing platform or the elevated bridge.
Among the day-trip operators to consider are Fly Katmai and Regal Air, both of which offer once-in-a-lifetime, 10 hour trips for around £730pp ($940), including flights. For a bucket-list-worthy splurge, book an overnight stay with Brooks Lodge, the only full-service accommodation within the park's boundaries.
Be the first to comment
Do you want to comment on this article? You need to be signed in for this feature