A ferry cool way to see New York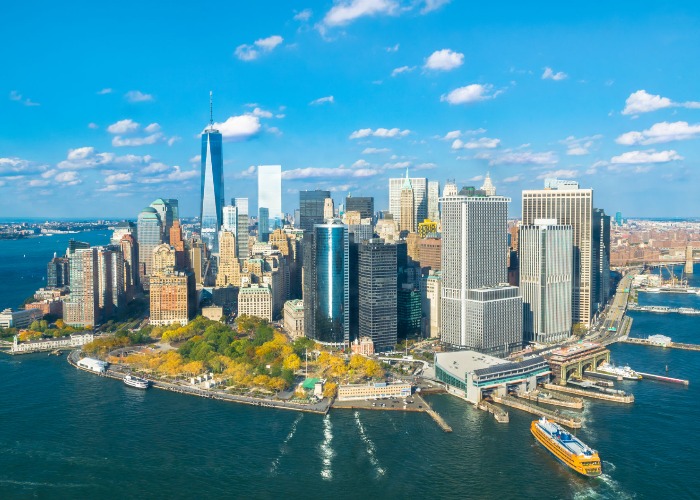 Hit the water and tackle this exciting state in a unique, relaxing way. You won't be sorry.
Picture New York City. Its higgledy-piggledy skyline of Art Deco spires, shimmering towers, cable-stayed bridges and IMAX-ready office blocks dazzle. Particularly when hotfooting it from Times Square to Midtown, or from Wall Street to Battery Park. But dodging busy New Yorkers on a packed pavement? Or hailing a yellow cab scooting through Manhattan's grid of streets? Hardly relaxing.
Which is why taking an NYC Ferry is the smart move. The city's sixth and latest route – from Long Island City to Manhattan's Lower East Side – began service last autumn, making it easier than ever to explore the five boroughs from the water. A $2.75 (£2.15) ride zips you between lesser-known waterfront communities, but it also proposes New York from an entirely new perspective.
Here are six bitesize itineraries that highlight the most unmissable sights and stop-offs on each of the NYC Ferry services.
East River (teal line)
East 34th Street to Wall Street
Stop 2: Hunter's Point South
Until recently, Hunter's Point South Park was an abandoned post-industrial wasteland. But it's upped its game, with investment funnelled into pedestrian and bike paths and a 30-foot-high cantilevered platform with knockout views of the Empire State Building and Rockefeller Center. Both of which, conveniently, are positioned right across the river.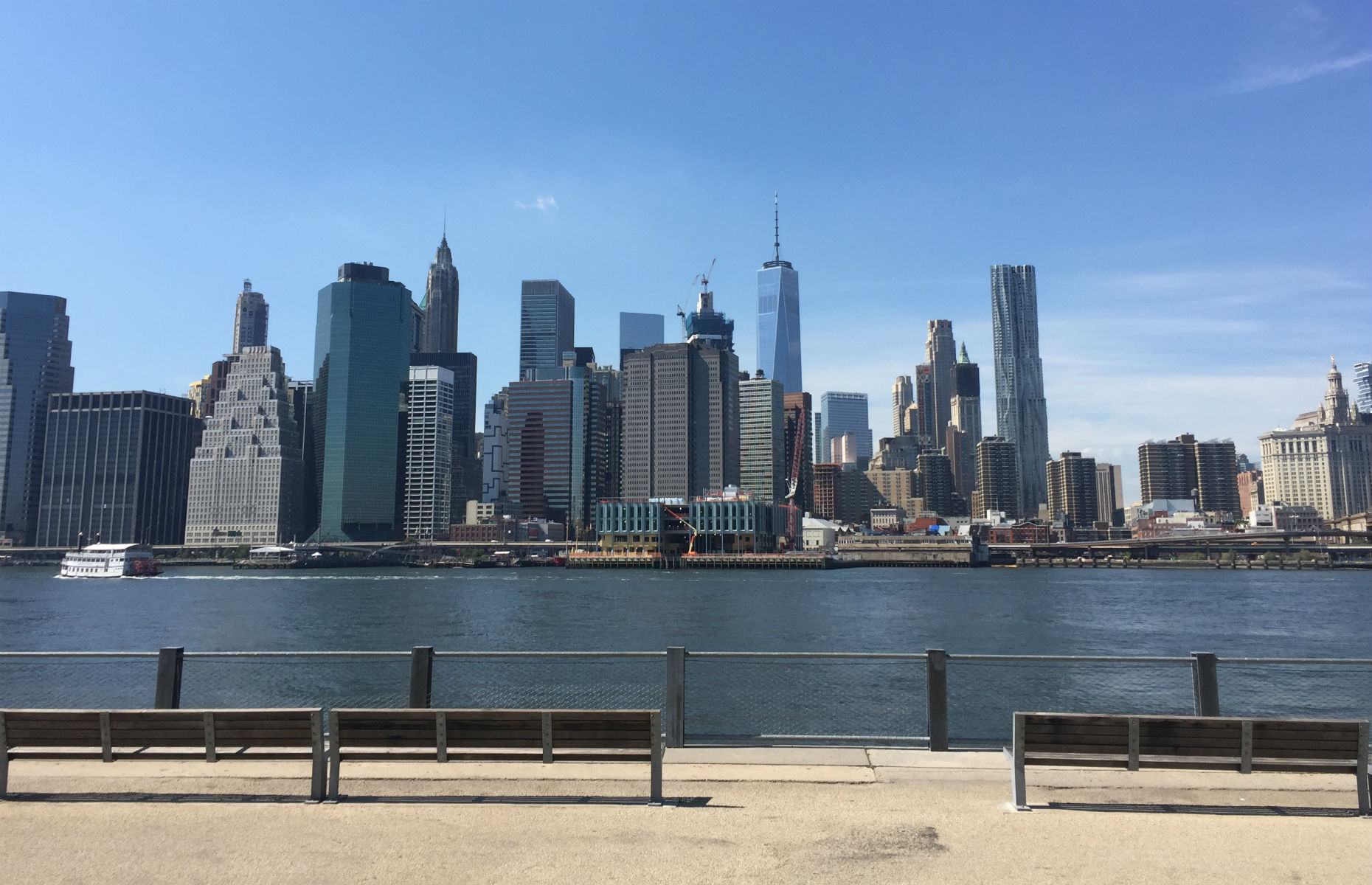 nycowl/Shutterstock
Stop 3: Greenpoint
Adventurous beer drinkers have already discovered this up-and-coming neighbourhood, in part thanks to the overspill from the all-conquering Brooklyn Brewery, a stroll to the south. The main reason is the Greenpoint Beer and Ale Co., a German-influenced experimental micro-cannery. Stop off for a milk and honey-infused blonde ale.
Stop 4: North Williamsburg
The Hoxton is more than a hotel. Only opened in autumn 2018, it's already become a honeypot for the area's creative set, owing much to the economic and cultural changes that have swept Williamsburg since it became the centre of the style map. Down the stairs, the subterranean all-day restaurant and bar are where it's at: pop in for a ridiculously good-looking burger, then kill a few calories with the short dawdle back to the ferry.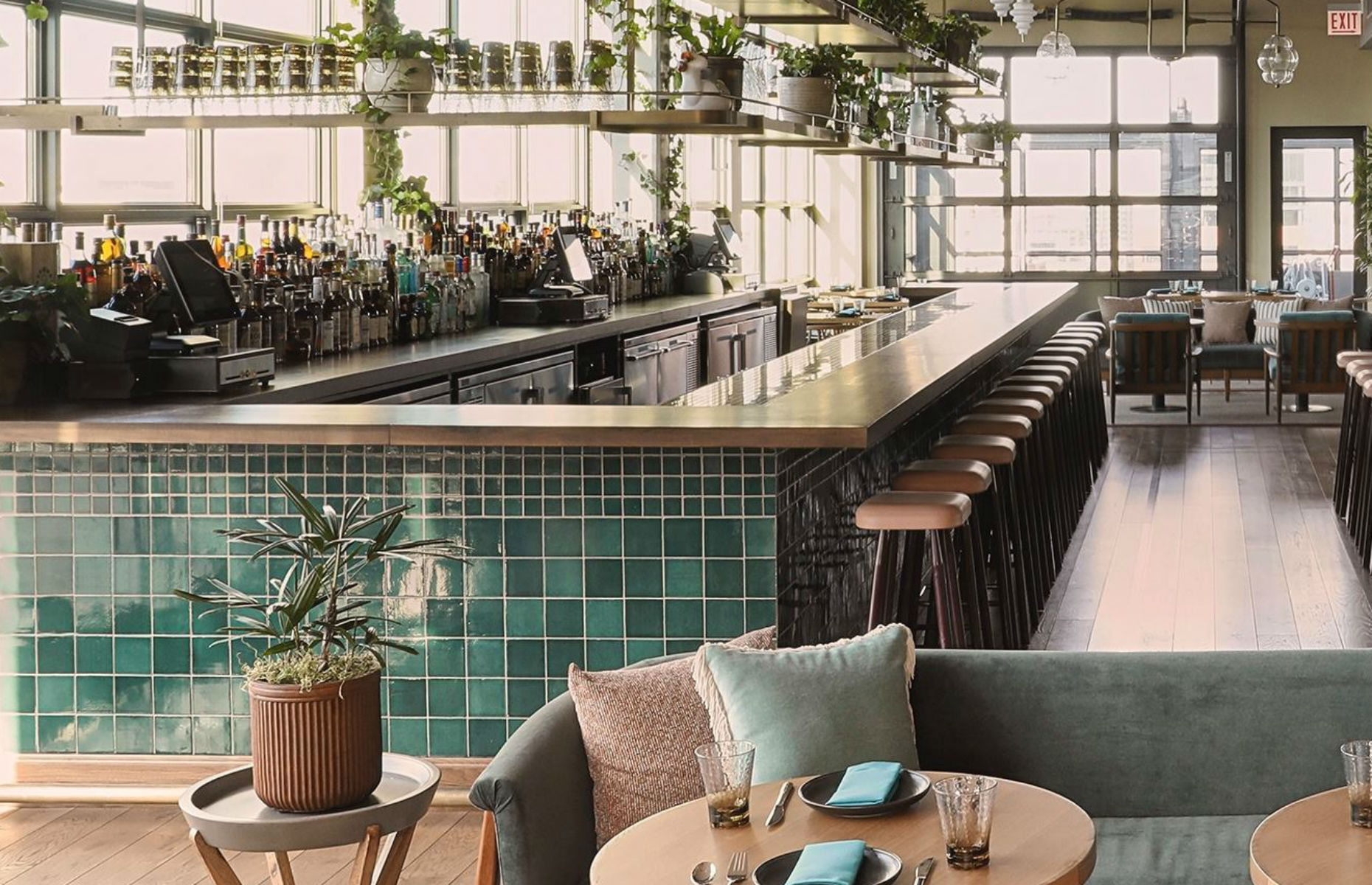 The Hoxton, Williamsburg/Facebook.com
Stop 5: South Williamsburg
New Yorkers love their coffee. Which explains why there's almost always a queue at Colombian coffee roasters Devocion. It's a beautiful, exposed brick space with a sustainable ethos and Medellin-born owner who's on first name terms with all his suppliers. Starbucks this is not.
Stop 6: DUMBO
Lisbon may have beaten it to the punch, but New York is soon to have a Time Out Market of its own. You'll find it on the waterfront, wedged between the highly-photogenic Brooklyn and Manhattan Bridges, and in striking distance of the ferry in Brooklyn Bridge Park. Once open, there'll be a smorgasbord of restaurants, bars and cultural experiences handpicked by Time Out editors, plus a fifth-floor rooftop with views of ferries cruising the East River.
South Brooklyn (pink line)
Bay Ridge to Wall Street
Stop 1: Bay Ridge
Just don't say 'hidden gem'. Those words are banned in this Brooklyn suburb, particularly because it has so many cool spots there's been a hipster invasion from elsewhere. Despite the groundswell of bars, barbers and burger joints, the easiest thrills can be found right at the ferry terminal. Namely at the Narrows Botanical Gardens, a green lung with peekaboo views of Lower Manhattan between the foliage.
Stop 2: Sunset Park
Leave Chinatown in Lower Manhattan to the tourists. This Brooklyn neighbourhood has a far bigger Chinese population, and its street food and dumpling joints are where New Yorkers go for a dim sum and bubble tea blowout. A few to try are Bamboo Garden (for a Cantonese buffet); Golden Rich (for Taiwanese staples and surprises); and Yun Nan Flavour Garden (for Yunnan specialties; +1 718-633-3090).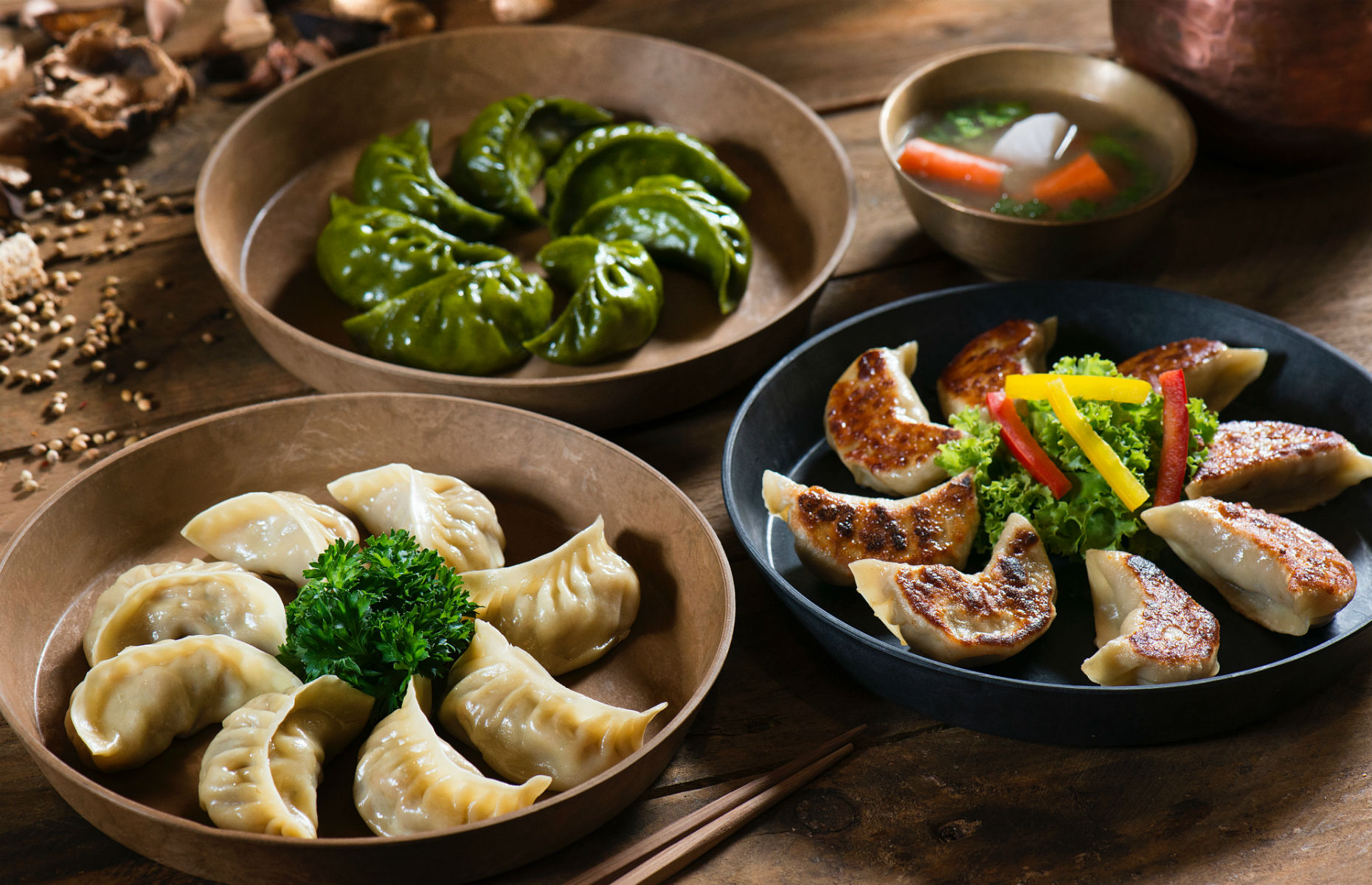 Abhishek Sanwa Limbu/Unsplash
Stop 3: Red Hook
One of New York's most storied drinking saloons, Sunny's is an old-timer's bar with jamming bluegrass and country bands and an infectious vibe that makes you wish you lived just around the corner. It's a few blocks southwest from the ferry terminal, but worth the trek to see it for what it is: a time capsule of more than a century of Red Hook history.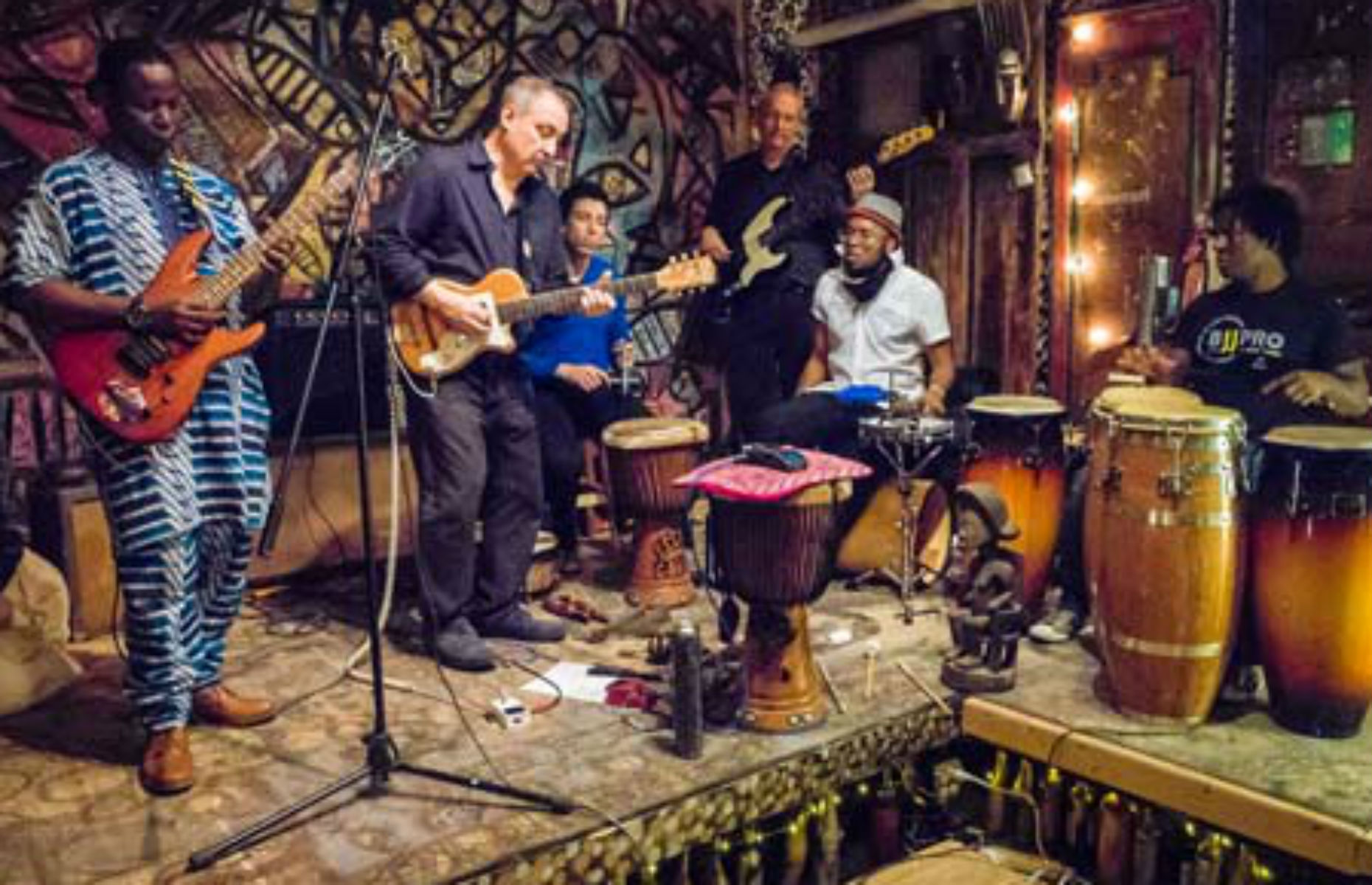 Sunny's Bar/Facebook.com
Stop 4: Atlantic Avenue
Stepping off at Pier 6 in Brooklyn Bridge Park, you'll be instantly struck by the Brooklyn-in-the-movies vibe. A few blocks north are the so-called fruit streets – Pineapple, Orange, Cranberry – all populated by federal-style brownstones. Look for the 'Moonstruck' house, which appeared in the film of the same name with Nicolas Cage and Cher.
Stop 5: DUMBO
They are hardly secrets, and you'll spy the queues snaking down Old Fulton Street from the terminal, but the coal-fired pizza pies from Juliana's and Grimaldi's Pizza are two of the greatest gustatory experiences going. Get there early, or go without.
Astoria (orange line)
Astoria to Wall Street
Stop 1: Astoria
It's a bit of a walk from the ferry stop, but the public pool in Astoria Park – the oldest and largest in New York – is unlike any other metropolitan splash zone. While doing lengths, you'll be in awe of the nearby Hell Gate Bridge and Robert F. Kennedy Bridge.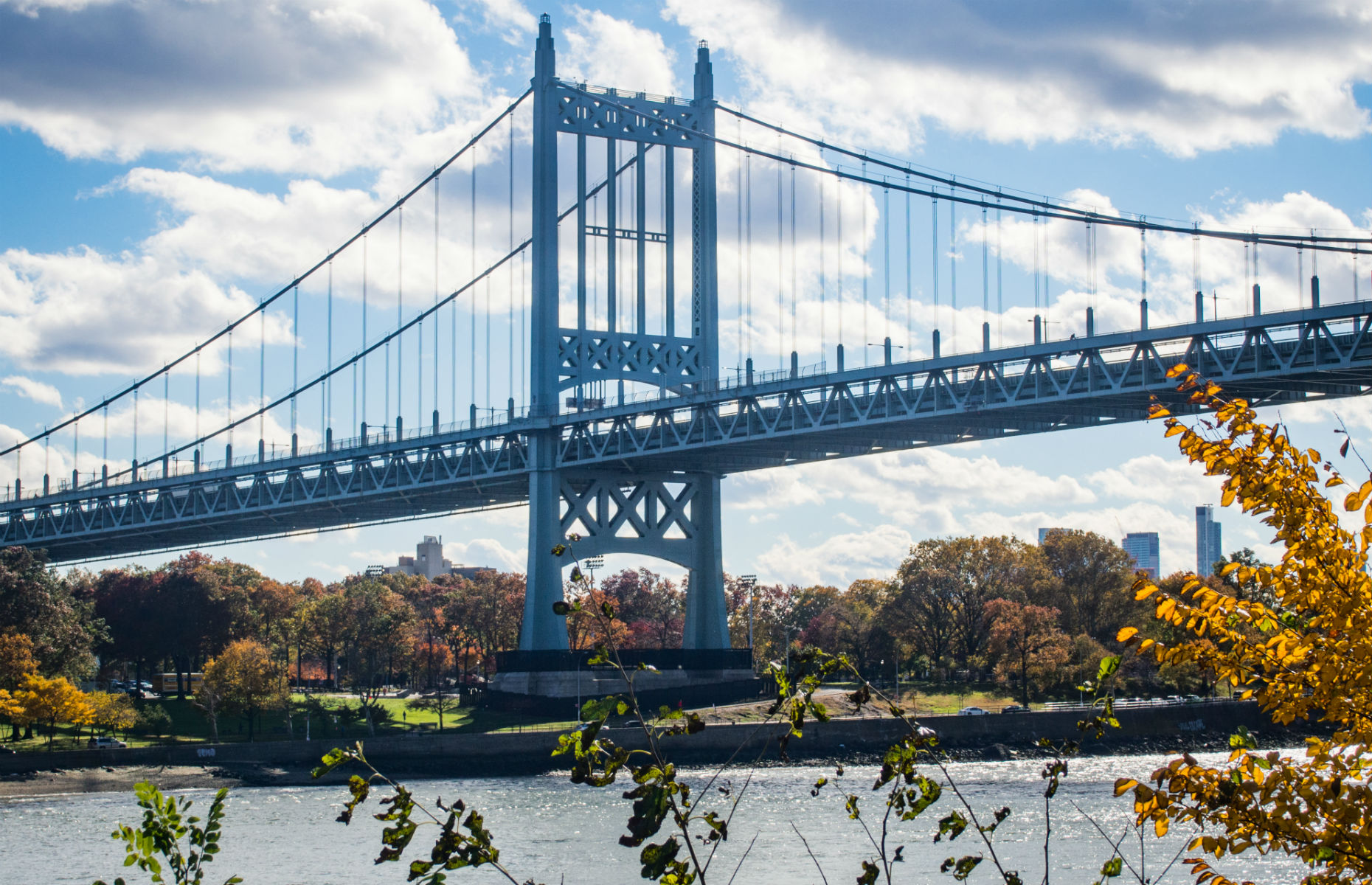 alexat25/Shutterstock
Stop 2: Roosevelt Island
The Roosevelt Island Tramway is arguably the world's most famous cable-car, a red and white aerial cabin that swings into Manhattan on a 20-minute, $4 (£3.15) round-trip. Almost feels like the skyscrapers are so close you could touch them. If heights are your thing, check out New York's best skyscraper views here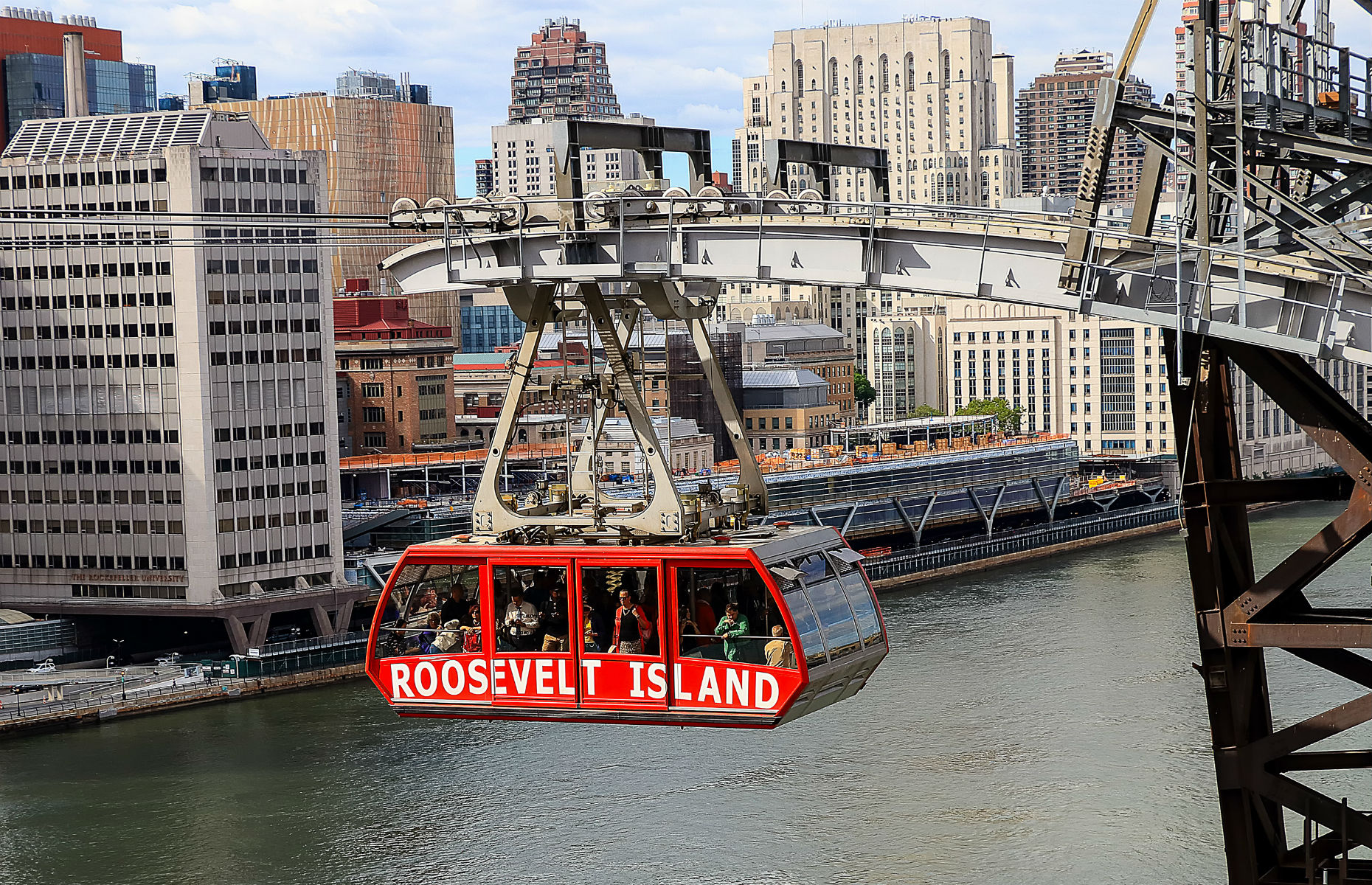 agsaz/Shutterstock
Stop 6: Wall Street
28 Liberty Street is home to investment bankers and tycoons, but it's also recently welcomed the swit-swoo Manhatta, a stunning 60th-floor restaurant and cocktail bar with equally-delicious views (three courses for $78/£60 on a weekend, no tips accepted).
Lower East Side (yellow line)
Long Island City to Wall Street
Stop 1: Long Island City
MoMA PS1, effectively a Queens extension of the formidable Museum of Modern Art, is a trend-setting gallery with a heavyweight programme. Expect ambitious contemporary art exhibitions, workshops, film screenings, a summer music series and performances that showcase the stars of tomorrow.
Stop 2: East 34th Street
Fun fact: the United Nations Headquarters is in a part of New York that's not technically New York (the space is the sole administration of the UN, not the US government). It's located just north of the ferry terminal and open for behind-the-scenes guided tours, allowing for selfies in the General Assembly Hall and Security Council Chamber.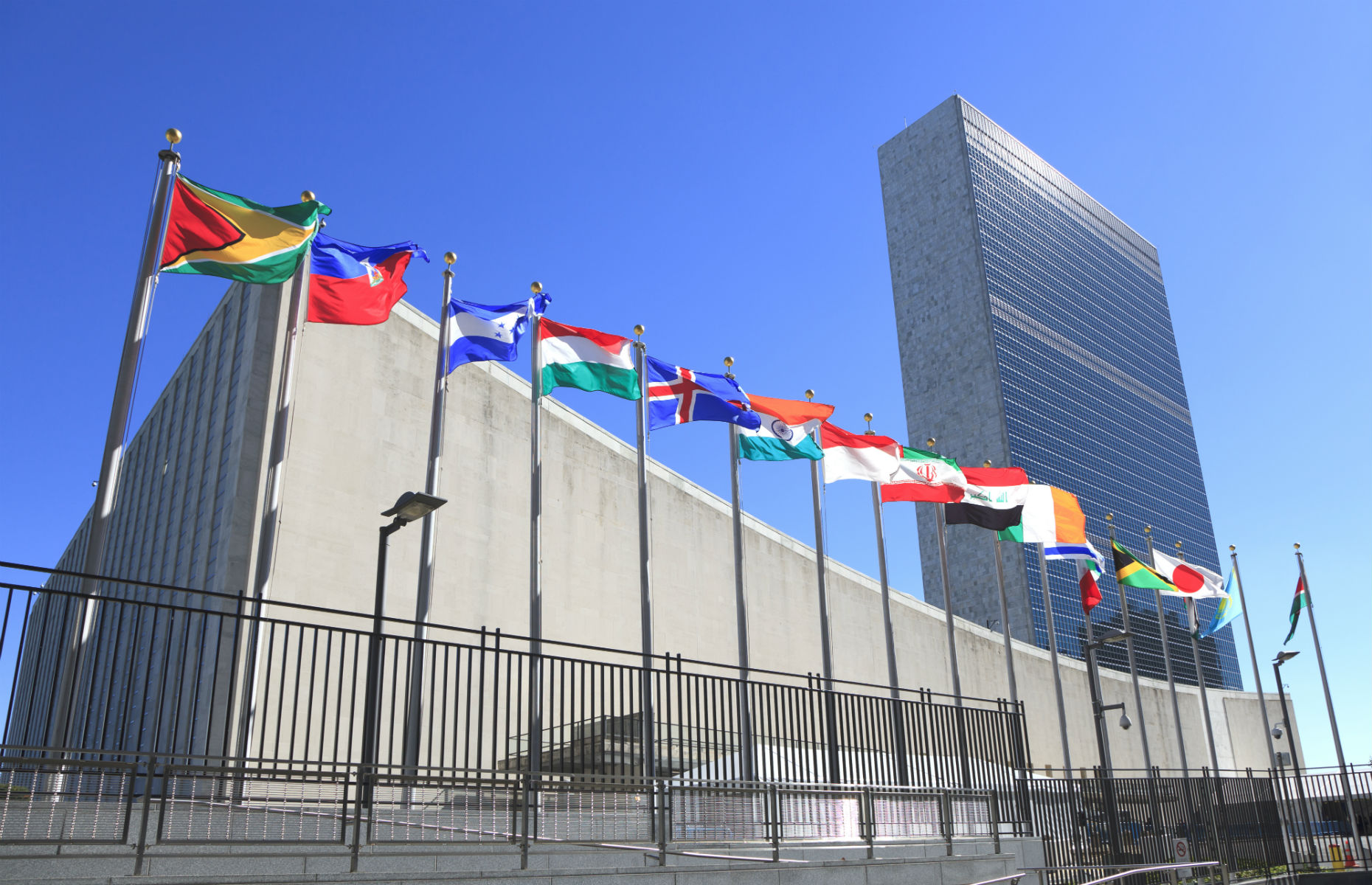 Osugi/Shutterstock
Stop 3: Stuyvesant Cove
More a gritty mass of inner city apartments than a must-do sightseeing stop, this community nevertheless is worth a visit to soak-up the Brooklyn views from the East River Greenway. As push bikes are allowed on the ferry (a $1 surcharge applies), you can pedal its entire length too.
Stop 4: Corlears Hook
A brisk 15-minute stroll from this ferry terminal's waterfront park, the Tenement Museum is one of the city's most underrated attractions. There are insightful displays on 19th and 20th century immigration, while guided tours lift the lid on the city's convoluted backstory. For that necessary carb load, legendary Russ & Daughters Cafe, open since 1914 and renowned for black-and-white cookies, is across the street.
Soundview (purple line)
Soundview to Wall Street
Stop 1: Soundview
The Clason Point terminal in this South Bronx suburb is the jumping-off point for Pugsley Creek Park, an area of rehabilitated marshes and wetlands where locals jog, fish and dog walk. Unless you're a kayaker keen to launch into nearby Westchester Creek, there's little else to delay you. But the journey south, along the eastern shore of the Bronx, makes it worth the stop-off alone.
Stop 2: East 90th Street
Fancy the inside scoop on New York's mayor? Gracie Mansion is the official residence of the city's top dog (currently Bill de Blasio) and was first built in 1799. It's part museum, part family home, and can be visited when New York's first family throws open the stately home's doors. It's located in Carl Schurz Park, just south of the terminal.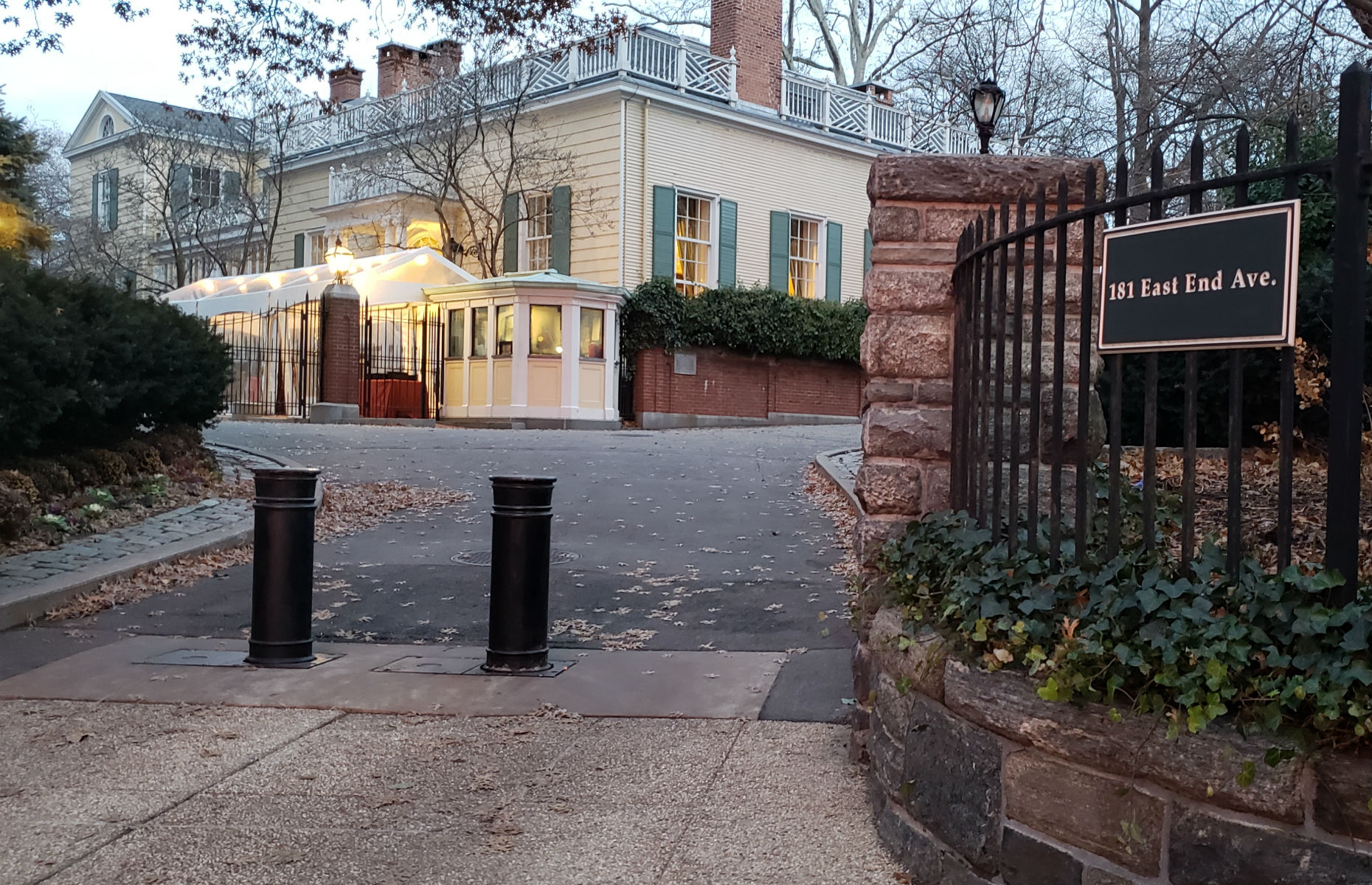 SCOOTERCASTER/Shutterstock
Stop 4: Wall Street
Believe it: bird-watching is a draw on the East River Waterfront Esplanade, right where the ferry docks. At odds with the seething traffic and urban clamour, a number of waterfowl and chirpy feathered friends call this part of New York home.
Rockaway (magenta line)
Rockaway to Wall Street
Stop 1: Rockaway
With a beach immortalised in song by New York bad boys The Ramones ("Rock-rock, Rockaway Beach"), this town on the Queens coast is as happening as NYC gets in summer. There are surf schools, food trucks and music festivals and when the sun delivers the Rockaway Beach and Boardwalk slides into a space that all New Yorkers love.
Tip: the fish tacos at Rockaway Beach Surf Club are too good to miss.
Stop 2: Sunset Park
It may not attract the visiting crowds, but there's plenty to sniff-out in this crucible of multiculturalism. Arguably the main draw is historic Green-Wood Cemetery, a high-thrills graveyard with Gothic revival gateway and plenty of notable names on headstones, most of which follow a timeline from Civil War generals to baseball legends. For the ultimate spookfest, join a Twilight Tour.
Stop 3: Wall Street
The free, 24-hour Staten Island Ferry runs to Saint George from a terminal only a short walk away, so it's tempting to get back on the water straight away. After the 25-minute journey, you can tootle down to the East Shore beaches, pig-out on some of New York's most glorious Italian food, or tour the island's military fort. Otherwise, just enjoy the journey: you'll cruise past the Statue of Liberty, with Manhattan's movie-tested skyline receding in the ferry's wake.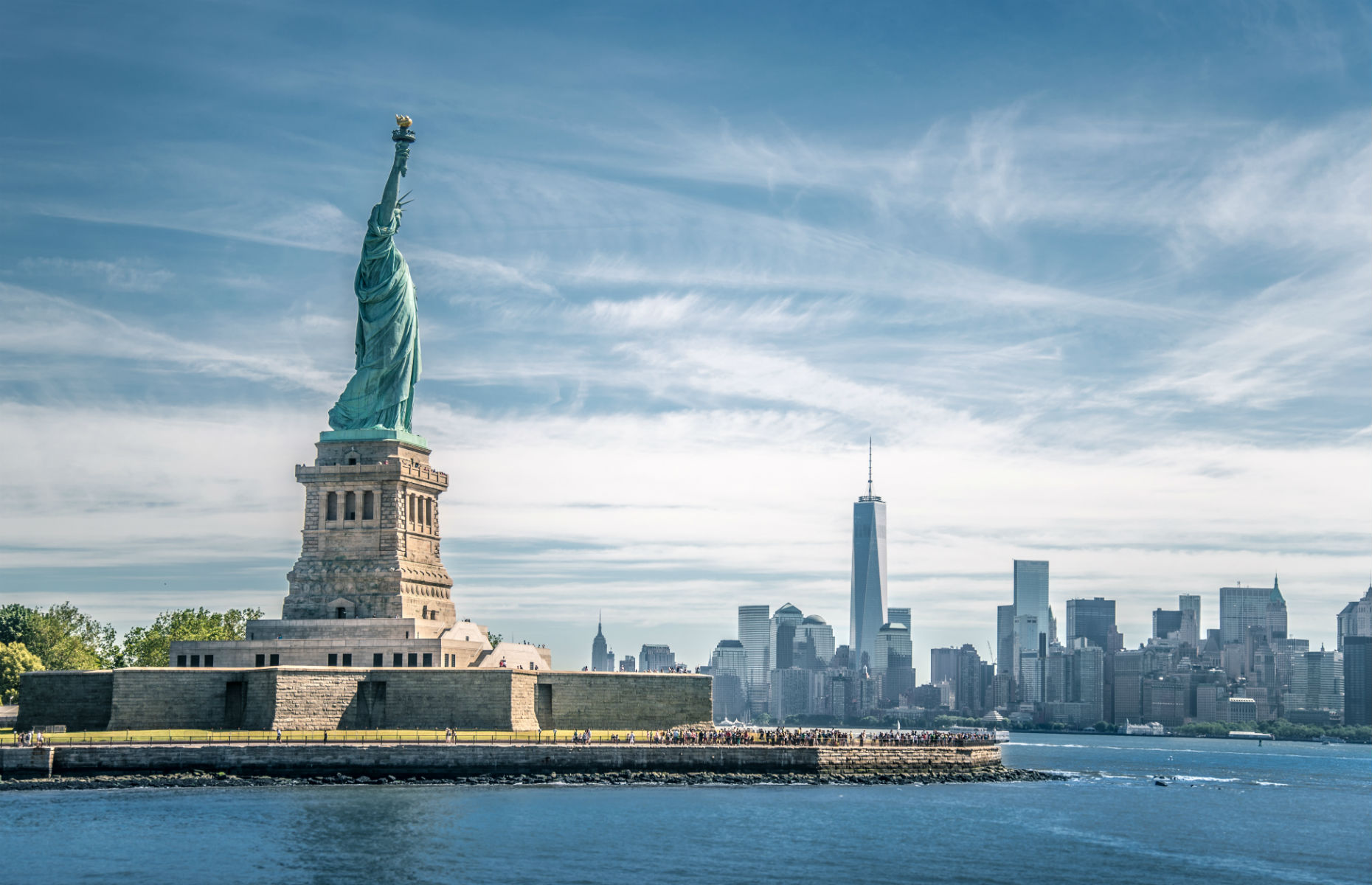 spyarm/Shutterstock
For more info on tickets and schedules, visit NYC Ferry at ferry.nyc
Wondering where to stay when you head to NYC? These glamorous hotels won't break the budget
Lead image: Nido Huebl/Shutterstock
Be the first to comment
Do you want to comment on this article? You need to be signed in for this feature