Laid-back Ibiza: weekend in Santa Eulària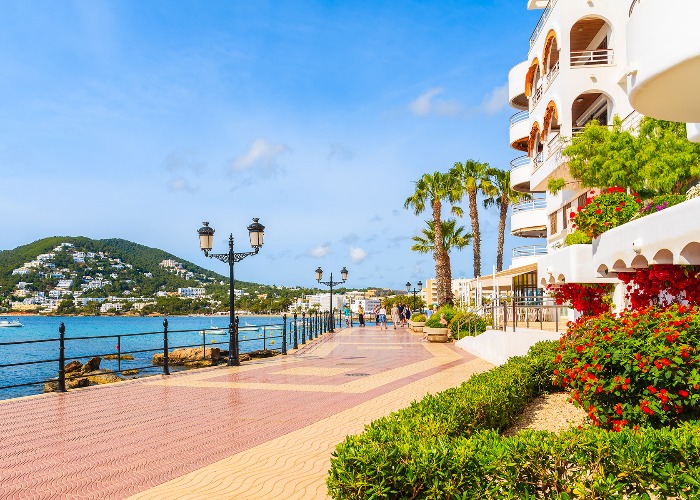 Ibiza's quieter side lures visitors in with its easy-going hippy vibe, tucked-away beaches and picture-perfect views. Here's how to recharge and relax on a weekend away in Santa Eulària des Riu.
Situated to the east of the island, Santa Eulària des Riu doesn't have much in common with its louder neighbour San Antonio to the west. Here, everyone enjoys a much slower pace of life, filled with refreshing swims in the crystal clear waters followed by long lunches and restful afternoon naps in the sun. It's all about the siesta here, and how could it not be when the area enjoys more than 300 sunny days a year? Life is really great in Santa Eulària – here's how to make the most of a long weekend in Ibiza's most relaxed corner.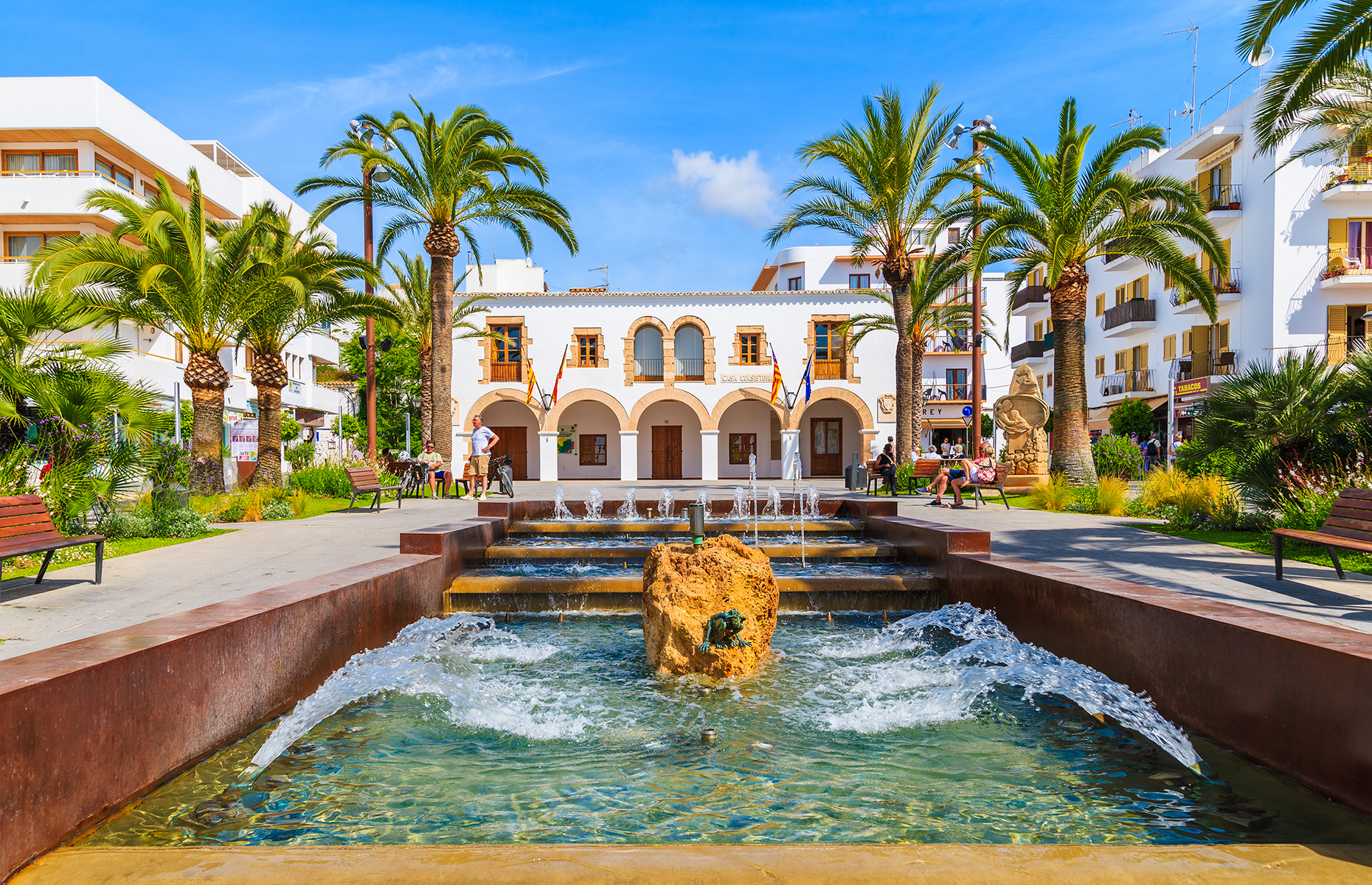 Pawel Kazmierczak/Shutterstock
Friday
Check-in at: Aguas de Ibiza. One of Ibiza's 5-star hotels, rooms at Aguas de Ibiza have balconies overlooking the pool area and Santa Eulària's marina. There's also a rooftop bar and lounging area and the hotel's spa and yoga sessions offer a chance to unwind. The pool area is conveniently spread out over two levels with palm trees all around while the breakfasts are second-to-none. The hotel is also recognised as the most eco-friendly accommodation on the island.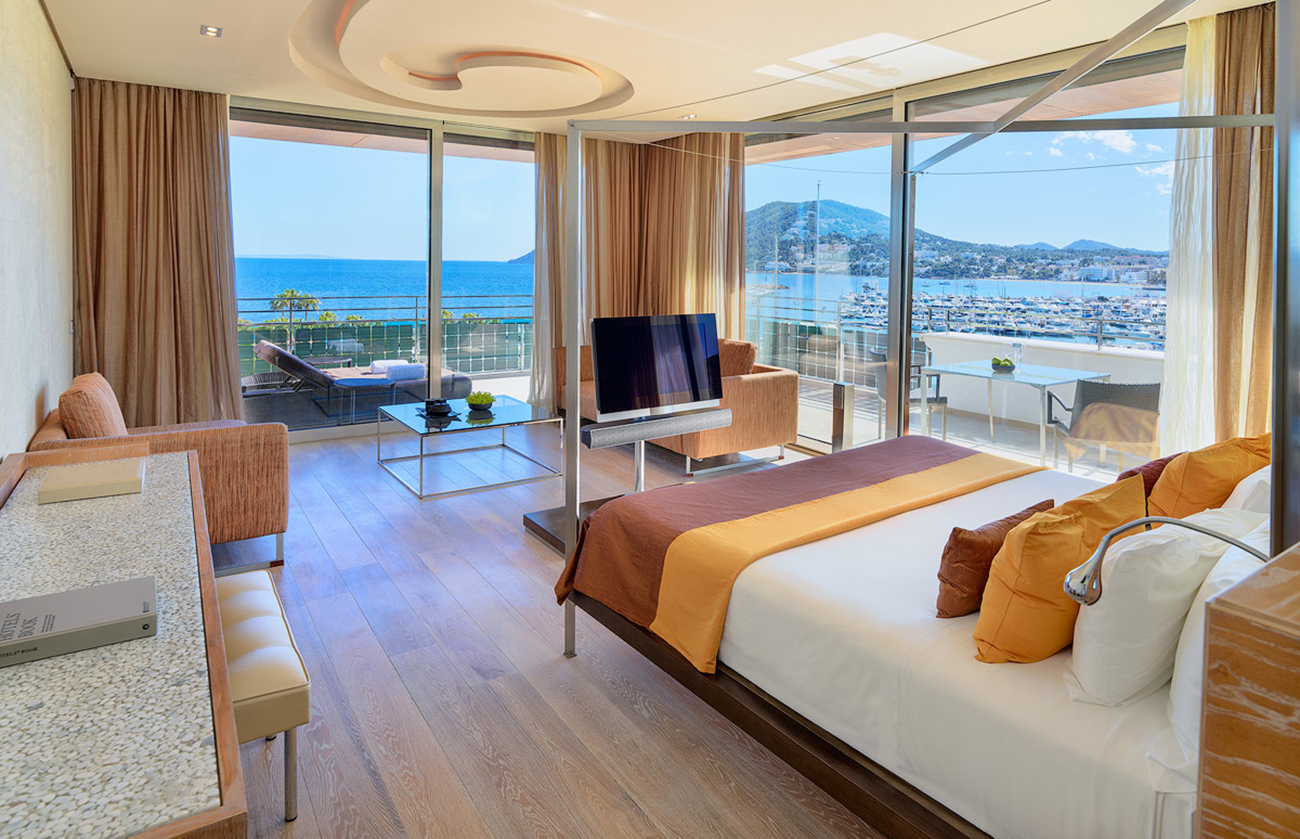 Aguas de Ibiza
Go for a swim at: Cala Olivera, one of the area's quietest and most secluded beaches. It's just 32 feet (10m) wide, however, the bay and the seabed are both mostly sandy with a few rocks. The beach is surrounded by craggy cliffs and thick forests and offers picturesque vistas out to the Balearic Sea.
Order a drink at: a chiringuito. A typical beach bar, you'll see these wooden shacks set up at pretty much every beach on the island. With just a few tables and a bar, order a cerveza and find a spot to enjoy the warming sunshine with the pleasant hubbub of the beachgoers in the background.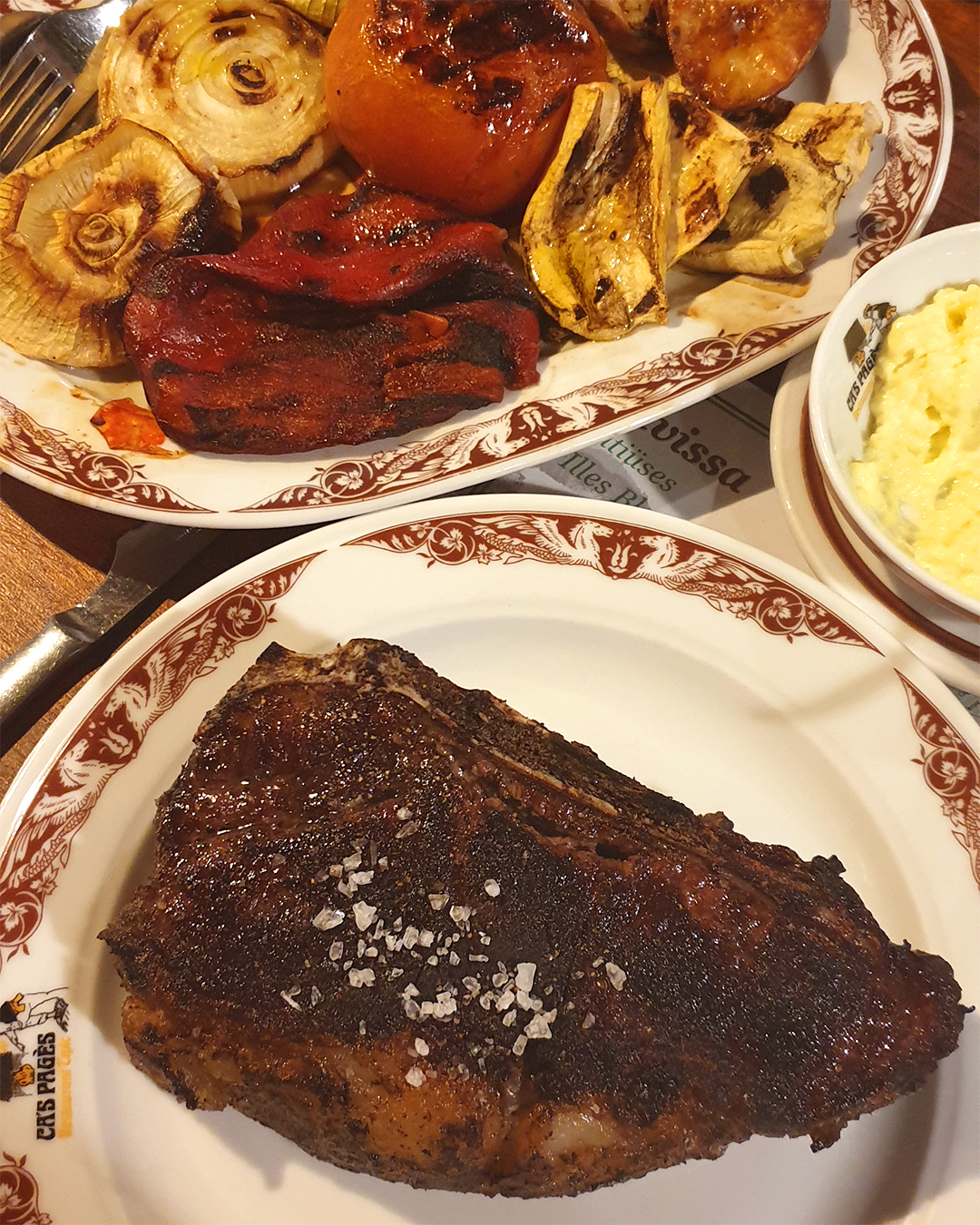 Image by Karlina Valeiko
Have a meat feast at: Ca's Pagès. Although seafood is much loved on the island, there's a strong tradition of meat eating and farming (especially pigs). The rustic outdoor dining area at this restaurant has a meat counter in the corner where you can choose your cut before it's cooked on charcoal and served right before your eyes. The t-bone and the suckling pig are unbeatable with a selection of grilled vegetables on the side, while flaó – a traditional Ibicenco cheesecake made with mint – shouldn't be skipped for dessert.
Saturday
Shop at: Las Dalias Hippy Market. Open every Saturday since 1985, Las Dalias really embodies the spirit of Ibiza's hippy movement and strong handicraft traditions. There's live music, local artists selling everything from jewellery and beach kaftans to paintings and skincare products and both tourists and locals competing for the best bargains. When you've had a good look around, stop by one of the makeshift bars and enjoy a refreshing mojito before diving back into the crowds.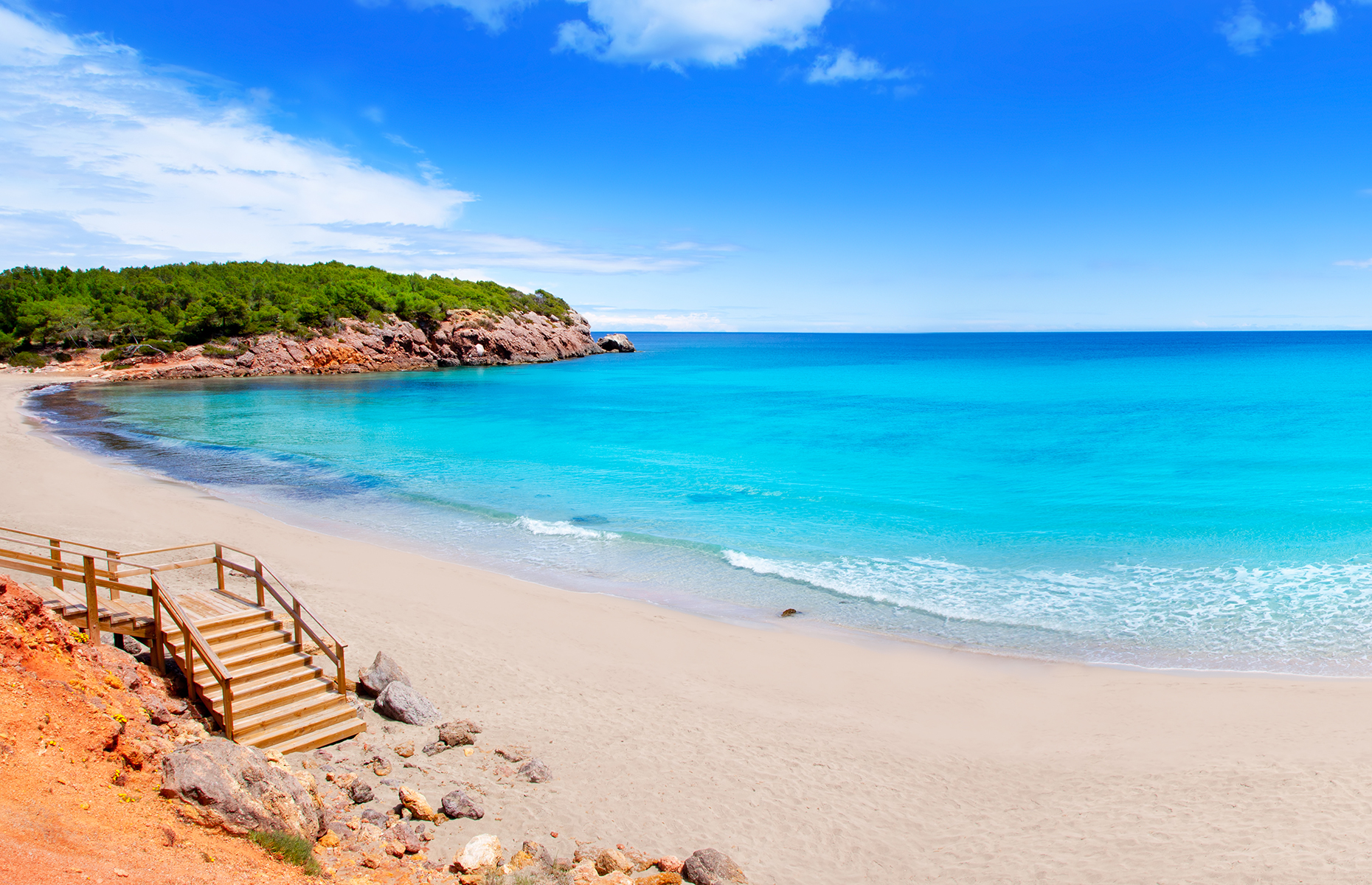 lunamarina/Shutterstock
Enjoy beach life at: Cala Nova. A stunning beach popular with families, it's a beautiful spot for a swim and a few hours in the sun. In-keeping with the area's chilled out attitude, it's never too loud or too crowded here. Hugged by forest-clad cliffs on either side, you could spend hours here just taking in its wild and rugged beauty.
Have a light lunch at: Atzaró. Overlooking the Cala Nova beach, the restaurant's terrace is decorated with natural materials and its white and azure blue colour scheme fits in with the surroundings. The perfect place to have a bite after a swim, the menu features many favourites – seafood lovers will devour the superb marinera mussels while the sharing paella is everything you want it to be, sticky, chewy rice round the edges included.
Discover Ibiza's cultural heritage at: Puig de Missa. One of the stops on Santa Eulària's cultural route (a sightseeing circuit that incorporates the area's most important cultural and historical landmarks), Puig de Missa is well-worth a visit. The whitewashed fortified church sits on a hilltop overlooking the marina and with the sea on one side and green rolling hills on the other, it's a top spot to watch the sun go down.
Built in the 16th century as a lookout to guard the coast and sound the alarm in case of an attack, the church is still in use and holds mass every Sunday keeping true to the translation of its name – hill where mass is celebrated.
Dine at: Estel. Go all out on your last night in Ibiza and sit down for dinner at this excellent restaurant on the marina. Serving both Mediterranean classics and Ibicenco favourites, the menu features a superb John Dory as well as a salt crusted sea bass for two to share, while meat options include beef tenderloin and oven baked lamb shoulder. The restaurant also has a spectacular wine cellar and your server will be more than happy to suggest the perfect bottle to match the food.
Sunday
Have a stroll through: San Carlos. Also called Sant Carles in Catalan, the hippy village became famous back in the 1960s and the 1970s when many of the long-haired peace-lovers who had come to the island settled here. The village's whitewashed, terracota roofed buildings are now home to many independant shops, restaurants and bars. There's a sense of time standing still in this quaint part of the island – many here still live true to a hippy lifestyle without modern comforts in true communal spirit.
Lunch at: Anita's Bar. A traditional gathering place for the hippy community, Anita's Bar is an institution. The original phone booth, once the only phone in the area, is still very much functional, as are the wooden pigeon boxes, covering a wall next to the bar.
There still isn't a postal service to many houses in the countryside so locals take the opportunity to pick up their mail here and have a leasurely chat over a hierbas (a traditional herbal liquer) on ice. There really isn't a better place where to order country bread, aioli and olives alongside a few tapas dishes and just people-watch.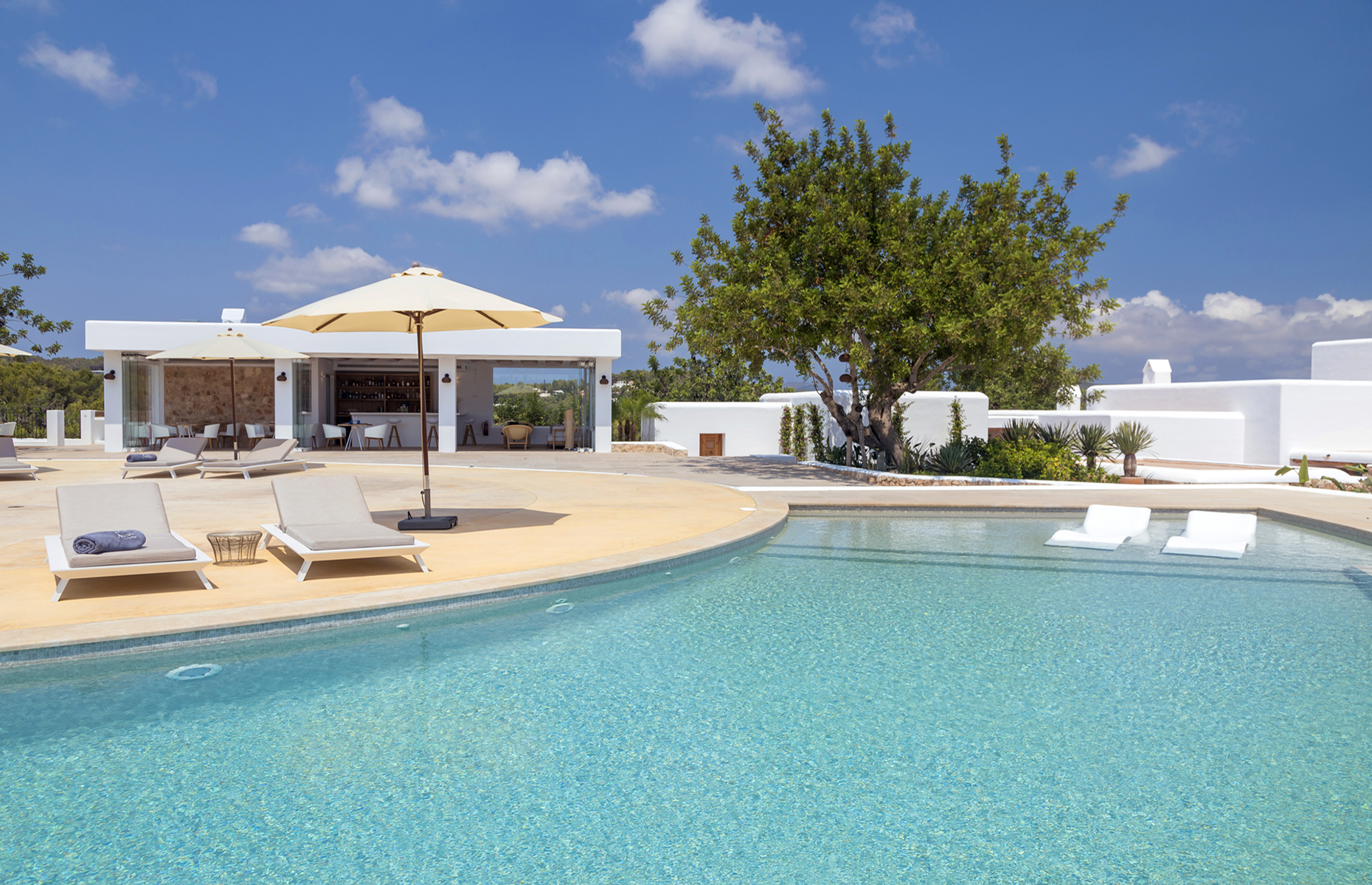 Can Toni Xumeu
If you'd like to stay longer…
Although a great destination for a weekend break, Ibiza and Santa Eulària in particular are well-suited for a longer holiday. If your idea of an ideal week off is lounging by the pool surrounded by breathtaking countryside, indulging in the most incredible food and just not doing very much, the island's boutique agroturismo (countryside) hotels couldn't be a better choice. The newly opened Can Toni Xumeu only has four junior suites and one suite, all located in traditional Ibizan fincas (country homes) that have been lovingly restored to a high standard.
Can Curreu is another great choice with three standard double rooms, three suites and 13 superior suites, an excellent restaurant and a spa on site.
Getting there
Return flights from London Gatwick to Ibiza with BA start from £115 (including seat selection, taxes and charges). Standard double rooms at Aguas de Ibiza start from £136 (€154) per night based on two sharing a standard double and including breakfast. More information at Visit Santa Eulària des Riu.
Be the first to comment
Do you want to comment on this article? You need to be signed in for this feature