6 adventures you must have in western Cyprus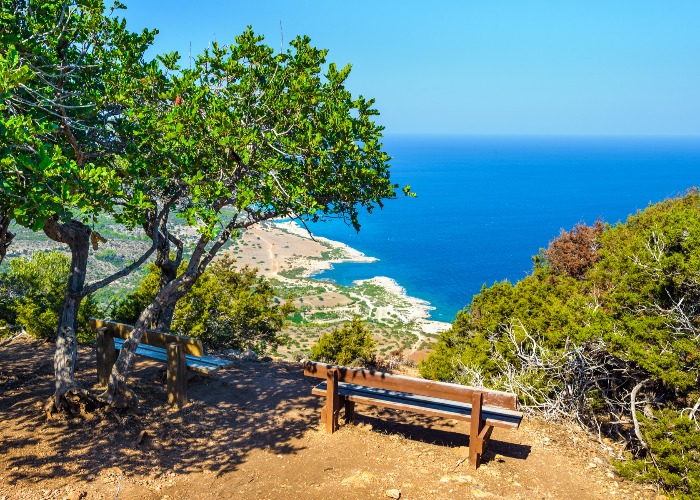 Cyprus is an unexpected thrill-seeker's paradise – for all ages and abilities. And, of course, there's plenty of good food on offer afterwards...
Nestled in the western tip of Cyprus is an adventure playground waiting to be discovered. As you head into Akamas National Park, 25 miles north from the city of Paphos, it's immediately clear why this region is the perfect backdrop for outdoor pursuits.
Around every corner there's a more impressive landscape than the last: orange groves give way to craggy cliffs cloaked in green, and the next bend teases with a glimpse of jewel-toned sea. Yet Akamas is no show-off, shrugging its rugged charm off the slopes of its hills and ribboning roads.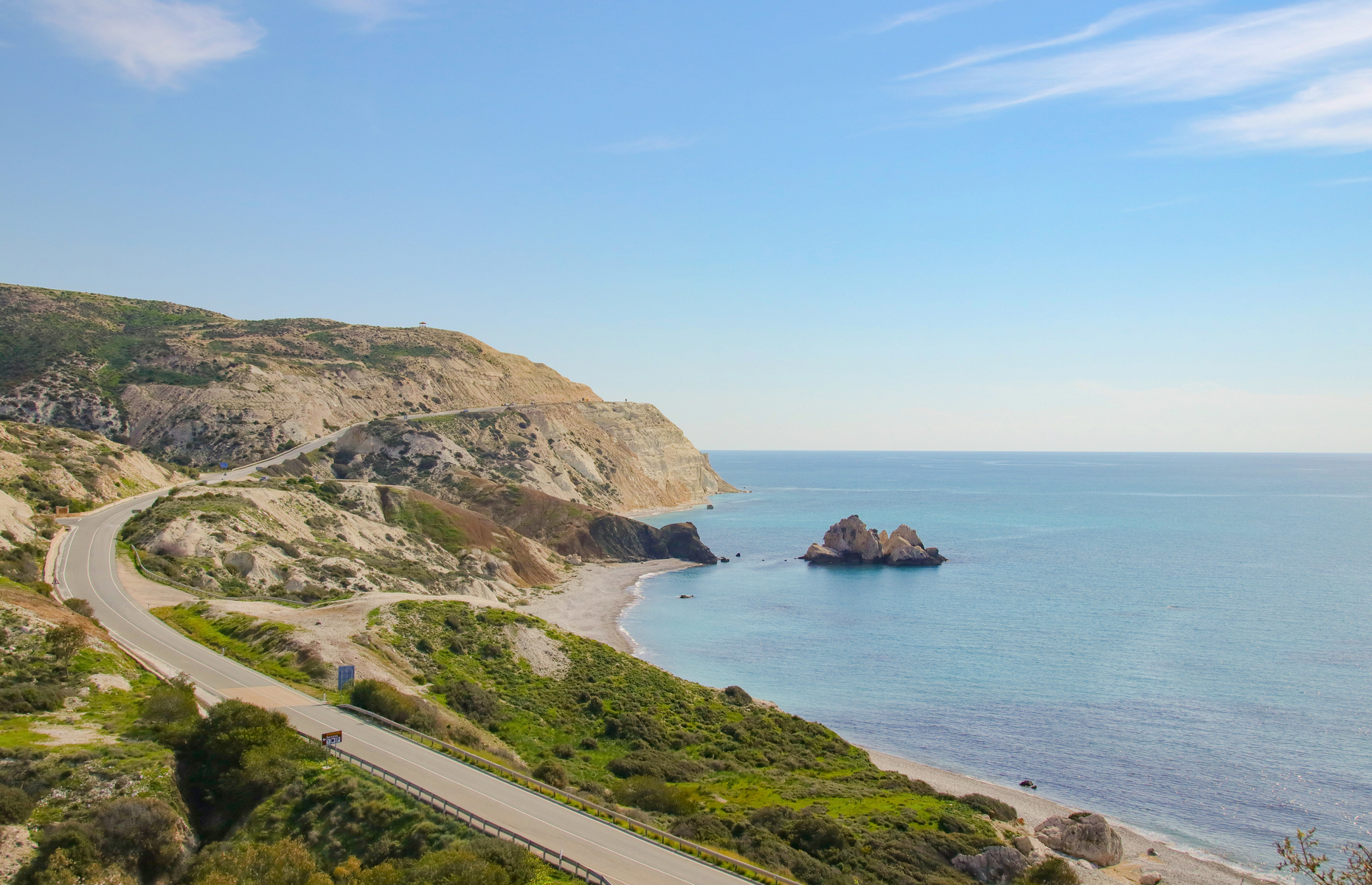 Ina Meer Sommer/Shutterstock
Paphos, a historic city whose rich cultural and archaeological heritage earned it the accolade of European City of Culture 2017, is ideally placed for exploring the Akamas peninsula. From there visitors can try their hand at kayaking, ride around in an off-road buggy, get stuck into the local cuisine and more.
Here's our pick of the top six unmissable experiences in western Cyprus.
1. Climb craggy cliffs
The best way to take in the views? How about clinging onto an ancient rock face, legs quaking beneath you and heart pumping with adrenaline as you revel in the thrill of the ascent?
Rock climbing in Cyprus is ideal for beginners and seasoned climbers alike – its sandstone and limestone cliffs pocked with plenty of holes make perfect hand and foot-holds.
Zephyros Adventure Sports, an outdoor activity provider based in Paphos, offers 4-hour climbing expeditions which are a great opportunity to give the sport a go. If you're a first-timer, don't fret. Experienced instructors will show you the ropes, guiding you through step-by-step and encouraging you to get out of your comfort zone.
Zephyros runs expeditions from Paphos to two different sites. Gerakopetra (meaning 'hawk rock') in Ineia is one and provides breathtaking views of the surrounding hills, as well as several routes up the 37-metre-high rock face to suit different abilities.
If you're an experienced climber looking to scale the craggy cliffs independently, check out CyprusRocks, a site which shows the best climbing areas and bouldering sites, as well as providing information about the number, type and difficulty of trad routes.
2. Buggy through Akamas Peninsula National Park
Akamas is the lush, emerald-toned jewel in the crown of Cyprus' tourism scene. Taking up 230 square kilometres, the ecologically diverse region is home to a range of wildlife and is protected by the Mediterranean Protection Programme which limits mass development.
This also means that there are no roads. While there's an abundance of walking and cycling trails, the fastest – and hands-down most fun – way to explore the park is in an off-road buggy.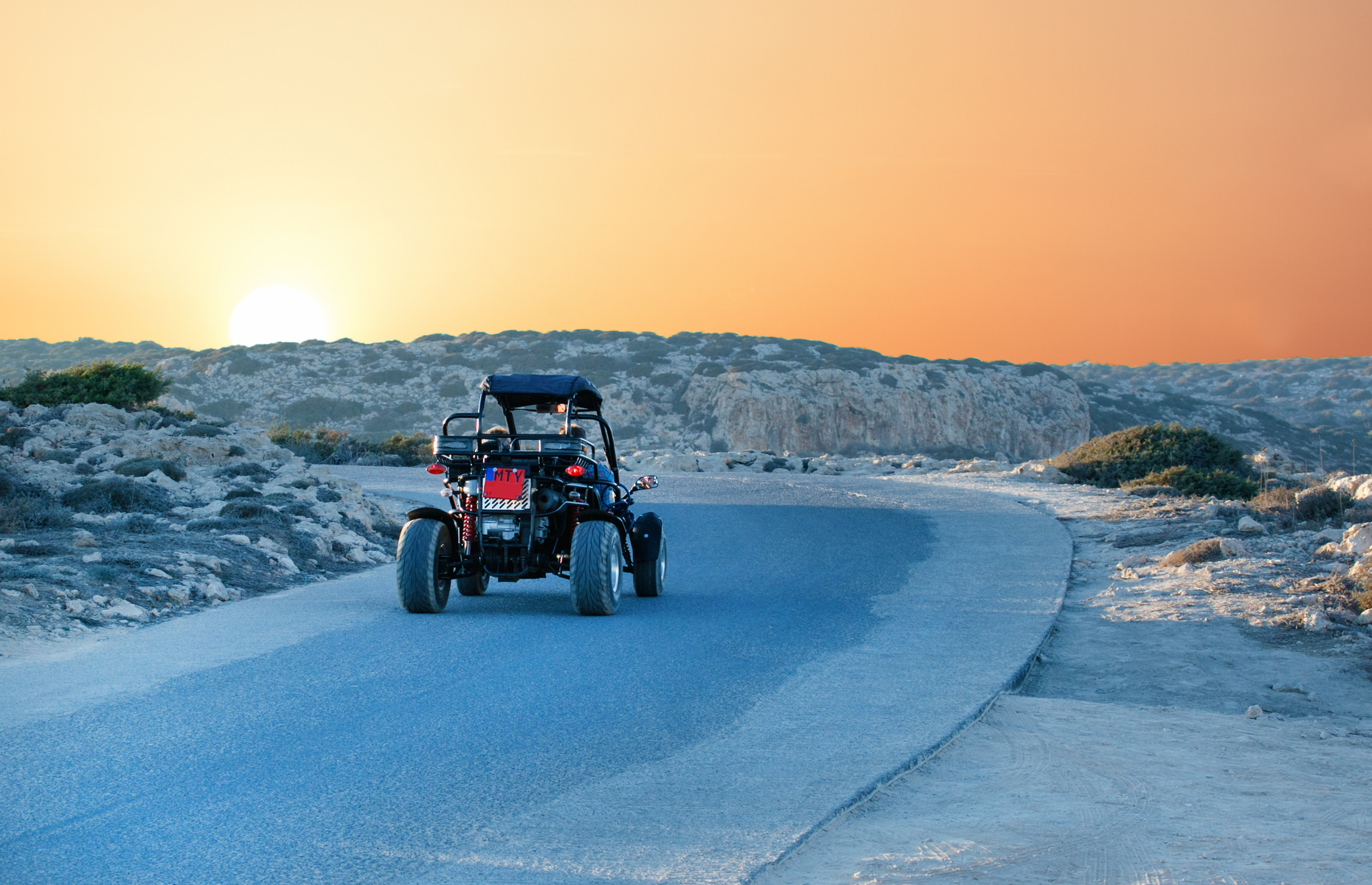 Chuyko Sergey/Shutterstock
You can hire buggies at Petrides Rentals, just over half a mile from the small fishing village of Latchi to the east of the park, which offers quad bikes from €80 per day or buggies from €150 per day.
From there, head out north to the peninsula before spiralling down cliffside roads towards Blue Lagoon, a luxurious stretch of ocean that more than lives up to its name. The buggies are a time machine too: you'll look ten years older when you step out, as the grey dust kicked up from the road settles in your hair.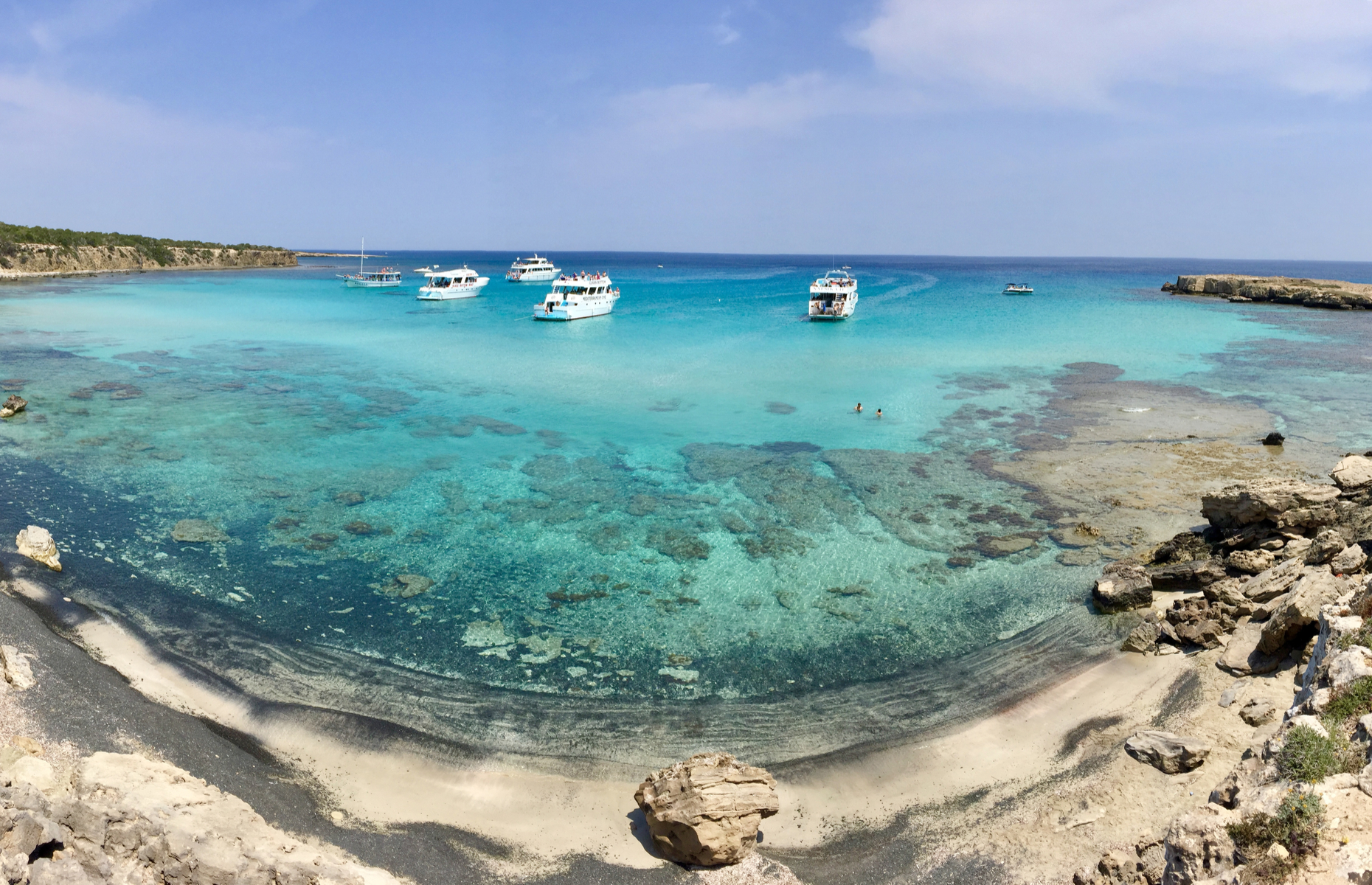 Claudio Soldi/Shutterstock
3. Explore tiny islands by kayak
If the mere sight of the island's azure oceans isn't enough to get you swimming, attempting to stand on top of a wobbly kayak will probably do the trick. That's an essential part of your initiation to the sport, or so the instructors say.
If you're a newbie or want to hone your technique, go on an expedition with Zephyros Adventure Sports. The 4-hour trip costs €49 per head, which includes transport to and from Paphos, a lesson in paddle technique and equipment hire. Bookings can be made via their website or over the phone.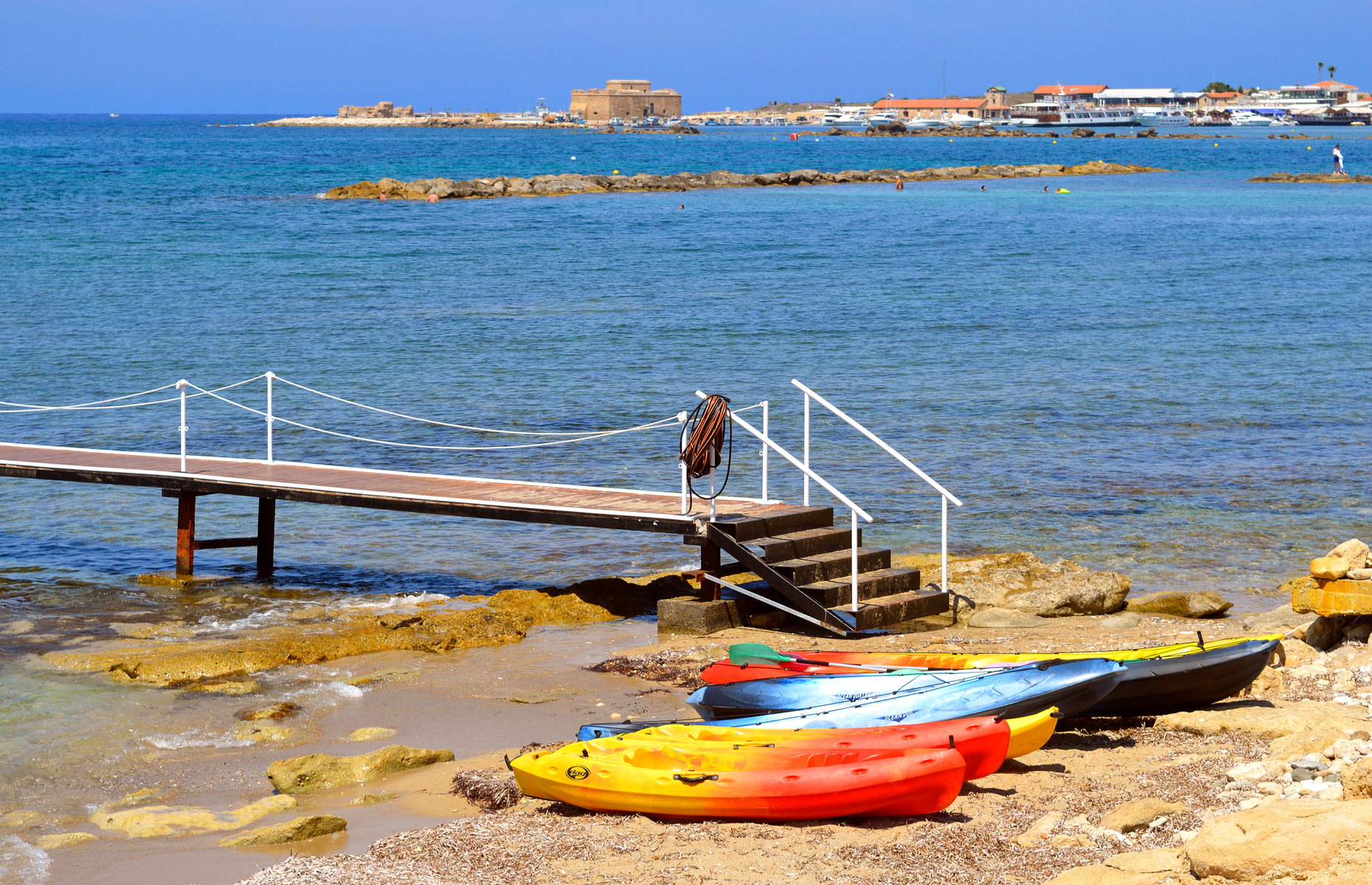 Peter Etchells/Shutterstock
The big decision is whether to explore sea caves, tiny islands or shipwrecks – all of which are within reach of Paphos.
Alternatively, if you're a keen canoeist or want to explore independently, hire a canoe from Coral Bay Watersports, 8 miles north of Paphos in Coral Bay. You can hire one or two- seater canoes for €15 per hour, allowing you to amp up the speed or paddle at leisure while taking in the impressive coastline.
4. Indulge in a traditional Cypriot mezze lunch
Cypriot food wears its generous attitude like a badge of honour: expect huge plates of koupes (spiced meat fritters), sheftalia (marinated lamb and pork sausage) and kebabs piled high. For vegetarians there's always dolmades (stuffed vine leaves), creamy hummus and, of course, sumptuous Cypriot halloumi on offer.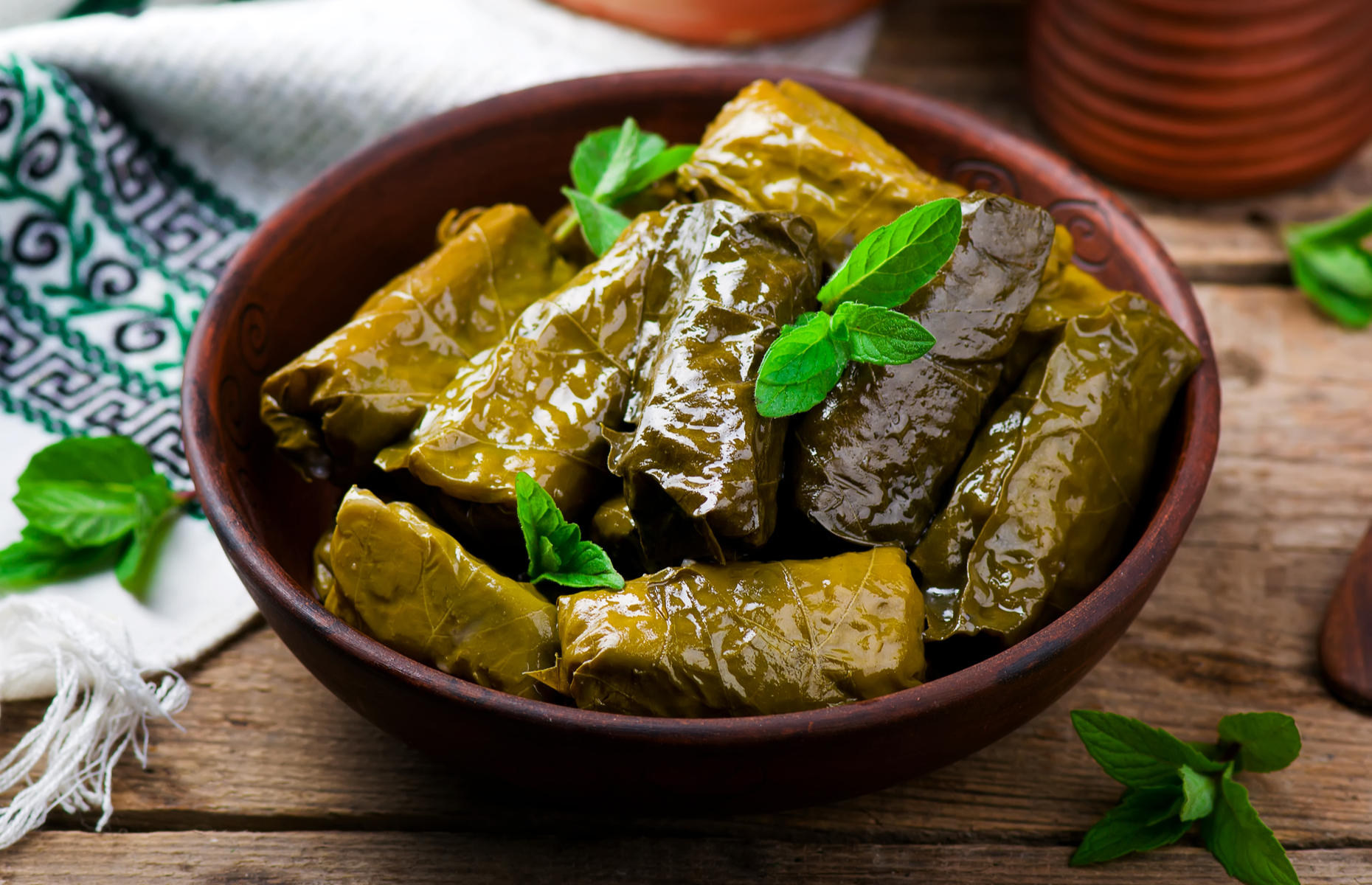 zoryanchik/Shutterstock
Mezze is the way to go if you want to taste the best of what Cyprus has to offer. A few words of advice: pace yourself, don't fill up on bread and be sure to save room for dessert – whether it's sticky baklava (layered filo pastries with syrup) or pourekia (cinnamon and sweet cheese parcels).
Try Polis Herb Garden Restaurant in Polis for fragrant okra in fresh tomato sauce and salty grilled halloumi, or head to Kafika's ­­Petradaki Restaurant for crispy-yet-fluffy falafels alongside stunning views of the Pegeia coastline. For the best bounty from the sea, go to Yiangos + Peter Fish Tavern in Pathos, where you'll find succulent swordfish, delicate sea bream and the biggest oysters you've ever seen.
5. Trek up orchid-covered Smigies nature trail
Spring is the best season for wildlife here. The landscape turns a lush green, bright orchids spring to life, snakes crawl out from their hiding places (they're not to be feared so unflappable local guides say) and almond trees come into blossom.
That being said, in late summer and autumn, the hills take on gorgeous red-gold hues and you'll catch the beginning of turtle-hatching season, when Green and Loggerhead turtles begin to appear on Lara Beach. In other words, each season brings a new colour and magic to the landscape that's entirely unique.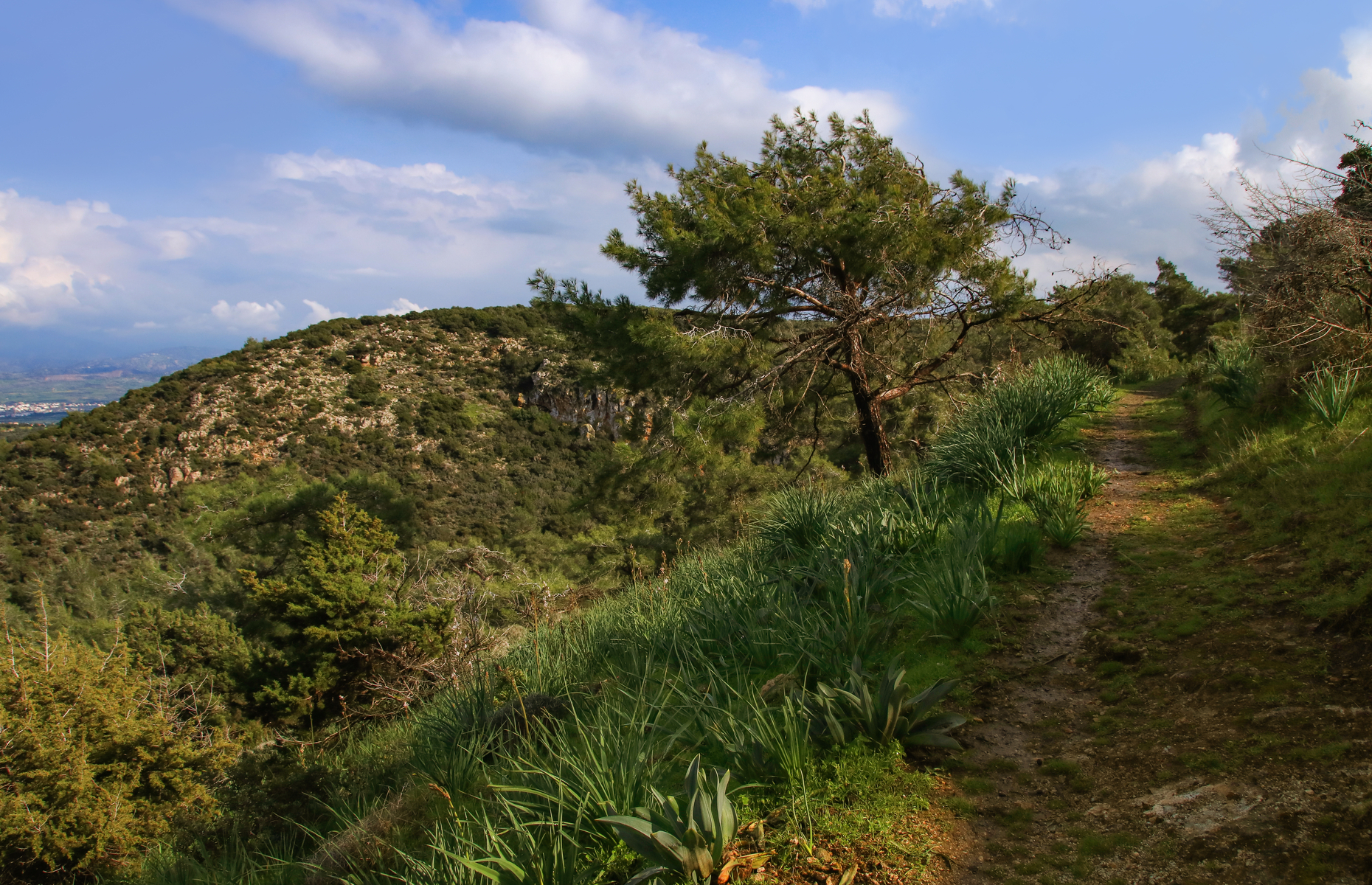 Ina Meer Sommer/Shutterstock
Take a short, evening hike to see Mother Nature really show off. Start at Smigies picnic site, on the southeastern outskirts of the Akamas National Park, and follow the trail up the hill – roughly a 1.5-mile ascent. From the top, soak in the panoramic views as the sun sets. To the north lies Chrysochou Bay, while turtle nesting site Lara Bay can be seen to the south, and on clear days Mount Olympus lurks out east.
6. Spend a night of luxury at CBHotels Asimina Suites
After a day's adventuring, indulge in some rest and relaxation in style at the recently-revamped Asimina Suites in Paphos. Comprising adult-only luxury suites, the 5-star hotel is focused around providing the utmost sense of peace and tranquillity.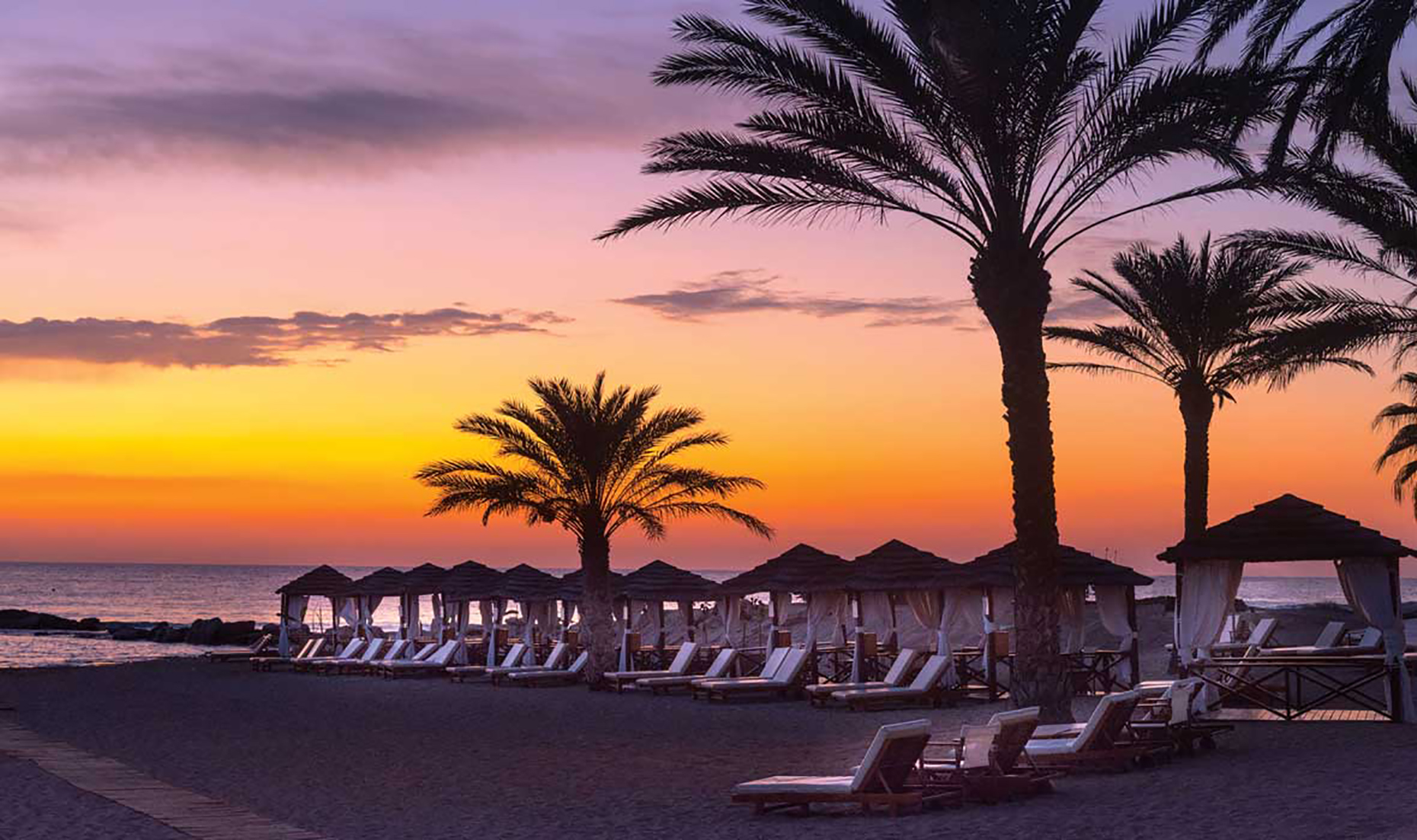 CBHotels Asimina Suites
Along with two beautiful outdoor pools set in an immaculately-landscaped garden, guests can enjoy a prime beachfront location and can even organise a private romantic meal for two on the beach.
For a more purse-friendly stay, or if you're visiting with kids, try the family-owned Aphrodite Beach Hotel in fishing village Latchi, which is ideally located for exploring the Akamas peninsula. Rooms are spacious and comfortable, plus there's a seafront terrace that's the perfect spot for enjoying a traditional breakfast with with a glug of thick Cypriot coffee.
For more information, head to VisitCyprus.
Lead image: Roman Evgenev/Shutterstock
Be the first to comment
Do you want to comment on this article? You need to be signed in for this feature