Review: the world's most groundbreaking cruise ship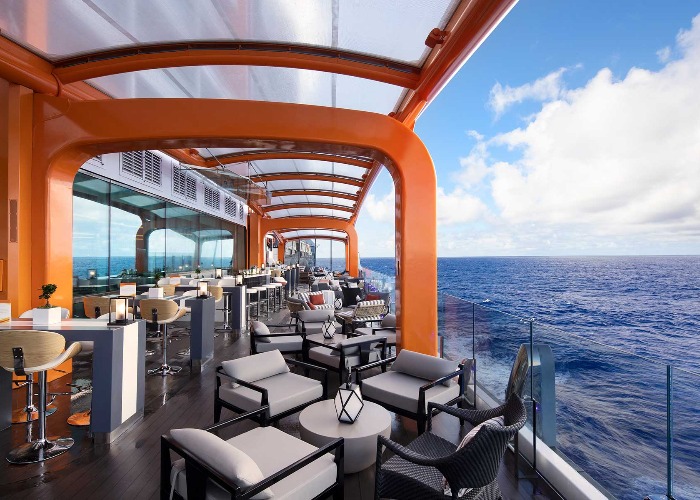 Moving decks, expanding balconies and staterooms with lights controlled from your phone – the newly launched Celebrity Edge is a ship like no other. Cruise expert Sue Bryant gives her verdict.
Every so often, a new ship comes along that promises to transform the image of cruising. The 2,918-passenger Celebrity Edge, which set sail from Miami for the first time this week, is such a ship.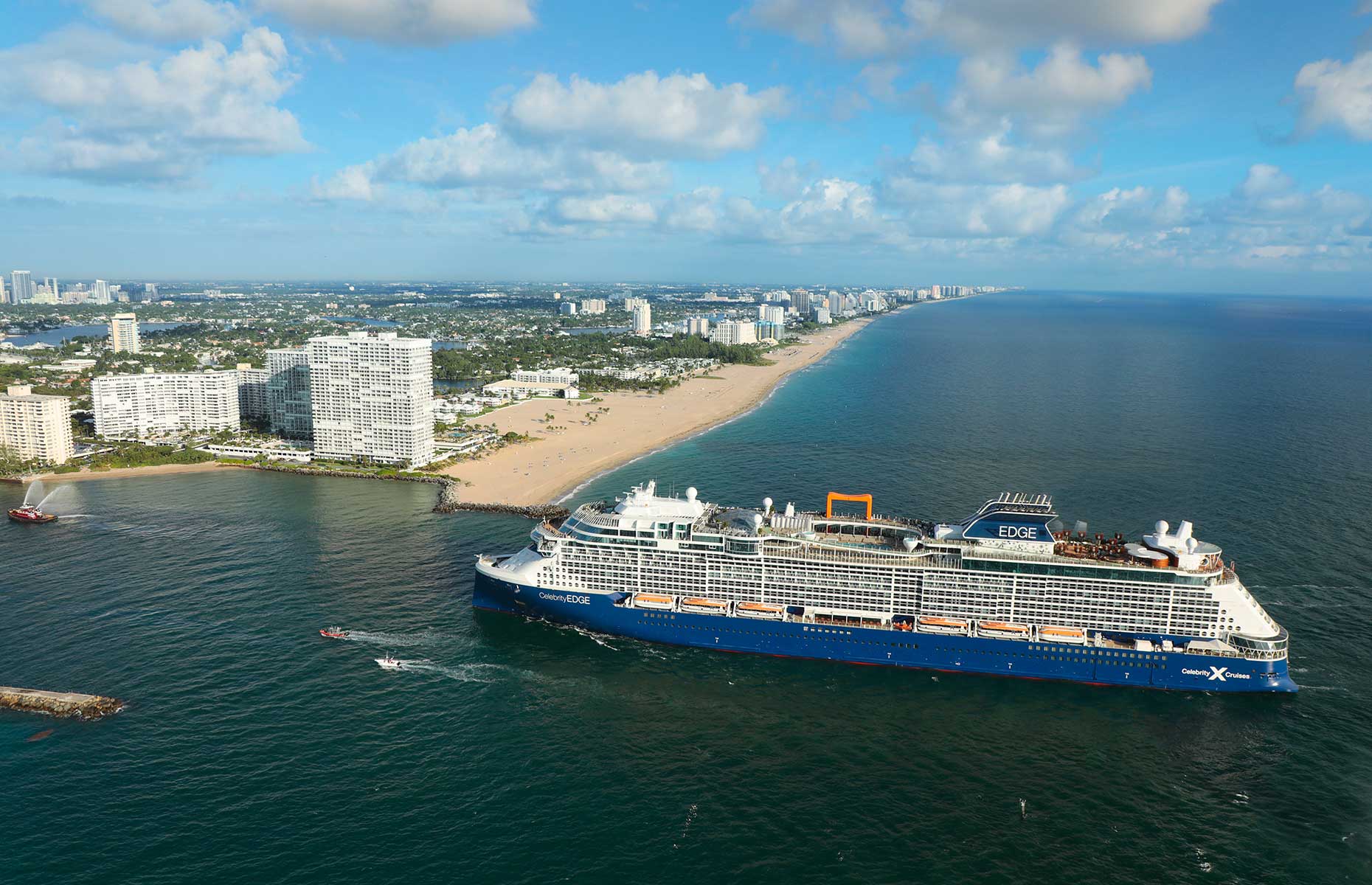 Celebrity Cruises
It's not just the cool décor, the fabulous cocktails and the chic Kelly Hoppen-designed interiors; Edge is packed with cutting edge technology that's never been tried before.
The Magic Carpet, for example, is an outdoor chill-out lounge on a platform cantilevered over the water, 14 decks up, while Eden is an extraordinary entertainment space, three decks high, filled with tropical plants and surrounded almost entirely by glass. Building either on a ship is quite a feat.
What is there to do on board?
The ship will be in port most days; it will spend this winter in the Caribbean and next summer sailing the Mediterranean. But if you stay on board, it's easy to sink into blissful decadence, lounging by the pool with a cocktail or, for those with £312 ($400) to splash, tucking into the Veuve Cliquot that's supplied with the swanky private cabanas.
A day pass for the spa's gorgeous thermal suite costs £46 ($59; good value by cruise ship standards), which gives you all-day access to an array of steam rooms, a sauna with sea views, a crystal healing room, rainforest showers and heated stone loungers.
For £782 ($1,000) you could even have your muffin top dissolved by non-surgical 'CoolSculpting', alongside dozens of more conventional (and appealing) treatments. Or burn it off on one of the state-of-the-art Peloton bikes that live stream spinning classes from the Peloton studio in New York. There are hot yoga, Bungee Fit and HIIT classes, too.
Otherwise, have a game of giant Jenga in the shade of wooden tree sculptures in the pretty Rooftop Garden, watch the mad mixologists juggle cocktails in the Martini Bar, or join a knitting class (the new meditation, apparently).
Or just sit and marvel at Eden, a dreamy, sunlit lounge, brought to life by ethereal 'Edenists' who waft around all day in exotic costumes, striking poses and performing aerial feats from a rig suspended from the ceiling.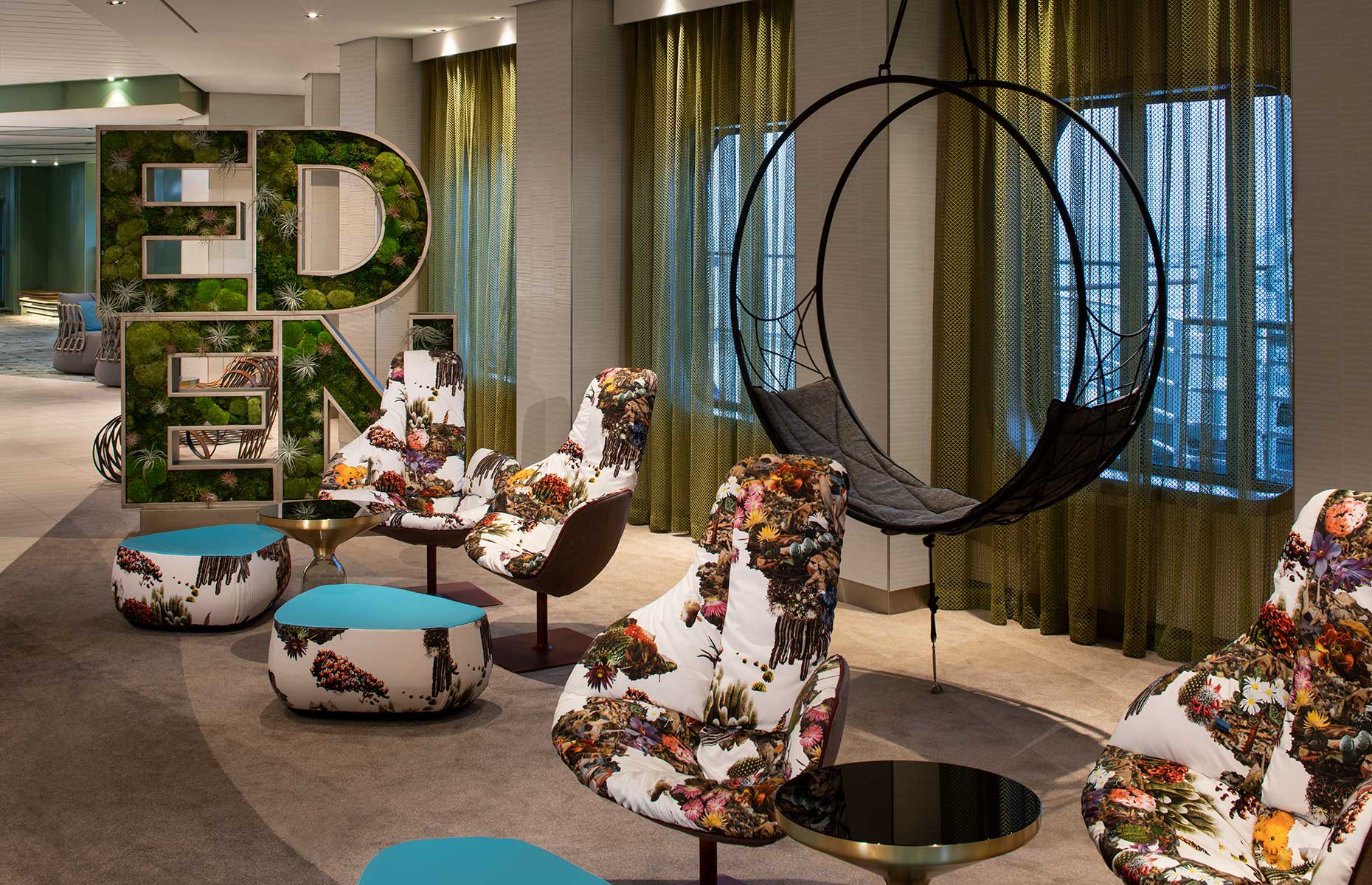 Celebrity Cruises
Personally, I'd bag one of the squashy sofas on the Magic Carpet and just curl up with a book, gazing out over the ocean.
What are the staterooms like?
Kelly Hoppen designed all the cabins in soothing neutrals – creams, soft greys and taupe, with splashes of mauve, aquamarine and burnt orange.
The big 'wow' with this ship is the 918 Infinite Balcony staterooms. Press a switch and the top half of the glass wall opens, letting the sea breezes in. Using this technology (which meant redesigning the whole structure of the ship), you get a lot more room as the balcony space is part of the actual cabin. Bathrooms are spacious, by cruise ship standards, with a big, walk-in shower and, as part of Celebrity's impressive drive to reduce single-use plastic, oversized bottles of bathroom goodies from New York brand C.O. Bigelow.
I loved the fact, too, that the Celebrity app allows you to open the cabin door, control the lights and lower the blinds from your phone.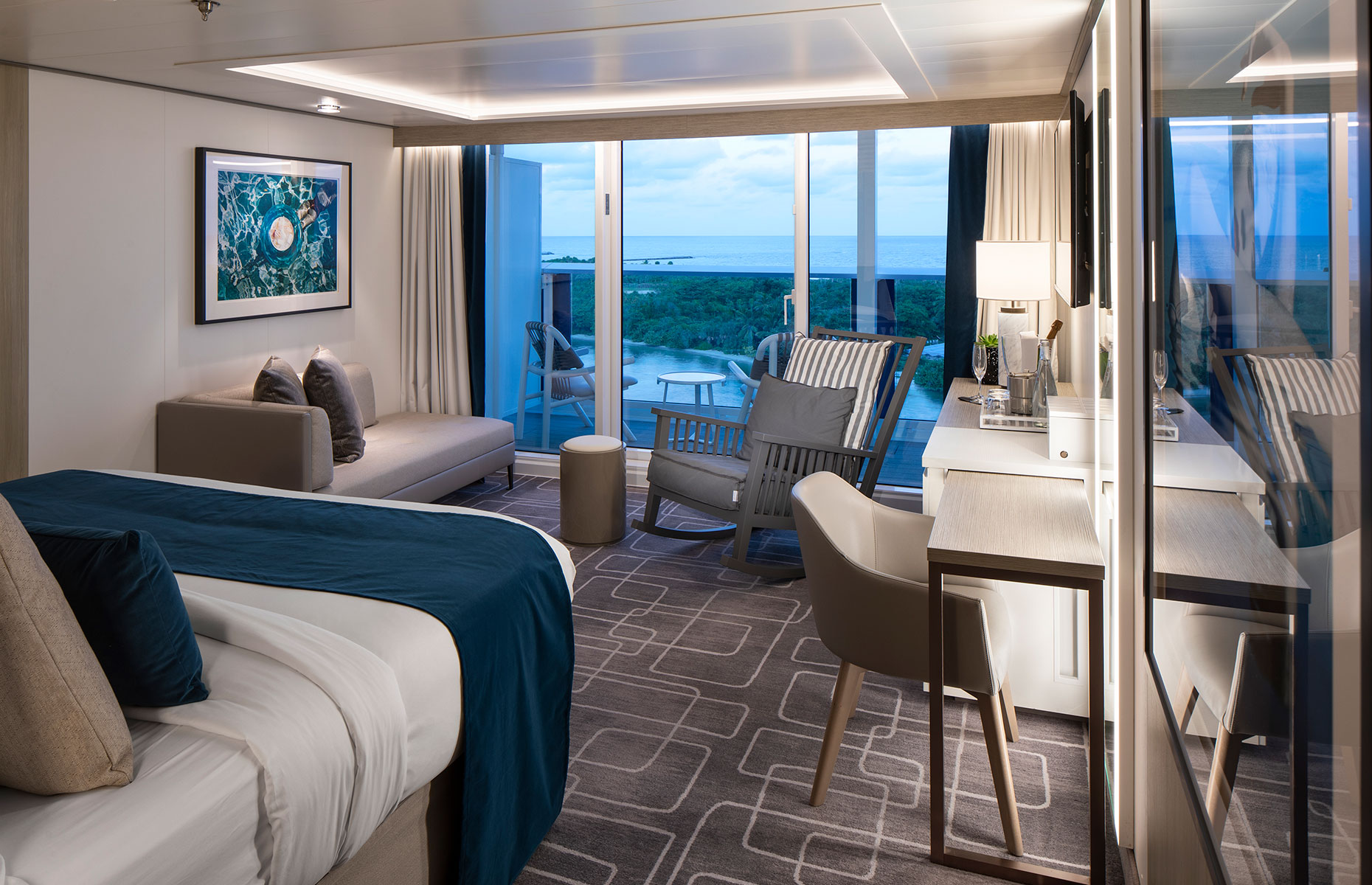 Celebrity Cruises
Edge also has inside staterooms – same décor, no window – for those on a budget and 16 single cabins, too, which are almost as big as the doubles. If you've got the cash, the suites are gorgeous and give you access to the Retreat, a suites-only lounge, restaurant and sunbathing deck with the vibe of a hip Mediterranean beach club, complete with pale wooden decking, oversized grey-and-white loungers and swinging basket chairs hanging over the pool.
With £25,000 ($31,000) kicking around, you and a friend could occupy one of the six Edge Villas, lavishly beautiful, two-deck suites with a plunge pool on the private balcony. Around £6,000 ($7,670) would buy you a Caribbean cruise in a more modest Sky suite, while a week in the Caribbean in an inside cabin would set you back £2,539 ($3,245) per person, including flights,
What's to eat?
One thing that really impressed me about Edge is the new system for the included in the fare dining. Instead of one cavernous main dining room, which most ships have, there are four smaller ones, each with its own personality.
Most menu items are common to all four but a handful of daily specials match the theme of each restaurant; in French-influenced Normandie, for example, I had a delicate lavender-roasted salmon and deliciously creamy potato and Gruyère tart. Cyprus is Mediterranean (try the chicken souvlaki); Cosmopolitan, contemporary American and Tuscan, Italian, with smart cream, black and yellow décor and jaunty sunflowers on each table.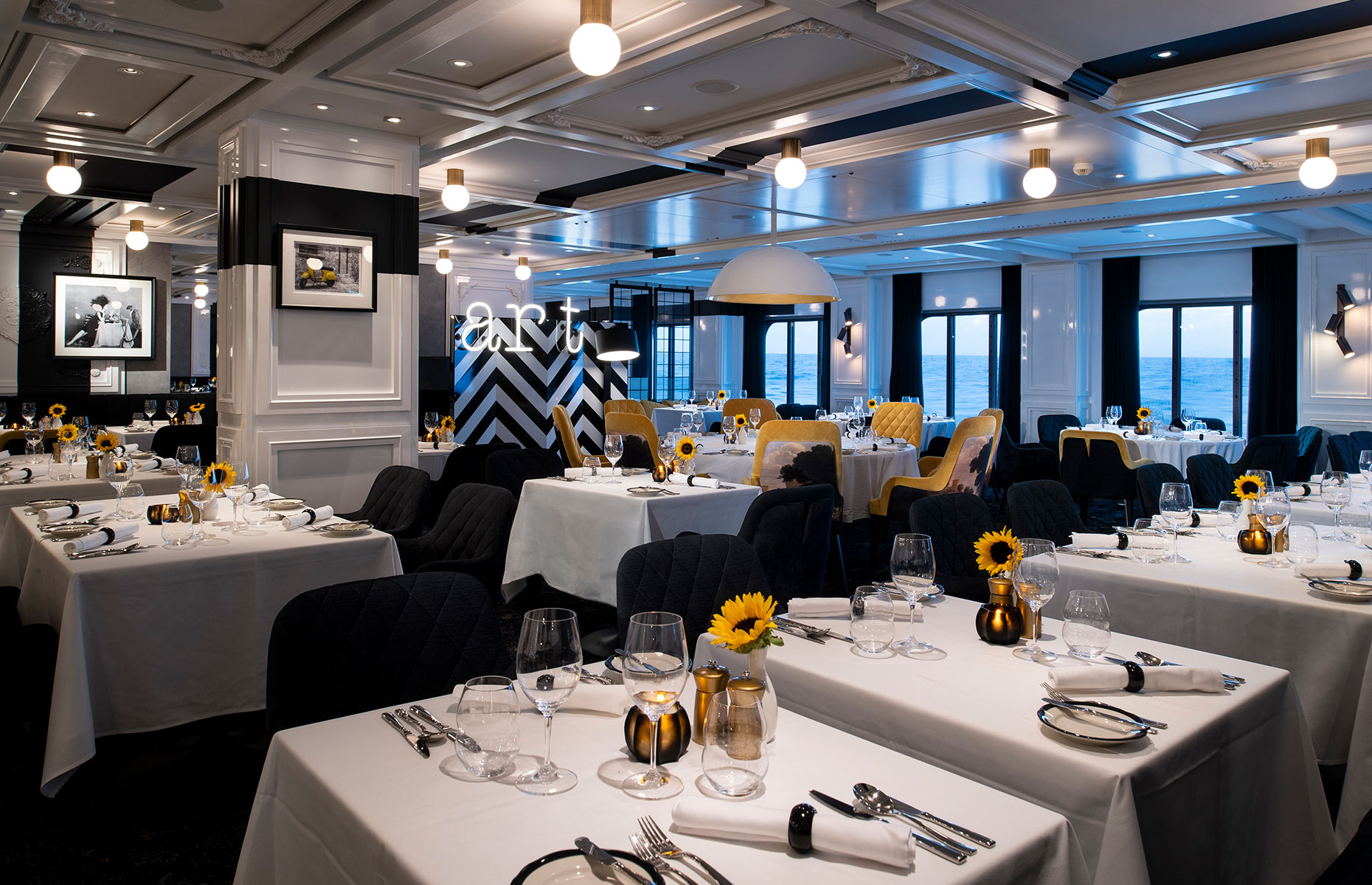 Celebrity Cruises
You could opt for a table in just one restaurant, eating at the same time every night, but I'd go for Select Plus dining, which means you can dine in any of the four and turn up when you want.
There are plenty of other places to eat but brace yourself for the cover charges. You'll pay £43 ($55) for a blow-out in the steakhouse, or £35 ($45) for salads, steaks, pizzas and kebabs at the Rooftop Garden Grill and £45 ($58) for a platter piled with lobster, crab claws, chilled prawns and oysters at Raw on 5.
What's the best bit?
I fell in love with Le Petit Chef in Le Grand Bistro, one of the speciality restaurants. Special projectors embedded in the ceiling beam tiny, 3D cartoon figures onto each plate for an entire four-course meal. Four virtual mini-chefs bustle around, preparing food, performing stunts, squabbling and creating each of four dishes on your plate. Once the dish is ready, the chefs step back with a flourish and waiters appear bearing an exact, real-life version for you to eat. It's completely enchanting, whatever your age, and costs (£42) $55.
Who is Celebrity Edge for?
If you've never cruised and like a stylish boutique hotel and a good choice of places to eat, this could be the ship that converts you.
Edge is great for families – the kids' clubs have really creative activities, like making movies on a GoPro, building a camp on deck and playing with robots. The spa, the pool and The Club, a proper nightclub as opposed to a lounge with a dance floor, should keep millennials happy. If you're looking for serious luxury but still want the buzz of a bigger ship, go for Suite Class. But if you're a more traditional cruiser and value set dining times, a pool deck without thumping music and more conventional entertainment, other ships in the Celebrity fleet might be better for you.
Join the discussion with our poll
Be the first to comment
Do you want to comment on this article? You need to be signed in for this feature