8 reasons to visit Lake Michigan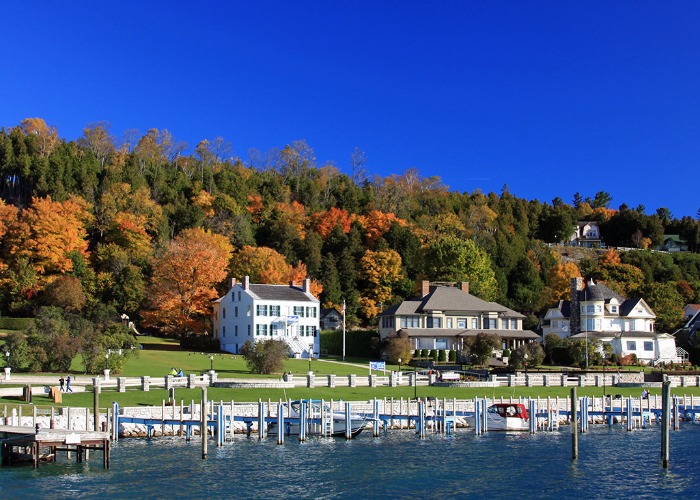 Whether your passions are music and motorbikes or beer and beaches, the cities and countryside around America's Great Lake will show you a different side to the Midwest...
Too often, visitors to America look three ways: east to New York, south to New Orleans and west to San Francisco and Hollywood. But what about the North?
Driving up from Chicago – the perfect city pit stop before or after your road trip – Lake Michigan stretches for 307 miles and the towns, cities, islands and nature on its shores offer a huge range of experiences, food and drink.
That's because America's most famous blues musicians, architects, craft beer brewers and motorcycle company have made the region their home. And once you've explored those, the lure of the great outdoors and a healthy dose of friendly Midwest hospitality beckons.
Catch the fall colours in autumn, or visit in summer when opening hours are longer, flowers bloom on Mackinac Island and the lake is warm and calm enough to swim in. In winter though, many attractions shut down when temperatures plummet below freezing. And while you can of course, self-drive through the region, a small, escorted tour with a driver and guide can mean you hit the must-sees with ease.
So whether you're searching for the 'real America' or want a laid-back break in a beautiful location, here's why you should head to Chicago and the lakes.
1. Visit Frank Lloyd Wright's home at Oak Park
Perhaps America's most well-known architect, Frank Lloyd Wright designed over 1,000 houses across the nation, most famously Fallingwater in Pennsylvania and the Guggenheim Museum in New York.
Yet rather than getting a snapshot of Wright's genius at these locations, you can visit where it all began: his home and studio in Oak Park, in the suburbs of Chicago.
LittlenySTOCK/Shutterstock
The Frank Lloyd Wright Trust runs tours (60 minutes, $18/£14 for adults) which take in almost every room of Wright's rambling and much modified house. You can trace Wright's evolution as an architect from the ornate recessed lights in his dining room to the glamour of his drafting and client meeting rooms.
Most bizarre is the playroom Wright designed for his children: a barrel-vaulted ceiling sits above a native American motif and there's a grand piano built into the wall.
2. Saddle up at the Harley Davidson Museum
The iconic American motorbike company celebrated its birthday this year and the museum, in Milwaukee, is well worth a visit. It's got almost every Harley Davison model ever made, including one-off customised models such as the 'King Kong' tandem Harley and the World War II-style bike used in the 2008 Captain America movie.
Less fanatical fans can have their picture taken on a range of new and old Harley bikes and it's even possible to 'ride' two real bikes parked on rollers by the entrance. There's also a restaurant with rotating American classic food specials.
Top tip: Adult tickets to the Harley Davidson Museum cost $20/£15, but they're half price on Tuesdays from October to April. Kids tickets are $10/£7.50 and entrance is free for members of the Harley Owners Group.
3. Live it up at Mackinac Island's Grand Hotel
Looking for some Great Gatsby glamour? New York may have had its fictional West and East Egg, but Detroit has the real-life Mackinac (pronounced 'Mackinaw') Island.
This small, car-free island, located where Lake Michigan meets Lake Huron, is where the motor barons spent their summer, building huge houses in the late 19th and early 20th century. The Grand Hotel dwarfs all of them: its porch is the longest in the world, at 200m, and the surrounding gardens are covered with exquisite flowers.
To see the inside of the Hotel you'll have to pay $10 or buy a drink and you'll need to be dressed the part – leave the walking boots and mac at home.
Top tip: If you're a fan of historic hotels, it's also worth having a drink in the humungous lobby of the Palmer House Hilton in Chicago – the 1920s painted roof is simply stunning.
4. Dive into Lake Michigan
Of course one of the greatest attractions is Lake Michigan itself. There are lots of opportunities for a swim in the crystal-clear freshwater or to relax on the white sand beaches that line Chicago, Milwaukee's North Point gardens (by the same designer of New York's Central Park) or at a secluded spot on the far side of Mackinac Island.
Getting away from it all is particularly easy, with 1,300km of shoreline on Lake Michigan alone; simply crossing the lake from east to west takes two and a half hours on the fast ferry.
Yinan Chen/Flickr/CC.2.0
When the weather turns, and winter begins, the Great Lakes take on a different character. Huge storms still send the occasional ship to its doom and huge portions of the lakes freeze over. Sheets of ice collide, creating ridges up to 50 foot high.
5. See the Milwaukee Art Museum
No, we're not kidding. Wisconsin's reputation for dairy farming (and not much else) is becoming increasing undeserved, with Milwaukee undergoing a huge boom.
Its current star is the Milwaukee Art Museum, on the shore of Lake Michigan.
Keya5/Shutterstock
The museum's Quadracci Pavillion features a pair of 'wings' – the technical term is brise soleil – which move several times a day to control heat and light, before folding up around the building at night. They were designed by award-winning Spanish architect Santiago Calatrava.
Admission to the museum costs $19/£14 for adults, free for kids under 12 and is free for all on the first Thursday of every month.
6. Sniff out the Chicago skyline
When you think of great American skylines, often New York springs to mind. Yet the towers of Chicago give Manhattan a run for its money, and rather then walk through clogged streets, you can see them with a boat tour along the city's rivers with the Chicago Architecture Foundation.
Adrien Casanova/Unsplash
For architecture buffs the city's a dream destination: expert guides will talk you through the details of over 60 buildings, from historic Wrigley Building to the Sears (now Willis) Tower, the 110 floors of which made it the tallest building in the world for 25 years.
Notice a strange smell in the air? That's chocolate, emanating from the Blommer Chocolate Factory, which has had several run-ins with Government agencies who've claimed it violates the country's Clean Air Act.
7. Toast American craft beer
American craft beer has become famous worldwide and Illinois, Wisconsin and Michigan is at its boozy epicentre.
Several of the most well-known labels got their start here, including Lagunitas, Revolution, Goose Island and Lakeview Brewing Company. These breweries, all of which you can visit, have been producing craft beer since the dark days of the mass-produced lager-dominated Eighties.
Yet the region's love affair with the hop goes much further back, to the German heritage of its white settlers, with beer halls including Chicago's Berghoff still going strong. The prohibition years gave rise to Al Capone and other gangsters, whose favourite bars and infamous exploits can be explored on the 'Sin and Suds' walking tour.
Whether you prefer a double IPA or a raspberry wheatbeer, you will be able to find your perfect pint and even try experimental beers only available at the breweries themselves. Bars usually have at least five on tap and bar staff are happy to advise and let you taste before you buy. Cheers to that!
8. Hear the blues at Kingston Mines club
Whether you prefer the Blues Brothers version, or that sung by local boy President Obama, there's a reason that 'Sweet Home Chicago' is set in the windy city.
Blues is big business up here, brought north by African American musicians during the great migration in the twentieth century. Muddy Waters, Buddy Guy and Chester Burnett, aka 'Howlin Wolf' all played and made a home in Chicago, providing inspiration to the Rolling Stones, Fleetwood Mac and many more.
You can visit Buddy Guy's bar and admire his collection of Grammy Awards and blues memorabilia, including Eric Clapton's guitar and Jimi Hendrix's slippers.
Later, head to the Kingston Mines club to see the current generation of blues stars, including Joanna Connor and Larry McCray, whilst eating ribs, blackened Louisana catfish, fried okra and po' boys.
Joe Bradley
Getting there
For more information on Tour Mappers 'Great Lakes Explorer' tour visit americanexperiences.com
Trailfinders (020 7368 1200) offers the seven-night 'Great Lakes Explorer' holiday package from £2,364 per person. Price includes direct return flights from London Heathrow to Chicago with American Airlines, an experienced guide throughout, Chicago river cruise, Harley-Davidson Museum, Mackinac Island cycle hire OR horse and carriage tour, Kingston Mines, tour Milwaukee's elegant mansions along Lake Michigan, and seven-nights' three- to four-star accommodation. (2 nights' in Chicago / 1 night in Traverse City / 2 nights' in Mackinac Island / 2 nights' in Milwaukee).
Price based on two adults sharing and travelling on 24 May 2019 (additional tour dates available).
Getting around
Use this map to help you find our favourite locations:
Be the first to comment
Do you want to comment on this article? You need to be signed in for this feature