Things to do in Fort William: the outdoor capital of Britain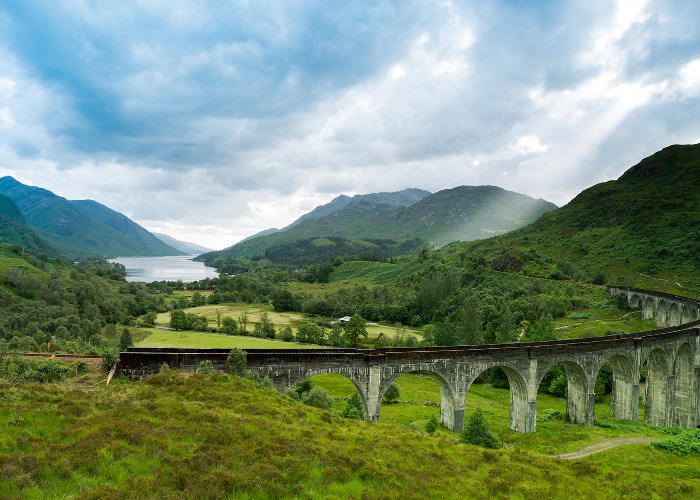 The top things to do in Scottish adventure hub, Fort William.
At the crossroads of traditional Highland life and 21st-century adventure, tucked between a dramatic sea loch and a u-shaped glacial valley, Fort William is the cranked-up outdoors capital of the UK. To Scotland it is what Queenstown is to New Zealand, or Chamonix is to France, surrounded by finger lochs, forests and a horseshoe of peaks. There's ample accommodation, a fine castle and a whisky distillery, too.
But unlike Scotland's other Highland towns, Fort Bill as it's also known, suffers from ill-considered town planning. The road north hogs the waterside, while the town centre has little charm compared to northern rivals Aviemore and Braemar. Still, that's not why you're here. Look instead to the sea-meets-sky summits of snow-crested Glen Nevis and you'll feel giddy, struck by just how dazzling it all is. Here are six things we love to do in Fort William.
1. Scale Britain's highest mountain
As introductions go, it's hard to find better than the breathtaking scenery on offer in Glen Nevis, the town's marquee gorge and adventure playground. It's topped-out by the collapsed volcanic dome of Ben Nevis (4,412 feet), the standard-bearer for British mountains, famed for its tough-as-boots paths, rock walls, steep-sided ridges, gullies and buttresses.
Enthusiasts run it, hike it, ice-climb it and ski it, but for our money it's best approached via the Carn Mor Dearg arête, a scenic, if ruthlessly scrambly, alternative to the more straightforward tourist route.
Alternatively, explore the glen on an easy two-hour hike to Scotland's second largest waterfall, the plunging Steall Falls. A 390-foot-high cascade, it casts a fine mist across a wire bridge crossing below. For maps, info and more, pop into the Glen Nevis Visitor Centre.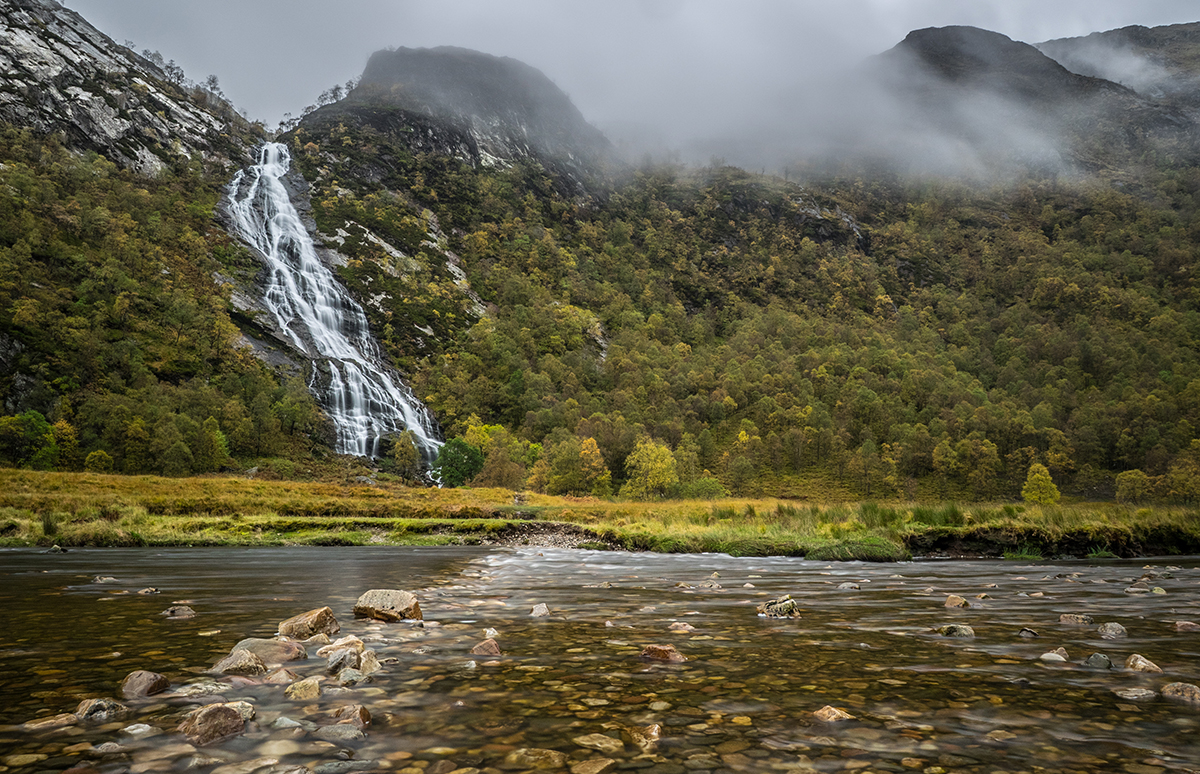 Andreas Gerhardinger/Shutterstock
2. Relive stories of princes and wizards
Glenfinnan, with its low-cut hills and broody Loch Sheil, would just be one of dozens of heather-strewn Highland basins if it weren't for its history, both time-worn and modern. Bonnie Prince Charlie, Scotland's 'Young Pretender' to the British throne, raised his royal standard at the loch's tip, calling the Highlands' mustered clans to bear arms in the Jacobite Uprising of 1745.
It's an event commemorated by the Glenfinnan Monument, a tower monolith well worth climbing for a hawk-eye view of the sinewy loch. From this vantage point, film fans may also recognise the Glenfinnan Viaduct, a 21-arch railway bridge on the West Highland Line. It's frequently used by a vintage Jacobite steam locomotive, more famously recast in the Harry Potter films as the magical Hogwarts Express. To reach Glenfinnan, drive west for 25-mins on the A830.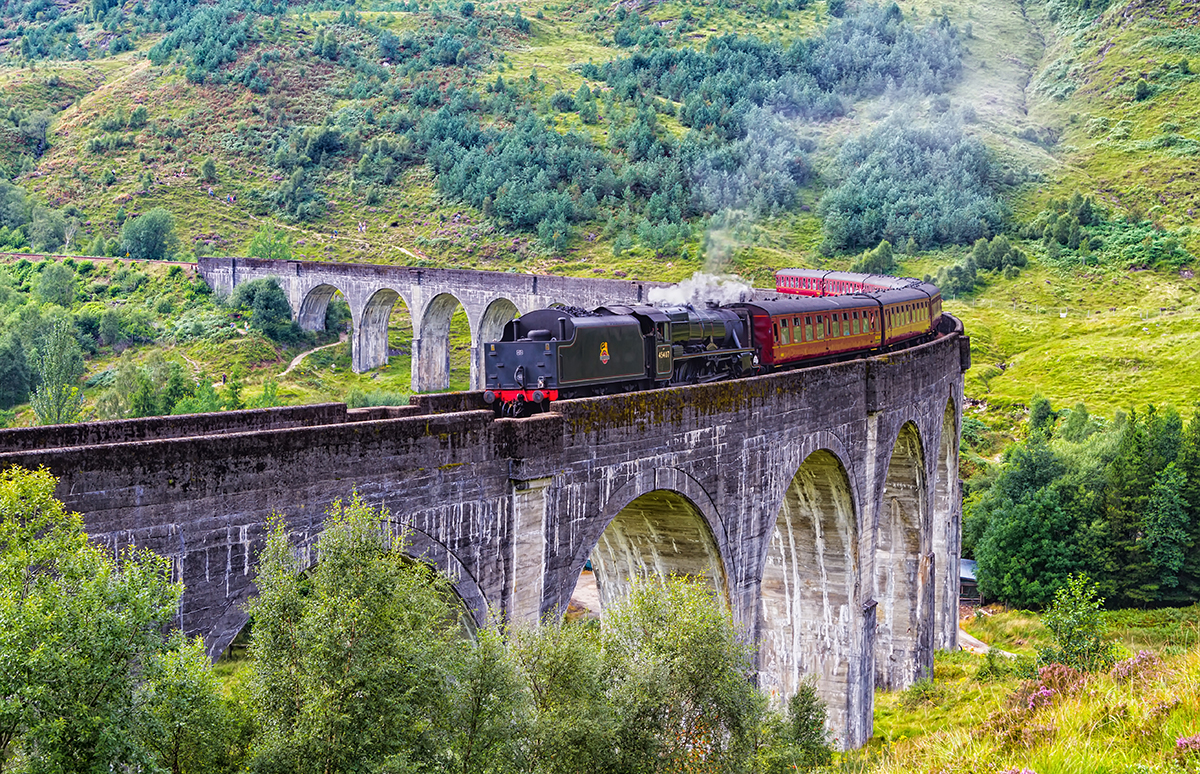 Milosz Maslanska/Shutterstock
3. For world-class mountain biking
As well as its nexus of hiking and climbing routes, Fort William excels with mountain biking trails and a surplus of savvy outfitters. The town's surrounding steep slopes and forests are home to the stand-out calendar event in the annual Mountain Bike World Cup series, which sees the centre taken over by suspension-groaning bikes, fat tyres and geared-up diehard cyclists.
Not for the timid, the Witch's Trail is the site of the downhill championship for elite riders and tackles gravity head-on. For a longer pedal, set aside a couple of days for the 79-mile Great Glen Way, a trail heading northeast to Inverness past Loch Ness and its gangly-green monster.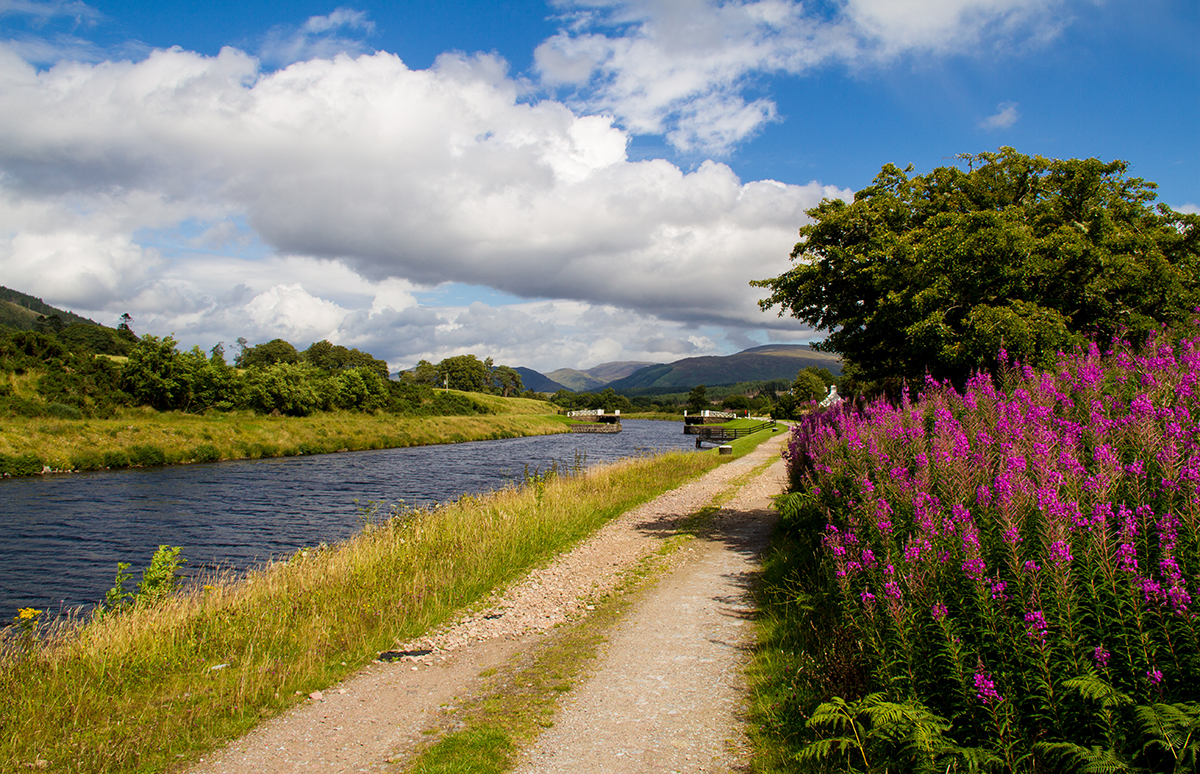 Johannes Asslaber/Shutterstock
4. Cruise through the Great Glen
Starting just north of Fort William, the Caledonian Canal is Highland houseboat heaven. Of Scotland's many picturesque canal ways, this one delivers the most drama, running through Fort Augustus along the Highlands geological faultine, crocheting Caledonian pine forests and four famous lochs (Lochy, Linnhe, Oich and unashamedly-touristy Loch Ness).
A marvel of engineering built by Thomas Telford between 1803 and 1822, its highlight is Neptune's Staircase, an Escher-like puzzle of eight locks that can lift boats more than 65-feet-high. Don't cut it short: the farther north you cruise, the more the journey casts its spell.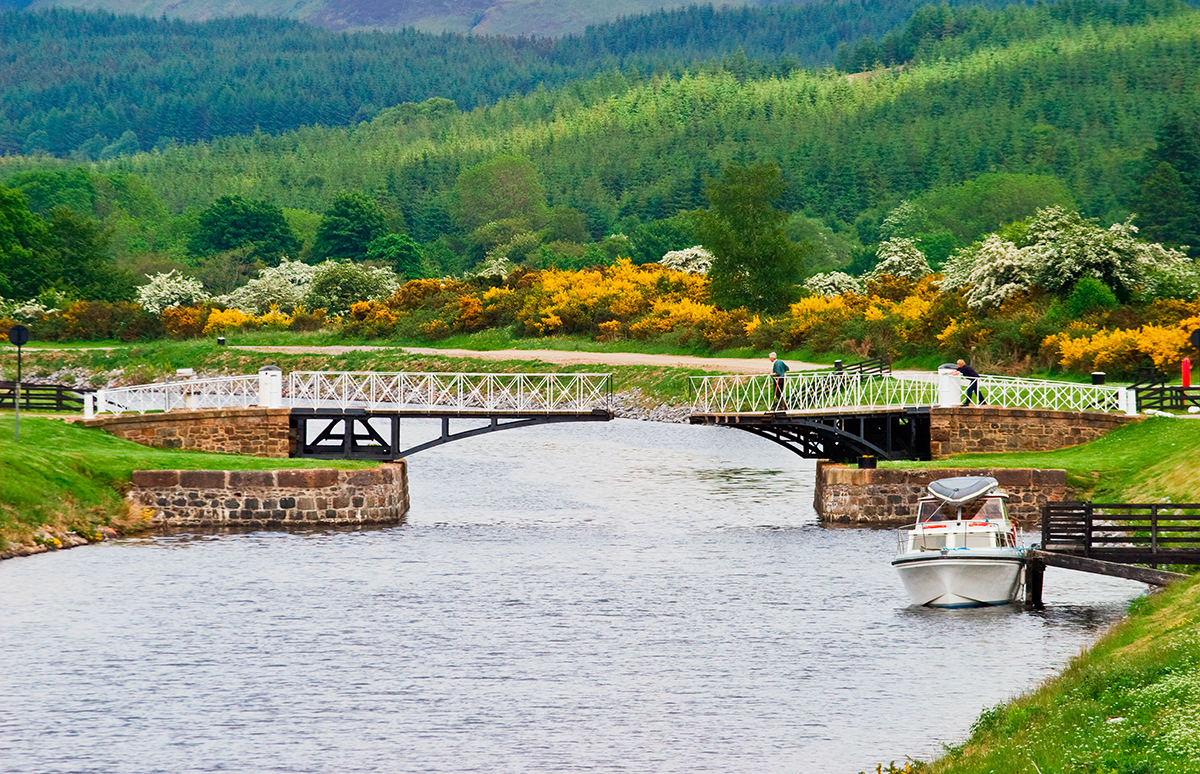 TTphoto/Shutterstock
5. See quintessential Scotland in miniature
Consider the classic Scottish getaway and your brain will automatically add castles and cask-strength whisky. Fort William delivers both.
At the Ben Nevis Distillery, opened in 1825, drop-in for a taster of a full-bodied single malt in a history-steeped distillery that breaks the seal on the glen's well-kept Scotch secret. Located at Lochy Bridge, it has prime views of Ben Nevis and sister mountain Aonach Mòr, too.
Crumbling Old Inverlochy Castle, meanwhile, is a 13th-century toothy bastion, with enough melancholic romance to rival the more famous Eileen Donan Castle farther north on the road to the Isle of Skye. To live a night like a Highland laird, nearby Inverlochy Castle Hotel three miles north of Fort William is a grand country house hotel with a Bonnie Prince Charlie-meets-Alexander McQueen design.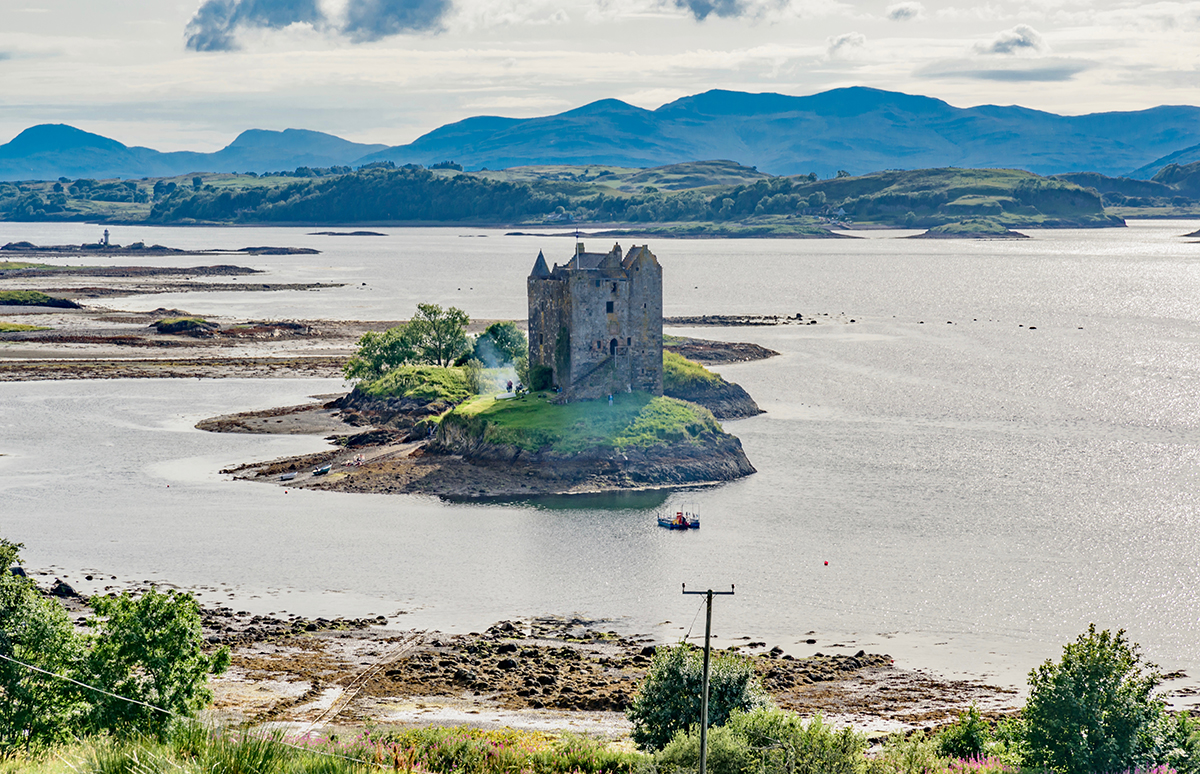 DiegoMariottini/Shutterstock
6. Play in the snow
Come winter, the Aonach Mòr massif brims with activity. After taking the gondola cablecar – the only one in Scotland – skiers, snowboarders, ice climbers and avalanche awareness guides congregate at the Nevis Range ski area to tackle the UK's most accessible high-altitude scenery. There's a chance of decent snow from December to April, with this season delivering almost unprecedented Alpine conditions, but late January and February are the most reliable.
For unparalleled views of the entire range, drive north through Glengarry to the ridge top Commando Monument, a war memorial where the first shots of the Jacobite Rising were fired in 1745. Waiting is an unobstructed panorama of mountains, shoulder-to-shoulder and filling-out the northern sky.
Be the first to comment
Do you want to comment on this article? You need to be signed in for this feature