7 reasons to visit the Banffshire Coast, Scotland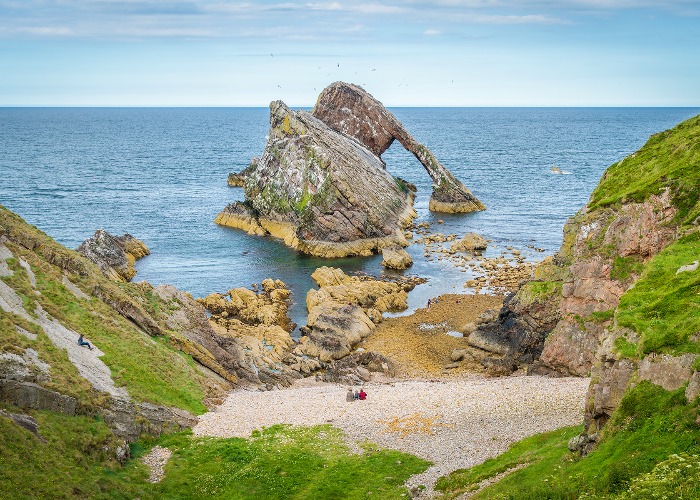 It might not be one of the rock stars of the Scottish coastline, but the Banffshire Coast has plenty to offer. Here's why we love it.
It's tempting to compare Scotland's Banffshire Coast with Cornwall – both are blessed with spectacularly rugged littorals, picturesque fishing villages and great seafood. But the Banffshire Coast is charmingly unique. Much of it is unspoiled by humankind, and the fiercely proud locals, who speak the rich Doric tongue, are determined to hold on to its down-to-earth authenticity.
Being Scotland, visitors are encouraged to join in the craic at some of the folk music fuelled local pubs, and you can easily escape the crowds with a stroll on some remote beaches where you'll have more seals and dolphins than people for company.
Here are seven reasons that the Banffshire Coast should be on your British hit list.
1. Banffshire boasts a flurry of fishing villages
This rugged coastline is peppered with picturesque little postcard perfect fishing villages. The most famous of them all is Pennan, which starred in the 1983 Hollywood blockbuster Local Hero. Scenes from the movie bedeck the Pennan Inn, which was also featured.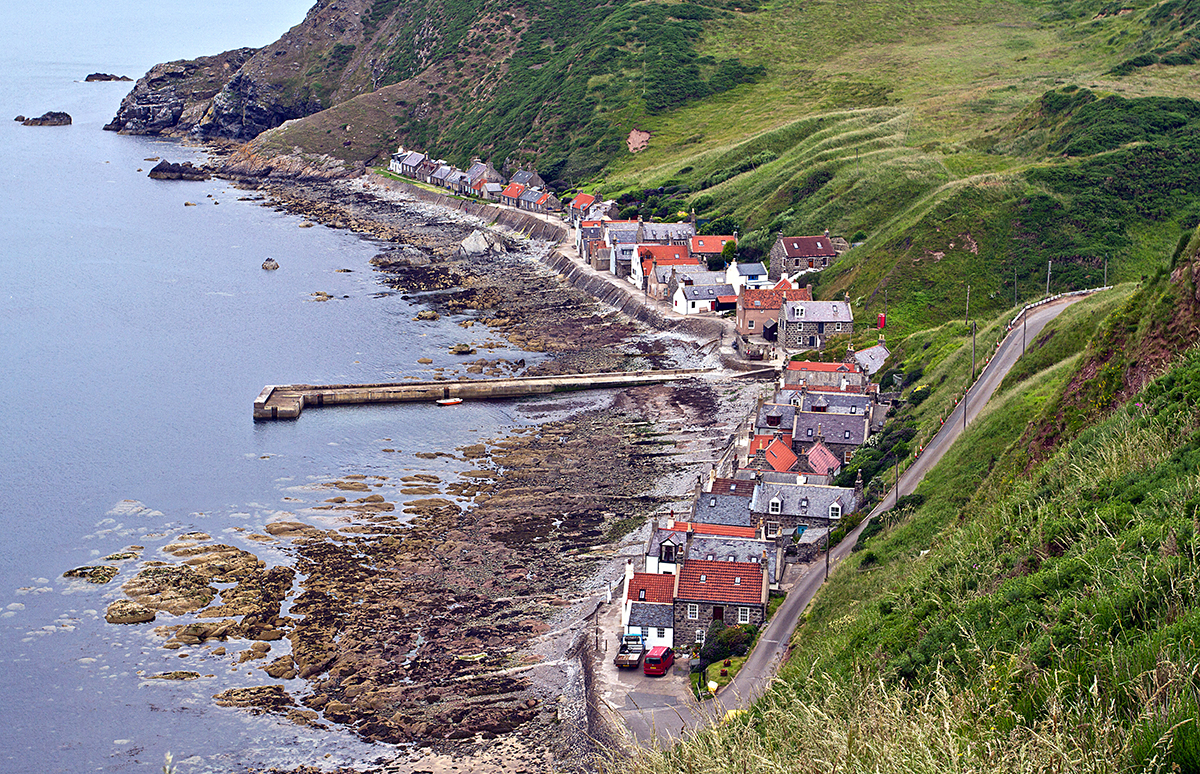 Crovie village by CLICKMANIS/Shutterstock
Little Crovie, meanwhile, clings so precariously to the North Sea cliffs that you can't park in the village, but must stop your car nearby then walk in to view its houses, which are battered by the North Sea when storms lash in. The coastal walk from Crovie to Gardenstown connects two fragile but spectacular Banffshire villages, opening up a world where the sea has always been so much more important than the land.
2. It harbours a rich history
The Banffshire coast may be pleasantly quiet and peaceful these days, but it once bustled with industry. Active fishing fleets and hordes of traders travelling to and fro across the North Sea to the Netherlands and the Baltic once made this a thriving area.
This strategic land was long fought over, and you'll find the evidence in rugged ruins dotted along the coast. The most striking is Findlater Castle, which strides out on its own promontory overlooking the North Sea. You can hike down to ramble around it, but beware the steep drops and narrow paths – in these stoic parts they don't mollycoddle visitors with fences and warning signs.
Findlater Castle by Piefke La Belle/Flickr/CC BY-NC 2.0
3. You can find your own slice of sand
The Banffshire Coast is sprinkled with spectacular stretches of sand, with plenty of opportunity to head away from the maddening crowd as some of the best lie far from roads. If you want beachside facilities, the fine sands at Banff Beach and Cullen Beach fit the bill.
But if you prefer something more secluded then it's on with the hiking boots for a walk to Sunnyside from Cullen or Sandend. Bring your own picnic as there's nothing here bar an epic sweep of clean sand, the frothy North Sea surf and rock pools ideal for kids and big kids alike. Sandend itself boasts some great breaks for surfers.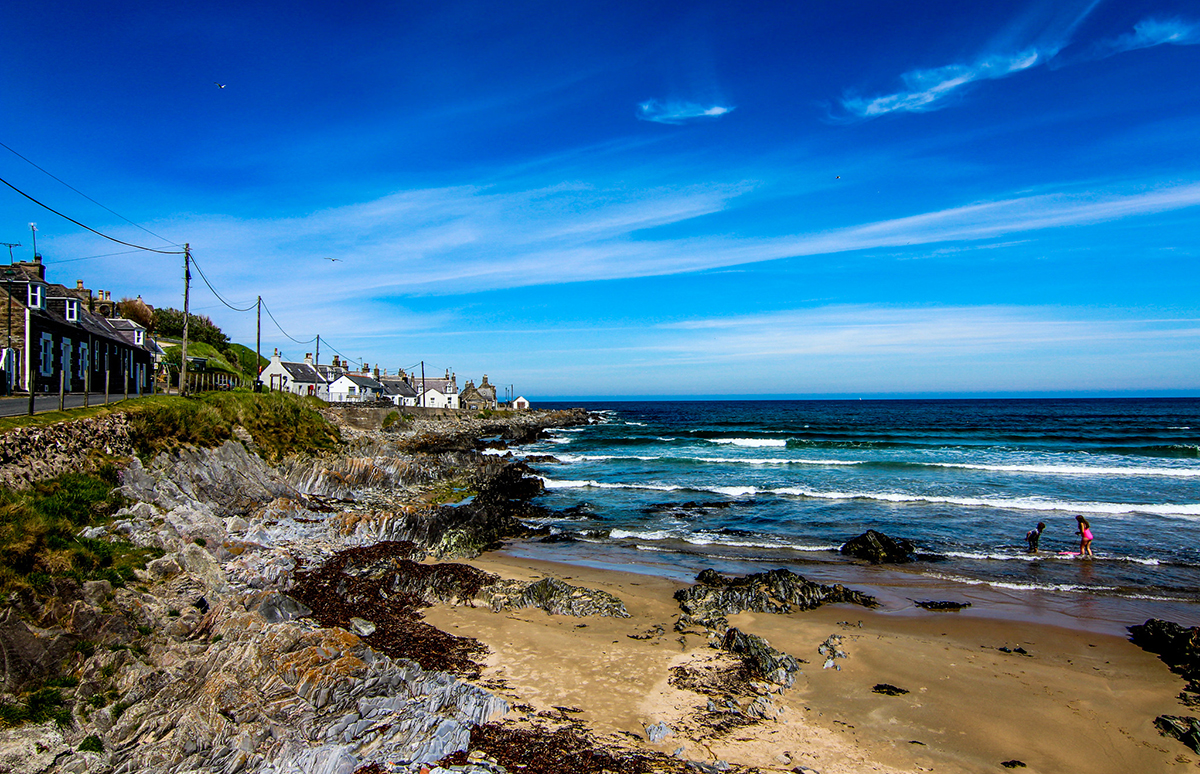 Sandend beach by Tourist At Home/Flickr/CC BY-NC 2.0
4. You'll spot whales and dolphins
This area of the North Sea is home to the most northerly bottlenose dolphins in the world, who are a camera pleasingly playful bunch. You can often spot them from the cliffs and beaches, but a surer bet is with a RIB ride with North 58˚ Sea Adventures.
Their ace adventures sweep you along the coast in search of dolphins and there's a good chance of seeing porpoises and even whales too, as well as all manner of birdlife including dive bombing gannets and cute puffins in summer. You'll return back to dry land blasted with sea salt and your hair a frightening mess, but will take away a beaming smile that won't leave your face for days.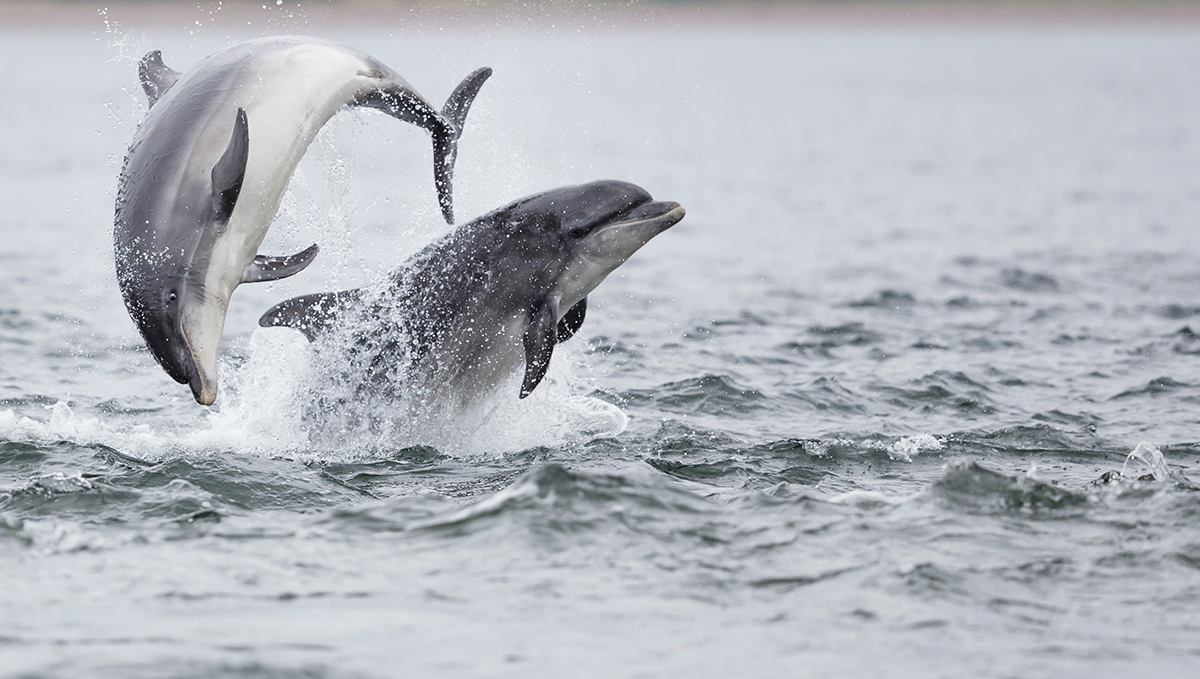 Chanonry/Shutterstock
5. You can savour something deliciously fishy
With all those fishing villages it's no surprise that the Banffshire coast's seafood is much sought after. The local delicacy is Cullen skink – a deliciously creamy haddock based chowder style soup. The Rockpool Café in Cullen is the place to try this deeply satisfying calorific treat.
A 'fish supper' in these parts constitutes two massive slabs of haddock or cod served deep fried with chips. Fraserburgh is home to a flurry of decent chippies, or for more sophisticated fare The Galley right down by the seafront in Whitehills is the place to head, with the likes of Banffshire-landed, pan-roasted monkfish wrapped in local bacon on the menu.
6. You can learn how to build a traditional boat
Turn back time at the gloriously-preserved 17th century harbour in the picturesque village of Portsoy. It has become a centre for traditional wooden boatbuilding, using centuries-old skills and you can see where they construct the impressive vessels at the volunteer run Portsoy Boatshed.
You'll often see the local rowing club out on the waters here and in other villages along the coast, as traditional boats are making a serious comeback. If you're a real sea-faring fanatic, time your visit to coincide with Portsoy's Scottish Traditional Boat Festival, which in 2018 runs from 30 June to 1 July. Outside the festival the Portsoy Salmon Bothy is a museum that delves into the boat building, the local fishing industry and the once busy trade across the North Sea.
7. There's lighthouses & stargazing galore
This wild coast is sprinkled with lighthouses that help steer ships away from the treacherous rocks and hidden banks. The Museum of Scottish Lighthouses in Fraserburgh illuminates the history of these buildings across the country, way back to when all of the country's lighthouses were manned by hearty souls who risked life and limb to keep the lights burning and the sailors safe. Here you can tour the world's only lighthouse built in a castle and gaze out over the cobalt sea from the café, scanning for marine mammals.
At night with so little light pollution stargazing is a must on the Banffshire Coast, and if you are lucky you might even see the mystical northern lights. As Burt Lancaster eulogised in Local Hero: "The northern sky is a beautiful thing". He was right – you won't forget those skies nor the Banffshire Coast in a hurry.
Be the first to comment
Do you want to comment on this article? You need to be signed in for this feature