St Davids, Wales: what to see & do in Britain's smallest city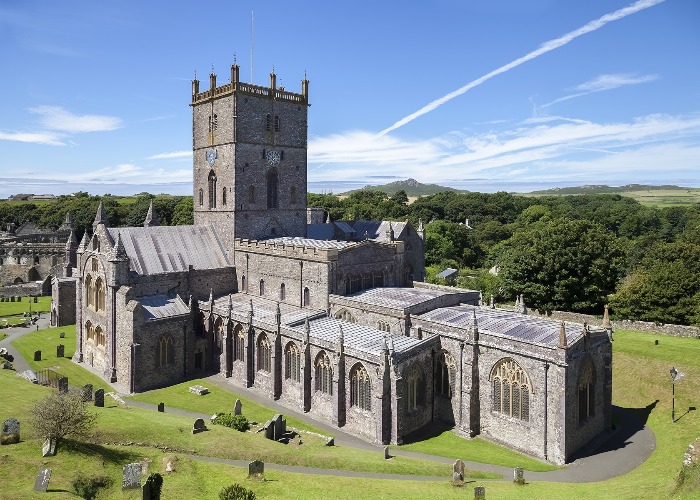 Here's how to have a perfect weekend break in this beautiful Welsh city.
There's no doubt St Davids is the ideal base from which to explore Pembrokeshire, but don't be so quick to get on your way. Britain's smallest city is well worth sticking around in for the weekend. It's a brilliant mix of everything Wales does well: excellent local food, brilliant beer and a view around every corner that will keep you coming back. Here are our tips to exploring this wonderful little city.
Friday
Getting there: We love a good train journey, but unfortunately there's no train station in St Davids. The nearest are Fishguard and Haverfordwest. Go by car and you'll be able to explore the beautiful countryside around you. That said, buses are regular and absolutely every route in this part of Wales is a scenic route, so don't be put off. One of the best things about this part of Wales is that it's so secluded and that means getting here is really part of the adventure.
Check into: Penrhiw Hotel. A huge benefit to visiting a small city is that everything is within walking distance so you don't have to worry about finding somewhere to sleep right in the centre. There are two hotels just on the outskirts of St Davids that you'll want to book in advance, Penrhiw Hotel is a luxe guesthouse with a beautiful garden, a short walk from the cathedral. The Waterings is next door to the Pembrokeshire National Park visitor centre and less than a mile from the beach.
Head for dinner: at The Cambrian Inn. If you got off the train at Haverfordwest, you could grab a dinner at The Cambrian Inn before heading on to St Davids. If you're hoping for something a little fancier, make your way to luxury hotel Twr y Felin for dinner in their restaurant (make sure you book in advance). As with a lot of the restaurants in the area, they're dedicated to serving the best local produce.
Saturday
Prepare a picnic at: St Davids Food & Wine. Before you go on your Big Long Walk, make sure you have your supplies ready – this deli will make you a little picnic for your trip. Or you can just pop in and stock up on your favourite local meats and local cheeses (if you don't have any favourites yet, you will by the time you leave). They sell beer and wine, too, which in our experience is the easiest way to convince even the most reluctant of walkers to keep going.
Get your walking boots on: Perhaps one of the most beautiful beaches in the UK, Whitesands Bay is Pembrokeshire at its best: lush green countryside slammed right up against a sandy beach with nothing but a craggy cliff for company. It's a beautiful forty-minute walk from St Davids and the perfect place to stop for your picnic. Once you've tucked into your sandwiches, you're about half an hour away from St Justinians for the next leg of your adventure.
Get on a boat with: Thousand Island boat tours. The rocky coves around the Pembrokeshire coast are too tempting not to explore (pirate hat optional). Thousand Island boat tours have a bunch of adventures to choose from depending on your interest and the sea legs of your fellows shipmates. You could hop over to Ramsey Island for the day, but you're also in prime position for a spot of puffin watching on Skomer Island and it's well worth making an afternoon of it.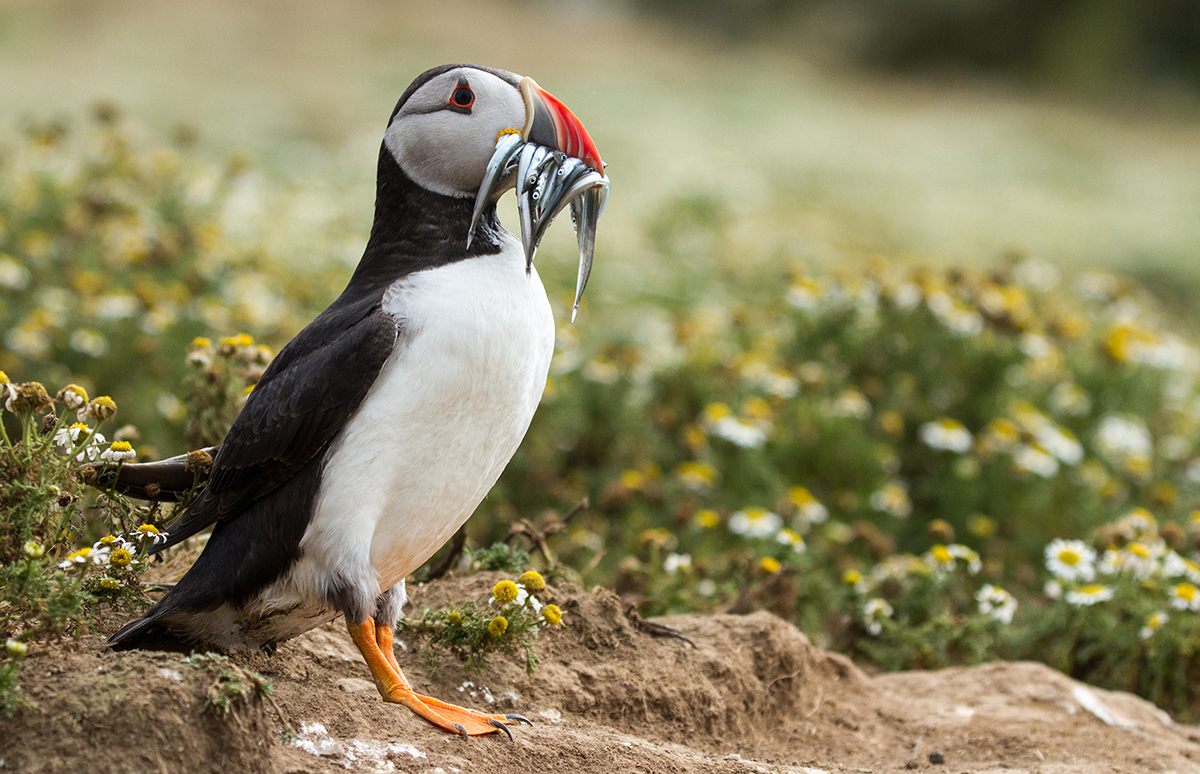 Ian_Sherriffs/Shutterstock
Boats usually leave from nearby St Justinians (check the weather before you go). Some companies do a tour off all the Pembrokeshire islands, some let you dock and give you time to explore so it's best to pick the one that suits your needs and book in advance. You won't have to look too hard to see the puffins, in peak season (from spring to August) there are as many as 6,000 on the island all jostling for the best bit of rock.
Grab a bite to eat: St Davids Kitchen. It's a farm to fork restaurant and they only serve the freshest local produce. They work with local farmers, producers and fishermen and it shows in their food. Restaurants in St Davids are particularly great at dishing up local Welsh produce and these guys are nailing it.
Sunday
Grab a cuppa: The Refectory. One of the most beautiful cafés in town happens to be in St Davids Cathedral which was built in its present guise in the 12th century. Of course the cathedral is open on Sundays and services take place throughout the day but if you pop around the back to The Refectory you'll find a beautiful, calming space that's designed to give you a bit of time for contemplation.
Everything is beachy at: Whitesands Bay. You can't come away to Pembrokeshire without making at least one sandcastle. Whitesands is the most popular but it's worth bearing in mind that there's a dog ban from April to September. If you're looking for a pooch-friendly beach, try Porthmelgan which is nearby. The purple sandstone at Caerfai Bay (pictured below) was used to build the cathedral. Make sure you get a Mr Whippy ice cream (two flakes, please).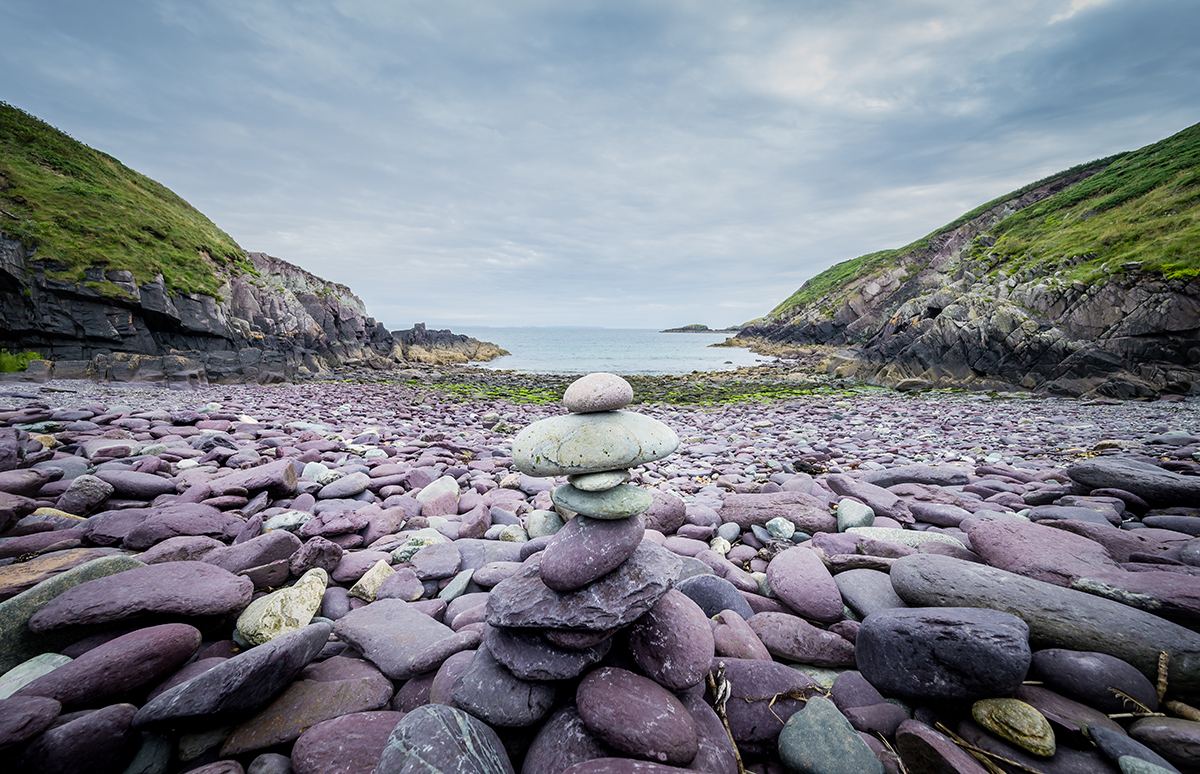 Tamas Gabor/Shutterstock
Stop for Sunday lunch at: Really Wild Emporium, a restaurant where only the best and freshest locally sourced ingredients from Pembrokeshire land on your plate. Seafood fans will love it here with a selection from lobster, crab and bull huss to wild sea bass and line-caught pollock. But the creative dishes assembled from foraged plants and local produce will also please people who prefer a meat-free diet with their tasty vegan alternatives. The restaurant's speciality is "cocktail and canapés", where guests can taste wild food in combination with scrumptious cocktails (available as alcoholic and non-alcoholic).
One for the road at: The Bishops. Before you pack up and head home, pop in this pub for a pint. It's named after the Bishops and Clerks – the formation of rocks just off the coast of Ramsey Island. The lighthouse on South Bishop road was originally built in 1830, but now it's fully automated so everyone can relax in the pub at high tide. We recommend you do the same.
Be the first to comment
Do you want to comment on this article? You need to be signed in for this feature