Small-town charm & big personality: things to do in Lewes, East Sussex
A traditional English market town with rebellious undertones, Lewes in East Sussex makes for a beautiful weekend break.
A short hop from Brighton, the county town of Lewes is an attractive package of narrow alleyways and crooked buildings, with plenty to keep you busy. It boasts a castle, ruined priory and a historic brewery. And if you're craving fresh air and exercise, you're all set here too: Lewes sits in the South Downs National Park, with easy walks offering countryside views on all sides.
If you've heard of the place, it's probably for its epic bonfire celebrations. Every 5 November, they burn effigies and set the place ablaze with crazy fireworks. This anti-establishment vibe is at the heart of the Lewes. Locals love nothing more than a debate over a pint of the local brew Harvey's in one of the many atmospheric pubs.
These are the top things to do in Lewes, East Sussex, according to a local.
Friday
Get there: Lewes is served by hourly trains from London Victoria taking around 75 minutes. Assuming you're just carrying a weekend bag, it's an easy walk to your hotel from the station.
Check-in to: Pelham House Hotel. This comfortable bolthole just off the high street is housed in a stately 16th-century Georgian manor house. Many of the rooms have original fireplaces and exposed wooden beams, but they're also bright with funky wallpaper and modern furnishings.
booking.com
Eat at: Erawan. A tiny Thai diner back down towards the station, Erawan serves up authentic, spicy dishes that are great value. Start with a platter of prawn toast, filo prawns and satay, then dig into creamy Penang curry and spicy Thai basil noodles. Better still, it's BYO, so pick up a bottle at Hartleys on the High Street. Reservations essential.
Have a pint in: The Lewes Arms. Lewes has heaps of lovely boozers. Perched on a corner down an alleyway, this one's over 200 years old and its cosy wood-panelled rooms are full of locals putting the world to rights. Squeeze into the front bar if you want to get talking to people.
Saturday
Visit: the historical highlights. Lewes might be small, but big history happened here, in particular Henry III's defeat by Simon de Montfort in 1264 in the Battle of Lewes. Learn more about its history at Lewes castle and museum just off the high street. There's a gatehouse and a restored keep to clamber around. Take in the lofty views down the river valley towards the sea from the top. The adjoining Barbican House museum houses local finds including Saxon stone axes and jewellery.
Stop for coffee at: Le Magasin. Wander down the steep high street, cross the bridge over the river into the enclave of Cliffe. Le Magasin, on the narrow cobbled main street, does French-style pastries and great coffee.
Have lunch at: The Snowdrop Inn. A five-minute walk further down Cliffe high street and South Street brings you to another excellent Lewes pub. There's a top selection of ales and a really tasty menu. The fig and blue cheese salad is seriously punchy and the Home Cured Gravadlax packed with dill-laden flavour.
Shop: on the high street. You could spend ages browsing the antique shops in Cliffe, but if you're looking for smart, unusual women's fashion, head for the boutiques back up the main high street. Places like Twinkle Twinkle, Sage & Onion, Flint, Paul Clark and Mint Velvet could have you going home with more bags than you came with.
Take afternoon tea at: The Needlemakers. This warren of crafty shops housed in an old needle and candle factory is well worth exploring. Browse the artsy boutiques, then stop in the Backyard Café. It has a hipster vibe, with home-roasted coffee and yummy 'hummingbird' cake, all to a soundtrack of soulful blues.
Visit: The Priory. Before Henry VIII dissolved the monasteries, Lewes was home to one of the largest monastic churches in England. Head for the Southover area to explore its stone walls and ancient herb garden. Useful panels feature diagrams showing the extent of the buildings, including the refectory, ablutions block and hospital.
Dine out at: Limetree Kitchen. This place is Lewes' answer to finer dining. Local chef Alex uses locally sourced ingredients to create daily dishes from scratch. Opt for the small plates to sample more of the flavours. Typical dishes include sea bream ceviche with passionfruit and sesame. Alex started out making ice cream, so leave room for dessert. Reservations are essential.
Sunday
Take a stroll: in a national park. Lewes sits in the South Downs National Park with the chalky humps of the South Downs rising on all sides. Get out and explore by taking the trail at the end of Southover High street past the Swan pub and over the green hills to Kingston with its 13th-century church and friendly pub. If you're feeling energetic add on the steep loop to the top of the Downs for even wider views. Head back to the Swan through the fields past Spring Barn Farm, an ideal stop for those with kids in tow.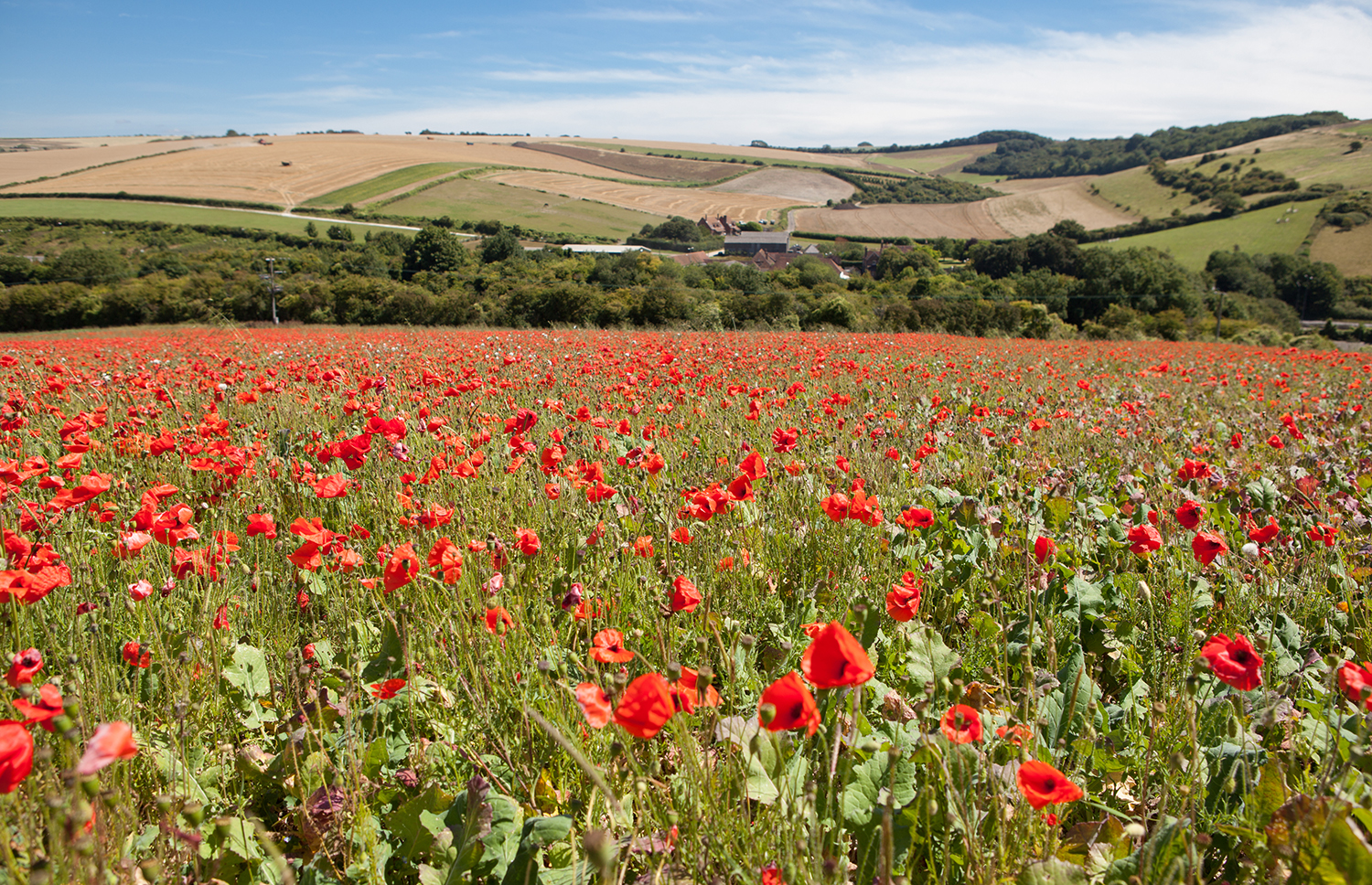 Lilly Trott/Shutterstock
Lunch at: The Swan. Locals argue about who does the best Sunday roast, but for me this is the one: big plates with all the trimmings and a great veggie roast too. It's another lovely old pub with three wood-beamed rooms huddled round a low bar stacked with excellent ales. Do make a reservation.
See: Anne of Cleves house. When Henry VIII got tired of poor Anne, he had her deposited here, far away from London. This medieval oak-framed house is furnished just as it was in Anne's time. You can almost feel here presence here.
Drink in: Anne of Cleves house has a Tudor tea garden. It's ideal for a cuppa and homemade cake in the sunshine before popping back to your hotel and heading for the station.
A few other places we love
For a cheaper stay: Local opinion is divided about the arrival of a Premier Inn, but there's no question that it has brought cheaper, conveniently located rooms to town, ideal if you're on a budget.
For authentic Indian food: Chaula's. Chaula Patel started cooking dishes her Gujarati grandma taught her, to sell as frozen dinners in local shops. People loved their superbly spiced, pungent flavours, so she opened a restaurant. The thalis are particularly good as is the Hydrabadi chicken.
For footie fans: Lewes FC. The mighty Lewes Rooks play in the depths of the lower leagues, but the Dripping Pan where they play is one of the oldest grounds in the country and the game often surprisingly good. Better still, you can sup local Harvey's beer on the terraces whilst you watch.
Be the first to comment
Do you want to comment on this article? You need to be signed in for this feature