What to do on a weekend in Cardiff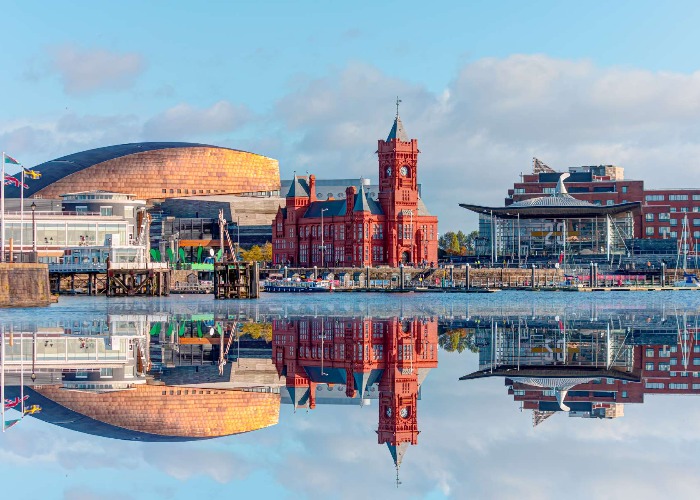 The capital of Wales has risen from its industrial heritage roots to become a contemporary city with plenty to offer visitors, from markets and arcades to the pretty Cardiff Bay. Here are top things to do and see in Cardiff over a weekend to get a taste of Cymru cool.
Cardiff is a compact Welsh city that has a long timeline stretching back to the Roman era. The city and its docklands grew exponentially during the peak development of coal and iron ore mines around Merthyr Tydfil in the second half of the 18th century. As a port city, Cardiff exported Welsh coal from the south Wales valleys around the world and made a small fortune. 
With a history that features Romans, Normans, bloody battles and a coal mining heritage that later declined, Cardiff is the UK's youngest capital and has continually reinvented itself many times over, while still developing today. 
The Welsh capital does an impressive job of blending traditional Welsh culture and history with a contemporary city offering. 
Alongside swanky shopping centres, edgy restaurants and the impressive Principality Stadium, you'll find several historic features and buildings including Victorian Shopping arcades and the grand Civic Centre – containing the Portland stone-built City Hall – as well as the Cardiff Museum and notable government buildings.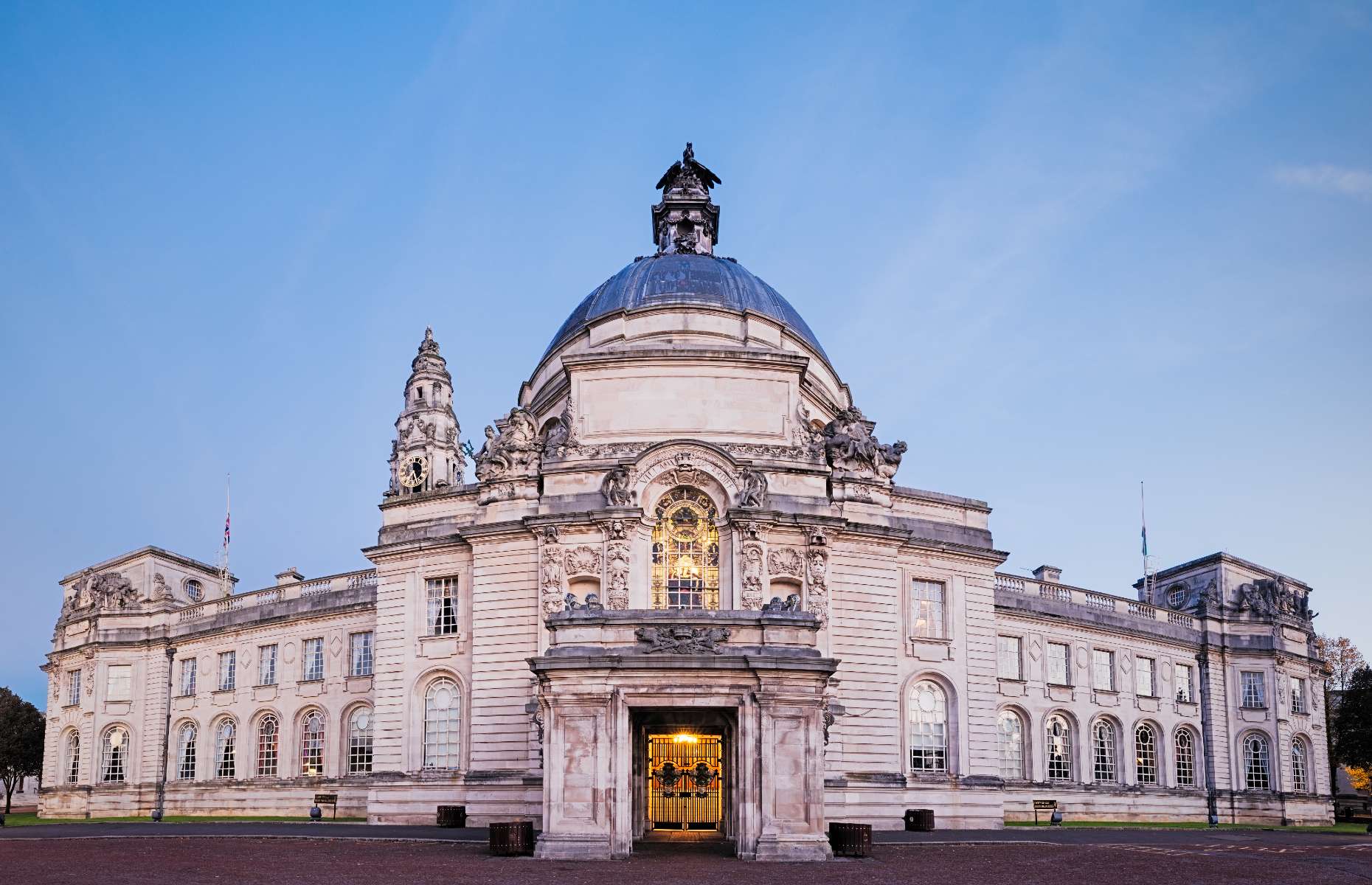 Chris Goddard/Shutterstock
Cardiff's city centre is extremely walkable, with shops and restaurants clustered around the city's medieval castle that dominates the urban landscape. A short walk, bike or boat ride away from the centre is Cardiff's developed docklands area, Cardiff Bay, where you'll find waterfront dining and entertainment. 
This marina area has undergone a dramatic redevelopment in the last 30 years, evolving from historic docklands to the cosmopolitan waterfront destination that we know today. It's now packed with restaurants, bars and the commanding Wales Millennium Centre – a world-class venue for theatre, musicals and live performance in Wales, decked out in the finest Welsh slate.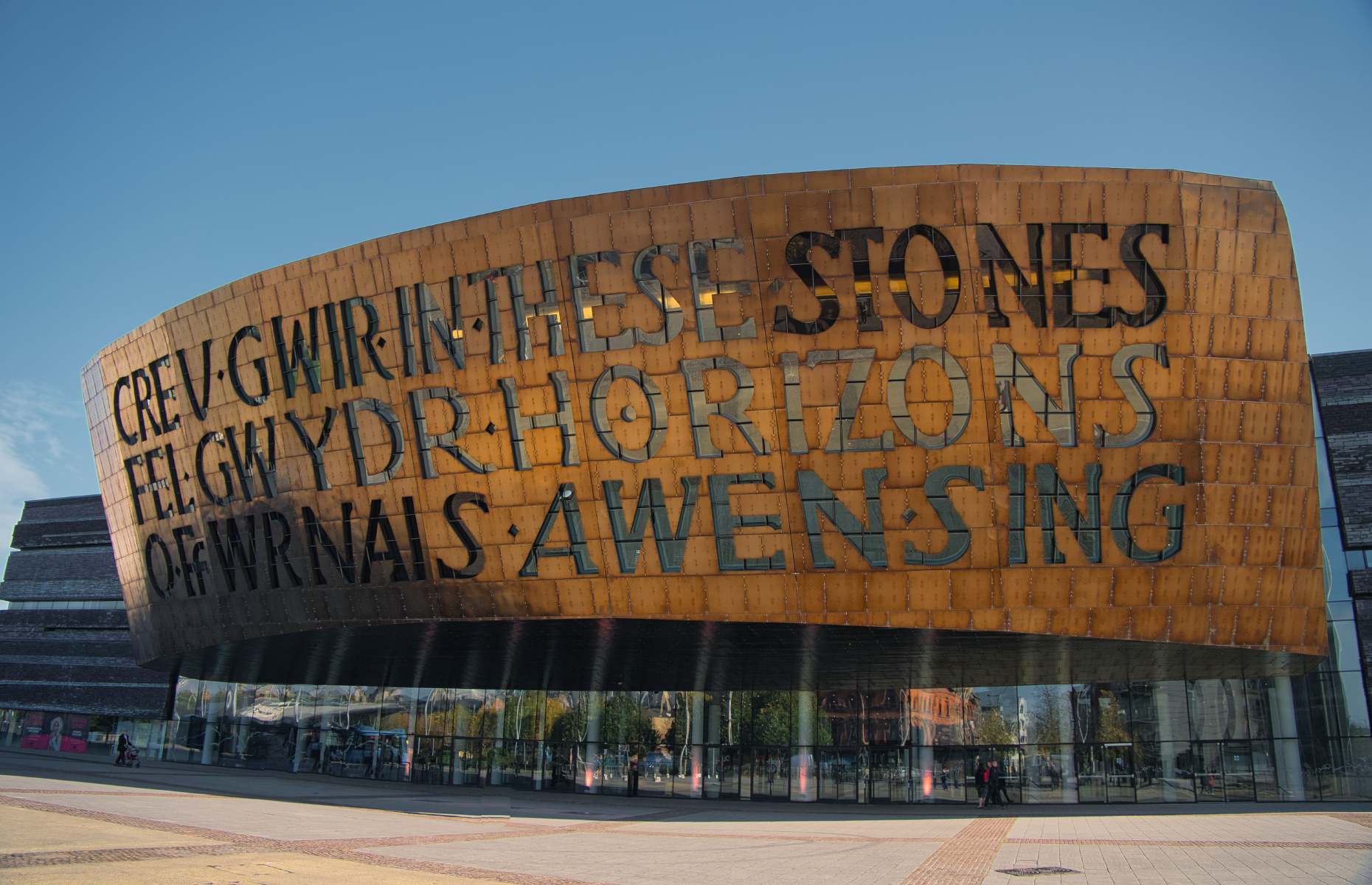 AlanMorris/Shutterstock
Further out again, you'll find distinctive Cardiff suburbs, each with their own history and highly individual vibe. Many of these characterful residential areas have a surprising range of independent cafés, neighbourhood restaurants and boutique shops that are well worth a visit, even on a short weekend trip. 
One of the main developments in the city in recent years is the burgeoning food scene that has been growing in reputation and quality. Of course, you'll find the predictable chain restaurant offerings here, but there are also loads of indie venues, street food stalls, hip coffee shops and even high-end dining to be found. 
You could spend days just eating your way around this small city and discovering the intriguing food haunts and local favourites, as the foodie offerings keep growing and innovating. 
From food to culture and castles, there's plenty to discover in the Welsh capital. Here's our insider's guide on what to do in Cardiff for a long weekend. 
Friday
Check-in to: Park Plaza Cardiff. This centrally located four-star hotel is within a few minutes' walking distance of Cardiff's main attractions. The main sell here is the hotel's upscale restaurant as well as the inviting Laguna Health & Spa. It's a small but comprehensive city spa with an indoor swimming pool, gym, steam room and massage and treatment rooms, offering a range of high-quality massages, scrubs and facials.
The locals-only secret is that the hotel has a hidden outdoor terrace at the back that's available to guests and those in the know. It's a quiet, leafy terrace that offers a tranquil retreat from city life and overlooks a small stream. You can order a round of drinks from the Laguna bar and feast on small bar dishes, or treat yourself to classic afternoon tea. 
Have dinner at: Asador 44, a Spanish grill and wine house with a Welsh twist that's conveniently located right in the heart of the centre. They have a comprehensive offering of Welsh and Galician meat that is expertly cooked over charcoal to perfection. Recommended dishes include presa Ibérica de bellota (tender-cut Iberian pork) and their 45-day, dry-aged, bone-on Welsh sirloin for two.
Alongside prime meats, diners can also sample sherry, seafood and cheese and choose a bottle of Spanish vino from their well-stocked wine cave. 
Enjoy a cocktail at: Lab 22. This tiny, high-end cocktail lounge has a subtle speakeasy vibe and is located just above a Greggs bakery at the tail end of the infamous "Chippy Lane" [Caroline Street], a raucous row of chip shops and takeaway restaurants popular with people on a night out. Sip on meticulously crafted cocktails that have recently been bestowed with the Siete Misterios Award in 2021 for the Best Cocktail Menu in the World.
It can get rather busy at weekends, so book a table in advance and prepare to be dazzled by daring mixology, with a range of ever-changing cocktails that are shaken in style. 
Saturday
Explore: Cardiff Arcades. Cardiff is famous for its mix of Victorian and Edwardian arcades dotted around the centre. In a city full of identikit chain stores, these retro arcades offer a welcome reprieve from your predictable Primark and Starbucks offerings. 
The seven arcades house more than 100 independent cafés, bars and shops and provide a unique shopping experience in Cardiff. Wander through the narrow and often glass-roofed walkways to find a range of coffee spots, boutique clothing stores, gift shops, music stores, bars, barbers and more. 
Have a coffee at: Uncommon Ground Coffee Roastery. A firm favourite on Cardiff's independent coffee scene and housed in the Royal Arcade, you'll be hard-pressed to find a better freshly roasted flat white in the capital. Order premium coffee and cakes and kick back in the café's stripped-back, exposed brick wall interior that provides a "coffee and chill" vibe that can be hard to find elsewhere in the city. 
Visit: Cardiff Castle. Given to the people of Cardiff in 1947, this landmark attraction is also used as a city centre venue for concerts, festivals and Christmas markets. What's impressive about this Welsh castle is that it's survived the ravages of history and is still standing proudly after the Roman occupation of Britain, the Norman Conquest, civil war, a Victorian re-design and even the horrors of the Second World War.
It passed through the hands of several noble families until 1766, when it passed by marriage to the Bute family. They are best known for successfully turning Cardiff into the world's greatest coal exporting port.
While anyone can use the castle's public square, café and shop, only visitors who have bought a ticket can gain access to the whole site and explore inside the castle walls. The ticket is valid all day and means visitors can climb the mighty Norman Keep, marvel at the opulent Victorian interiors, discover the Roman remains, see the Firing Line Military Museum and the wartime shelters.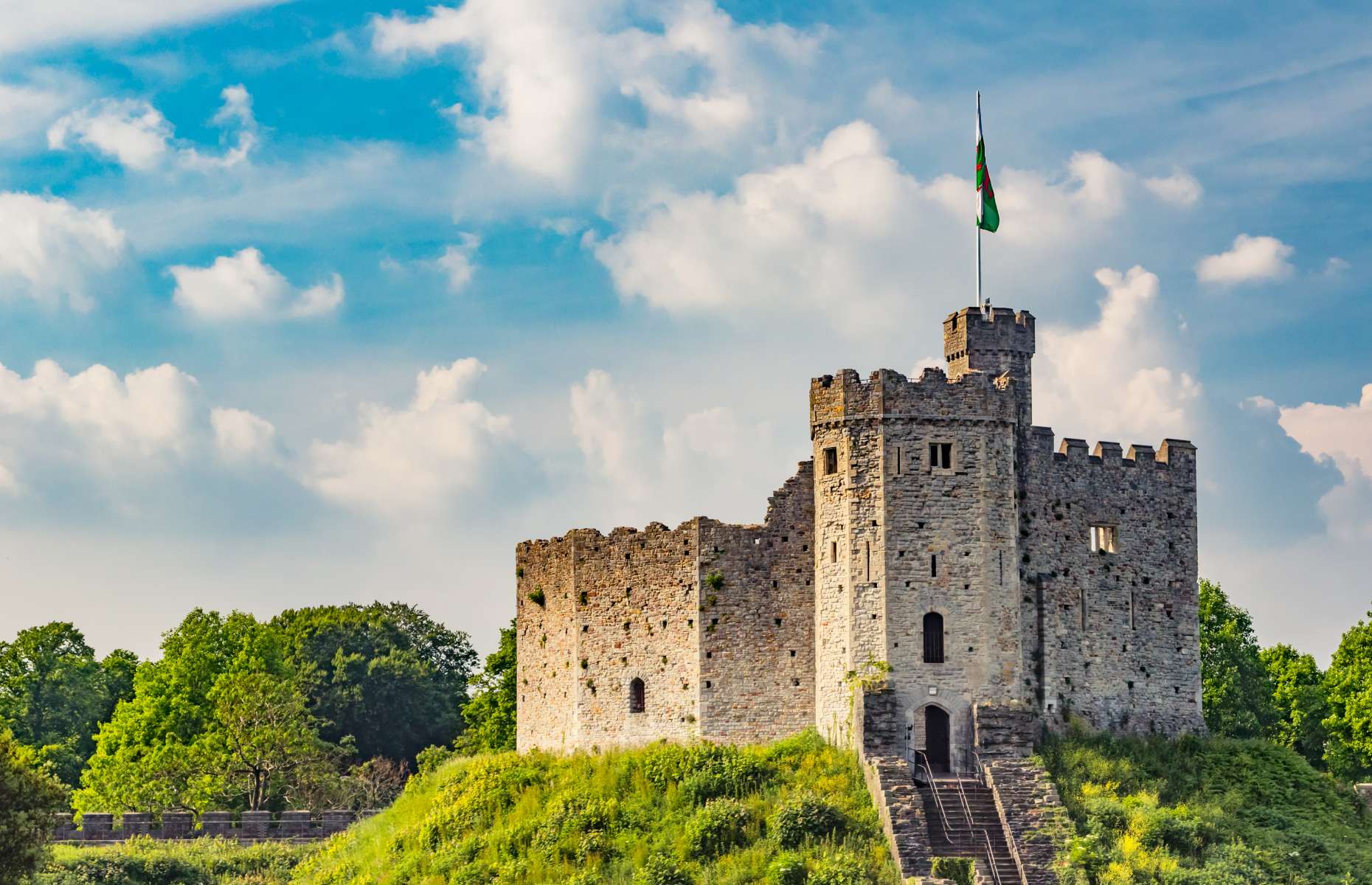 CanonDLee/Shutterstock
Dine at: Purple Poppadom. Cardiff has an impressive range of curry houses to suit most tastes and budgets and even has a few fancy options, including the award-winning Purple Poppadom. Located in the neighbourhood of Canton, this innovative curry house offers a twist on Southern Indian dishes – think less traditional chicken tikka and more malabar fish curry and dal tadka yellow lentils. We love Chef Anand George's signature dish, tiffin sea bass, served on a bed of curry leaf-infused mashed potato with raw mango, ginger, coconut sauce and beetroot pachadi. 
Drinks at: Tiny Rebel. Get your craft beer fix at this award-winning brewery from Newport, South Wales. It's housed in a rustic red-brick building opposite the Principality Stadium and has an excellent array of local real ales to choose from, as well as a buzzing atmosphere, bar food and live music on selected nights. Order a pint of Lazy Boy larger for a golden ale with a hint of citrus spice. 
Listen to live music at: Clwb Ifor Bach. Established in 1983 and located on Cardiff's music hub Womanby Street, Clwb Ifor Bach is a live music venue with an emphasis on homegrown acts, from a range of musical genres. 
Locals will know it as an important music club that gave an early platform to some of the biggest names in music including The Strokes and Foals. Clwb began life as a Welsh-language club and many people still speak Welsh here today. To ingratiate yourself with bar staff, try ordering a pint beer in Welsh by asking: "Allai gael peint o gwrw os gwelwch yn dda?" 
Sunday
Brunch at: Milkwood. Over in the quiet, tree-lined 'burbs of Pontcanna, you'll find plenty of independent cafés and restaurants in this upmarket neighbourhood. Milkwood is one of the latest brunch offerings here. This laid-back bistro serves reasonably priced avocado on toast, waffles, house granola and a Welsh brunch of bacon, cockles and laverbread on toast. 
There's also plenty of outdoor seating here if you're city tripping with your dog, or simply fancy sitting in the (admittedly sometimes limited!) sunshine here in Cardiff. 
Take a stroll around: Bute Park. Named after the influential third Marquess of Bute, who owned Cardiff Castle, you could spend hours wandering around the 130 acres of beautifully landscaped gardens. This huge park is located right by Cardiff Castle, in the city centre. The famous Animal Wall, which features life-size carved stone animals, also borders Bute Park. 
You can also join the multi-purpose Taff Trail here, which runs alongside the River Taff. It's a popular biking and walking route that runs for 55 miles (89 kms) from the Welsh capital to the small town of Brecon through woodlands, fields and small Welsh villages. 
There are plenty of path trails to explore in and around the park and you'll also find independent cafés and even a coffee trike in the park serving hot and cold refreshments. At the Secret Garden Café in the centre of Bute Park, you can order a tasty brunch, colourful veggie salad or hot chocolate to warm you up on your walk.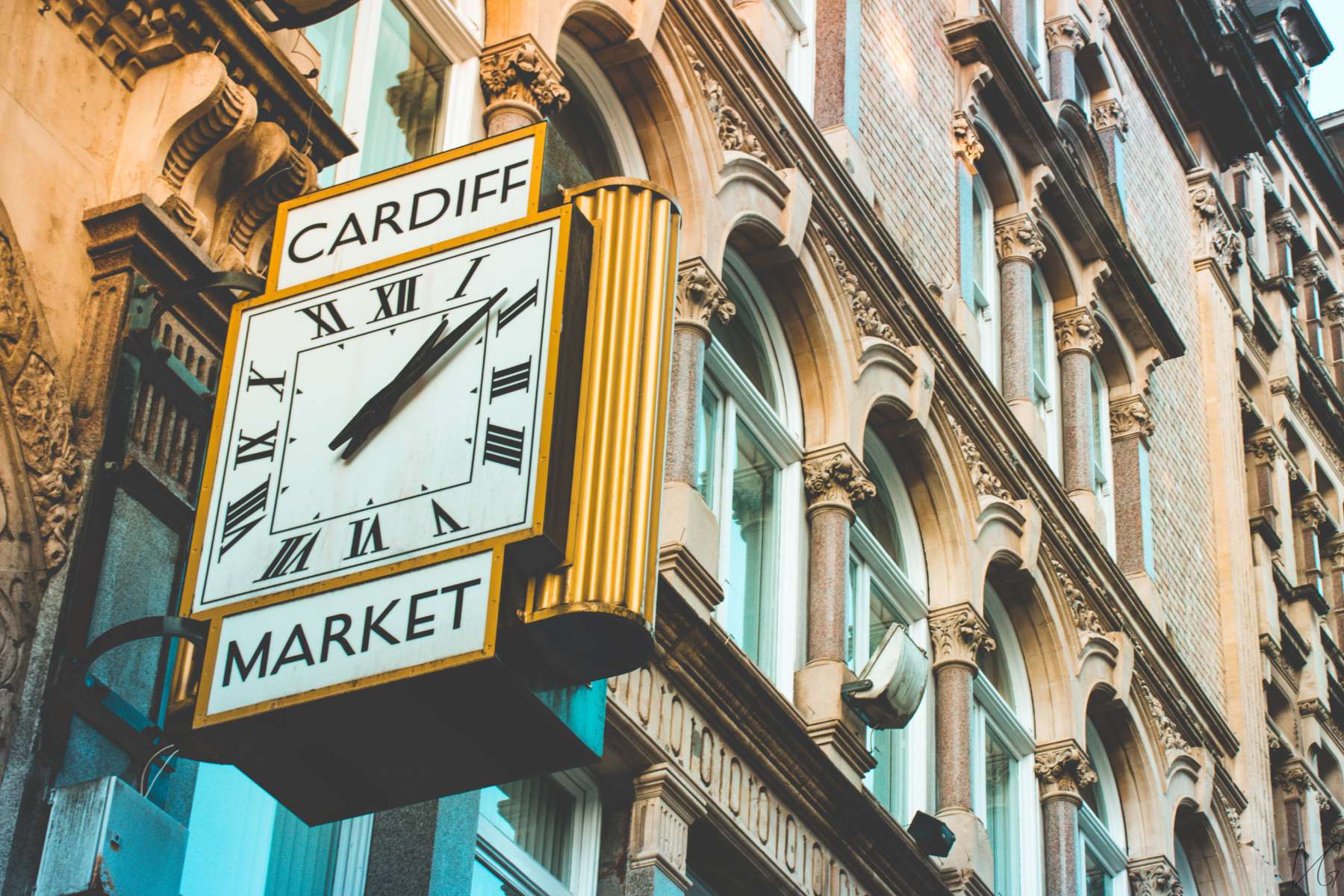 Andrewjcg/Shutterstock
Pick up foodie treats and gifts at: Cardiff Central Market. This Victorian-built indoor market opened in 1891 and today houses a variety of independent traders, cafés and food stalls. 
Try freshly baked traditional Welsh Cakes from one of the bakery stalls, browse vinyl offerings at Kellys Records and sample a pot of cockles from E. Ashton Fishmongers, one of the oldest businesses in the city.
Be sure to also head upstairs to pick up a hot slice of wood-fired pizza from Ffwrnes Pizza, where Wales meets Italy. These indie pizza makers specialise in affordable, homemade Neapolitan pizza with a selection of Welsh produce toppings. 
Bike around: Cardiff Bay. Cardiff has made great moves to become more accessible on two wheels, with a plethora of new bike lanes around the city and a bike-sharing scheme. You can ride down to Cardiff's waterfront from the city centre and then continue biking onwards across the Bay's barrage, a feat of civil engineering that connects Cardiff to the seaside town of Penarth. 
While the bay is one of the most historic parts of Cardiff, the former decaying docklands have been reimagined into a lovely marina that's easily explored on foot and by bike. 
Biking the recently developed Bay Trail is a fun way to explore Cardiff Bay's historic and modern landmarks such as the Norwegian Church, Wales Millennium Centre, the Senedd – or Welsh Parliament building – and the Pierhead building. 
You can also get to Cardiff Bay by boat from the handy water taxi stop in Bute Park and it'll take you on a pleasant trip down the River Taff to the Bay. Once here, you'll find Mermaid Quay with a collection of coffee shops, restaurants and bars where you can stop for a drink or bite to eat. 
Have a hot chocolate at: Coffi co. Call into Coffi co's Cardiff Bay location for a deluxe hot chocolate – or Nutella & Oreo Frappe – on the go. This coffee shop housed in a bright red shipping container serves takeaway drinks that can be enjoyed on their outdoor seating if the Welsh weather is being kind to you. Feeling a bit naughty? Order a spiced rum hot chocolate topped with cream and chocolate for a cheeky, boozy kick to the afternoon. 
Lead image: muratart/Shutterstock
Be the first to comment
Do you want to comment on this article? You need to be signed in for this feature