5 Shakespeare hot spots in Stratford-upon-Avon
Follow in the footsteps of Stratford-upon-Avon's most famous son: Shakespeare.
Located in the heart of Warwickshire, Stratford-upon-Avon is a town that's synonymous with all things Shakespeare. Not only was the prominent playwright born here, he also spent much of his life here too: studying in the local school; romancing his wife Anne Hathaway and returning to the town to see out his retirement years – after he had made his fortune in the capital.
This connection means that the once humble market town now sees over six million tourists visit each year. At first glance, it's easy to dismiss the place as an overpriced tourist trap – after all, almost every shop front manages to somehow weave in a Shakespearean pun. Yet the unique insight it offers into the past goes way beyond this – with the Shakespeare Birthplace Trust (an independent charity which cares for the five properties connected to the bard's life) set up in 1847.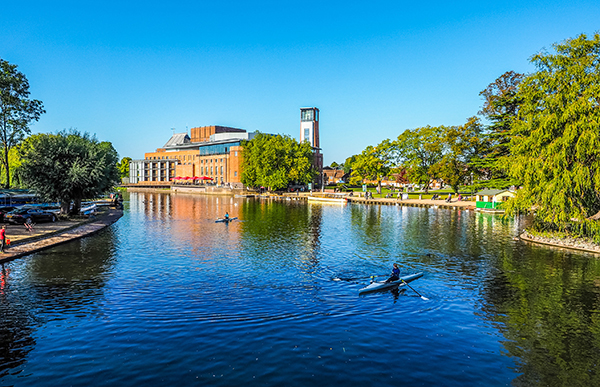 Claudio Divizia/Shutterstock
The trust, which was apparently first created in a bid to stop an American circus owner dismantling Shakespeare's house and taking it on a tour of the US, has preserved the properties of Shakespeare himself, as well as his wife Anne Hathaway, mother Mary Arden and daughter Susanne.
If you're looking to visit Stratford-upon-Avon, here's our pick of the best Shakespeare hot spots to visit.
1. Shakespeare's New Place
Lesser known New Place is actually the most compelling of all the buildings in the Birthplace Trust. William Shakespeare wasn't born here, but he purchased New Place after he'd made his fortune in the world of theatre. Unfortunately, the building didn't stand the test of time, so New Place has instead become a modern representation of Shakespeare's life: a majestic courtyard laced with Shakespearean references (the floor is quite literally paved with sonnet extracts) and modern, artistic interpretations of his most famous plays. Take your time as you meander through the idyllic gardens and contemporary sculptures.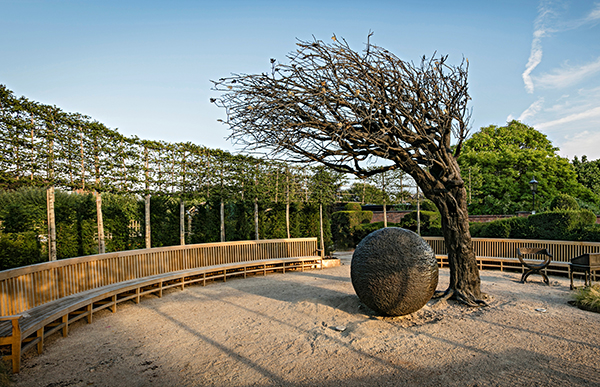 Shakespeare Birthplace Trust
2. The Royal Shakespeare Company
The Royal Shakespeare Company have been established in Stratford-upon-Avon for well over a hundred years and during that time big names, from David Tenant to Patrick Stewart, have tread the famous boards.The Play's The Thing is a new exhibition which captures the work of the theatre and the history behind some of its most famous performances. Not only will you leave with a newfound appreciation of Shakespeare's work, but you might just be able to tick something off your bucket list too. The interactive exhibition allows you to play dress-up and release your inner angst by performing as Hamlet alongside a computer generated actor.
3. Shakespeare's Birthplace
It might be crammed with coach parties, but Shakespeare's Birthplace is still well deserving of a visit. In the heart of the town, the birthplace is where the bard spent the first 24 years of his life (including 5 of those with his wife Anne Hathaway – more on her in a moment). While the other attractions largely leave you to your own devices, this house offers a guided experience. Tour guides (in costume) are on hand in every room to provide insight into all aspect of Shakespeare's younger years. A stroll in the garden reveals actors performing the bard's most famous scenes.

Shakespeare Birthplace Trust
4. Anne Hathaway's Cottage
This one's located just a mile outside of the city centre so you'll need a car (or at least a decent pair of walking shoes) to reach Anne Hathaway's cottage. Well worth the journey, it's surrounded by idyllic countryside and is the childhood home of Shakespeare's wife. While the cottage itself is worth exploring, its real appeal is the vast, landscaped grounds around it: pack a picnic, bring the dog and meander through the sculptures, vegetable plots and even the Willow Arbour – a secluded spot for you to sit and listen to some of the bard's most celebrated sonnets.
5. Shakespeare's Grave at Holy Trinity Church
It seems bleak to put a grave on a list of tourist hotspots. But Shakespeare's grave is located in the picturesque Holy Trinity Church – a landmark in itself as the oldest building in Stratford-upon-Avon. Yes, Shakespeare was buried here but the church is more than just a resting spot – Shakespeare was also baptised here and was a regular worshipper too. As well as admiring the architecture, you can also visit a special monument dedicated to Shakespeare. It's free to enter the grounds, but the church asks for a £3 donation to view the bard's final resting place.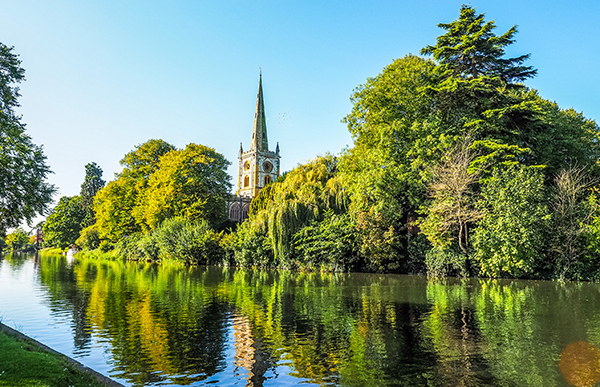 Claudio Divizia/Shutterstock
Be the first to comment
Do you want to comment on this article? You need to be signed in for this feature