6 reasons to visit Portmeirion village, Wales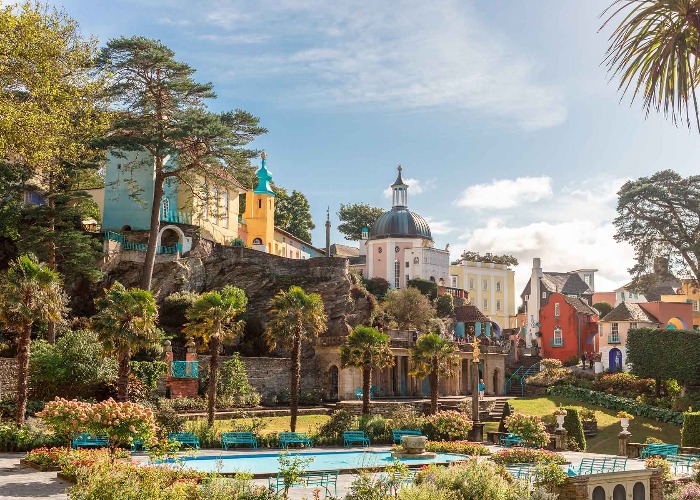 Inspired by the multicoloured façades of Portofino in Italy, this surreal Welsh village is more than just a pretty picture.
Portmeirion village, located near Porthmadog, just outside the Snowdonia National Park boundaries in North Wales, looks something out of a fever dream. It's a multi-award-winning tourist attraction on the pristine southern shoreline of Snowdonia where guests can experience the best of Welsh hospitality in a quirky setting.
This picturesque coastal village isn't quite like other Welsh villages: there are no residents, cars, school or bank here. It's a uniquely constructed tourist village where visitors can experience a slice of Italy on the bracing Welsh coast.
Alongside its unique architectural heritage, the ticketed site features two swanky hotels, self-catering cottages, an indulgent spa, gift shops, cafés, restaurants and an authentic Italian-style gelateria.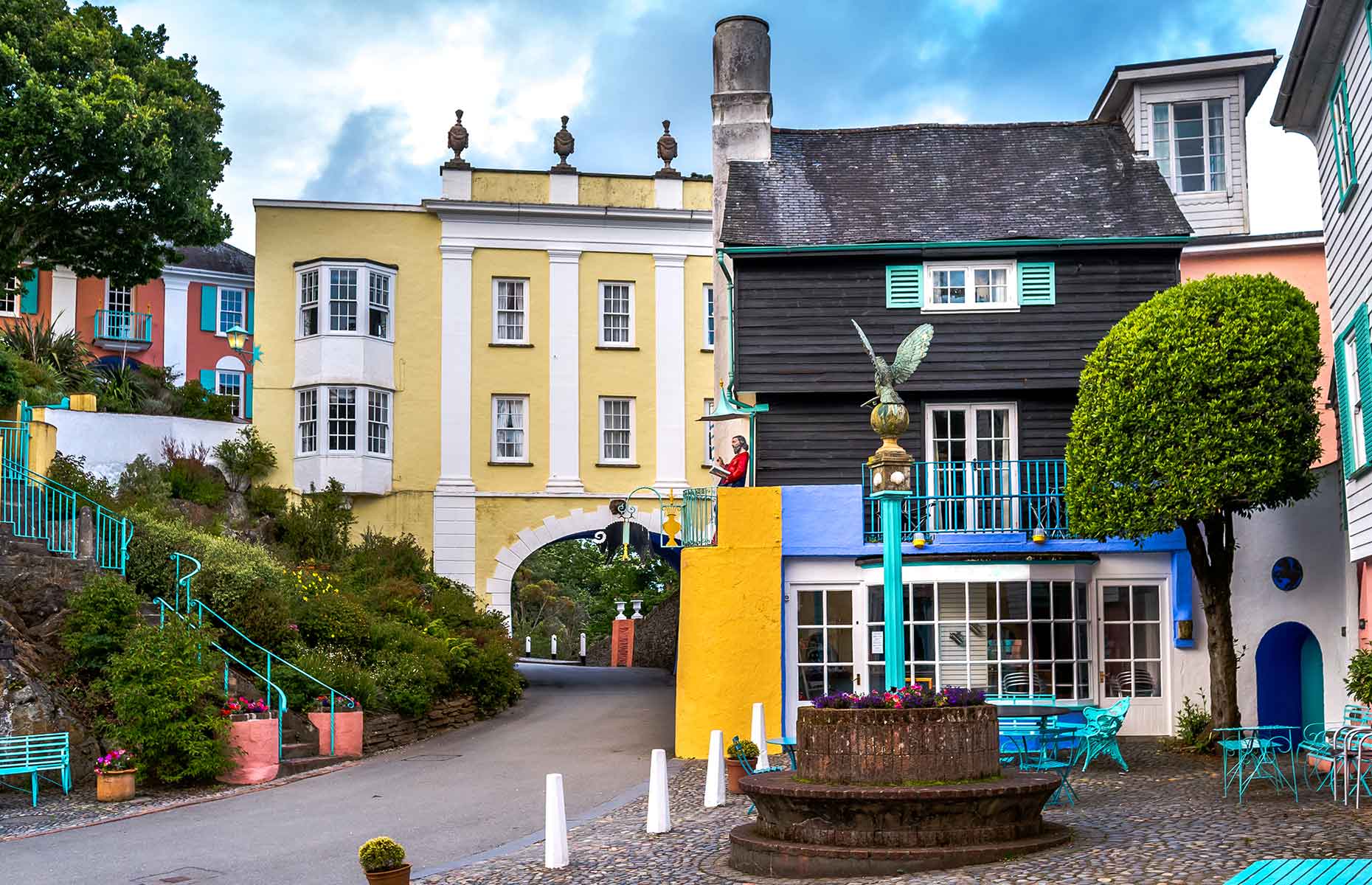 Edward Haylan/Shutterstock
Portmeirion has proved to be wildly popular with visitors and has also inspired many creatives over the years. Cult classic series, The Prisoner, starring Patrick McGoohan was filmed here in the 1960s, with the village providing a surreal backdrop. It was also home to the eclectic arts and culture festival Festival No.6 for a number of years before it wrapped up in 2018.
There's lots to love about this dreamy Welsh hideaway but here are our top six reasons to visit Portmeirion.
Note that many attractions are closed off-season so check individual places before visiting.
1. For a taste of Italy in Wales
Portmeirion was born out of a long-held ambition of its founder, architect Clough Williams-Ellis. His creative vision for an Italianate-style, private peninsula village on the Snowdonia coast resulted in a charming tourist destination with a Mediterranean feel.
While many think of the village as the indulgent whimsy of an eccentric architect, Clough recognised the value of tourism to the Welsh economy. He had a clear vision for managed tourism and sustainability – hugely ahead of the curve at the time.
READ MORE: Reasons to love Wales
Clough acquired the wilderness site in 1925 and dedicated his life to developing this run-down peninsula into a popular coastal attraction, while drawing heavily on the coloured façades of Portofino for inspiration. It resulted in the dream-like, pastel-coloured buildings, ornamental gardens, and piazzas with fancy fountains and a giant chess set.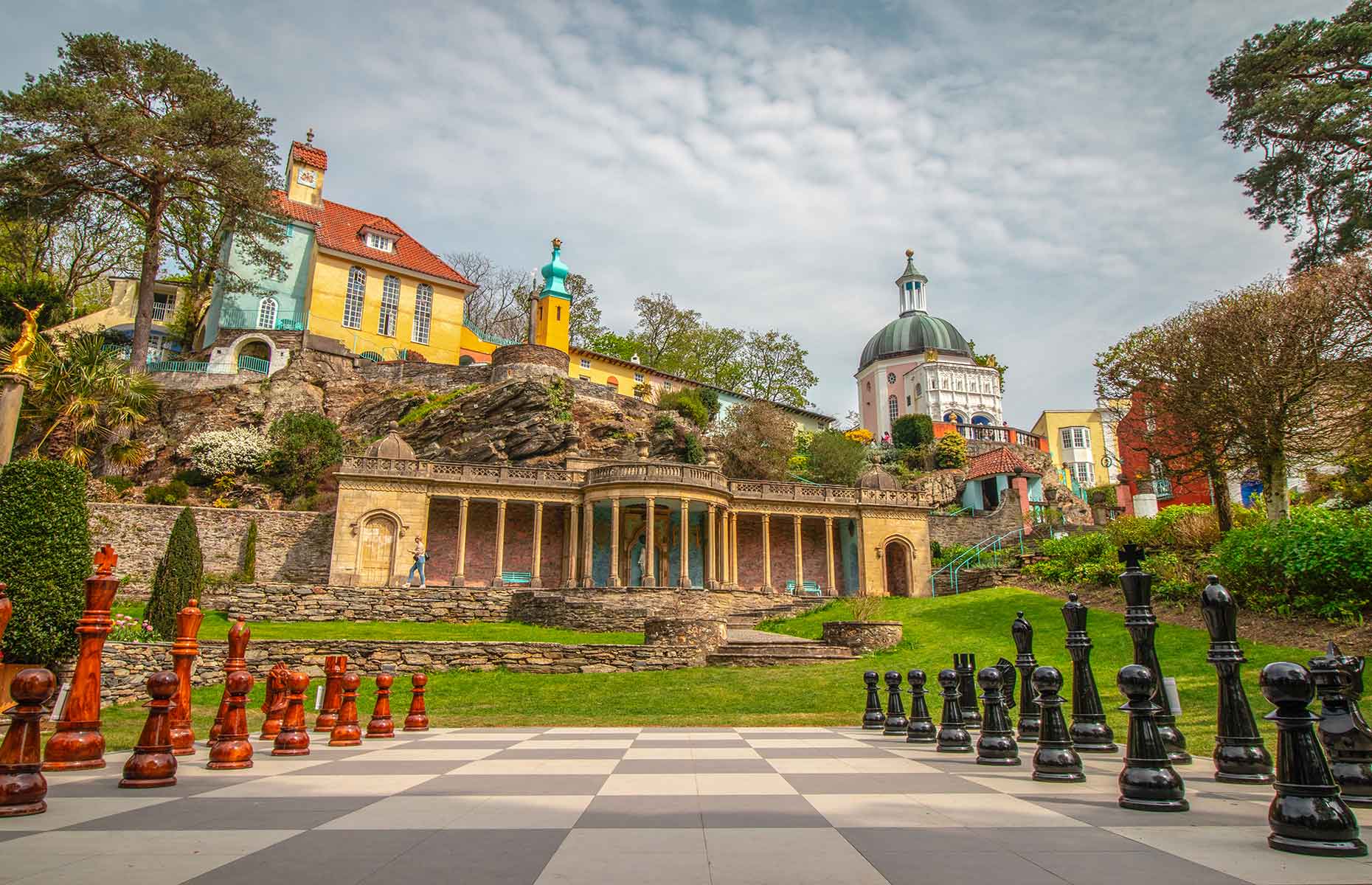 malgosia janicka/Shutterstock
Classical buildings were salvaged from demolition, giving rise to Clough's description of Portmeirion as "a home for fallen buildings". Construction of the site continued in stages until 1976, with Clough sadly passing in 1978.
2. For year-round natural beauty
Despite its coastal location, Portmeirion is not just a summer destination. The 130-acre site, set amid woodlands and carefully manicured gardens, offers some of the most stunning scenery in Wales – magical for autumn colours and beautifully still on a winter morning. The microclimate of the peninsula also protects it from the worst of the winter frosts, although it has snowed here on occasion, much to the delight of photographers.
Take the scenic, 40-minute walk through the Gwyllt woodland to explore a wild garden designed by the horticulturalist Caton Haigh, an authority on Himalayan trees and exotic plants. There are two main paths into the pretty woodlands and you'll find 19 miles (30.5km) of walking paths that will take you to highlights such as the Ghost Garden, Tangle Wood and the Chinese Lake.
Look out for the Dog Cemetery in the woodlands, established by former tenant of the manor house Mrs Adelaide Haig, where many Portmeirion pets have been buried during the last century. The eccentric lady of the manor preferred dogs to people and used to read the Bible to her pets.
Each season brings new life to Portmeirion's manicured gardens with textures and colours anew as you wander through its cobbled streets and piazzas. For sweeping views of the estuary, head to Clifftop & Chantry Row, or walk over to the Mermaid Spa for superb coastal views.
Nearby you'll also find the Min y Don to Black Rock Sands section of the long-distance Wales Coast Path. After your visit to the village, you can veer off for a longer walk on the Welsh coast to discover its impressive, rocky shorelines.
READ MORE: Explore the Wales Coast Path
3. To buy unique gifts
Portmeirion has a range of well-heeled and bespoke shops including the world's only Prisoner TV Show Shop. Here, you can buy a range of memorabilia from the show such as maps, badges, Village Foods tins and even a replica 'Rover balloon' (a big white balloon used in the TV show to keep prisoners within the village).
Elsewhere you'll find Welsh language and tourism books at the bookstore, a curated collection of gifts and local products at The Ship Shop, and Welsh produce and Portmeirion's very own wine and Champagne at Pot Jam.
READ MORE: What do do in the Elan Valley, Wales
A range of Portmeirion-branded gifts and souvenirs to commemorate your visit can be found in Portmeirion Online. Browse printed mugs, tea towels and chocolates alongside a small selection of beautiful, discounted Portmeirion pottery.
Portmeirion even has its own dedicated shop outside of the village in nearby Porthmadog. Siop Fawr Portmeirion is a homeware store and café that's housed in the former three-storey store Kerfoots, thought to be the oldest department store in North Wales, dating back to 1874.
4. For wonderful Welsh hospitality
Portmeirion has a range of accommodation options on site and staying overnight means you can explore the village after dark, without the huge crowds of day-trippers. Plus, watching the dawn rise over the peninsula is an incredible sight.
The flagship spot to stay is 4-star Hotel Portmeirion which has been lovingly converted from an old Victorian villa. It was opened in 1926 by village creator Clough Williams-Ellis to much fanfare. The hotel has undergone refurbishments over the years to modernise its style while retaining some of the original features. The Grade II-listed hotel is also famous for being the place where English playwright Noel Coward wrote Blithe Spirit in 1941.
It feels rather stately with its cosy sofas set around an Italian-style fireplace and Art Deco-inspired design in the bar and dining room.
The other impressive accommodation, Castell Deudraeth, is a 4-star, Victorian castellated mansion built by David Williams that has 11 modern and spacious rooms.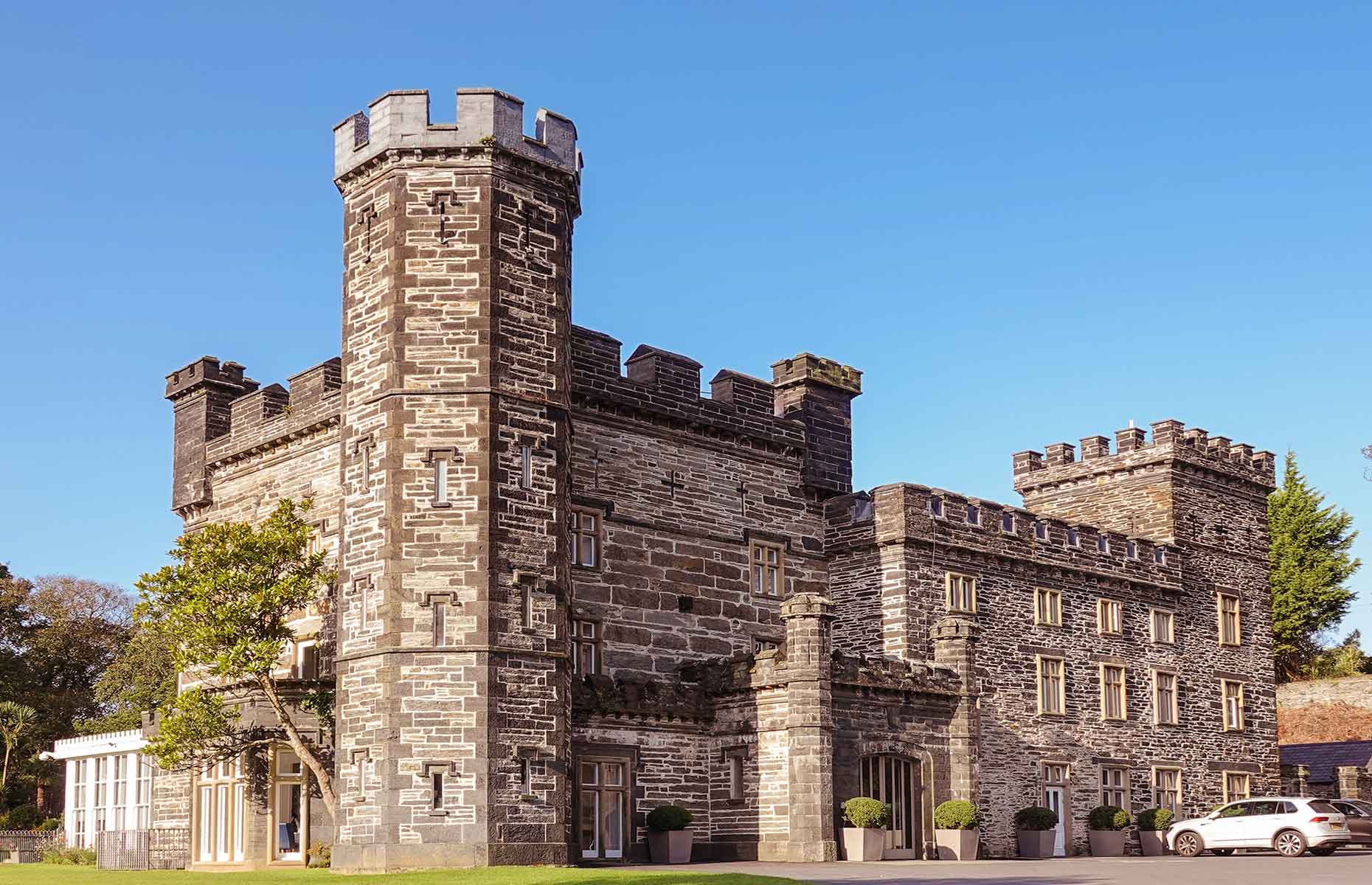 Caroline Jane Anderson/Shutterstock
Modern meets historic with Gothic and Tudor influences alongside contemporary design and Welsh oak, slate and stone. Kids in particular will love staying in a real castle with a walled garden to explore.
The rooms have a seaside motif and room 10 in particular offers excellent estuary views. When it comes to food, Castell Deudraeth serves a brasserie-style menu using the local ingredients and has a decent selection of Welsh ales.
Elsewhere in the village, there are 13 self-catering cottages that are available for weekend breaks or week-long stays. The cottages are fully-equipped and guests can also use the on-site restaurants which tend to be quieter in the evening when day guests have left.
All overnight guests enjoy free admission to the village and gardens, plus access to the heated outdoor swimming pool (when open in the main season).
READ MORE: The UK's most historic hotels
5. For dinner with a view
There are plenty of dining options in the village, from cafés to a 1950s-style bar and even an Italian gelateria. Opening days and hours are dependent on the season so it's always worth checking ahead first.
Over in the swanky Hotel Portmeirion, head chef Mark Threadgill dishes up contemporary and innovative Welsh cuisine that's packed with local ingredients. Typical menu options include tender beef sirloin and Arctic char with laverbread-braised (a type of Welsh seaweed) potato. A traditional roast is served on a Sunday and must be pre-booked as it's so popular with locals and visitors. Free entry to Portmeirion is included with Sunday lunch if pre-booked.
Make sure to bag a table in the dining room for superb views over the Dwyryd Estuary as you dine in style.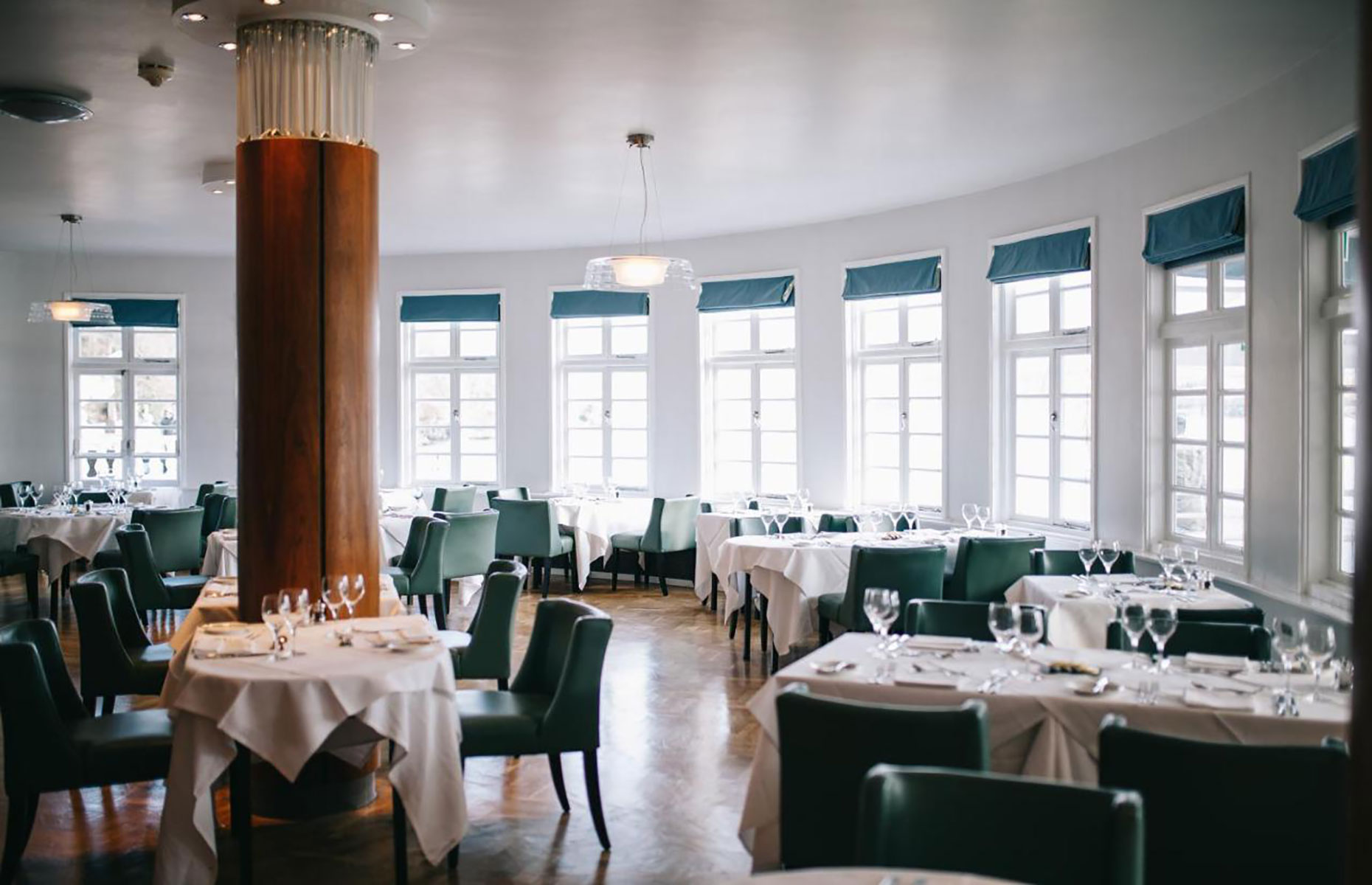 Portmeirion Village & Castell Deudraeth/booking.com
Historic Castell Deudraeth offers several dining choices including a hearty à la carte menu, Sunday lunch and a fixed-price two-course lunch.
Café classics such as sandwiches, cakes and piping hot pasties can be found at Caffi No. 6 and Caffi'r Sgwâr, which also serves top coffee. For a taste of Italy to complement your surroundings, head to Caffi Glas for homemade Italian comfort food and pizza.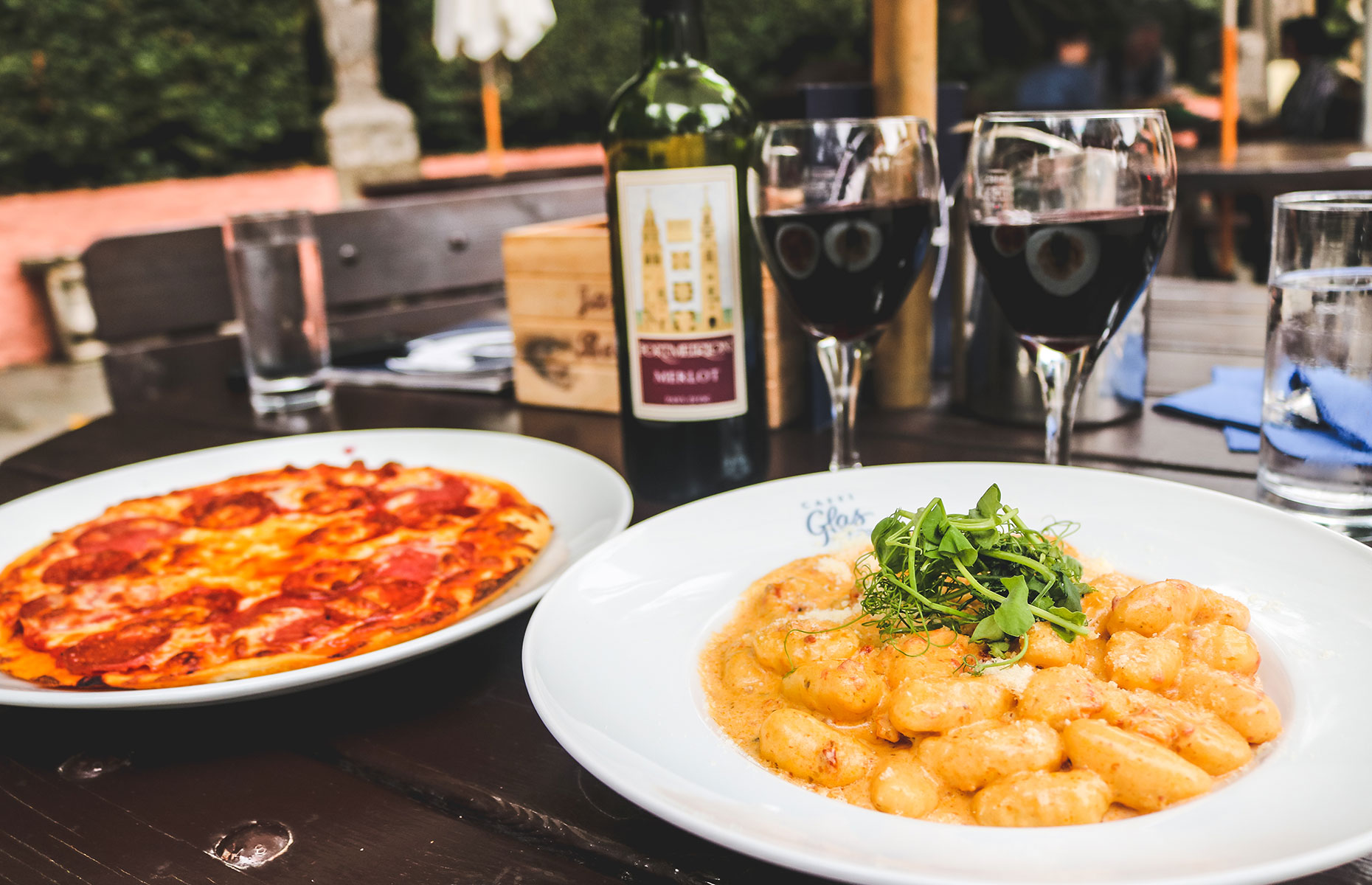 Portia Jones
READ MORE: 7 things to do in Southern Snowdonia
6. To have a coastal spa experience
The boutique Mermaid Spa offers a restorative experience by the sea and has a range of luxury and wellbeing treatments to help you unwind. Enjoy a re-energising facial, warming hot stone massage or indulgent body wrap with views of the peaceful Dwyryd Estuary as you slip into quiet bliss.
In keeping with the village's upmarket feel, expert therapists use high-quality and vegan-friendly products to deliver all-natural therapies. A variety of spa packages are available, including bespoke options, and you don't need to be an overnight guest to book. You can even indulge in a post-spa afternoon tea in Hotel Portmeirion for the perfect pamper day in North Wales.
Main image: Debu55y/Shutterstock
Be the first to comment
Do you want to comment on this article? You need to be signed in for this feature