Made in Derby: why this Midlands city needs to be your next weekend break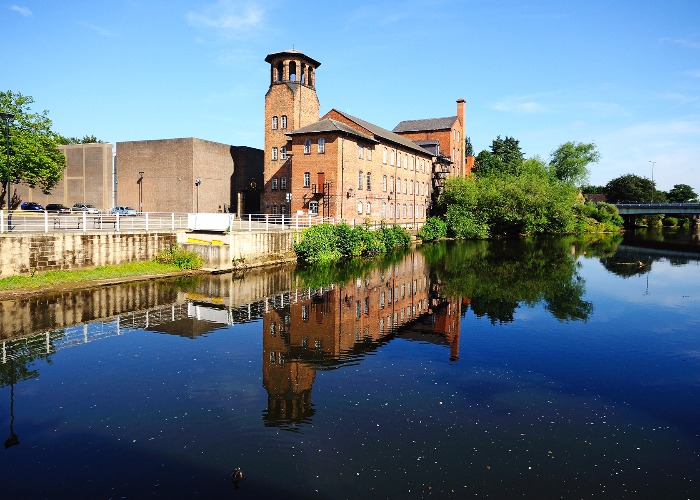 Dubbed the "City of Makers", Derby has a do-it-yourself attitude, an exciting independent food and drink scene, and an energy that's infectious. Here are our favourite things to do in Derby.
I'm always inspired when I go to Derby. It's a city that exudes creativity, resilience and innovation. The people I've met are always passionate and skilled, with a modest pride in their town and work, and an acute understanding and appreciation of the history that brought them here today.
What's most interesting is how Derby's past can be traced throughout its streets. Hundreds of years old, red brick houses are juxtaposed with modern architectural constructions – see the University of Derby's striking copper-and-glass building at 1 Friar Gate Square, next door to a couple of 18th-century houses on the corner of Ford Street and Friar Gate.
Derby was an important city during the industrial revolution: it was home of the first water-powered silk mill in Britain (now a museum on the banks of the Derwent) and later, in 1840, it became the Midland Railway headquarters, whose glorious roundhouse still stands as part-college, part-events space, near the train station.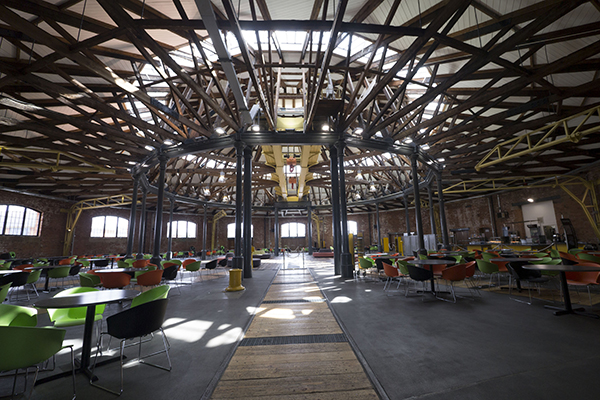 Bryan Ledgard/Flickr/CC BY 2.0
And while it doesn't play quite the same role in our industries today – though Rolls-Royce do still manufacture engines here and Bombardier are still engineering the railways – this spirit of making things is rife throughout this modern city.
A high street of derelict buildings and shut-up shops might nod at the recent turbulent economic times – locals tell me the intu shopping centre ripped a lot of business away from the city's independents – but a slew of new and exciting ventures are bringing it back.
Derby now has the fastest-growing economy in the UK. It was recently named the least stressed city and the local authority's ambitious Master Plan promises an exciting future. But go now to feel the buzz of a city on the up, and enjoy a delicious revival of the independent food and drink scene. Here's how we love to spend a weekend in Derby:
Friday
Check-in to: The Pentahotel. Conveniently just a five-minute walk from the train station, this modern, cool hotel is the perfect base for a Derby weekender. There's a great bar for evening cocktails or pre-dinner drinks, PS4s in all the rooms and breakfast is a buffet feast with optional Prosecco on ice.
Eat at: Seven. Just around the corner from Pentahotel and even closer to the train station, Seven serves up superb, hearty meals in a casual but stylish setting. The menu has a great variety, but we recommend starting with the moreish calamari, and tucking into the succulent chicken and tarragon main. The tonka bean brûlée is an exceptional finish.
Have a pint in: The Brunswick. If you fancy a nightcap, head through the train station onto Station Terrace and try one of the many ales on tap in The Brunswick, one of the city's finest pubs with its own microbrewery on site.
Saturday
Visit: Pickford's House. See an 18th-century Derby home recreated in architect Joseph Pickford's residence. Furnishings and decor are as close to his original home as possible on the ground floor, and the other floors house permanent and temporary exhibitions, this year's highlight being the vast collection of Vivienne Westwood shoes (ends 17 September).
Stop for coffee at: Oliver's. Along Friar Gate, Oliver's is one of the many independents attracting locals away from the chains it neighbours. A popular spot for brunch, try the locally-mixed teas – the coconut chai is pleasantly refreshing – or have a quick coffee and browse the small gifts and cards on sale.
Shop: along Sadler Gate. Recently voted the UK's best high street, Sadler Gate is independent-central. Stop in at Design@44 to browse artworks, upcycled furniture and jewellery made by locals, and bag some designer bargains in pre-owned clothing specialist No 53.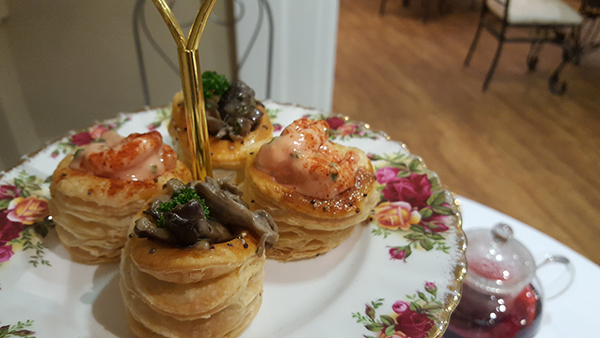 Lisa Jeans afternoon tea/Lottie Gross
Take afternoon tea at: Lisa Jean in Bennetts department store. This mezzanine café set in an independent department store serves up a feast of an afternoon tea.
Lisa Jean doesn't skimp on the savoury, with gorgeous vol au vents (the mushroom and tarragon is delicious) and a decent selection of sandwiches, and the desserts – traditional fruit scones and a not-so traditional elderflower crème brûlée – are just as satisfying.
Visit: Derby Museum & Art Gallery. This small gallery has an eclectic range of permanent and changing exhibitions. This summer saw the opening of Judge Dredd to Wonder Woman: the Work of Liam Sharpe, in which the Derby-born artist's best comic book works are on display, and permanent exhibits include natural history, a collection of Joseph Wright paintings and military history.
Have an afternoon tipple in: The Tudor Bar. Back along Sadler Gate, duck into the Old Bell Hotel and head straight to the Tudor Bar, where gin and tonic is king of the shelf. The courtyard is gorgeous on a summer's day, and in winter the roaring fire indoors will keep you warm.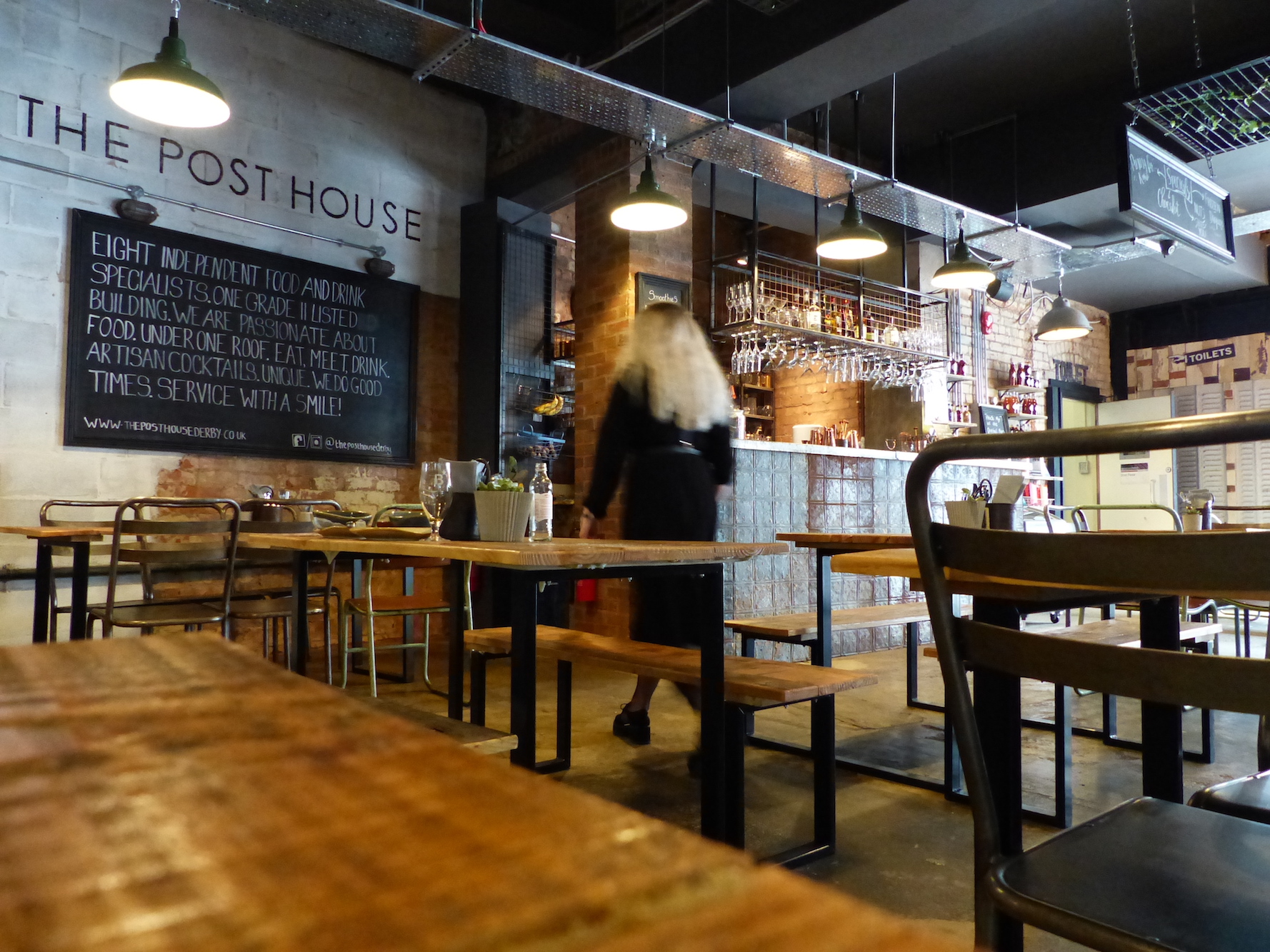 The Post House/Visit Derby
Dine out at: The Post House. This latest addition to the Derby dining scene is one of the city's coolest venues. Set in an old post office, six different food units serve treats, from nachos that you'd never guess were vegan to divine beef burgers cooked in mouth-watering homemade rubs, in a food court set up.
There are three bars – real ale from the Tollgate Brewery, inventive cocktails by the owner and a general bar – and plenty of places to settle in for the night. It's more relaxing than your average food court, too: there's no hovering around for your food. The Post House keeps your visit social with table service: choose a table, order your food from one of the units and it'll be brought over by waiting staff when it's ready.
Sunday
Take a stroll: Cross through the train station and head north along Railway Terrace where a row of 19th-century cottages once housed Midlands Railway's workers, then cross into Bass's rec to walk along the river Derwent.
See: The Silk Mill. Your walk along the Derwent will take you all the way to the historic Silk Mill, the first of its kind in the UK and now a museum, soon to be renovated to become Derby's "Museum of Making". The mill's exterior is the highlight, but see the small exhibitions that pay tribute to the city's industrial and creative heritage before moving on.
Lunch at: The Silk Mill Ale & Cider House. Prime Sunday roast venue right next door to the Silk Mill, this brilliant pub has an excellent array of ales and ciders for any taste.
Drink in: The Tap. From the Silk Mill, walk across the river and head south to The Tap, a Derby Brewing Company pub. Enjoy a tasting board of five different ales, paired with a tangy cheddar, before hopping on the train home.
A few other places we love
Of course, you can't fit everything that's great in Derby in one weekend, so if you're staying for longer, or just want to try something different, head to any one of our favourite places in the city:
For a morning coffee: The BookCafé is a superb stop for a morning coffee. There's brunch on offer too, but the pleasure lies in a good cuppa coupled with one of the daily papers or old books they keep on the shelves for anyone wishing to peruse.
For serious steak: Old Bell Hotel. Previously a rock music venue, this beautifully-renovated hotel has more than just rooms. Sample some gin in the Tudor Bar before heading up to The Belfry Steakhouse, where beef and wild meats like ostrich or buffalo are cooked in a scorching hot Josper grill at 400°C.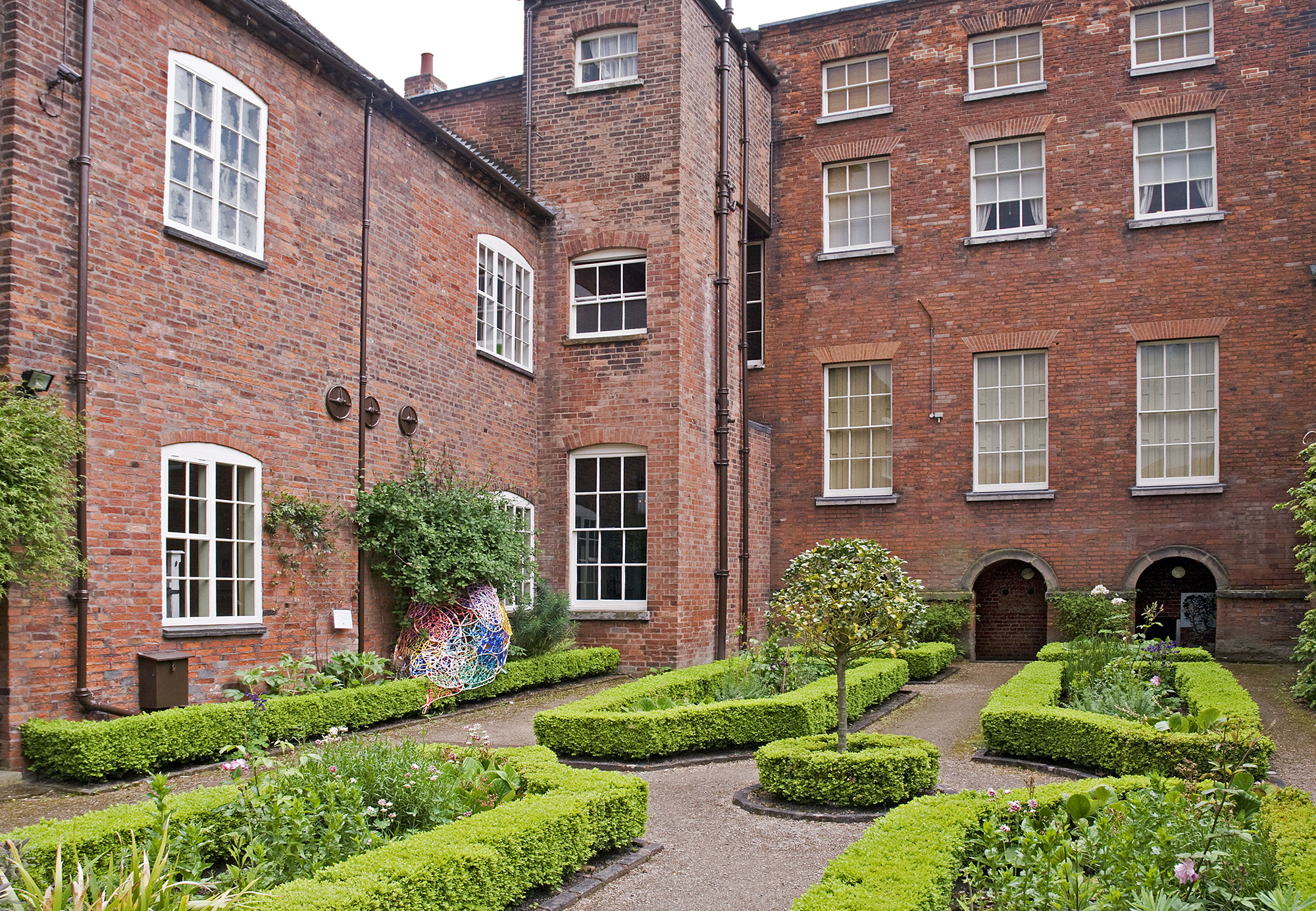 Pickford's House/Visit Derby
For brilliant beer: The pubs. Derby has been described as one of the best places to sample real ale in the world, so step into almost any pub and you'll likely be rewarded with pints of the delicious brown stuff. The oldest pub in Derby, and one of the oldest in the country, is Ye Olde Dolphin – a tiny warren of cosy rooms clustered inside a nearly 500-year-old, creaking structure.
For a G&T: Rowley's. The Tudor Bar at The Old Bell has an eclectic selection of gins, from nettle to ginger, but for sheer variety Rowley's wins hands down. With over 50 different bottles of the stuff, categorized from "Great" to "Interesting" to "Next Level", every gin enthusiasts' tastes are catered for.
For amazing events: The Roundhouse. This stunning building, part of Derby College, also plays home to some of the city's most exciting events. In February, the annual Winter Ale Festival sees 360-degrees of beer barrels along its curved walls, in summer the city gets geeky with Comic Con, and this October The Roundhouse sees the city's first ever gin festival.
Be the first to comment
Do you want to comment on this article? You need to be signed in for this feature