Holy Island: the Welsh isle you need to escape to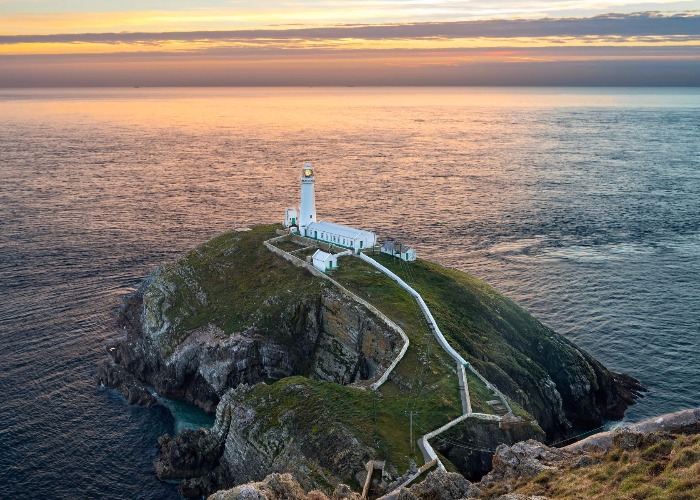 If you really need to get away from it all, go to Holy Island
Holy Island, off Anglesey's western edge, has an area of just 15 square miles, but a coastline so notched with tiny coves, sweeping bays and dramatic headlands of its own that you'd need several weeks' stay before you could explore it fully.
It's an island off another island: you go to Anglesey to get away from it all, and if that's not far enough, you continue to Holy Island. Here's how to explore this gorgeous little isle.
Where exactly is it?
Holy Island sits just off the west coast of the island of Anglesey in North Wales. It's the kind of place where you'll hear the Welsh language spoken all over, in shops and restaurants, and even hotels – though everyone speaks English too.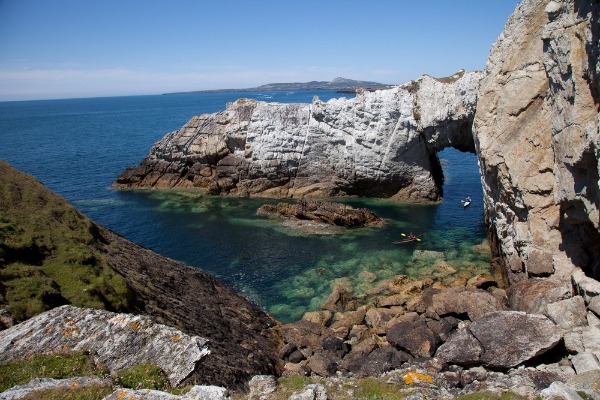 The White Arch, near Rhoscolyn (Gail Johnson/Shutterstock)
What's so great about it?
Holy Island is an upmarket destination without pretension, and for such a small place it has a lot of strings to its bow. Above all else, the beaches on the beautiful west coast are spectacular, whether you're a young family of sandcastle engineers and rock-pool marine biologists, or romantics longing for undisturbed strolls.
The best of them is Trearddur Bay or Rhoscolyn, though there are scores of smaller, but equally beautiful stretches of sand that can be reached by the excellent coastal path. If you're a keen walker – with a head for heights on some cliff-top sections – the coastal path must be explored.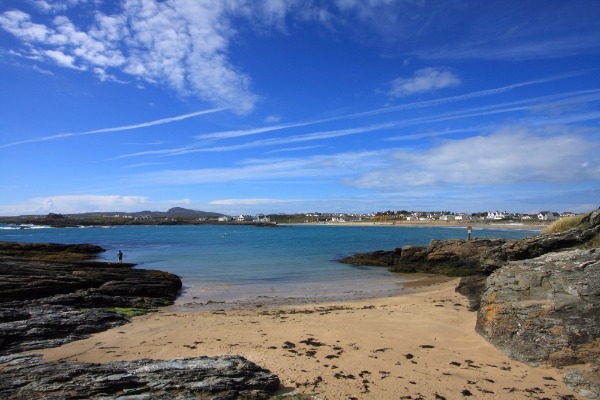 Trearddur Bay (Gail Johnson/Shutterstock)
When you're all beached out, other activities – cultural or sporting – will beckon. There's golf, horse riding, climbing Holyhead Mountain – only 720 feet (220m) – birding at the South Stack Cliffs RSPB reserve, or searching out the standing stones and Roman remains. Part of Holy Island's charm is also what it hasn't got – there are no blaring amusement parks, kiss-me-quick hats, candyfloss stalls...
What can I do there?
Experienced golfers will enjoy the 18-hole Holyhead Golf Club, the less dedicated may prefer the nine-hole Beach Golf Course in Trearddur Bay. If you're into sea angling you'll find innumerable rock marks along the coast, or for (nearly) guaranteed catching, book on one of the three charter boats out of Holyhead.
Just north of Trearddur there's a horse riding centre, and watersports are well catered for: kayakers will love exploring otherwise-inaccessible coves and beaches, there's sailing boat hire in Trearddur and Holyhead, and a diving school in the latter too.
What's so holy about it?
The Bronze Age standing stones and the ancient burial chambers of Trefignath are what give the island its name. Grab a detailed map like OS Explorer 262 and make a mini pagan pilgrimage. The established church has its attractions too – Holyhead's St Cybi's is nearly surrounded by some impressive remnants of a Roman fort.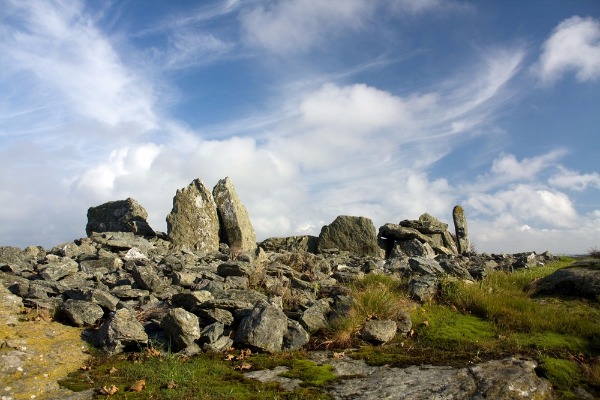 Ancient ruins at Trefignath (Gail Johnson/Shutterstock)
Is there anywhere to stay?
There are a few hotels in Holyhead and a couple in Trearddur Bay, and a sprinkling of B&Bs, but most visitors go self-catering here. Head for one of the caravan parks that hug the coastline, or for a more upmarket stay in one of the many flats, cottages and beach houses available to rent.
What's for lunch?
You must try the Black Seal in Trearddur Bay for fantastic pizzas made in a wood-fired oven, homemade Welsh black beef burgers, and cheffier things like local scallops served with pea puree and prosciutto crisps (not to mention its impressive gin list).
In Rhoscolyn the White Eagle gastro-pub is similarly notable for dishes like Welsh lamb and Menai moules frites. You'd be sensible to book at either of them whenever you go.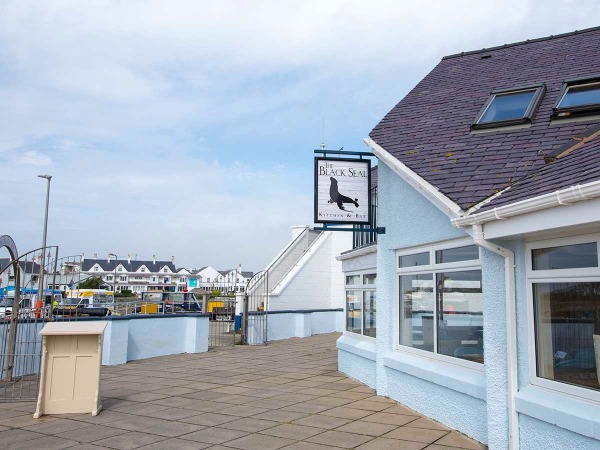 Along the (single track) road from the White Eagle you'll encounter Holy Island Seafood where in season you can buy fresh, sustainably sourced local and regional scallops, fish, crab, mussels and lobster (available frozen out of season), and some traiteur dishes featuring the same ingredients.
Any stay on the island should legally require you to visit the ice cream parlour of the Sea Shanty (a stylish decorated New England diner-style restaurant) in Trearddur whose vast range of flavours spans the sublime rocky road to the ridiculous bubblegum with about 20 more in between.
When is the best time to visit?
Spring and autumn are optimum: it's easier to get accommodation and book into the best restaurants, you'll often enjoy a cove all to yourself, and the mild maritime climate frequently obliges with surprisingly good weather. In summer, Trearddur in particular can be the sort of family beach resort about which your parents (or theirs) wax nostalgic.
No matter the season, the island is always at its best at low tide, when the retreating sea leaves the rockpools at their most numerous and accessible, and in the waters off South Stacks reveals jagged pinnacles that have wrecked ships for centuries.
How do you get there?
By car from the mainland the A55 takes you straight through the middle of Anglesey and across a causeway towards Holyhead, the only town on the island, or you can opt for the more roundabout route of the B4545, via Four Mile Bridge and on to Trearddur, the other two settlements of any notable size.
If you're travelling from Ireland ferries operate between Dublin and Holyhead, and because of that link there's a great rail service to Holyhead. Air travellers are served by nearby Anglesey Airport provided they fly from Cardiff on one of the two flights daily.
Be the first to comment
Do you want to comment on this article? You need to be signed in for this feature