6 reasons Scotland is the ultimate cruise destination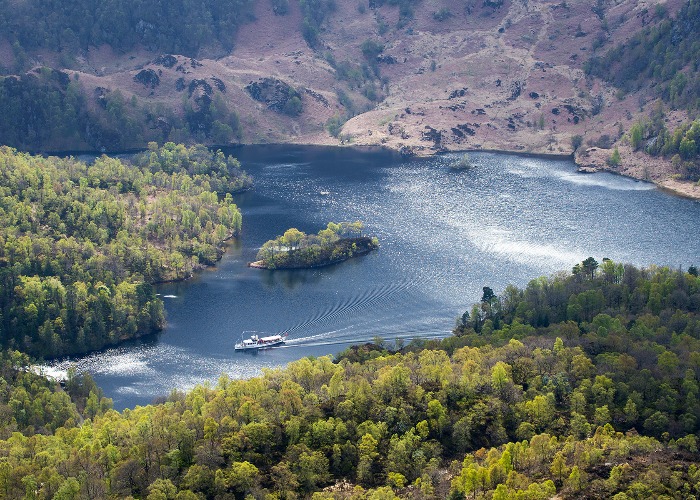 From incredible islands and top notch seafood, to the romance of Gaelic culture and a flotilla of family-run small cruise ships, here's why you need to set sail for Scotland's spectacular, but still blissfully uncrowded, coast.
Forget the well-worn waterways of the Med or the cruise ship-clogged Norwegian fjords, Scotland needs to be your next cruise destination. Here's why:
1. There's seriously epic scenery
The scenery really is jaw dropping. The heavily indented, sea loch-ravaged mainland coast is a rugged wonderland that goes on and on – Scotland boasts over 10% of Europe's total coastline. It's more extensive than that of either England, France or Spain, and that's without including the more than 800 islands.
The scenery is diverse too, from sandy beaches and wildflower rich 'machair' dunes, to wild moorland and vaulting hills and mountains. Most cruise ships aim to get guests ashore at least once a day, if not more, to allow passengers the chance to explore the scenery on foot.
You can often bring your own bike too. A ship makes for an ideal base for appreciating Scotland's scenery away from the crowds as you can sail into remote bays and coves inaccessible by road.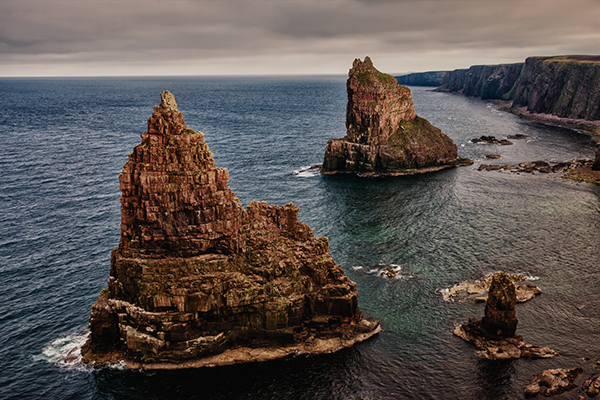 2. Because there's boat-fresh seafood
Scottish seafood is world class with a combination of the warm waters of the Gulf Stream and the cold Atlantic creating ideal living conditions and a bountiful food supply for all manner of fish and shellfish.
Highlights include baseball sized Barra scallops, juicy Shetland mussels and delicious Gigha halibut, which all appear on fine dining tables across the UK. Many isles boast simple seafood restaurants, but the ships themselves serve it too.
The Hebridean Princess has easily the best floating restaurant in Scotland with luxuriously refined dining. Things are simpler with the likes of Hebrides Cruises, where meals are basic but hearty, with skipper and owner Rob Barlow, sometimes known to dive for the fresh king scallops you'll indulge in.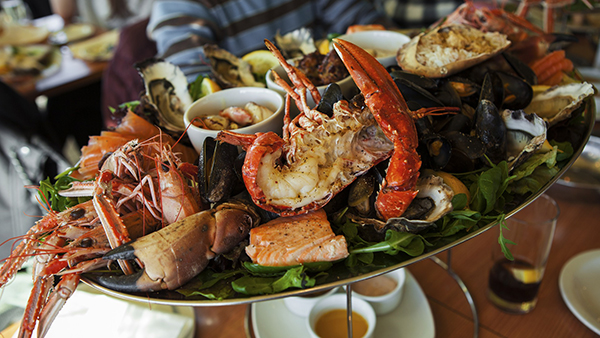 3. Because there are hundreds of islands to explore
There are over 800 islands off the mainland of Scotland, which can be split into the three main groups. There are the tamed isles of the Firth of Clyde; the northern archipelagos of Shetland and Orkney, encompassing over 180 islands; and the Hebrides, immortalised by Mendelssohn who wrote a symphony in their honour.
The Hebrides are an incredibly diverse array of hundreds of islands that can subdivided into the Inner and Outer Hebrides across the wild waters of the Minch. The Outer Hebrides offer perhaps the grandest scenery of all, with sweeping sandy beaches, majestic mountains and plunging glens.
Forty miles out from the main Outer Hebridean archipelago lies ultra remote St Kilda, a clutch of volcanic islands so unique that they became the first place in the world to enjoy a dual UNESCO World Heritage listing.
The Majestic Line's new Glen Etive vessel has been specially designed for tackling the considerable task of getting out to St Kilda, and Hebrides Cruises offer week-long voyages with a focus on getting as much time as possible on the remote isle.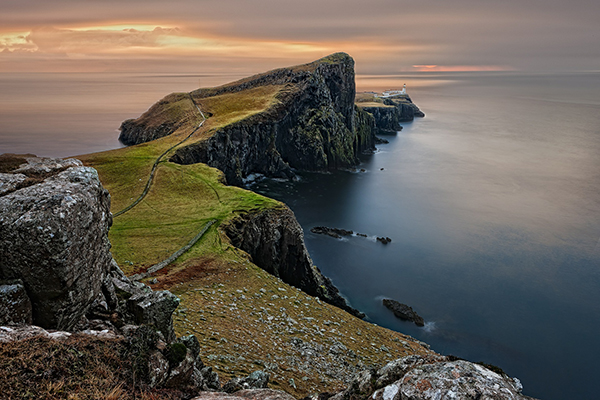 4. Because there are fascinating ancient cultures
A smorgasbord of eclectic cultures have left their indelible marks on Scotland, from the Picts to the Vikings and eventually the Romans. But perhaps the most beguiling culture to explore today is that of the Gaels.
Their Celtic language very much lives on in the Hebrides and can be enjoyed all over, from folk music sessions in pubs to local cultural centres and festivals. The isles are alive with intriguing ancient structures too, including the standing stones of Brodgar and Calanais (both easily a match for Stonehenge), and the unique broch towers that sprinkle the coastline and the remarkable UNESCO World Heritage listed prehistoric village at Skara Brae on Orkney.
The National Trust for Scotland offer 'Cultural Cruising' trips with the sites visited backed up and illuminated by onboard talks given by experts in their field and National Trust luminaries.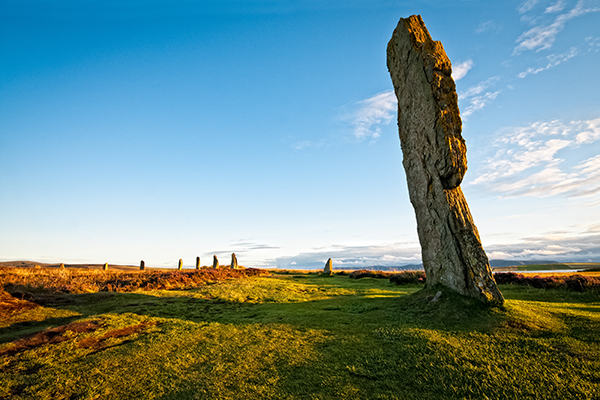 Image by Nils Z/Shutterstock
5. For world-class wildlife
The land surrounding Scottish waters is alive with all manner of seabirds, from cute puffins and Manx shearwaters, to soaring sea eagles and diving gannets – one rock stack alone in St Kilda boasts over a quarter of the world's gannet population.
Then, under the water, there are myriad porpoise and dolphin species, basking sharks in late summer into autumn and a great chance of spotting whales year-round. Minke and sperm whale sightings are common, and orcas patrol the Scottish coast.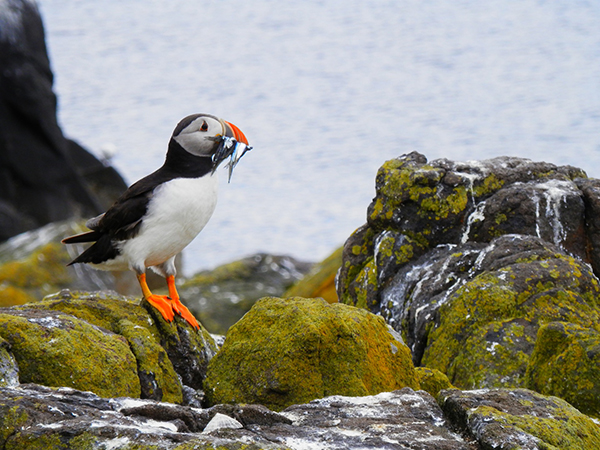 6. Because the ships offer a more personal touch
The majority of commercial ships cruising Scottish waters these days are relatively small – a real breath of fresh air in a global cruise industry that's investing heavily in ever bigger vessels.
The National Trust does run larger ships, but the 400 or so capacity is still minimal, compared the Mediterranean behemoths most cruise fanatics are used to.
The Hebridean Princess ferries just 50 passengers around in such luxury that the British Royal Family charter her in lieu of the now-retired HMY Britannia. Intimate vessels by Majestic Line, Northern Light, Hebrides Cruises and St Hilda take fewer than a dozen passengers each, and Argyll Cruising – a family-run business – take just eight.
St Hilda is a charming tall ship, complete with sails and lashings of character. These smaller boats make for a far more relaxed and friendly on-board atmosphere, in which crew and passengers quickly become friends.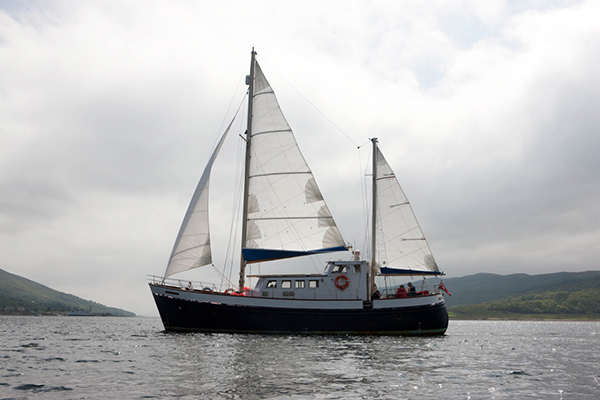 Image courtesy of St Hilda Sea Adventures
Be the first to comment
Do you want to comment on this article? You need to be signed in for this feature