Seven of the best things to see and do in Sierra Leone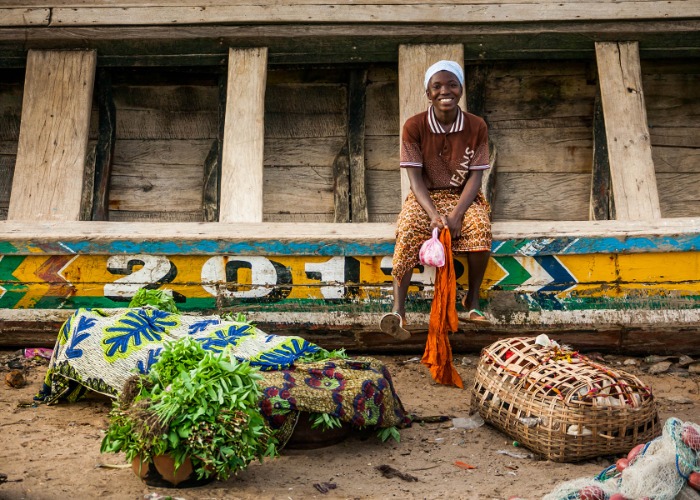 West Africa's forgotten gem is emerging from the shadows to welcome visitors to its stunning beaches, pristine rainforests and unique culture.
Sierra Leone has endured a difficult couple of decades, first with a civil war in the 1990s and a deadly Ebola outbreak in 2014. But the country has emerged stronger and more resilient and is ready to welcome the world to experience its undeniable charms. For the moment, you'll get its beaches, wildlife and culture pretty much to yourself. And as the world's most popular tourist spots are being overrun with crowds, that is a rare treat indeed. Here are the things you need to see and do to truly immerse yourself in this incredibly underrated destination.
1. Explore the glorious beaches
Sierra Leone's beautiful beaches are the country's best kept secret. In the 1970s they were the preserve of French jetsetters who would fly in from Europe just to lay on their empty golden sands. In the 80s a London advertising agency decided River Beach 2 was the most perfect beach in the world and filmed the iconic 'Taste of Paradise' Bounty ads there. And lately, intrepid surfers have discovered uncrowded breaks here, chilled locals and vast empty stretches of sand to enjoy when the waves aren't pumping.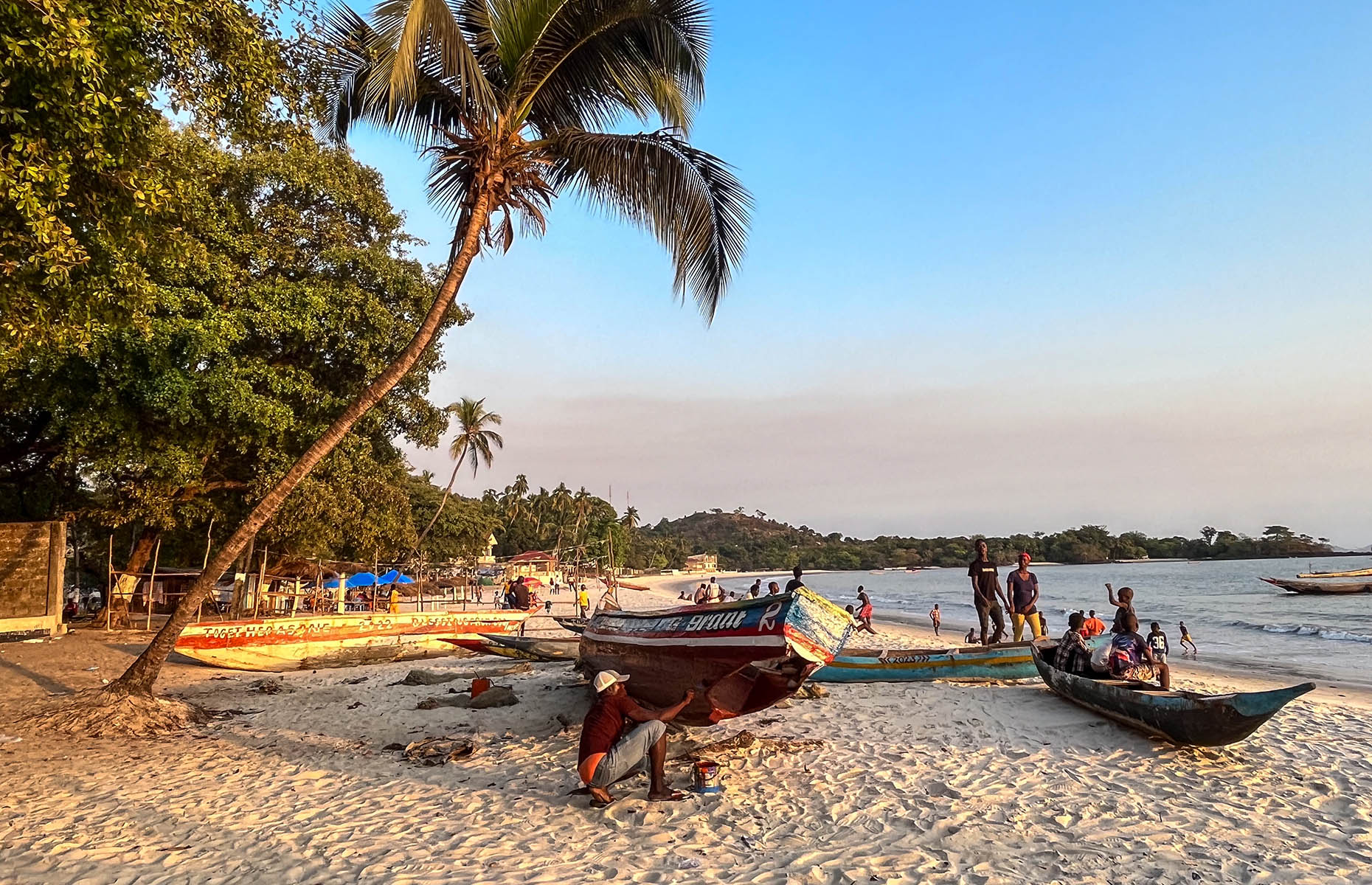 River Beach No.2 (Peter Moore)
All told, there are 30 beaches along Sierra Leone's 250 miles (402 km) of coastline, each with their own distinct character, all flying under the radar.
Bureh Beach, 33 miles (54km) from capital Freetown, is backed by mountains, lined by palm trees and a favourite surfer hangout. With its rustic accommodation, beach shack restaurants and makeshift stalls selling sarongs and trinkets, it's the closest you'll find to a South-east Asian style beach hangout, but without the crowds. Here you'll get the 2.5 mile (4km) crescent of golden sand – and the surf breaks – pretty much to yourself.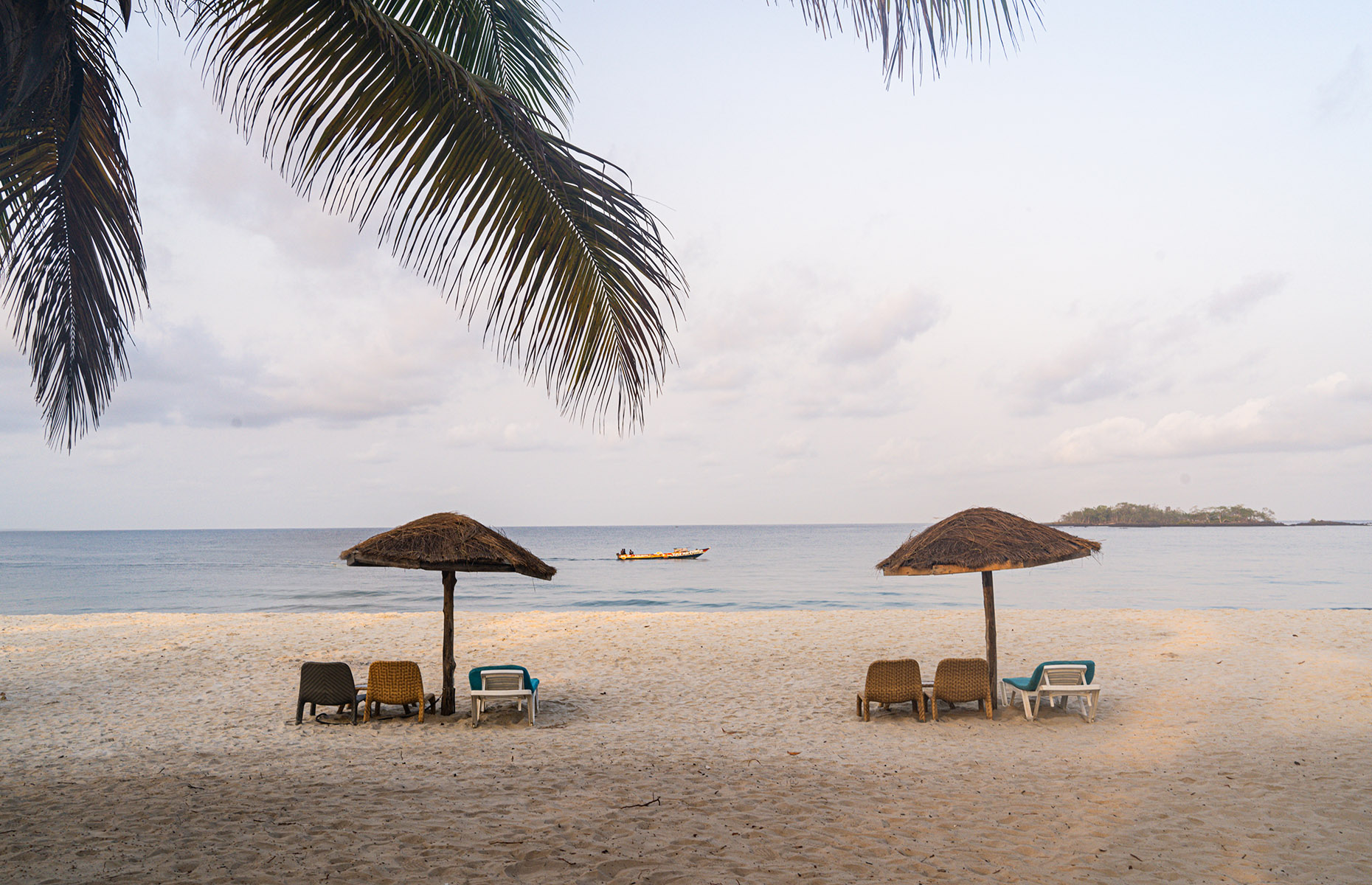 The Place, Tokeh Beach (Peter Moore)
Tokeh Beach, only 22 miles (35km) from the capital, feels more like a little piece of the Maldives in West Africa, especially at the coolly sophisticated beachside resort, The Place. Turn left and head towards Tokeh village and you'll see fishermen pulling their colourful wooden boats up onto the beach while boys play a hard-fought game of beach football, displaying skills as good as you'd see in any Premier League game. Turn right, and the beach is pretty much all yours. Pick a spot on the sugar-white sand and watch one of the best sunsets in West Africa.
Bustling Freetown has its own beach too – Lumley Beach, a glorious three-mile (5km) stretch of gold sand on the Atlantic coast of the city. Lined by bars, restaurants and nightclubs, it's also the city's playground.
2. Immerse yourself in nature
Sierra Leone is a land of lush rainforest and rugged mountains, with national parks and nature reserves dotted across the country protecting its precious natural heritage. Wildlife is a different experience here. There are no game reserves or safari jeeps; you just immerse yourself in nature and let it come to you. Sometimes of course it doesn't, but really, isn't that how it should be?
Gola Rainforest National Park lies to the east, on the border with Liberia. It is the largest remaining block of Upper Guinean rainforest and is home to forest elephants, pygmy hippos and the world's second largest population of Western chimpanzees. The Outamba-Kilimi National Park is tucked up on the northern border with Guinea and is Sierra Leone's oldest national park. Here you'll find chimpanzees, colobus monkeys, hippos and elephants. Locals also talk of an elusive leopard...
A Western chimpanzee in the wild (Courtesy of Tacugama Chimpanzee Sanctuary)
One of the most accessible wildlife spots is Tiwai Island, a pocket of untouched rainforest near the Liberian border. The island sits right in the middle of the Moa River and is reached by a motorised canoe ride from Kambama. Once your boatman drops you off and returns to his village, the rest of the world seems a million miles away.
In the local Mende language, Tiwai means 'Big Island' but that is something of a misnomer. It's only 1,200 hectares (12 sqkm) in total but criss-crossed with jungle paths, perfect for wildlife walks. The forest is a cacophony of bird calls and the chattering of red colobus monkeys overhead. That noise that sounds like a helicopter hovering? That's just the sound of Hornbills flying overhead.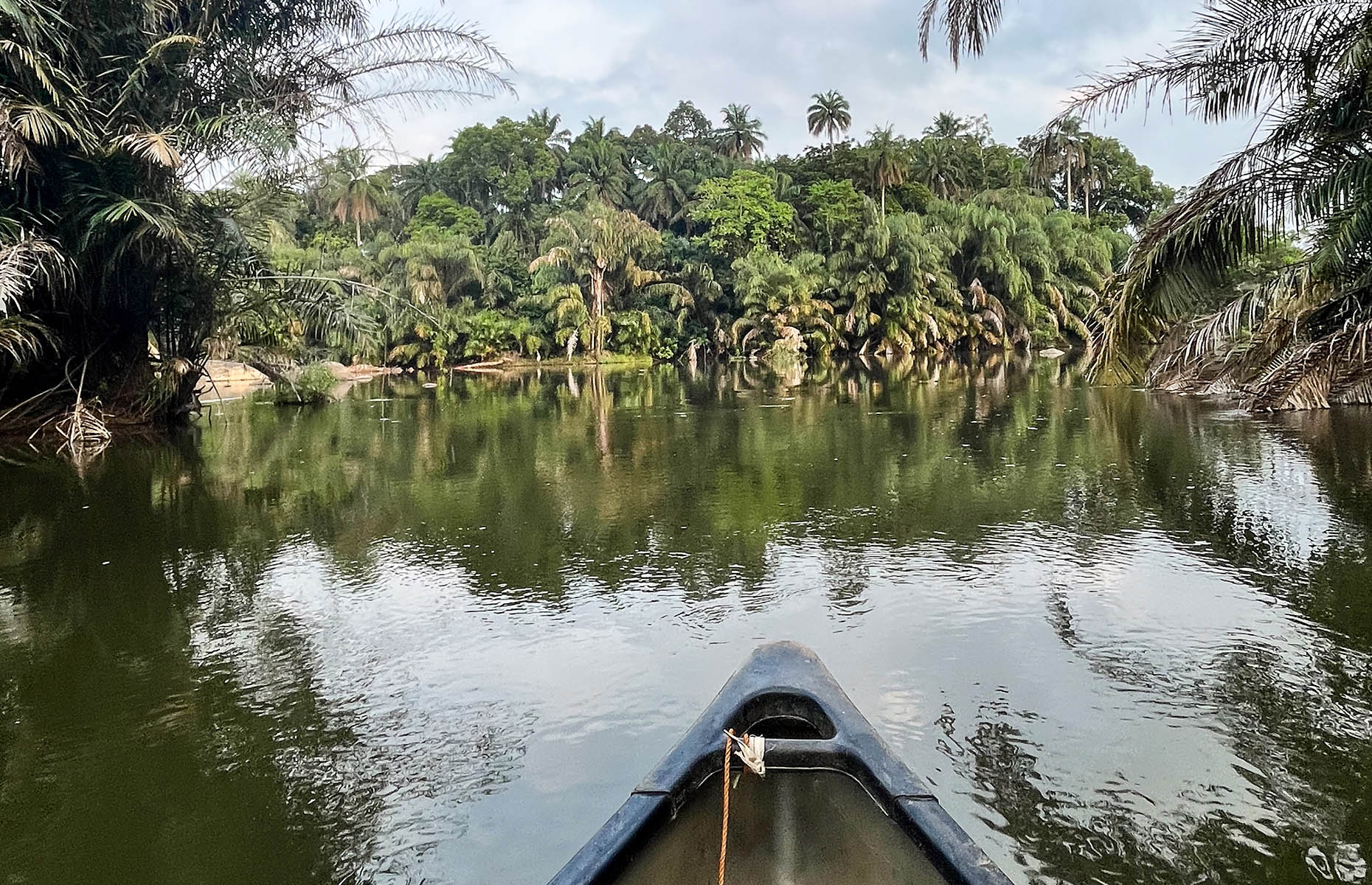 An early morning canoe ride on Tiwai island (Peter Moore)
If you stay overnight in one of the simple cabanas, you can walk to the river to watch the sunset over giant cotton trees and track the silhouettes of birds flying across the face of the sinking sun. You could do a night walk too, a truly immersive wildlife experience for only 50 LE (£2.20/$2.80) per person.
The real highlight, however, is a canoe trip at dawn, paddling with your guide through tunnels of low hanging trees and vines, mist rising from the river, still and silent. Once you're through a set of gentle rapids, the only noise is the dip of your oar in the water and then, as the sun peaks above the treeline, the magical sound of the forest coming to life.
READ MORE: The world's best hikes to see beautiful places on foot, including the Gola Rainforest
3. Pay your respects at Bunce Island
Twenty miles up the Sierra Leone River from Freetown, Bunce Island is a sombre relic from a dark period in the nation's history. The island was one of the most notorious slave forts in West Africa, a place where kidnapped Africans were rounded up, branded and sold into a life of enslavement in the 17th and 18th centuries, and is best visited on a tour with an experienced guide.
Welcome to Bunce Island (Peter Moore)
Blackened with age and ravaged by nature, the ruins are brooding and dark. An oppressive stillness seems to sit over the island. Barbados lilies offer a flash of colour, but the horror of what happened here feels tangible. A tour here is a necessary and sombre reminder of the dark days of slavery, especially in the company of a knowledgeable guide who can point out things you would otherwise miss, like a freshwater well, exclusively for the use of the captors – the slaves had to drink saltwater.
Recent developments in DNA research have shown that this was the last place the descendants of many African-Americans set foot in Africa. Actor Isaiah Washington, civil rights leader Andrew Young and Black Panther's late Chadwick Boseman can all trace their roots back to here.
Ruins of the old slave fort on Bunce Island (robertonencini/Shutterstock)
It has become an important pilgrimage place for those who can trace their roots here, to connect with their ancestors and complete a circle of sorts at The Gate of No Return. You might spot them on your visit, dressed head to toe in white, paying respects to their ancestors.
4. Soak up the sights and sounds of Freetown
Noisy, dusty and chaotic, Freetown is an assault on your senses. Backed by mountains and wedged between the Sierra Leone River and the Atlantic Ocean, it's a hustling, bustling centre of street-level commerce and bursting with life.
Freetown was originally named Serra Leoa (meaning Lion Mountains) by Portuguese explorer Pedro da Cintra because he thought the peaks that rise up from the harbour looked like lions. It took its current name when English abolitionist Granville Sharp chose it as a haven for enslaved Africans who had been freed in 1787.
King Jimmy Market in Freetown (Peter Moore)
Monuments from this time are still the city's most important sites. There's the Old Wharf Steps where the freed slaves first set foot in Freetown and The Freedom Gates they walked through to a new, free life after getting a medical check up in the Kings Yard. The golden statue of Thomas Peters on Wallace Johnson Street honours the defacto founder of the settlement, a former slave from Nigeria; while St John's, a beautiful white-washed chapel built by freed Maroons from Jamaica, is made from materials salvaged from the former slave trips that brought them back to Africa.
Sadly, the greatest symbol of that time, the huge 400-year-old cotton tree, was destroyed by a storm in April 2023. This was where freed slaves gathered to give thanks and then embark on their new lives. It was literally the beating heart of the country. There are plans to build a memorial on the spot, something significant to mark what the tree meant to the nation.
Souvenirs for sale in Big Markit, Freetown (Peter Moore)
In the meantime, visit the Sierra Leone National Museum that is located opposite where the tree once stood, or the Peace Museum catalogues more recent history. And make sure to drop by the bustling Big Markit for a unique souvenir of your visit to this bustling, chaotic city.
5. Meet Sierra Leone's new national symbol
For many years Sierra Leone was known as the land of diamonds. But in 2019, after a historic visit by primatologist Jane Goodall, the Western chimpanzee was declared the national animal of Sierra Leone and the new face of tourism in the country.
There are around 5,500 wild Western chimpanzees in Sierra Leone, with their status set as 'critically endangered' due to deforestation, logging, encroachment and poaching for bushmeat or pet trade.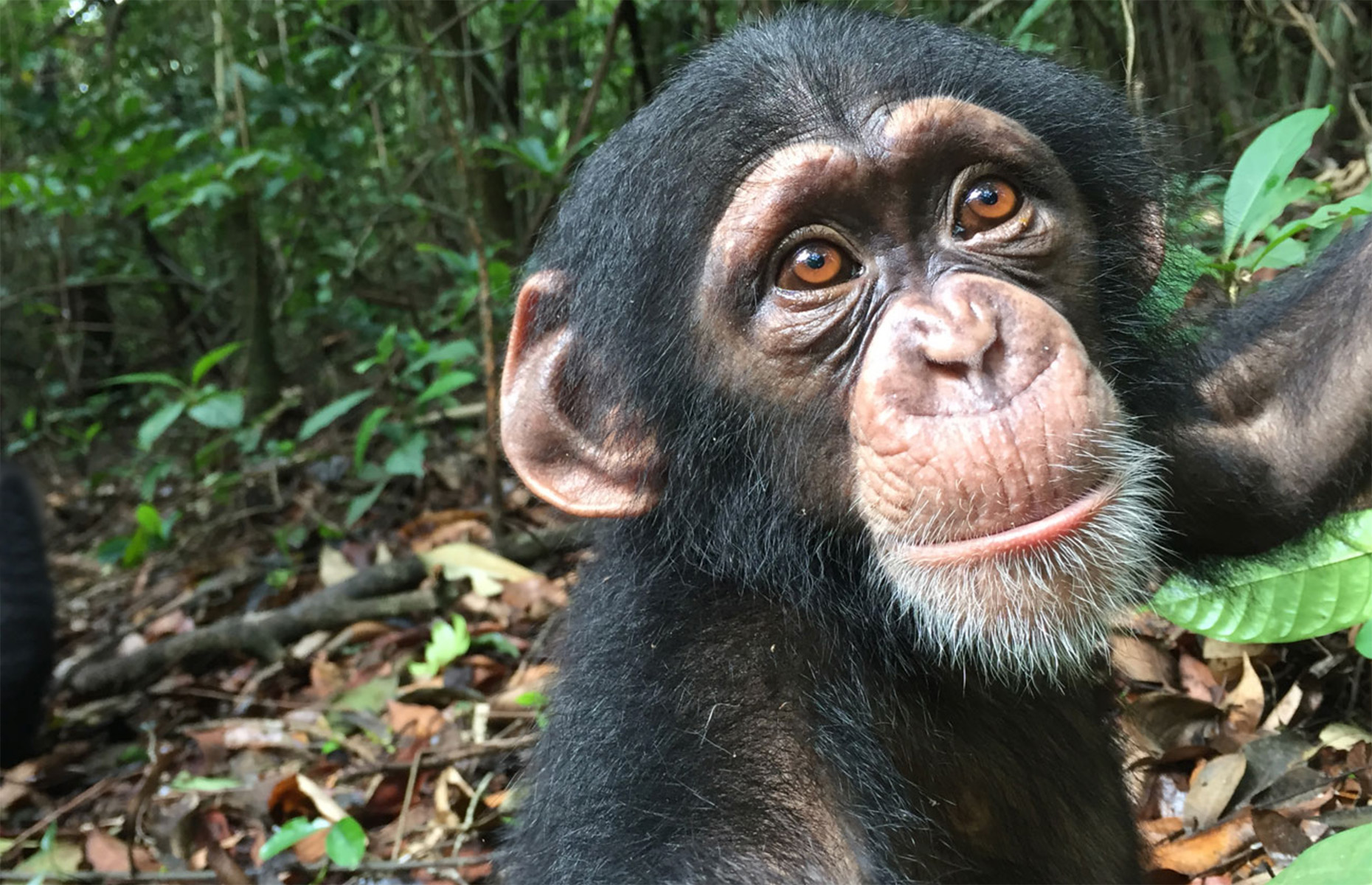 A rescued chimp enjoying a new life at Tacugama (Courtesy of Tacugama Chimpanzee Sanctuary)
A long-time advocate of the chimps is Bala Amarasekaran, founder of the Tacugama Chimpanzee Sanctuary. His 100-acre (40 hectare) reserve sits in the heart of the Western Area Peninsula National Park, right on the edge of Freetown. Here chimps that have been rescued from around the country are rehabilitated, gently re-socialised with other chimps and then left to roam free in the wilder parts of the reserve.
Visiting the sanctuary tops the list of must-visit sights for every visitor to Sierra Leone. The chance to see our closest relatives up close is irresistible, especially the orphaned babies, nursed back to health by the irrepressible Mama P, a local worker who has been like a mother to many of the chimps here.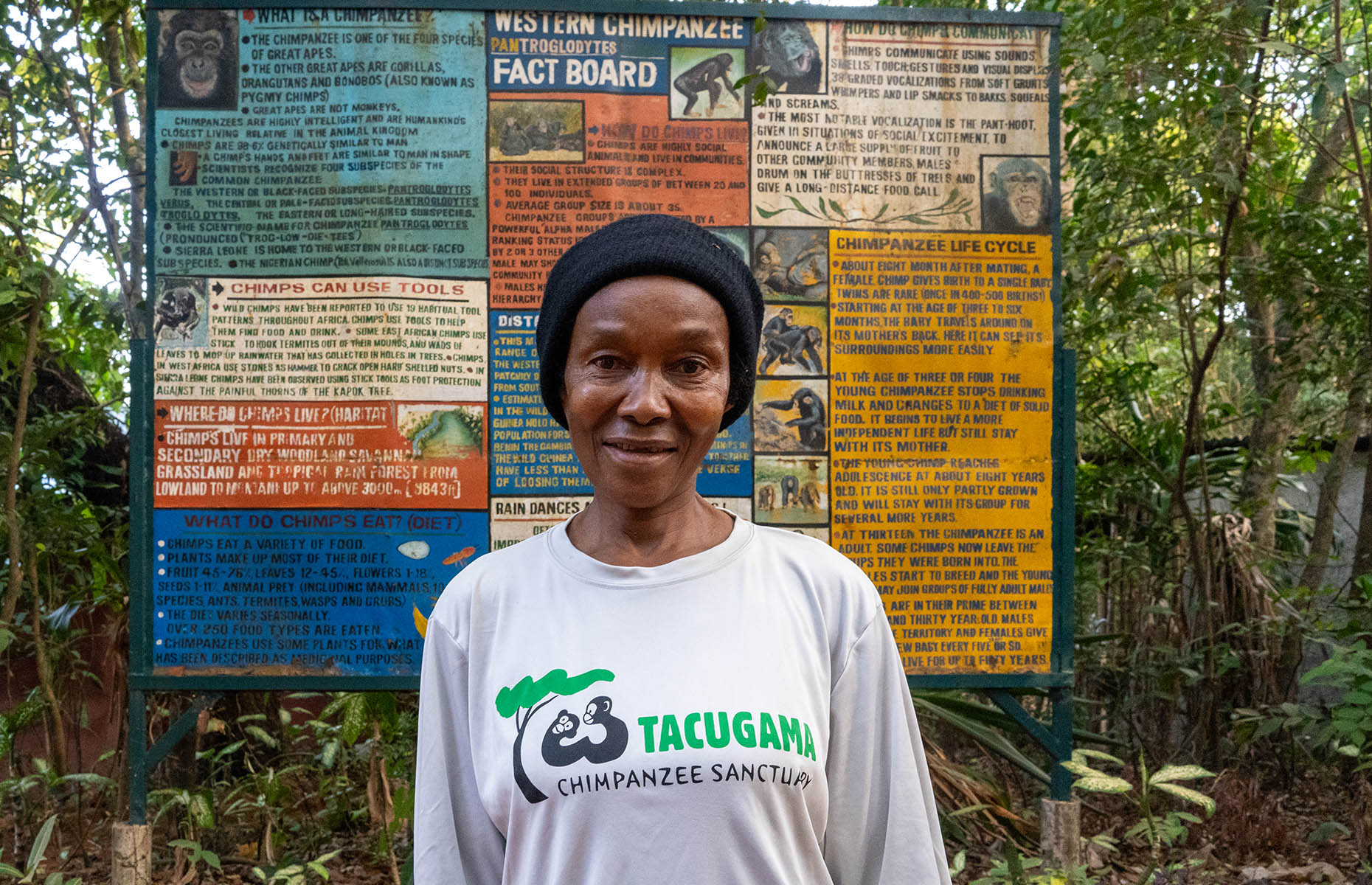 Mama P – surrogate mother to many of the orphaned chimps at Tacugama (Peter Moore)
When you visit, take into account that rehabilitating the chimps is a process. When they first arrive they are often in poor health and unused to socialising with their own kind. The first section can be a little confronting in that it looks like a normal zoo. But as the tour progresses you'll get to see the other sections where the chimps are moved to, first to areas where they learn to forage food hidden about the place, to wilder areas where they live a relatively independent life as they would in the wild.
The sanctuary also offers rustic African banda-style accommodation in the heart of the reserve. Surrounded by forest, there's something magical about being woken up by the sound of the chimpanzees as a misty dawn breaks, a simian alarm clock, if you please.
6. Sample Freetown's incredible nightlife
Lumley Beach is a long golden beach on Freetown's Atlantic coast lined with nightclubs, beach bars and restaurants. If it was in South-east Asia or the Mediterranean, it would likely be rammed with tourists but here it's almost exclusively the domain of locals.
During the day, people soak up the sun, work out at the outdoor gym, play beach volleyball or kick a ball about in an impromptu game of beach football. But at night the strip really comes to life. Freetowners in their finest threads walk the stretch as kekehs (tuk tuks) buzz about, picking up and dropping off passengers, flitting from one bar to the next. Open air grills sizzle, bottles clink and sound systems boom with the latest Afrobeats and Dancehall hits from local heroes like Drizilik and Star Zee.
Revellers on the Lumley Beach strip (Courtesy of Freetown Music Festival)
Things go up a notch or two during the Freetown Music Festival, held on Lumley Beach every April.
The strip starts near Aberdeen and heads south towards Lumley. Establishments fall in and out of favour almost weekly, so simply choose a place that takes your fancy, order a beer or a cocktail and watch the world go by. Or jump on the dancefloor and move to the latest tunes. That couple seemingly getting a little too intimate on the dancefloor? Relax, they're just whining.
The bar at Toma (Courtesy of Toma Boutique Hotel)
For something a little quieter and sophisticated, you could retire to the bar at the Toma Boutique Hotel, Bar and Restaurant on Cape Road in Aberdeen. Set under huge trees, with a modern African vibe, it is achingly sophisticated. This is where Idris Elba kicks back when he's in town and it's a popular Friday night spot for jazz, conversation, gossip and a cocktail or two.
7. Experience traditional culture in a small rural village
Traditional culture is still very important in Salone life, especially in the smaller villages. Central to that are the secret societies – Poro for men, Sande for women. They dictate the rhythms and rules of life in the village and manifest themselves in dance ceremonies that are a cacophonous explosion of colour, sound and movement.
Goboi heading off to greet visitors arriving in the village of Kambama (Peter Moore)
In Mende villages, like Kambama near Tiwai Island, you'll be greeted by Goboi, a swirling dervish of straw who stomps, gyrates and shakes, stirring up dust and the level of excitement amongst the villagers.
This masked devil appears whenever something monumental happens in a village – including your arrival – and is accompanied by singers, clapping their hands, and a man banging on a traditional drum, often with a skin incongruously made from a refashioned jumbo-sized washing powder packet.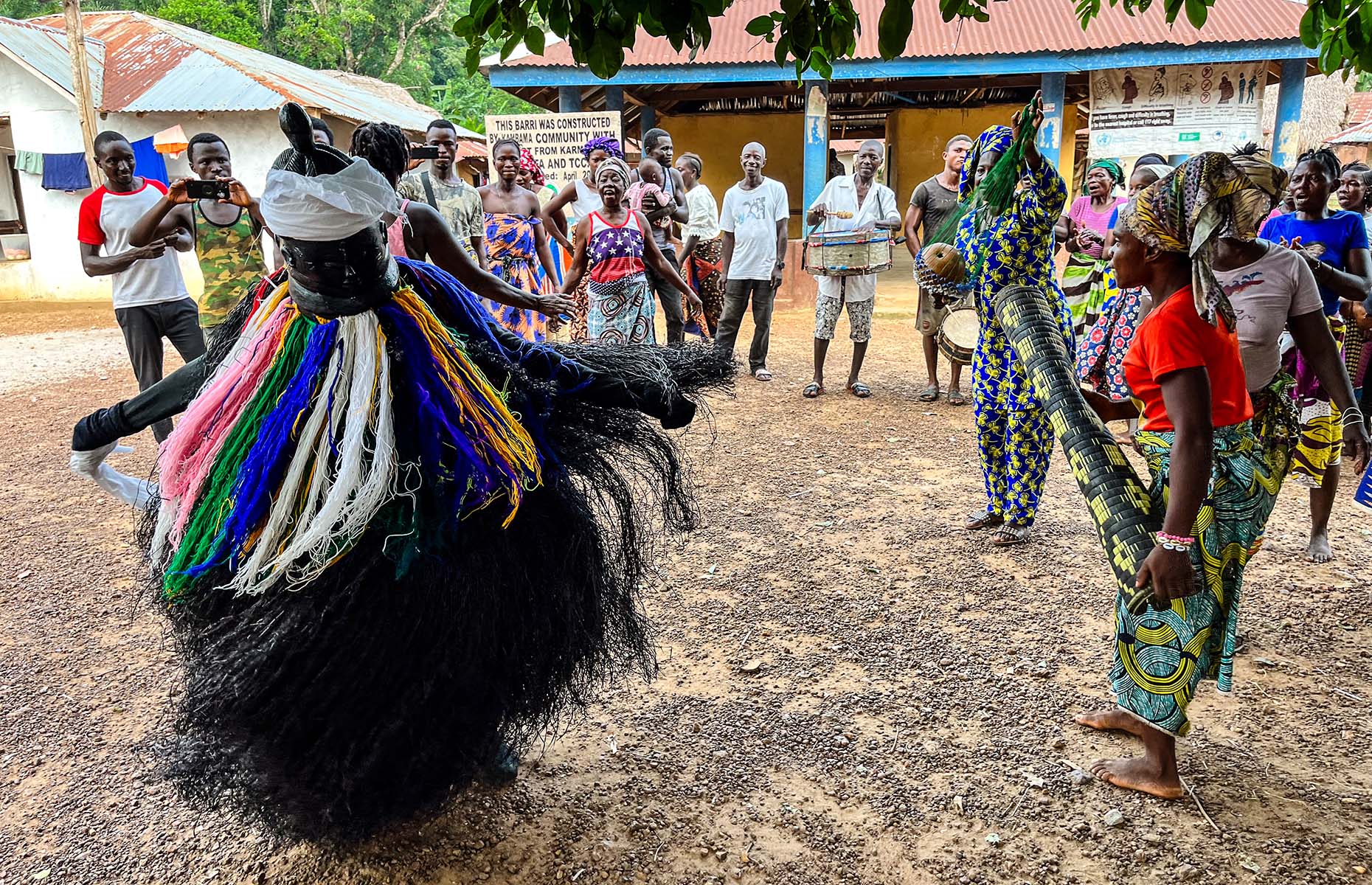 Sande dance at Kambama (Peter Moore)
As part of the dance, Goboi will come and lay prostrate at your feet. Keep a wad of 2 Leone notes (£0.07/$0.10) to dispense. Goboi won't move on until you do.
These performances are part of village life, not a show for visiting tourists. They connect people with their past while teaching lessons for the future. As such you should be aware of cultural sensitivities, both the locals and your own.
READ MORE: A guide to the world's most incredible festivals
Main image: robertonencini/Shutterstock
Be the first to comment
Do you want to comment on this article? You need to be signed in for this feature