How to spend 48 hours in Avignon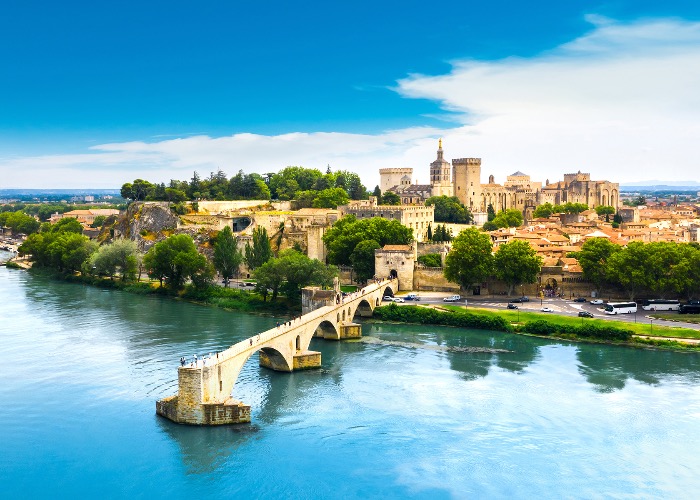 Set on the left bank of the Rhone, Avignon is a city with world-class art collections, Gothic architecture and superb food and wine, surrounded by bucolic landscapes and bathed in the golden light of Provence. 
The main city of the Vaucluse department, and the perfect gateway to Provence, Avignon is everything that's best about southern France rolled into one. It's definitely a destination for history buffs, too. Its centuries-old centre includes the Palais des Papes – Avignon was the seat of the Catholic popes in the 14th century – and it is now a UNESCO World Heritage Site. Best of all, it's also wonderfully straightforward to reach from the UK – taking the Eurostar from London and changing trains in Paris or Lille, you can be in Avignon by lunchtime.
Friday
Check into: Hotel de Cambis, a stylish boutique hotel with an excellent location right in the city centre – it's just a 10-minute walk to the Palais des Papes. Rooms are generously sized, with high ceilings, warm tones and big swanky bathrooms. There's a comfortable lounge area downstairs by the reception desk, with a small wine bar. The buffet breakfast – offering everything from scrambled eggs to sweet pastries – is very good too.
READ MORE: The best no-fly holidays in Europe
Visit: the Pont d'Avignon. Just four arches of this historic bridge now remain – but at the time of its completion in 1185, the Pont d'Avignon, also known as the Pont Saint Benezet, was more than 2,953 feet (900m) long, with 22 arches, and it was the only crossing place on the Rhone between Lyon and the Mediterranean.
Over the centuries that followed, it was demolished, rebuilt, washed away by floods and finally abandoned. The remaining portion of the bridge offers wonderful views, and visiting in the late afternoon or early evening you'll catch the best of the light.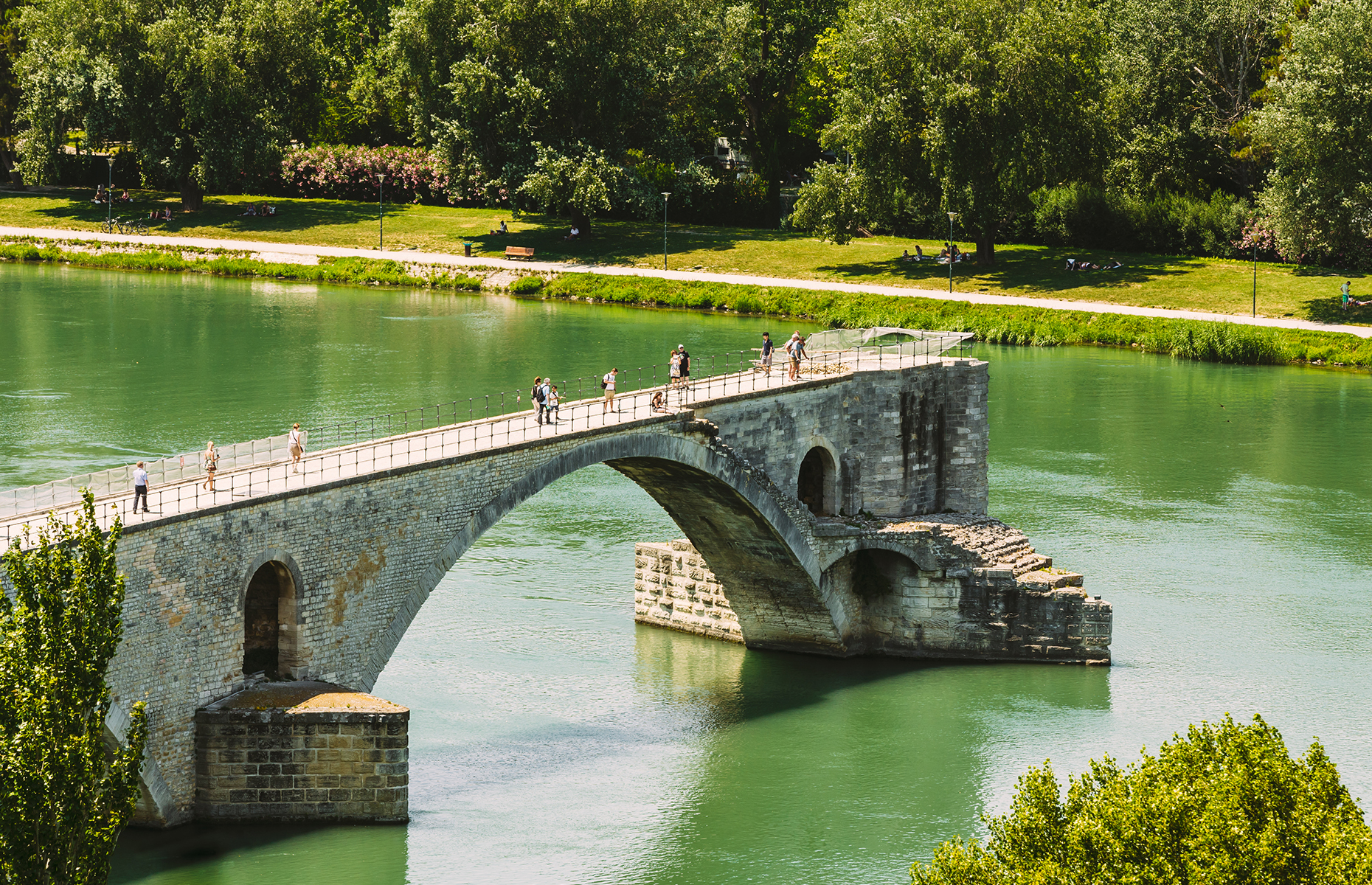 Grisha Bruev/Shutterstock
Taste local wine at: Le Vin Devant Soi, a fabulous little wine shop with an outstanding selection of local and regional wines. There are over 400 of them, in fact, including things like white Chateauneuf-du-Pape, which you rarely see outside France. You'll find no fewer than 32 different wines for tasting, and the supremely knowledgeable owner and staff are on hand to help with recommendations. There are also regular degustations with local producers. This is simply the place to discover the exquisite wines of the Rhone region – and buy a few bottles to take home too.
Dinner at: Le 46, a stellar restaurant with a vibrant atmosphere and a robust wine list. Expect dishes such as roasted sea bream fillet with spring vegetables, creamed cauliflower, herby tomato-based sauce vierge and tarragon oil.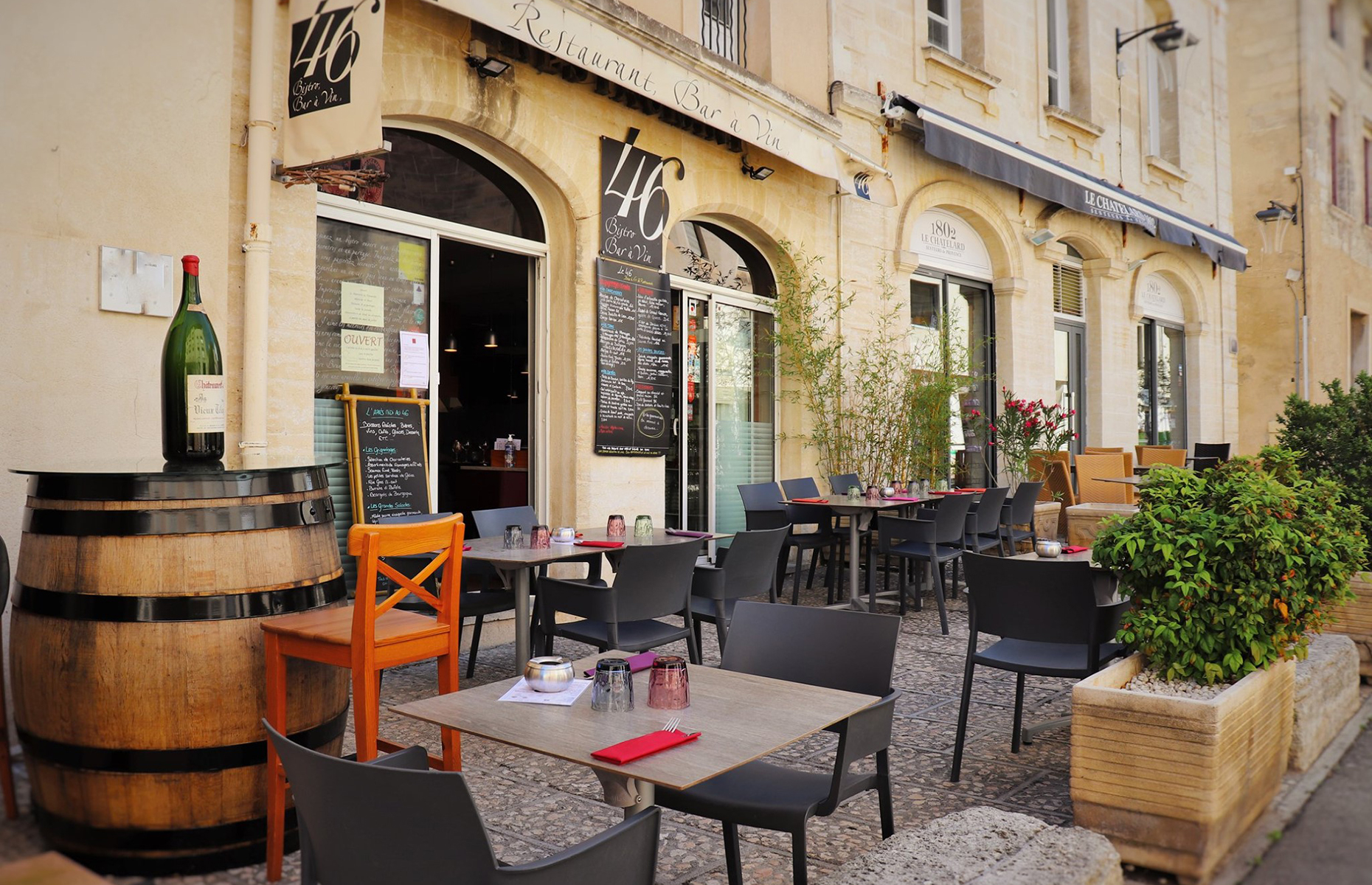 Le46/Facebook
Catch some live jazz at: AJMI. This little jazz club at the bottom of the Escaliers Sainte-Anne first opened its doors back in 1978, and is one of the most prestigious in France, with regular gigs by world-class artists, plus jam sessions and masterclasses.
Al fresco alternative: If there's nothing on at AJMI, head to Baryum 56 for cocktails, Pub Z for drinks and music, or Lalogene, one of the many popular watering holes on Place Pie.
Saturday
Visit: the Palais des Papes. The Unesco-listed Palais des Papes is a vast, fortified Gothic palace – one of the largest and best preserved in Europe – which during the 14th century was the seat of the Catholic popes.
With its neck-craning scale and awe-inspiring interior, lavish 14th-century frescoes by Matteo Giovanetti and exquisite gardens, it tops most people's list of reasons to visit Avignon – and it delivers in spades. Excellent audio guides help bring your visit to life. Book online to skip the queues.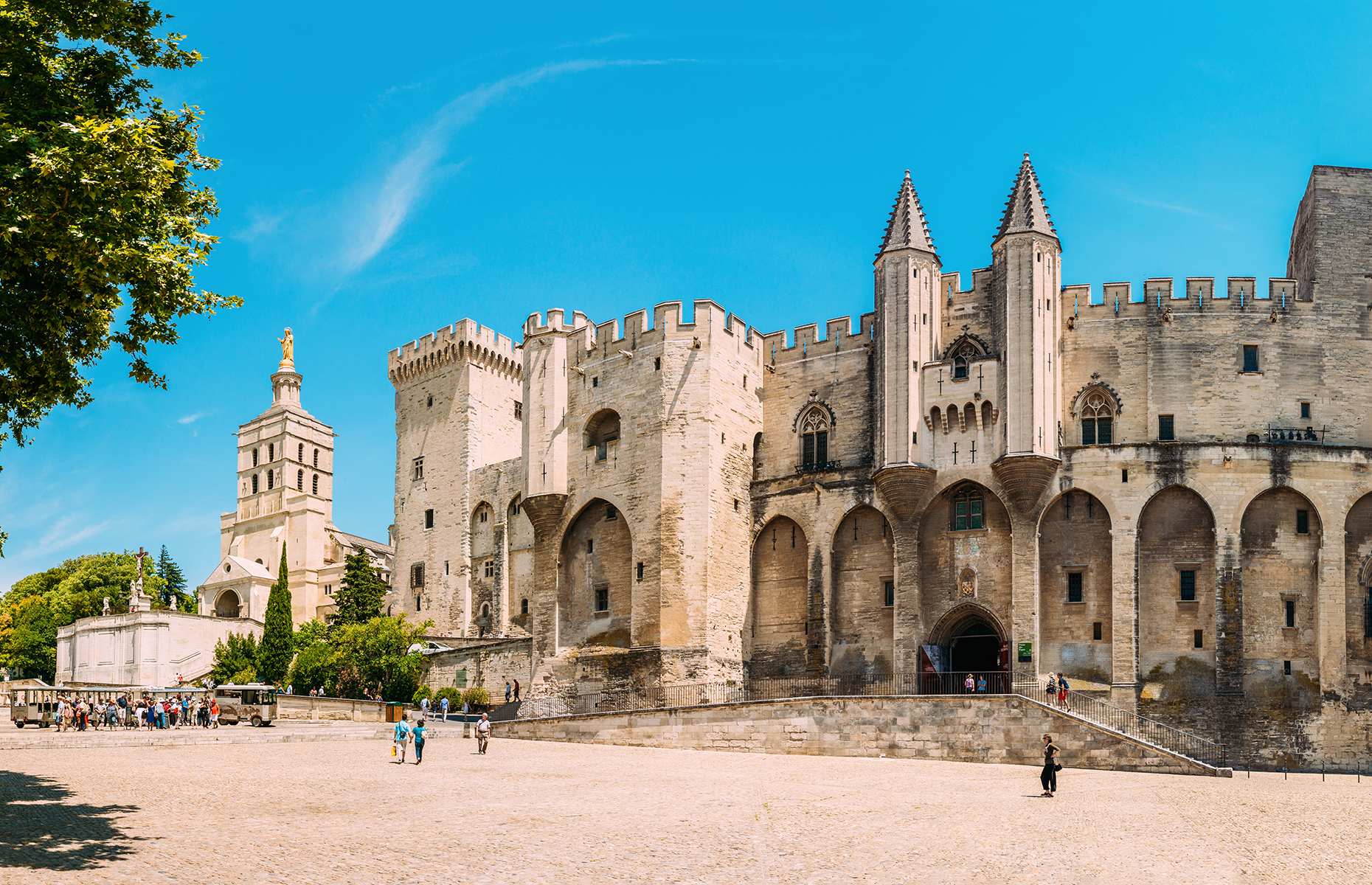 Grisha Bruev/Shutterstock
Have a coffee at: Cafe Roma. Tucked into a corner below the Jardins des Papes, beside Cinema Utopia, this cafe makes a great place to soak up the atmosphere away from the busier streets on the other side of the Palais des Papes. It has a lovely terrace too.
Lunch at: Cafe Tulipe, a fantastic little restaurant just around the corner from the Musee Angladon, with an emphasis on local, organic and seasonal produce. The menu is short but excellent – with delights such as the gravelax and aubergine risotto – and always includes some vegetarian, vegan, gluten- and lactose-free options.
READ MORE: The best historic sights to visit in France
Discover: the Lambert Collection. While the Palais des Papes might be the most famous site in Avignon, the city's real showstopper is arguably the Lambert Collection. This is the extraordinary collection of Yvon Lambert, who opened a gallery in Paris in the 1960s and began collecting modern and contemporary art, later bequeathing his collection to the French State. It includes works by Jean-Michel Basquiat, Sol LeWitt, Nan Goldin and other luminaries of the contemporary art world. Housed in a pair of beautifully restored 18th-century mansions, this is one of the best contemporary art collections in France.
Walk and enjoy: some green space. Take in the Square Agricole Perdiguier – the former cloister and garden of a Benedictine abbey, which is now a small park with Mediterranean plants – as well as Rocher des Doms, the park above the cathedral, with its expansive views. On Place des Corps Saints, stop in at the Ancienne Eglise des Celestins, the interior of which is now used for art exhibitions.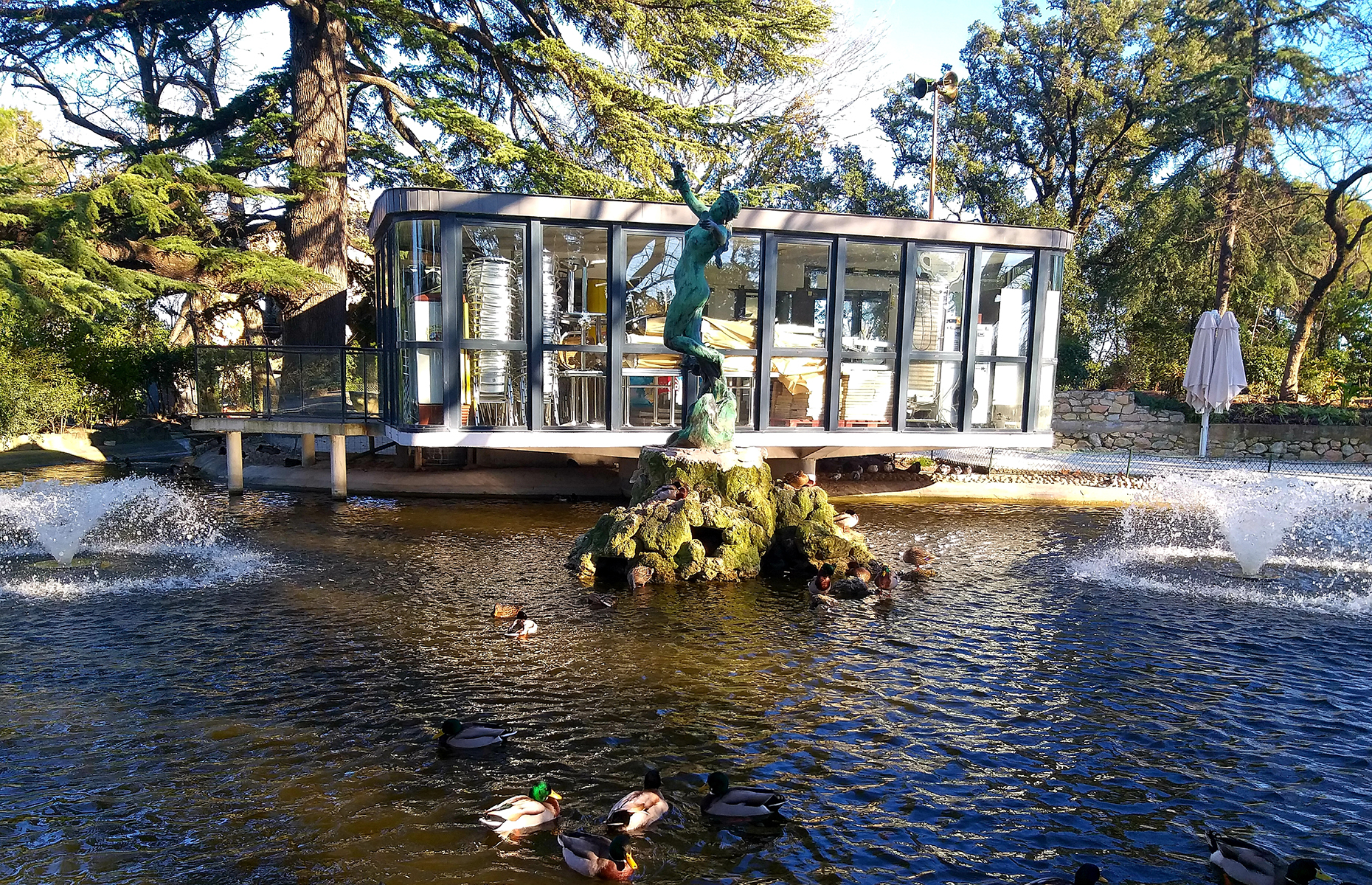 daf-MyShots/Shutterstock
Dinner at: L'Agape, an excellent restaurant on Place des Corps Saints, a buzzy little square near the Ancienne Eglise des Celestins. Small and intimate, it was awarded a Michelin Bib Gourmand, and serves classic dishes given a modern twist. Order a la carte, or go for one of the 3-, 5- or 7-course degustation menus.
Join: a nocturnal tour. See Avignon in a different light – literally – by joining a night-time tour of the city.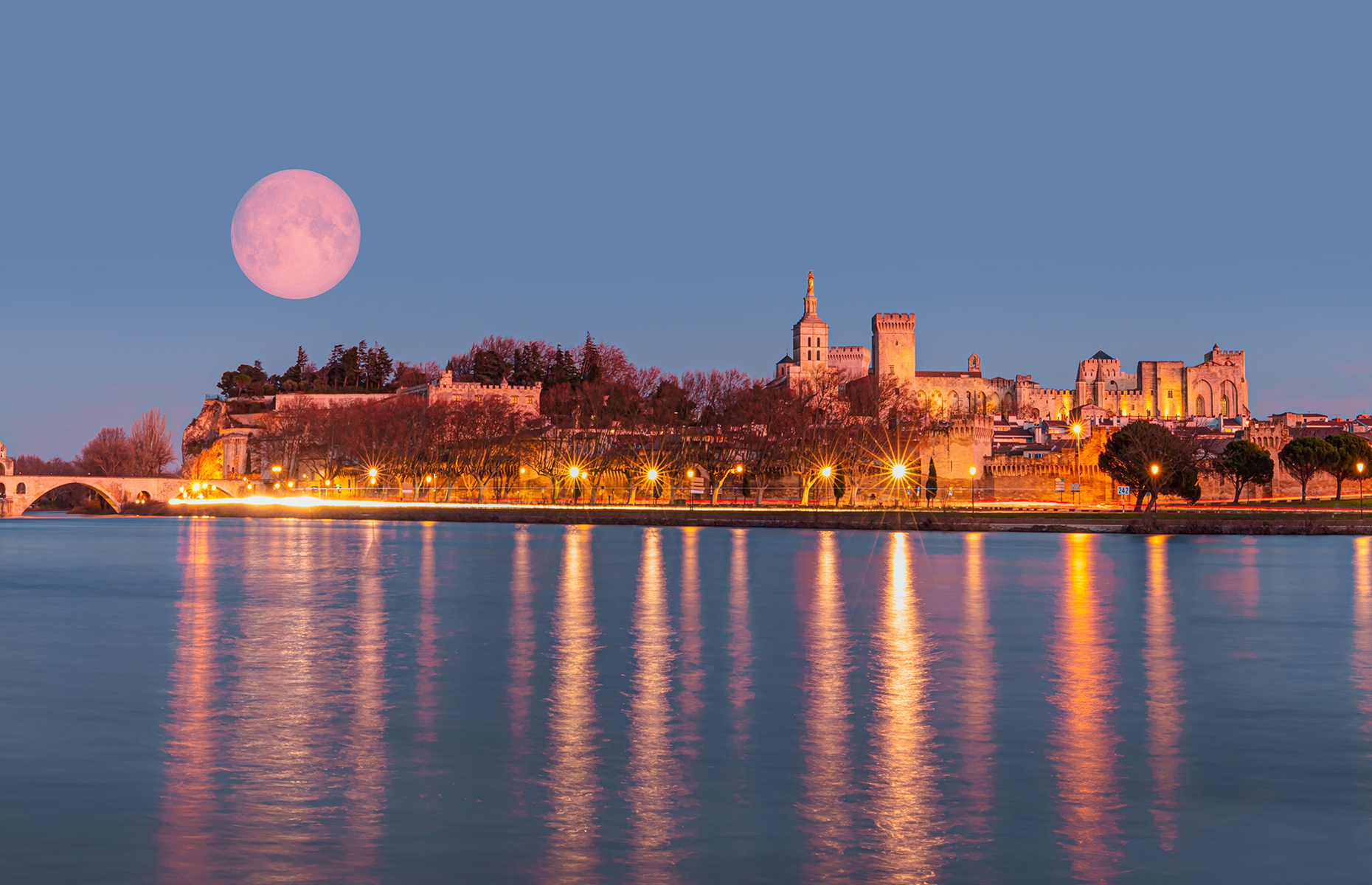 muratart/Shutterstock
Sunday
Discover the flavours of Provence: at Les Halles. Start your day by browsing and tasting your way around Avignon's bustling covered market – the culinary heart of the city, where locals have been shopping, meeting, relaxing over delicious food, a glass of wine or a coffee for over a century. There are over 40 stallholders, eateries and bars – stop at La Maison du Fromage for excellent local cheeses, and Serge Olives for juicy Provencal olives.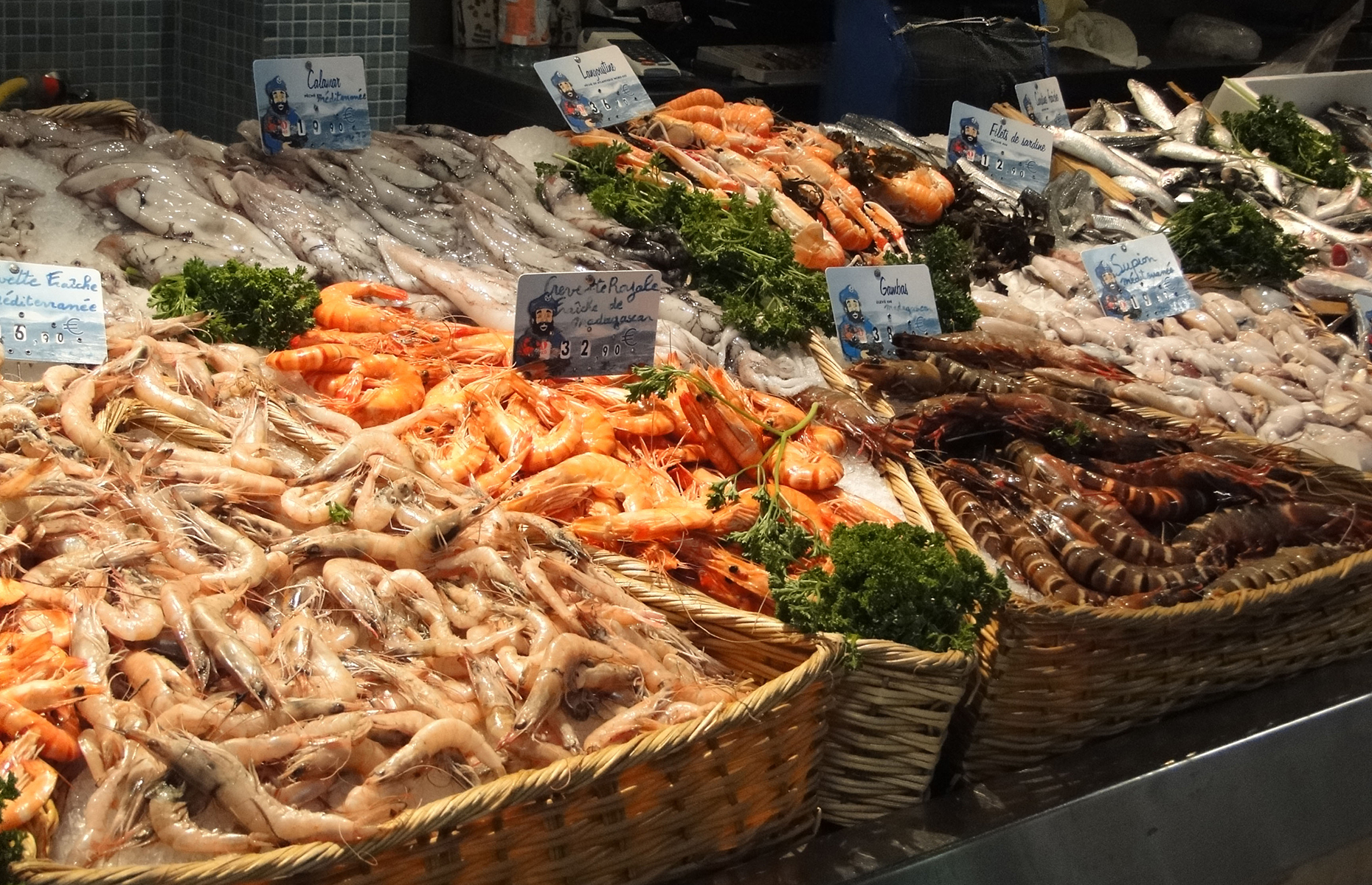 cascoly/Alamy
Lunch at: Cuisine Centr'Halles. At his small restaurant in Les Halles, Californian chef and long-term Avignon resident John Chiri turns out superb dishes from the finest local and seasonal produce. There's a nod to both American and French regional heritage, with the menu changing according to what's best that day – which might just include the best scallops you'll ever taste. You can also book a cooking class which starts with a tour of the market, heading onto lunch at the chef's table. Booking is recommended – there are only a few seats.
READ MORE: 9 places not to miss in Hauts-de-France
Explore Villeneuve: by bike. Hire bikes or ebikes from South Spirit Bike, and set off over the river to the royal, fortified Benedictine Abbey of Saint-Andre, set above Villeneuve. The abbey palace is lavishly furnished, and the terraced gardens are absolutely magnificent: you can easily spend a couple of hours here, and there are concerts in the summer.
Villeneuve itself is well worth spending some time in, in particular the Chartreuse monastery (pictured, there's a nice cafe in the cloister). Meanwhile, Ile de la Barthelasse is the largest fluvial island in Europe, covering some 700 hectares and perfect for exploring by bike.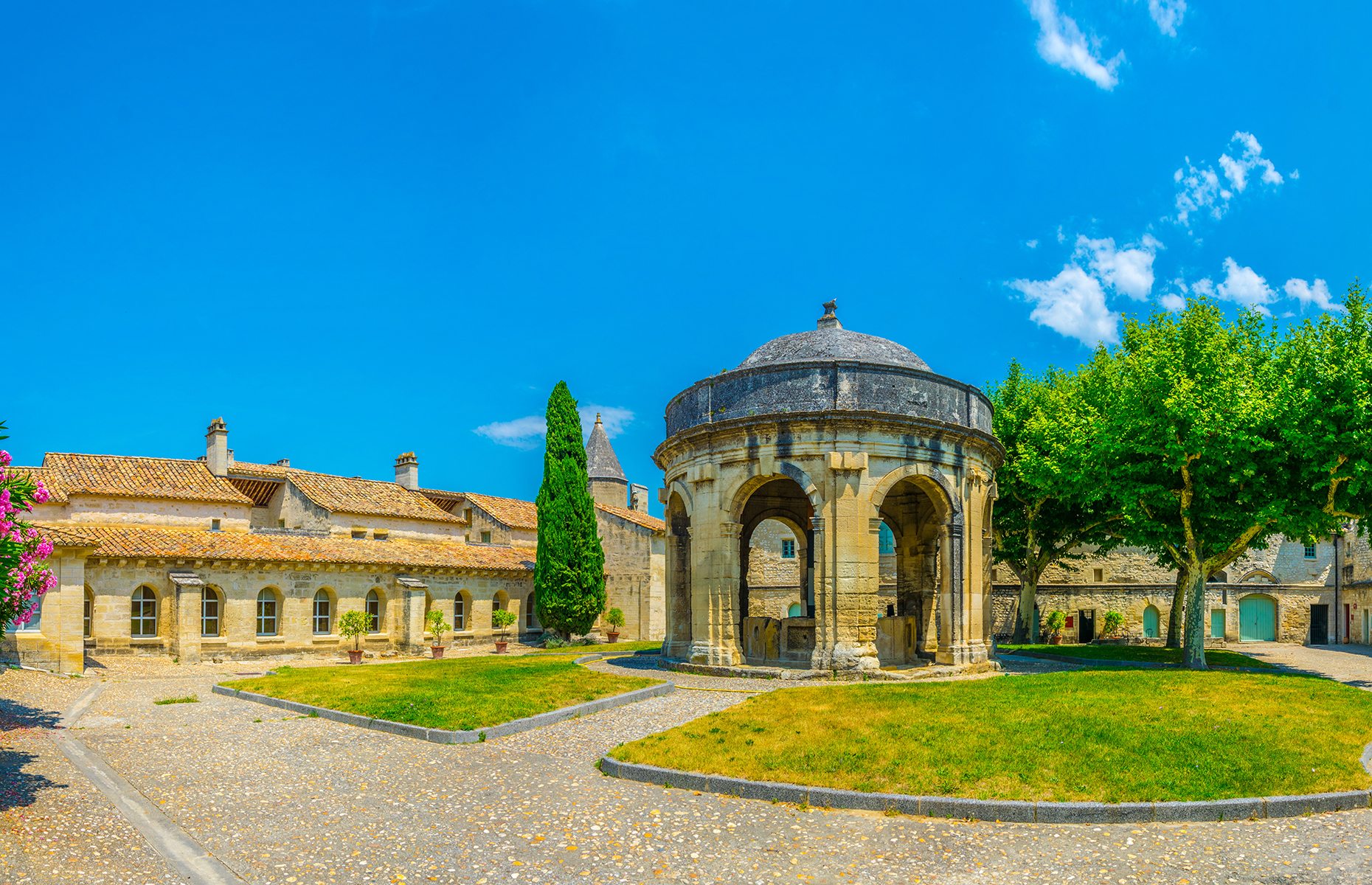 trabantos/Shutterstock
Spend some time at: Musee d'Angladon. Set in a beautifully restored 18th-century mansion, this is another of Avignon's excellent museums, with works by the likes of Picasso, Cezanne, Van Gogh and Modigliani.
Dinner at: Restaurant L'Epicerie. Located on the pretty Place Saint-Pierre, beside Gothic Basilique Saint-Pierre, this is a good place for lunch or dinner, with platters of local produce including assorted cheeses.
Extend your stay: Those with more time should also visit the Musee du Petit Palais with its excellent collection of Italian art housed in a former cardinal's palace. Explore Mont Ventoux – a great area for hiking and cycling, with achingly beautiful landscapes, and prestigious wine-producing areas such as the AOC classified Beaumes-de-Venise.
Nearby Luberon is quintessential Provence – think sunbaked villages cascading down hillsides surrounded by terraces of olives and fields of lavender.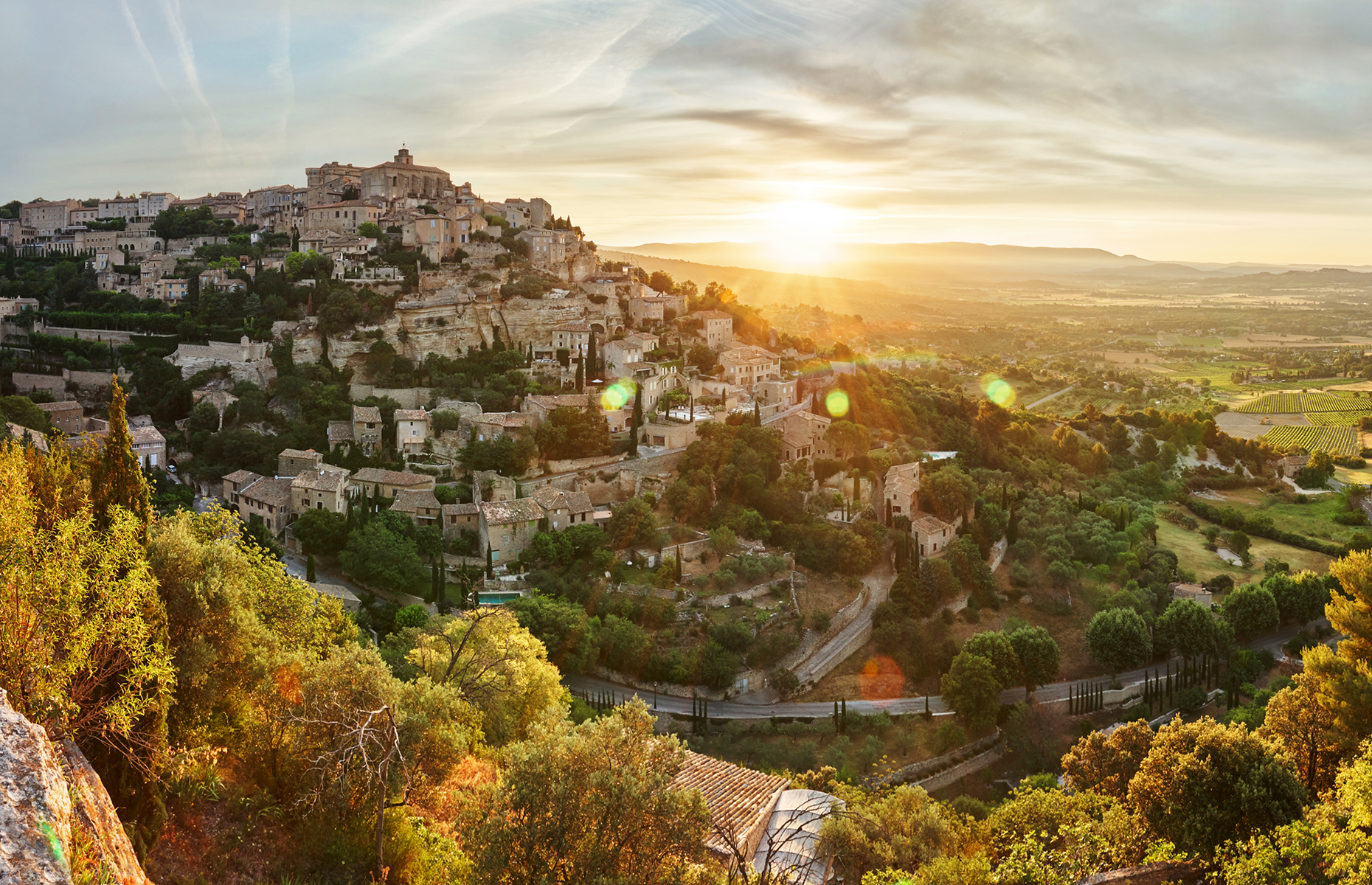 Photoestetica/Shutterstock
Getting to and around Avignon
The best way to get to Avignon from the UK is by rail – London to Paris by Eurostar takes just 2 hours 16 minutes, then from Paris it's a speedy 2 hours 40 minutes to Avignon TGV. Local buses and taxis run from the TGV station to the city centre, or you can take a local train to Avignon City station. Avignon is easily explored on foot, and you can rent ebikes to visit places outside the city centre.
Discover more information at the Avignon Tourist Office.
READ MORE: France's most beautiful villages
Lead image: proslgn/Shutterstock
Be the first to comment
Do you want to comment on this article? You need to be signed in for this feature