Five of the best things to see and do in Oman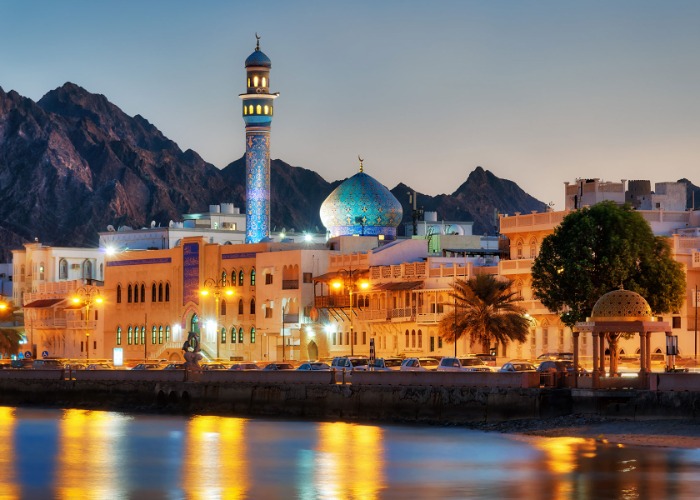 From vertiginous Via Ferrata climbs in the cool, fresh air of the Al Hajar Mountains to boat trips to spot turtles in the Al Dimaniyat Islands, Abra Dunsby rounds up the best experiences to relish in Oman.
Less showy and overdeveloped than its neighbour the UAE, Oman has a strong sense of national pride and a cultural identity that both respects and celebrates its traditions, while looking ahead to the future and extending a warm and surprisingly inclusive welcome to visitors. If you want a Middle Eastern break that's progressive and big on culture, where you can enjoy cinematic desert and mountain landscapes and a historic capital, Oman is where it's at. Here's what to see and do on a trip here, whether you're after winter sunshine or an adventurous escape.
1. Chill out in the mountains
When the heat of the city gets too oppressive, hire a 4x4 and head up into the tranquillity and emptiness of the Al Hajar Mountains, where the climate feels more Mediterranean than Middle Eastern, even in summer. The drive from Muscat into the mountains takes around five hours, during which you'll wind past endless craggy grey mountains and look down across gaping canyons. Jebel Akhdar, known as 'the Green Mountain' and 'the fruit bowl of Oman' for its vegetation and profusion of olive, pomegranate and apricot trees, is a great region for mountain hikes, and is also located close to a scattering of luxury hotels.
Visit Oman
Top choices include the Alila Jabal Al Akhdar (pictured above), whose cavernous suites and villas feature gasp-inducing views of the 2,000m (6,562 ft) desert canyon from its balconies, outdoor spa treatment rooms and panoramic yoga pavilion.
Equally impressive is family friendly Anantara Al Jabal Al Akhdar Resort, which featured in BBC TV series Amazing Hotels: Life Beyond the Lobby and has sensational panoramic vistas from its 82 canyon view rooms and 33 private pool villas. Both hotels lay on a range of activities that enable visitors to embrace the mountains' beauty and sense of adventure, from guided hikes to stargazing sessions and a vertiginous Via Ferrata walk.
Visit Oman
For visitors less keen on splashing the cash on a luxury resort, there are some charming traditional B&Bs and guest houses in the region, including Al Suwjara, an ancient abandoned village with houses made of mud and stone that's been converted into a guesthouse, with rooms that teeter off the mountain cliffs for soul-stirring but not-for-the-faint-of-heart views.
READ MORE: The world's most beautiful remote mountain cabins
2. Explore Nizwa Fort
Located around two hours by car from Jebel Akhdar, the ancient town of Nizwa is famed for its imperious fort, which was built in the 17th century by Sultan Bin Saif Al Yaruba, the first imam of the Yaruba dynasty. The fort took 12 years to complete and acted as the administrative seat of power, as well as a major form of defence. Visitors can book tours of this sandcastle-like building, with its collection of scalloped turrets, winding staircases and a 40m-tall round fort tower at its centre – the tallest in Oman.
Shutterstock/Pascal Rateau
Our guide tells us of the building's many fortifications and contraptions that helped protect it and various imams during times of invasion – from secret tunnels to trap doors and shafts, which unsuspecting invaders would fall down, only to be covered in molten date syrup for a dreadful (but delicious?!) demise.
Climb the tower for dramatic views of the date plantations, thick palm oasis and mountains that surround the historic town, which was once located on a major trade route. Make sure you also pay a visit to Nizwa Souq, one of the oldest in the country, where you can buy jewellery, traditional clay pots and tribal silver daggers (khanjars), as well as fruit and vegetables.
Shutterstock/Philip Lange
You have to try some halwa here too, a traditional sticky sweet made from dates or sugar and stuffed with saffron, cardamom, nuts such as almonds or pistachios and splashed with rosewater.
Non-vegetarians should visit the souq on a Friday to witness the lively cattle auction.
3. Delight in the dream-like panoramas of the desert
More than 80% of Oman is covered in sand, so make sure you factor in at least a day or night to admire the russet, rippling dunes of the desert – especially if you're keen for a dose of adventure on your trip. The most popular choice for visitors is Wahiba Sands, which lies in the country's Eastern Region, around three-and-a-half hours away from Muscat by car.
This stretch of desert is home to several Bedouin tribes, many of whom run camps visitors can spend the night in. Luxurious options include Arabian Nights Resort Spa (pictured below), where you can bed down in a villa or one of their soon-to-open luxury tents. Activities on offer include desert treks, fat bike riding, sand boarding, dune bashing and desert drives, as well as visits to a local Bedouin house.
Visit Oman
There's also Desert Nights Camp, where you can dine under the stars after a day of adrenaline-fuelled activities, and where home for the night is a Bedouin-style tent that comes with its own bedroom, separate en-suite bathroom, tea and coffee maker and a mini bar. Tents can accommodate both couples and families; and the Deluxe Family Suite also comes with a living room.
READ MORE: Secret wonders hiding in the world's largest deserts
4. Take a boat trip to the Al Dimaniyat Islands
This archipelago of nine rocky islands, located around 40 minutes by boat from Muscat, are UNESCO-protected, and were designated a nature reserve in 1996, with the aim of conserving turtle nesting beaches, coral reefs and birds. Book a boat excursion from Muscat, or via certain hotels, including the Barceló Mussanah Resort located in Mussanah Marina. From there, it takes around an hour to travel to the uninhabited islands, which are surrounded by ancient limestone rocks and vibrant coral reefs.
BassemZein/Shutterstock
During the months of May to October, tours are not allowed to land but you can spend a couple of hours snorkelling in the clear jade-blue waters, spotting everything from parrot fish, clownfish and puffers to green turtles and eels, while ospreys and sooty terns fly overhead. Visit in summer and you might even spot a whale shark on your journey out to the islands or on your way back – they come to swim in the warm waters between July and late September each year.
Shutterstock/SeraphP
5. Visit Muscat, Oman's storied capital
As one of the oldest capitals in the Middle East, the picturesque port city of Muscat has a distinctly traditional feel, even in its more modern buildings, while 142 years of Portuguese rule are also evident in some of the architecture, including its two forts. Spend a day exploring the city's sights before strolling along the corniche at night, when the lights twinkle against a backdrop of mountains.
The Sultan Qaboos Grand Mosque, built from 1994 to 2000 to celebrate 30 years of Qaboos bin Said bin Said on the throne, is a marble marvel of domes and minarets. Its intricate, mosaic-filled interior is even more impressive and is vast enough to accommodate 20,000 worshippers.
Standout features including a beautiful handwoven 60 x 70m ((197 x 230 ft) Persian rug – the second largest in the world – that took 600 women four years to make; and what was once the world's largest chandelier: 14 metres tall and weighing 8,500 kilograms thanks to its 600,000 Swarovski crystals glinting with 24 carat gold plating. This is one of the few mosques that allows non-Muslims to visit its prayer halls and is a must-visit (ensure you dress accordingly, with women required to wear headscarves).
Shutterstock/Matyas Rehak
Another highlight is Muscat's Royal Opera House, which opened in 2011 and was designed by the same architects as the Grand Mosque. The interior features elaborate hand-carved wooden arches, a gold engraved ceiling and lashes of red velvet. Take an hour or so to visit its Exhibition of Musical Arts, an interactive exploration of the sounds and music from Oman and beyond, with plenty of hands-on fun for kids both big and small.
Visit Oman
For shopping, head to Mutrah Souq, which though housed in a modern building has maintained an authentic and chaotic vibe. As with most souqs, the joy here is to get lost in the many narrow alleyways, stopping to enter stalls selling beautiful textiles, jewellery, Indian spices, antique mandoos (wooden wedding chests which traditionally hold dowry items) – plus the usual tourist tat.
It's also the perfect place to pause for traditional Omani coffee; an ambrosial blend that's infused with saffron, rosewater and cardamom.
Main image: Lukas Bischoff Photograph/Shutterstock
Be the first to comment
Do you want to comment on this article? You need to be signed in for this feature