How to spend a dog-friendly weekend in Winterton-on-Sea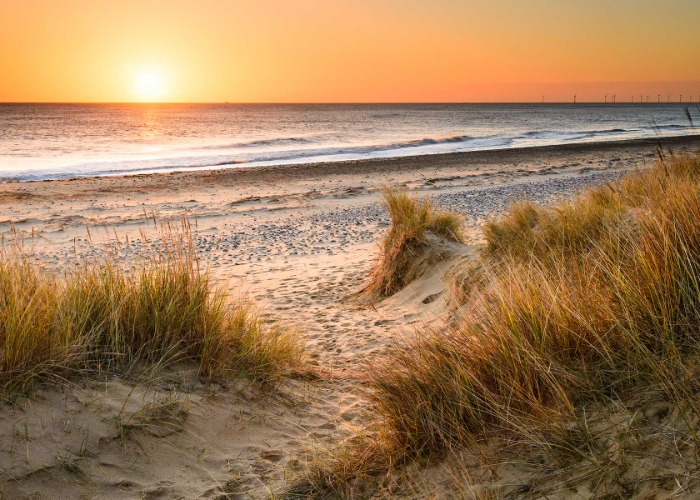 Proud dog mum Carolyn and her two furry friends enjoy a coastal weekend break to Winterton-on-Sea in Norfolk, and discover that Winterton Cottages' Old Church Barn is the pawfect dog-friendly bolthole
A dog is often more than just a pet – they are a part of the family, which is why taking them on holiday is such a treat. As the proud owners of Maverick the frug and Frank the pug, my husband and I are always on the lookout for dog-friendly places to stay and Winterton Cottages, which has a range of dog-friendly self-catering luxury boltholes on the Norfolk coast, provides the pawfect solution.
We packed up the car and headed for the village of Winterton-on-Sea, which sits on the northern part of Norfolk's coastline, around eight miles north of Great Yarmouth, for our dog-friendly break.
Home away from home
We stayed at the Old Church Barn, a beautiful luxury two-bedroom barn conversion around a 20-minute walk from Winterton-on-Sea and its beach. It had everything we needed for a dog-friendly break including extra water bowls, towels to dry the boys off with after a dip in the sea and a cosy bed for them to rest in. For the humans, a welcome hamper that included local wine and chocolate biscuits was the cherry on top.
The cottage has an enclosed front garden – handy if you have dogs like ours who follow us everywhere – with a patio out the back and a driveway big enough to accommodate two large cars. Tucked away on a quiet country road and with little to no light pollution, it's a wonderfully private place to stay and take a breather.
Winterton Cottages
Inside, the cottage is incredibly welcoming, with a large porch with storage for all your footwear, coats, dog leads and harnesses. A dining area is nestled next to a wood burner for nights in by the fire, or you can also enjoy its warmth from the lounge, complete with TV and a squishy sofa – although dogs must stay on their own beds. There's a handy baby gate between the dining area and living room if the temptation of a sofa is too great for your four-legged friend.
Winterton Cottages
In the kitchen there's underfloor heating, a luxury Frank and Maverick made excellent use of, lounging around the floors like hairy doorstops. You'll also find one of the bedrooms on the ground floor, complete with an ensuite shower room. We loved being able to stroll straight into the kitchen from the bedroom in the morning for coffee.
The second bedroom is upstairs on a mezzanine and has a separate bathroom, so there'll be no fighting over who gets to shower first. The bedroom sits in the eaves of the cottage, so we chose to sleep in the lower one, for more ceiling height (my husband is 6"2).
The bed in our room was so soft, the shower pressure just right, and there's plenty of space to relax and unwind throughout the entire cottage. We loved that staying at the barn allowed us to cook for ourselves, like a home away from home, rather than a more formal hotel stay.
Winterton Cottages
Hitting the beach
When we could bear to leave the cottage, we had a gorgeous beach practically on our doorstep. The coastline nearest to the village of Winterton-on-Sea is sandy, with minimal pebbles and stones, making it a wonderful place to run with your dogs with little danger of a damaged paw. It's also open to dogs year-round, so they can be off lead and really have some fun. Maverick and Frank both love to paddle in the sea, even in cold weather, so we made sure we took towels and their coats for after their swim.
The Hairy Heslops
Just behind the main beach is the stunning Winterton Dunes Nature Reserve, with signs telling you about the local flora and fauna. We took a stroll here in the morning while it was quiet and took binoculars to spot some birds – you're likely to see grey and white terns, nicknamed sea-swallows, with their beautiful yellow-orange beaks. The dunes are also home to Natterjack toads, which are rare in the UK now. Look for an olive-coloured toad with a yellow stripe down its back. They tend to 'walk' rather than hop and the males 'sing' in the early hours and during the night to attract the ladies.
Lois GoBe/Shutterstock
Spooky ruins and country lanes
Make sure you also visit the ruins of St Mary's – a former church that's famous for its beauty and eerie backstory, and which is a mere stone's throw away from the Old Church Barn.
Legend has it that a witch with a wooden leg was buried within the walls of the church to protect the nearby villages from her evil magic, but her wooden leg sprouted into an enormous oak tree, which you can now see right in the middle of the 13th century tower.
The Hairy Heslops
After the dogs had thoroughly inspected the tree, we took a lovely walk on the Winterton-on-Sea circular route, which is around 3.5 miles and includes the dunes and the 14th century Holy Trinity and All Saints church in the village of Winterton, before returning to our cottage hoping St Mary's witch wouldn't visit us in the night.
Dog-friendly cafés
Winterton is packed with dog-friendly eateries and guests at the Old Church Barn are given a binder full of great suggestions when they check in.
We headed for Poppy's Tea Room for the largest slices of cake we'd ever seen. We enjoyed carrot cake and giant French fancies with a warm pot of tea, while the boys slept under the table, tired from the beach. The local shop attached to Poppy's sells locally made dog treats as well as other local delicacies, including Norfolk gin and jams.
Less than a 10-minute drive away from our accommodation lies Poppylands in Horsey. This 1940s-themed café is decorated beautifully both inside and out, and you can try yet more delicious cakes served by waiters and waitresses dressed in retro clothing, while listening to music from Vera Lynn and The Andrews Sisters. The café also runs themed events, from murder mystery evenings to pie 'n' mash nights.
Make sure you also pay a visit to Horsey Beach, where we saw hundreds of whiskered seals playing on the sand. Maverick and Frank enjoyed howling back at the seals from afar (you'll need to keep your dogs on the lead here to protect the seals' habitat and keep your pups safe.)
Time for a pint
It wouldn't be a British seaside holiday without a trip to the pub. On our last night, we visited the local in Winterton, the Fisherman's Return, a relaxed coastal-themed pub with a tasty menu serving everything from fish and chips and pies to vegan burgers and fresh salads. The staff were so kind and gave Maverick and Frank plenty of fuss while we enjoyed fish and chips, a yummy steak pie and some locally brewed beer.
The Hairy Heslops
The pub also has its own resident furry friend, Cheddar, who came to say hello and the trio then busied themselves trying to use mind powers to get other tables to drop chips for them.
For a relaxing, revitalising coastal stay, we'd give the Old Church Barn and its surroundings five paws out of five. Maverick and Frank agree – and since we've returned home, they've demanded we install underfloor heating immediately.
How to book
loveEXPLORING was a guest of Winterton Cottages, whose Old Church Barn sleeps four. A seven-night stay is priced from £677 (£169.25pp) and a three-night weekend break from £440 (£110pp).
This cottage allows up to two dogs to stay for free and a 30% deposit is required to book, with the balance due eight weeks before the arrival date. If the holiday is less than eight weeks away, then payment in full is required to secure the booking.
For more info visit Winterton Cottages or call 01493 800 645.
Main image: Shutterstock/StevenDocwra
Be the first to comment
Do you want to comment on this article? You need to be signed in for this feature