6 reasons to visit the Faroe Islands: Scandinavia's best-kept secret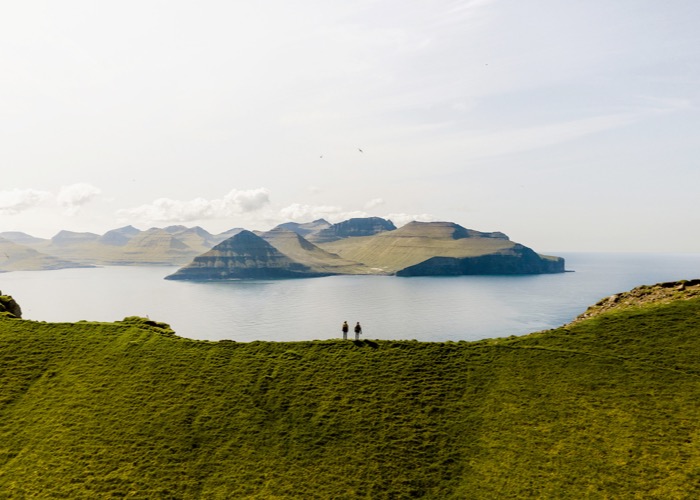 Jaw-droppingly gorgeous scenery – from far-reaching fjords to glaciated valleys – and a climate with a mind of its own, are just a couple of good reasons to visit the lesser-known Faroe Islands.
Midway between Scotland and Iceland in the Northeast Atlantic, the Faroe Islands remain something of a mystery to many. A self-governing nation under the Kingdon of Denmark, with its own parliament, language and fishing industry, this archipelago of 18 mountainous islands serves up outdoor adventures and dramatic views aplenty. The name Foroyar (Faroe Islands) is derived from old Norse and means  Sheep Islands, which is evident on arrival as shaggy four-legged creatures outnumber humans by about 2:1. Read on for six good reasons to visit.
READ MORE: Beautiful Europe viewed from above
Benjamin Hardman/Visit Faroe Islands
1. It's the remotest location that's actually near
The Faroe Islands feel remote due to their wild and windy weather, rugged scenery and location scattered in the Northeast Atlantic. Locals fondly refer to the archipelago as the 'land of maybe' as it's hard to make plans when the weather changes almost minute by minute. Although it's mainly mild all year round, it's possible to experience sun, rain and snow in one day. You get the picture.
The main culprit is the fog that shrouds the mountain peaks, often delaying flights. But it's worth it for the sheep-dotted, velvety green hillsides, jagged peaks and fairy-tale views. The Faroes are also surprisingly easy to reach by plane: it's a 1.5-hour hop from Edinburgh, or about two hours from Copenhagen to tiny Vagar Airport.
Derek Malou/Visit Faroe Islands
2. To spend a day at Gasadalur hamlet
Nothing prepares you for the natural beauty of Gasadalur hamlet on the west side of Vagar Island, a scattering of colourful turf-roofed houses clinging to the yellow-green ombré hillside. The hamlet was once only accessible by taking the so-called "postman's path" up and over a steep ridge, and the population dwindled to a dozen or so before engineers blasted a mile-long (1.7km) tunnel through the mountain in 2004, bringing the splendid isolation to an end.
READ MORE: Ranked – Europe's 10 greenest capital cities
There's still plenty of life in the miniature settlement with a recently opened café-come-event space hosting regular music evenings, and serving Faroese slices of rye bread topped with combinations of salmon and wind-dried mutton that's hung in a ventilated shed.
Gasadalur also sits above Mulafossur waterfall, a giant stream spilling dramatically over the cliffs and splashing into the choppy Atlantic below. Puffins circling overhead complete the view.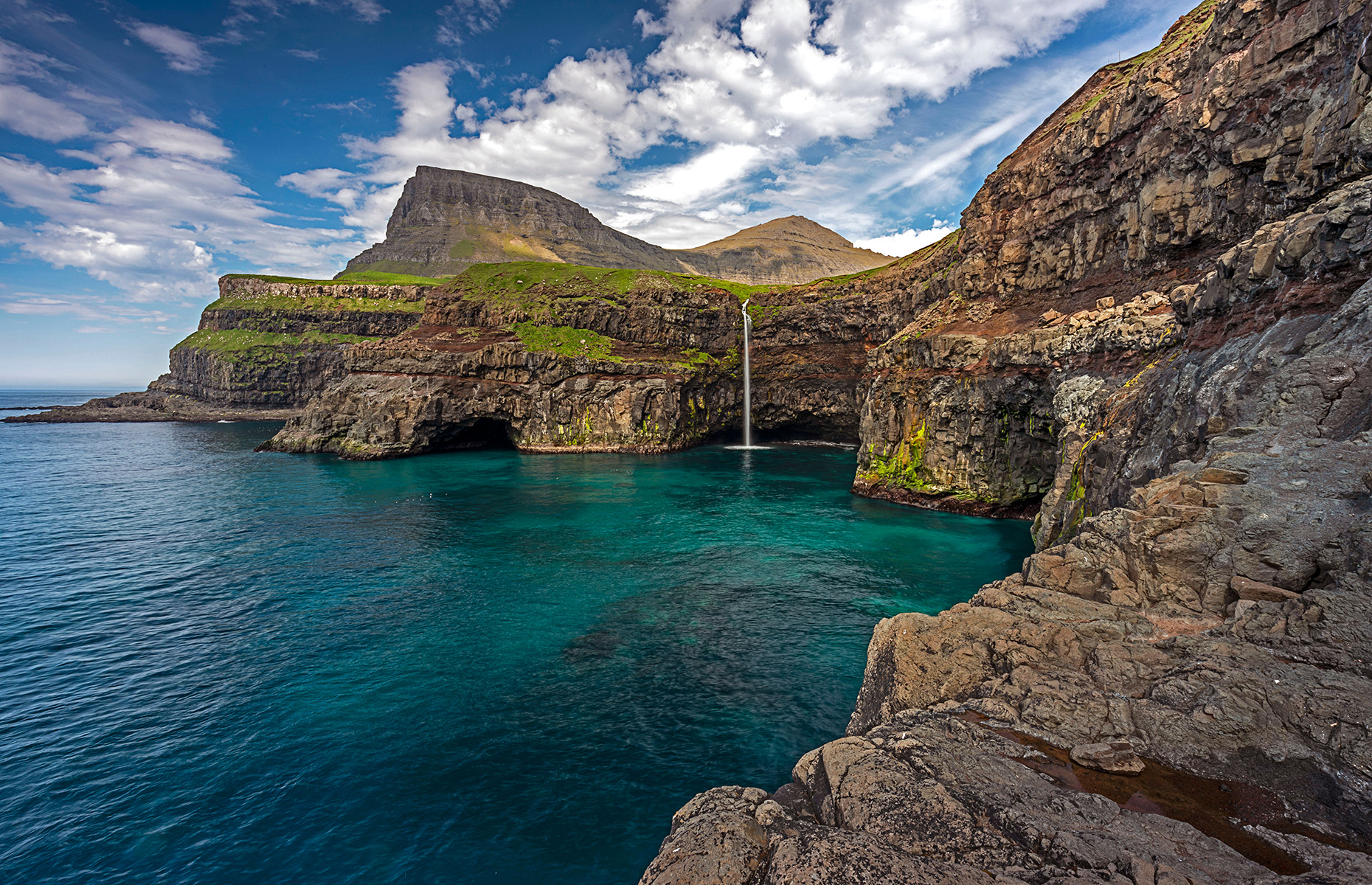 Geir Gunnlaugsson/Shutterstock
3. There's sea-level sightseeing
The waters might not be balmy, but you'll never regret layering up and exploring the islands from kayak level, paddling around the gorges and caves spotting wildlife (inclulding puffins, whales and the largest colony of storm petrels in the world).
Fairly new to the Faroes, kayaking is growing in popularity as a tourist activity helped by IT-expert turned kayak leader Sigurd Davidsen (it's a fact that most Faroese have at least two jobs) who owns Kajakk.fo. Sunset kayaks along the coast score points for atmosphere and adventure. Paddle from Hosvik, a tiny village on Streymoy island, across the sound and around the coastline to Hagagjogv. Or choose to head to Fossa, the area's most famous waterfall, offset by black lava cliffs and with a dramatic double drop.
Visit Faroe Islands
4. You'll find sustainable hotels and eco-activities
'Closed for Maintenance, Open for Volunteerism' – that's the shrewd marketingese for a week in April, where locals and tourists help maintain the islands as it officially closes to traditional travellers. Conservation projects often include repairing stone paths or cairns – manmade piles of stones once used to navigate in foggy weather – which link scenic villages and sights. Just book your flight and the rest of your volontourism trip is organised and hosted for you.
READ MORE: All aboard! Europe's most scenic train routes
If you prefer to check in and swerve the chores, a new crop of sustainable hotels is springing up around village-like capital Torshavn, including the industrial-meets-natural Hotel Foroyar. There's a new spa space, which offers yoga and wellness retreats.
The Hotel Brandan (pictured) is the first hotel in the Faroe Islands to be Green Key-certified, a designation for eco-friendly policies such as low energy usage and food waste reduction. It's a glassy new build topped with a traditional grass roof, for natural insulation and to blend into the surroundings. Work out using wooden gym equipment and dine on local Nordic cuisine including beef tartar, pickled roots and pine nuts.
Hotel Brandan
5. You can sample fresh, playfully presented Faroese seafood
The capital 'city' of Torshavn, with a population of just over 20,000, is too cute to miss – particularly the harbour area, which is prettified by slender townhouses painted in rich reds and deep blues. Here, you'll find ROKS, sister to the world's most remote Michelin-starred restaurant, KOKS in Greenland. Opened earlier this year, ROKS is a low-ceilinged, rustic cottage where timber floorboards and wood panelling charm as much as the fish-filled menu. Set menus served by chatty staff reflect the local waters with sea urchins, cod skin chips and razor clam tartare served in its shell.
Visit Faroe Islands
6. Getting around the islands is half the fun
The infrastructure here is a tad more interesting than your average town or city, with freshly tarmacked roads carving through craggy mountainsides. You can see why car brands such as Porsche film their adverts here.
Then there are the sub-sea tunnels connecting islands once only accessible by boat. The most recent opened in 2020, and now drivers travelling between the two most populated islands, Streymoy and Eysturoy, are rewarded with a light installation by Faroese artist Trondur Patursson. A new underwater tunnel, opening in 2023, will connect Sandoy to the main Faroe Islands.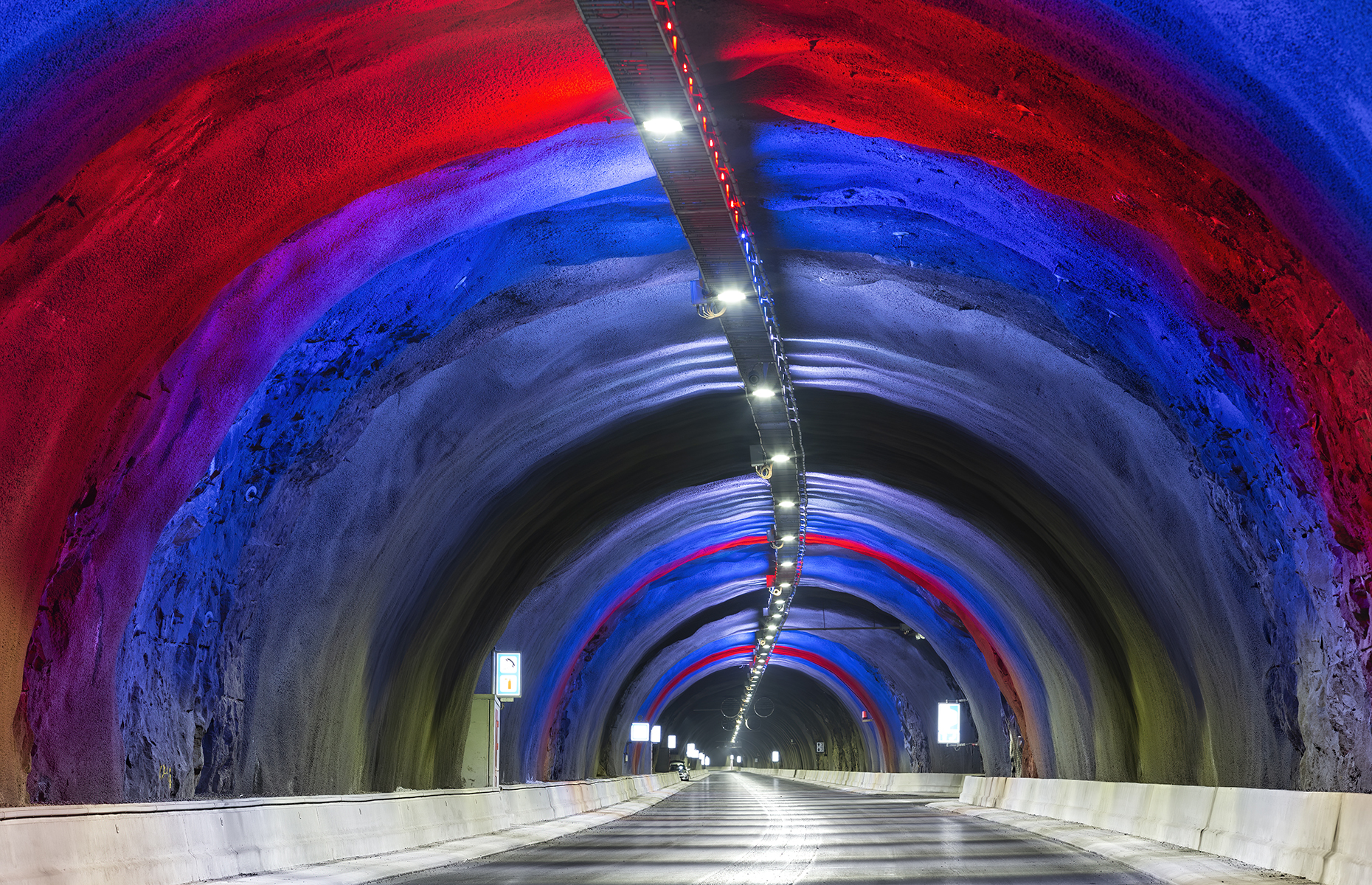 Ólavur Frederiksen/Faroephoto.com/Visit Faroe Islands
More information
Hotel Foroyar has doubles from £105 ($125), bed and breakfast. Hotel Brandan has doubles from £115 ($137), bed and breakfast. Discover more at visitfaroeislands.com.
Lead image: darylscottwalker/Visit Faroe Islands
Be the first to comment
Do you want to comment on this article? You need to be signed in for this feature